We're thrilled to have Jennifer Lee Kirk as a guest writer again this week. Jennifer visited Cuba in November of 2016, spending two incredible weeks in the country visiting over half a dozen cities, towns, and sights. From celebrating Thanksgiving in Havana to being there when Fidel Castro passed away, Jennifer has many awesome experiences to share. This is another post where she'll be sharing tips on Cuban travel for Americans wanting to visit the Pearl of the Antilles. You can find her on Twitter at @The_Jenius. Jenny recently embarked on her latest adventure 30 Stars in 30 Days where you can follow her as she visits 3 countries in 30 days gathering 30 Michelin Stars.
My second stop in Cuba, and my second favorite city in Cuba, was Trinidad. Located in the Sancti Spiritus province, Trinidad is one of the oldest towns in Cuba and is also a UNESCO World Heritage site.

But before I arrived in Trinidad, Guide Extraordinaire Fernando made sure we had a wonderful road trip highlighting the lovely rural side of the island. Our first stop was a tiny town with a roadside Juguera (juice stand). It was a hot day and the refreshing sugar cane and lemon juice was not only refreshing but also incredibly delicious. We also stopped to pick some fruit that was begging to be picked.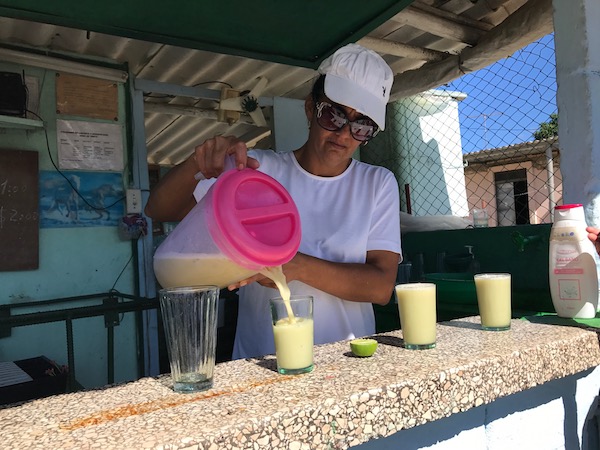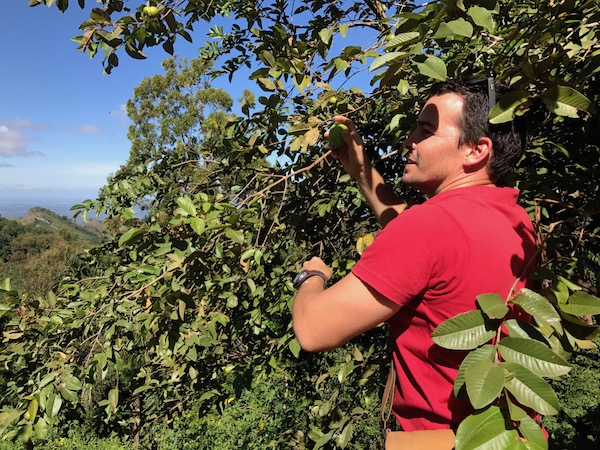 An Island Full of Beauty

As the day got hotter, Fernando promised us a hidden oasis that was sure to make our day. He did not disappoint! Tucked a mile off the main road to Trinidad is El Nicho Waterfalls.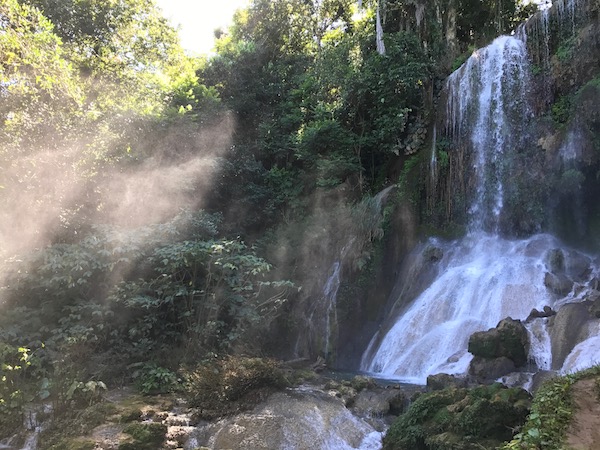 Further up the falls trails was indeed an oasis! There we found a stunning pool of crystal clear water that called to us. And trust me, we had no problem diving into the icy water!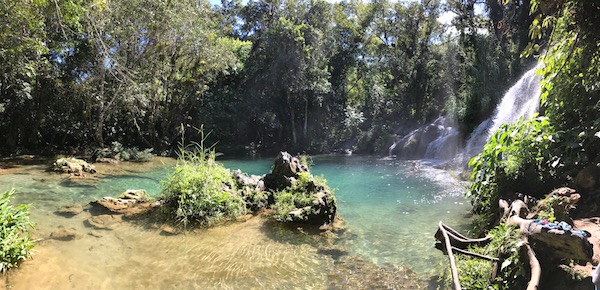 On the way back down the mountain, Fernando had to live out some of his fond childhood memories and dove off the waterfalls into the water. I had a minor heart attack watching him, but he knew what he was doing 😉
Discovering The Food
All that swimming made us work up an appetite, so we hit a small roadside restaurant with no name (Seriously, I asked. Only those in the know can find it) for the most amazing fried fish I've ever had. I'll say this a few times throughout this series – Cuba does not have terrible food. You just need to know where to go.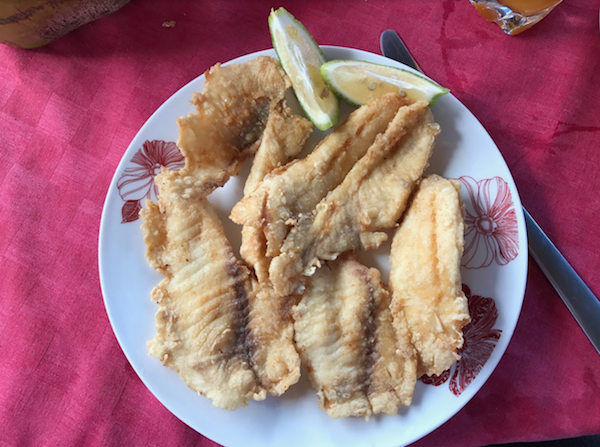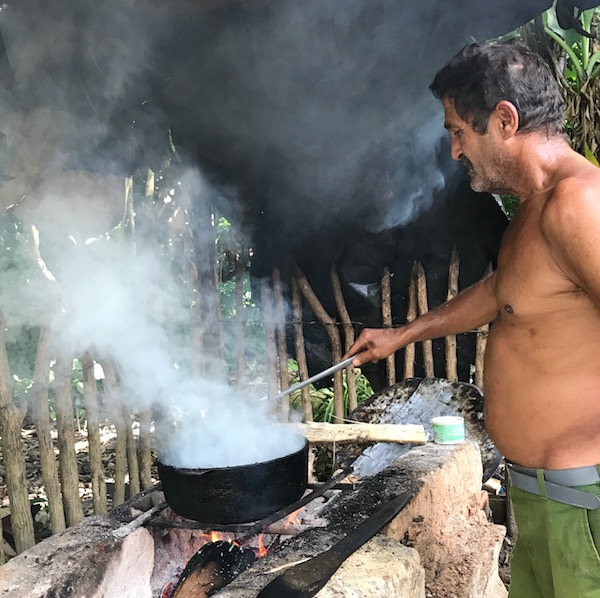 After an incredible detour of water and food, we were back on the road to Trinidad. If you think traffic jams are only for big cities, think again. Check out this traffic snarl we hit coming down the mountain:
Sweet Rewards
Right on the outskirts of Trinidad, we hit an amazing fruit stand where Fernando loaded us up with fruits I had never heard of, let alone seen or tasted. I also snagged a bottle of honey (located in water bottles on the right-hand side of the photo) that tastes like no other honey I have ever tried before. It's incredibly sweet with a very distinct taste. It might be the best souvenir I brought back to the US.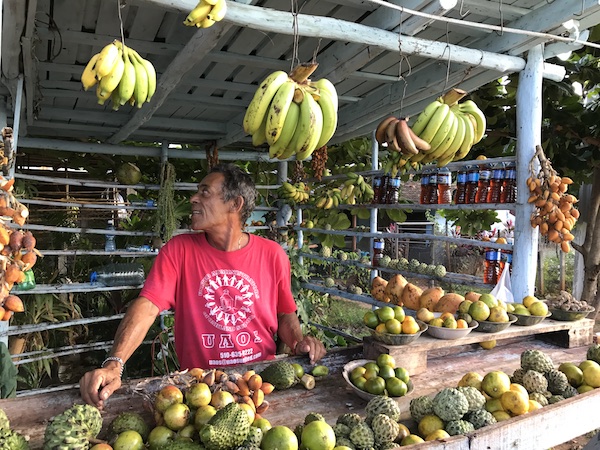 At sunset, we finally arrived at Trinidad, the stunning colorful city located on cobblestone streets.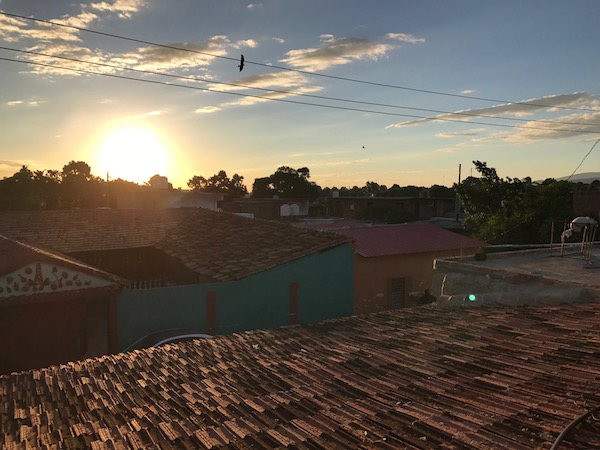 Artists At Work

We booked our stay with Jacqueline and Carlos, the sweetest people I met during my entire stay in Cuba. Our casa particular was a gem – located on top of Pottery Santander, run by patriarch Chi Chi, a world-renowned potter. His work can be found all over the world but is only available at the pottery store in Trinidad. Since we stayed with the family, we were treated as family and had unrestricted access to the pottery shop (crazy, but true!). This was an incredible experience and anyone visiting Trinidad would be crazy not to stay here if visiting Trinidad. Chi Chi, still spry despite being in his 80s, was always working late and happily let us watch him create magic.
Renee, a shop and kiln worker, was also incredibly happy to answer questions and let us watch him fire the pottery. I felt like a little kid, watching in awe every spare moment I had. I brought back a few stunning pieces which I had Chi Chi sign (also, a steal – I bought a vase, two cups, and a candle holder for under $20). Spending time with the Santander family, both in the pottery shop and over home-cooked meals after a long day of sightseeing, was a highlight of my trip. I really look forward to visiting them again. Jacqueline and Carlos, when you read this know I am sending you love from San Francisco!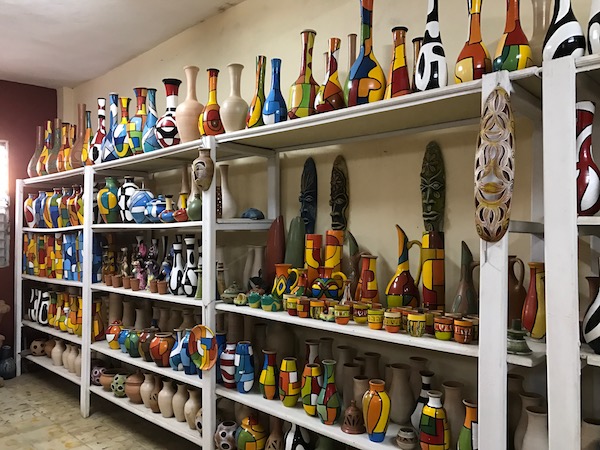 Behind The Scenes
By now our guide Fernando had turned into a bonafide friend and the next day as we explored Trinidad he let us in on some even bigger secrets Cuba had to offer.

Our first stop was a cigar factory not open to the public. Despite this, we still got access and a peek into the creation of one of the most sought-after items in the world – Cohiba and Montecristo (Winston Churchill's favorite) cigars.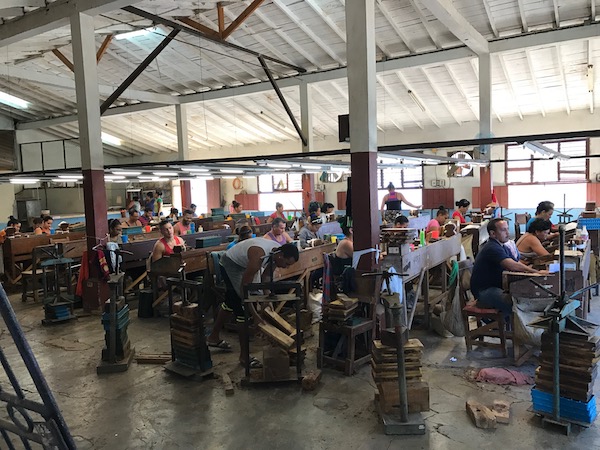 Exploring The Town
The colorful streets of Trinidad are charming, like no other place on the island of Cuba. You can find beautiful handmade linens (which I later bought from Jacqueline's mother) in local shops, and enjoy the quaint town square while soaking up over 500 years of history.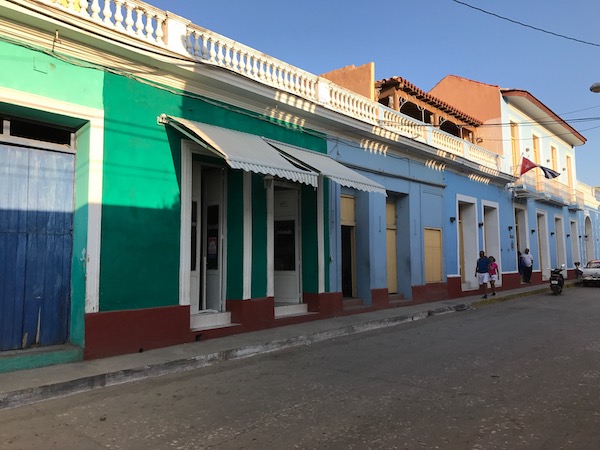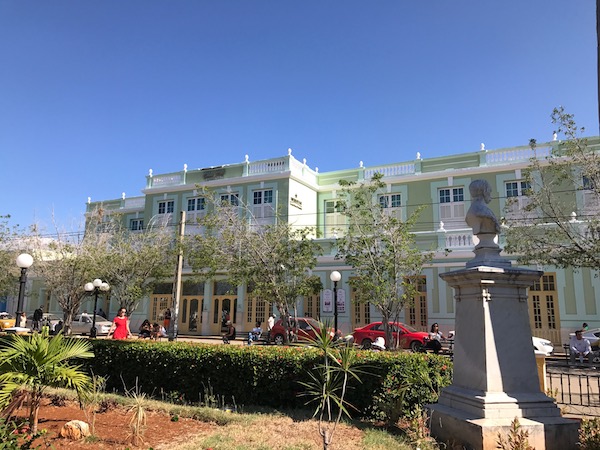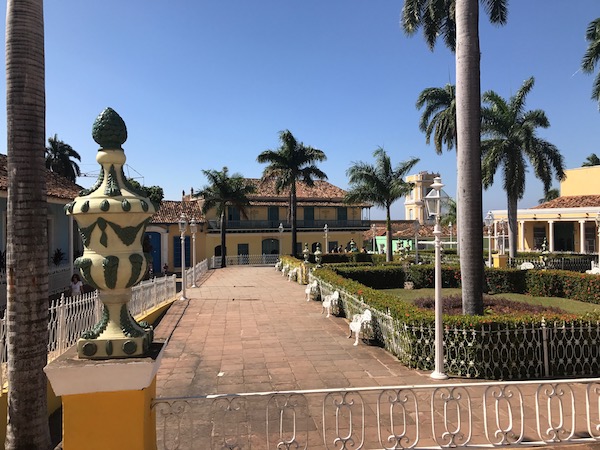 While in the city's center, be sure to stop by The Municipal History Museum. It hosts a great overview of the Cuban Revolution from a Cuban perspective (shocking!). Despite some of the anti-American capitalism sentiments that can be found inside (such as the fuselage from the botched Bay of Pigs invasion, the second photo below), it's a very welcoming attraction. Everyone, there is very open and would love to have a friendly two-way conversation about the complicated (read: ugly) history between the two governments.
While Cubans have been given many reasons to dislike Americans (three attempts to buy their island, decades of anti-US propaganda, a crushing embargo, and over 600 assassination attempts on their leader Fidel Castro) they do not. As I mentioned in my first post, Cubans love Americans. They find us friendly and are excited to meet us. Do not let history keep you from visiting. I highly encourage you to take the opportunity to learn from our complicated history, especially so we don't repeat it.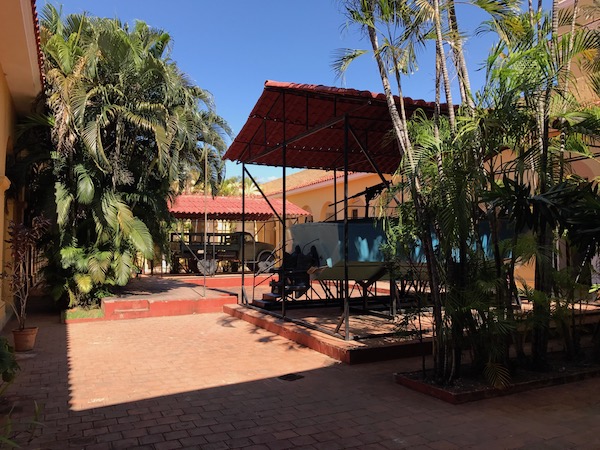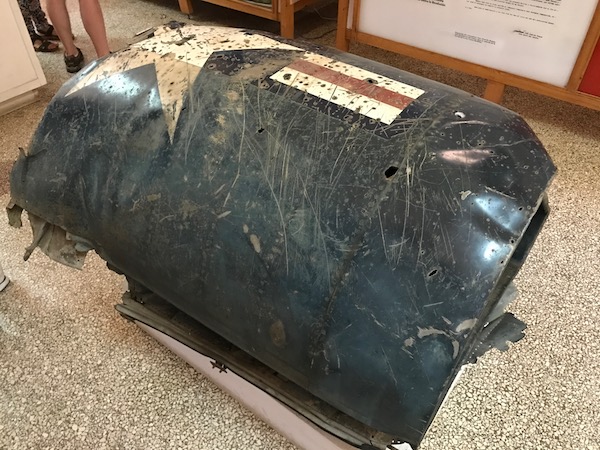 More Tasting

Breaking down barriers can work up a thirst, so it was time to go kick back at the famous Canchanchara! While live music played, we enjoyed the grandfather of the mojito and the daiquiri – a canchanchara! This refreshing cocktail has lemon juice, Bacardi, and honey. Can you guess who made the cups the drink is served in? If you guess our friend Chi Chi, you would be right!
When in Cuba
And it wouldn't be a trip to Cuba without finally trying my first cigar. (Disclaimer: I do not smoke and do not encourage smoking. But I do believe in the saying "When in Rome").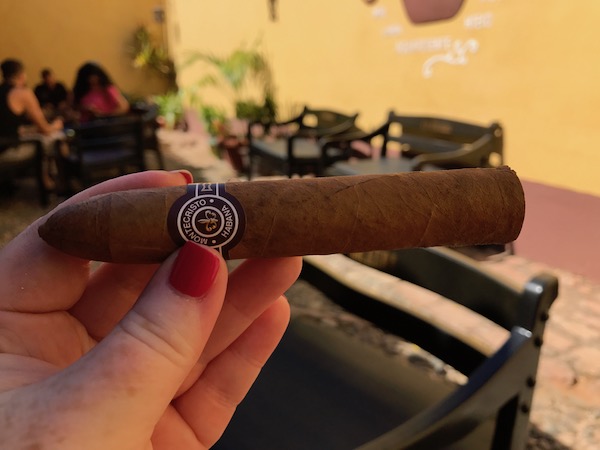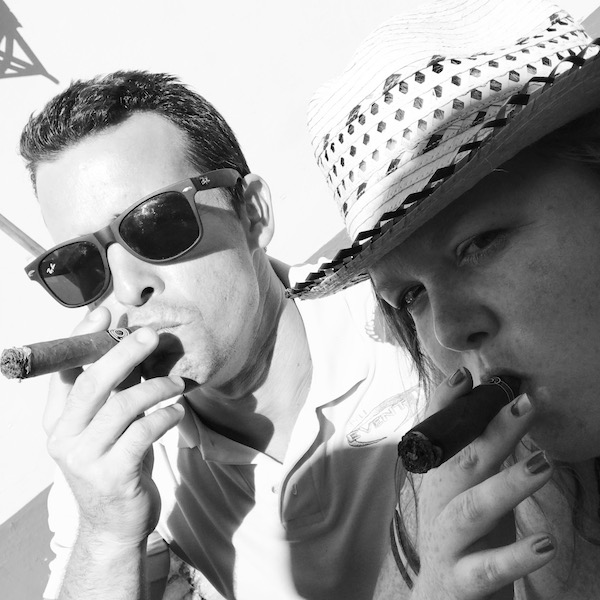 By now we had worked up an appetite (another disclaimer: I can always eat), so Fernando took us for a late lunch at La Ceiba, a lovely restaurant under the canopy of a large, ancient tree. There I enjoyed a fresh, delicious lobster tail bigger than my hand.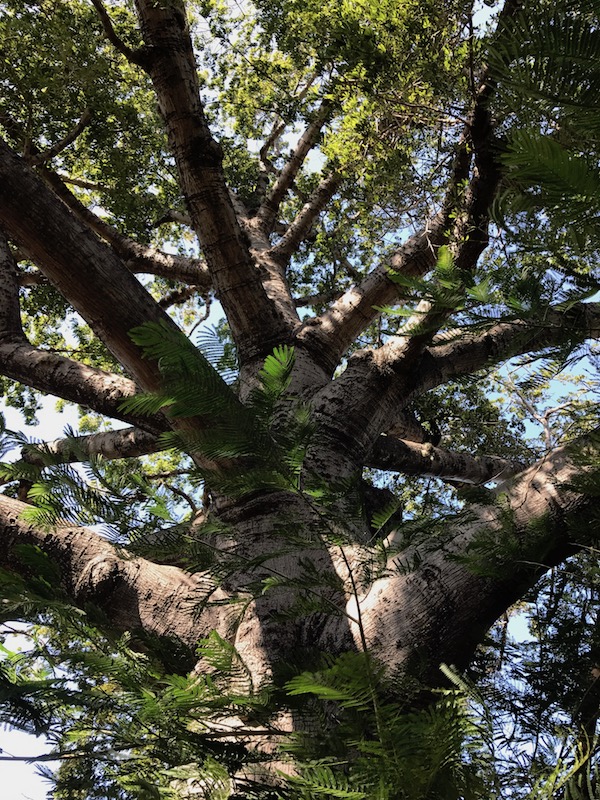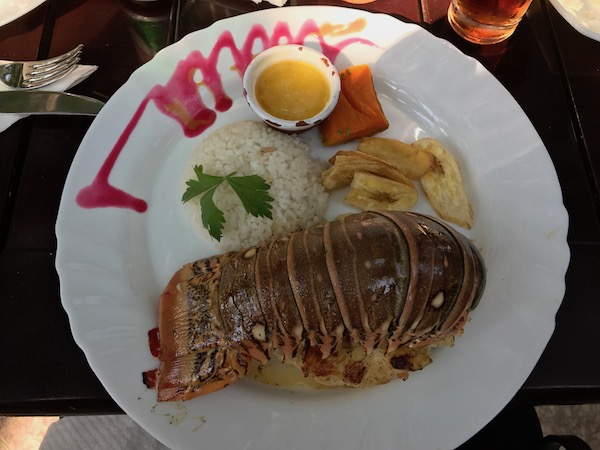 Before leaving Trinidad, a stop by Playa Ancon is also a must. Yes, simply lounging on the beach is illegal still under the relaxed travel restrictions on Americans. But stopping by, seeing the gorgeous site, and supporting the local economy by buying a coconut spiked with rum is not 😉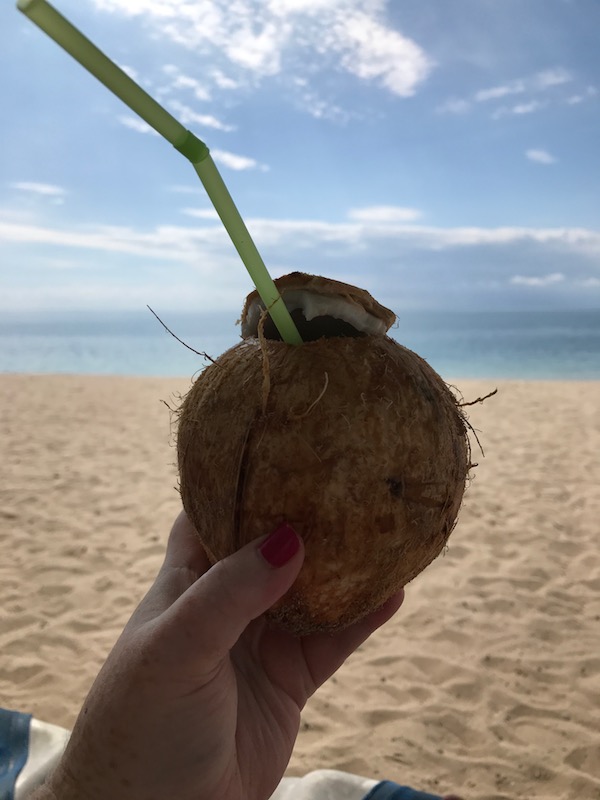 To read more of Jenny's stories on Cuba be sure to read:
Guide to Cuba: Cienfuegos, the Pearl of the South
How To Travel to Cuba Legally Without A Costly Tour