A few years ago I had a business meeting in Taiwan. Unfortunately, June is the beginning of typhoon season so my visit was mostly rainy. Even so, I had a great time learning more about the people, culture, and food of Taipei, the political, economic, and cultural center of Taiwan.
When I first heard about a tropical storm heading our way, I connected with new friends on Twitter to find out what to do. I was surprised to learn that since tropical storms are so common in Taiwan the locals often go to the shopping malls, their answer for distraction during a stressful time. 
I learned about Taipei 101, a mall with 101 floors created to symbolize the growth of Taiwan and Taiwan traditions. It was designed to withstand typhoons and earthquakes. It is also home to many international luxury brands like Prada, Louis Vuitton, Gucci, Tiffany and Co., and many more. It is featured in many New Year's Eve celebrations when they set off elaborate firework displays every year.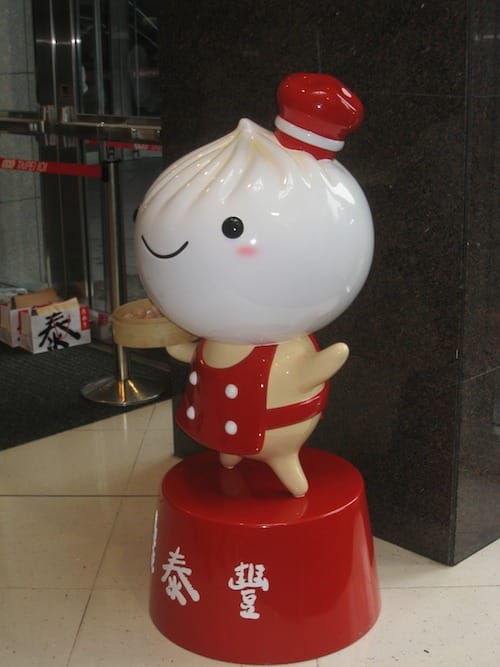 Taipei 101 also boasts an amazing food court. One of the restaurants Din Tai Fung is ranked one of the top 10 gourmet restaurants in the world by the New York Times. Its Hong Kong branch has been awarded One Michelin Star three times. Clearly, I couldn't miss the opportunity to sample these delights. So, grabbing the umbrella, I headed off to the mall just like the locals.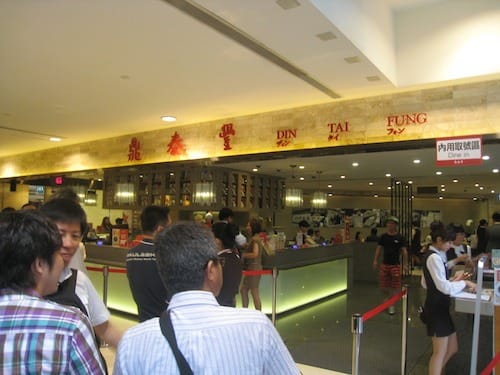 Walking into the food court of any shopping mall at lunchtime is daunting, but it's especially challenging when you're at Taipei 101 and don't speak Chinese or Taiwanese. Sure you see global brands like KFC and McDonald's, but trying to find the Chinese characters that signify Din Tai Fung is another thing entirely. Thankfully, there was an information desk with a lovely woman who spoke English and helped me find my destination. Separately, it must be said that the Taiwanese I encountered were extremely friendly and helpful people, who smiled abundantly and were most willing to help a confused traveler.
Once I knew where to go, Din Tai Fung was easy to find… it had a huge line of folks waiting to get in. Slightly discouraged, I approached the hostess stand and asked how long the wait would be. Cheerfully I was told 20-30 minutes, so I decided to sign in. This is where the fun really begins. Once I got my printed number I was told they would call the numbers. In Chinese? I asked. Yes, but the numbers were also shown on the overhead digital display and a gentle bell rang each time a number was called. Easy peasy. I was also given a clipboard with a menu and a pen to make my choices prior to being seated. Brilliant.
While making my way through the menu (in English and Chinese) I spotted their highly recommended XiaoLongBao original steamed pork dumplings and fried rice with shrimp and egg. I ordered a Taiwanese beer and the eight treasure rice dish for dessert. A gracious staff member came up and asked if it was my first time – being a tall, English-speaking Caucasian certainly makes you stand out in this crowd. She then proceeded to give me two brochures in English about how Din Tai Fung got started and where their other locations are around the world – 119 locations in 15 countries! Including many in the U.S.A. She came back later to review the order to be sure I didn't want to change my order.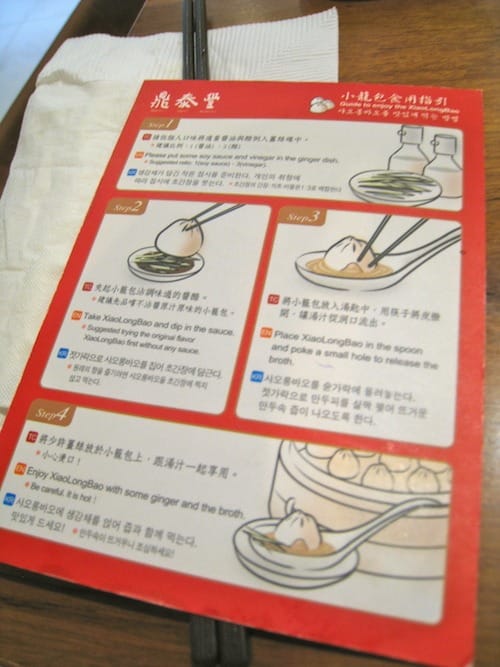 When my number was called, precisely 30 minutes later, I was brought to my table, which was already set and ready to go. I was greeted by a friendly server in English and given an instruction card on how to eat the dumplings. This is actually important because if you don't do it properly, the scalding gravy inside the dumpling could burn you. You need to let it escape first by poking it with your chopstick (eating with chopsticks is a whole different article).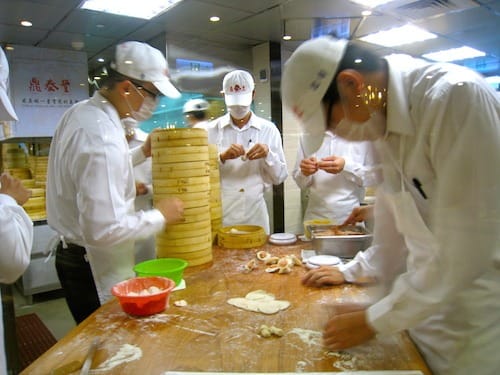 The food promptly arrived and my feast began. The steamed dumplings with my custom-mixed soy sauce, vinegar, and fresh ginger were amazing. Clearly, these are their most popular item for a reason. When you first walk into the restaurant and see about ten chefs hand-preparing these dumplings in a factory-like setting you know it's serious business.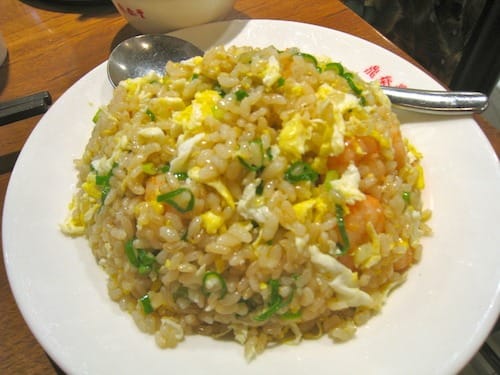 The fried rice (you can order brown or white rice, I opted for brown) was the best I've ever had. The egg was diced into larger pieces and was amazingly fresh. The shrimp were plump and yummy. Taiwanese beer was the perfect accompaniment. The Eight Treasure rice dessert was a sweet and delicious ending to my feast.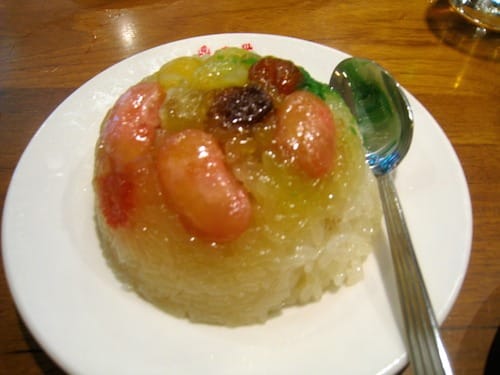 This was just one of my delectable food stops in Taipei. If you're in Taipei or somewhere else in the world where Din Tai Fung is located you should definitely try it for yourself. It's delicious food in a relaxed and friendly environment. Check out their website for more information and all their locations.
THE QUICK BITE: Whether you're in Taiwan or one of the many of cities that you may find Din Tai Fung it's worth a visit to taste their award-winning dumplings.