Chicken kebabs are delicious and easy. The good news is that you don't need a grill to make this recipe. If you have a grill you can certainly use it to make the perfect grilled chicken kababs as well as any other meat kebabs and vegetable kebabs. If you don't have a grill you can still create tasty chicken kabobs in the oven.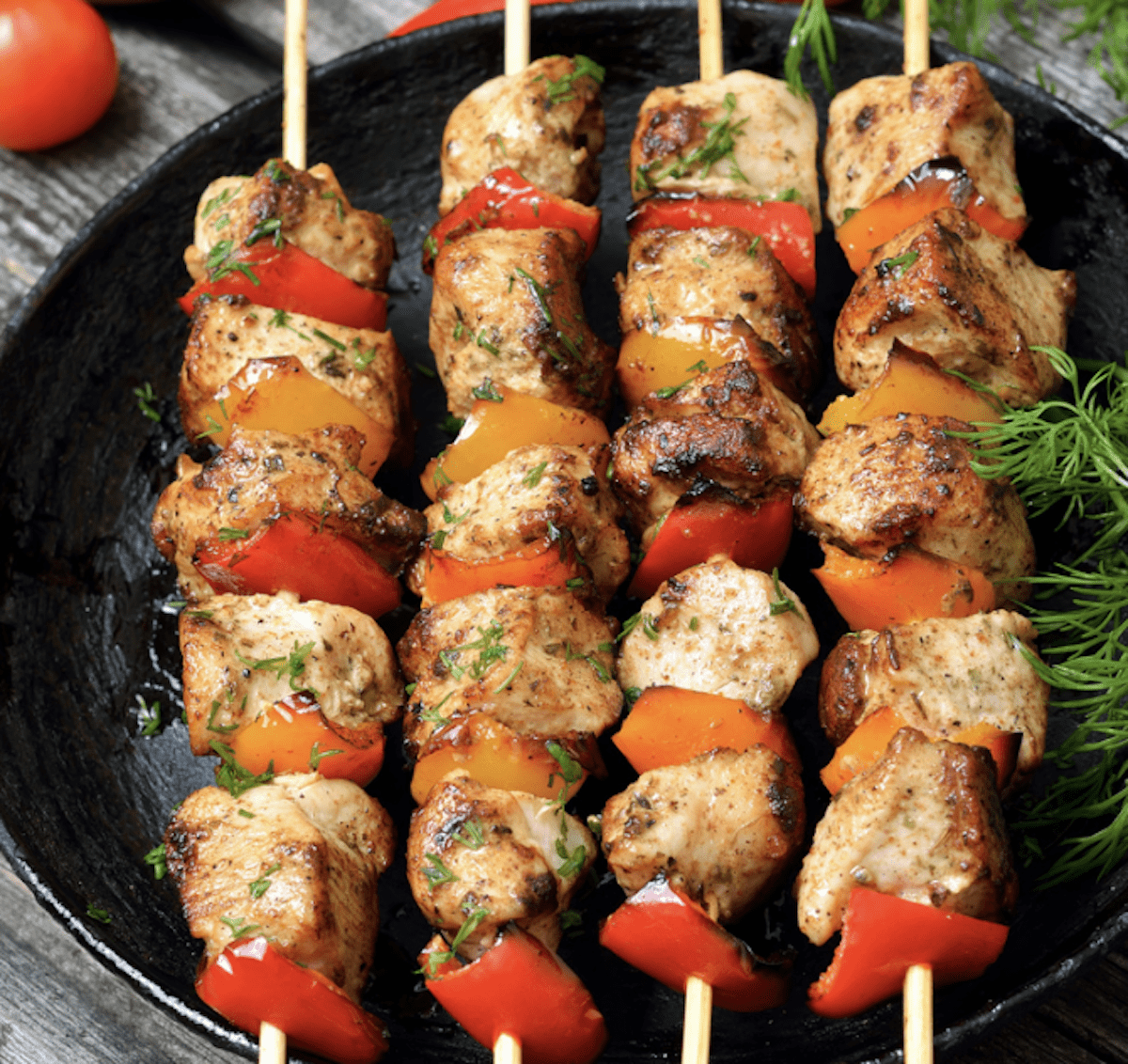 No Need For A Grill
But if you don't have a grill or want an easy way to make your kebabs in the oven, here's our easy healthy chicken kebab recipe that will give you all the flavor without a grill.
There are so many combinations for chicken kebobs in the oven, you could make many different dinners just by changing the spices, marinades, veggies or sides.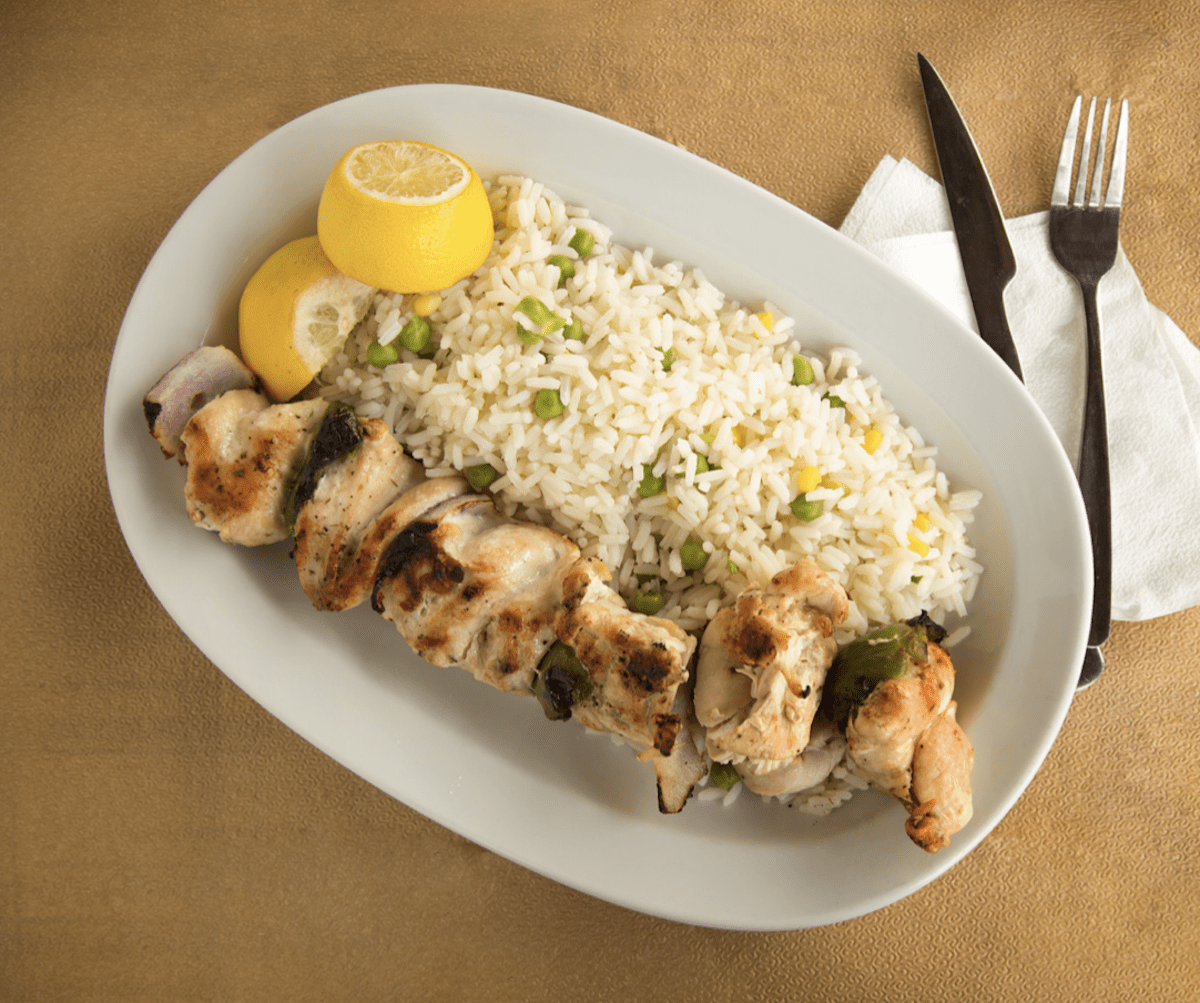 We'll give you our own favorite chicken kebab recipe as well as some other ideas you can use to spark your own imagination.
A Few Pro Tips
There are just a couple of things to be aware of when you're making grilled chicken skewers in the oven. First, you'll want to use bamboo skewers, which are easy to work with. But in order to be sure they don't burn from the constant heat, you'll want to soak them for a few hours in water. We just put them in the night before and let them soak while we're sleeping. That way when we're ready to cook, we don't even have to think about it.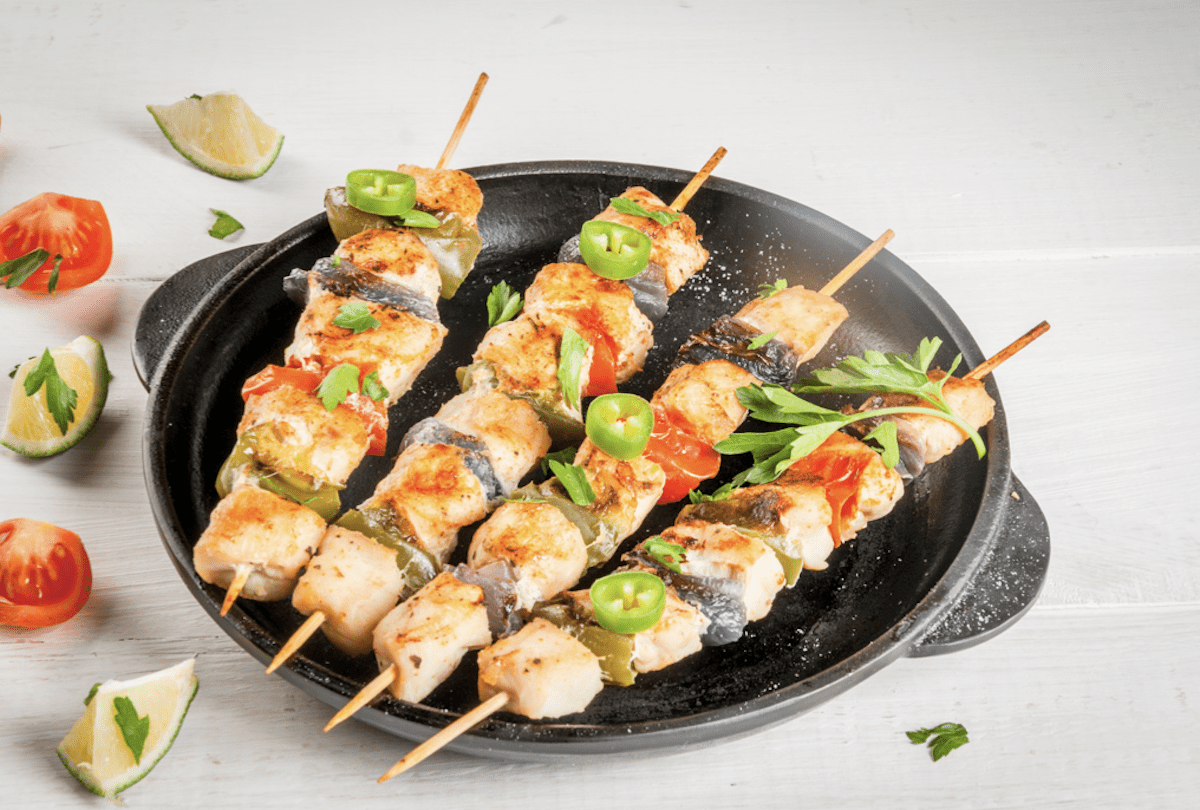 Another tip is that grilled chicken kebobs, or any meat you want to use on a kebab, do well when they have a chance to marinade. That's why we usually cut our chicken into pieces and put them into the marinade the night before. We can do this when we start the bamboo skewers soaking so we only need one trip to the kitchen.
Chicken Kebab Marinade
You can choose whatever marinade you like. Generally, for a marinade to have an impact you'll want there to be a component of oil and a component of acid. These two things work together to tenderize and infuse the meat with tons of flavor at the same time.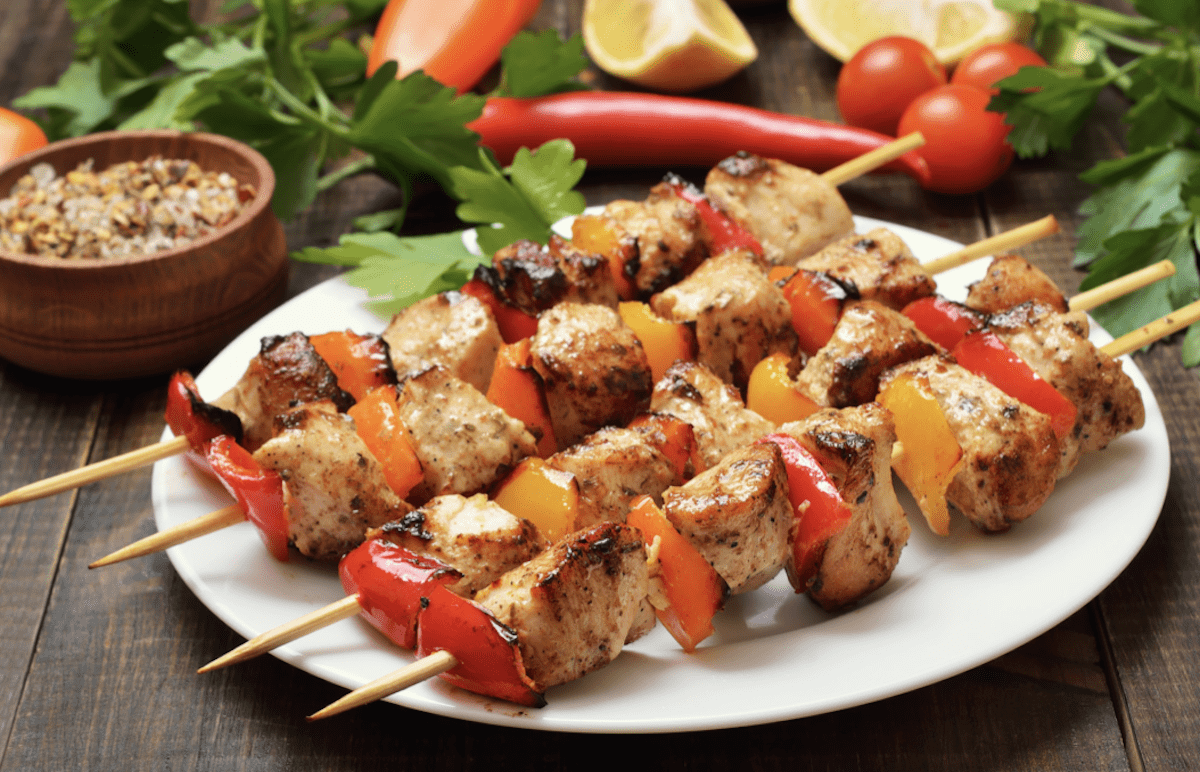 We typically use a marinade that includes balsamic vinegar and olive oil. We also add our spices to the marinade, so it's kind of a one-step process. You can choose all kinds of marinade flavors. If you like things spicy, you can add some chili pepper flakes or sriracha or harissa into your marinade. We love garlic so there's going to be plenty in our marinade.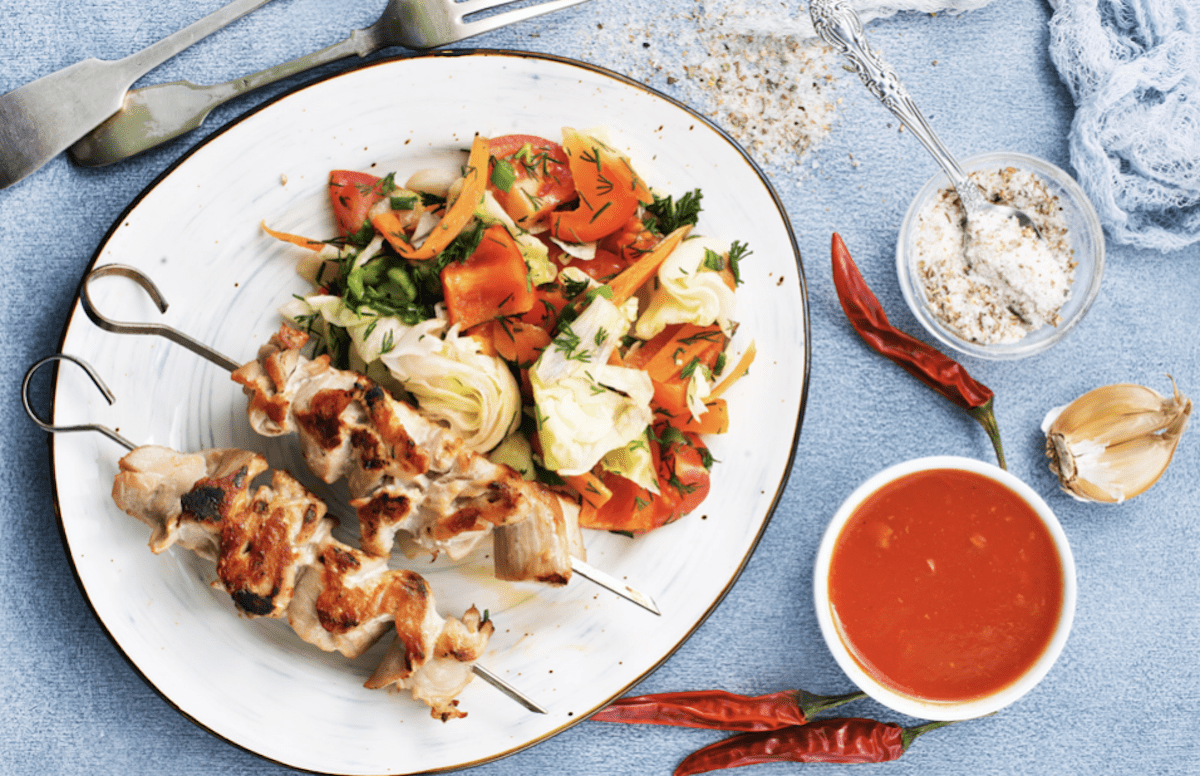 Is A Chicken Kebab Healthy?
Chicken kebabs make a great meal and they're low carb. Vegetarian kebabs are also delicious and you can eat them all on their own if you want.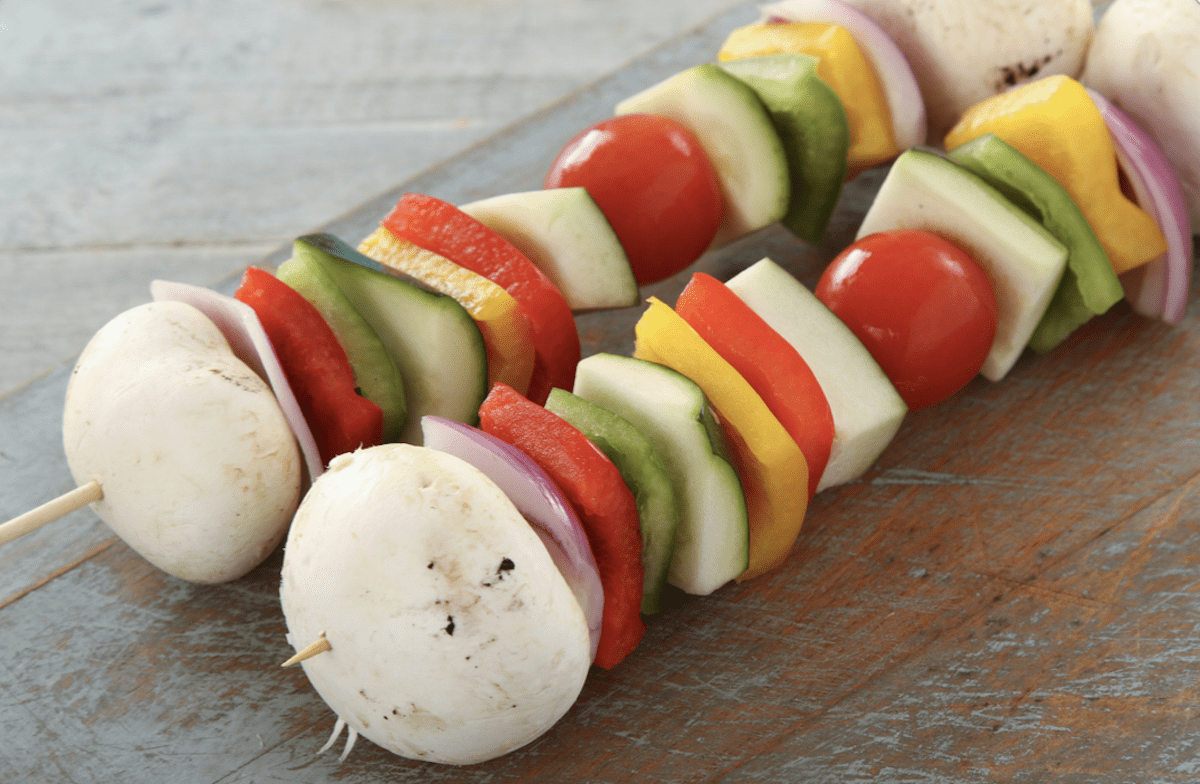 You have your choice of whether you want to combine meat and veggies on one kebab or separate them out. The choice is up to you. Either way, they are delicious!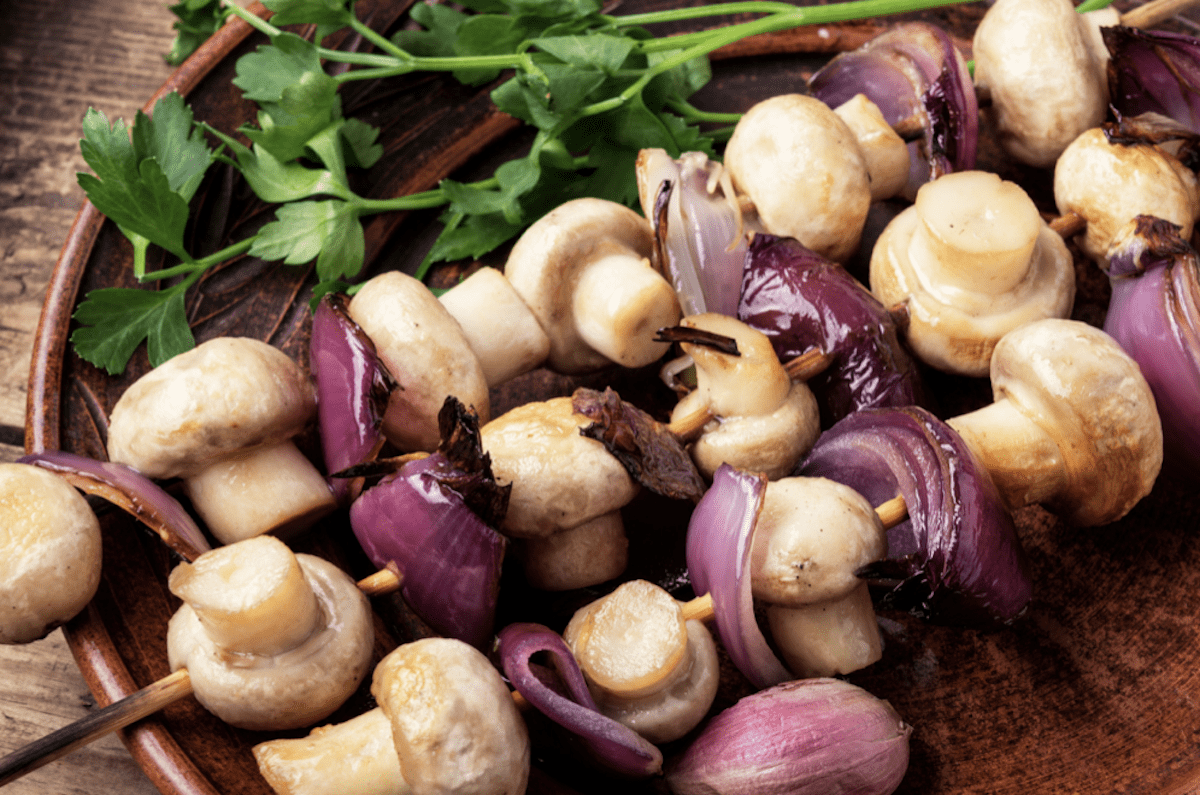 Don't Forget The Sides
For a full meal, we love adding a side dish of rice or French fries and salad. You can mix it up by using sides from whatever cuisine you're spicing your kebabs with. Edamame and white rice go well with soy sauce or tamari and rice vinegar marinade. Hummus and couscous are fun with an olive oil and lemon marinade. We often add tzatziki and pita to our vegetable kebabs and chicken kebabs. The choice is up to you.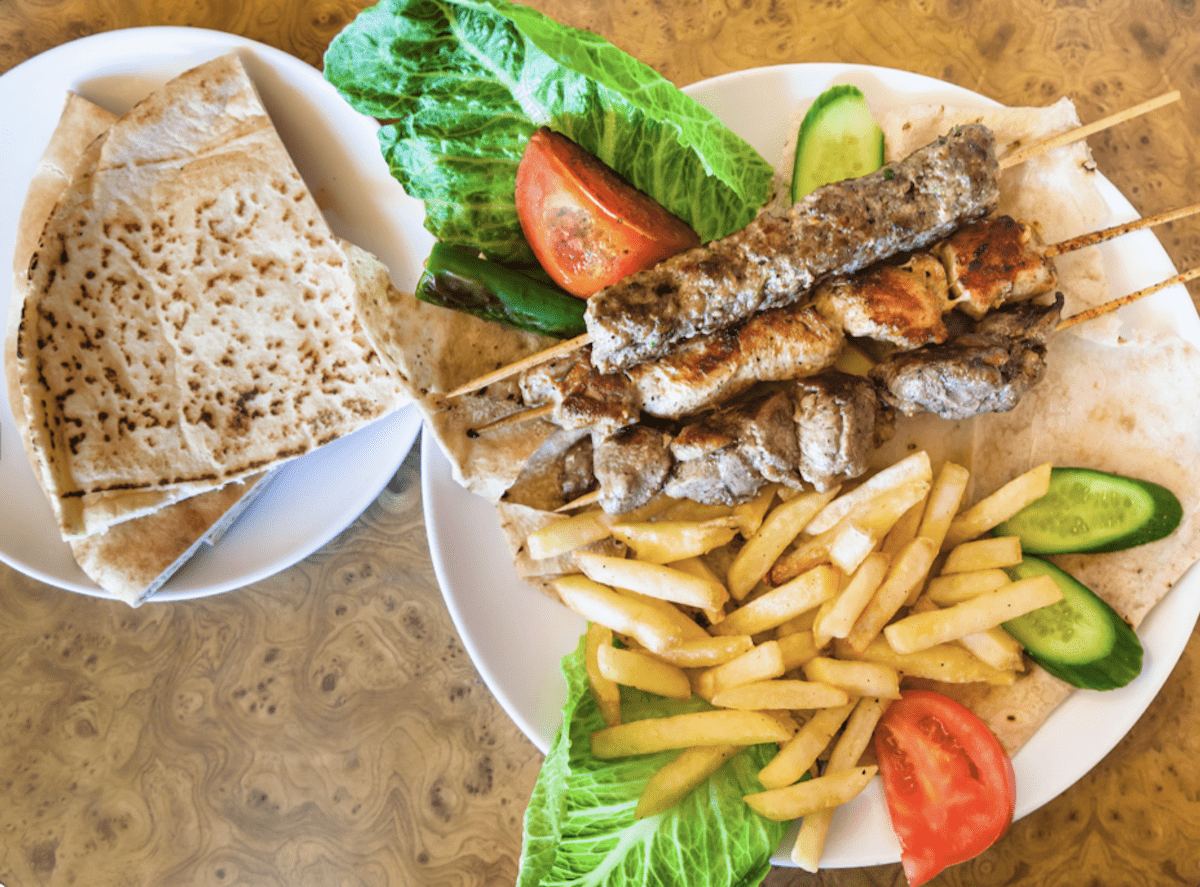 And while we're making chicken kebabs, you can use whatever meat you prefer. Or make an all vegetable kebab meal. Portobello mushrooms, eggplant, zucchini, and even cauliflower, are great for more substantial veggies if you're sticking with those alone.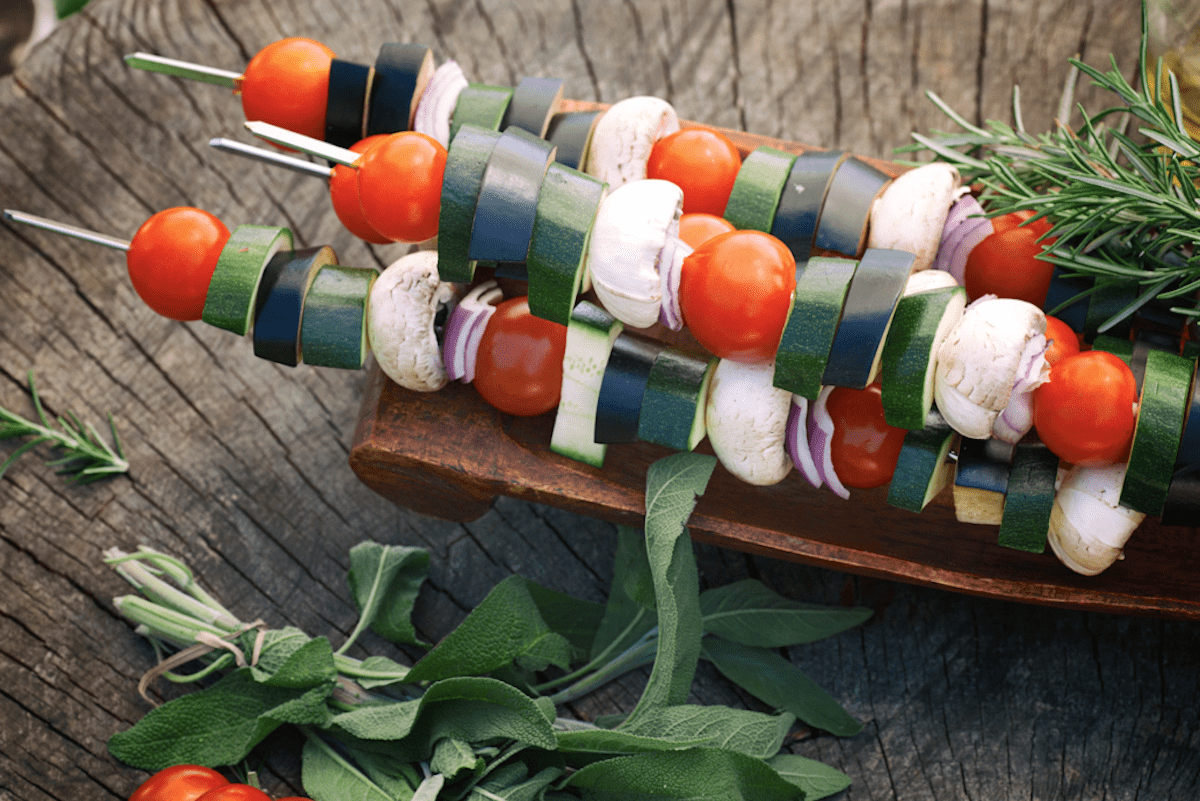 Even Desserts
Put some fruit on a skewer and your whole meal is easy and delicious. Choose your favorites, slice them up put them on a stick and you're ready to go. You can grill the fruit or just eat it naturally. If you're looking for something different throw a few slices of pound cake on the grill to warm it up, cut in cubes, and add that to your fruit skewers. A couple of bowls of whipped cream and melted chocolate make for wonderful dipping, too.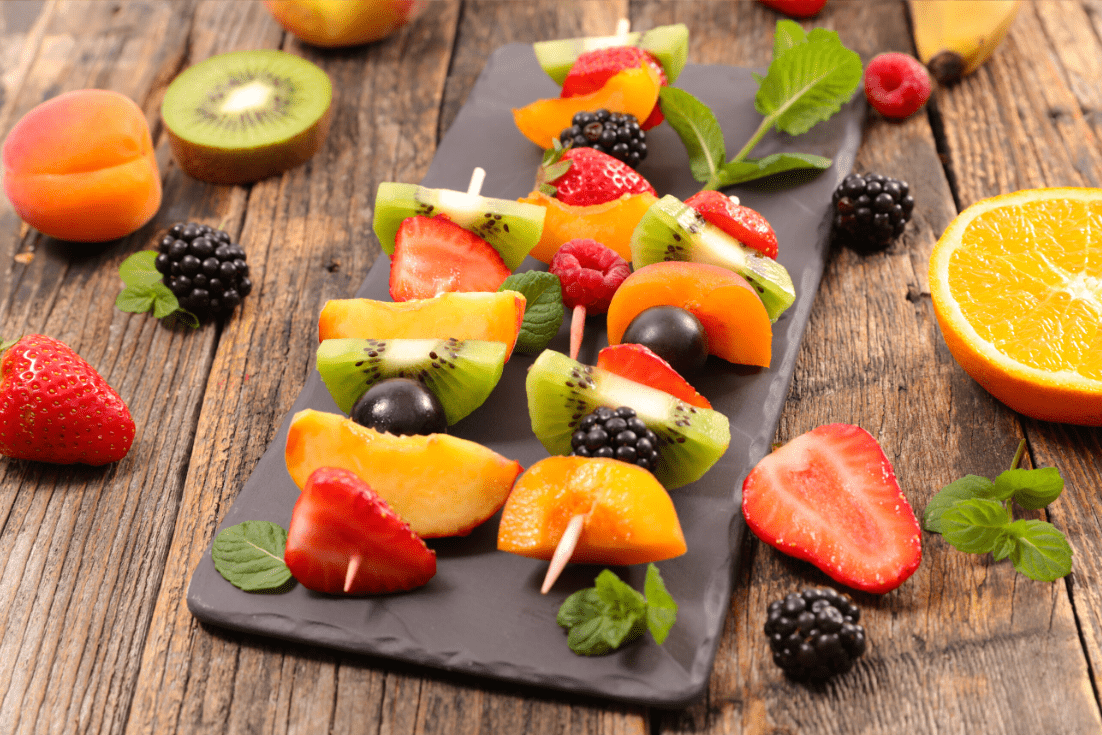 The skewers you create are limited only to your imagination and what you have in your fridge and pantry.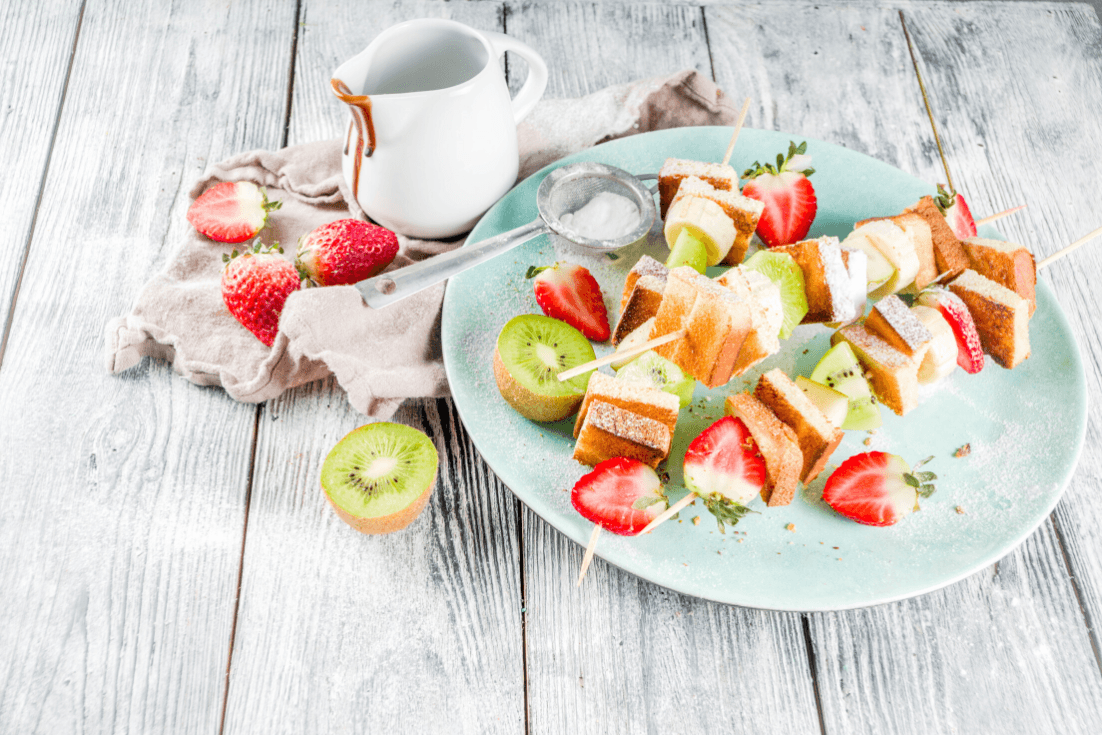 Chicken Kebab Appetizers
You can also use chicken kebabs as an appetizer by making small kebabs. They're cute and colorful as well.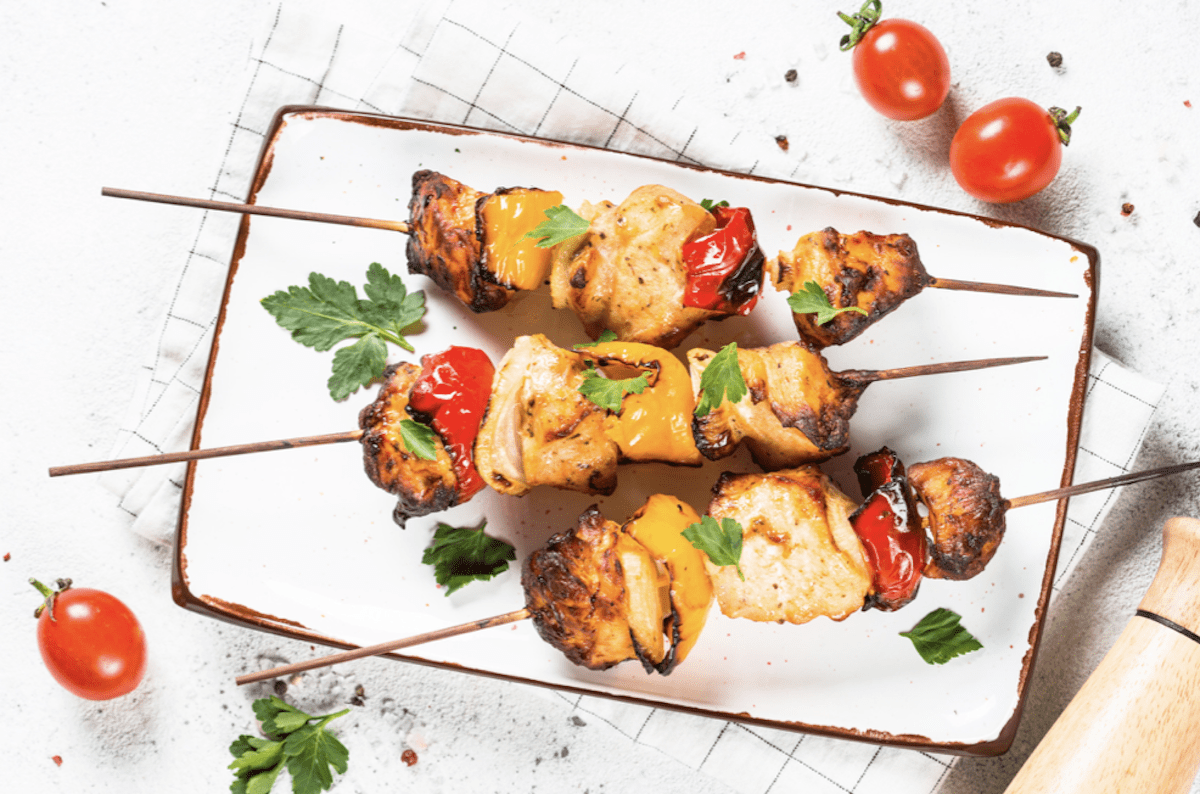 Let your imagination and your taste buds be your guide. We think you'll find these easy chicken recipes for dinner for families. Now you know you don't have to have a grill to make our delicious baked chicken kebobs recipe right in your own kitchen.
Easy Chicken Kebab Recipe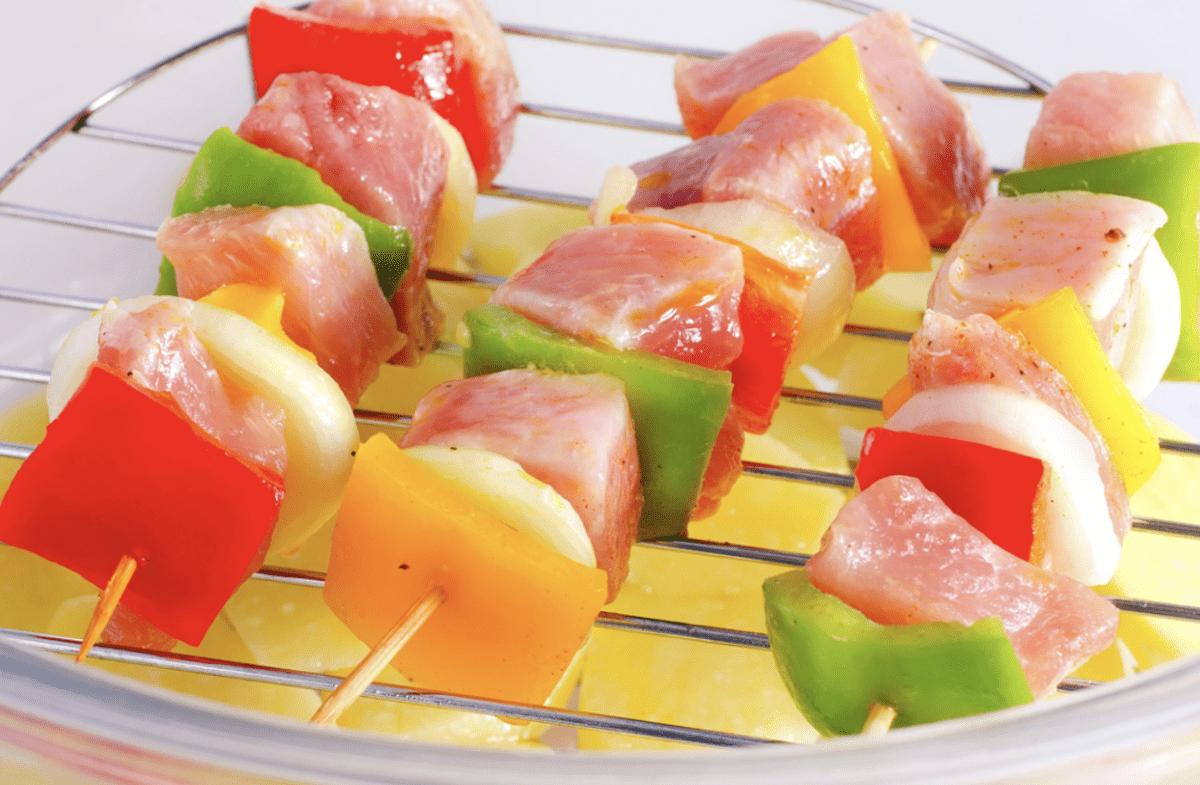 Ingredients
For The Marinade
1/2 cup extra virgin olive oil
1/4 cup balsamic vinegar
2 cloves of garlic smashed and minced
1 teaspoon each of dried oregano, basil, and parsley
Salt and pepper to taste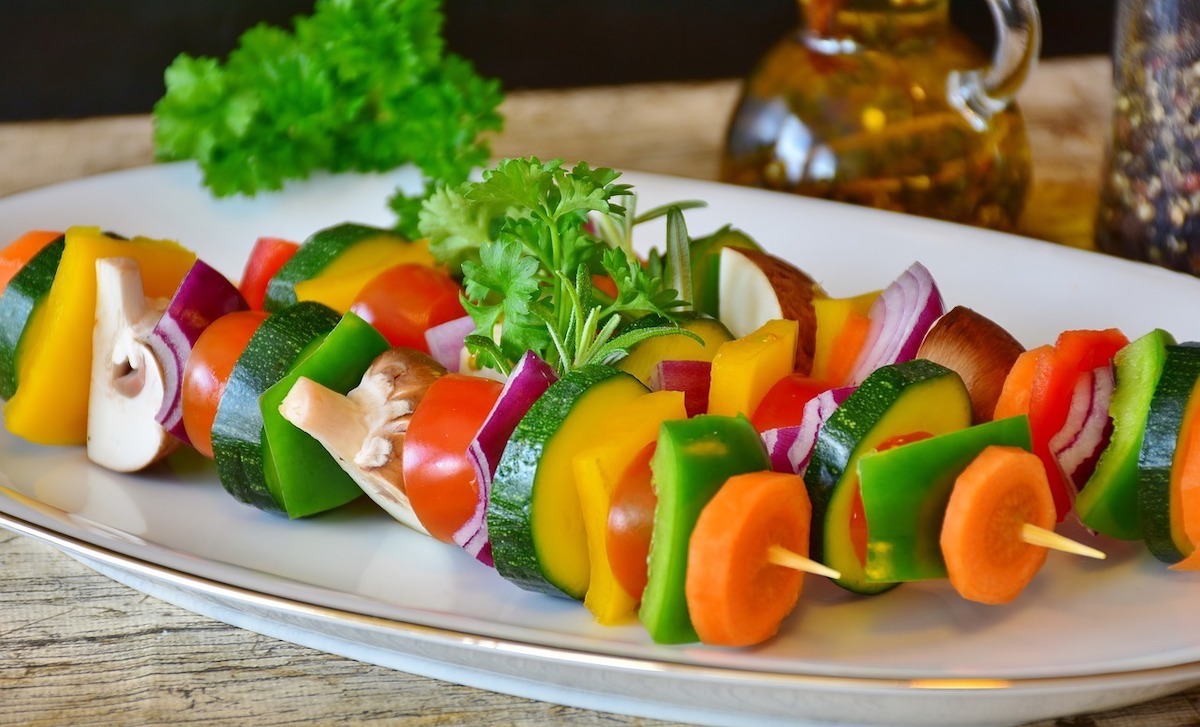 For The Kebabs
1 pound chicken breast or thighs, skinless boneless, cut into 1 1/2 inch pieces
A combination of vegetables as you prefer. It can include colorful bell peppers, grape or cherry tomatoes, mushrooms, onions, zucchini, eggplant, etc. Cut vegetables into evenly sized pieces.
Directions
1. Soak 6 skewers in water overnight to prevent burning.
2. Cut the chicken into 1 1/2-inch pieces.
3. Make the marinade by combining all ingredients for the marinade in a ziplock bag or container.
4. Put the chicken pieces in the marinade and soak them overnight in the refrigerator.
5. About 1 hour before you want to eat, set the oven on broil. You can use low or high broil depending on your oven. You can start with low and switch to high if it is taking too long.
6. Just be sure to lower the rack in the oven and keep watching so you don't burn the food.
7. Remove the chicken from the refrigerator.
8. Cut the veggies and add them to the marinade.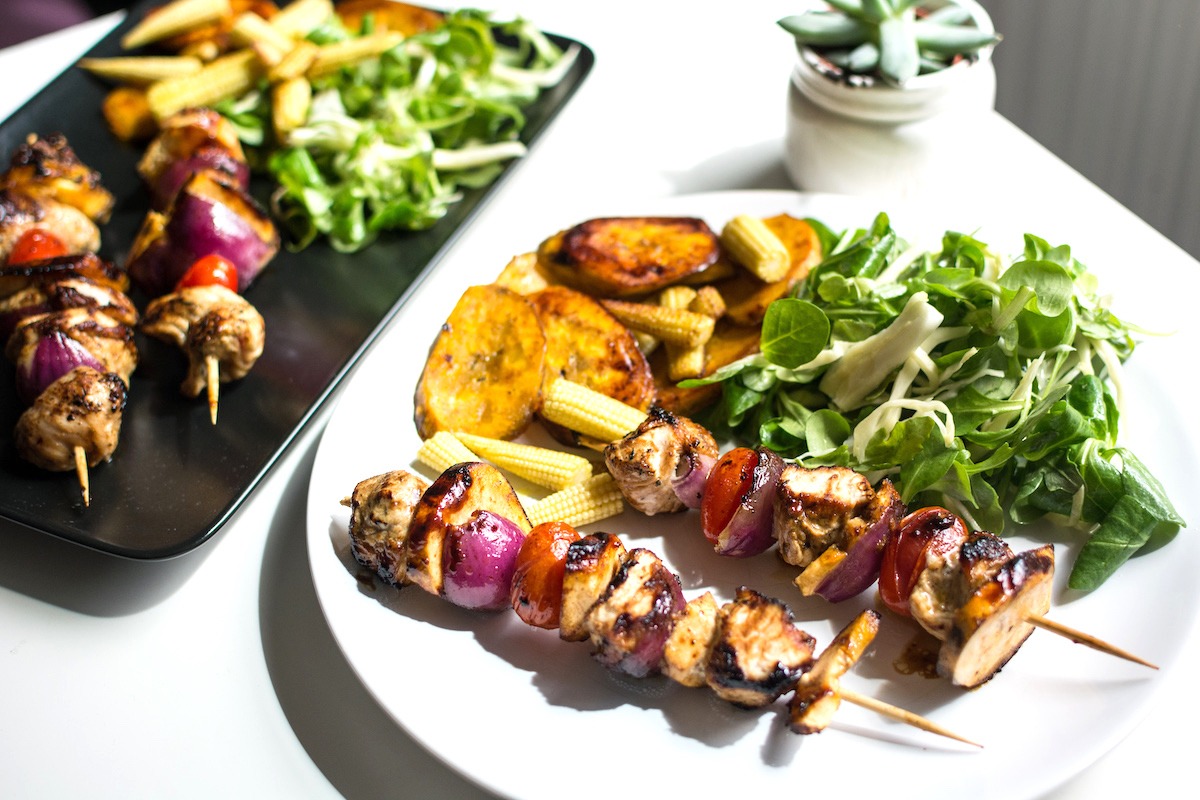 9. Line a baking sheet with foil.
10. Remove the bamboo skewers from water and dry them.
11. Skewer the meat and veggies on the bamboo skewers. You can put just meat on some and just vegetables on others or mix them together. Be sure to keep a good mix of meat and vegetables if on the same skewer by alternating the vegetables and meat.
12. Place finished skewers on the foil-lined baking sheet
13. Bake for 25 to 30 minutes, checking every 10 minutes and flipping the skewers over so they cook evenly and do not burn.
14. When ready, remove from the oven. You can leave it on the skewers and serve it with sides like rice, couscous, orzo or salad. Or remove from skewers and serve on a platter with rice, pita bread, and sauces of choice.
If you're looking for more recipes like our easy chicken kebab recipe, check out our Gemista – Stuffed Vegetables and Shawarma or Gyros Pita.
Pin to your favorite recipe board on Pinterest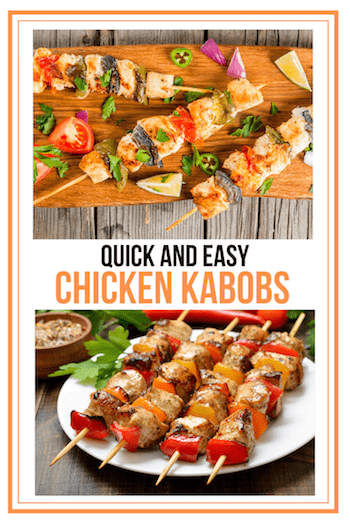 .