We love traveling to discover towns and culinary hot spots around the world. In fact, as Oprah might say, it's one of our favorite things. The good news is that there are more of these unique culinary destinations than you can imagine. On a recent trip to Northern England, we had the sheer joy of experiencing the town of Malton located in North Yorkshire, England.
Malton has many labels but our favorite is "Yorkshire's Food Capital." Located midway between the North Sea and the city of York it is a historic market town with many claims to fame. Did you know that Charles Dickens wrote "A Christmas Carol" in Malton? We didn't either.
Back to the food. The main streets in town are full of quaint stores full of local produce, homemade foods made with local ingredients, a brewery, restaurants, coffee shops and so much more. Check out this short video on Malton:
My favorite quote in the video is from Michelle the owner of Groovy Moo Ice Cream, who sums up Malton simply with, "Everything people used to be this place still is." And she's right. When you arrive in Malton you immediately feel relaxed and welcomed. Although you are surrounded by historical buildings Malton doesn't feel dated or old, it feels alive.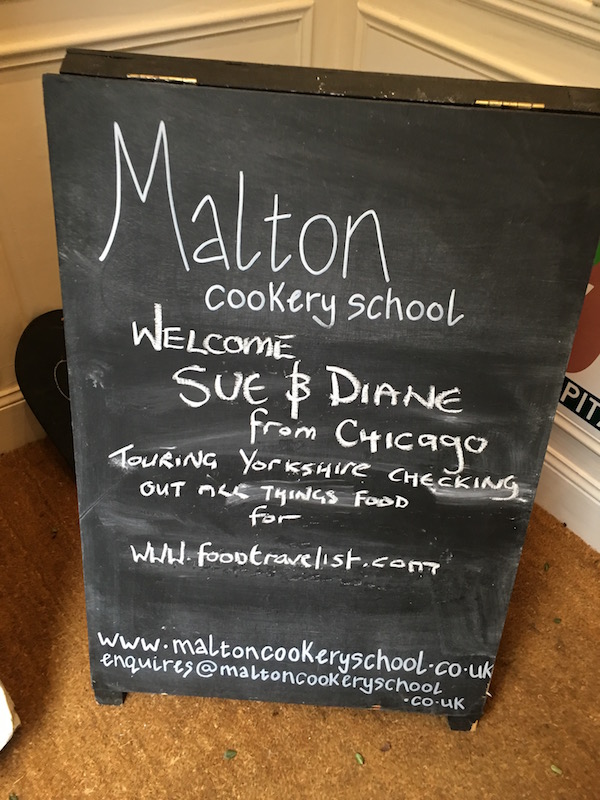 We stopped at the Malton Cookery School and couldn't have felt more welcomed. Yes, they knew we were coming, but the atmosphere was warm and we felt immediately at home. Head Tutor, Gilly Robinson, all around nice person, and a great cook, was kind enough to let us help the class in session complete their meal. So fun, and all made with delicious local Yorkshire ingredients.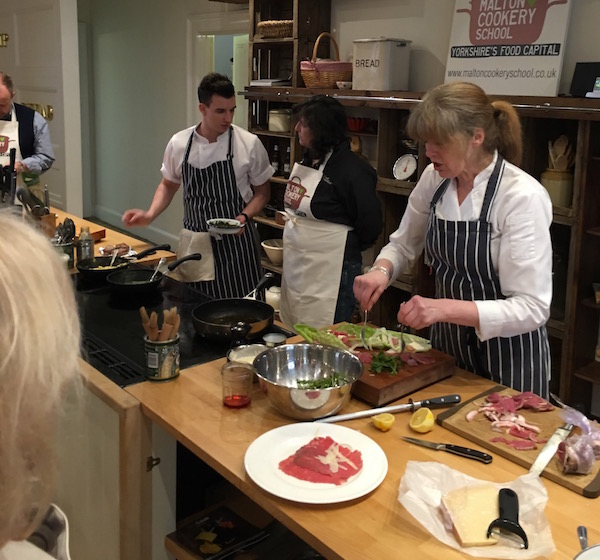 Right behind the school is Brass Castle Brewery. We walked over while they were busy working and got the scoop on this award-winning brewery. There are a couple of unique things at Brass Castle. First, they produce cask beer, which is served from a cask without additional nitrogen or carbon dioxide pressure. It's unpasteurized and unfiltered. This was a traditional way of making beer in England and the type of beer consumed by ordinary folks in pubs. Their beer is also vegan and vegetarian-friendly – they use no animal-derived ingredients in their process.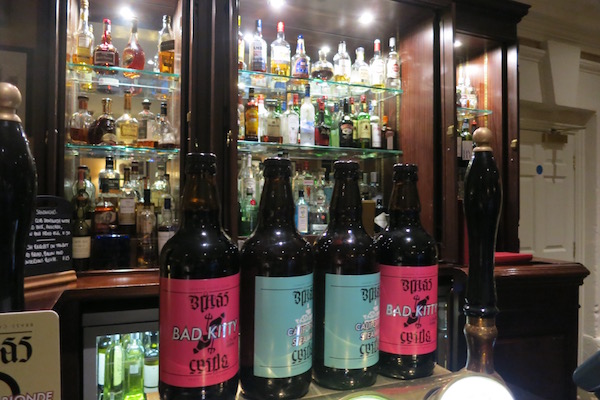 Our next stop was Talbot Yard Food Court to visit all the food shops that are creating their own unique products all from Yorkshire's finest ingredients. This is a one-stop shop for so many of the delicious foods in Malton.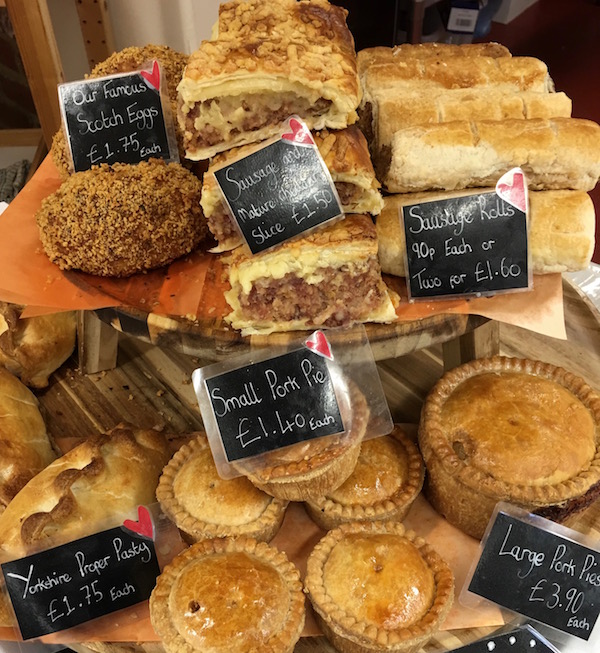 What makes the Talbot Food Court really special is that all these food entrepreneurs have brought their talents together in a lovely setting. You walk easily from shop to shop tasting real, fresh, local Yorkshire food. There's even an outdoor picnic area available to enjoy your food while taking in the lovely view.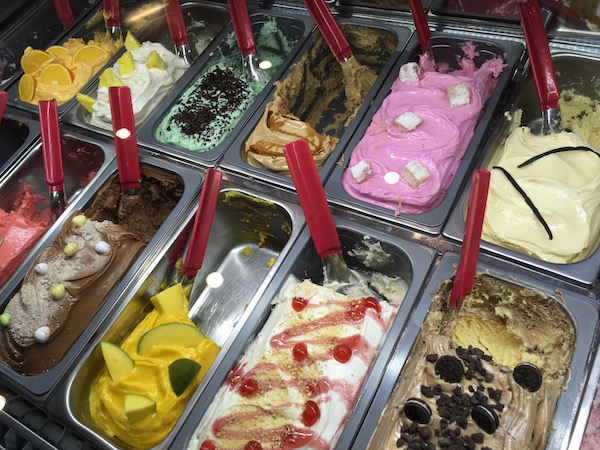 The Groovy Moo Ice Cream, Bluebird Bakery, Aldo's Fresh Pasta, Roost Coffee and more all in the Talbot Food Court are part of the "Made In Malton Artisan Food Tour." Groovy Moo makes handmade ice cream in a high-quality Italian gelato style using Yorkshire cream. Be sure to get there early because we're told that sometimes lines are an hour long to taste their unique and yummy flavors.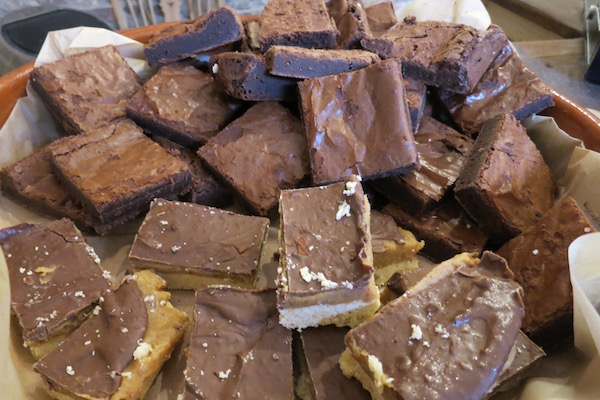 One taste was not enough at Bluebird Bakery. Be sure to get there early too as everything is made fresh daily. When it's gone it's gone! Not to worry, though. You can also get a taste of their lovely bakery items across the street at the Talbot Hotel because Chef Graham has Bluebird Bakery goods on the menu.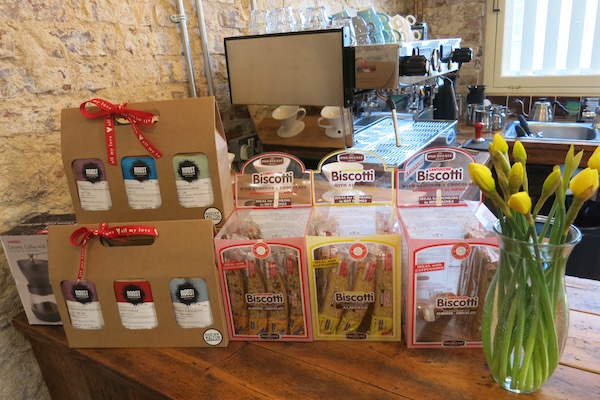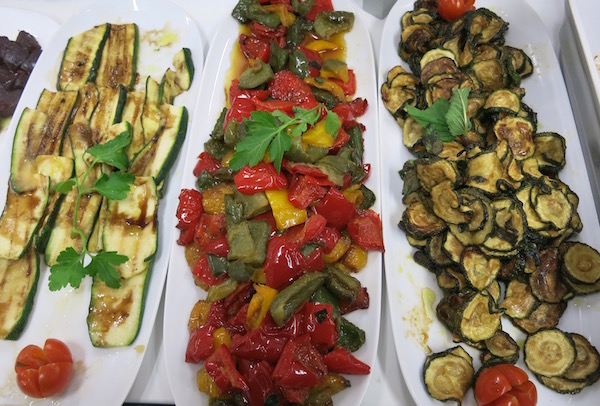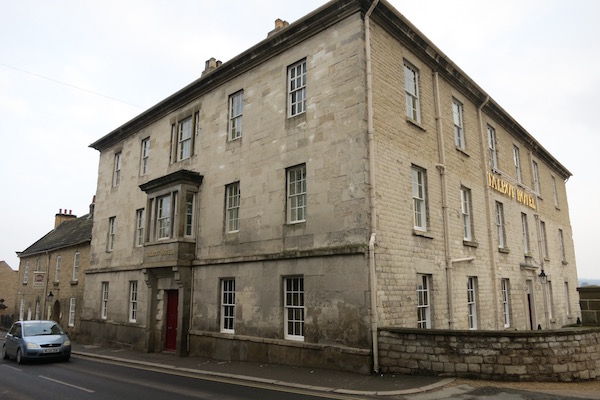 After a full day of exploring and tasting Malton, we had the sheer pleasure of staying at the historic and luxurious Talbot Hotel. We were warmly greeted with an invitation to enjoy some fabulous Yorkshire tea and biscuits (cookies to us Yanks!). Even as I look at the picture below I can still taste that delicious buttery shortbread biscuit and wish I had taken some home. What a welcome!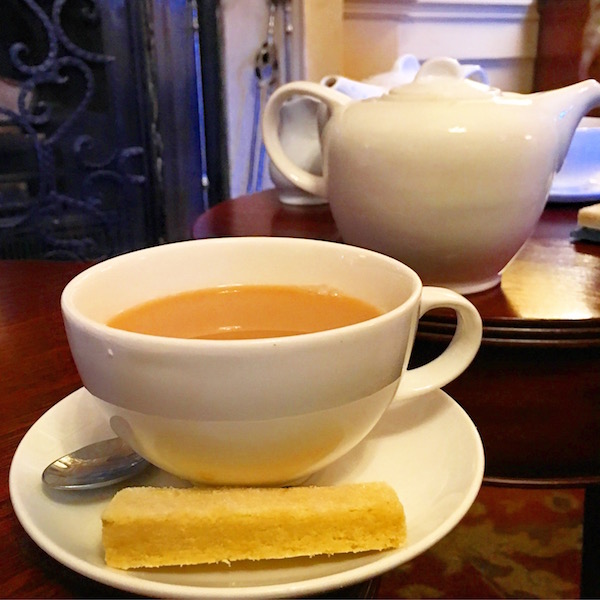 Owned by the Neyland family since 1739, the Talbot Hotel displays classic British design. While the hotel has recently undergone extensive restoration, it retains its traditional comfort and style.
We were pleasantly surprised to find our room fully appointed with all the modern amenities. There were plenty of electric and USB outlets for charging and wifi service yet the decor was comfy in a warm British style.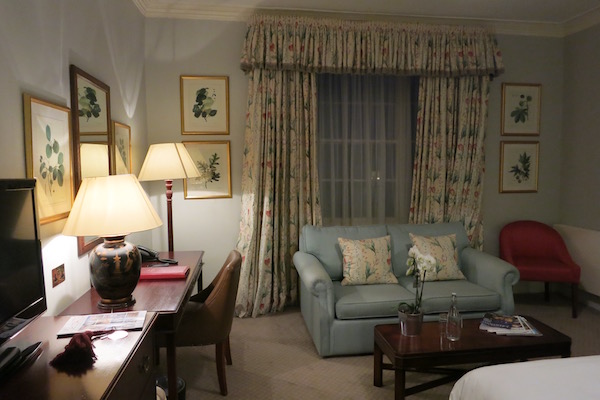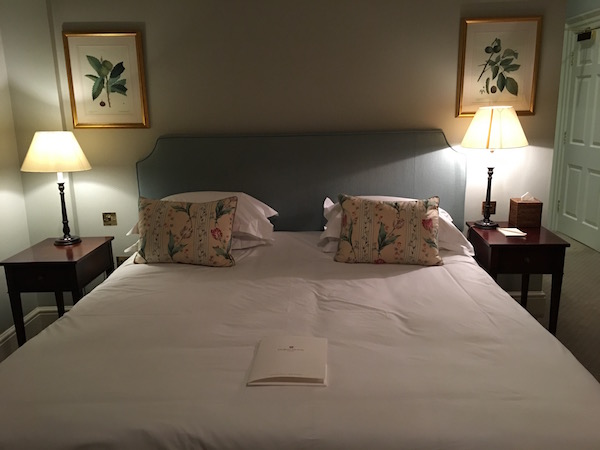 After walking way more than their daily 10,000 steps, who could resist this gorgeous four-footed tub? Not me. That's for sure.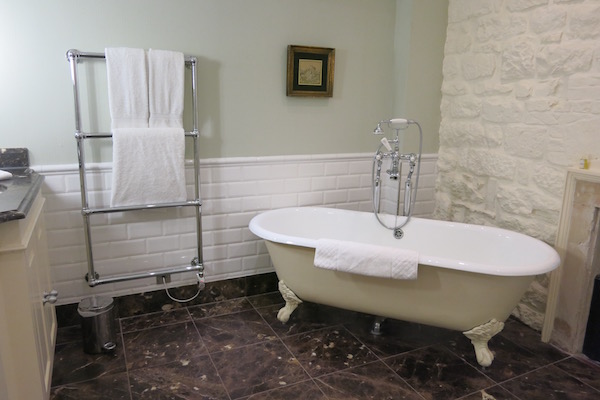 After a little rest, we were off to The Wentworth Restaurant located in the hotel. The handsome dining room immediately invites you to relax and enjoy "Yorkshire on A Plate," an extraordinary menu created by head chef Daniel Graham. Highlighting fresh ingredients from local suppliers, our meal was delicious, creative, and satisfying beyond our expectations. The only trouble we had was in deciding what to order from a menu that had so many wonderful choices.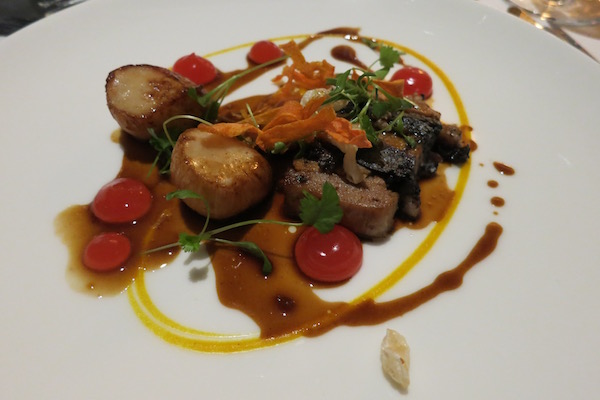 Choose we must. For starters, we had hand-dived king scallops with pork belly, black pudding, carrot, and blood orange.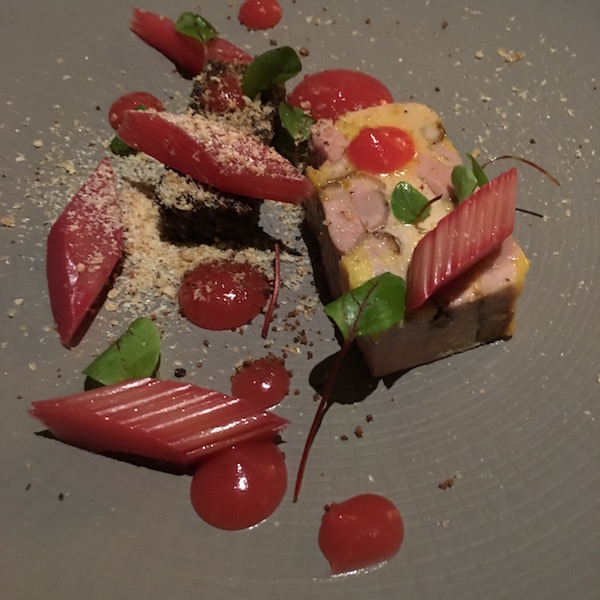 We were visiting in March, which is prime time for the Yorkshire "forced" rhubarb season. That meant we had to try the pressing of smoked Yorkshire duck, and confit duck liver with Robert Tomlinson's rhubarb, and parkin-gingerbread crumbs. Forced rhubarb is grown in a shed or in the dark and is said to be more tender than rhubarb grown outdoors. It was delicious!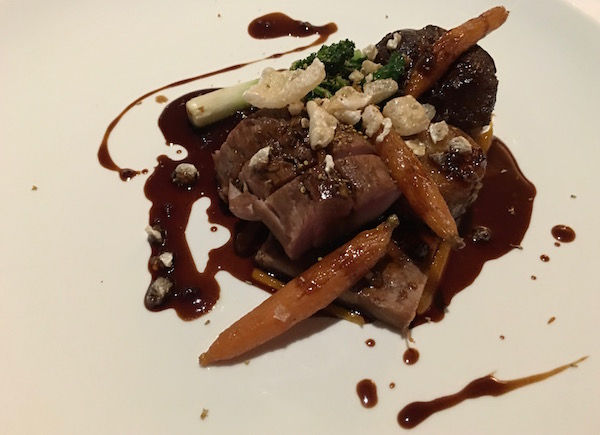 As the main course, a Collection of Percy's Pork (Yorkshire vendor) with heritage carrots, fennel pollen, and Ampleforth cider (also from Yorkshire) sauce was simply scrumptious.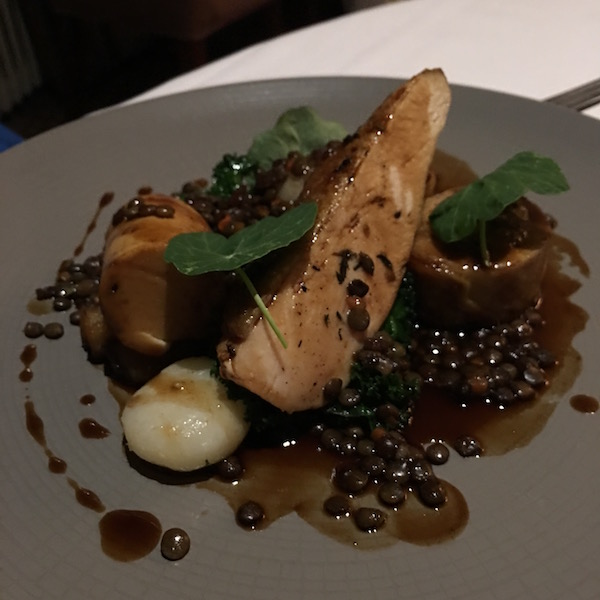 We also had the Raisthorpe Manor pheasant (Yorkshire), which was a braised leg, Puy lentil cassoulet, baby turnips, and game jus.  A truly unique and delicious dish.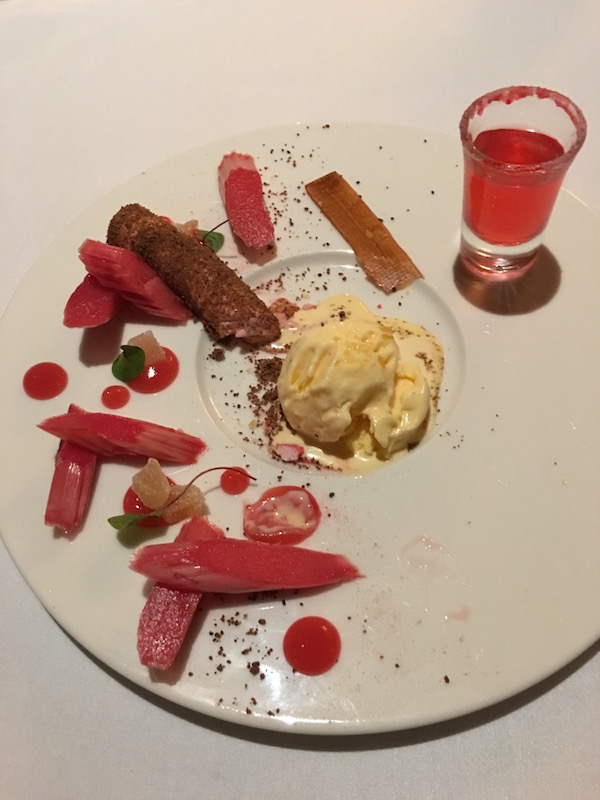 We finished up with a refreshing rhubarb dessert with a vodka rhubarb-infused sherbert shot and ginger and custard. It was a lovely finish to a perfect dining experience. Our server and his assistants provided outstanding service. He waited patiently for us to take our photos and suggested wonderful wine pairings throughout the meal. We also enjoyed his delightfully dry sense of humor. We really felt like we were eating in a private dining room. Looking around we could sense that all the other diners felt the same too as they engaged in private conversations and looked like they were thoroughly enjoying themselves.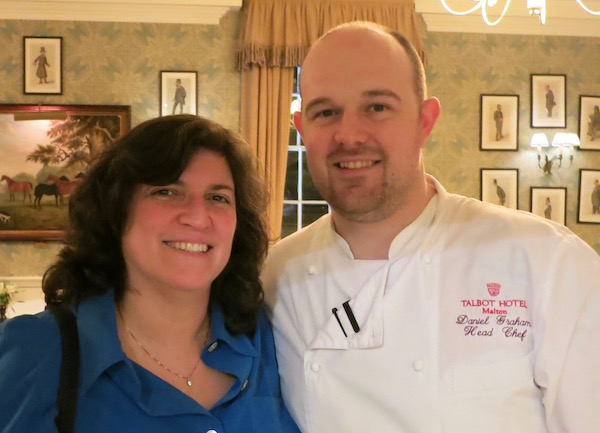 We spent a few minutes with Chef Graham and he couldn't be more delightful. His unassuming manner only made him more charming. His ability to use the finest ingredients from the Yorkshire vicinity in an elegant yet approachable manner certainly makes the Wentworth Restaurant a place to dine whether you're staying at the Talbot Hotel or not.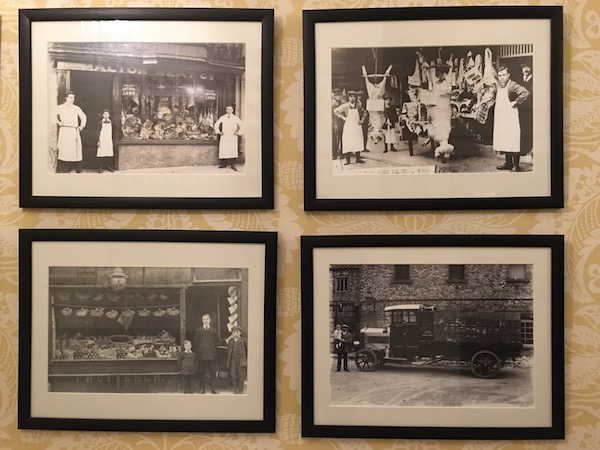 The Talbot Hotel has many historical photos from Malton so be sure to take a walk down the hallways and enjoy a journey back in time.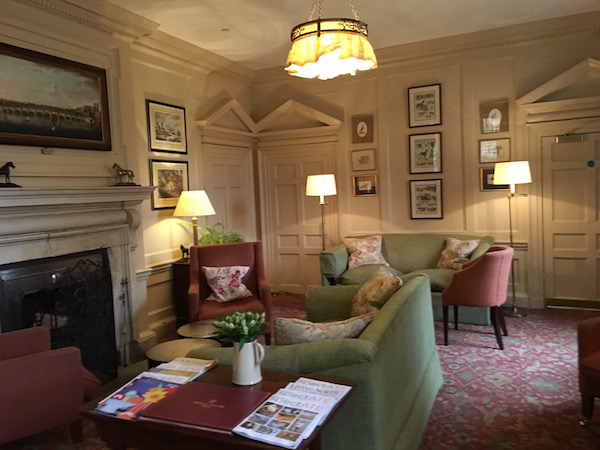 There are also plenty of places to relax and enjoy a cup of tea, a gin and tonic or just curl up with your favorite book. The overstuffed furniture in the lounge is so comfortable you may not want to get up. But you should explore the property's gardens and have a walk along the river Derwent.
If you want more ideas on what to do in Malton you'll find a booklet in your room, "101 Reasons to Linger" authored by Tom Naylor-Leyland. It provides one hundred and one things to do in the Malton area including visiting castles, abbeys, gardens, museums, golfing, hiking, events, and, of course, the best food, craft beer, and wine recommendations in the area.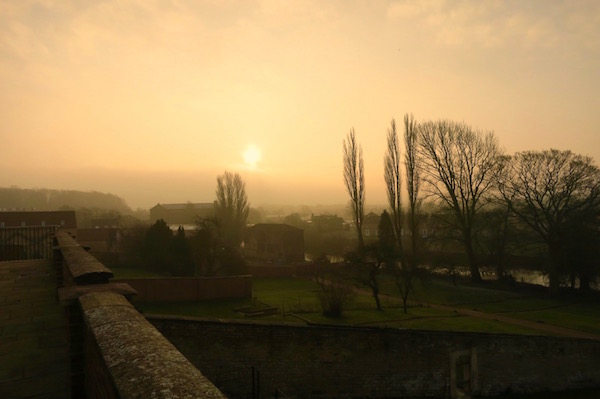 After a lovely and contented sleep in our comfortable and quiet room, we awoke to a beautiful sunrise in Malton. Our only regret was having spent only one day in Malton and at the Talbot Hotel. We have definitely marked Malton on our Food Travelist map as a place to return.
Planning A Visit To Malton Yorkshire's Food Capital
When you plan your journey to Malton you might want to consider a visit at the end of May to take in the annual Malton Food Lovers Festival. Sample the finest Yorkshire produce and cooking. You'll find street food, presentations, cooking lessons, craft beer and cider, live music, and entertainment for the whole family. This is an event we know we want to return to experience. Check out their website for more information.
THE QUICK BITE: Malton, Yorkshire's Food Capital, is a must-visit for food lovers. This market town in Northern England is stocked full of delicious culinary experiences. From delicious local produce, meat, fish, craft beer, and cider to handmade ice cream, tasty bakery goods, and hand-pulled pasta they have it all.
Special thanks to Visit Britain! We were guests of Visit Britain on our visit to Northern England. We were not financially compensated. All opinions are our own and reflect our experiences at the time of our visit.
Big thanks to Sue & Aidan Nelson of Yorkshire FoodFinder for creating this wonderful visit in Malton. Check out their website YorkshireFoodfinder.org when you're visiting Yorkshire and they'll create a personalized culinary tour for you too!