Birds and Brews in Traverse City
Food Travelist readers know that we adore Traverse City, a foodie's paradise in northern Michigan. Along with a reputation for terrific food, local wines and craft beer Traverse City is also a haven for nature lovers. Whether you enjoy hiking, boating, fishing, golfing – you name it –  you can do it in Traverse City. One of our favorite nature-focused activities is birding – we love to watch the birdies. Happily, this part of Michigan is loaded with amazing birds. Spring is a particularly great time to see migratory birds making a stop while on their journey to warmer climates.
We also discovered that we are not alone in our love of watching birds. One of the locals, a longtime dedicated birder, decided to combine his passion for birds with his love of craft beer and opened Rare Bird Brewpub in Traverse City. Rare Bird Brewpub serves up their own unique beers as well as other locally crafted beers, wines, cider and a full bar. The menu offers an eclectic array of international flavors from Pork Belly Bahn Mi and Curry Bowl to hummus and tacos. Traditional pub grub like burgers, mac 'n cheese, wings and deviled eggs round out the menu making it a tasty little spot to get something yummy and maybe even get a glimpse of some feathered friends while there. Sound like fun? It is! We also love people who follow their passion, so here's a little more about this beery birdy story.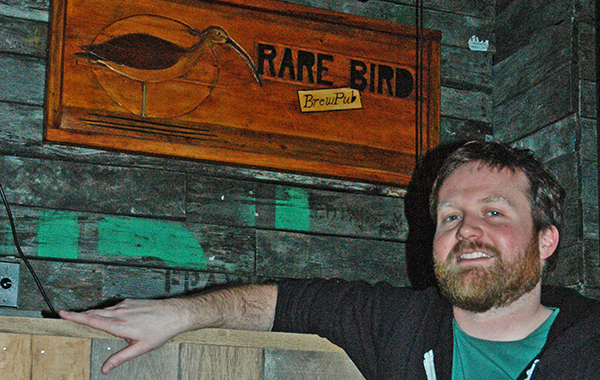 In the middle of a discussion about brewing styles, Nate Crane suddenly looks out the window and begins counting geese. 
"Sixteen," he says, as the flock of honkers disappears south toward Boardman Lake. "I'll have to log that as soon as I'm finished." 
People who know Crane are used to this sort of thing. He may be a beer-loving entrepreneur, but he'll always be a birder at heart. And here in the snug bonhomie of the Rare Bird Brewpub, he can indulge his passion for birds by simply walking out to the edge of the Boardman River to see what new waterfowl have stopped in for a rest. 
"Traverse City has some outstanding birding spots," he says. "We're blessed to have water all around us, and water is a natural conduit for birds to follow.  It's amazing some of the birds I've seen right here. I amaze myself sometimes." 
A lifelong resident of this northern Michigan resort town, Crane started birding when he was a youngster — going on field trips to spots like the Arcadia marshes and the Sleeping Bear Dunes with groups from the local Audubon Society. (He was always the youngest one in the group and sometimes he still is.)  
After getting a business degree from Michigan State University, he briefly cherished the idea of pursuing a master's degree in ornithology from Cornell. He quit his corporate job and started taking some math and science classes to prepare for grad school, working part-time at nearby Right Brain Brewery. That's how he discovered the world of craft beer. 
 "I fell in love with it," he says. "It was that simple. So I asked myself, why should I have to choose? I like birds and business and beer; why can't I do all three?"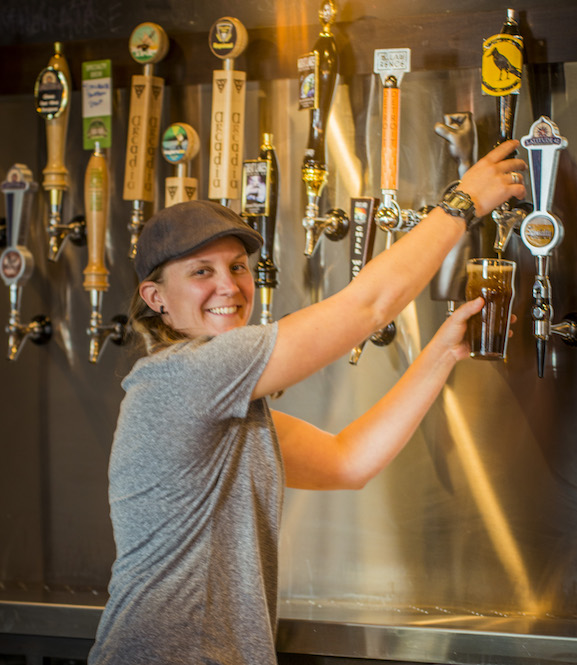 In 2011 he met Wisconsin-born brewer Tina Schuett, a former park ranger who fascinated him when he discovered she had once banded kiwis in New Zealand. When they decided to open a brewpub in a former Depression-era railway warehouse on Lake Avenue, the name came naturally. Rara avis, as the Romans used to say: a rare bird.  
They chose a deliberately ambiguous crow-like bird for the pub's logo – but a more personal symbol is displayed on a wooden sign above Nate's favorite booth. It's a long-billed curlew, hand-carved for Rare Bird by Nate's former seventh-grade science teacher, George Wyklige.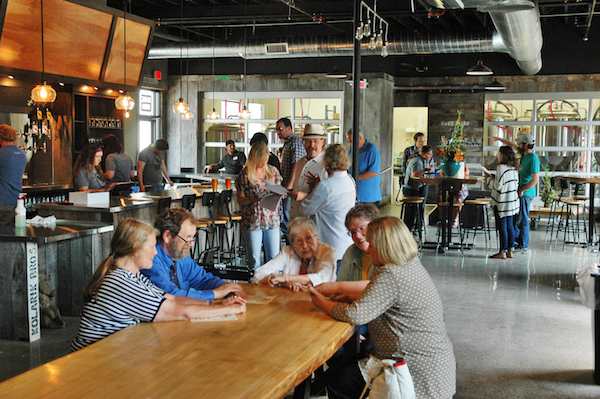 Rare Bird serves up six brews of Tina's making at a time, as well as guest taps from other brewers and a menu that runs the gamut from duck breast mac & cheese to pork belly banh mi. Managing a pub, especially one that's still in its early years, is pretty intense work. But it does give Nate a lot of mornings for birdwatching.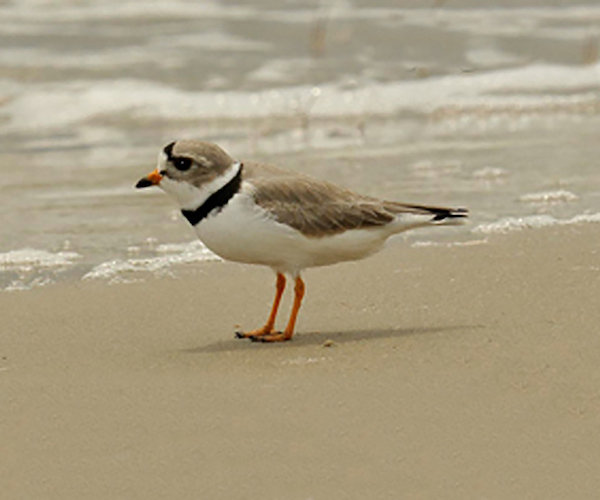 "I'm not a list-making kind of birder," he says. "My philosophy is, 'Hey, let's get out and walk around and see what we see.' There's birders who are chasers – chasing after a particular bird – and if you're one of those guys and you go out and don't see that bird you're totally disappointed. Me, I'm glad to see anything." 
Nate's favorite month for birding is early November, when the autumn winds often bring gifts from far-off places – rare birds blown to Traverse City's shores by distant storms. He's a big fan of the Sleeping Bear Birding Trail, an online guide to 123 miles of birding sites along the Lake Michigan shoreline. 
In winter he's particularly fond of Medalie Park, the tiny picnic area at the south end of Boardman Lake, as well as the adjacent Boardman River Valley and Sabin Pond, which have a "tremendous winter waterfowl population – northern pintails, trumpeter swans, snow geese." 
His most exciting recent find is a Northern Hawk Owl, which is almost never seen this far south — even though it's the mascot of the local community college and the inspiration for one of Right Brain Brewery's amber ales. But he loves more common birds, too – especially grassland birds like bobolinks, dickcissels, upland sandpipers, and eastern meadowlarks.  
As for Cornell, Nate still contributes regular reports to www.ebird.org, the online birding checklist for the Cornell Lab of Ornithology.
"And I still have the t-shirt," he adds.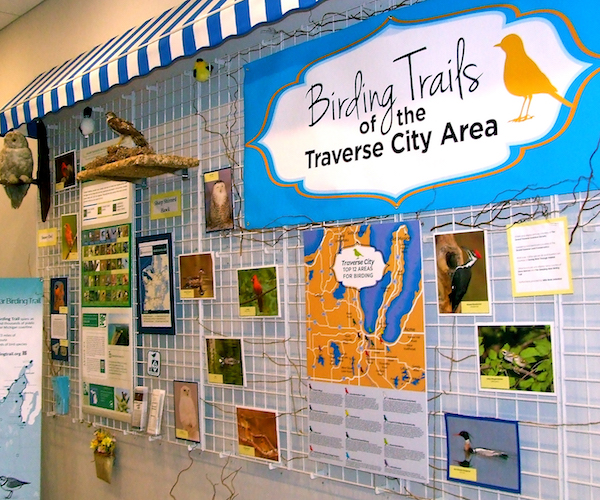 Rare Bird Brewpub is located at 229 Lake Avenue, Traverse City, MI.
Hours: Monday-Thursday 3pm-12am.
Friday & Saturday 12pm-2am. Sunday 12pm-10pm.
You can also check out their menus and more at rarebirdbrewpub.com.
Thanks to Traverse City Tourism  for providing the photos and information about Rare Bird Brewpub and Traverse City.
When you're visiting Michigan make sure to plan some time to explore all of Traverse City. To learn more about some of other places we enjoyed, check out our story Foodie Fun & So Much More in Traverse City.
THE QUICK BITE: Rare Bird Brewpub in Traverse City brought together Nate Crane's love of bird-watching and craft beer-making together in a tasty combination.