Simply Tasty Memorial Day Celebration
Memorial Day for most Americans signifies the start of summer. A lot of us spend time getting our backyards ready for Memorial Day by tending our gardens, dragging out the patio furniture and getting things in order. It's also a time to reflect on those we've lost. Specifically those we've lost who have served in the military forces.
Sometimes we spend so much time running around getting ready, choosing a menu or planting our annual flowers that we don't focus on the true reason for the holiday in the first place. This year we're changing that. We're keeping it simple but delicious with an easy celebration full of top quality, good tasting all-American food.
Special thanks to Kansas City Steak Company who sent us filet mignons to cook.  We were not financially compensated. All opinions are our own and reflect our experiences with their product.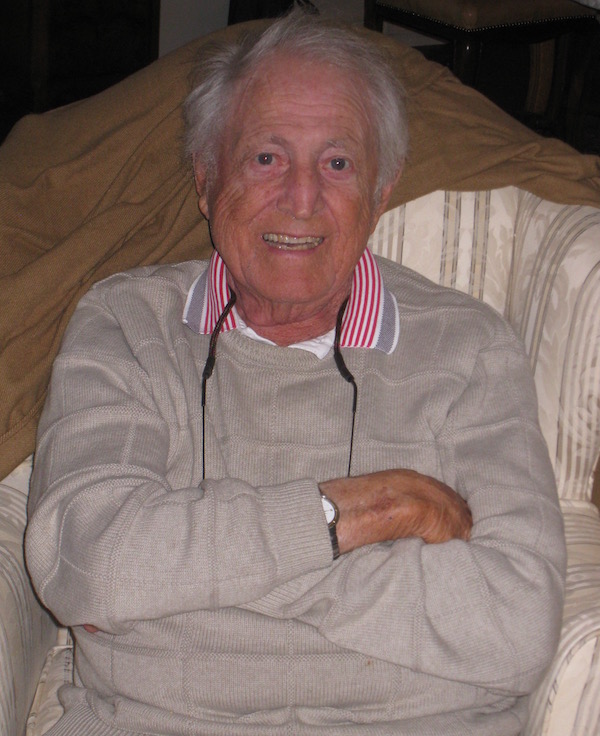 We have an important reason for the change this year. Diana's stepfather George passed away recently. George was part of "The Greatest Generation." He served in the U.S. Marine Corps and stormed the beaches in the Pacific as an officer at 18 years of age, along with his fellow Marines. George had a deep respect for his country and for those who served it. He rarely spoke of his experiences, like many of his generation that went through the same thing. His Purple Heart, awarded for being wounded by an instrument of war in the hands of the enemy, remained hidden away in a drawer. But we knew he saved lives and watched many of his young friends perish in what has been called "The Great War" and  "The War To End All Wars." The Marines have been America's expeditionary force in readiness since 1775. And no one knew that better than George.
We'll be celebrating George this year on Memorial Day. We'll be thinking of him by eating a wonderful steak dinner, on time at 4pm. Ever the Marine, he was a stickler for promptness, especially around dinner time. We'll remember the twinkle in his eyes when family would get together. I fondly remember him singing Christmas carols one holiday get together. He relished those times and meals we shared. He adored Diana and couldn't wait for the meals she worked so hard on to be served, often yelling, "Hey it's four o'clock. Let's eat!" He lived a full, long life, traveled many places, smiled a lot, enjoyed his family and friends and loved his country.  We'll lift a glass of California red to George on Memorial Day and to all the other heroes and their families, who made the ultimate sacrifice for their country and our freedoms.
Here's our Memorial Day menu:
Grilled Kanas City Steak Company Filet Mignon
Baked Idaho Potato with Crunchy Parmigiano-reggiano Cheese
Steamed Broccoli
Strawberry Short Cake
We met the Kansas City Steak Company when Diana competed in the Food Fight Write Blogger Challenge last year. She had an opportunity to cook up some of their filet mignon as part of that competition and we really enjoyed them. The filets are aged up to 28 days and flash frozen to lock in their freshness and tenderness. There are absolutely no additives or preservatives.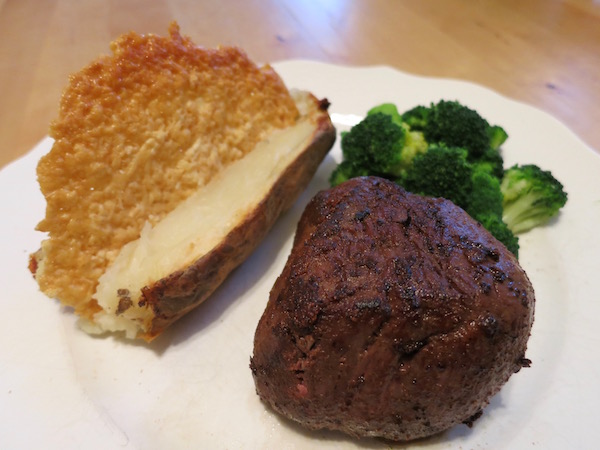 Kansas City Steak Company has been around since 1932 selling premium steaks – filet mignons, t-bones, porterhouse, rib-eyes and top sirloin. They've extended their offerings to pork, poultry and seafood. Also if you're not completed satisfied they will either refund your purchase or send you another shipment.
If you're looking for top-quality steaks, give them a try. Check out their website, too. They're offering special Memorial Day discounts.
We typically marinate our meats before grilling but this steak is perfect with just a little salt and pepper or you can use the handy steak seasoning pack, which is included. Grill your steaks to your preferred temperature. Bake your Idaho potatoes as you like, either on the grill or in your oven. We love them cooked low and slow so the skin gets nicely cooked and crunchy – that's the best part. I like butter, Diana likes sour cream and chives. Diana baked some shredded parmigian0-reggiano on a greased cookie sheet till it was nice and crispy, careful this stuff burns quickly. It's a cheesy crunchy treat. Of course, you can choose your own favorite toppings.
Steamed broccoli is a natural companion at a steak dinner. No need to do too much to it – just steamed and topped with a little butter. We love the pure Irish butter from our friends at Kerrygold.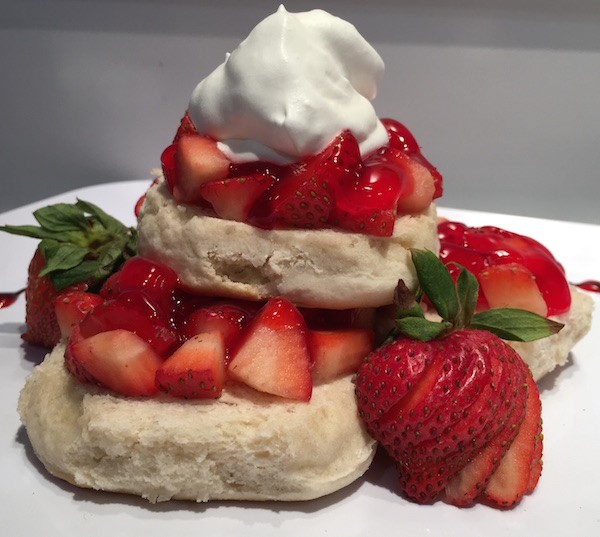 For a perfectly American dessert, nothing beats homemade Strawberry Shortcake. Diana bakes up her Grandmother's biscuits recipe and we get some fresh local strawberries from the farmers market and whip up some fresh whipped cream. Just a little goes a long way.
We hope that you share a thoughtful Memorial Day with family and friends this year. Take some time to contemplate what we're really celebrating and holding those whom we celebrate this day in your hearts.  You can plan a memorable, wonderful meal without too much muss or fuss if you plan ahead and keep it simple. Join us in toast to George and all the armed forces.
THE QUICK BITE: We recommend a simple but tasty meal while celebrating Memorial Day so you can enjoy the day and take a moment to reflect those whom we're celebrating.