Mercer Wine Tasting Night
Wine tasting. Sometimes it's so pretentious or you might feel like you don't know enough about wine to contribute to the conversation. We say no! If you like wine, like we do, it's fun to plan a wine-tasting night at home. Invite a few friends over a taste a few different wines. It's the perfect way to get together, share a few laughs and learn about some new wines. The casual environment makes even the first time wine drinker comfortable.
Recently the folks from Mercer Wine sent us some of their wines to taste and we thought, what better way to get to know their wines than with a few friends.
Of course planning a wine night is more than just the wine. You must have some tasty snacks and food to accompany the wine tasting.
We decided to go a little Middle Eastern and made a Greek salad. We picked up some delicious olive tapenade, hummus and fresh baked pita from our favorite local Middle Eastern store to go with the wine. For some sweets we kept it easy with some Damak dark chocolate bars with pistachios and Sheila G's Organic Brownie Brittle.
Our guests also brought some lovely cheeses and crackers. We were all set to begin the wine tasting.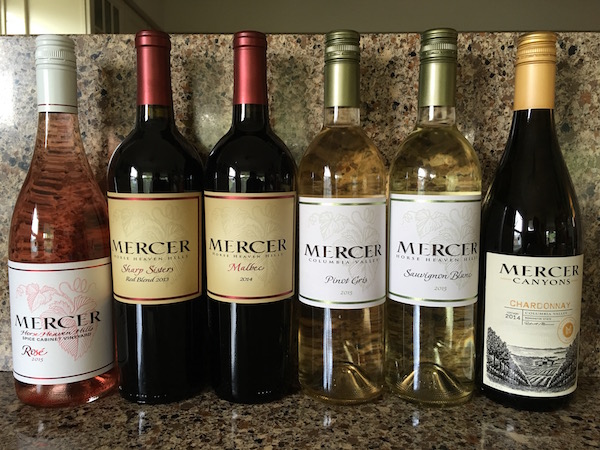 Here are the wines we tasted:
2015 Mercer Horse Heaven Hills Spice Cabinet Vineyard Rose
2015 Mercer Horse Heaven Hills Sauvignon Blanc
2014 Mercer Canyon Chardonnay
2015 Mercer Columbia Vally Pinot Gris
2013 Mercer Horse Heaven Hills Sharp Sisters Red Blend
2014 Mercer Horse Heaven Hills Malbec
Mercer Wine 5th Generation Agriculturists
The Mercer family has been managing the same property in Washington State since 1886. Raising row crops, livestock and now over 2,000 acres of vineyards in Horse Heaven Hills AVA. In 2005, Rob and Brenda Mercer founded Mercer Estates, which has three tiers of estate wines: Mercer Estates, Mercer Estates Reserve, Mercer Canyons. And a single label dedicated solely to charity Eagle & Plow.
The Mercers are well-known for their care of the land through conservation efforts, community support and patriotism.
Two team members at Mercer were personally affected by the events on September 11, 2001. President Rob Mercer served in the Marine Corps. in the 90s and re-activated to serve in Iraq in 2007-2008. Their vineyard manager, John Derrick lost his best friend John Guadagno on Flight 93.  Eagle & Plow is sourced from Mercer's Block 93, a one-acre plot planted with 911 vines. 40 of those vines represent the 40 lives lost on Flight 93. All proceeds are donated to charities supporting victims of 9/11 and people who protect us everyday.
"We are stewards of our land, caring for and enhancing it's environmental and social value, always striving to provide a life more abundant for all. At Mercer Estates, we produce wines that demonstrate the distinct terrior of the Horse Heaven Hills with a sense of balance. This is the highest form of art that we, as agriculturists, can accomplish."

-Rob Mercer, President Mercer Wine
The Mercers consider themselves agriculturists. The Mercer family firmly believes in sustainability and focuses on water management, soil and fertility management, integrated pest management, waste management, research, community support and leadership. All this goes into making some wonderful wines from Horse Heaven Hills, Columbia Valley and Yakima Valley in Washington State.

Let's Taste Some Wine
We decided to start with the Rose, which is made with 100% Grenache fruit. It was an excellent choice to start. Everyone loved the Rose. It's perfect as a chilled summer wine and easily pairs with just about anything.
From there we moved on through the whites. We really enjoyed the light and refreshing, fruit-forward Sauvignon Blanc and the Pinot Gris, which paired very well with the aged cheddar a guest had brought to the tasting. If you're a Chardonnay fan, the Mercer 2014 has notes of vanilla, creamsicle, juicy pear and pineapple.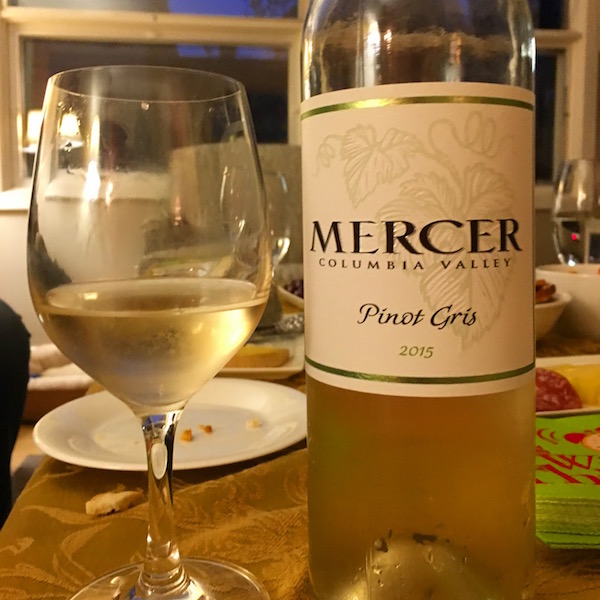 We then moved on to the reds. We were all quite taken with the Malbec, which had hints of blackberry and plum. It went along quite nicely with the dark chocolate and pistachios. If you're a fan of red blends you should try their Sharp Sisters, which is made to be shared with friends and family.
Wine Tasting Tips
Here are just a few things you might want to keep in mind when planning a wine tasting.
Prepare notes or information on each wine in advance for your guests
Provide water for all guests to cleanse the palate between tastings
Pour small amounts for each tasting, remember guests need to drive home
Have a "spit bucket" or empty container available for guests to dump unwanted wine
Have food available for snacking and pairing with the wine
Keep it simple and let your guests enjoy the wine and each other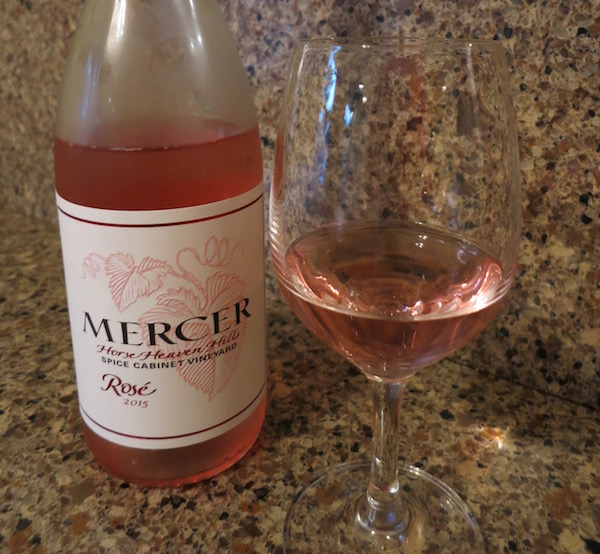 We had a lovely evening tasting all the different varieties of  Mercer Wines. We hope that you will consider Mercer Wine for your next wine tasting or just a glass with your next meal. To learn more about Mercer Wines and where to find them check out their website at mercerwine.com.
A very special thanks to the folks at Mercer Wine for supplying the amazing varieties of wine for our home wine tasting. As always all opinions are our own and reflect our experiences.
THE QUICK BITE: Planning a wine tasting is a wonderful way to relax and connect with friends. Mercer Wine produces three tiers of wine for every occasion making it a terrific companion for a wine tasting.