Manny's Deli Continues to Shine
One of the things that's always fun when writing about my home town food is that once in awhile I get to go back and experience some of my old favorites. When we were invited to the grand opening of Manny's Deli in Chicago I thought what? Grand opening? Manny's has been around since the early 1940s.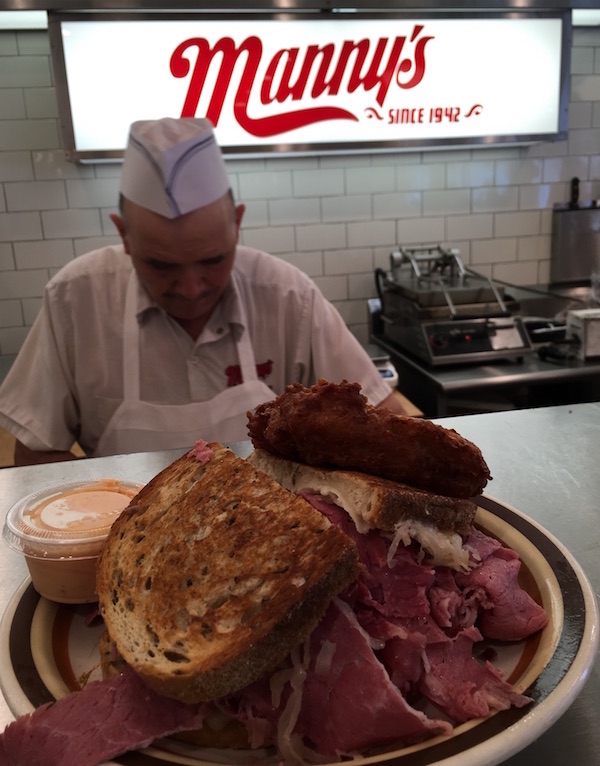 Admittedly, I hadn't visited Manny's in more than a few years. But I knew that Manny's had wonderful corned beef and all the other delicious things you'd expect from a real Jewish deli. One of the interesting things about Manny's is that it's a cafeteria. You'd grab your tray choose your food and sit down and eat. Not very fancy, but man was it good food.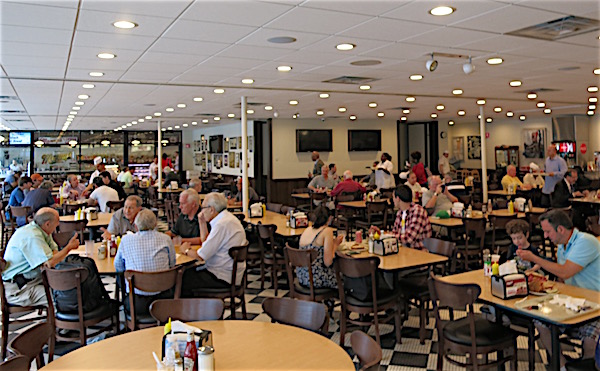 That great cafeteria style dining still exists at Manny's. But after eight months of construction they've updated the restaurant and added a separate walk-up deli counter. When you first walk in what will amaze you is that it kinda still looks the same, only better. They say that the entire restaurant has been resurfaced. The black and white floor tiles and the fluorescent light signage look new but at the same time have that familiar look and feel of classic Manny's.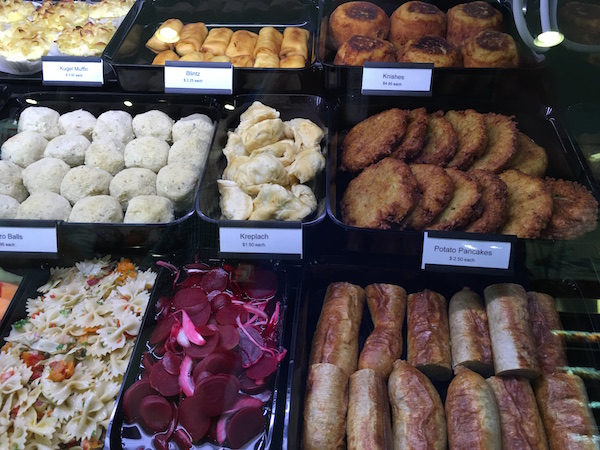 We had the chance to chat with the Raskin family, who have been operating Manny's for four generations. Ken Raskin has been working at Manny's since 1975, so when his wife Patti and son Dan proposed adding a walk-up deli he was skeptical to say the least. How skeptical? It took almost 10 years to convince him that it was the right thing to do.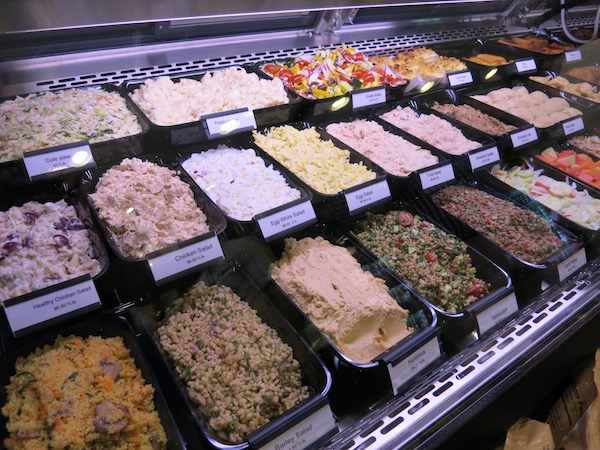 We're so glad they did! Along with Manny's classic corned beef and pastrami you can now order all your deli meats, cheeses, salads all right from the same location they've been at since 1942. Serving Jewish deli classics like chopped liver, matzo balls, whitefish salad, kugel, blintz, knish and of course tuna salad, chicken salad, egg salad (try the egg white salad – it's super light and perfect for summer), Manny's has also added some updated versions like a healthy chicken salad, barley salad and Greek salad. All are house made on site, super fresh and tasty.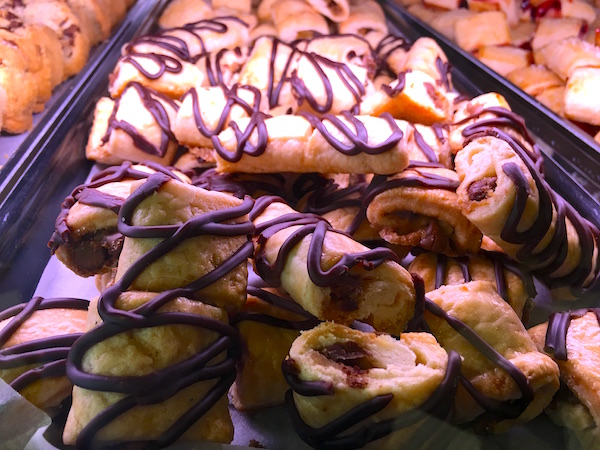 Did we mention that the deli has a full bakery as well? I love rugelach, scratch that, I'm addicted to good rugelach and I forced myself to try several varieties – fresh apricot was my fave at Manny's Deli. Only Bea's Bakery in L.A. comes close as a competitor.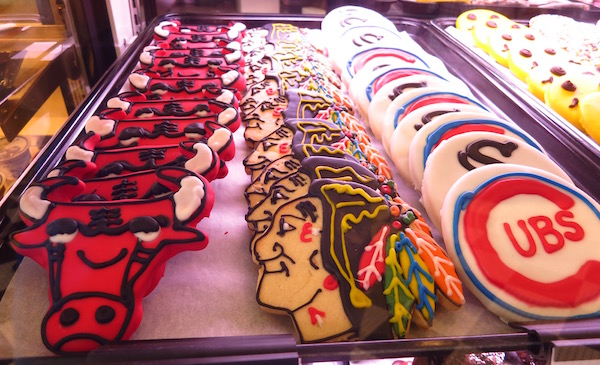 Patti Raskin heads up the in-house bakery with deli favorites like rugelach, babka, black & whites, hand-made Chicago team cookies and much more.  They also make custom designed cookies if you're looking for that perfect little treat for a luncheon or client meeting. They have a full selection of bagels and butter cookies as well from local sourced bakeries.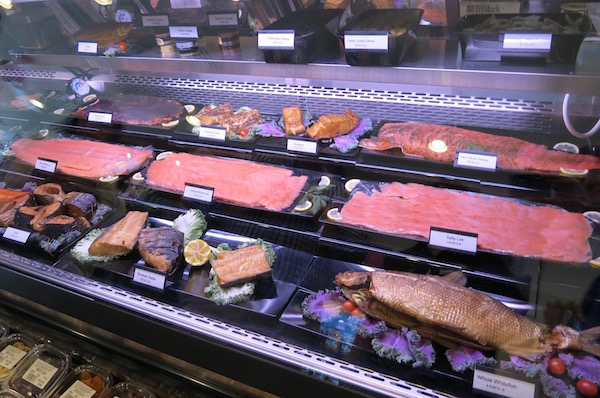 The highlight of the deli, and something hard to find in Chicago, is definitely the fish. You will simply not find a more thoughtful and thorough selection of smoked fish in the Windy City. Ken swears it's the most unique selection in Chicago and we think he's right. Smoked white fish, six types of salmon – try the pastrami lox, it's delicious – smoked sable, sturgeon and trout. It's a smoked fish lover's paradise and a real source of pride for the Raskin family.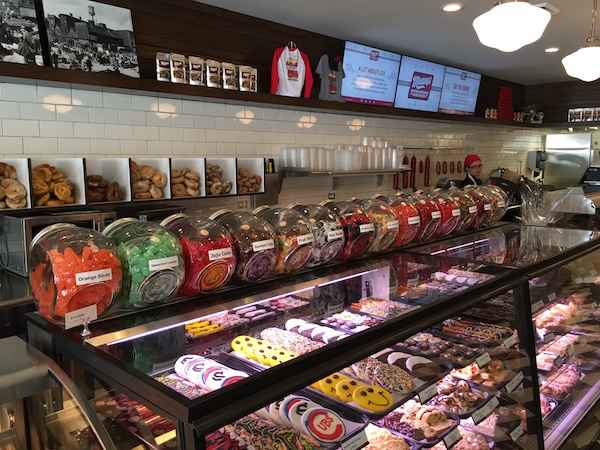 They also continue the tradition of featuring old fashioned candy that they had at the original restaurant. Remember Bit-O-Honey, Sugar Daddy, Slow-Poke, Turkish Taffy? They've got them and a huge selection of what we used to call "penny candy" from which to choose. They've also added some modern choices including one of our favorites Torie & Howard. If you haven't tried Torie's latest flavor meyer lemon and raspberry in the fruit chews or hard candy add that to your deli order.
Ken says that so far the feedback has been great from long-time customers. Some hardly even noticed the changes. They just want their Manny's favorites. While we were sitting in the restaurant the deli hadn't officially opened yet. Almost every customer went up to the adjoining locked door and gave it a pull. They couldn't wait to get a look. One gentlemen we spoke to said "It's about time! I was going to buy some food to take home. Next time." The deli officially opened last week so if you're looking for a New York-style Jewish deli with everything you love, don't miss Manny's Deli!
Manny's Cafeteria & Delicatessen
1141 South Jefferson Street
312-939-2855
mannysdeli.com 
THE QUICK BITE: Manny's Deli located south of Chicago Loop just opened a new walk-up deli right next to the cafeteria that's been feeding Chicago terrific Jewish deli food for over 70 years.