Stale Bread Recipes: Panzanella
These days if the refrigerator is low on fresh items, we look to our pantry to see what's there. Chances are you may have some bread. Even if it's not fresh or hard as a rock, we can help with some great stale bread recipes.
Easy Stale Bread Recipes
Whether you've baked some fresh bread or have some bread leftover, some creative stale bread recipes are easy and delicious. You may be surprised to know that bread is one of the most wonderful salad ingredients. Of course, you can use it to make croutons. But why not take it up a level?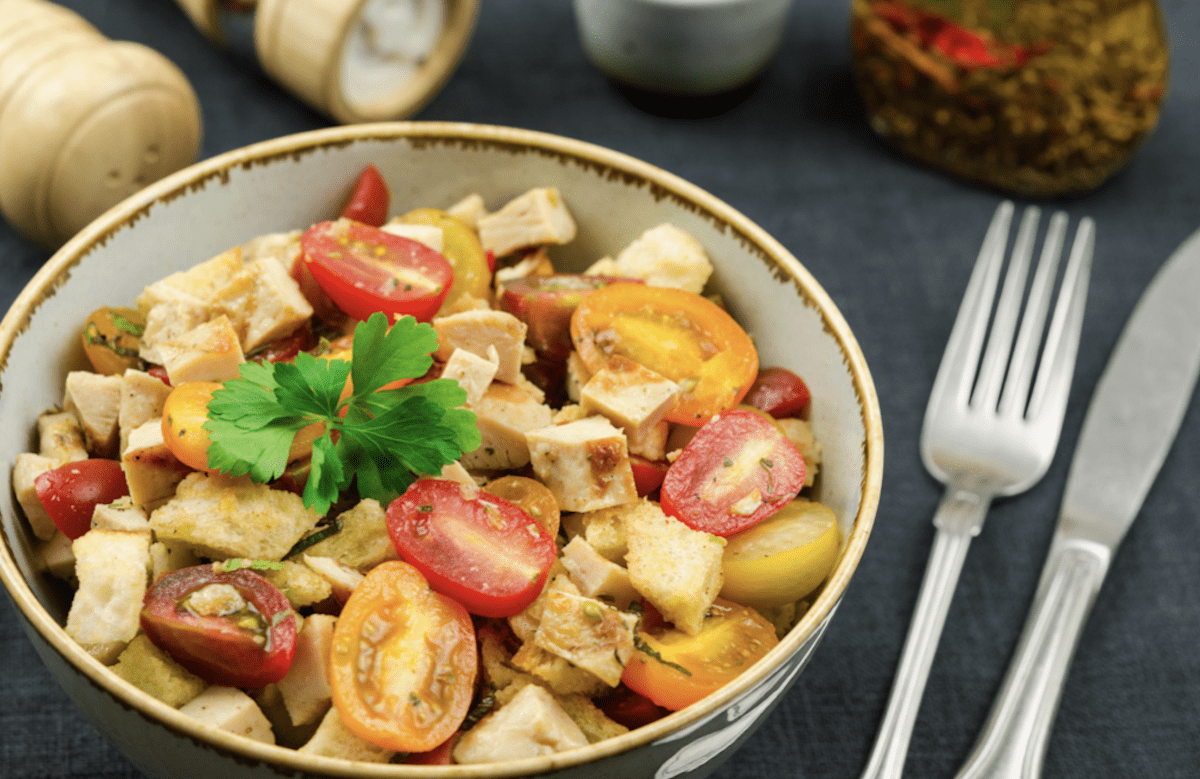 Bread Salad
One of our favorite easy salad recipes is a Panzanella recipe. Panzanella is a bread salad from Italy. People outside of Italy make it too, using their own salad ingredients.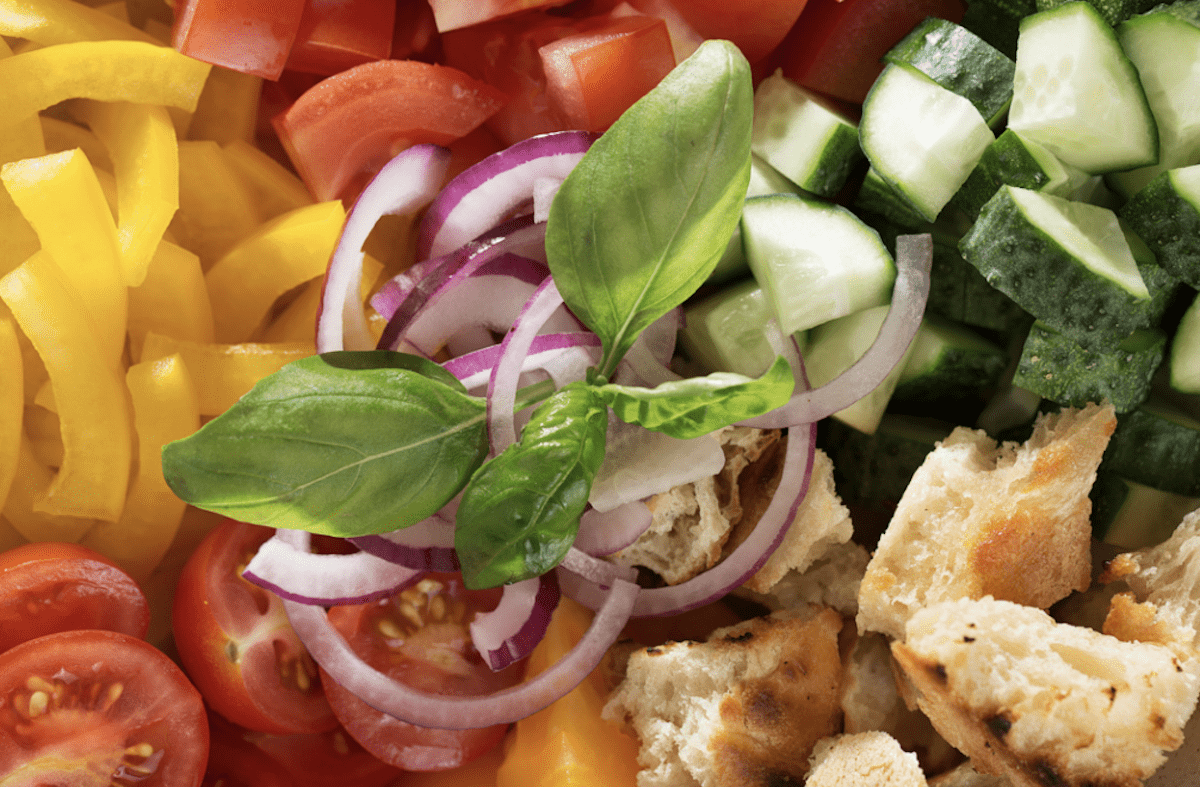 You can pretty much use any produce or vegetables you have around. A traditional Panzanella recipe will use ingredients that are found around Italian kitchens like tomatoes, basil, and Parmesan cheese.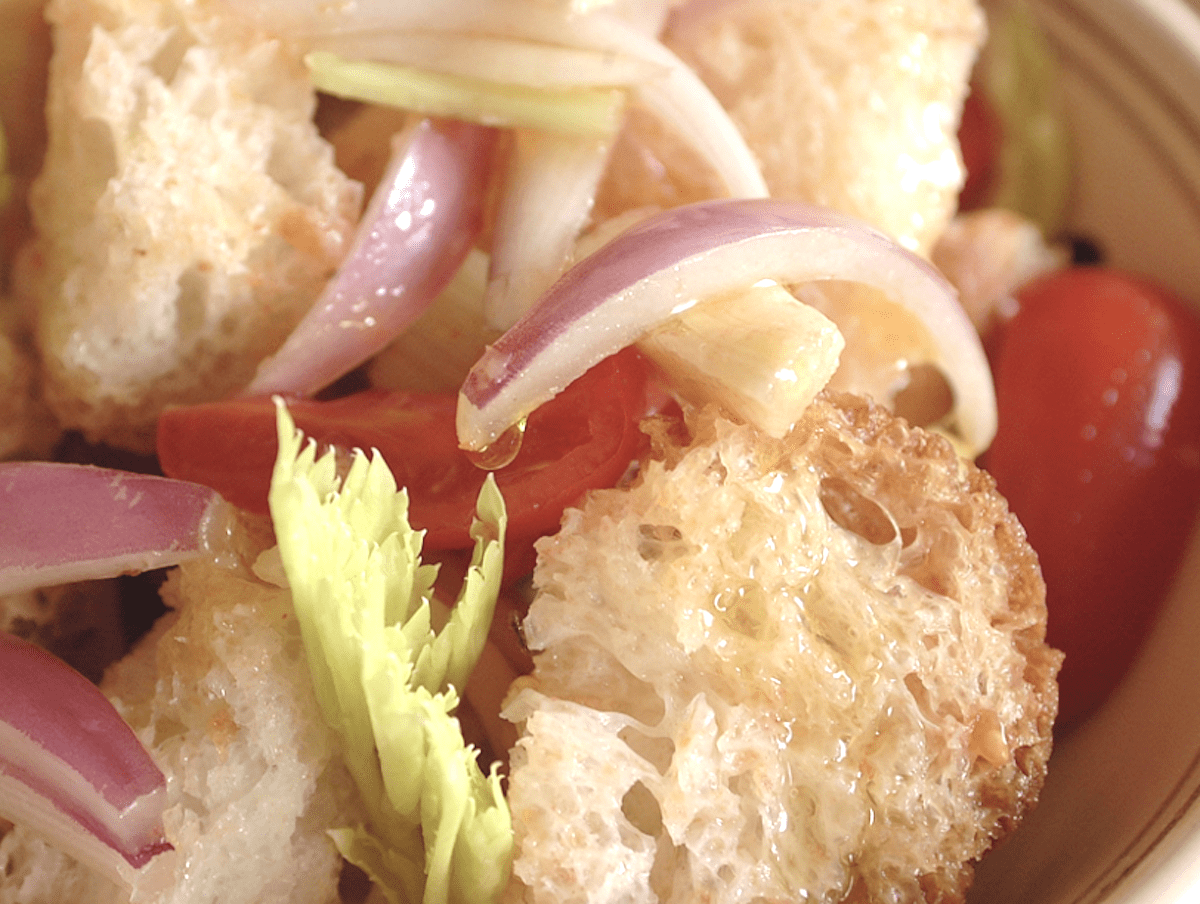 Salad Ingredients
But let your imagination and your own ingredients be your guide. Some people like to dress up their salad ingredients with fruit like oranges or watermelon.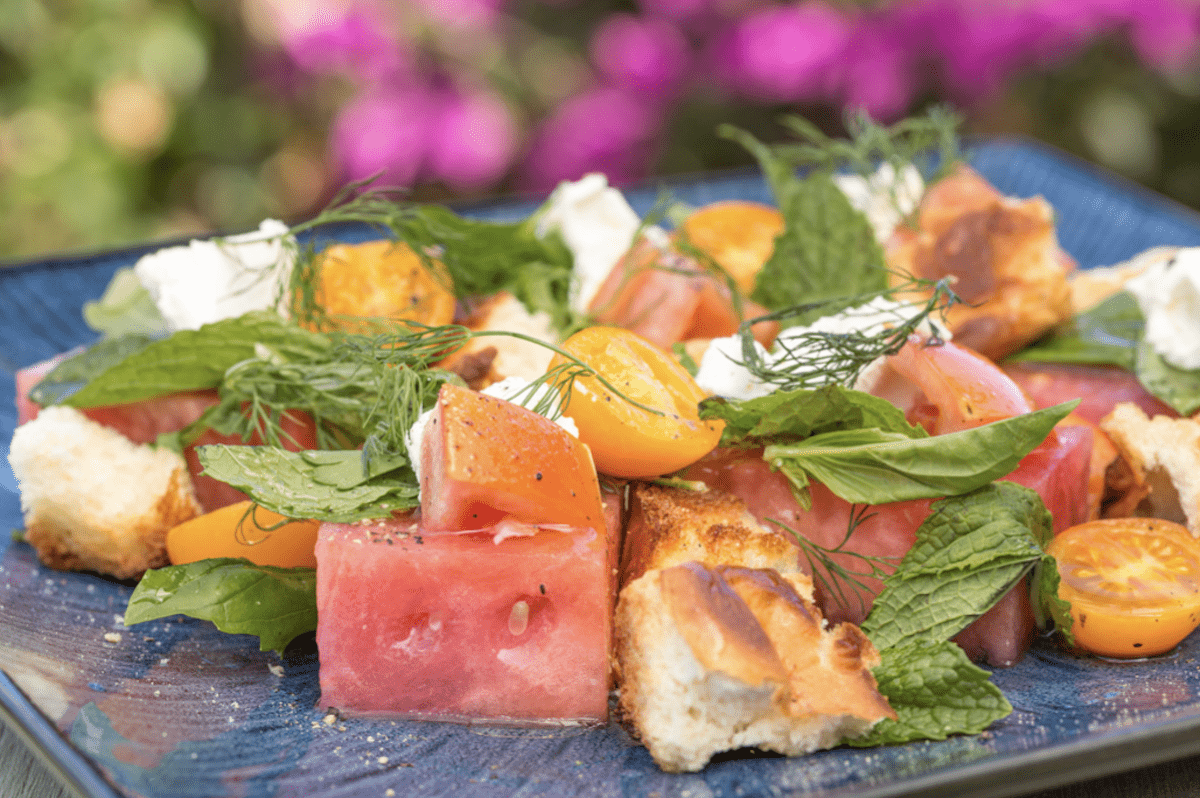 Easy Salad Recipes
Others make easy salad recipes using tomatoes, cucumbers, and onions.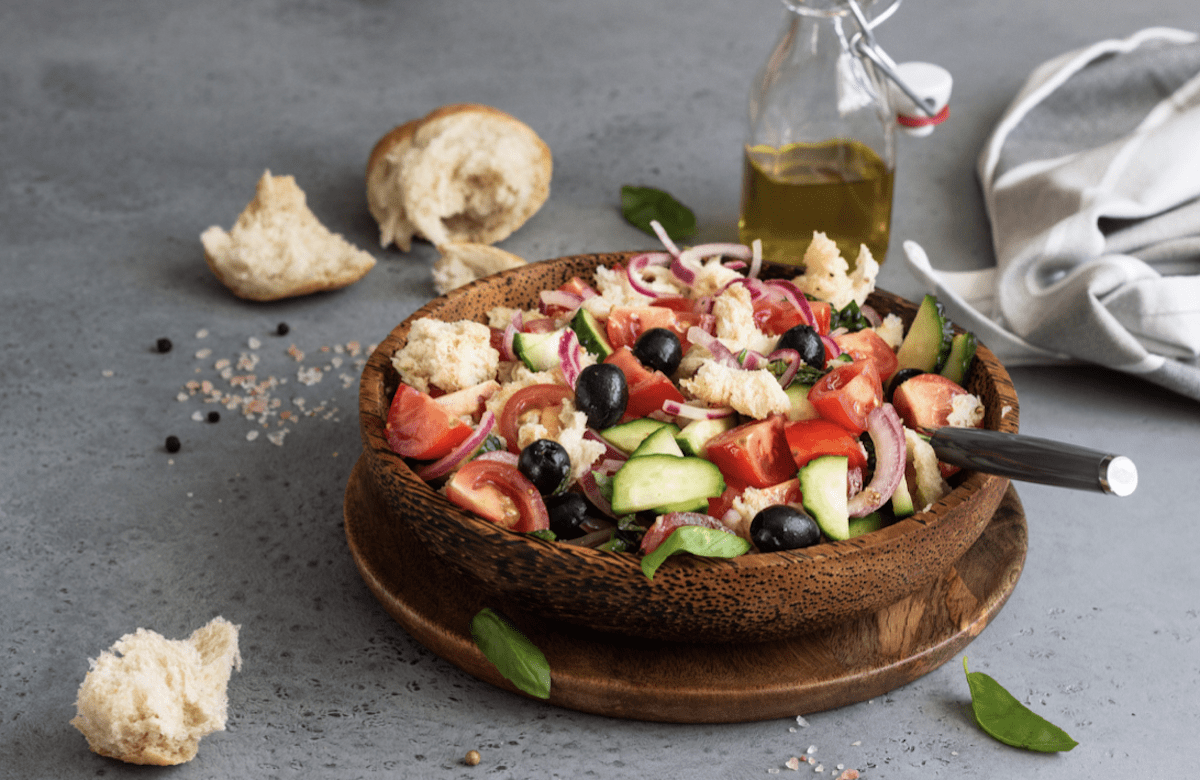 If you want, you can roast some vegetables like tomatoes or red peppers.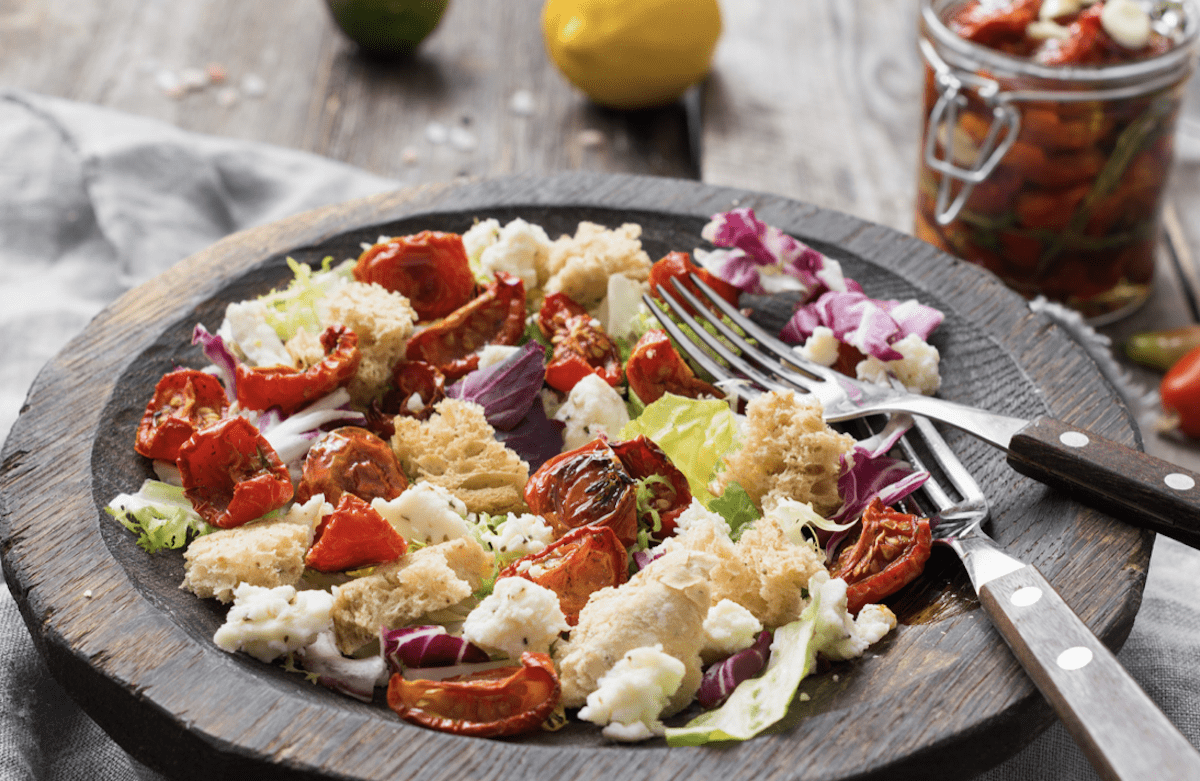 You can tear your bread into pieces or cut it into cubes.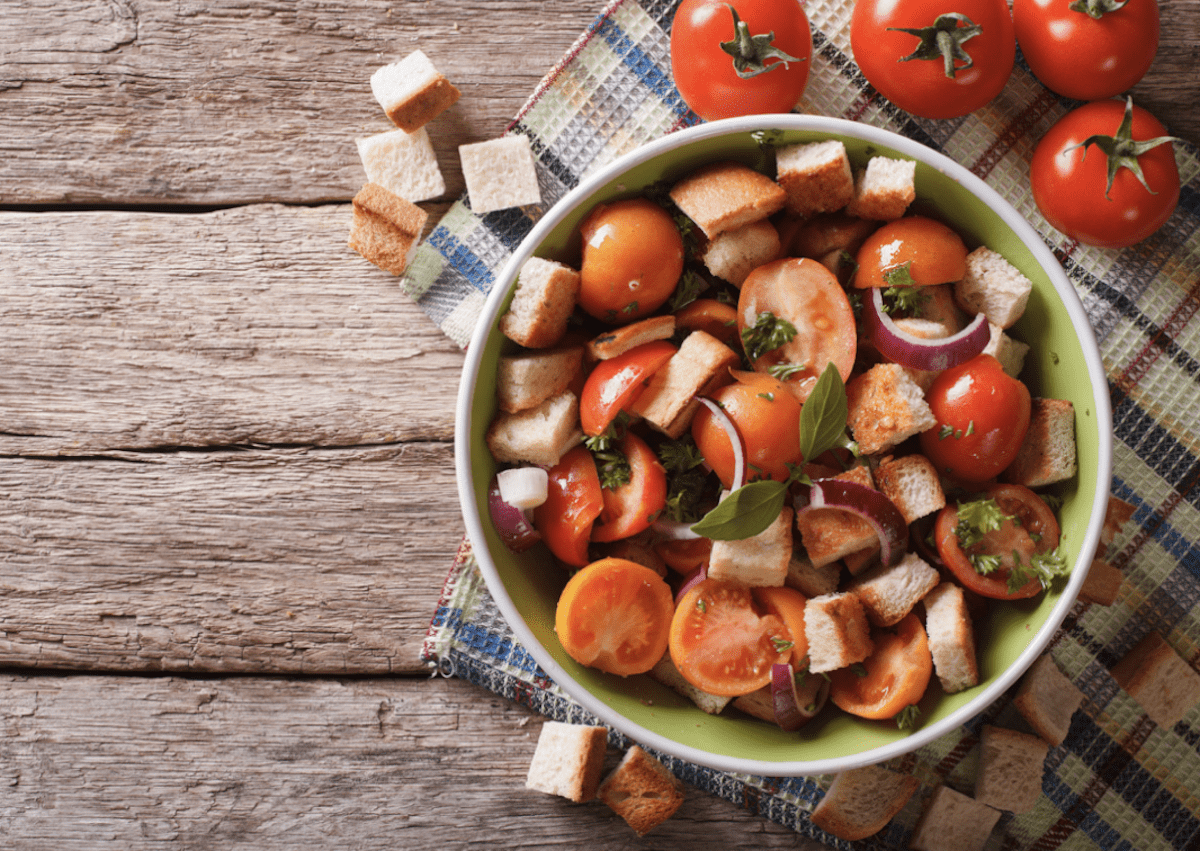 Toasting it makes a great bread salad too.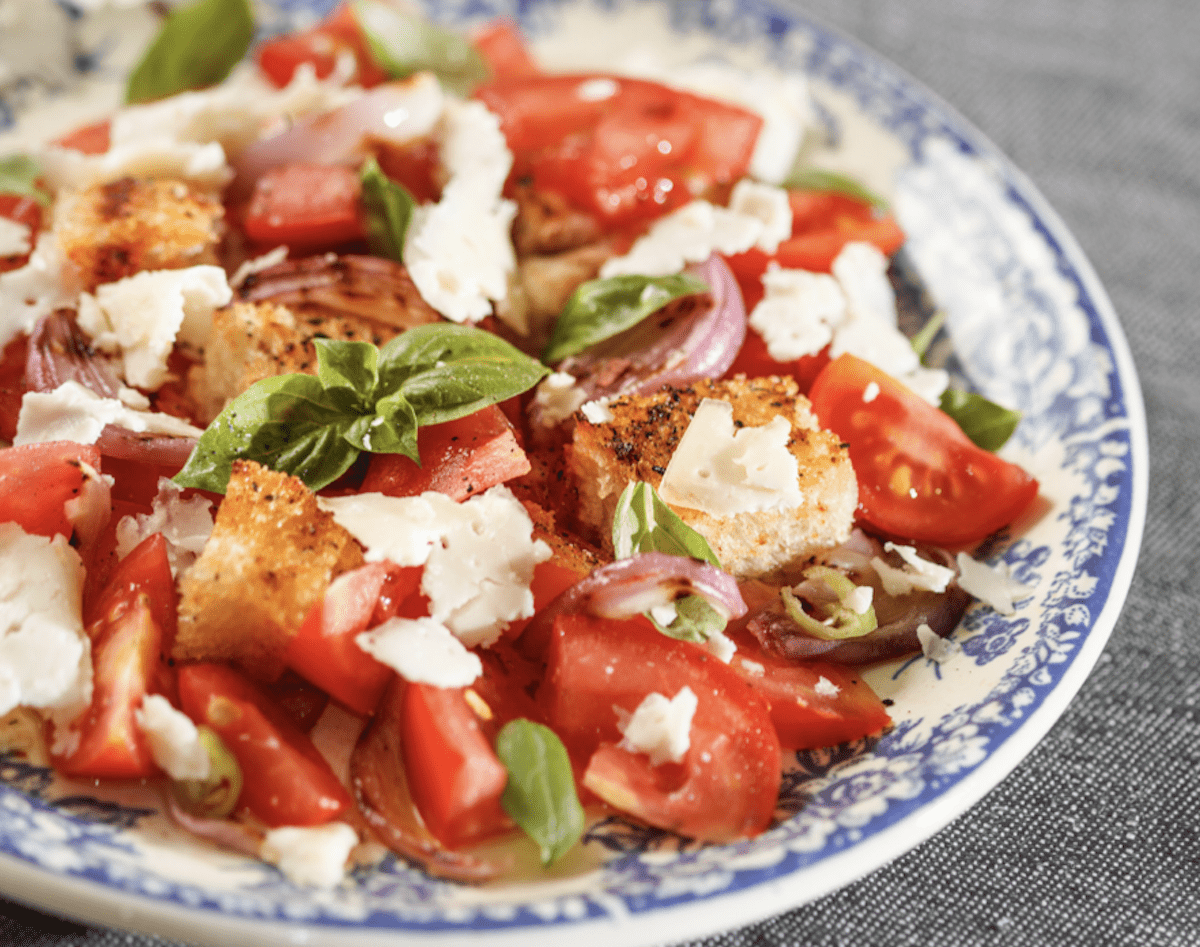 Some people like to make thick bread crumbs for their Panzanella recipe.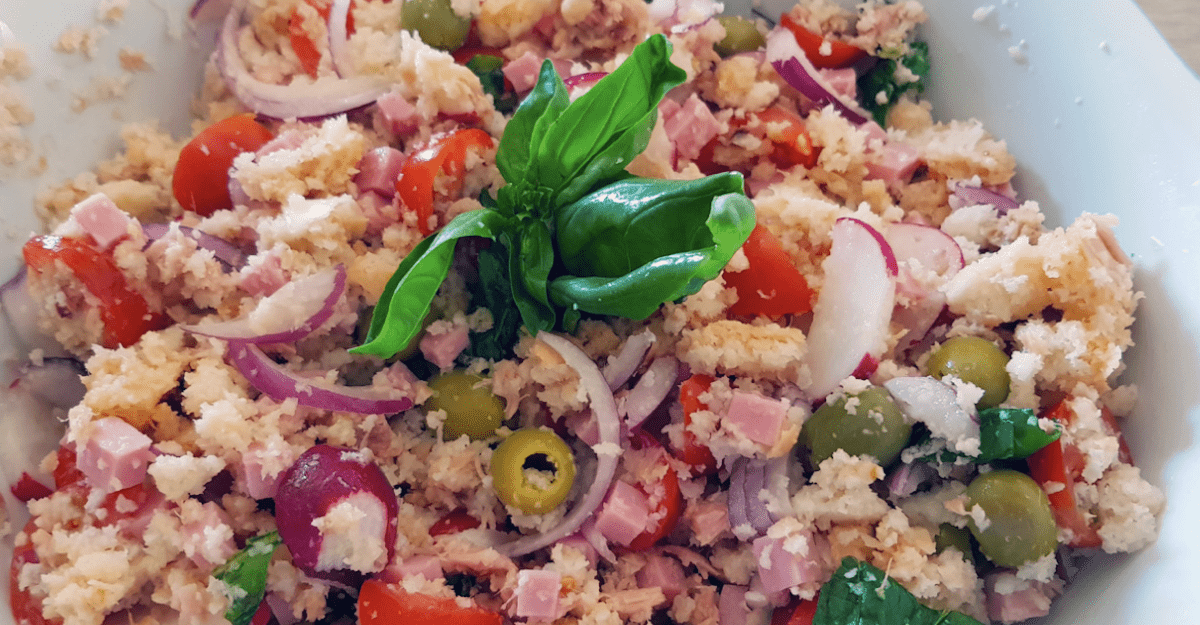 A fun way to serve Panazanela is to put the salad ingredients and the bread right inside the hollowed-out loaf. There are many creative stale bread recipes you can make with these salad ingredients.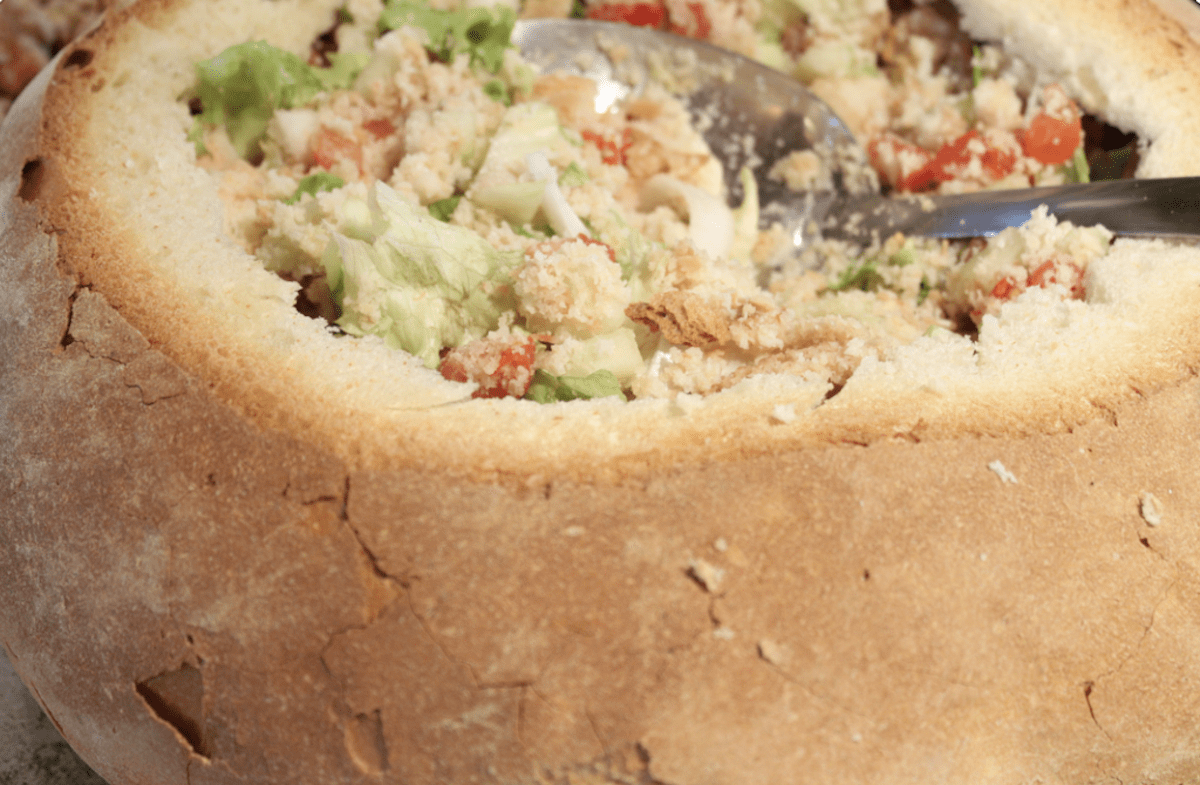 Panzanella Bread Salad
Here's our take on one of our favorite stale bread recipes.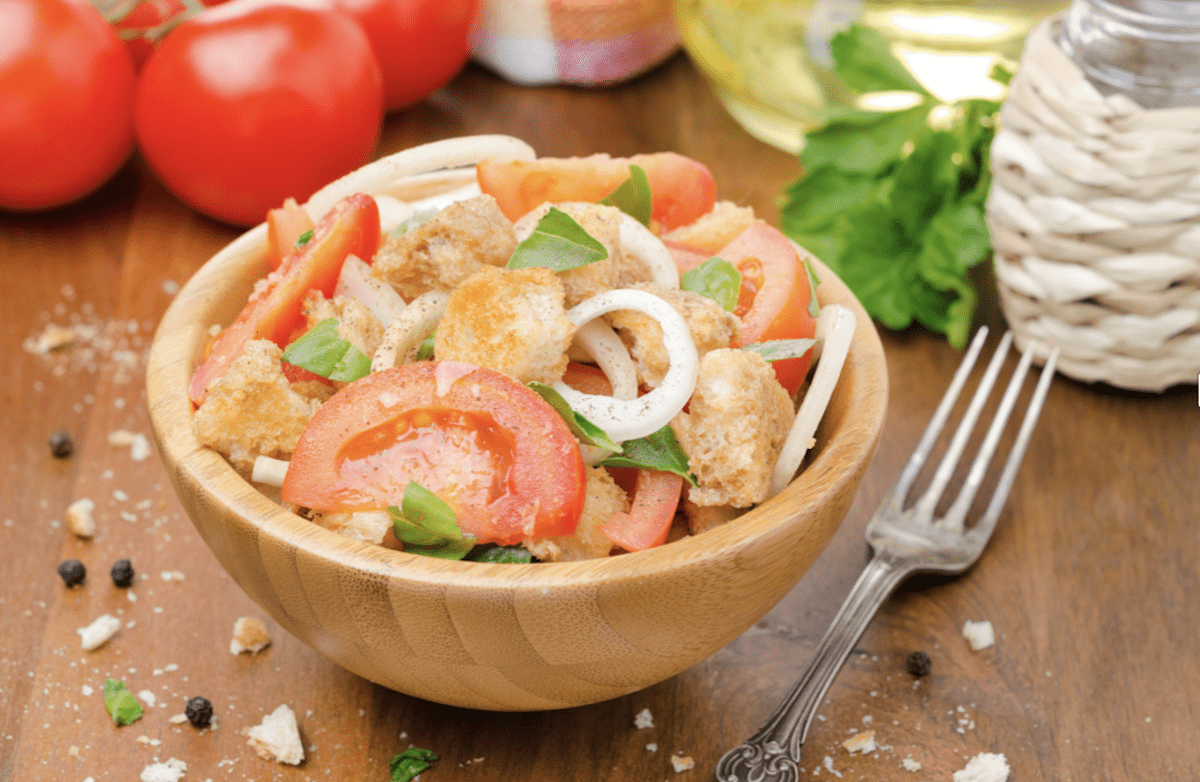 Ingredients
4 cups bread, cubed, shredded, hand-torn, whatever you prefer
1/2 cup Extra Virgin Olive Oil
1/4 cup red wine vinegar
1 teaspoon granulated garlic
1/2 teaspoon onion powder
1 teaspoon dried basil or 1 1/2  Tablespoons fresh basil, plus more for garnish (or other herbs as desired)
1/4 cup shredded Parmesan cheese (or other cheese like feta or goat cheese if desired)
4 cups salad ingredients of produce, vegetables, fruits as you prefer.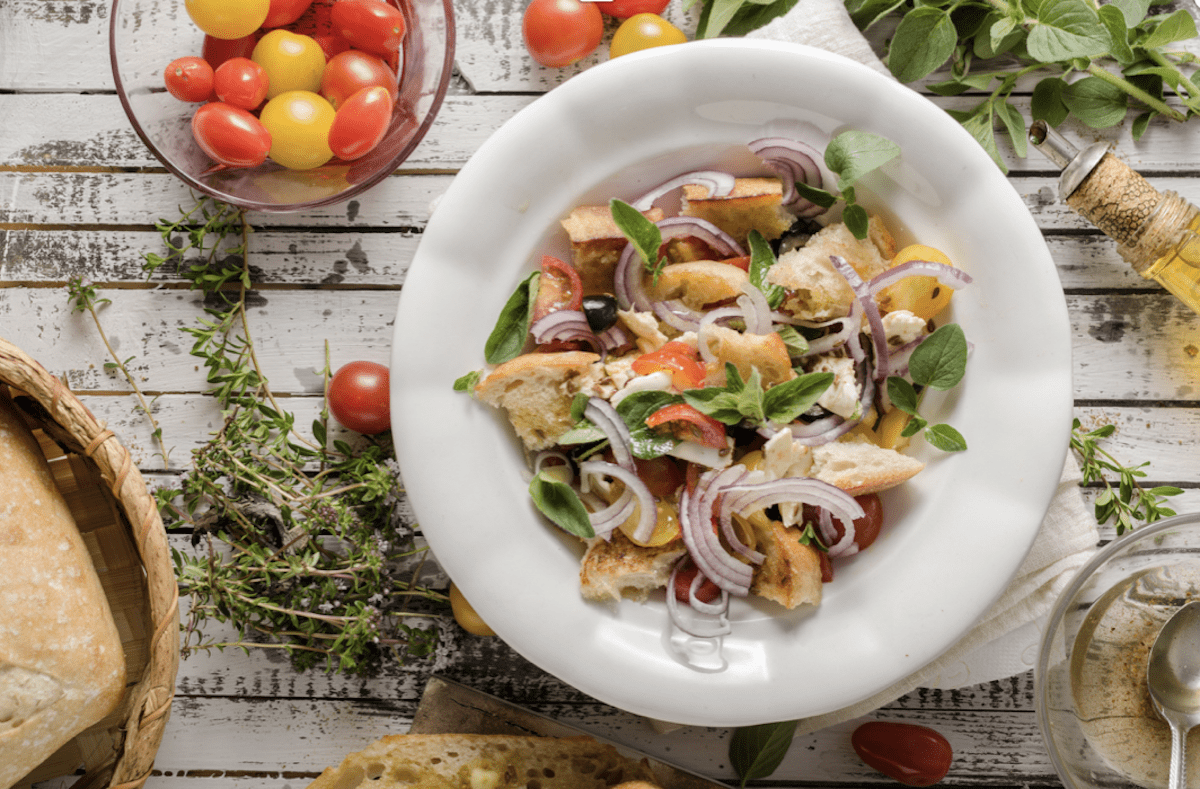 Popular salad ingredients in Panzanella include tomatoes, cucumbers, onions, and olives. But use what you have and like.
Salt and pepper to taste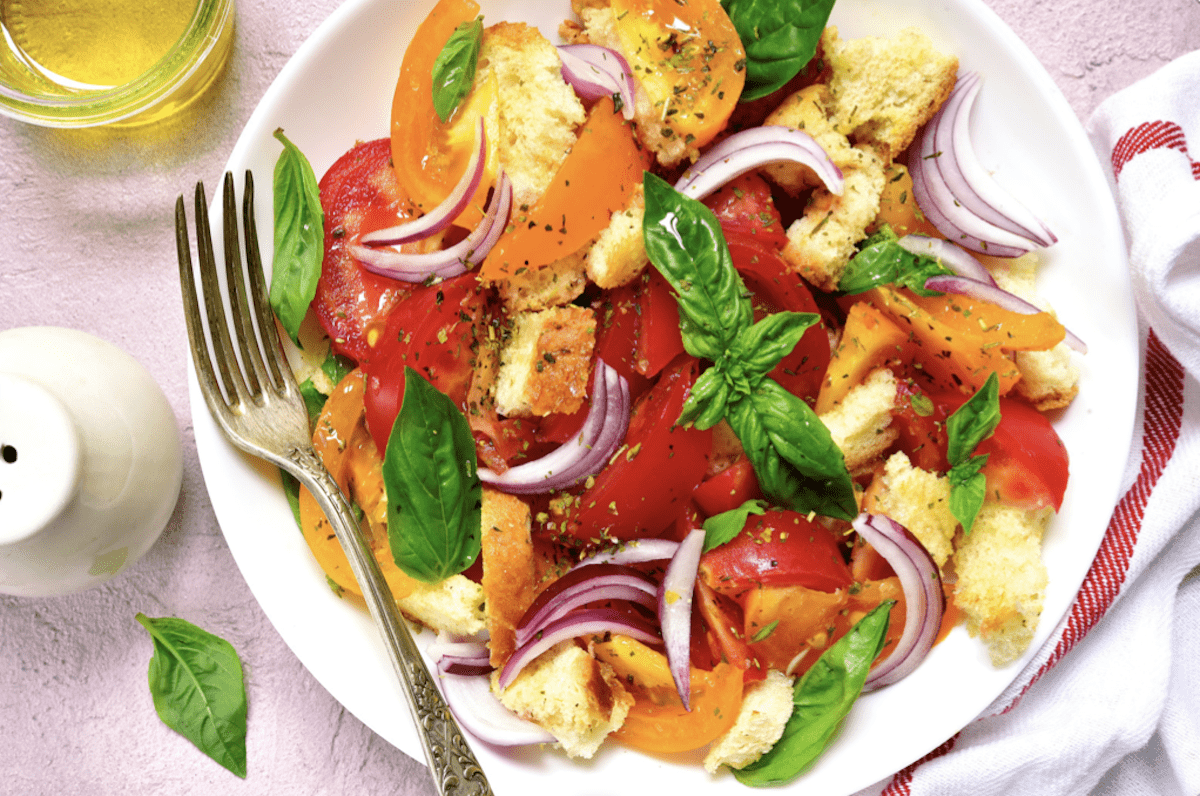 Directions
1. Place bread pieces in large bowl
2. If bread is extra hard, add some water to dampen, cover with plastic wrap and heat in the microwave in 10-second increments until it softens to your desired texture. You can also soak in water and olive oil for a few hours.
3. Blend olive oil, vinegar, garlic, onion, and basil or other herbs until combined.
4. Pour oil mixture over bread pieces and toss bread until coated.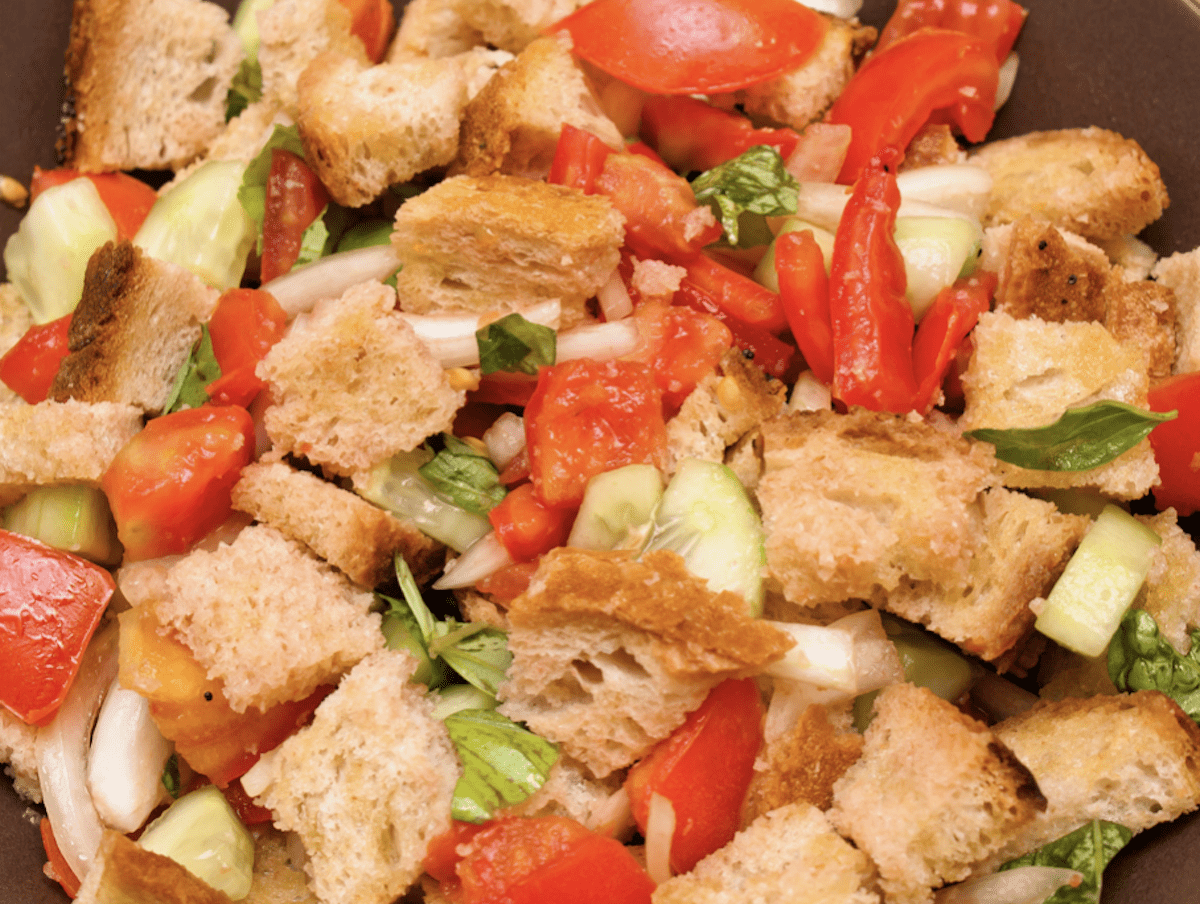 5. Chop vegetables, produce, and/or fruits into bite-sized pieces. Combine salad ingredients with bread pieces and toss.
6. Add vinegar and toss. If too dry, add more olive oil and vinegar in a ratio of 2 to 1.
7. Add shredded Parmesan and toss.
8. Put mixture into bowl or on plates.
9. Top Panzanella with more cheese, fresh herbs, or other desired garnish.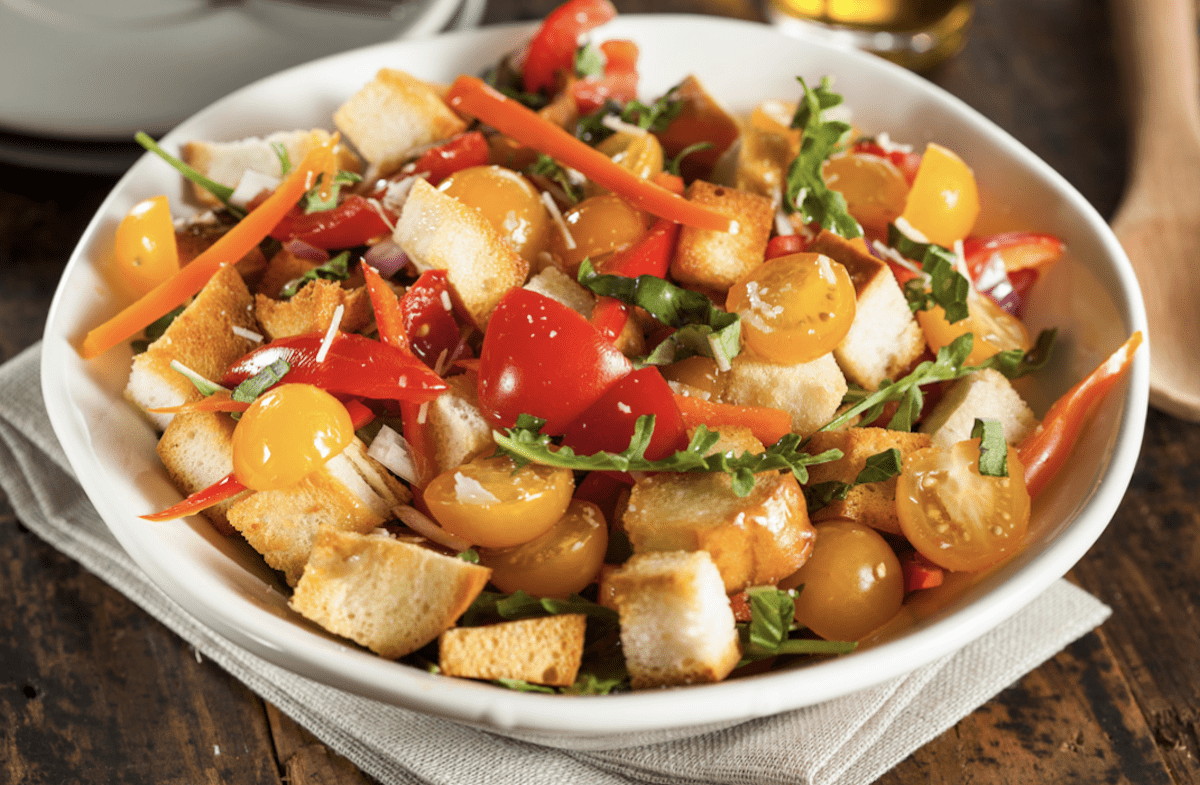 Pantry Cooking Ideas
If you like our stale bread recipes and Panzanella recipe for using what you have in your pantry, check out some of our other pantry cooking recipes like Canned Chicken Recipes and Canned Tuna Recipes. 
Pin To Your Favorite Recipe Board on Pinterest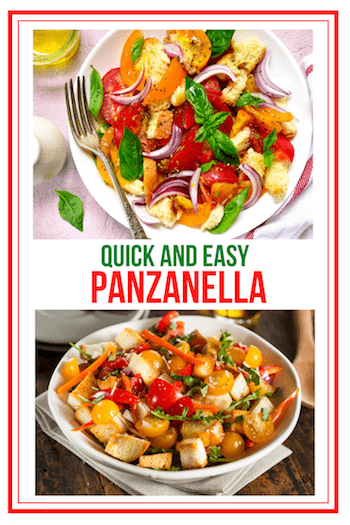 .