The cuisine of France is world renowned for its sophistication, precision and elegance. But there's one item that we find more hearty and rustic than refined. And we love that! It's the galette, a large thin pancake-like pastry that most often appears in the Brittany region of France. The galette could be considered a country cousin to the crepe. While crepes are known for their thin delicateness, galettes are often made a little heavier, often with buckwheat flour, lending a more rustic bite. Galettes may be filled with savory or sweet fillings.
Accompanying galettes in Brittany or Normandy is a traditional drink that comes from the plentiful apple trees grown there – cider (spelled cidre in the area). But it's not the cider you would normally think of, sweet and smooth. This cider has a kick, and is slightly bubbly with a tinge of alcohol content. It's definitely a different taste, perhaps one that takes a little time to acquire. But it complements both sweet and savory galettes perfectly.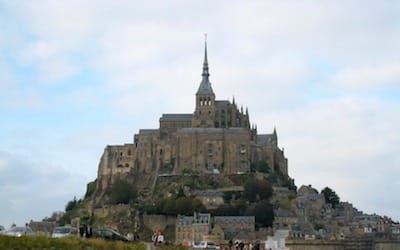 A couple of recommendations for authentic galettes if you're visiting Brittany or Normandy:
If you're lucky enough to visit the stunning Mont St. Michel (and we highly recommend you do!) you'll find yourself strolling among the shops, bakeries, bars and restaurants lining the streets of the tiny town. But if you want to try a galette, here are a couple of places you will want to check out.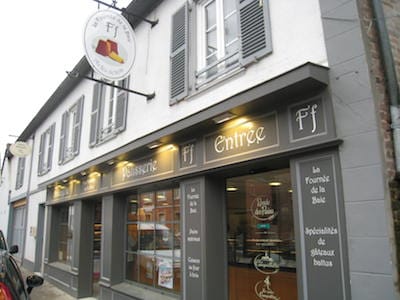 La Ferme St Michel has a great "snacks menu" that includes savory galettes filled with butter, cheese, egg, ham, and/or sausage sausage.
Creperie La Cloche has savory galettes, "super" galettes with a tasty bunch of stuff inside and dessert galettes – something for everyone. They also have cidre.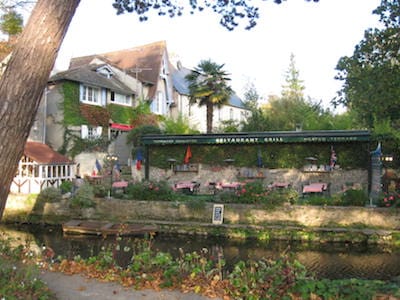 If you're in Normandy, then you're likely to visit Bayeaux to see the amazing "tapestry," the embroidered that shows the entire history of events leading up to the Norman conquest of England in one long piece. When you finish viewing this incredible artifact, you'll likely be looking for some sustenance. We highly recommend you pay a visit to the picturesque and serene  Le Moulin De La Galette. Sitting on the terrace alongside the river will keep you enchanted. Meanwhile, the hearty cidre and huge galettes will fill you completely. We experienced the ultimate indulgence – a savory galette filled with ham and cheese, followed by a dessert galette drizzled with rich, dark, sweet chocolate. Need we say more?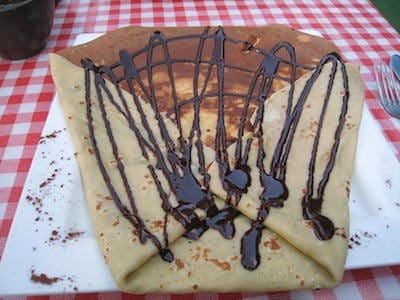 Remember too that Calvados in the lower Normandy region is well known for it's apple brandy of the same name. If you have a chance to explore Brittany and Normandy, you will find galettes galore and we suggest you taste a whole lot of them before determining which you like best.
THE QUICK BITE: For a tasty local treat when traveling in the Brittany and Normandy regions of France, get your hands on a galette and you'll be happy you did.