Many folks know about the larger Midwest cities like Chicago, Detroit, and Milwaukee. But most of the world and even those in the United States don't have any idea of the many, many smaller cities, towns and villages that exist in the area.
One of the things we love to do is explore smaller places while we're traveling. The so-called "secondary" and "tertiary" markets may be small in size but typically what they lack in square miles they make up for with local foods, sights, and history that are surprisingly rich, unique, and well worth exploring.
We'd like to introduce you to Kenosha food which we think is one of those unique fun places. Located in between Chicago and Milwaukee on the coast of beautiful Lake Michigan this city offers a wealth of interesting features and attractions, especially if you're interested in a culinary adventure.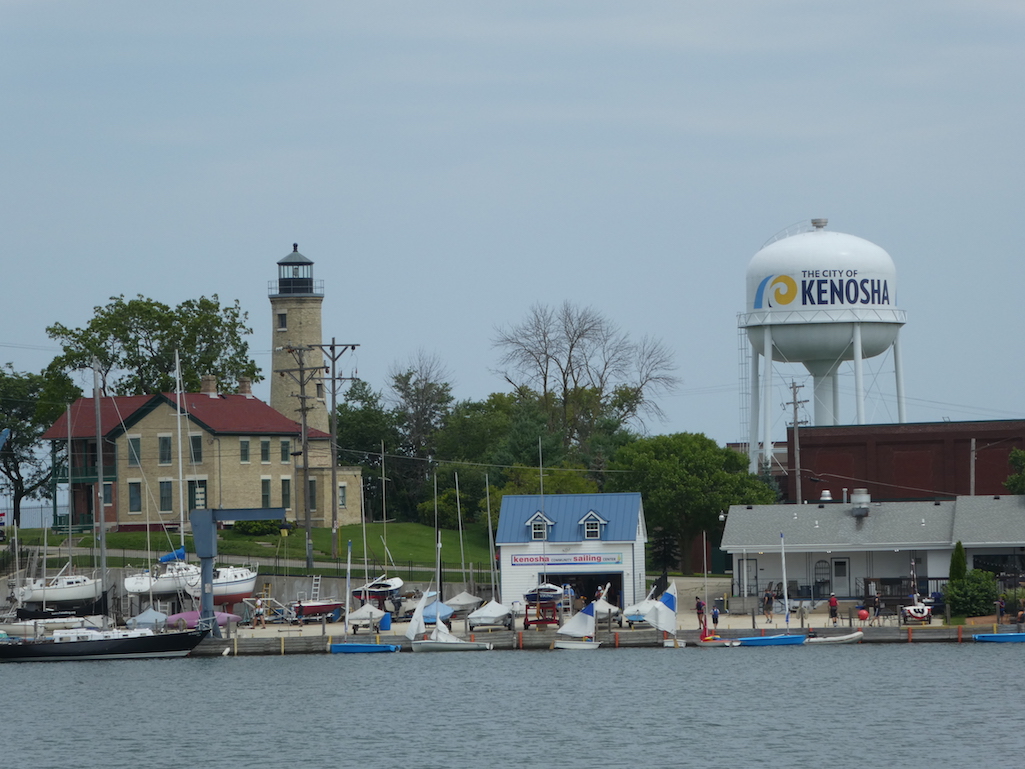 It's no surprise that being in Wisconsin, Kenosha has its fair share of cheese, sausage, and beer. But when you visit you will enjoy a cornucopia of locally grown food available everywhere, from fine dining spots, supper clubs, and lakeside patios to farmer's markets and food trucks.
For this reason, and many others as you will see, we think that Kenosha is a destination that deserves a deeper look when considering a weekend getaway.
Old School But Not Old Fashioned
Perhaps you've heard of the famous Wisconsin Supper Clubs. These old-school, full-service restaurants were quite popular in the mid-century Midwest. Originally, the Supper Club was a place where people could unwind have a cocktail (or two), get a generously portioned home-cooked meal, and have a great evening. They often included live music and a comfortable bar or lounge where patrons began and ended their evening.
We had the chance for our first Supper Club Kenosha experience at the Hob Nob located between Kenosha and Racine on Lake Michigan.
How To Hob Nob
When we arrived the hostess escorted us to the outdoor terrace for a traditional cocktail to begin our evening. We chose the Old Fashioned, a Wisconsin original. These tasty cocktails have many, many different recipes but if you're a first-timer just order the classic – you won't be disappointed. Muddled sugar, a dash of bitters, whiskey (or brandy) ice, a slice of orange and cherry may not sound like your new favorite, but trust us once you have one, you'll quickly want another.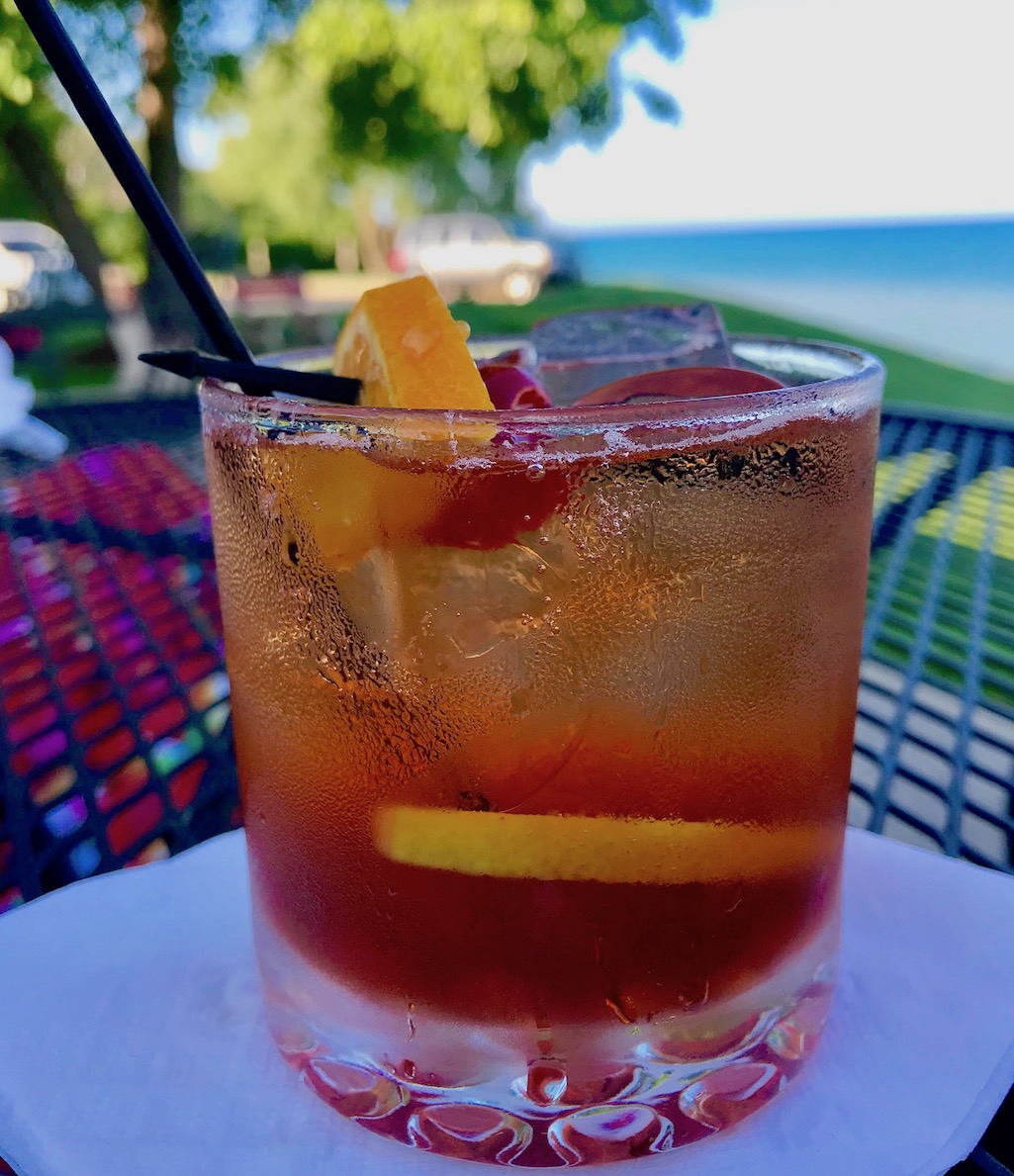 Your pace (or non-pace) is key to Supper Club enjoyment. You decide when you're done with your cocktails. Simply nod to your cocktail server, who will bring your dining server, who will escort you to your table, which is ready and waiting to envelop you with comfort. Thick booths, low lighting, and crisp tablecloths are often the hallmark of a Supper Club table. Many establishments offer relish trays upon your arrival. In our case, we ordered a few appetizers to get started (cheesy garlic bread topped with gorgonzola cheese and crabmeat stuffed mushroom caps!).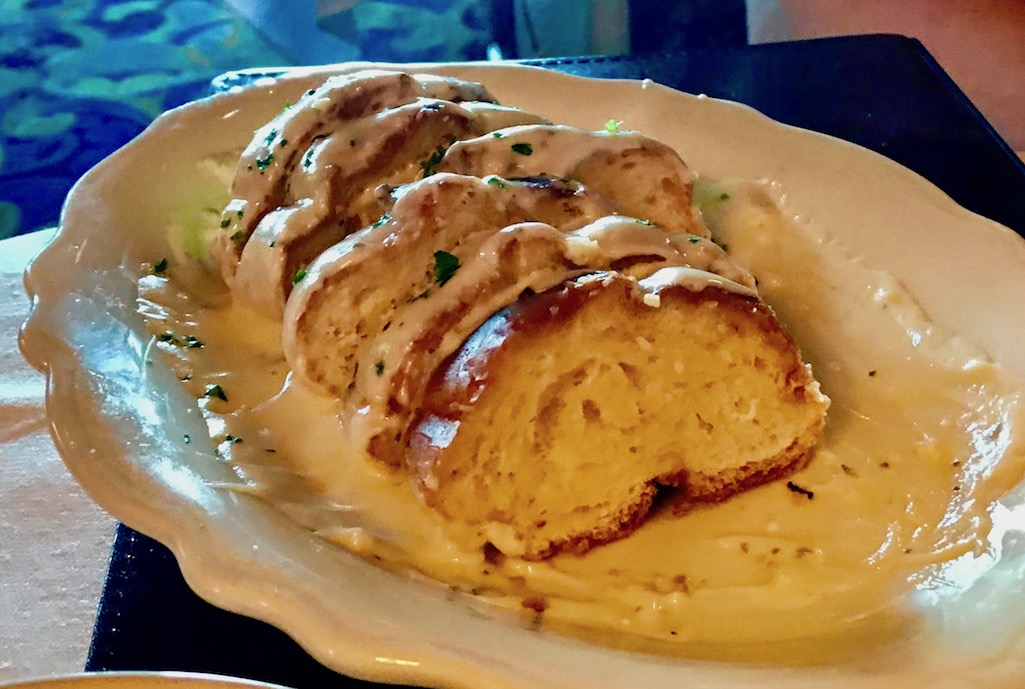 Again, this is a leisurely experience. No rushing. This sort of dining encourages conversation. Service is thoughtful and you will not find yourself interrupted. As you peruse the menu you'll see several offerings that will spark your interest. Stick to the Supper Club classics – prime rib, steaks, chops, and seafood. They come in large portions and delicious time-tested preparations. And don't miss the wonderful sides like crispy, chewy, cheesy au gratin potatoes.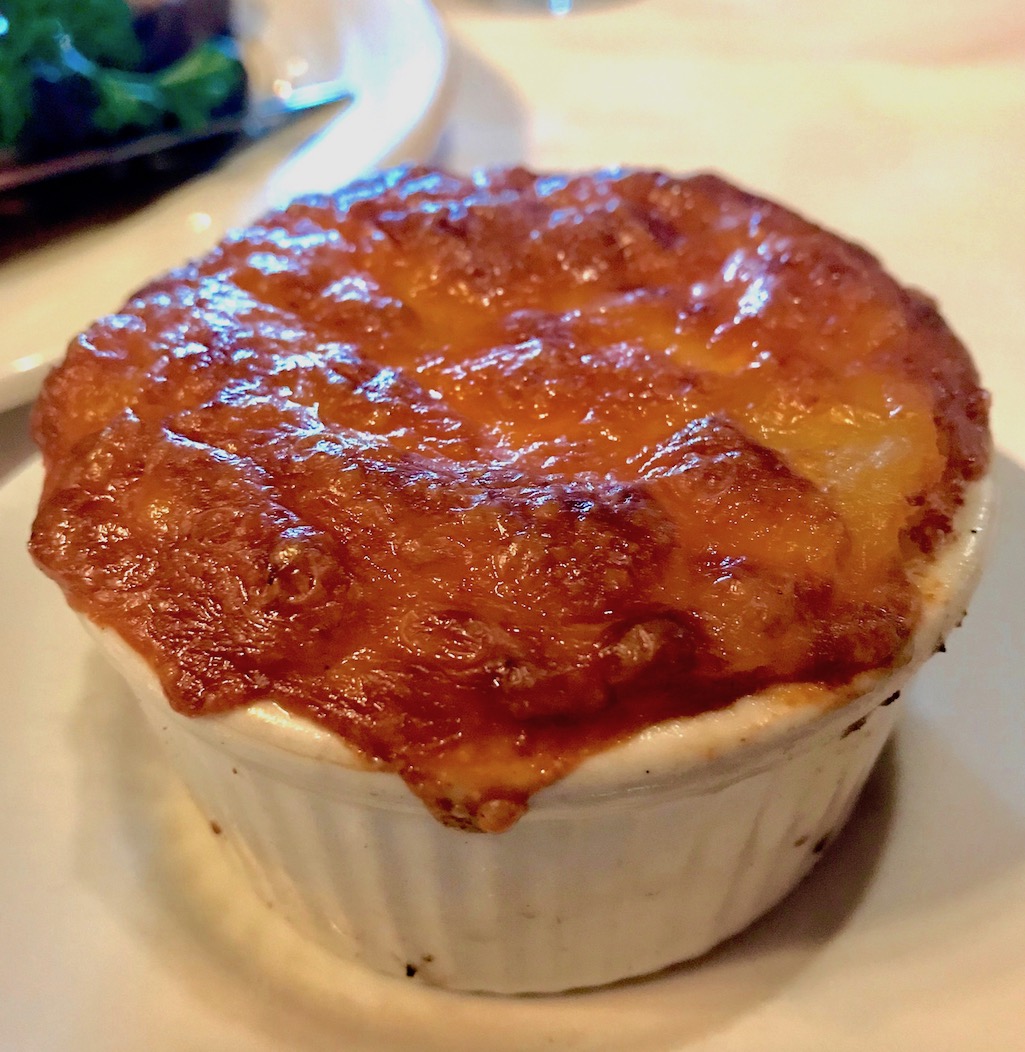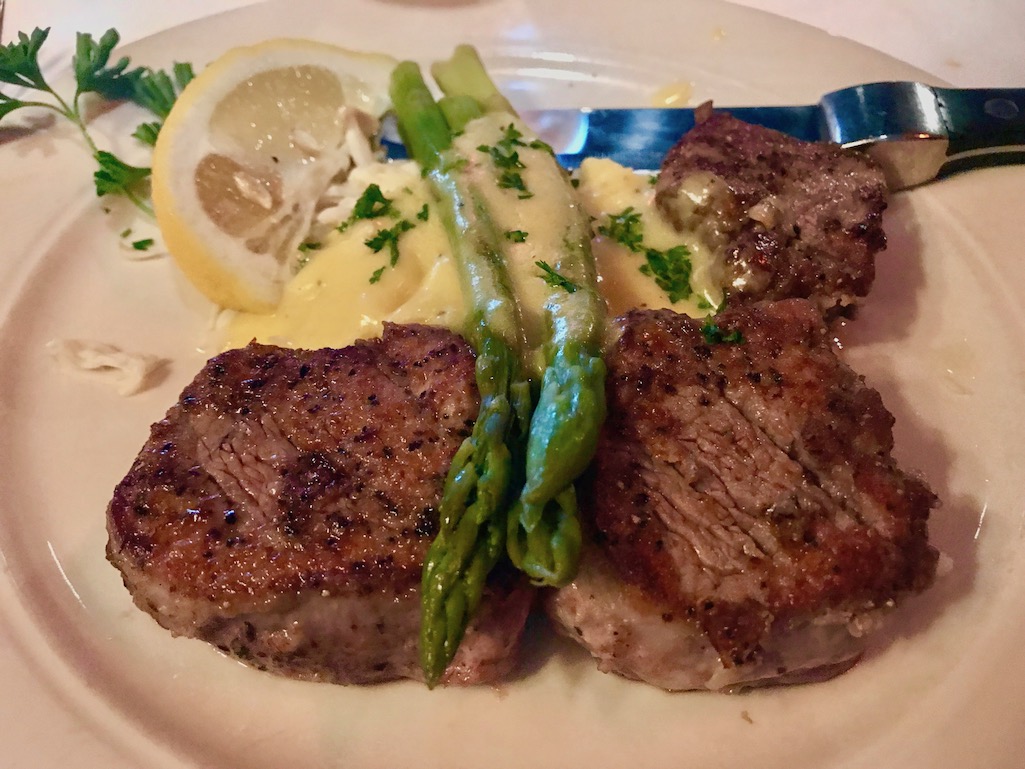 You will enjoy soup (go for the French Onion) or salad with your meal. Best to come hungry and definitely wear your stretchy pants. This meal is a commitment. But, you must leave room for dessert. The Hob Nob features very tall boozy ice cream desserts, like the Grasshopper and the Pink Squirrel. Your authentic Supper Club meal practically demands one to be complete.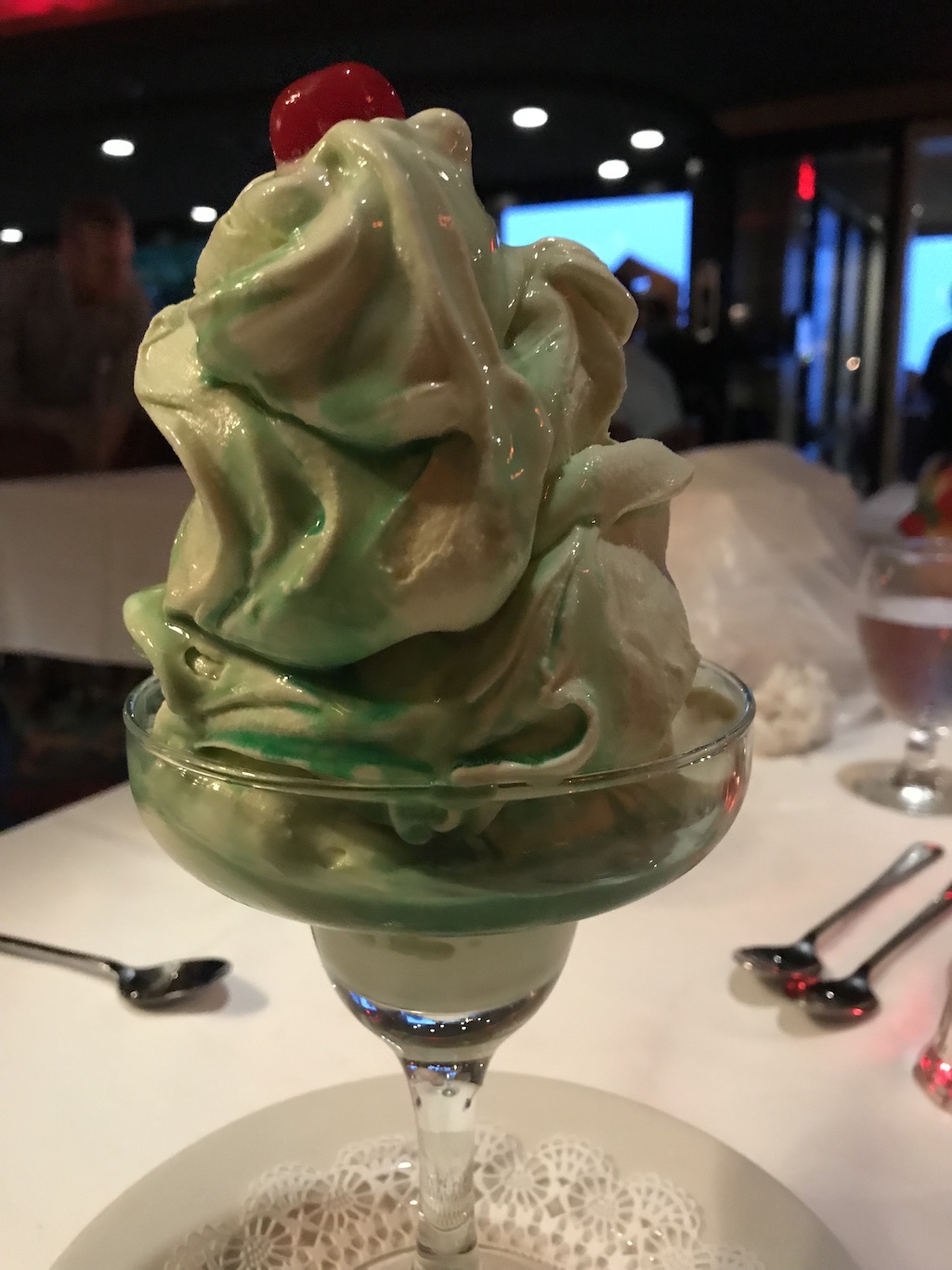 But Wait, There's More Kenosha Food
While we are certainly enamored with the Supper Club scene, we must say it's not an experience we would recommend every night. It's a once or twice a year celebration to be sure. But food in Kenosha is plentiful and varied. You'll need more than one weekend to get to all the spots that will intrigue your palate. Here are just a few other restaurants in Kenosha to get your juices flowing.
Breakfast
Whether you want a sit-down meal or grab and go options, they've got you covered. One of our favorite things to do in Kenosha was to get up early, look out onto Lake Michigan from our room at the Wyndham Garden Harborside Hotel, see the sun rising and hightail it out to take pictures on our morning walk.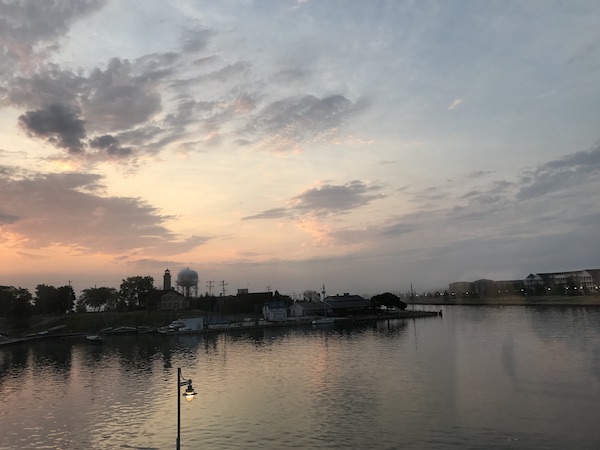 Peace and quiet abound as the town begins to wake up and come alive. Walk over to The Coffee Pot for a homestyle breakfast or one of their unique quinoa bowls. If you have the option for homemade bread, be sure to take it. It will taste just like your Mom or Grandmother used to make. Bacon or duck bacon? The choice is yours.
Marvelous Markets
For more fun things to do in Kenosha, you must head over to Kenosha HarborMarket for the Kenosha Farmers Market. It operates an open-air market in the summer months and goes indoors for the winter. This popular attraction opens at 9 am and operates until 2 pm on Saturdays and is the second largest farmers market in Wisconsin (right behind the Dane County Market in Madison), some 200 vendors come out with fresh vegetables, fruits, handicrafts, baked goods, cheeses, and local foods. It's a great place to pick up breakfast or lunch.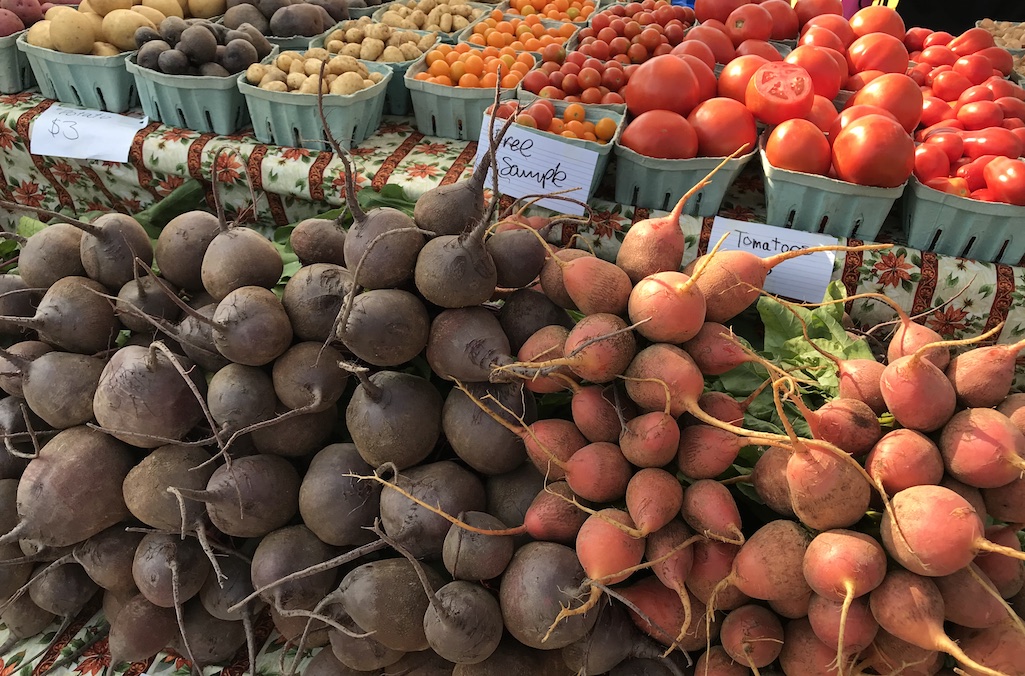 Lunch
Being along the lake ensures you'll have the chance to taste a lot of fresh seafood. One of our favorite seafood spots is The Boathouse. You can sit outside and watch the boats or relax inside. They offer a full menu but if you like to fish, bring in your catch and they'll prepare a shore lunch with your own fish. Prepared as you like, with all the sides and fixings, you can't beat it.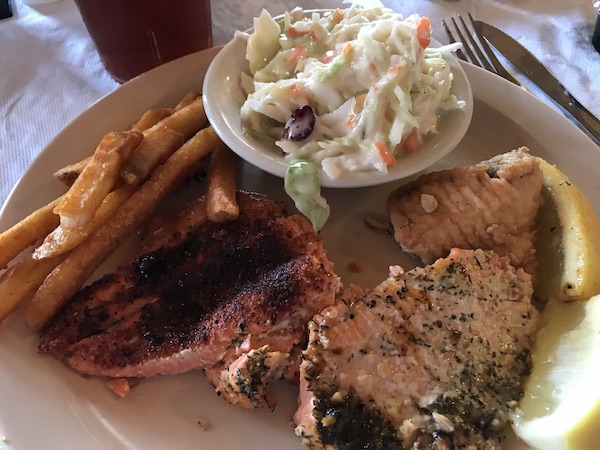 If you're looking to stay outdoors to enjoy the food in Kenosha and take advantage of the parks and many local free afternoon outdoor concerts. Stop at The Buzz Cafe and they'll prepare a Euro-style picnic basket with meats, cheeses, bread, salads, beverages, and desserts for you. Leave the worry to them and just find a place to sit and enjoy.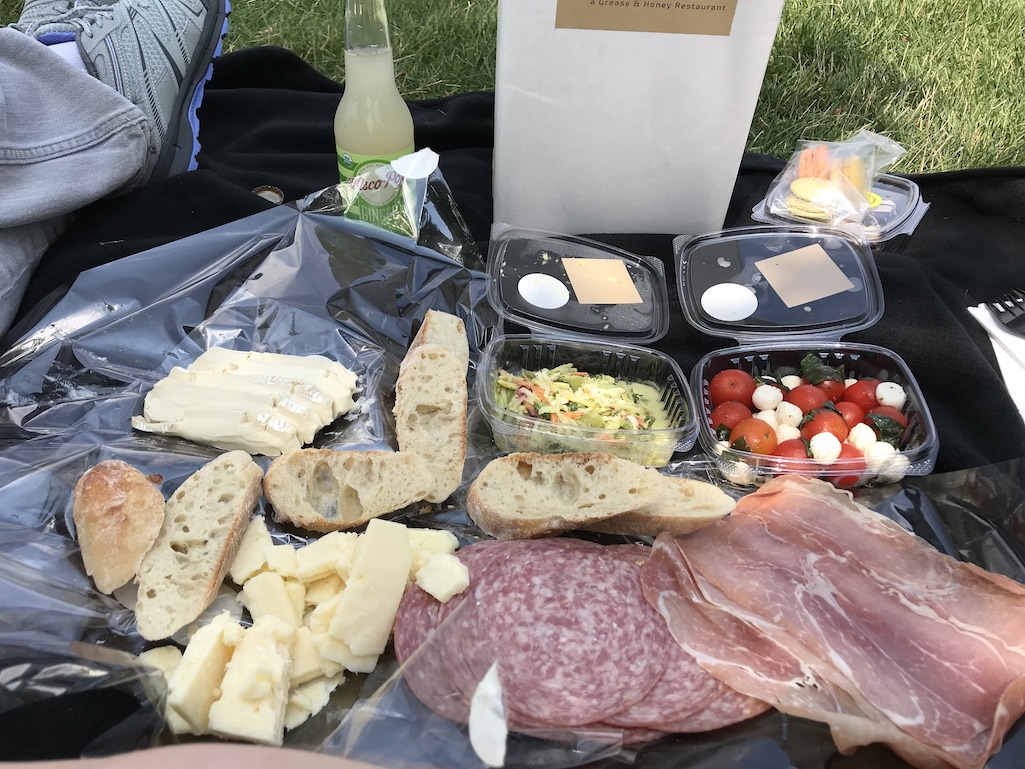 Snacks and Treats
Sometimes you need a little something extra to sustain you between lunch and dinner, right? Kenosha's got you covered here too. Head over to Elsie Mae's Bakery and Cannery for a mid-day snack. From the moment you walk in the smell intoxicates you and you realize you may never want to leave. They make (among other things) mini pies that are as cute as can be. Pick from classics like apple, blueberry and cherry or go for something a little fancier like their S'More or strawberry-rhubarb pies. Whichever one you pick you'll be delighted.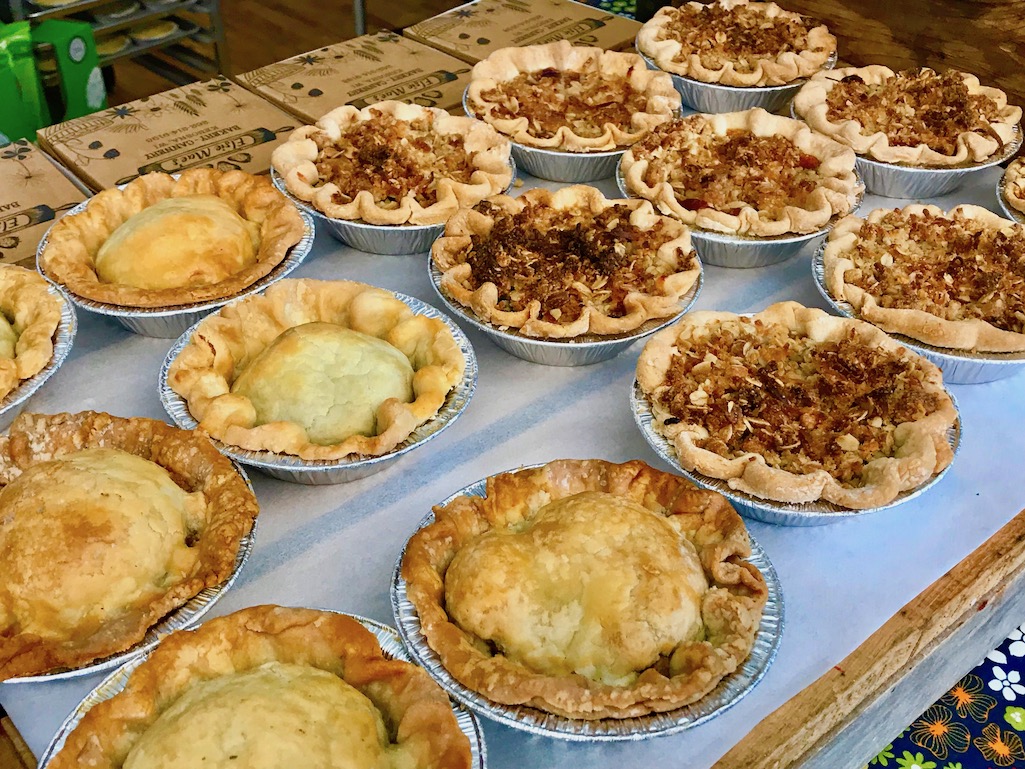 If you love cookies and ice cream (who doesn't) try their clever ice cream taco. It's a cookie cut and half filled with Purple Door ice cream and dipped in luscious dark chocolate. We're still dreaming of this little delight.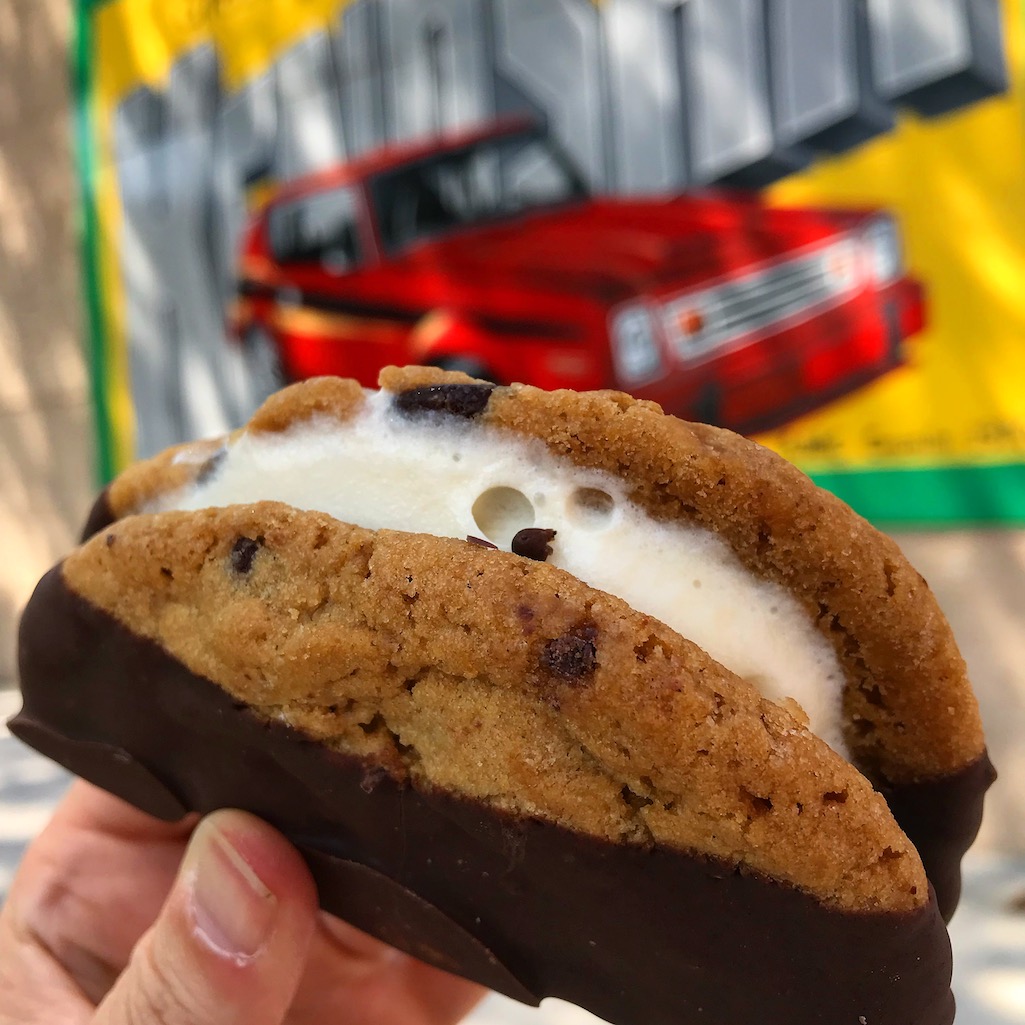 Cheese, Please!
Did we mention that food in Kenosha includes cheese? Well, of course, they do! And they even have a whole castle devoted to cheese, food, and fun. The Mars Cheese Castle restaurant is a staple right along I-94. This institution has been around since 1947. Once just a typical retail stop along the highway it was turned into a castle when the interstate was widened and the store had to be moved. The ambitious owners turned the facade into a castle. You simply can't miss it when you drive by, which we suppose was their intention.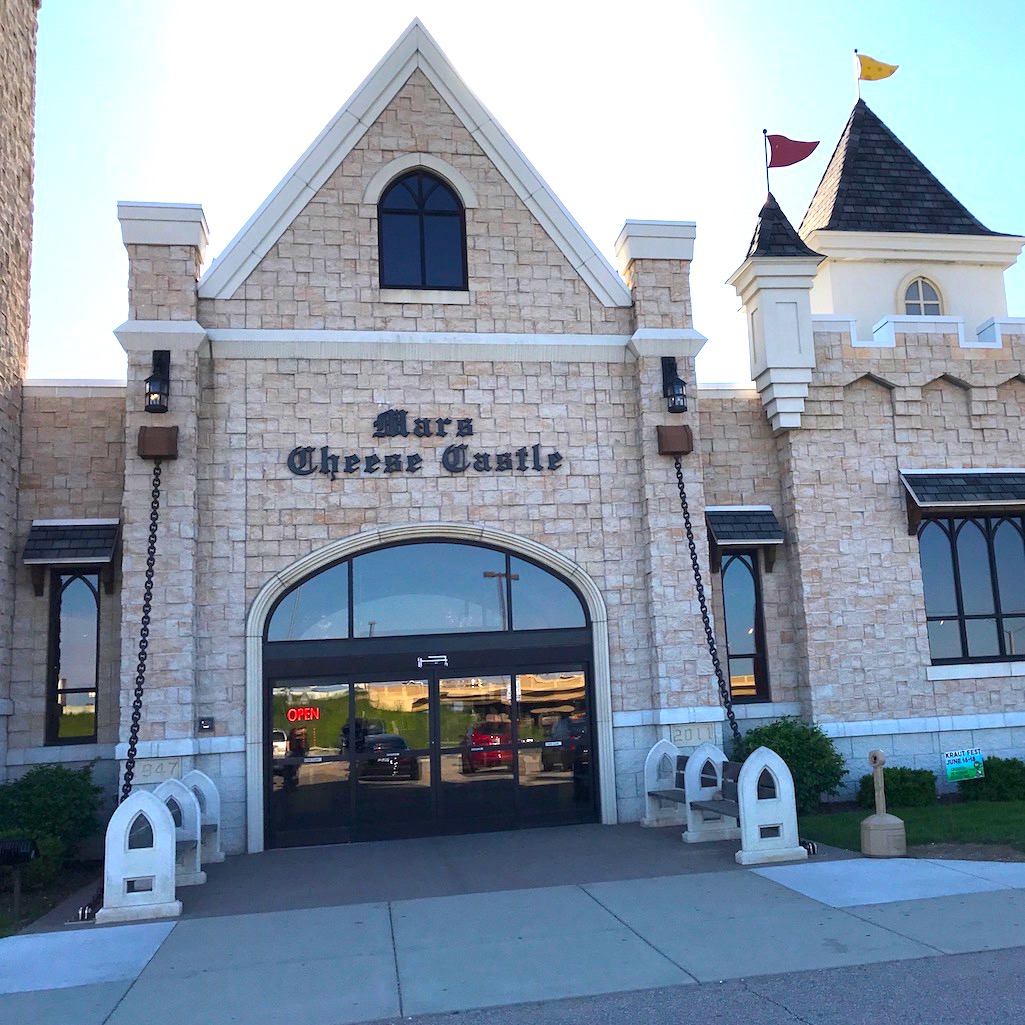 Mars Cheese Castle is loaded with all varieties of cheese and sausages not just from Wisconsin but from around the world. The large tasting room will keep you busy all afternoon if you let it. Be sure to try the aged cheddars. They are amazing.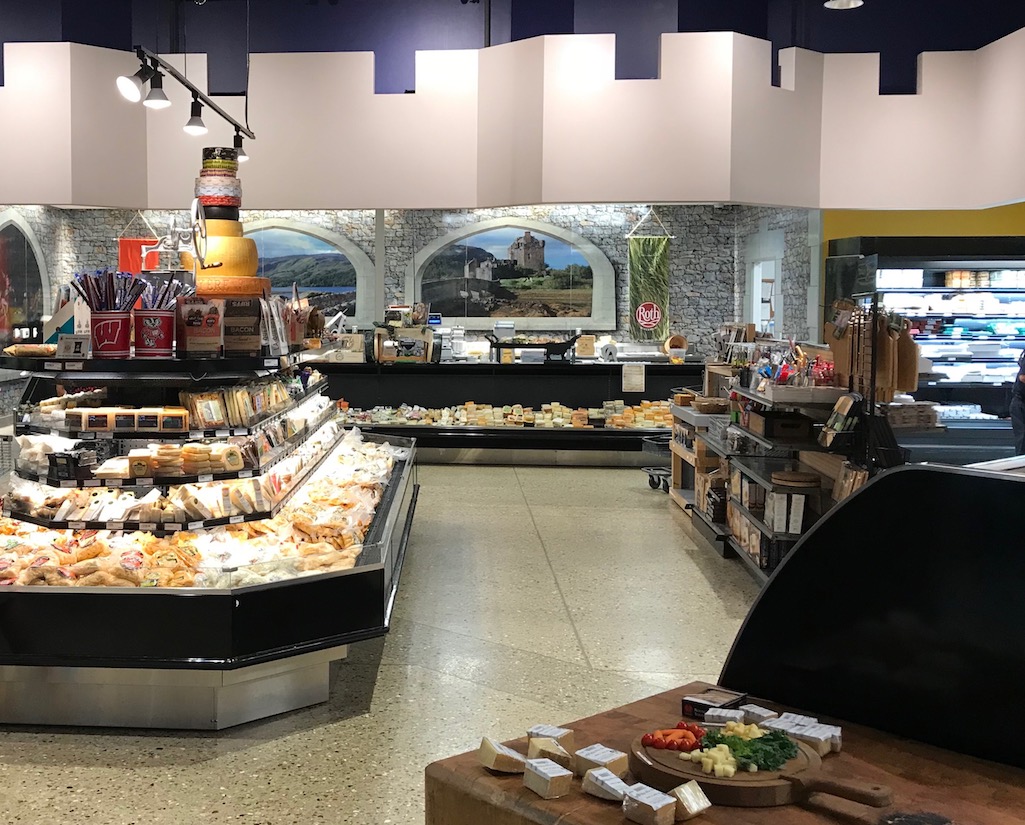 Don't miss the bakery while you're there and the famous Mars Cheese Bread is a must. We brought some home and made cheesy garlic bread. It makes every meal so much better (and cheesy)!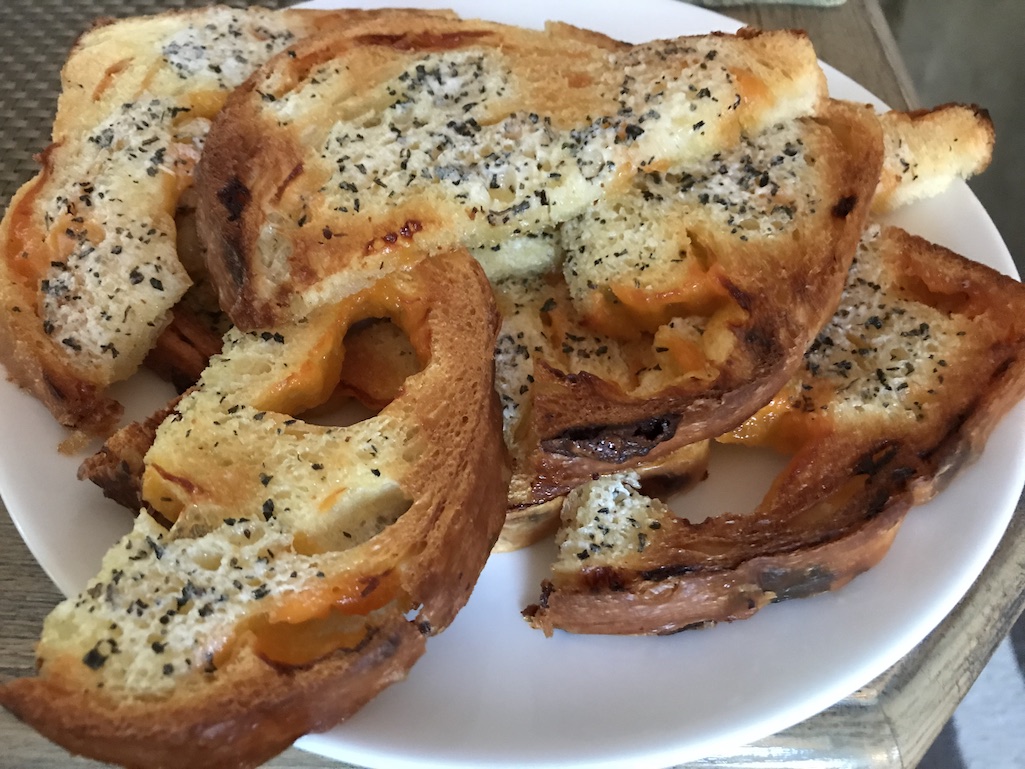 Deli-licious
If you like checking out local food markets another way to have a taste of Kenosha is at Tenuta's Italian Deli. Calling it a deli is such an understatement. It's more like an Italian wonderland. Sure you can order a freshly made sandwich at their counter. But you can also roam the aisles and aisles of authentic Italian products.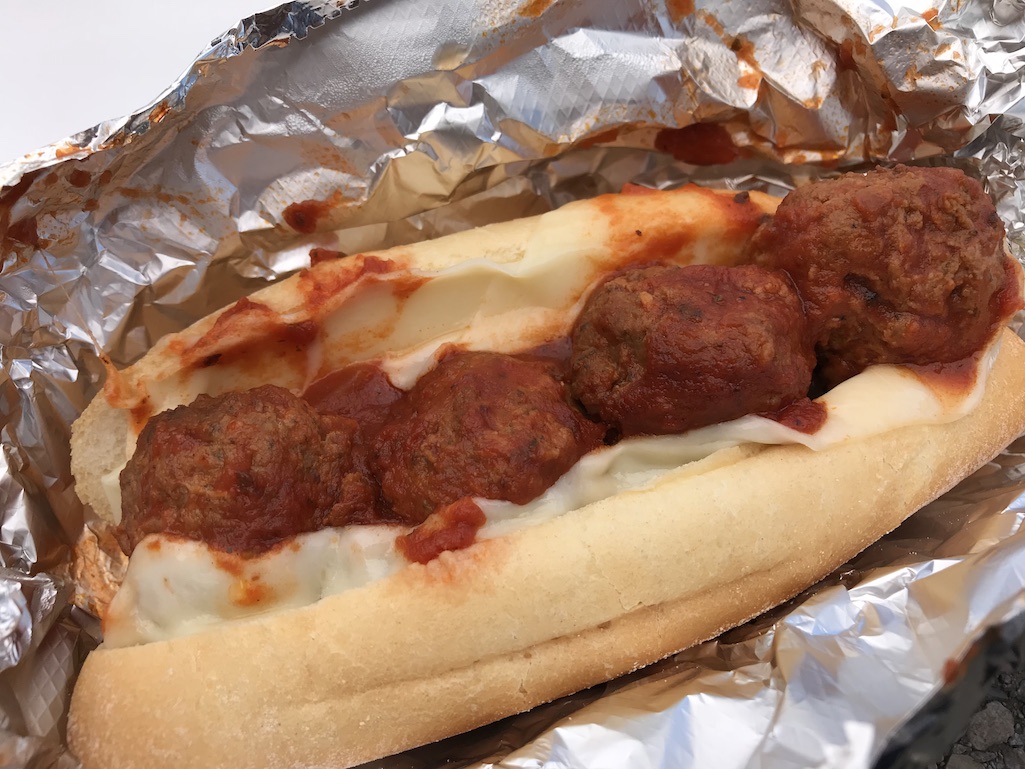 Tenuta's is another place to pick up lots of cheese. They even carry their own line of cheese curds! Be prepared to be here a while as you check out all their sauces, pasta and international goodies. If you're in the market for beer or wine they've also got a huge selection. Especially deep in locally brewed beers from Miller to New Glarus Spotted Cow, they've got it all. Many are in the cold case ready to go for your outdoor picnic or party needs.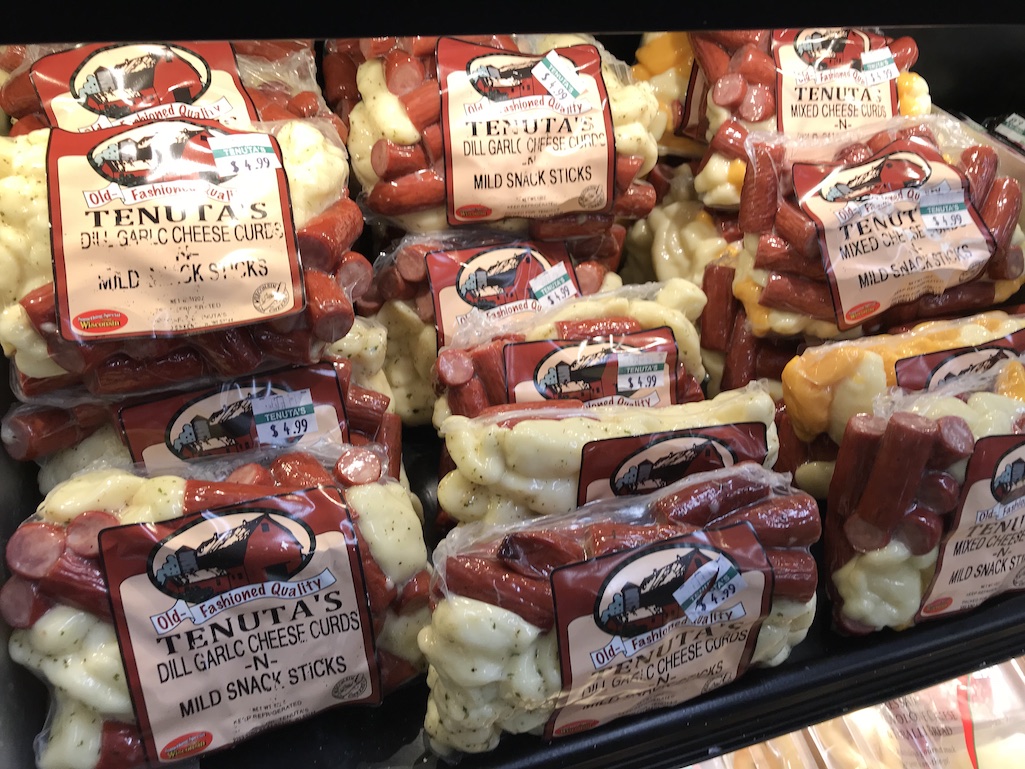 Back for Dinner
Sue's German heritage makes her a prime target for another hot spot restaurant in Kenosha. The House of Gerhard opened in 1964 by Gerhard Dillner when he came to Wisconsin from Germany to pursue his dream of becoming a chef. Happily, the restaurant is still run by their daughter and her family.
We can say with complete confidence that if you don't enjoy your visit to the House of Gerhard it's on you. From the moment you walk in until you walk out, you feel like you're being welcomed into someone's warm and gracious home. They are happy to see you and their single desire is to be sure you are pleased with everything put before you.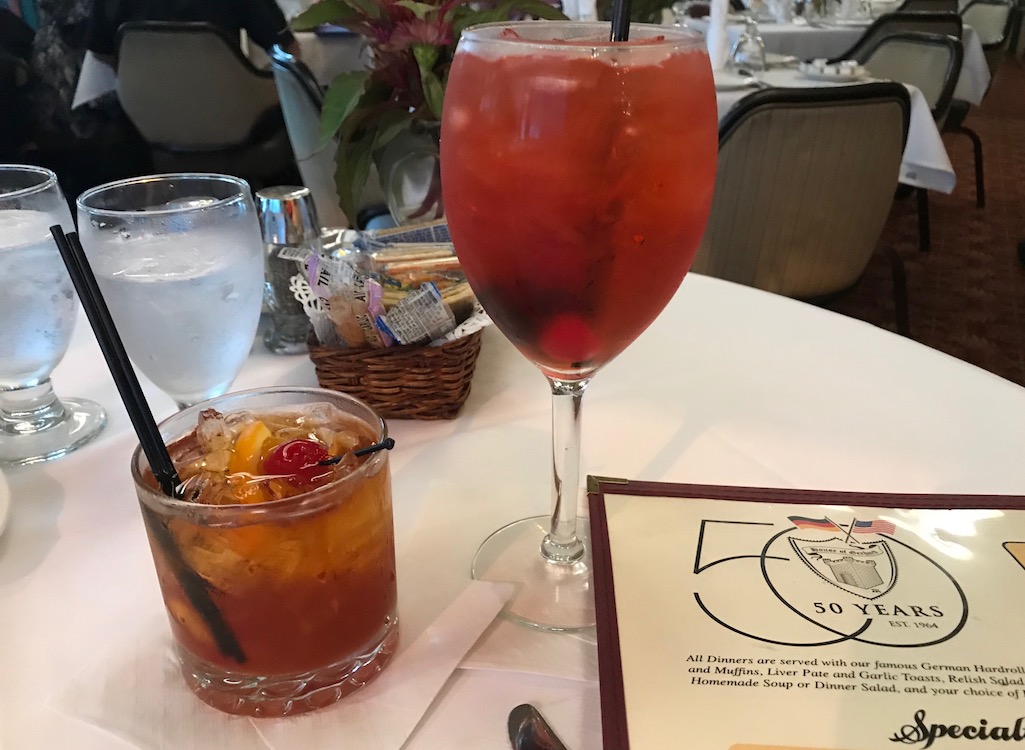 The House of Gerhard definitely falls into the category of a Supper Club. The white tablecloth service lets you know that you're in for something special, while at the same time inviting you to relax and take your time. You'll start with their housemade German rolls, muffins, relish salad, liver pate and garlic toasts. Move on to your choice of homemade soup or dinner salad and choice of potato with your meal (spoiler: Sue had to try the red cabbage, it was better than her Grandma's!). The full bar includes lots of German beer choices, wine and cocktails. This is another spot for a tasty Old Fashioned and delicious food in Kenosha.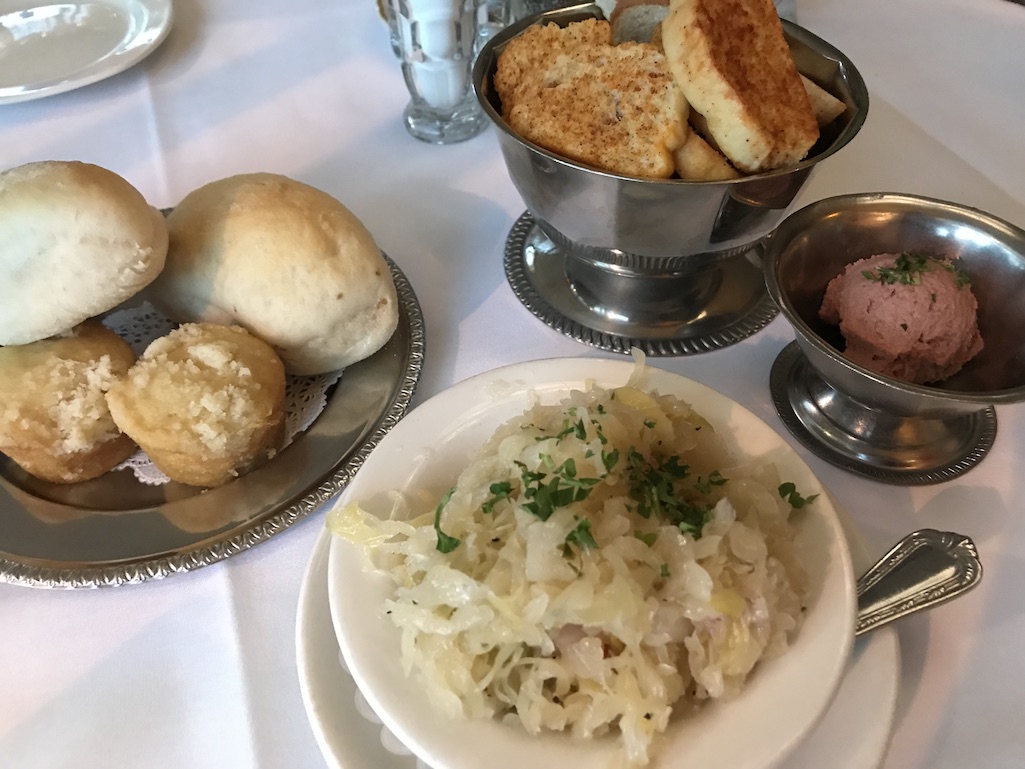 German And American, The Best of Both
Now you will want to order one of their German specialties (and you should). But if you're a meat-eater DO NOT MISS their famous prime rib. We know. We were skeptical too. Prime rib at a German restaurant? Our server very gently convinced us to try it. Boy were we glad she did. This is one excellent cut of beef. It doesn't need anything. The flavor is superb. But go ahead and order the sauteed mushrooms and fried onion rings on the side. They make perfect complements for a perfect meal.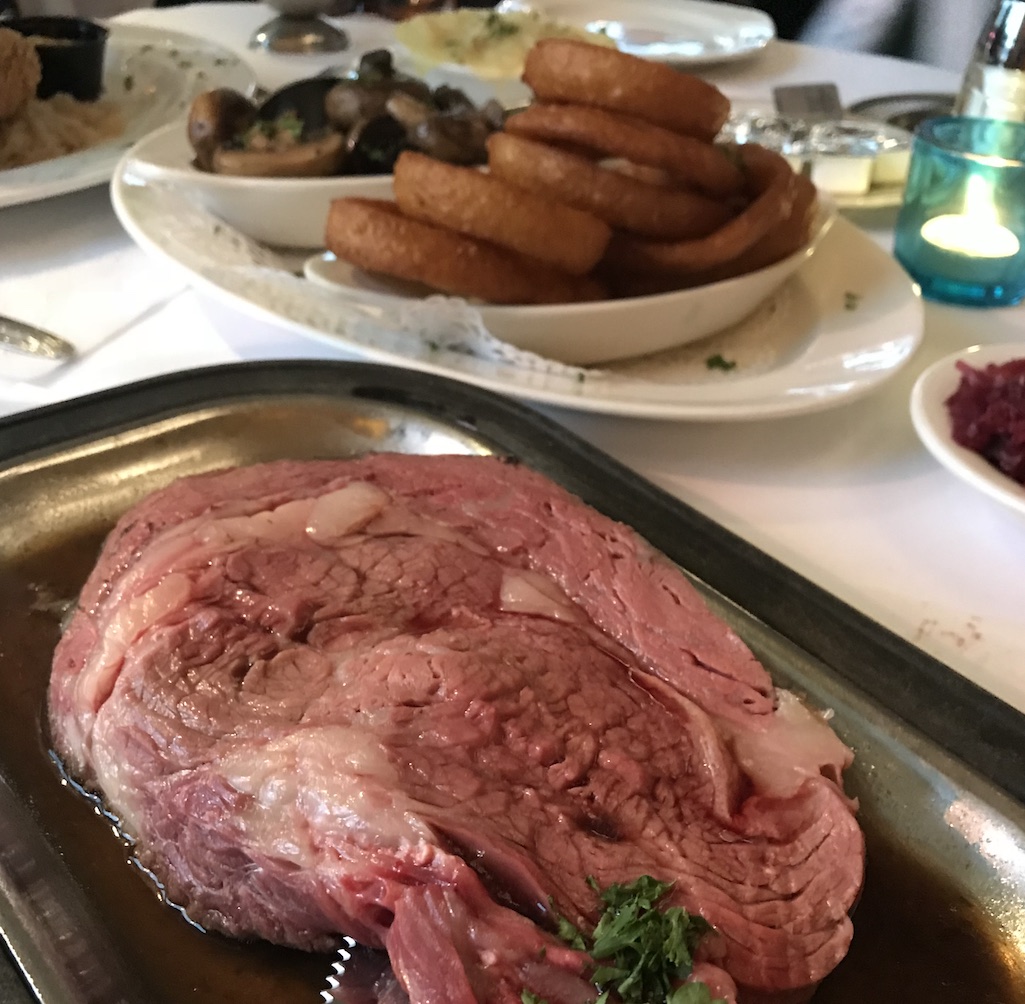 But don't miss out on their wonderful German fair too. Like we always say, go big or go home. So we had to try the Schwienshaxen, or pork shank. This baby clocks in at 40 ounces, accompanied by sauerkraut. We love that crispy skin on the pork shank and don't mind sharing. This is a terrific dish for two (or even three).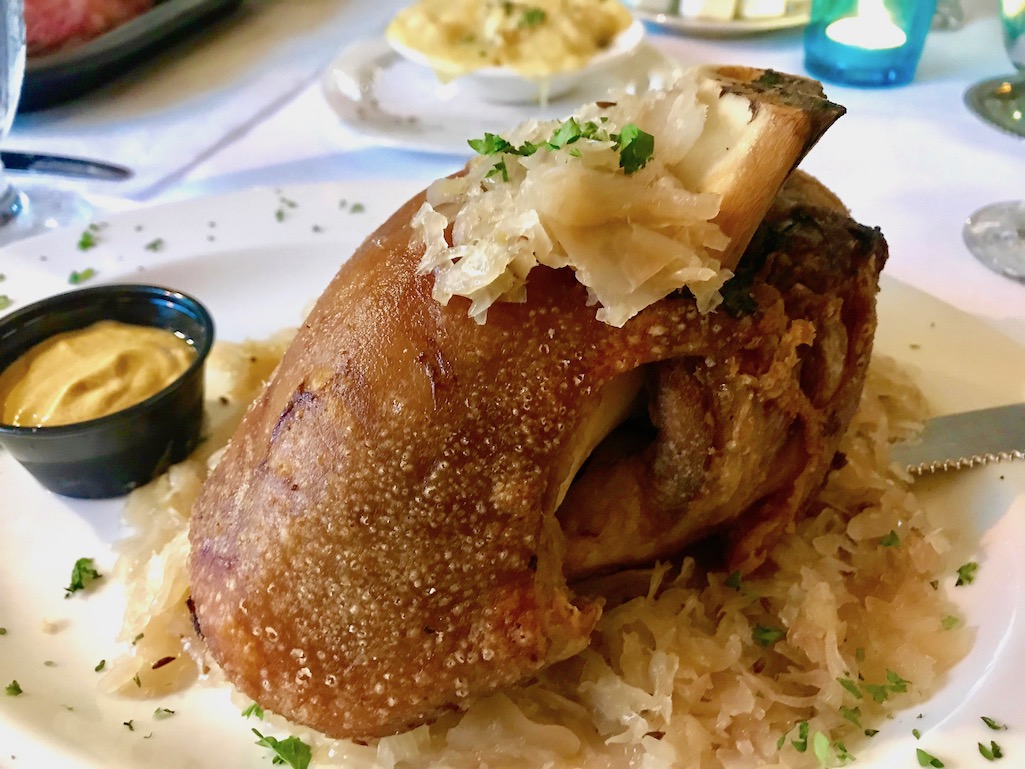 Our only regret at the House of Gerhard was that we simply didn't have enough room to try one of their legendary ice cream desserts or the Black Forest cake. There's only one solution – we must return!
So Tasty It's Twisted
Another spot for tasty food in Kenosha you'll want to try is Twisted Cuisine. Chef Erica Buskirk leads one of the best restaurants in Kenosha with amazing dishes with "wild combinations" of ingredients making the offerings just a bit twisted.  It was a treat to eat there with a few fun locals who knew their way around the menu. It was kind of surprising that someone ordered the chicken tenders (really?) but after tasting them, well… Best. Chicken. Tenders. EVER. The beer batter on this tasty chicken paired perfectly with the bacon fat honey! Clearly, you'll need to check your food biases at the door.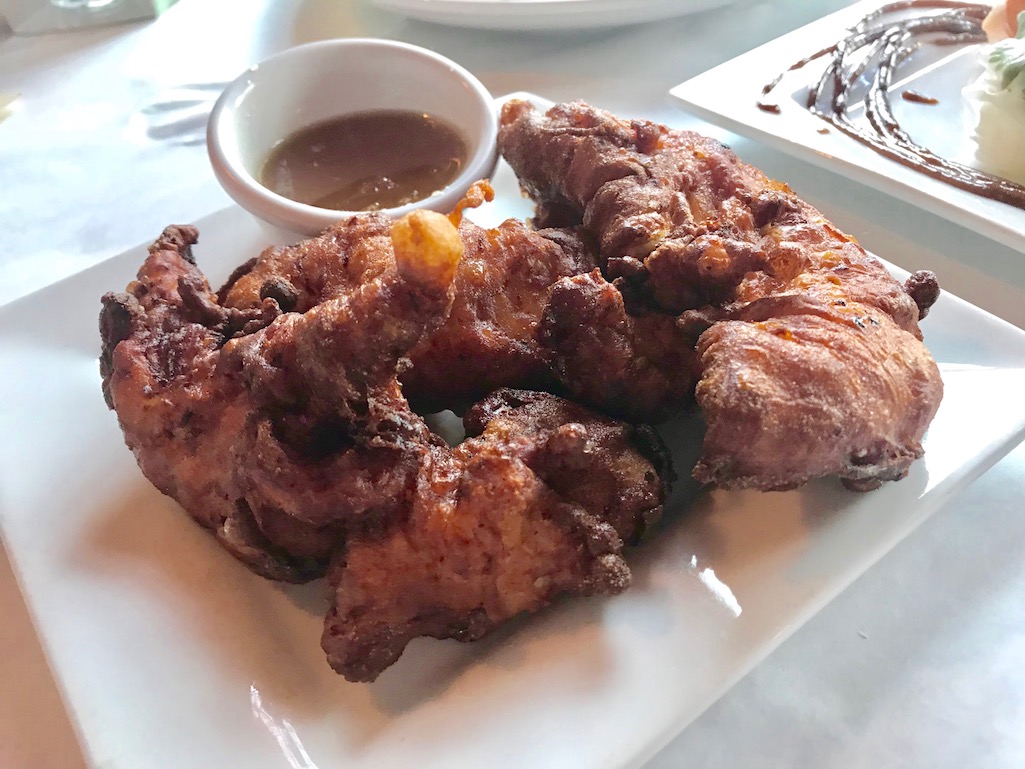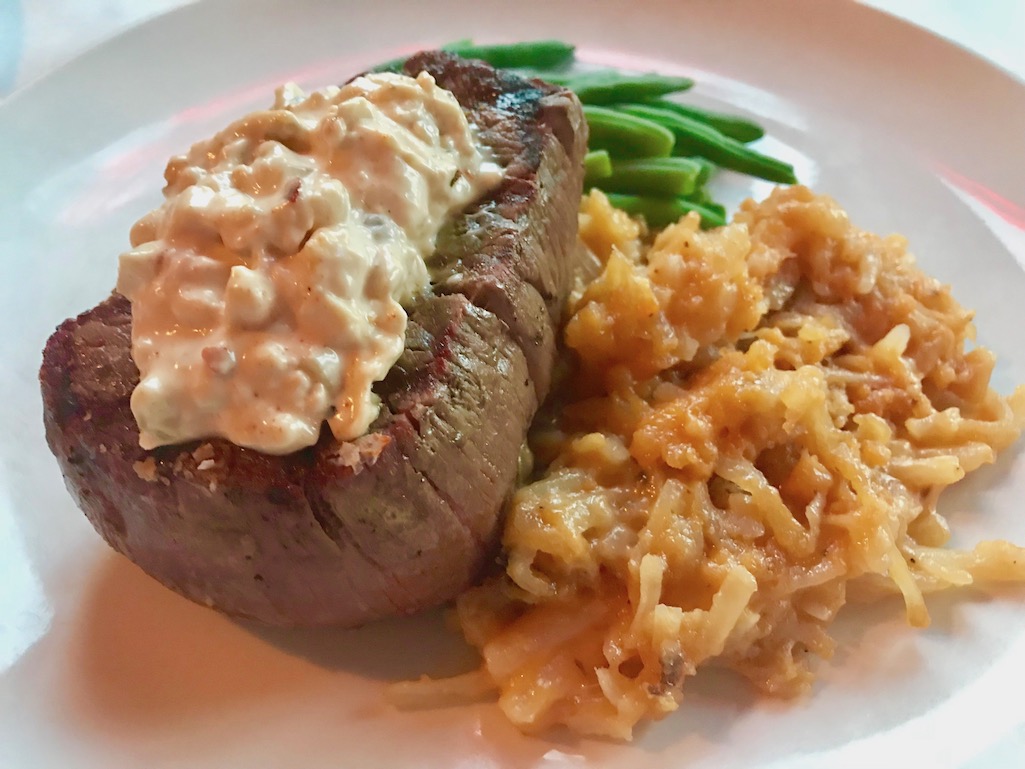 Chef Erica designed the menu designed with sharable and full-size portions so it's easy to share or horde your plate for yourself (which most of us did). The Sirlion of beef with cheddar potato hash looked and tasted incredible. Chef Erica hit another bullseye with her halibut with the seasonal heirloom tomatoes, roasted garlic, fried dill and goat cheese sticky rice.
Always Room For Dessert
Although we cleaned our dinner plates we had to try the desserts. The chocolate chip cookie with vanilla ice cream and chocolate sauce hit the spot. Also, we could not resist a bit of the banana triple with salted caramel, banana cake, banana creme, and sweet banana chip – a banana lover's delight!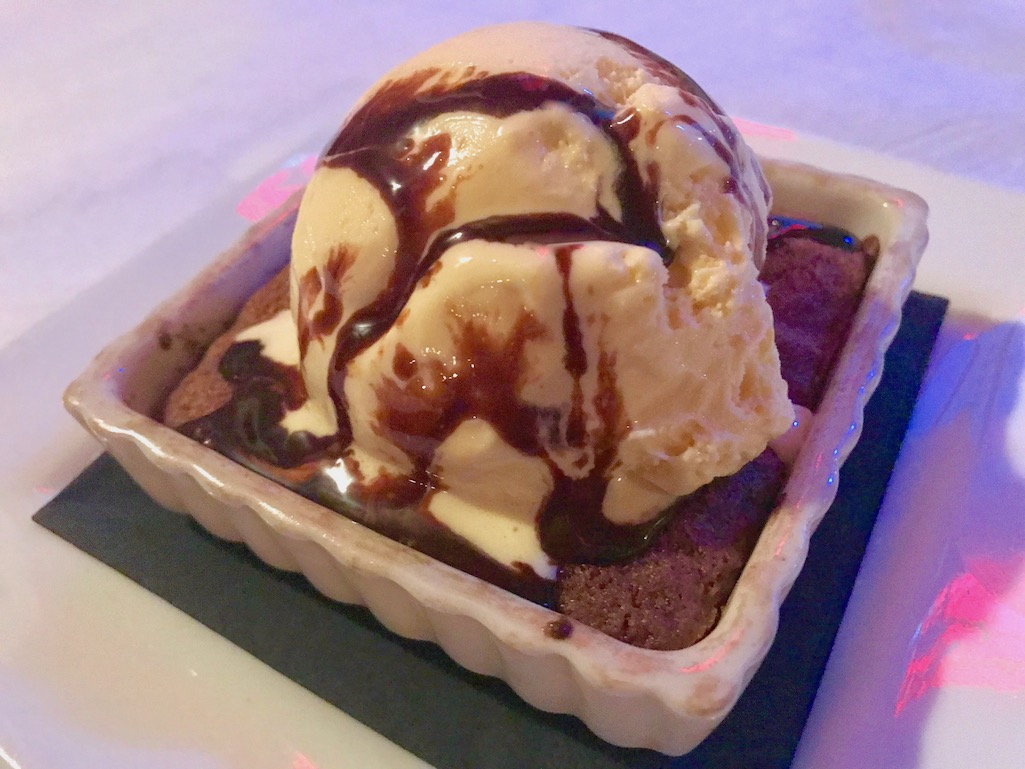 What Else? Is there more than just food in Kenosha?
You may think that all we did was eat and we sure did do a lot of that, but don't let that fool you. There are plenty more places to visit and things to do in Kenosha. From sailing, fishing, and swimming to golfing, shopping, and just plain relaxing.
So stay tuned because we'll be sharing more in our next post on Kenosha.
For more information about all there is to do and more places to eat in Kenosha, Wisconsin check out Visit Kenosha.com.
We would like to thank the Kenosha Convention and Visitors Bureau for hosting us for a weekend of fun and food. All suggestions and endorsements are solely personal. Our policy is only to share and provide honest and fair reviews of what we personally like and have experienced.
Pin It For Your Kenosha Travel Planning