A stuffed sweet potato is one of our favorite go-to comfort foods. It's so easy to make and full of vitamins and flavor. If you don't like or don't have a sweet potato on hand, you can use our many ideas for baked sweet potato toppings with any other sort of potato too.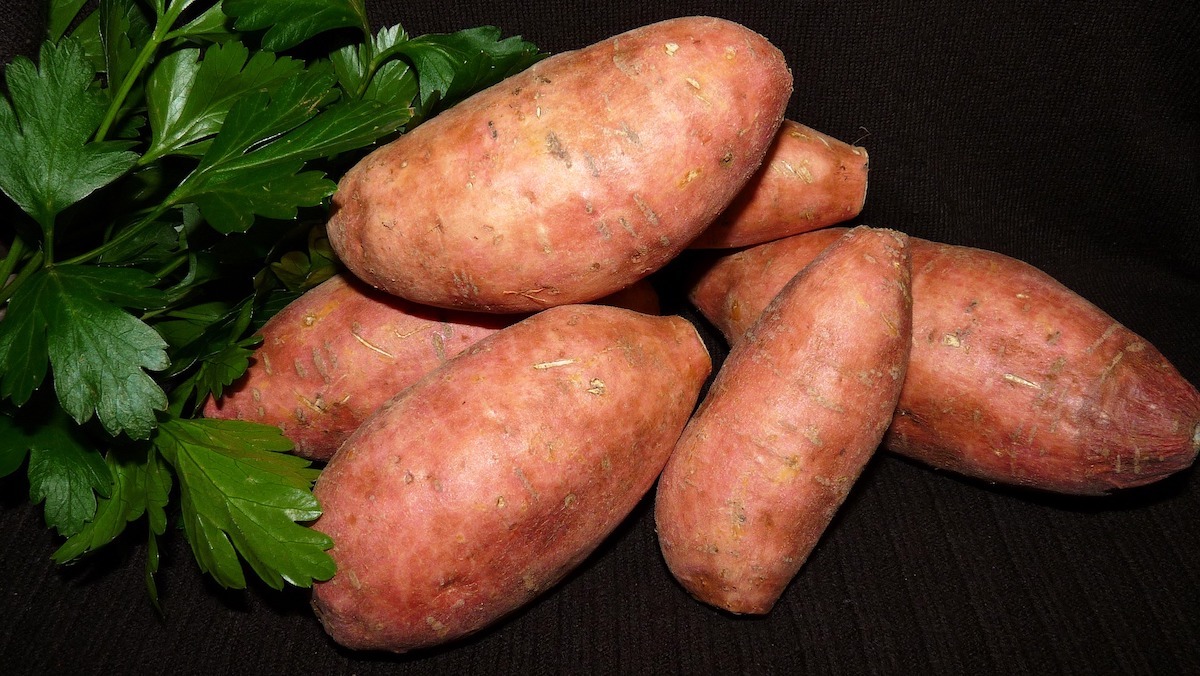 One of our favorite ways to cook sweet potatoes is baking in the oven. We enjoy a baked whole sweet potato if it's on the smaller side. If we have a larger one we split it into two. A baked whole sweet potato is the perfect holder for you favorite filling. Sometimes called a sweet potato jacket, we create a lot of different combinations of baked sweet potato toppings. We can customize them to make our perfect loaded sweet potato.
Depending on what baked sweet potato toppings you choose, you may just put them on top of the baked whole sweet potato or you may want to put it back in the oven to heat up or melt some more. Whatever you choose, a stuffed sweet potato is a filling, nutritious, and easy meal.
In this baked sweet potato recipe, we'll show you the basics of how to roast sweet potatoes whole. Then we'll give you some ideas for baked sweet potato toppings. You can also make stuffed potatoes of any kind using the same methods. While there are many ways to cook sweet potatoes, we love having a baked whole sweet potato because it retains a lot of the fiber and nutrients.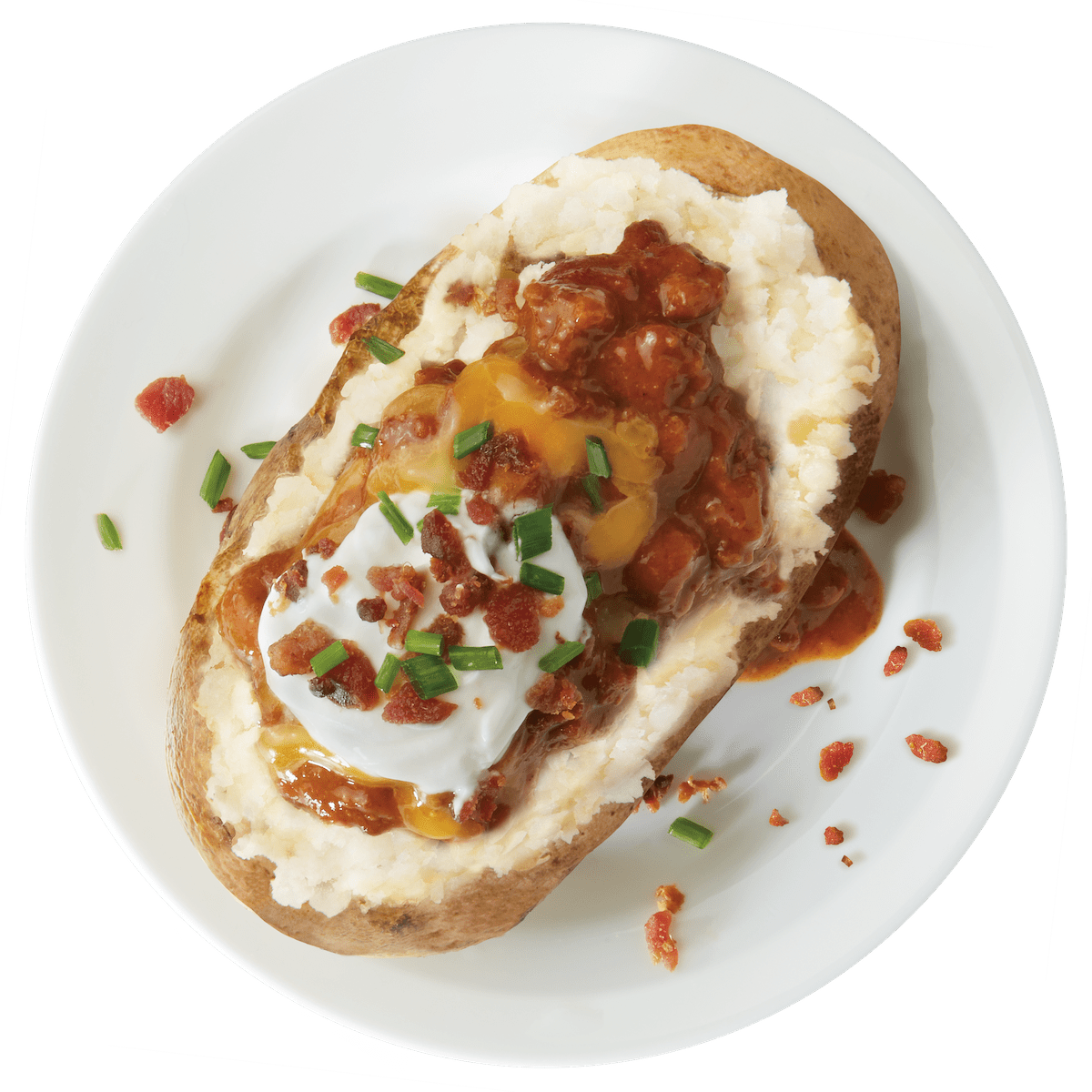 But let's get to the fun part and look at our baked sweet potato recipe and some great ideas for baked sweet potato toppings.
Stuffed Sweet Potato
Just remember, the time it takes to roast sweet potatoes whole also depends upon the size of your sweet potato and the specifics of your own oven.
Ingredients
1 sweet potato, scrubbed
toppings of your choice (we'll give examples below)
Sheet pan covered in foil or parchment
Olive oil or softened butter (optional)
Directions
Preheat oven to 425 degrees F.
1. Scrub the sweet potato and dry completely.
2. Poke holes around the outside with a fork. 5 or 6 spots is plenty. This is to allow the sweet potato to have some room to let steam escape while cooking and speed cooking.
3. If you like to eat the skin (and we love it!) rub with a little olive oil or softened butter. This will help the skin get nice and crispy.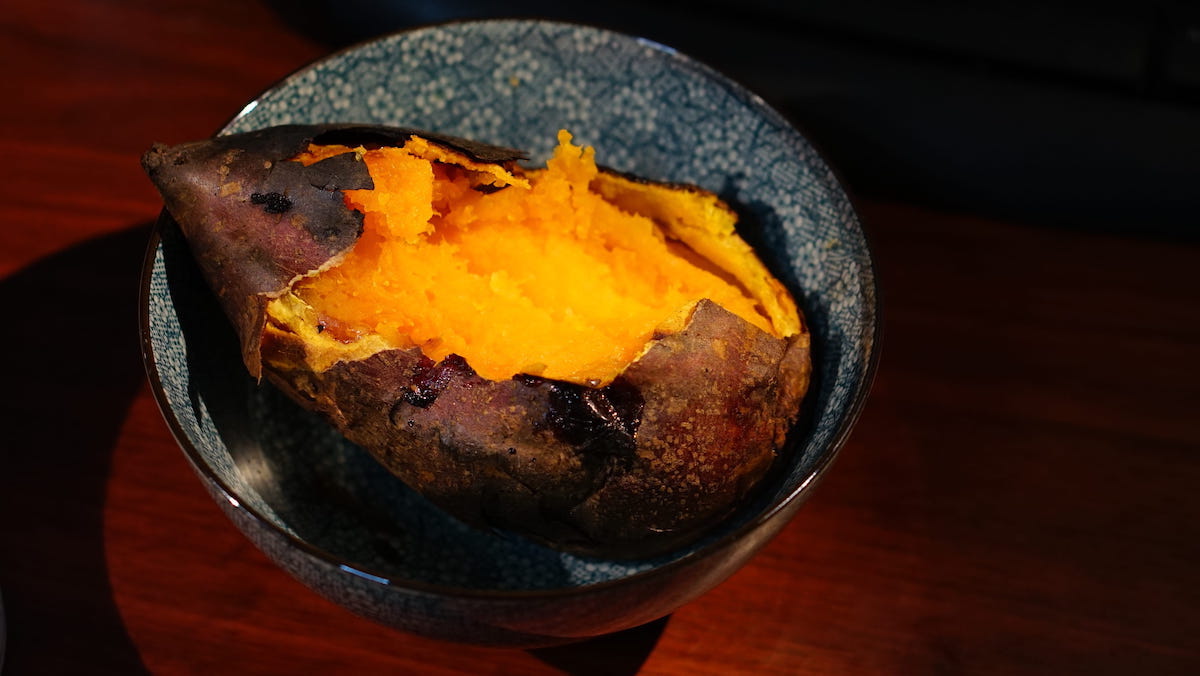 4. Place on sheet pan and roast sweet potatoes whole for 50 to 90 minutes depending upon the size of the sweet potato.
5. Check by poking with a fork from time to time to check on doneness. When fork goes in easily, it's done!
6. Remove from oven and slice with knife to create opening. If you're going to share a big baked whole sweet potato, then cut it in half and then slit each to make a loaded sweet potato out of each one.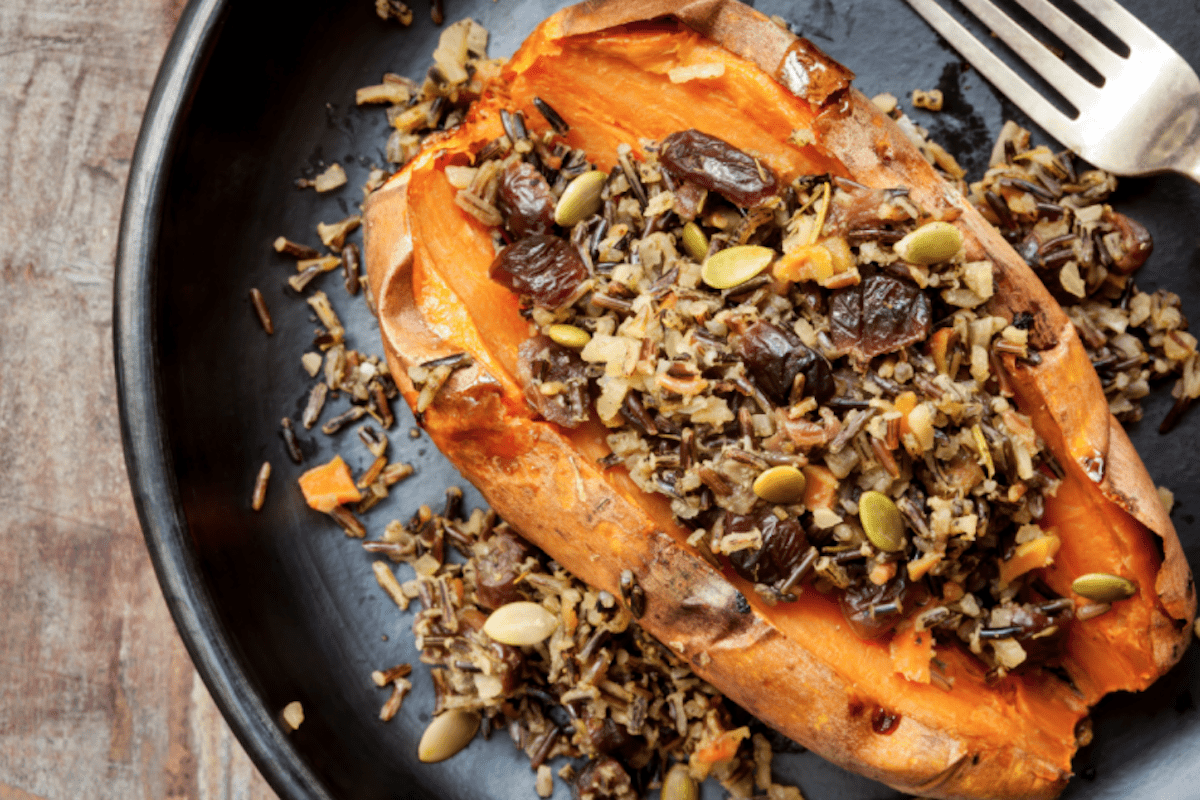 Baked Sweet Potato Toppings
Here is where your imagination comes in. You can have your basic sweet potato jacket topped just with butter and salt and pepper. That's one of the most popular ways to cook sweet potatoes and makes for a great side dish.
But if we're going to make a meal out of our stuffed sweet potato, we're going to need to do more than that. Here are some of our favorite ideas. We're sure you'll come up with some more of your own. We'll provide a few ingredients for each. Feel free to use some, all, or make it your own.
Pro Tip: If you're short on time you can always start cooking your potato in the microwave for about 4-5 minutes.
Ethnic Flavor Combinations
Indian – peas, onions, carrot, curry, cumin, ginger, turmeric, garlic, lentils, coriander
Portuguese – sausage, potato, kale, onion, pork, tomato
Mexican loaded sweet potato –  olives, tomato, cilantro, corn, beans, taco meat, cheese, sour cream, guacamole or avocado. Add a squeeze of lime to brighten it up.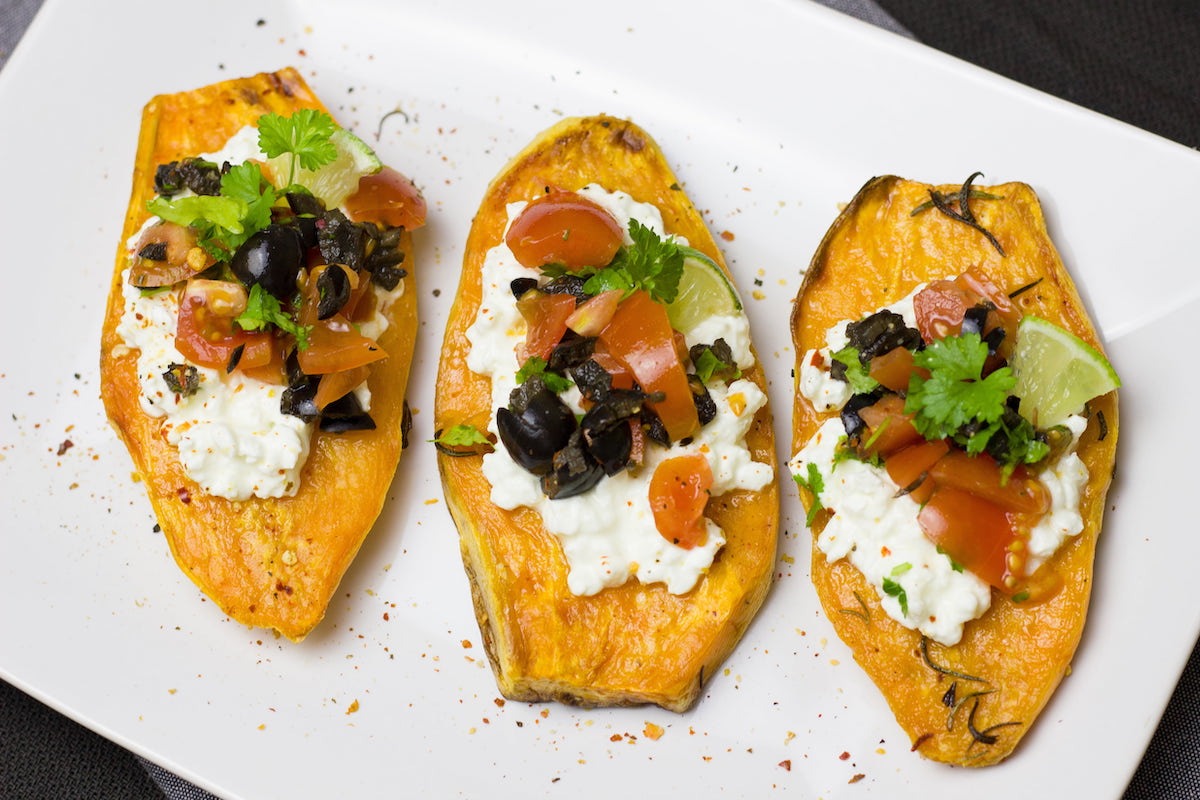 Greek – spinach, feta, (you can put these on and then broil to heat and melt the cheese a little),  tomato, cucumber, onion, kalamata, drizzle with olive oil
Italian – marinara sauce, mozzarella cheese, parmesan, sausage, mushrooms, green peppers, olives, onions, garlic (melt again for a stuffed sweet potato pizza)
Middle Eastern – broken falafel, hummus, chickpeas, tomato, parsley, tahini, roasted chickpeas, yogurt
Asian – stir fry veggies with a little sesame oil, water chestnuts, bean sprouts, snow peas, broccoli, carrot, top with a sprinkle of soy sauce, tamari, or rice vinegar
Some Borrowed Combination Toppings
Sweet potato casserole – brown sugar and butter, topped with mini-marshmallows. Pop under the broiler for a minute to get the top crispy.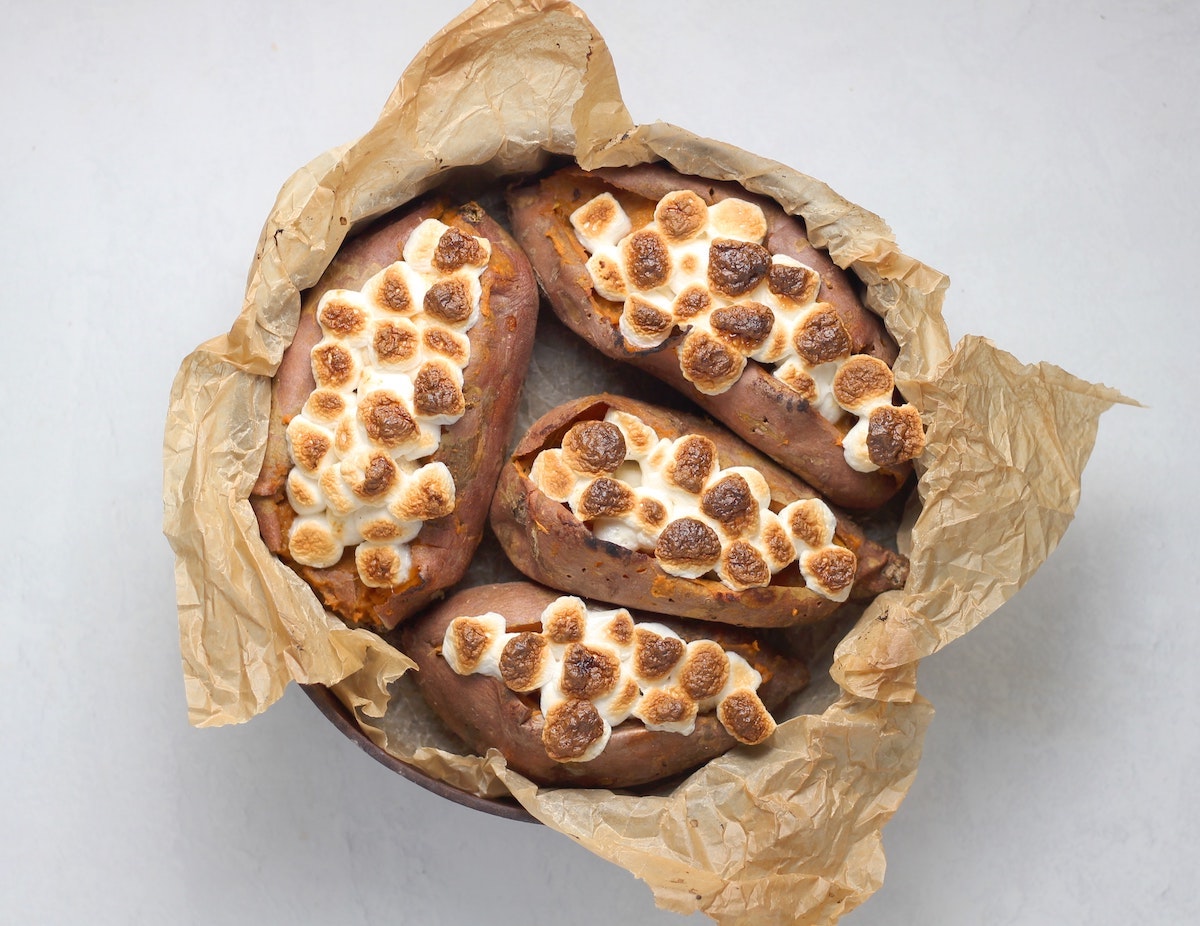 Barbecue Ranch – barbecued meat or veggies or just your favorite bbq sauce, ranch dressing, olives, cheddar cheese
BCAT – crispy bacon, cheddar cheese, avocado, tomato, sour cream, chives
Broccoli and Cheddar – just like it sounds, some steamed broccoli and shredded cheddar, a classic combo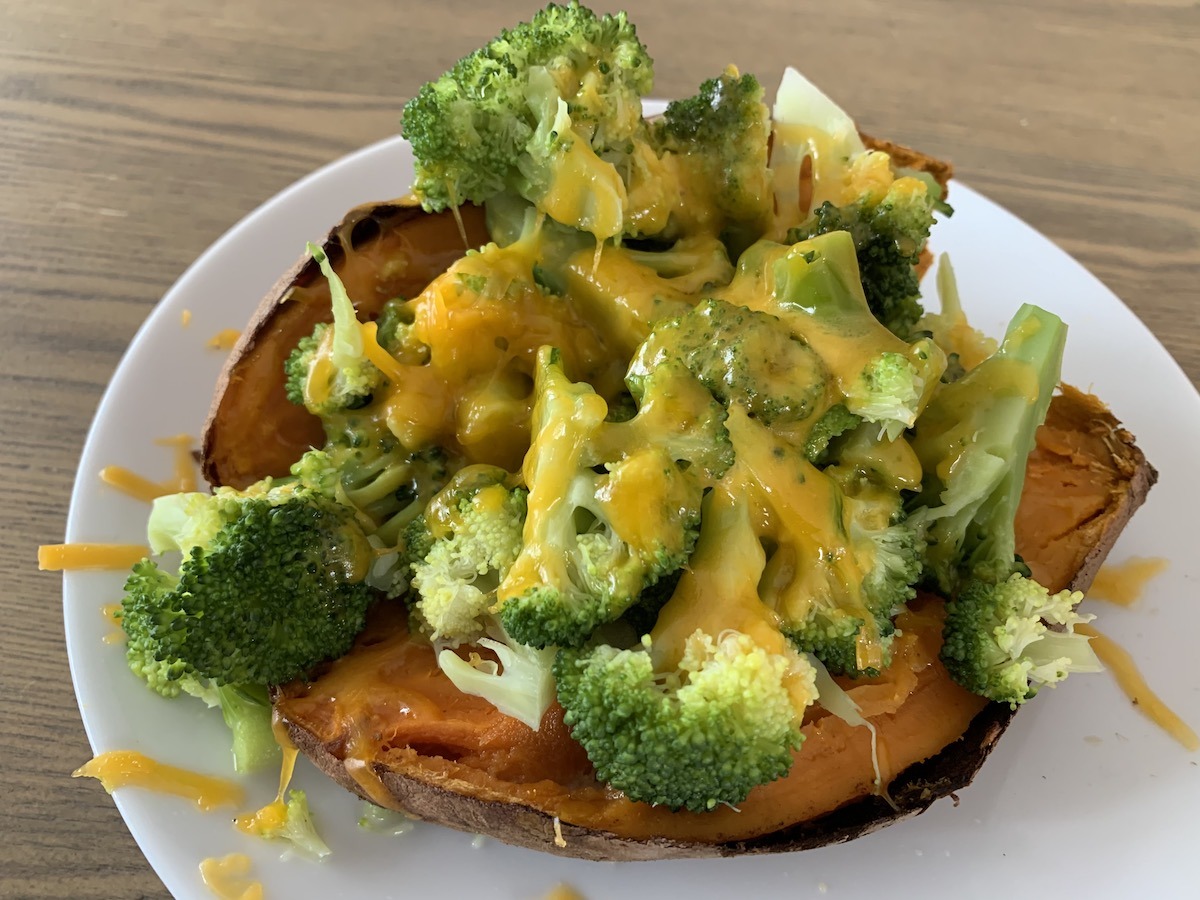 Thanksgiving – shredded turkey, stuffing, cranberry sauce, green beans, or whatever tastes like Thanksgiving to you
Chili – chili beans, sour cream, crumbled bacon, chives (this one is great if you're using a regular potato too)
Roasted Brussels Sprouts – roast some Brussels sprouts in a Tablespoon of oil, add onions and garlic, put on top of sweet potato jacket and to with parmesan or other cheese
Your Favorite Loaded Sweet Potato
As you can see, the options are endless. Depending upon what you like to eat and what you have available to you, your stuffed sweet potato playlist could cover all the options. For a healthy, tasty, and easy to make meal, try a baked whole sweet potato. Don't forget to add your favorite baked sweet potato toppings to make this simple dish a fixture in your regular meal rotation.
Check out our other ideas for easy Pantry Cooking like our Homemade Cornbread Recipe or some Veggie Noodles Like Zucchini Spaghetti.
Pin To Your Favorite Recipe Board on Pinterest