Crispy Duck
Crispy duck is one of those dishes that we love to order at a restaurant but didn't know how to make at home – until now. Maple Leaf Farms has changed all that with their two-pack of ready-to-cook duck breasts and a fantastic tub of duck fat too. We learned how easy it is to make delicious and exciting dishes using these ingredients, and can't wait to share some recipes and ideas with you.
Disclaimer: We received products to try from Maple Leaf Farms and those products were used in making these recipes. All opinions expressed are our own and based upon our experience with the products
Duck Breast
We used to think that the duck breast was something exotic and difficult to work with in the kitchen. The fact is, we were just plain wrong. Maple Leaf Farms has two duck breasts in a sealed package, which offers a great size and doesn't leak. You simply remove the breasts and go. It couldn't be easier. The duck breasts are high quality and depending upon how hungry you are, you may consider splitting one with someone else and saving one for another recipe. We are eating less meat these days, so we cooked the breasts and made two different recipes using them for two different meals – both of which were incredible.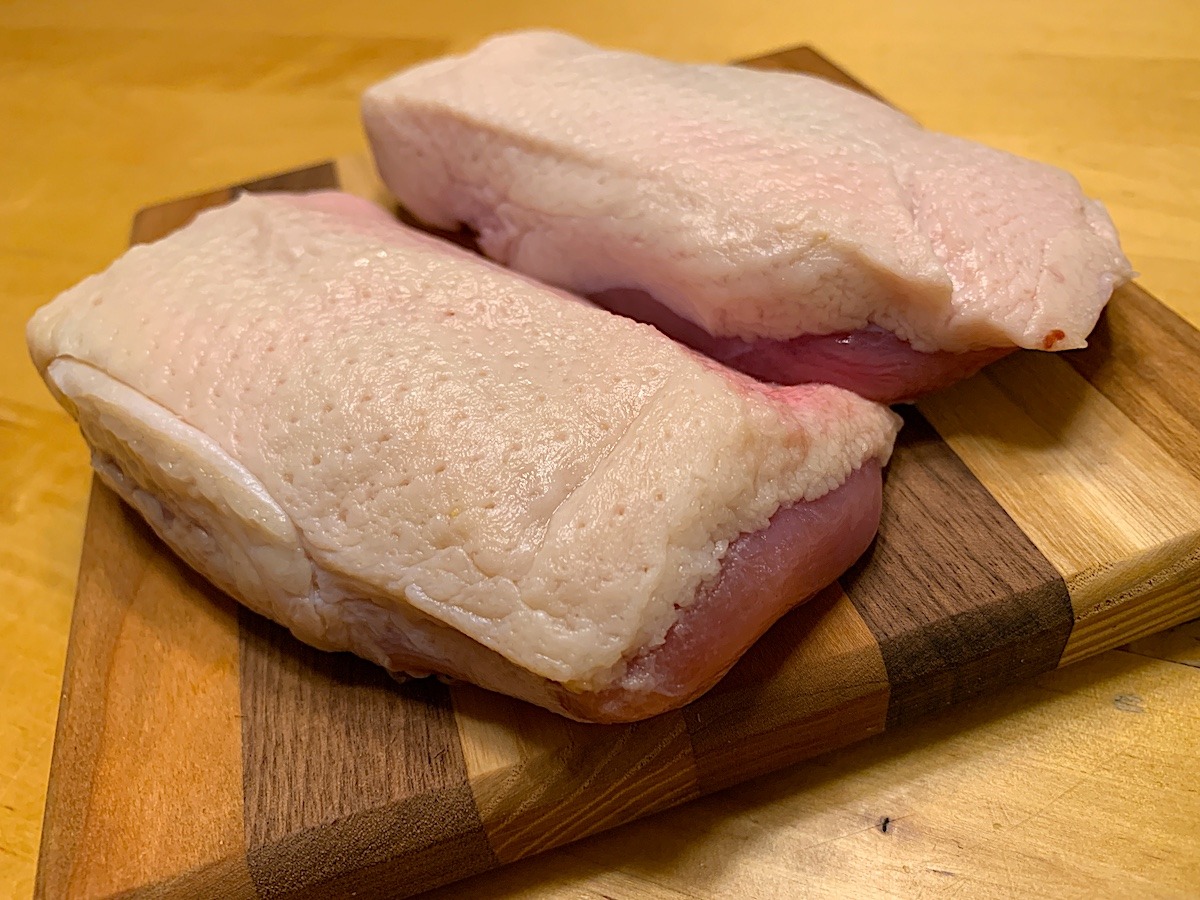 Variety is the spice of life, so we want to share with you two totally different ways to use crispy duck breast to make a dinner meal and an anytime meal (we had this one for breakfast, but you can really enjoy it any time of day). We'll also give you some ideas for how to use the incredible duck fat that Maple Leaf Farms has available for cooking some of the crispiest, tastiest food ever. You can use our recipes as jumping-off points too because you'll discover just like we did that there is a lot you can do with duck breast once you start to let your mind get creative.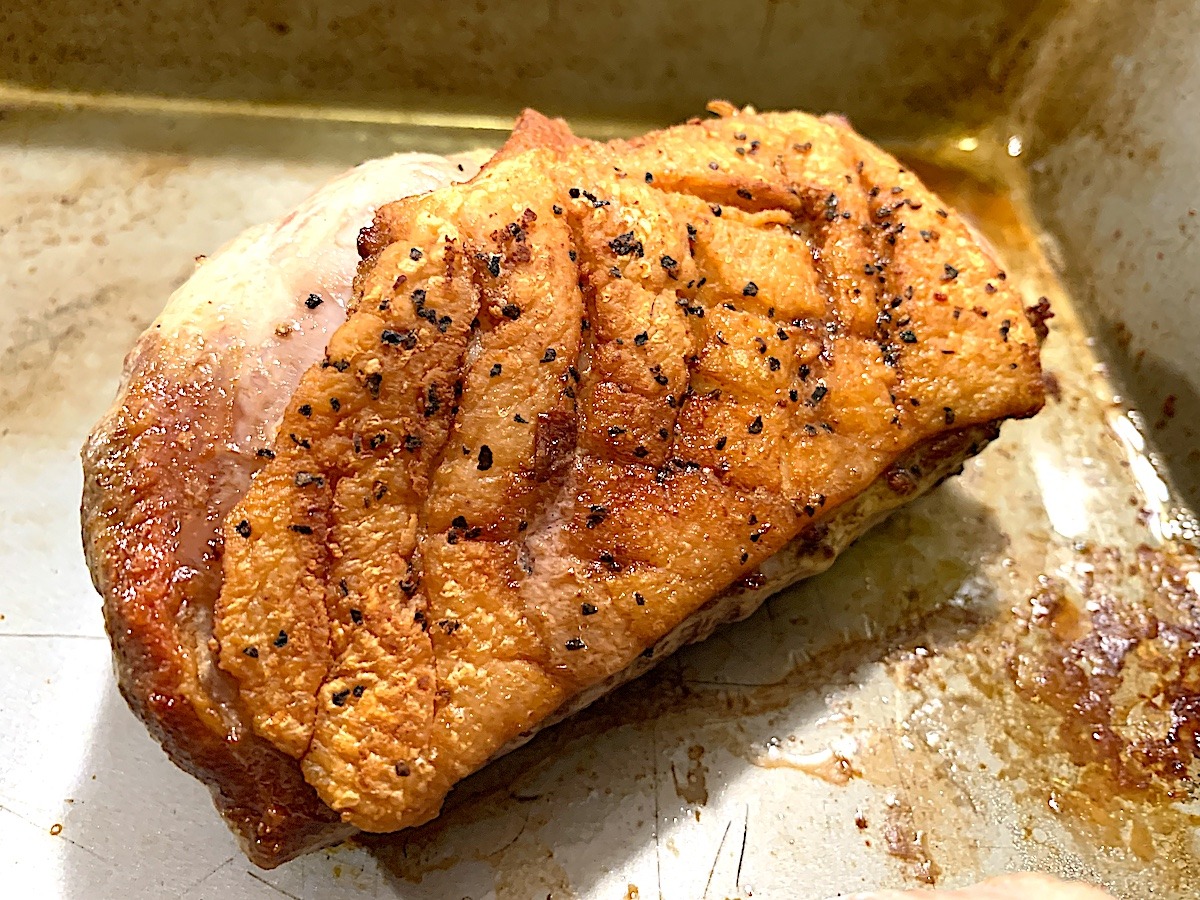 Crispy Seared Duck Breast With Blueberry-Apple Balsamic Sauce
This recipe makes two duck breasts with a rich, delicious sweet-tangy fruit sauce.
Ingredients
2 duck breasts, including the skin on top
salt and pepper to taste
1 teaspoon marjoram
1/2 teaspoon hand-rubbed sage
1 Tablespoon duck fat
1 Granny Smith or another tart apple, chopped
1/2 onion, small diced
1/2 cup brown sugar, light or dark, packed
1/4 cup granulated sugar
1  cup frozen blueberries, thawed (you can use fresh if you have them)
1 clove garlic, minced
1/2 Tablespoon raspberry balsamic, white balsamic, or aged balsamic vinegar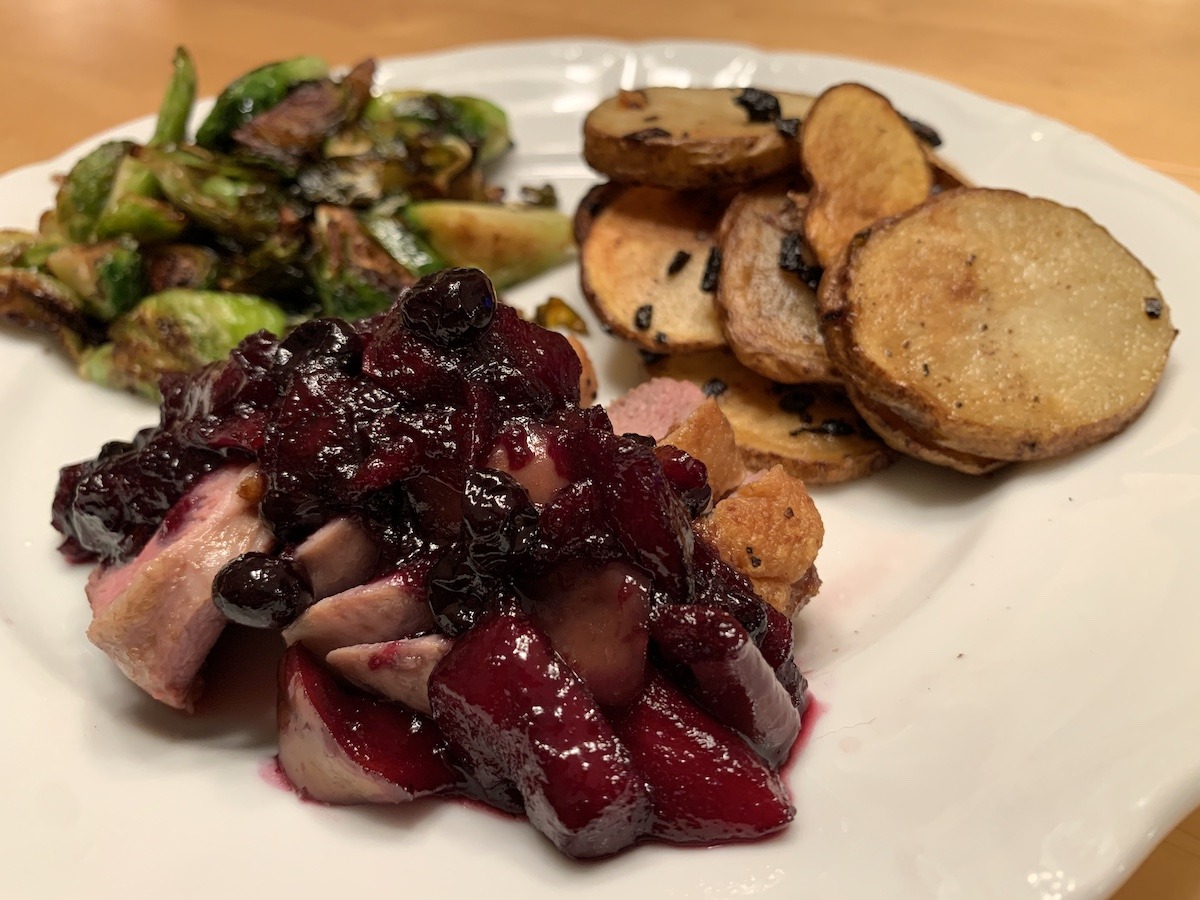 Directions
If the duck breasts are frozen, be sure to let them thaw before cooking. Pat dry if they are wet. Then you'll want to make the sauce first.
Sauce:
Put 1 Tablespoon of duck fat into a medium saucepan and melt. If you don't have separate duck fat, you can cook the duck breasts first and keep them warm while making the sauce. Use 1 Tablespoon of the duck fat rendered from cooking the duck breasts.
Place diced onions into the saucepan with duck fat and heat until onions are clear.
Add the chopped apple, blueberries, brown sugar, granulated sugar, and vinegar.
Simmer until the ingredients come together and the sauce reduces and thickens slightly.
Stir gently and, if preparing prior to cooking the breasts, remove from heat and rewarm if necessary prior to topping breasts.
Duck Breasts
Heat oven to 400 degrees F.
Heat dry ovenproof skillet on medium-high for 4 minutes.
Score duck breasts in diagonal strips about 1/2 inch apart through skin and fat but not cutting the meat.
Sprinkle duck breasts with salt, pepper, marjoram, and sage on both sides.
When the skillet is hot, place duck breasts skin side down.
Cook the duck breast until the skin is golden brown and crispy, and a good amount of the fat has rendered about 6-8 minutes.
Then flip the breasts and brown the other side for another 2-3 minutes
When both sides are seared, place the ovenproof pan on the middle shelf and cook for another 4-8 minutes, depending on the size of the breasts, in the oven until a thermometer inserted in the breasts reads 160 degrees F internal temperature.
When the breasts are cooked, remove them from the oven and let rest for 3-5 minutes.
Slice the breasts along the scored cuts about 1/2 and arrange on the plate.
Top with a generous amount of sauce and garnish as you like.
Crispy Duck Hash
This is a "what you have and what you like" recipe. That means you can use whatever ingredients you have on hand and what you like to eat. We think things like root vegetables such as parsnips, carrots, rutabaga, turnips, and beets all work well. Then we like to add something green for color such as broccoli, peas, green beans, Brussels sprouts, chopped spinach or kale, asparagus, or sugar snap peas. Of course, we like some sort of potatoes whether gold, russet, sweet, or some of each and some chopped onions for flavor. These are the basic ingredients that are the building blocks of the hash.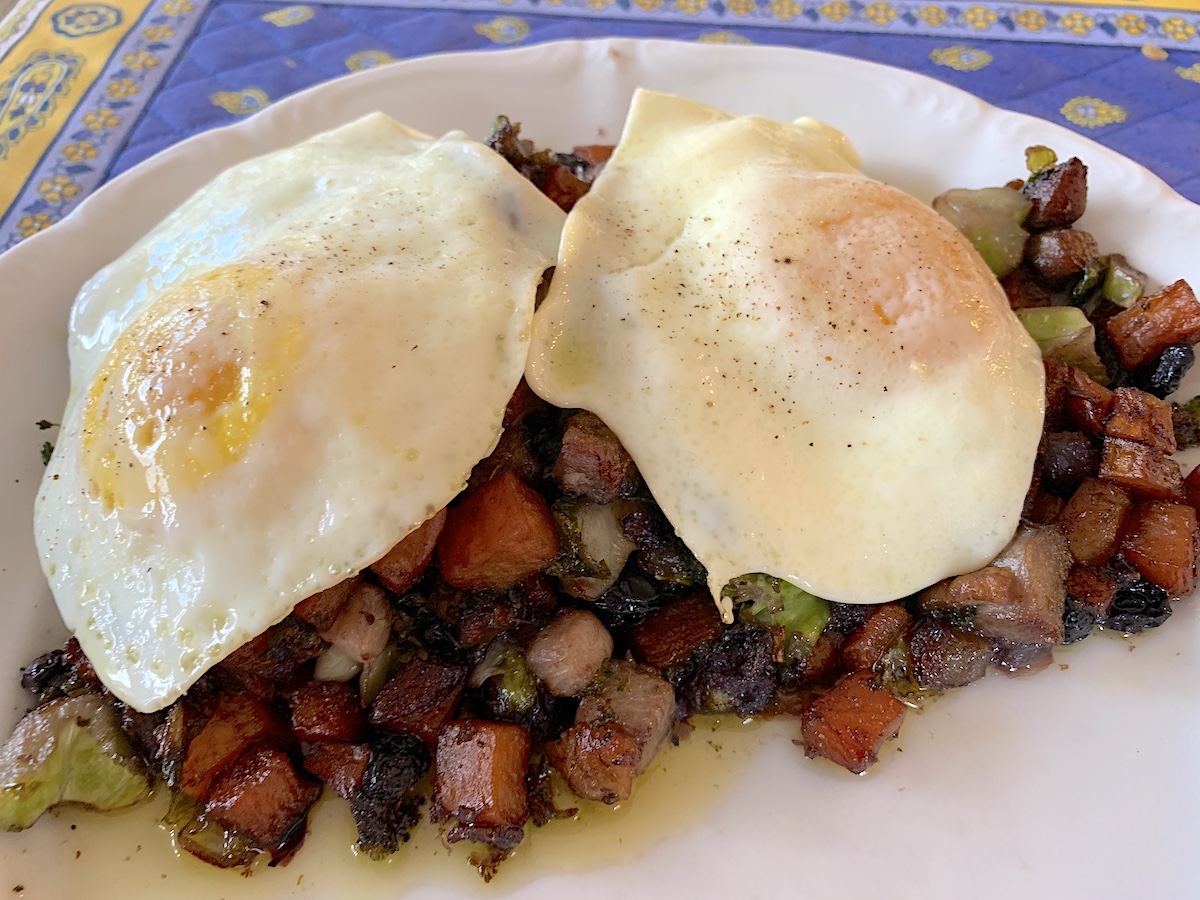 Ingredients
1 cooked duck breast, chopped. Use the instructions in the Crispy Seared Duck Breast recipe above to create a crispy skin
4 cups Vegetable medley using your choice and available options from the introduction to this hash recipe. Chop vegetables evenly so that they will cook at relatively the same rate.
4 large eggs
1 teaspoon hand-rubbed sage
1/2 teaspoon ground rosemary
1 teaspoon parsley flakes
2 tablespoons duck fat
Directions
Place duck fat in a skillet on medium heat and melt.
Add chopped vegetables and saute until cooked thoroughly. It's okay if you let some of them brown, we like it that way!
Once vegetables are almost done, add the chopped cooked duck breast.
Combine the vegetables and duck breast to make sure the flavors blend and the duck breast is evenly incorporated.
In a separate skillet, cook four eggs as you prefer them – fried, over easy, basted, sunnyside up, over medium, etc.
When eggs are almost ready, divide hash onto two plates.
Place two eggs on top of the hash.
Salt and pepper eggs to your taste.
Serve with warm crusty bread or toast of your choice
Crispy Duck Fat Fries
If you are lucky enough to have some duck fat, you will want to make some of the tastiest, crispiest fries around. It's super simple to do, and we even make them in the toaster oven. Yes, it's that easy!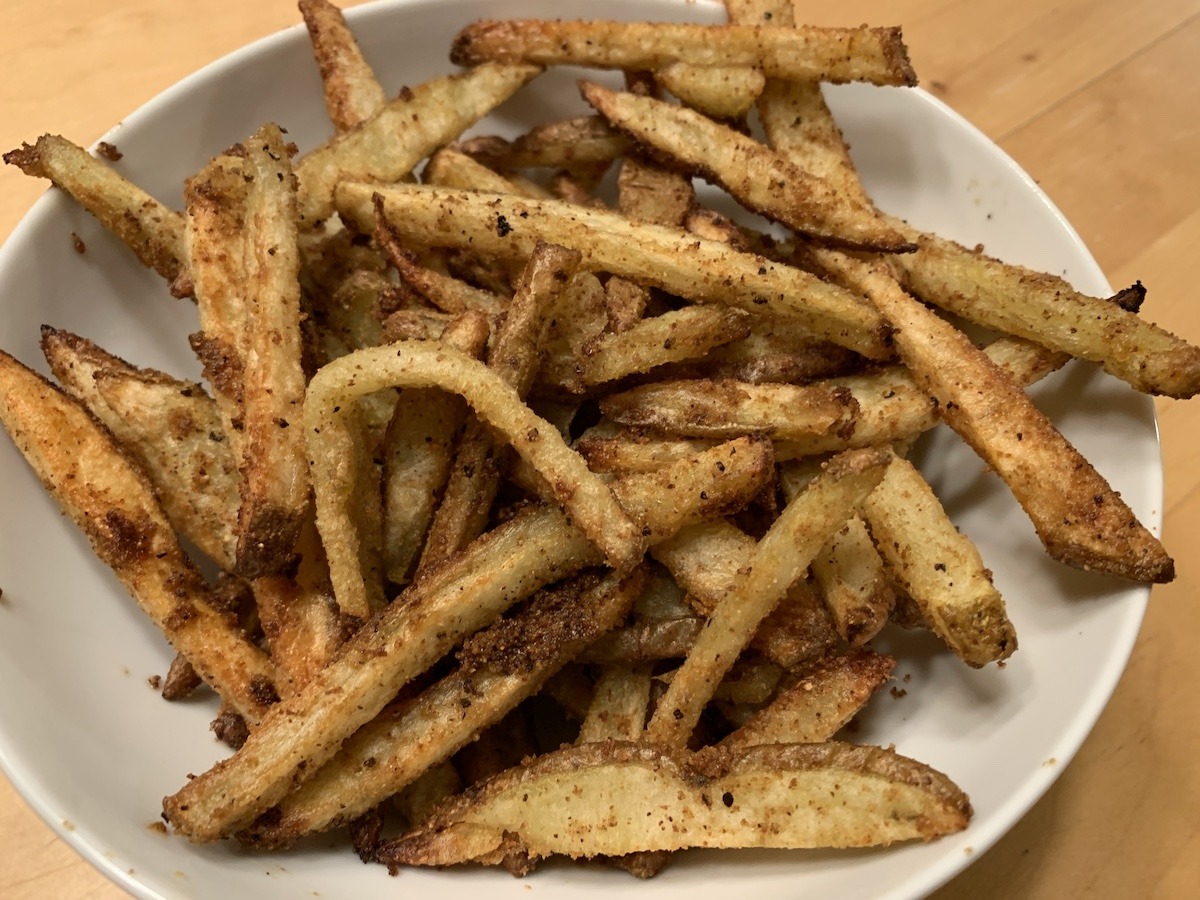 Ingredients
4 Russet or your favorite potatoes, cut into large juliennes for fries.
1 to 2 Tablespoons duck fat, melted
Salt, pepper, garlic powder, onion powder, ground rosemary, or other spices to your taste
Directions
Cut potatoes into fries. You can leave the skin on if you like or peel, it's up to you.
Place fries into a large bowl of COLD water. Let them soak for a couple of minutes, then dump the water and exchange for fresh COLD water. This is essential to make your fries super crispy.
Let the fries soak for another 5 to 10 minutes, removing the starch from the fries.
Pour water off and dry fries as much as you possibly can with paper or kitchen towels. Get them really dry – again, this makes for crispy fries.
Completely dry out the bowl or use another dry clean bowl. Add the melted duck fat. You just want enough to coat, not to soak the fries.
Coat the fries with the melted duck fat.
Add spices of your choice. Hold off on the salt though, and add that after the fries have cooked, just before serving.
Place fries on a baking sheet in a single layer. Cook on 450 for about 30 minutes, flipping over halfway through. Keep an eye on your fries. Ovens bake differently, so you want them to get golden brown but not burned. Check them every 5 minutes or so to make sure they're on track and not getting burned.
Place in serving dish or platter and sprinkle with salt to finish. You don't need or want to overdo the seasoning with these fries. They have a lot of flavor all by themselves.
If you like these recipes, give a try to our version of Oven Fried Chicken for fun!
Pin It!