Using the best ingredients you can get. That's typically the answer we get when we ask chefs around the world what makes their dishes so highly regarded.
One of our favorite ingredients is cheese. We use cheese and consume cheese as often as we can. And one of our very favorites is authentic Italian PDO Asiago cheese.
So what are important considerations when you are looking for the right cheese to use in your favorite recipes? Start with where the product comes from. If you plan on using an authentic Asiago cheese you simply must insist that it has a designation of PDO (Protected Designation of Origin) or PGI (Protected Geographical Indication). Both of these symbols guarantee that that products you are buying are from the official place of origin.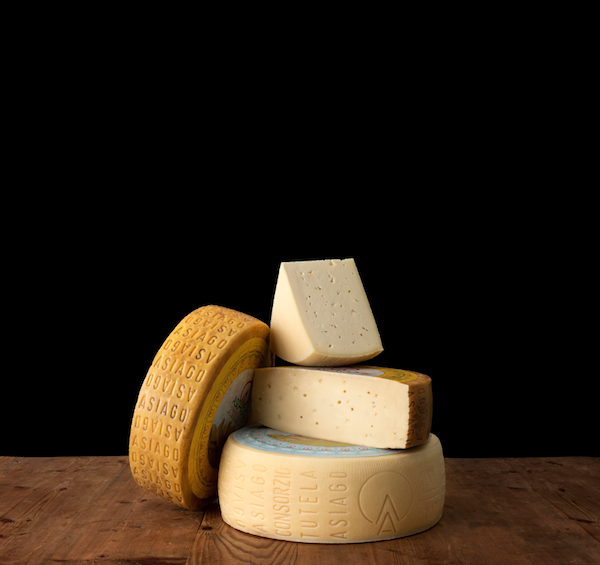 These products also adhere to the demanding production standards that have been used for generations. Only products that carry these labels are guaranteed to be produced with strict guidelines in the traditional methods that have been handed down for hundreds of years.
Asiago PDO
When you go to your nearest grocer and look for Asiago cheese you might be tempted to try a non-POD product. Let's face it they are typically cheaper and sometimes easier to find. But if you want the authentic taste of true Italian Asiago, you have to get the PDO marked cheese.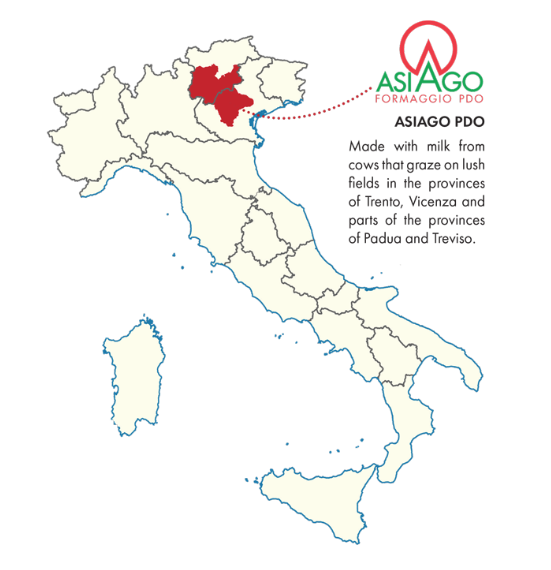 These fine cheeses are made with only three ingredients: partially skimmed cow's milk, salt and rennet. That's it. The Alps region in Italy is known for its mild climate and clean pure air. In other words, cow heaven.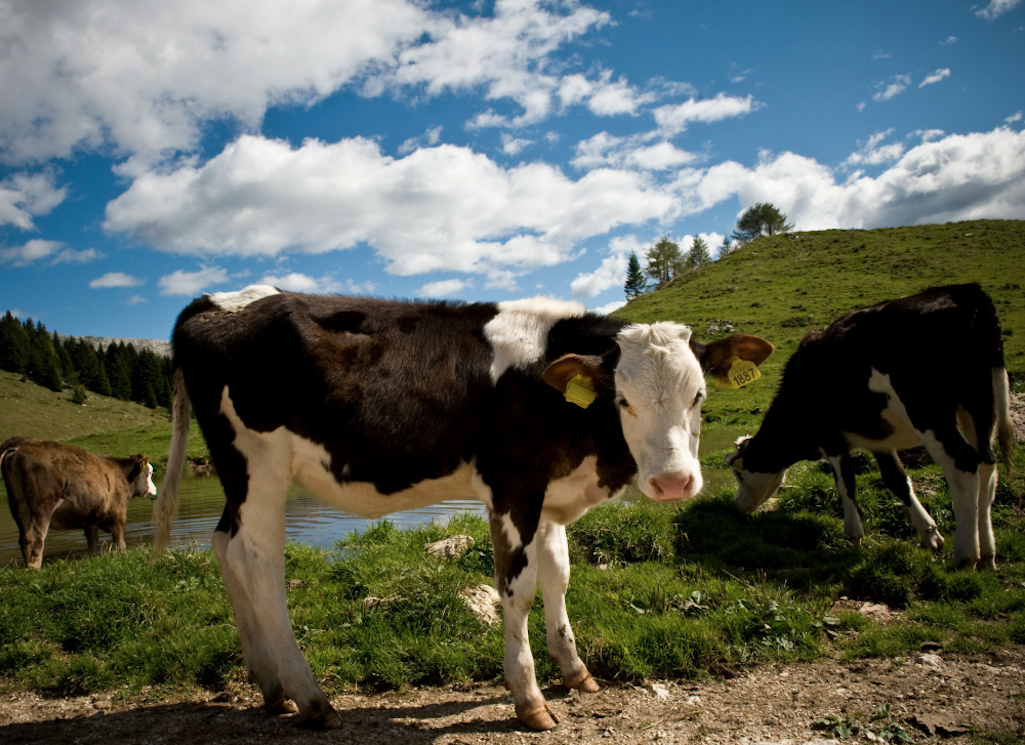 Not sure how to spot a real PDO Asiago cheese? Simple. Look for the pin dots on the rind that clearly says ASIAGO. This ensures that you will get the best Asiago with authentic flavor.
When you're shopping you'll need to know that there are two types of Asiago. One is the "Stagionato (or aged) and the other is "Fresco" (fresh). Each type has its own unique characteristics. Fresco Asiago is semi-soft  and will be mild, creamy and buttery. Aged Staginato Asiago will be more more crumbly with a robust nutty and rich flavor.
Asiago Mezzano PDO (aged 4-6 months)
Asiago Vecchio PDO (aged 10+ months)
Asiago Stravecchio (aged 15+ months)
Asiago Fresco (aged 30-50 days)
The creaminess of the fresh Asiago PDO cheeses is perfect for salads, pastas, sauces and dips. We love the aged Asiago PDO cheese for cheese boards, grating into soups, grated onto potatoes, pizza or roasted veggies and just munching on around the house. If you're looking for a tasty snack you'll be glad to know that just one and half ounces of Asiago cheese will provide a full 25% of your daily protein requirement.
Really Melty Asiago Cheese
Our number one favorite characteristic of PDO Asiago cheese is its meltiness. We love using it for everything from inside grilled cheese sandwiches to on top of our favorite pasta sauce. This cheese melts into a creamy topping.
One of our go-to easy to make meals is pasta with Diana's amazingly addictive tomato sauce. Top it with freshly grated PDO Asiago and it's a perfect meal any time.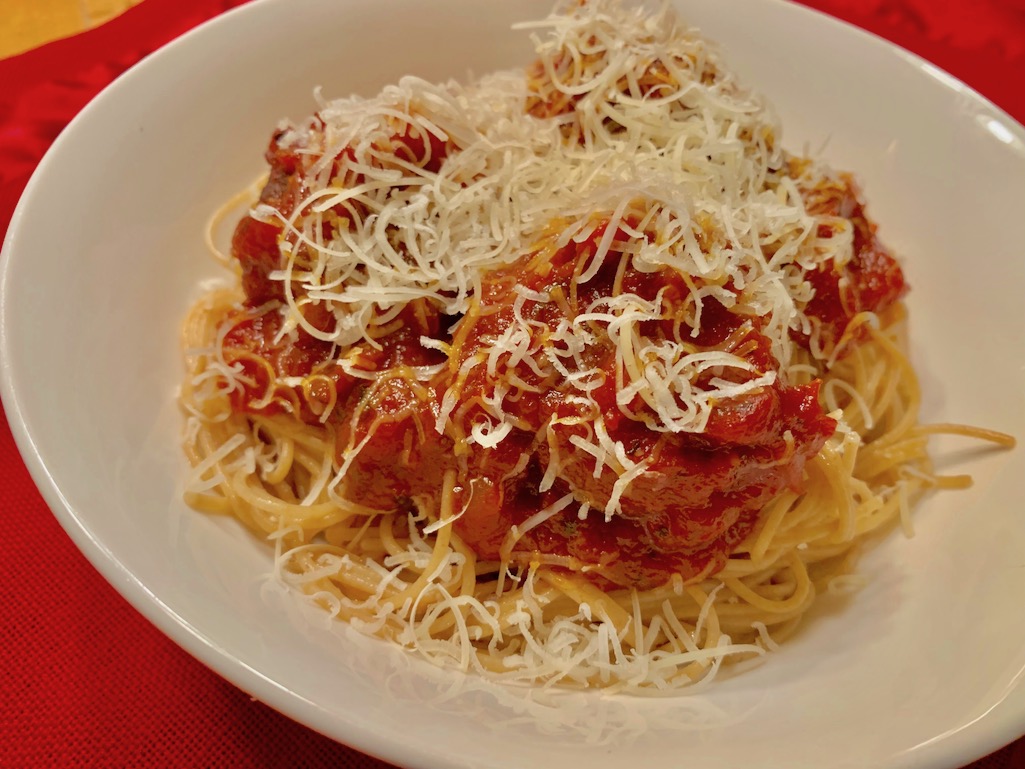 Looking for a fantastic cheese to top a veggie dish like eggplant? Try PDO or PGI Asiago. Both the creamy rich or nutty buttery flavors make for terrific pairings.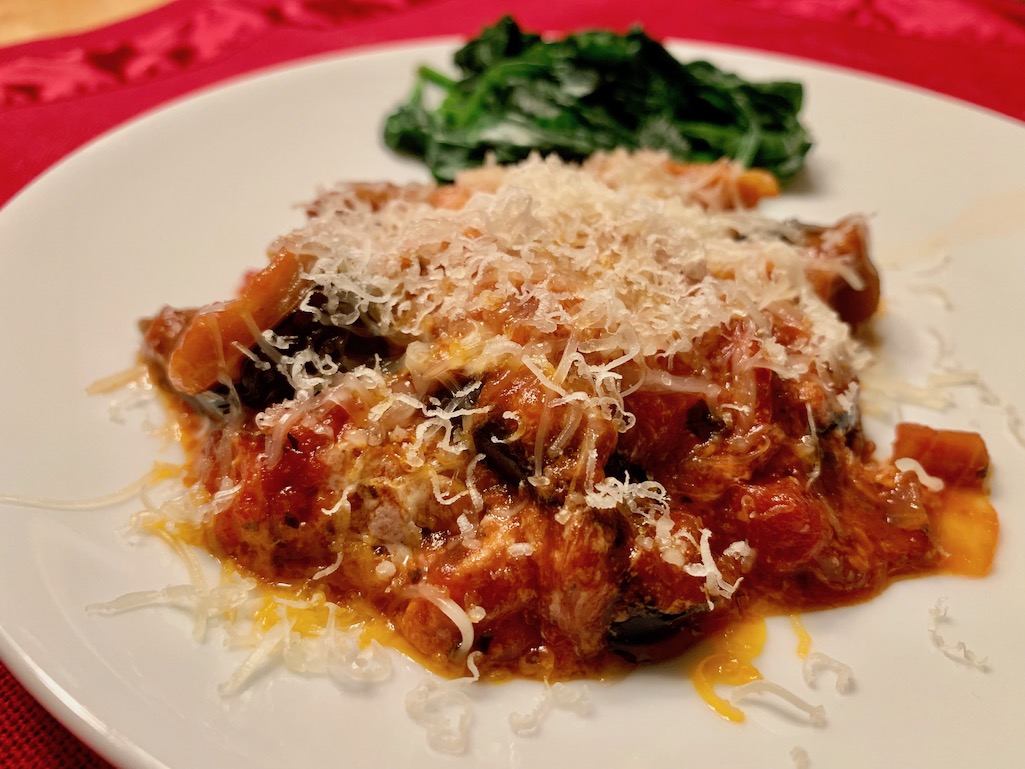 No matter how you use your Asiago cheese be sure you get the original Asiago with the PDO or PGI authentic marks on the rind.