Chicago Pizza: Thick or Thin?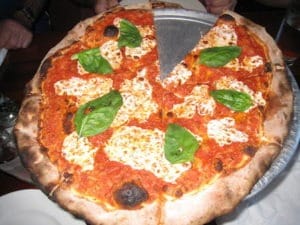 Thick or thin? That's the decision we all have to make. Jon Stewart recently started a nationwide debate about pizza. It's certainly not a new argument. Chicago and New York have been fighting about who has better pizza for a bazillion years. But since Chicago is our home town we feel the need to defend our fair city. Here's a look at Chicago Pizza in all its glory!
Chicago is home to so many wonderful pizza establishments. From fancy trendy places like La Madia to hole-in-the-wall pick-up windows like Geo's. We also have our fair share of types of cheesy saucy pies. If you do want Chicago-style deep dish, Gino's East or Pizzeria Uno or Due or Giordano's fit the bill. If you want thin crispy buttery crusts try Pizano's, Palermo's or Leona's. Can't decide? Go pan pizza from Nancy's, Pizano's or Edwardo's. New Haven-style hands down Piece is your place. Neapolitan how about Forno Rosso Pizzeria Napoletana on the far west side, Spacca Napoli or Coalfire.
If those don't satisfy you, try out one of the more specialized  establishments. Chicago Pizza and Oven Grinder makes something interesting and wonderful. It's more like a bowl of the best pizza ingredients around. Pequod's has an incredible caramelized cheese crust.  Vito and Nick's and Connie's are also very old Chicago pizza favorites.
Not enough recommendations for you? Then ask any cabbie you encounter and you'll get a different answer. The one thing we do guarantee is that there is no shortage of pizzerias or different types of Chicago pizza in just about every neighborhood in Chicago.
THE QUICK BITE: Whether you like your crust thick or thin, there is plenty of Chicago pizza in many styles to suit your tastes.