This easy fried rice recipe is a great option when you'd like some great Chinese flavors without much fuss. Make a traditional vegetable fried rice or egg fried rice. Or make it vegan fried rice. If you leave out the soy sauce or tamari in the veg fried rice recipe you can add whatever you like and turn it into Yang Chow fried rice. Choose shrimp fried rice or chicken fried rice. Add some pork and all the rest for the special fried rice that has a little of everything.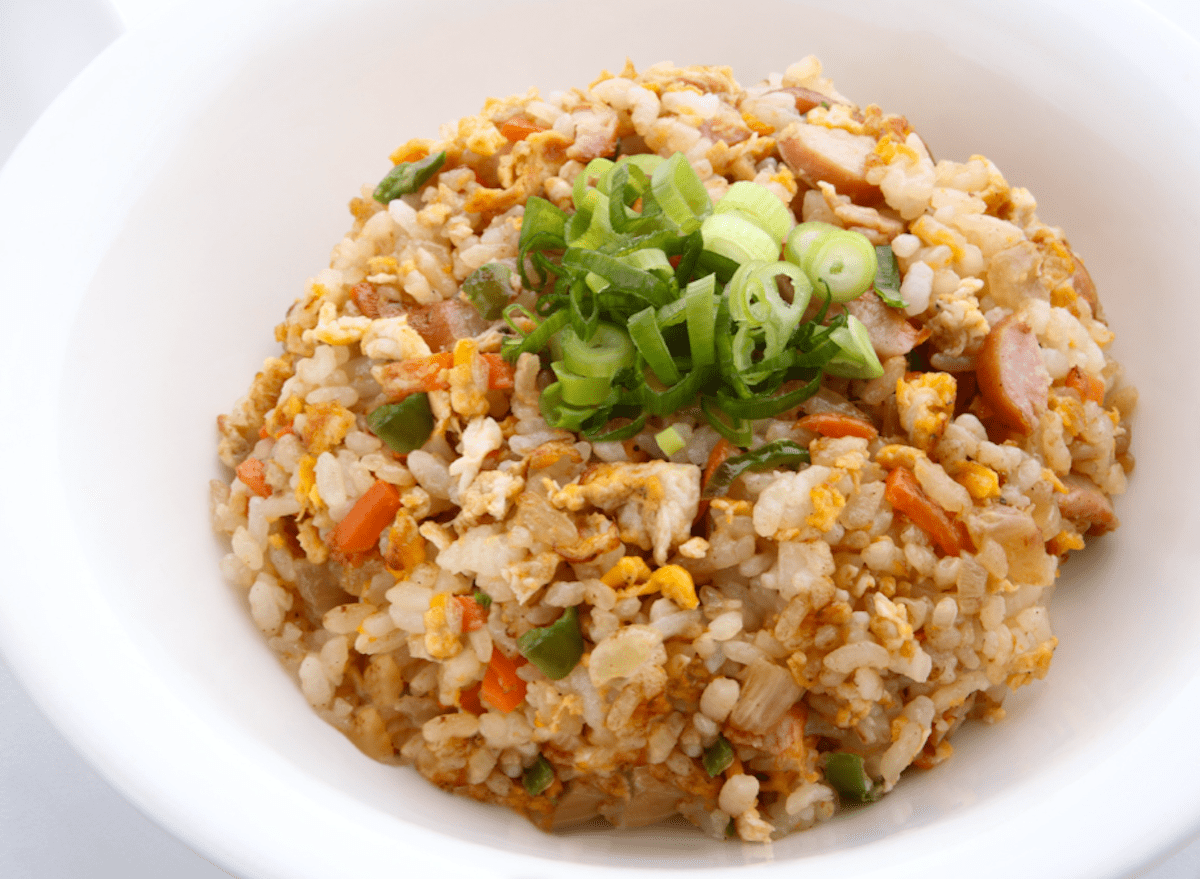 Use Whatever You Have
Use this simple fried rice to use up small bits of leftovers. You don't need a lot of anything, just enough to provide some color and flavor accents. Frozen vegetables work perfectly and one egg is great for an accent. Of course, if you're making egg fried rice, you'll probably want to add more. Egg and vegetable fried rice is a nice combination too.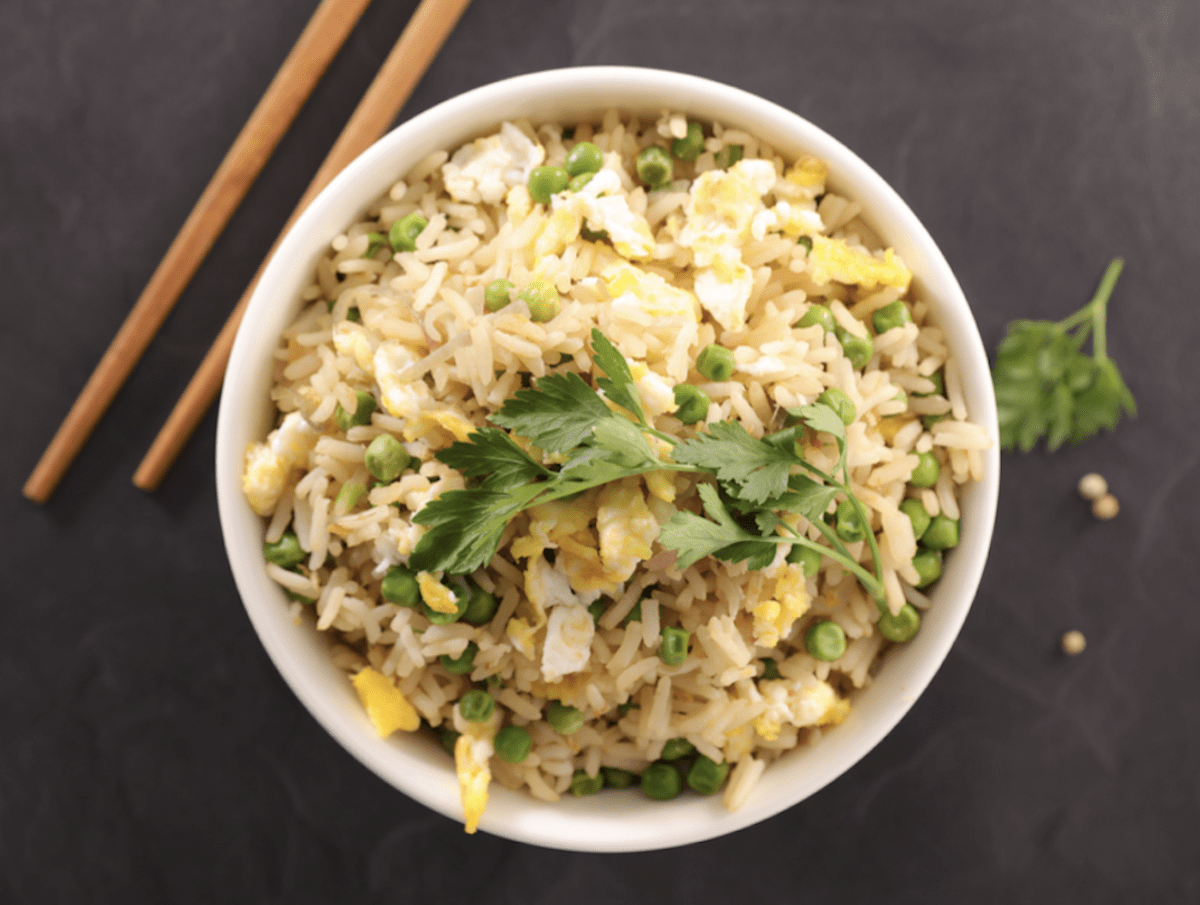 Shrimp Fried Rice Or Other Seafood
If you're a seafood lover, then this easy fried rice recipe is great for making shrimp fried rice. If you happen to have any scallops, clams, mussels, or mild fish on hand, bites of those will give you a wonderful seafood fried rice. You can top with a little bit of seaweed and make it look just like it came from a fancy restaurant downtown.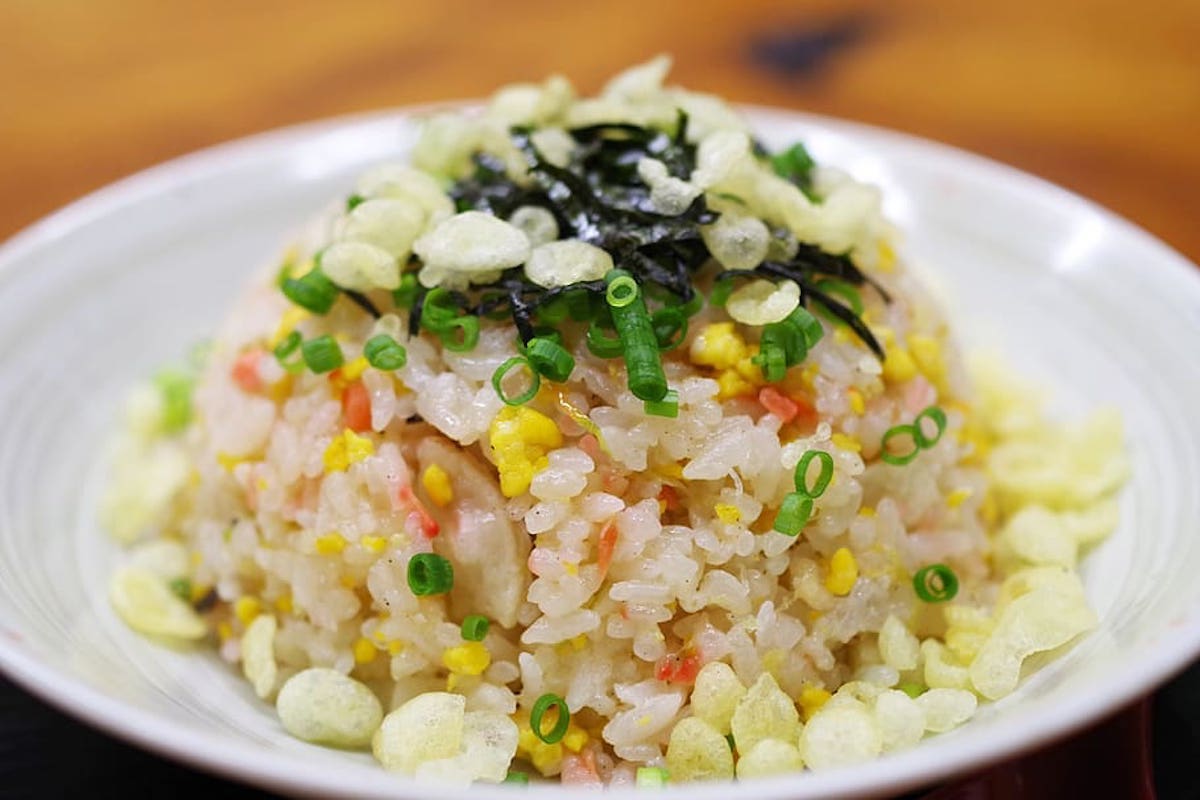 With Or Without Soy
We use low sodium soy sauce or Tamari, which is aged and has a mild flavor and lower sodium as well. If you like soy and don't have an issue with sodium, you can use your favorite soy and give your rice a beautiful color as well. If you want to skip the soy altogether, create great vegetable fried rice or Yang Chow fried rice without the sauce.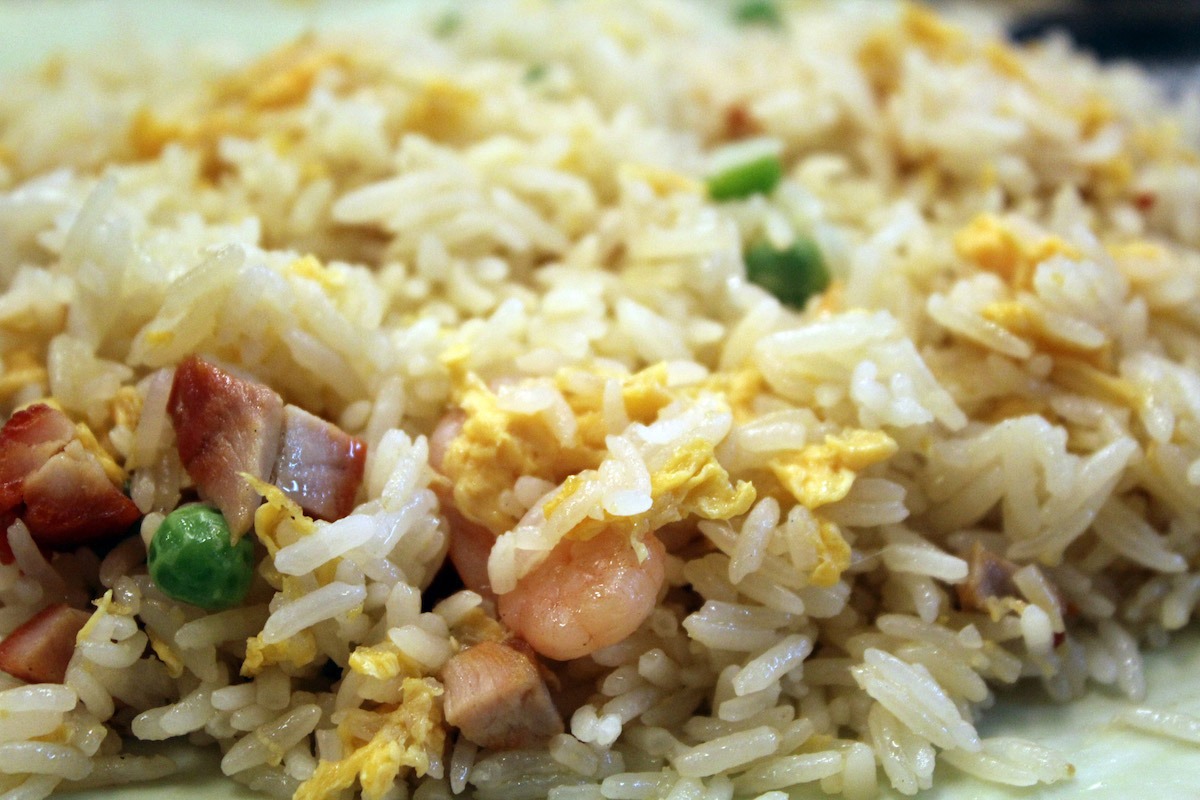 Special Fried Rice
Rice makes a beautiful canvas to create your own special fried rice masterpiece. You can use whatever rice you have in your pantry. Short grain rice like arborio or sushi rice may stick together more than medium or long grain rice. Just be sure to cook it according to the package directions. You will want to cook your rice first. Then you'll use your skillet or wok to cook the vegetables and add the sauce and spices.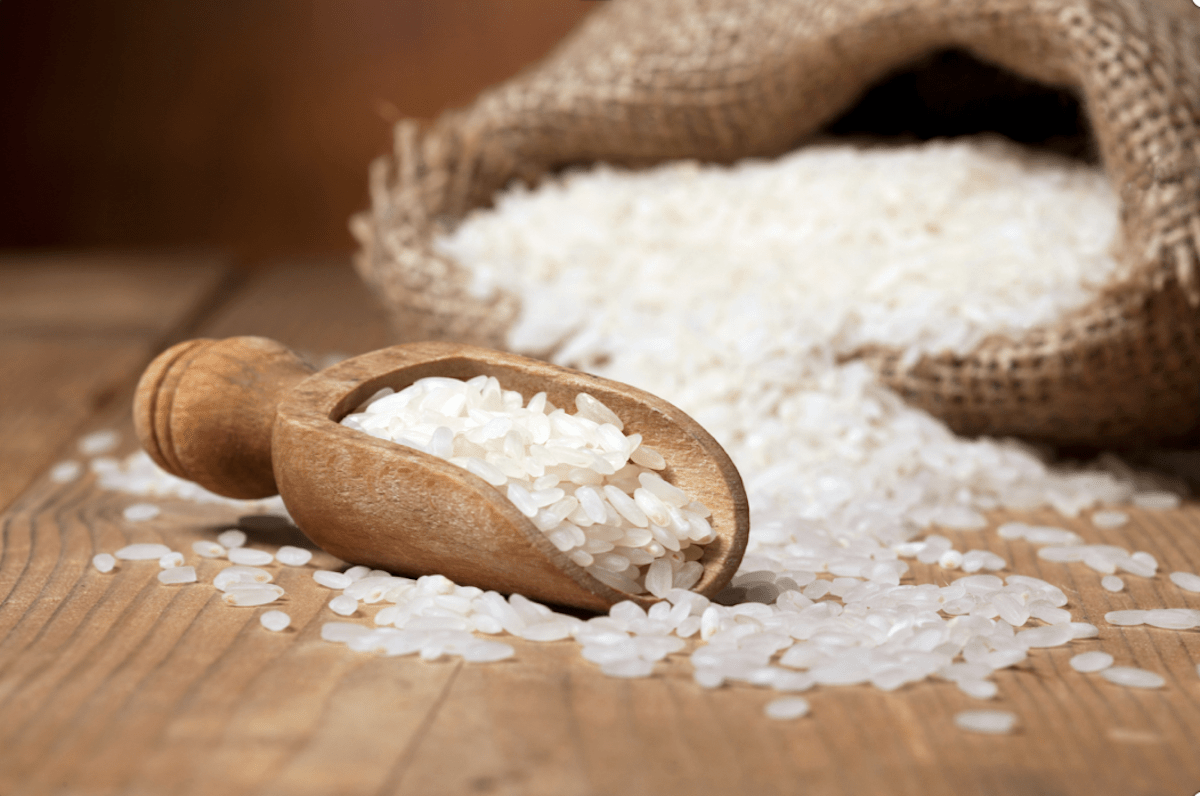 We love making this easy fried rice recipe at home all the time. While it's substantial enough to be an entree, you can also use it as a side dish if you like. We hope you enjoy it and look forward to hearing what magical combinations you like in your simple fried rice.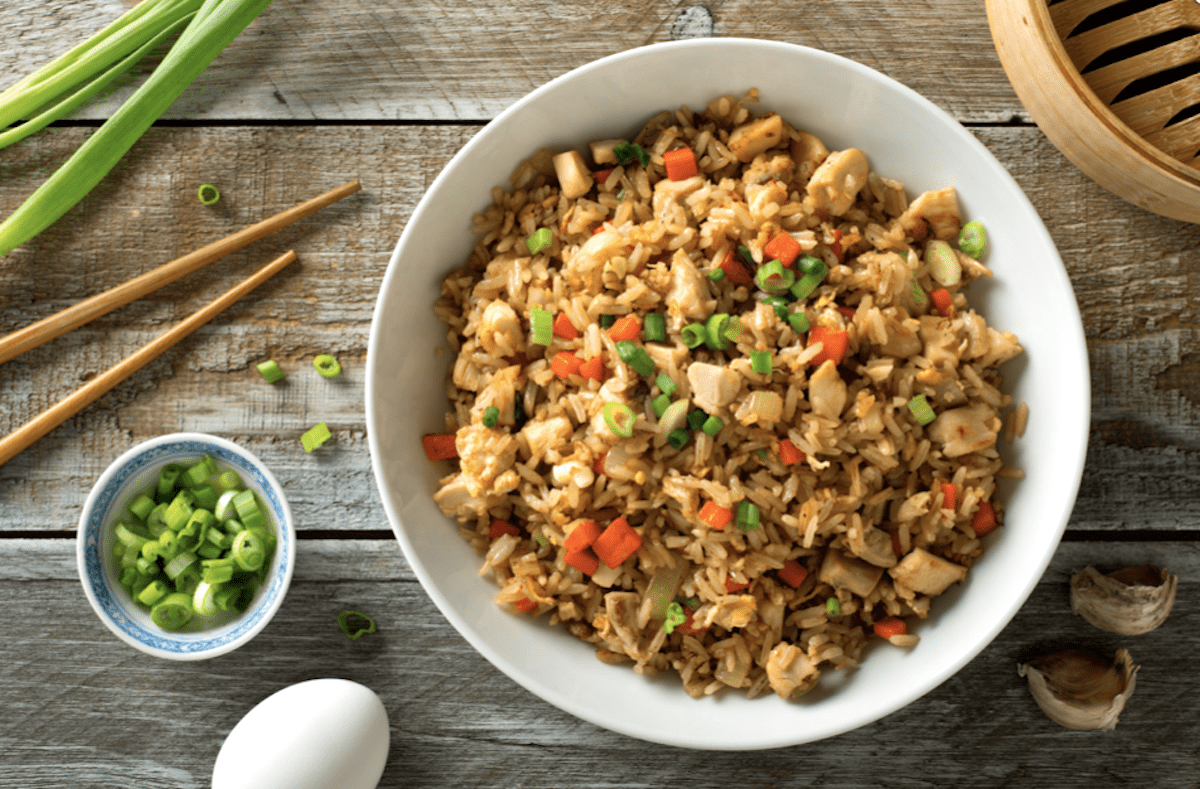 Easy Fried Rice Recipe
This is a basic veg fried rice recipe that you can use as a starting point. Make as many changes and adjustments as you like to make special fried rice that tastes exactly how you like it.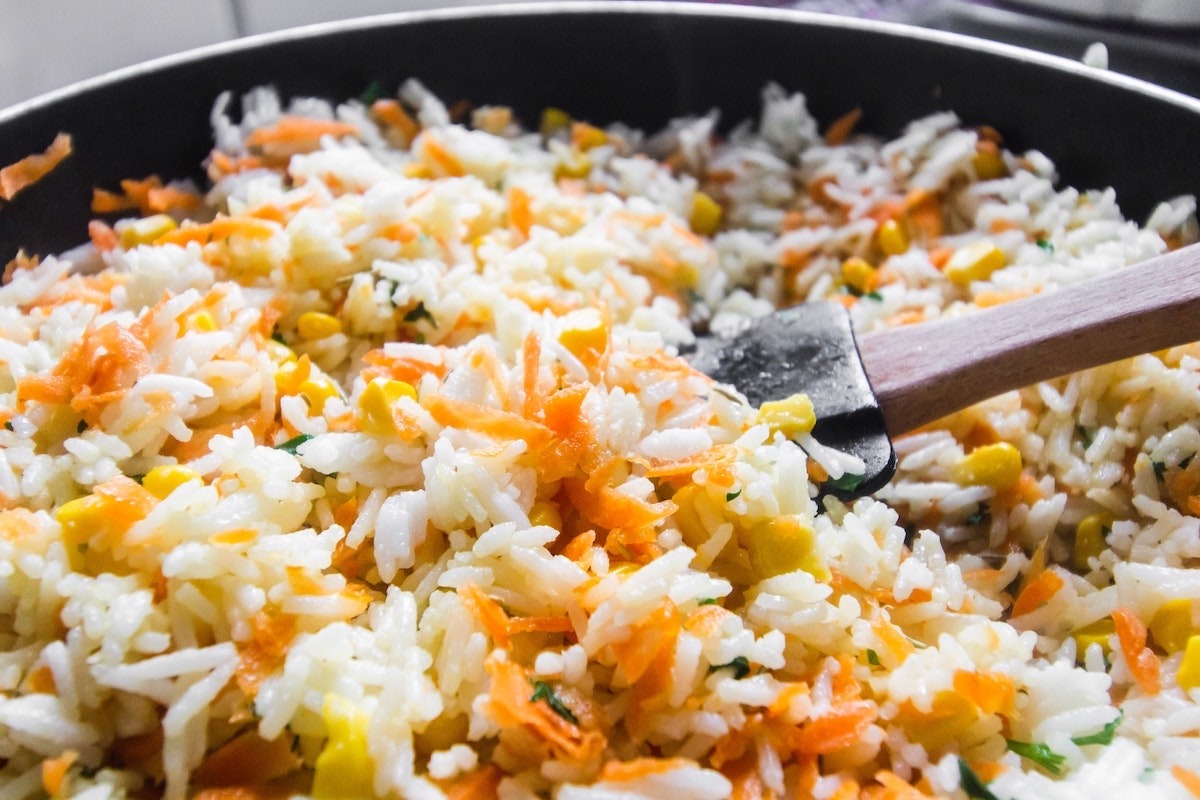 Ingredients
1 cup rice, cooked according to package directions
1 1/2 cup vegetables of your choice (can be fresh and chopped, canned, or frozen), some possibilities include carrots, onions, peas, green beans, celery, broccoli, water chestnuts, bamboo shoots, sprouts, snow peas, corn, cauliflower, bell peppers, and mushrooms
2 Tablespoons vegetable oil or olive oil
1 teaspoon sesame oil (skip if you don't have this in your pantry)
1 Tablespoon Tamari or low sodium soy sauce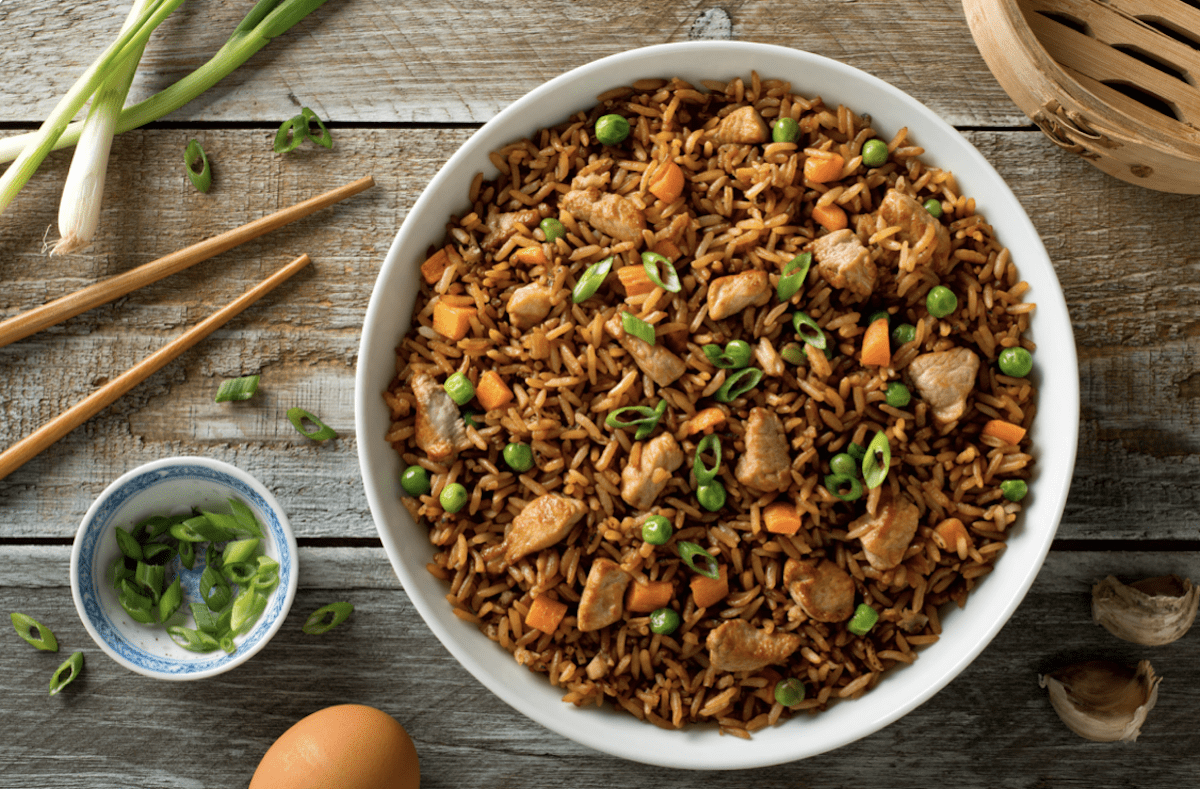 Grated fresh ginger or powdered ginger, to taste, optional
1-2 cloves minced garlic or granulated garlic powder, optional
Fresh parsley, cilantro, or sliced scallions to garnish, optional
Hot chili paste or flakes, if desired
Seasoned rice vinegar to finish, optional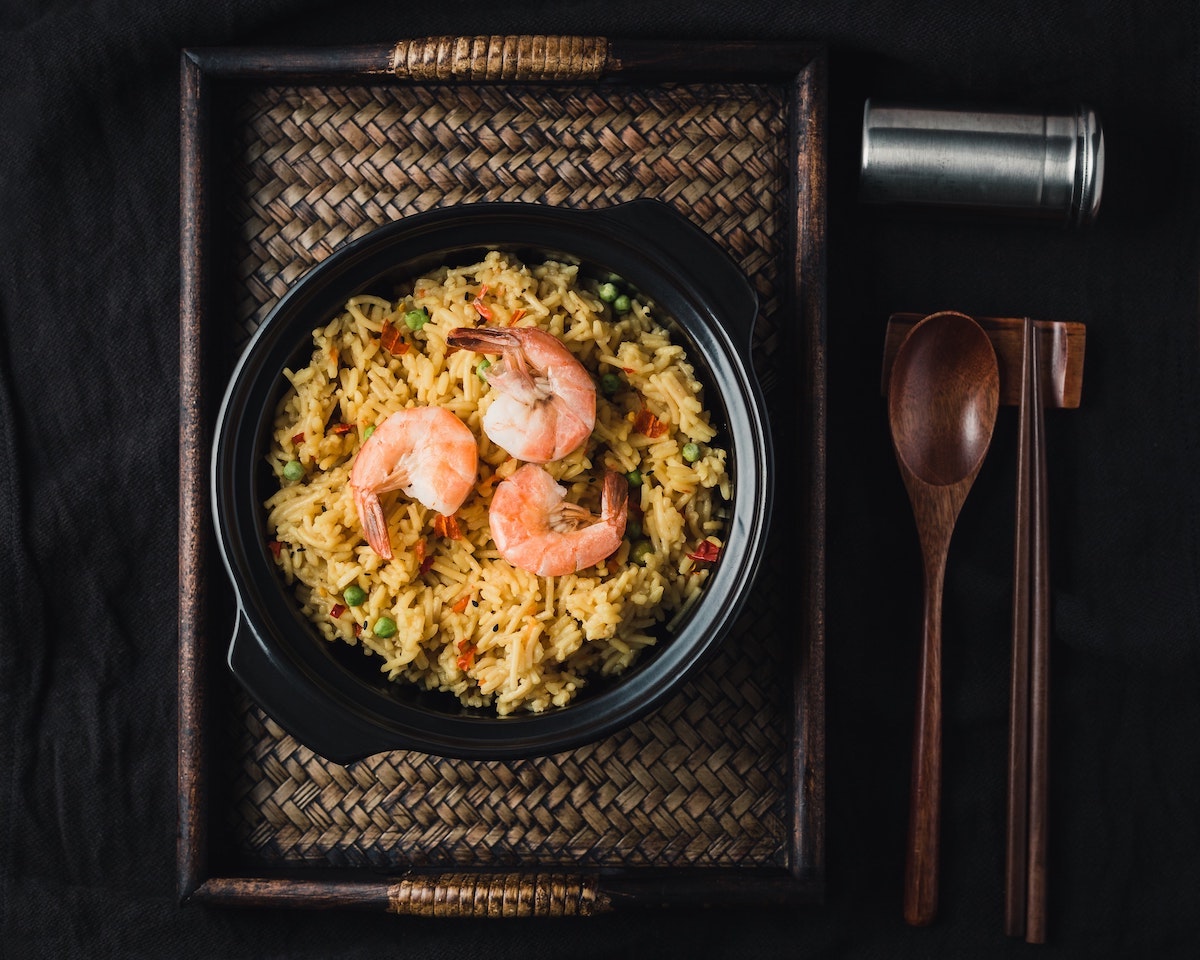 Directions
Place 1 Tablespoon of oil in skillet and heat on medium-high.
When a drop of water on oil sizzles, add onion and sauté until soft.
Then add carrots or any other dense fresh vegetables that take a little more time to cook.
Cook until they begin to soften slightly, but remain crisp.
Add other softer vegetables, water chestnuts, and canned or frozen vegetables that are already softened and cook to warm, about 3 to 4 minutes.
Remove vegetables and place them temporarily in a bowl.
Heat the other 1 Tablespoon of oil until hot. If using fresh ginger and/or garlic, place in pan and heat until fragrant.
Add cooked rice and fry to heat through and mix with ginger and garlic, if using about 1 minute.
Stir in sesame oil, tamari or soy sauce, and chili, your options.
Bring back the vegetables and add them to the pan with the rice.
Stir everything together and cook another minute or until everything is hot.
Place on plates or bowls. You can also take a small bowl and pack with rice. Turn it over for a molded rice presentation.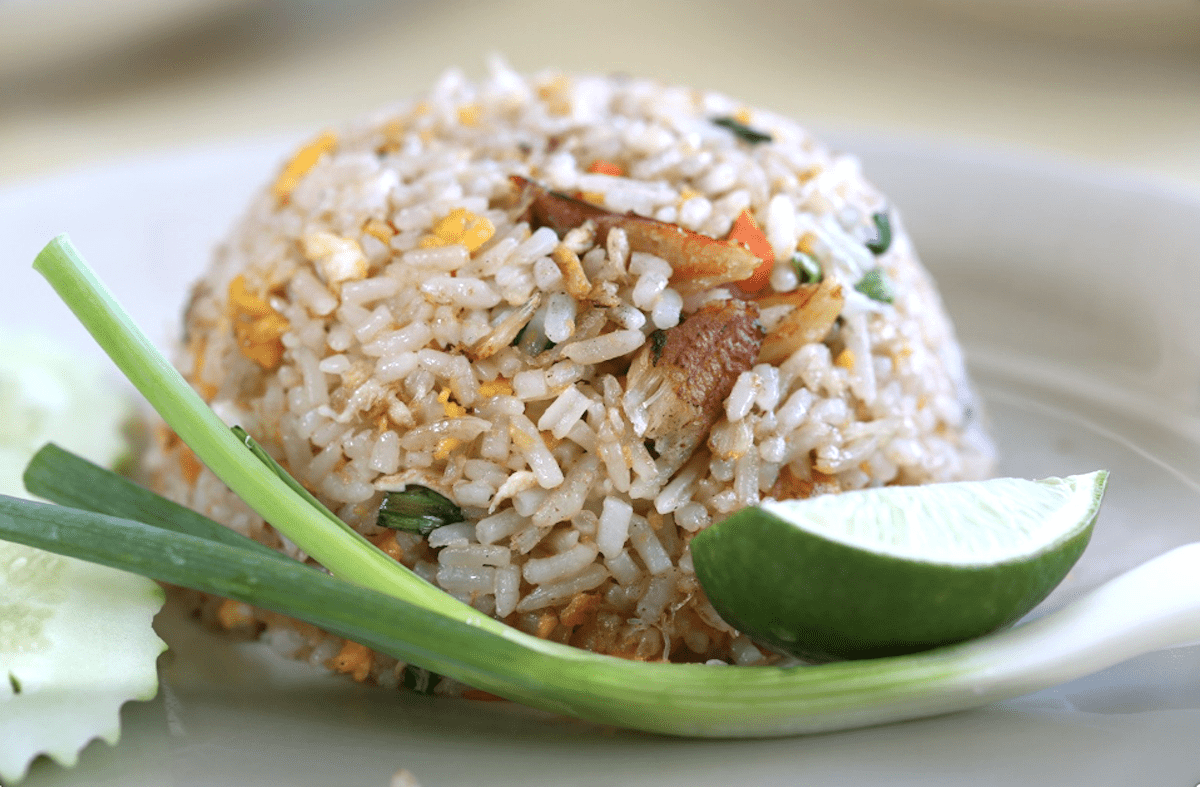 Garnish with fresh herbs, sliced scallions, and splash with rice vinegar, if desired.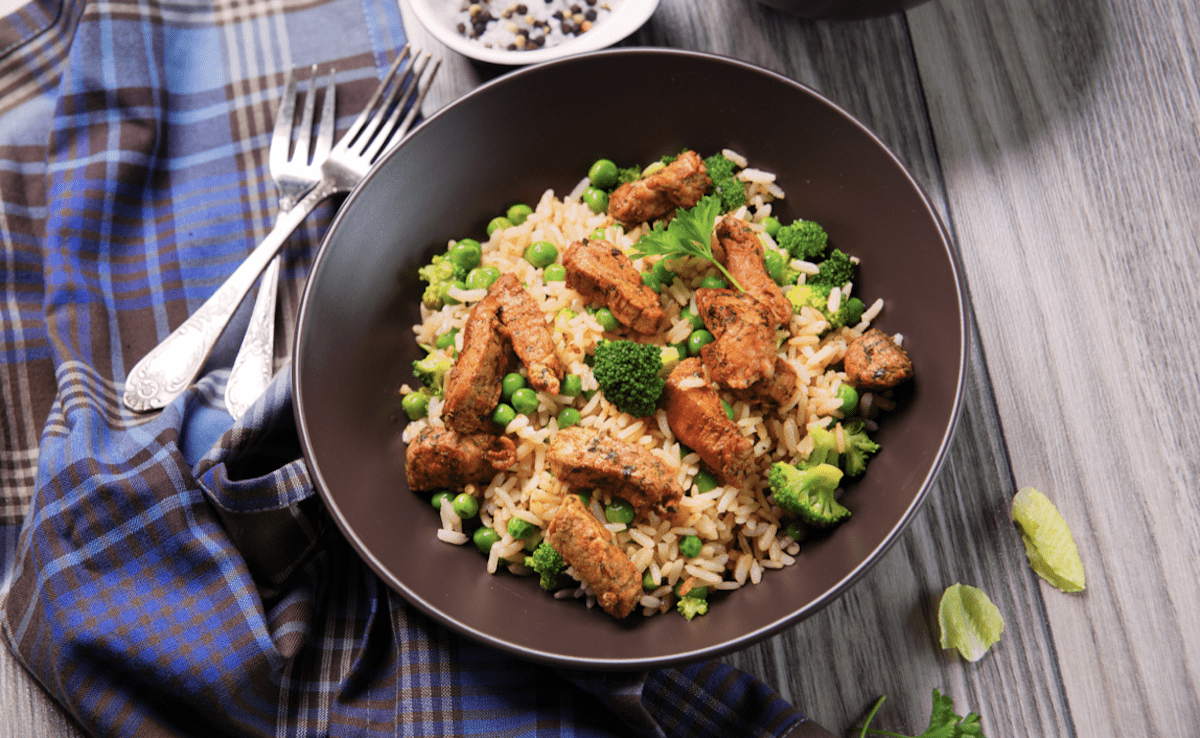 Enjoy this lovely easy fried rice recipe with all your favorite flavors.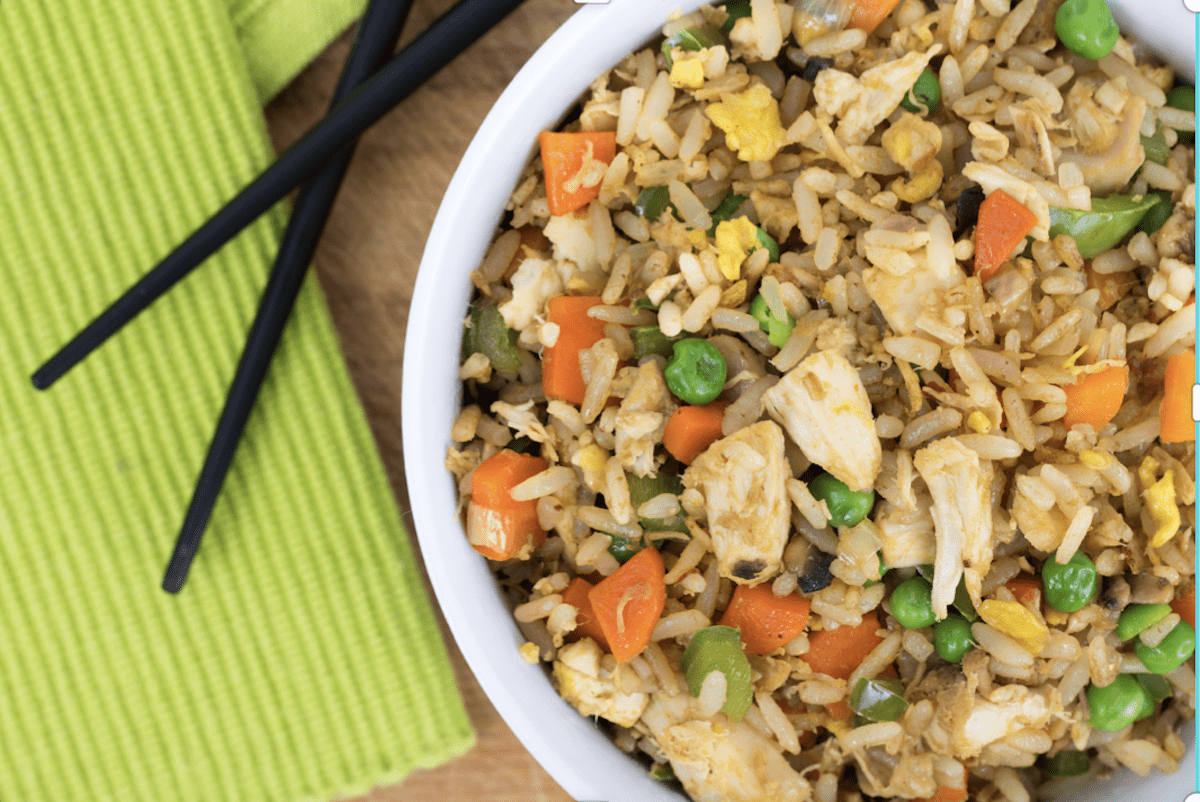 If you're looking for other great ways to use your kitchen staples, check out some of our other Pantry Cooking ideas like Canned Chicken Recipes,  Vegetable Pasta Primavera,  and Quinoa Bowl ideas.
Pin to your favorite recipe boards on Pinterest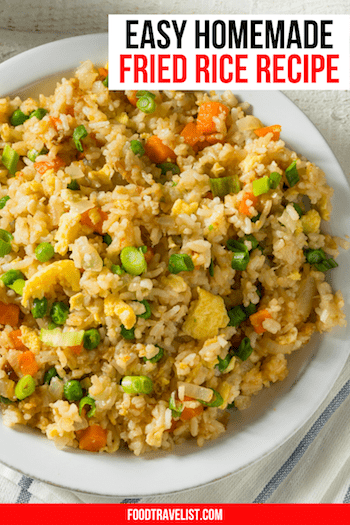 .