Mary Aregoni of Saigon Sisters
Today we're talking with restaurateur Mary Aregoni, co-owner of Saigon Sisters with 3 locations in Chicago. Saigon Sisters has developed a large and loyal following among food lovers who appreciate its superior achievement of the delicate balance between classic dishes and innovative cuisine. We're delighted to have this opportunity to share some of Mary's passion with you.
FT: Thanks for talking with us, Mary. This is a second career for you. Why did you decide to start Saigon Sisters?
MA: Since I was always interested in food and entertaining from all the places I lived and traveled, I figured the hospitality and food industry made sense to me. Since I didn't know and had not even worked in a restaurant before, I wanted to start something small and less risky by testing the concept at the French market, the first artisan/food market in Chicago. After living in NY for a few years, I noticed that Vietnamese cuisine and banh mi shops were popular there but there was none in downtown Chicago. It was the right time and opportunity to be the first to bring banh mis to the fast casual market in the heart of Chicago.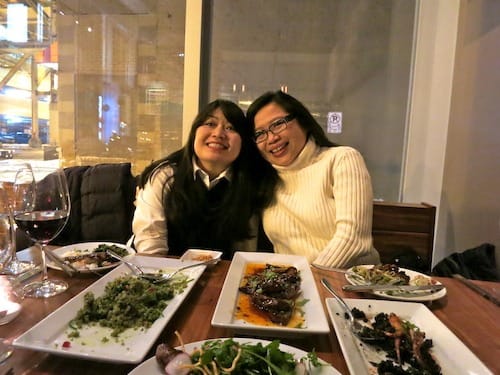 FT: Saigon Sisters are really you and your sister, Theresa. How is it working with her in the business?
MA: It's great to have family working with you and share your vision and be part of the brand and story behind it. We have always supported each other and helped each other throughout our careers but never worked together until now. We grew up around amazing food cultures and highly creative environment.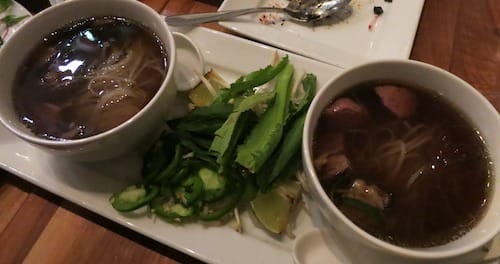 FT: You had a lot of cultural influences on the food of your youth. What are some of your favorite dishes from when you were little?
MA: Pho of course because our dad would take us to his favorite pho shop for breakfast every day. We also love a Laotian dish made with fish soup and rice vermicelli that we ate for lunch everyday at the Open market. Then there were the French pastries like croissants and toast with rich French butter and sugar.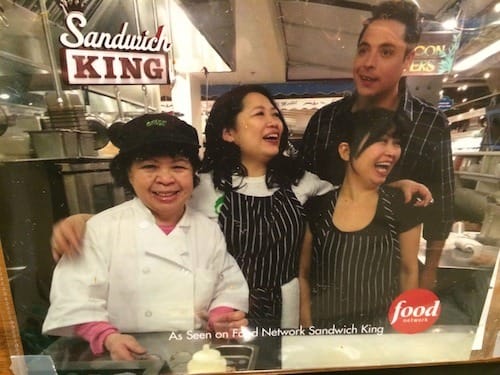 FT: Your mom helps in the business too. Does she influence any of the food you serve?
MA: Yes she teaches everyone how to roll the spring rolls correctly and make the dipping peanut sauce. All the traditional dishes like pho broth, spring rolls, nuoc cham sauces, pickled daikon/carrots, Vietnamese pork are all her recipes.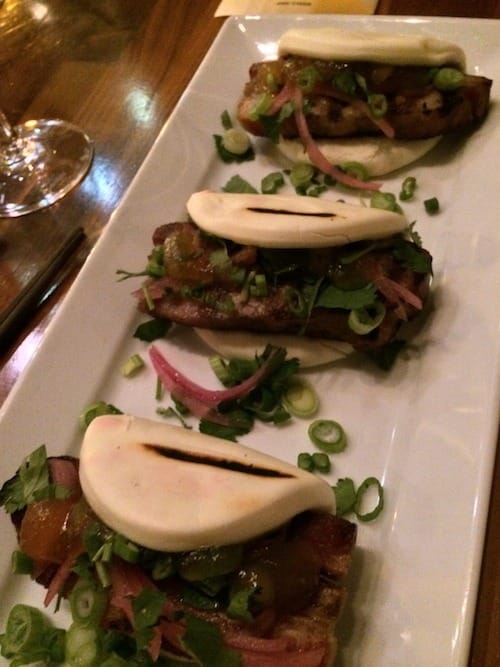 FT: What is your favorite food travel memory?
MA: France along the Loire and Champagne regions and of course the Parisian bistros.
Laos where I grew up eating amazing foods from street vendors and markets. Latest trip to Thailand and learning how to do curry from scratch and all the traditional dishes.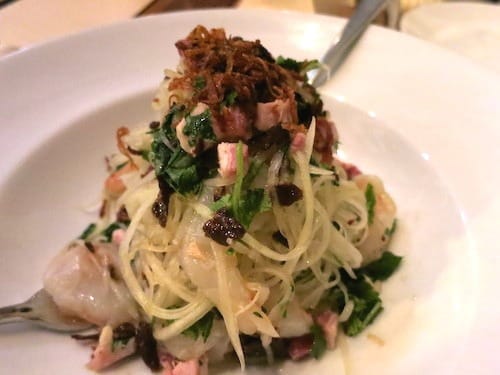 FT: What country have you not yet visited but would love to and why?
MA: Portugal, Peru and Morocco for the moment. Their cuisines and historical sights have always interested me. My sister went to Peru last year and all she talks about is their food so I have to see and taste it for myself.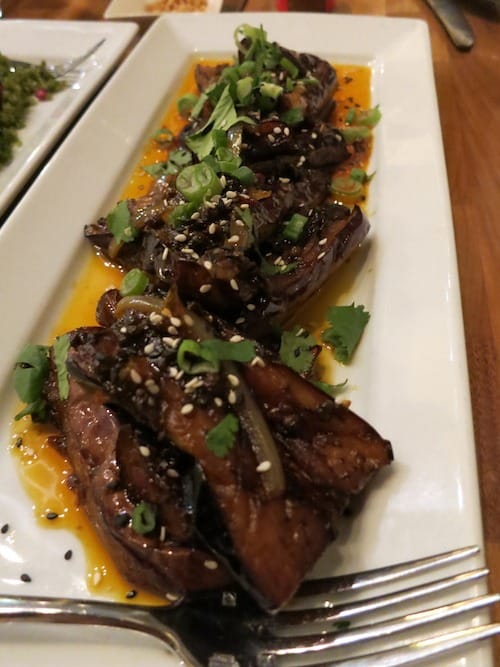 FT: What do you think are the best and worst things about being a restaurateur?
MA: The best is to always have great food and wines around either at my restaurant or checking out new places or attending seminars and conferences. The worst is to deal with all the complexities of running a restaurant.
FT: Do you have a signature dish? If so, what makes it so special?
MA: Yes there are several but the one that stands out the most is the grilled baby octopus with squid ink rice. It is not a typical dish that you find at a Vietnamese restaurant. It is a great example of how we can elevate Vietnamese cuisine using the standard products like broken rice and introduce new ways to combine the flavors and present it in a unique way.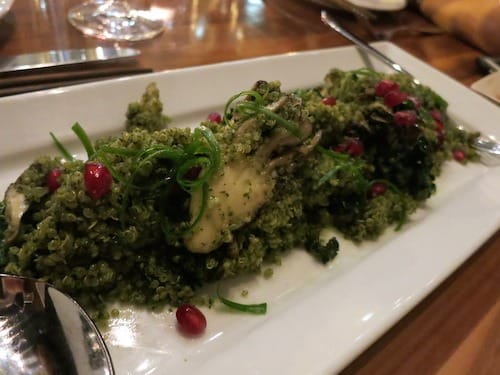 FT: What influence has food travel had on how you think and what you do?
MA: It certainly gives me the perspective of where food comes from and how culture influences the way food is prepared and shared. It gives us a glimpse to the true origin and authenticity of the dishes.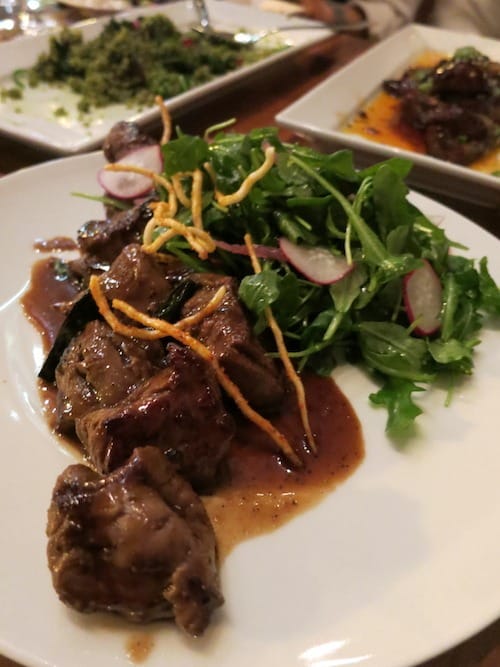 FT: What's your number one tip for people who dream about starting a restaurant?
MA: Be very clear in your concept and make sure that you do your research on the location and demand for your products. Have enough capital to not just open the restaurant but to make up for unexpected costs and repairs.
FT: Any special recipes or kitchen tips you can share?
MA: Fish sauce makes every savory dishes taste better. Use it instead of salt and you will understand what umami means.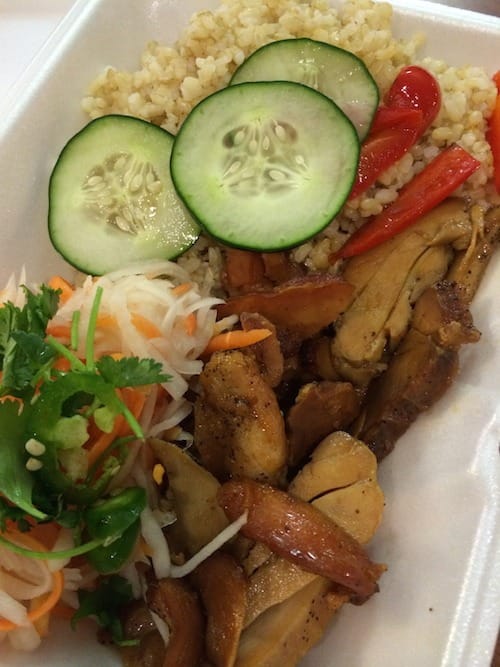 Thanks so much for spending time with us, Mary. We encourage Food Travelists in or visiting Chicago to be sure to get a taste of Saigon Sisters at one of their three locations. You can read more about the restaurant on their website.
 THE QUICK BITE: Today we're talking with restaurateur Mary Aregoni, co-owner of Saigon Sisters with 3 locations in Chicago about food travel, favorite flavors and becoming a restaurateur.