The Original Red Velvet Cake Recipe
While the Waldorf Salad may tell you exactly where it originated, did you know that Red Velvet cake also originated at New York's Waldorf Astoria hotel in the 1920's? In celebration of National Culinary Arts Month, Hilton Worldwide is sharing some classic recipes and their unique history and encouraging everyone to Be A Weekender and explore a different city's culinary offerings.
We thought we'd share this original Red Velvet cake recipe to help you finish your next celebratory meal!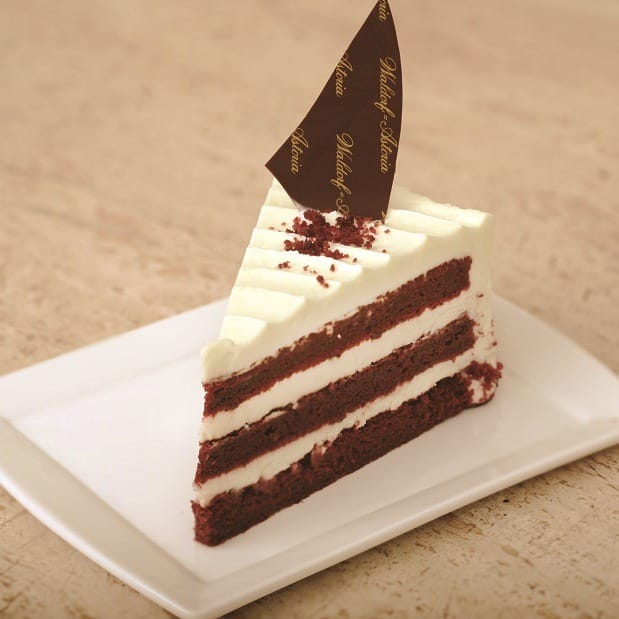 Red Velvet Cake
Hotel: Waldorf Astoria New York
Ingredients:
Ingredients for the cake
3 oz unsweetened chocolate
2 c granulated sugar
4 large eggs
1½ c vegetable oil
1½ tsp vanilla extract
2 c all-purpose flour
2¼ tsp baking soda
¼ tsp salt
1½ lb canned beets, drained, puréed
1 tsp red food color
Ingredients for the icing
2 c heavy cream
12 oz cream cheese, room temp.
12 oz mascarpone cheese
½ tsp vanilla extract
1½ c powdered sugar, sifted
Directions:
Preheat oven to 350°F. Butter and line three 9-inch round cake pans with waxed paper. Melt the chocolate in a metal bowl set over a saucepan of boiling water.
Meanwhile, mix the sugar, eggs, oil and vanilla with an electric mixer on low speed for 2 minutes. In a mixing bowl, sift together flour, baking soda and salt. Add the dry ingredients to the egg mixture and continue to mix on low speed until everything is incorporated. Add the melted chocolate to the mixture while mixing on low speed. Add the puréed beets and food coloring. Continue to mix on low speed.
Evenly divide the batter between the 3 pans and bake in the middle of the oven for 20 minutes or until the center of the cake is done. Remove from the oven and transfer to a cooling rack. Let cool for 10 minutes in pans, then turn the layers out onto the rack and let cool completely.
To make the icing, pour cream into a bowl and whip to soft peaks. Place in the refrigerator. Place the cream cheese in the bowl of an electric mixer fitted with a paddle attachment and mix on low speed until it is soft and smooth. Add the mascarpone and continue to mix on low speed until the cheeses are well combined. Add the vanilla and powdered sugar and mix. Turn off the mixer and fold in the whipped cream by hand with a spatula.
Using a serrated knife, trim the top of each layer of cake so that it is flat. Top each slice with icing and repeat until all the layers are covered, and then ice the top and sides of the cake.
THE QUICK BITE:  Red Velvet cake originated at New York's Waldorf Astoria hotel in the 1920's. Enjoy this recipe at your next celebration!