Discover Orlando Waldorf Astoria Food
To most people, Orlando means Disney World or Universal Studios. To us, it means one of the most relaxing places we've visited. Sound strange? Not at all. We were traveling to several locations in Florida last fall and decided to take a one day break.
We chose the Waldorf Astoria Orlando because we're members of the Hilton HHonors Gold program. We knew we'd be staying at a luxury hotel and take advantage of our HH perks.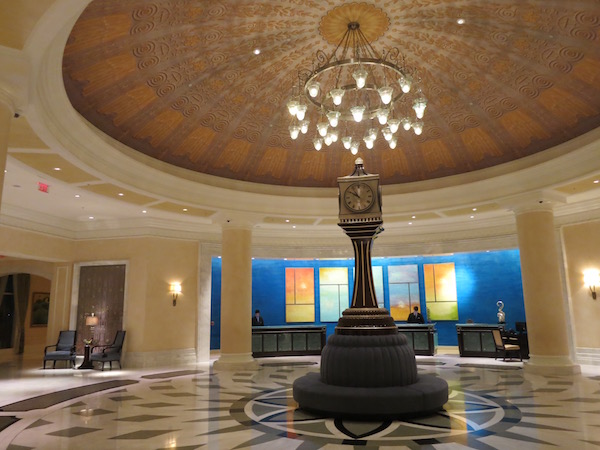 When we arrived at the hotel our room wasn't quite ready so we were invited to use the spa to change our clothes and to enjoy the pool area.  Since it was still morning we opted to check out their breakfast buffet first.
As you might expect the buffet was large and gorgeous. What really made it stand out was the spaciousness of the offerings. There were several food stations spread out to accommodate the large crowd at breakfast. Although it was busy the staff was very friendly and took the time to keep us entertained and laughing.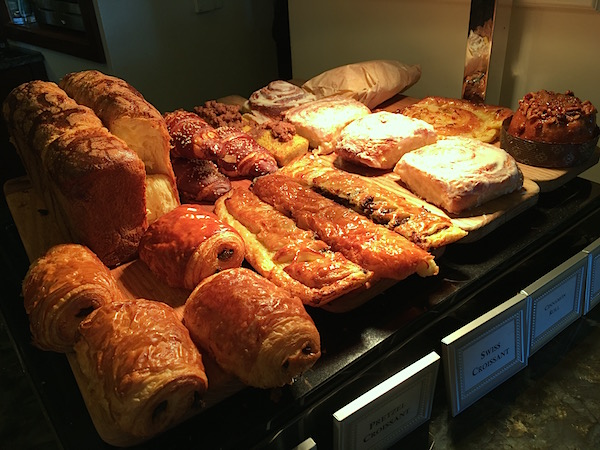 There was an omelet station, waffles, pancakes, bacon, sausage, oatmeal, full bread bar, cheese and charcuterie bar, fresh fruit, Asian fare and of course, cereals, granolas, yogurt, and juices. Something for everyone at the buffet as well as an a la carte menu for those who just wanted to order a traditional breakfast.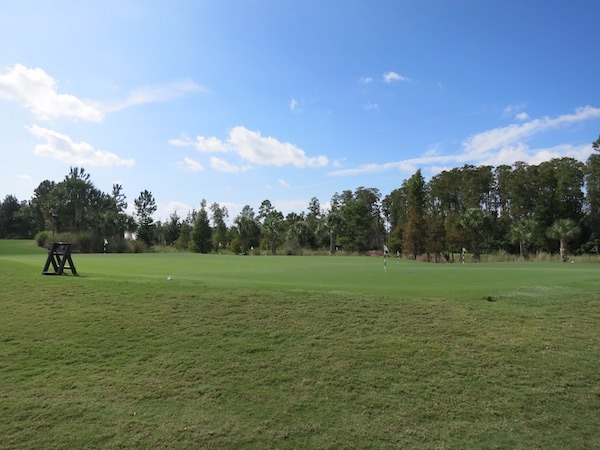 After breakfast, we took a stroll around the grounds. It's a beautiful property complete with a Rees Jones-designed 18-hole championship golf course. The walkway takes you to the sister property the Hilton Orlando Bonnet Creek, which offers additional choices for dining.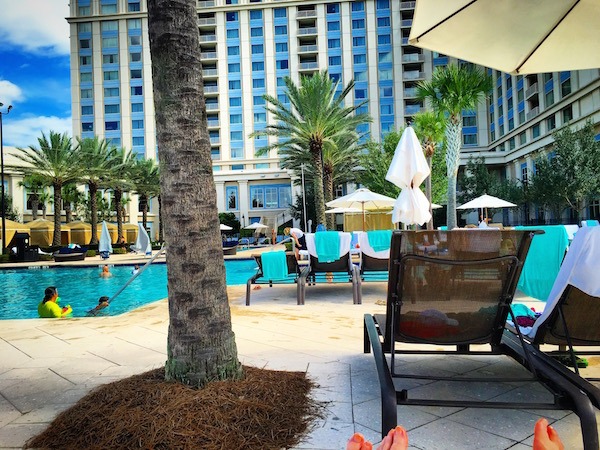 We returned to the Waldorf ready to relax by the pool.  The spa is gorgeous and tranquil but we quickly changed into our suits to head to the pool. It was a beautiful sunny day and we didn't want to waste a minute inside.
There are several pools to choose from all lined with comfy loungers in and out of the sun. We chose a shady spot and dove into some poolside reading and napping.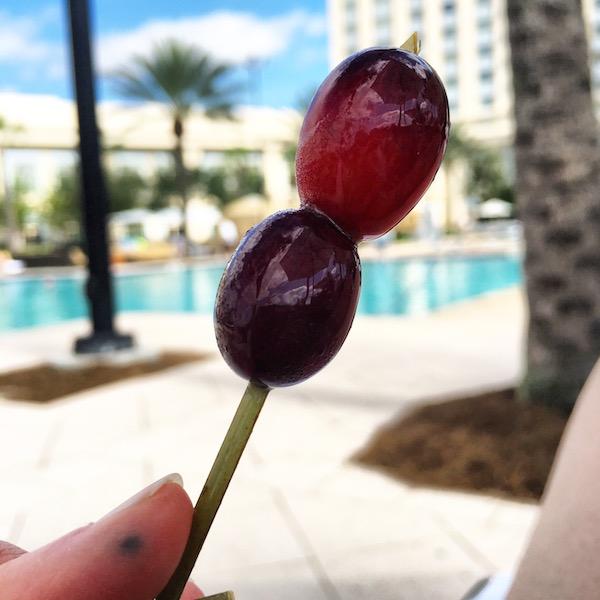 There's cold water available poolside and attendants come around with frozen grapes from time to time, which is a perfect refreshment. There's also a pool waitress that offers to take your order of frosty drinks, cold beer, snacks, sandwiches, and salads anything that might interest you all from the comfort of your lounge chair. There's also a restaurant by the pool if you would rather sit at a table and eat.
After our relaxed afternoon of pampering, we went back to the desk to find that our room was upgraded to a deluxe suite (another perk of Hilton HHonors). We were each offered a glass of complimentary champagne as we headed to our room.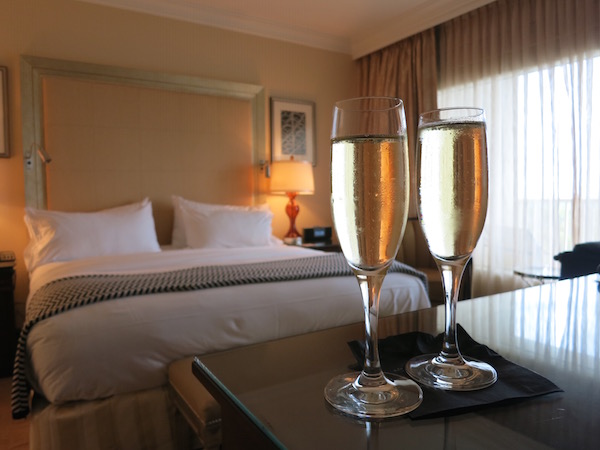 The suite was spacious and comfortable with a terrific view of Orlando. I really appreciate a nicely appointed bathroom and this one was 5-star, complete with Salvatore Ferragamo toiletries, a soaking tub and stand alone shower. Fluffy towels and robes completed the assemble.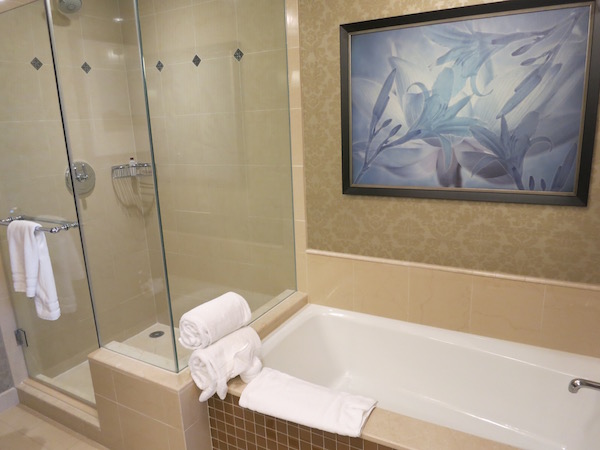 We hadn't made any plans for the evening so I asked the concierge where he recommended we have dinner. He said that we must try the Bull & Bear, the restaurant in the hotel. We hadn't done any research about where to eat because we were "technically" taking a day off but we said, "What the heck. Let's try it." The bad news – the restaurant had no reservations available. He said they'd see what they could do and call us in the room.
As we settled into our room, the phone rang and happily they were able to get us in if we could be down in an hour. No problem!! We had some time to relax and get ready for dinner.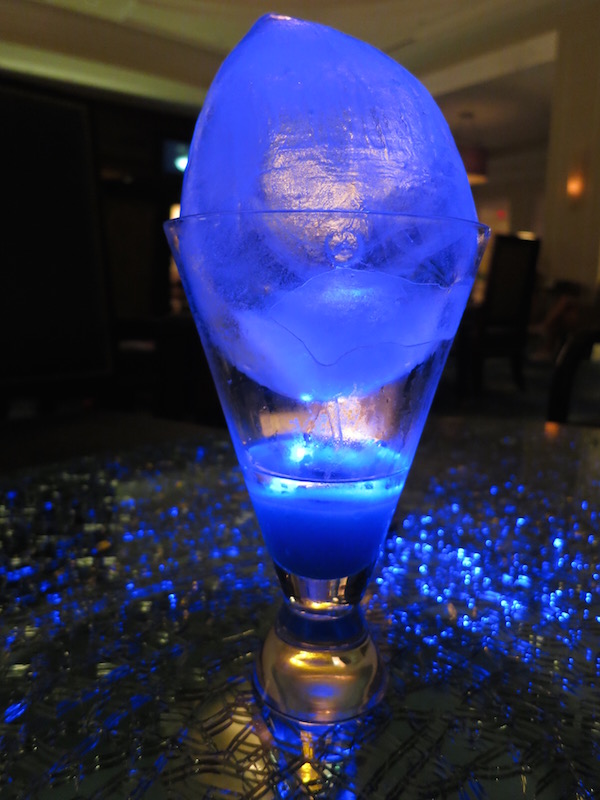 Orlando Waldorf Astoria Food
Before dinner, we stopped by the Peacock Alley lounge for a quick drink. We tried the signature Peacock Egg – lavender syrup, blue Curacao, fresh lemonade and Bombay Sapphire Gin presented in an ice "egg" in a blue-lit glass. Gorgeous and refreshing.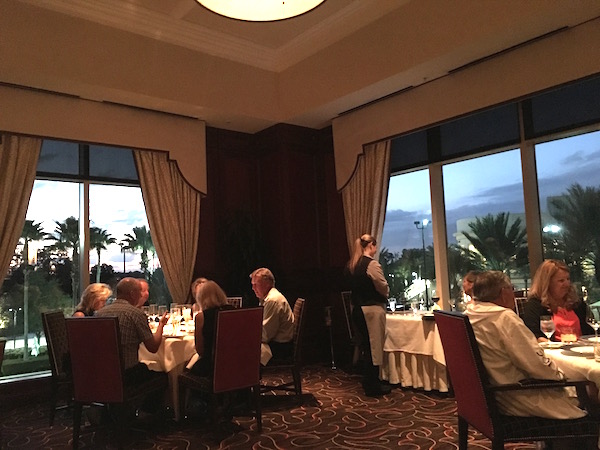 We headed down just as the sun was setting. The Bull & Bear dining room with windows facing the west made a perfect place to watch the sunset in full display. If you time it right the view also includes the nightly Epcot fireworks display.
Diana and I sat on a comfy couch next to each other like Parisians. We took a deep breath ready to experience what we didn't yet know would end up being one of the best meals we've ever had.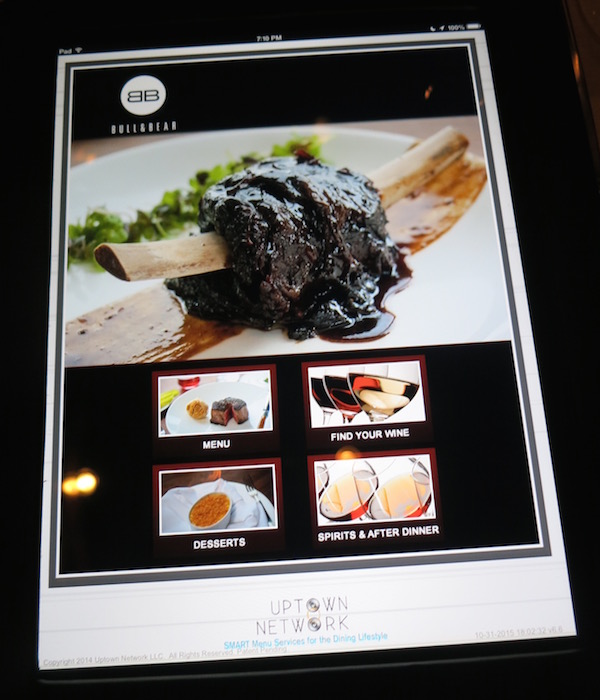 The menu at the award-winning Bull & Bear is presented to you on an iPad. The menu is fully illustrated with professional photos. Every menu item looks better than the next and there's a full wine menu that offers pairing suggestions for every item. Since we were already indulging we decided to go with the tasting menu. Then we snuggled down and got ready to experience the Bull & Bar.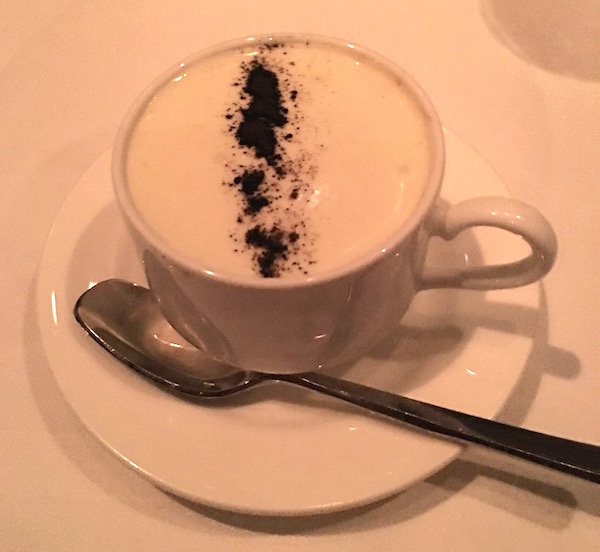 We started with the Potato Cappuccino dusted with Oregon Truffle Jus and Mushroom salt. This was just the beginning of our delicious and creatively served dinner.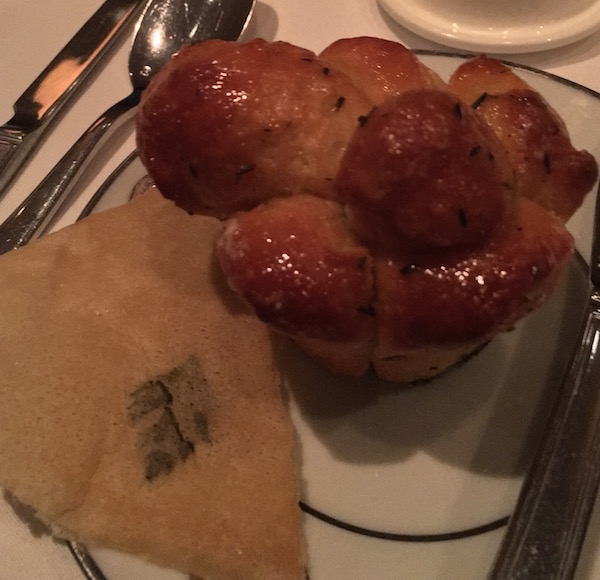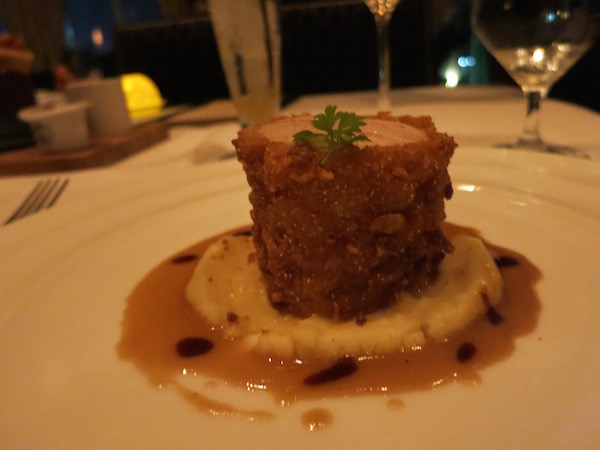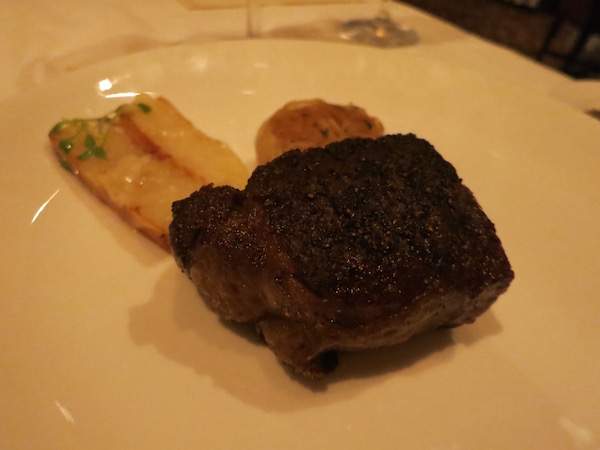 If you're looking for top quality meat try their Allen Brothers beef. From Chateaubriand for two to the 38 oz. Tomahawk Steak for two aged for thirty-two days they've got it all.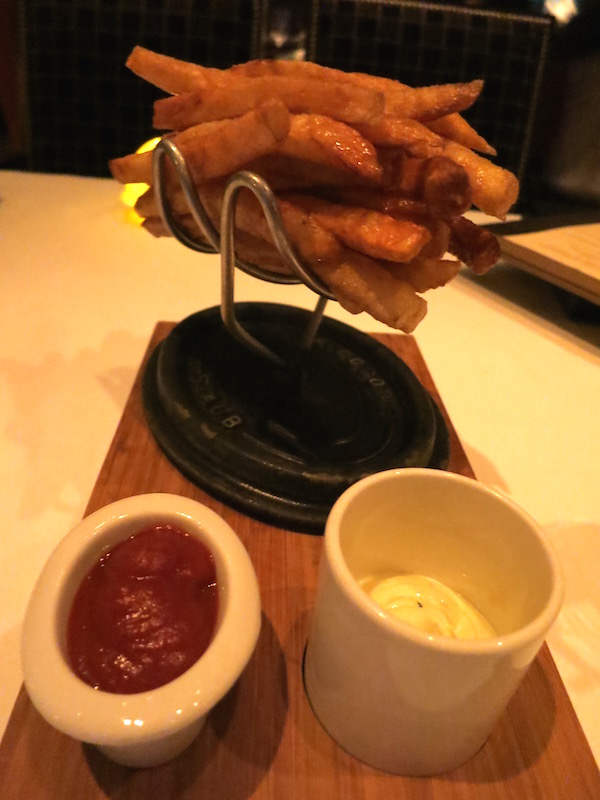 The Bull & Bear is a steakhouse reimagined and has all the proper sides you'd expect. One not to miss is the Bull & Bear Frites. 100% Idaho hand cut tallow potato crisp with organic garlic aioli.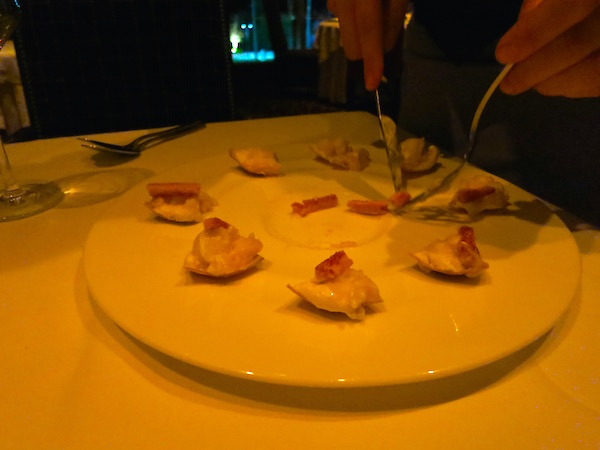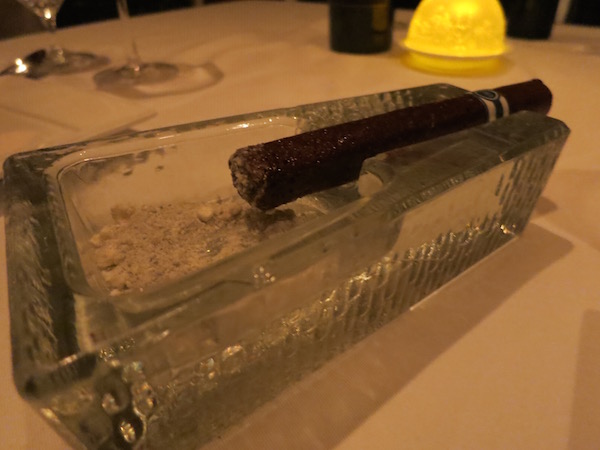 We won't tempt you with all the delicacies that graced our table but the dessert was a big reveal with a "lemon" that is deconstructed at the table by the server into a delightfully tangy lemon meringue pie and a chocolate "cigar" complete with ashes in the ashtray it was served in.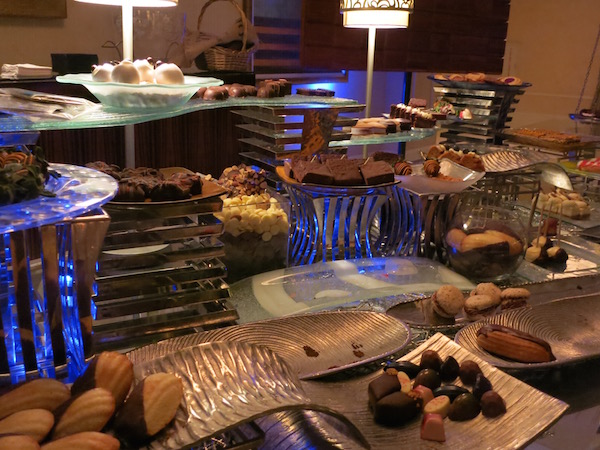 After a spectacular meal, we wandered through the lobby to discover a full Chocolate and Champagne bar ready to be devoured. But not by us. We headed off for another stroll around the property to work off some of that delicious dinner and then off to dreamland.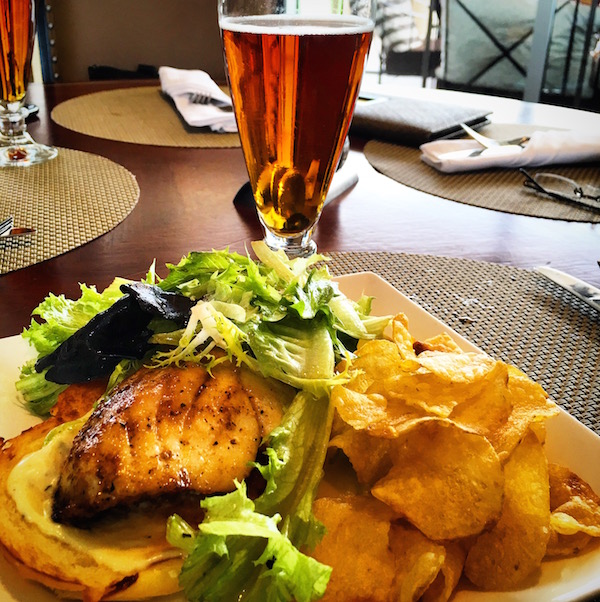 We slept in since we had a late check-out (another perk of Hilton HHonors Gold) and decided to have lunch down in the Peacock Alley. Since we were in Florida I had a hankering for a grouper sandwich. We sat down ordered our drinks and were bummed to learn they had no grouper. But…the server said they had a great grouper sandwich at the Clubhouse Lounge Grille and a great view of the golf course. She said take your drinks and head over there! We did as she suggested, and I'm glad. Talk about customer service! We got a seat at the window in their relaxing clubhouse and a tasty grouper sandwich and club sandwich.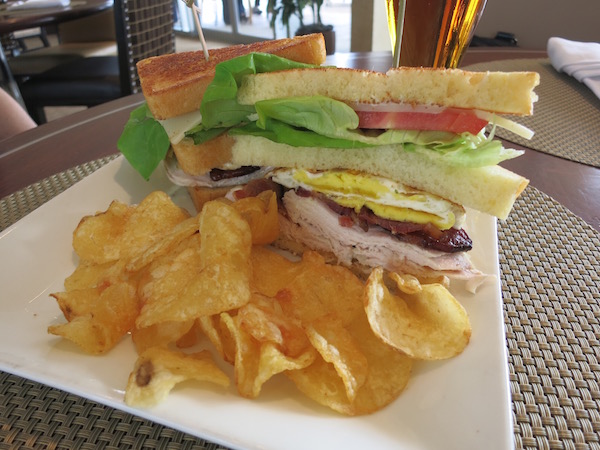 All this in 24 hours! Think of what else you could do, eat and drink with a few more days. With over 12 restaurants to choose from between the Waldorf Astoria Orlando and the Hilton Orlando Bonnet Creek a few steps away, it's an embarrassment of culinary delights and resort amenities.
And if you are looking to add Mickey Mouse to your Orlando experience the Waldorf Astoria has complimentary transportation to all the Orlando Disney theme parks and you can purchase tickets and Disney apparel and accessories in their conveniently located gift shop in the lobby of the Hilton Orlando Bonnet Creek.
For More Information:
Waldorf Astoria
waldorfastoriaorlando.com
14200 Bonnet Creek Resort Lane, Orlando, FL
Reservations 888-353-2009
THE QUICK BITE: If you're looking for a luxurious resort that's also a culinary destination look no further than the Waldorf Astoria Orlando.