Waldorf Astoria Red Velvet Cake
The Roaring 20s – Cake
While the famously named Waldorf Salad may tell you exactly where it came from, did you know that New York's Waldorf Astoria hotel in the 1920s also brought the original red velvet cake recipe to fame? The Waldorf Astoria Red Velvet Cake has become synonymous with that velvety smooth cake crumb made popular in Victorian England contrasted against bright white frosting that incorporates cream cheese, the decade when Philadelphia cream cheese was born through an acquisition by Kraft. Although unlikely, these thrilling combinations seemed perfectly poised to capture American tastebuds at a time when "anything goes!"
Many Stories About Red Velvet Cake
There have been many different stories about how the red velvet cake came to be. Some state that while the Waldorf made it a popular dessert, it got its red color from Adams Extract & Spice Company, who came up with the idea of adding a lot of red food coloring to sell more product. Others say that the true original red velvet cake got its red color from incorporating beetroots to brighten the cocoa-flavored cake. There are still other versions that make it cheesecake or use buttercream or whipped cream for the frosting. We prefer to stick with this original red velvet cake recipe because it includes cream cheese in the frosting and has that soft, velvety cake we typically associate this special dessert.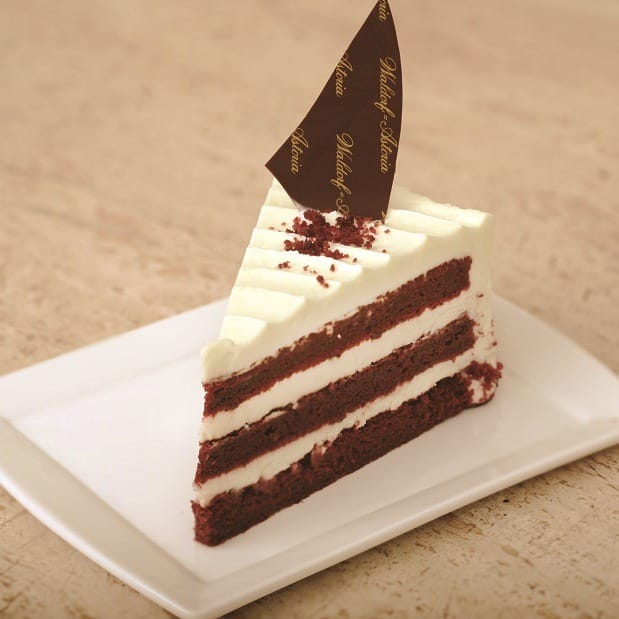 The Original Recipe You Can Make
While the origin of the red velvet cake has many competing stories, there's certainly no question that the recipe for the Waldorf Astoria Red Velvet Cake is one that many of us know and love. Although it seems like it might be quite complex, it's pretty much like any other scratch-made cake recipe, with just a few flourishes. We love that this original red velvet cake recipe incorporates cream cheese and mascarpone together in the icing for a smooth frosting that's not quite as sharp as cream cheese alone. Along with a touch of red coloring to enhance the hue of healthy red beets, this recipe makes a light, rich, and deliciously moist cake that we think everyone will love.
We thought we'd share this original Red Velvet cake recipe to help you complete your next celebratory meal!
Waldorf Astoria Red Velvet Cake
Ingredients:
Ingredients for the cake
3 oz. unsweetened chocolate
2 cup granulated sugar
4 large eggs
1½ cup vegetable oil
1½ tsp vanilla extract
2 c all-purpose flour
2¼ tsp baking soda
¼ tsp salt
1½ lb canned beets, drained, puréed
1 tsp red food color
Ingredients for the icing
2 cup heavy cream
12 oz. cream cheese, room temp.
12 oz. mascarpone cheese
½ tsp vanilla extract
1½ cup powdered sugar sifted
Directions:
1. Preheat oven to 350°F. Butter and line three 9-inch round cake pans with waxed paper. Melt the chocolate in a metal bowl set over a saucepan of boiling water.
2. Meanwhile, mix the sugar, eggs, oil, and vanilla with an electric mixer on low speed for 2 minutes. In a mixing bowl, sift together flour, baking soda, and salt. Slowly add the dry ingredients to the egg mixture and continue to mix on low speed until everything is incorporated. Next, add the melted chocolate to the mixture while mixing on low speed. Finally, add the puréed beets and food coloring. Continue to mix on low speed.
3. Evenly divide the batter between the 3 pans and bake in the middle of the oven for 20 minutes or until the center of the cake is done. Remove from the oven and transfer to a cooling rack. Let cool for 10 minutes in pans, then turn the layers out onto the rack and let cool completely.
4. To make the icing, pour cream into a bowl and whip to soft peaks. Place in the refrigerator. Place the cream cheese in the bowl of an electric mixer fitted with a paddle attachment and mix on low speed until it is soft and smooth. Then add the mascarpone and continue to mix on low speed until the cheeses are well combined. Finally, add the vanilla and powdered sugar and mix. Turn off the mixer and fold in the whipped cream by hand with a spatula.
5. Using a serrated knife, trim the top of each layer of cake so that it is flat. Top each slice with icing and repeat until all the layers are covered, and then ice the top and sides of the cake.
THE QUICK BITE:  The Waldorf Astoria Red Velvet Cake comes from New York's famed hotel. We share this original recipe with you to enjoy at your next celebration!