What It's Like To Live In Portugal for 9 Months
Can you believe that we've been living in Portugal for 9 months? Me neither. A friend said, "we have birthed a new life." Indeed we have. How are things going, you may ask. All and all, pretty darn well. We continue to work and learn more about Portugal every day.
One of our articles on Travel Awaits, "11 Reasons We Chose Portugal When Moving Abroad" went a little viral and we've had a lot more people interested in our experience and asking us questions. That makes us really happy.
Here are some of the things we've learned and done since our last moving to Portugal update.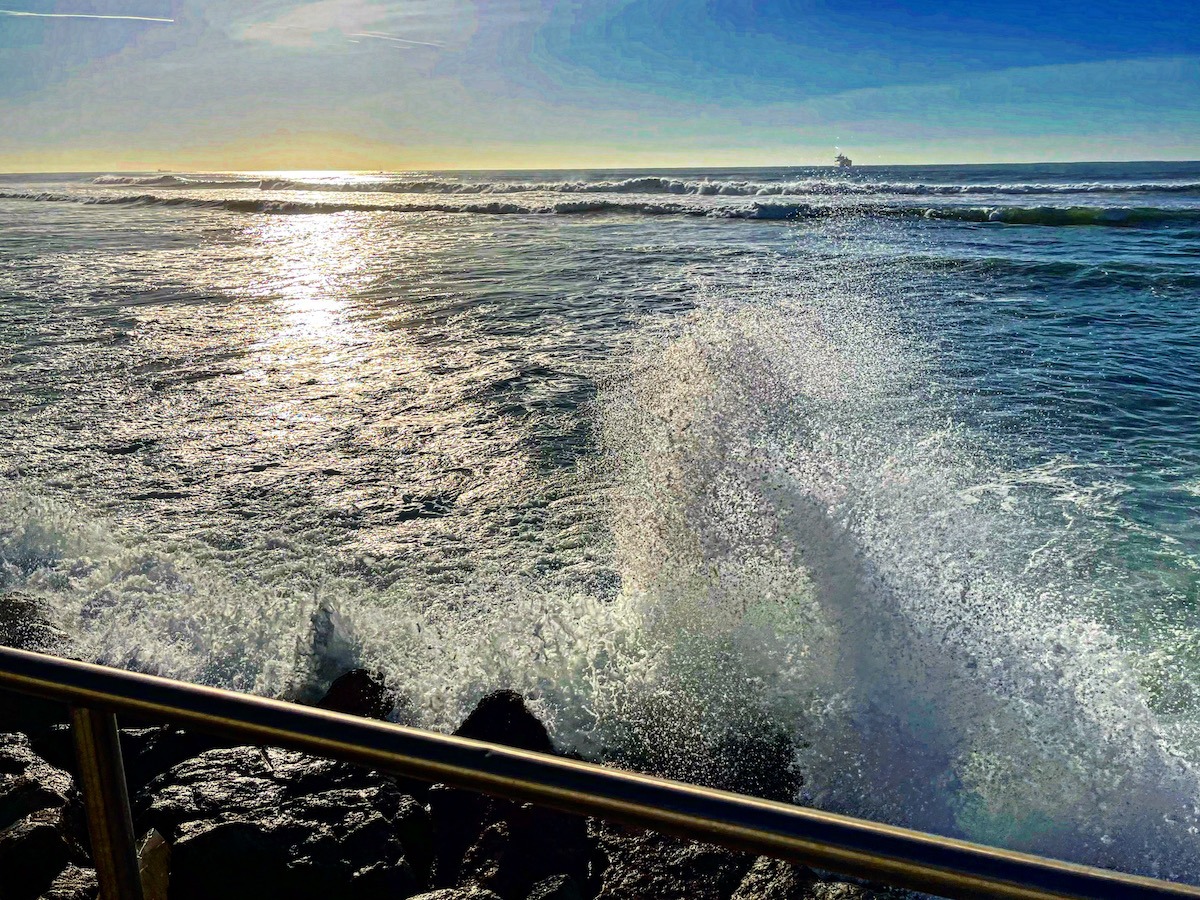 Living In Portugal
Believe it or not, there were still some people that didn't know we moved. Those people continue to be surprised and shocked by our decision. When we tell them the story of how we fell in love with the country on several visits and couldn't wait to come back and live here they begin to understand.
Life in Portugal is not perfect, but it suits us perfectly. People ask us so many questions like, Ïs Portugal safe?" We say heck yes it is. We walk everywhere every day. Down alleys and back streets and never worry. We wake up every morning, open our room-darkening shutters and still marvel at the burnt orange rooftops and soccer stadium across the street. Last month, we lay in bed and watched the perfect full moon trailing across the morning sky. The simple movements of the sun and moon seem to take on new meaning here in Portugal. We take the time here to enjoy each moment that nature shows us its full glory.
We've met many other expats in Portugal who share the same sensibilities and love of Portugal.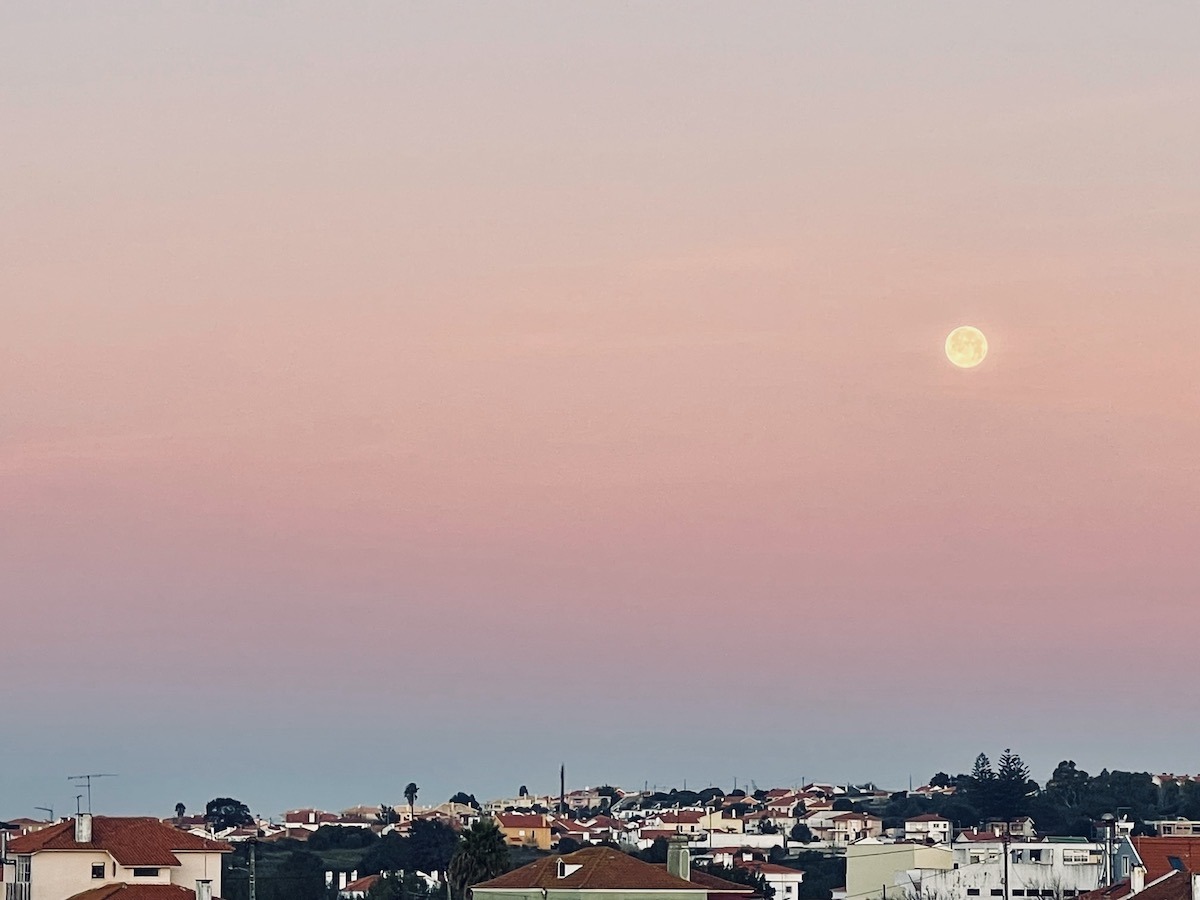 I continue to open the veranda door and look to my left to be sure the Atlantic Ocean is still there and look to my right to see the mountains of Sintra in the distance. Knowing these two places are right where they should be grounds and centers me for the day. We often start our days with 30 minutes of Tai Chai. The deep breathing and gentle muscle stretching make our bodies just a little more ready for the day ahead.
Working Remotely in Portugal
I think that most people are surprised to hear that working from Portugal is no different than working from Wisconsin or Illinois. In fact, I would say that on most days our internet connection is better here in Portugal than it ever was in Chicago. But that's another story. We have good speed and reliability with MEO. We use Vodaphone for our local phone service and T Mobile for our U.S. numbers.
We also use Express VPN to access some U.S. accounts for banking and financial access. We've found that to be very helpful too. If you click here and use our affiliate link to sign up you'll get three extra months free!!
Administrative Requirements
When you're moving to another country there are plenty of regulations, rules, and paperwork. Lots of paperwork. While most of our details were hammered out in the first 30 days we still had several things to do. One of the things that was dragging on was getting our U.S. driver's licenses exchanged for Portuguese driver's licenses.
There were many hoops to jump through on this one even before we left the United States. Getting driving records, and other essential paperwork in order early was our plan. We then had to send everything to the IMT once we got here and had the mandatory "health test." Then we simply had to wait. We were alerted to go and get our photos taken last month. So off we went to Lisbon. Of course, we both were assigned different days. We finally received word that both our driver's licenses are approved and we can expect them to arrive via certified mail. When they will arrive is anyone's guess. As they say, welcome to Portugal!  Most people who move here will tell you that the driver's license process is most likely the longest and most frustrating. As always, patience is the most important part of the process.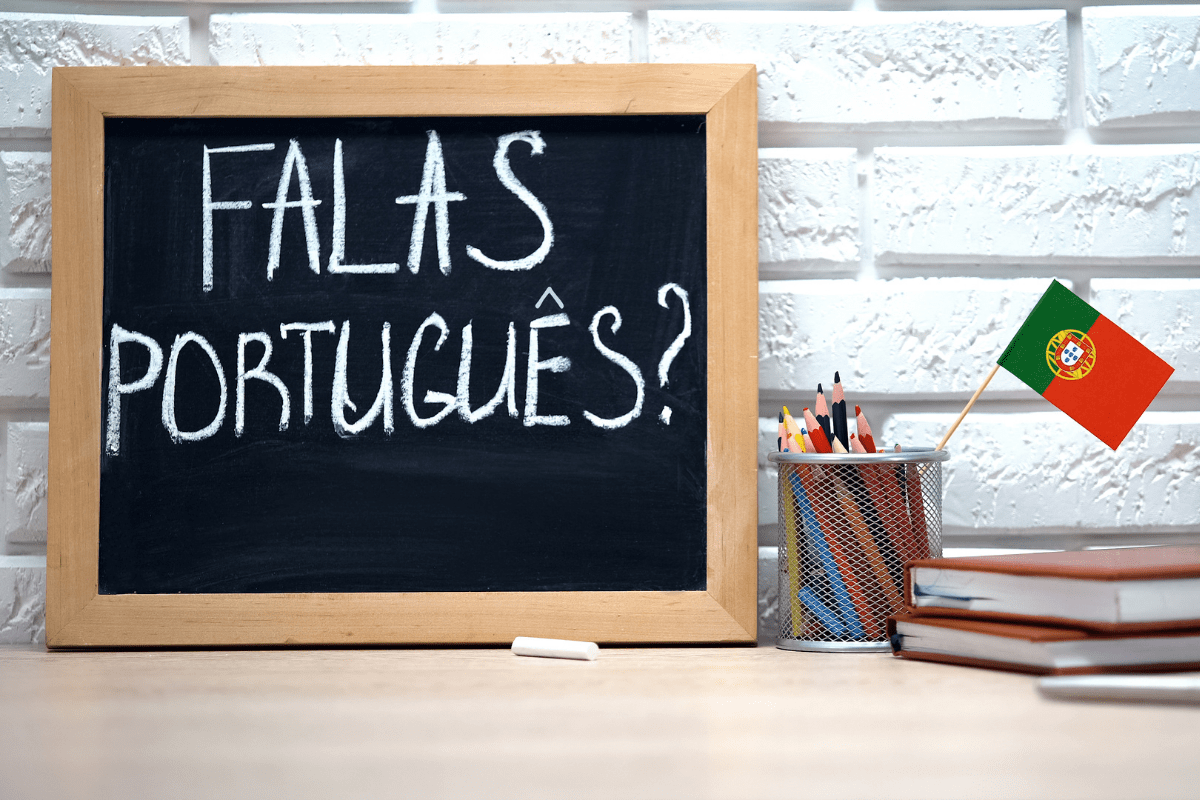 Language Learning
This has been a tough one for us. We took a few online classes with a teacher and we learned some of the basics. As you would expect we learned a lot of food words through restaurants and grocery shopping but carrying on a conversation has not happened yet.
We just started a new program for us Portuguese with Carla. Carla uses a unique approach called "The Journey." The main feature is a movie along the lines of The Davinci Code or National Treasure. Carla and her husband Marlon play characters on a journey through mainland Portugal as well as the islands on a search. The program also includes video, imagery, audio, text, and more. This assures that whatever way your brain works and learns best you will benefit from the program. You go at your own pace and there are plenty of study guides and personal help along the way that can take you from not knowing any Portuguese up to a highly conversant level. We are so excited about the program that we have become affiliates!
If you're thinking of learning Portuguese, please check out The Journey using one of these two links and you'll get a discount while supporting Food Travelist. You'll also get a week free to try it out and see if it's for you. We're planning to find ways to connect with friends through the forum function and other means to practice together. We'd love to have you join us. We are already starting to see some progress and hope to be able to have simple conversations in Portuguese very soon.
Getting Used To The Slower Pace
The pace, as we've mentioned before, is slower. While that may seem like this is something everyone would relish it sometimes tries your patience. One of the things we really needed to get done was to update our health records and get our U.S. COVID-19 vaccinations into the Portuguese system. This is required to get the EU digital certificate. It was also required for us to get our COVID-19 booster here in Portugal. Yes, there is/was a workaround. But trying to find out what that is took hours of phone calling to a number that only answers on occasion and finding an insider who knew the "secret" handshake with a blind man (we kid, kinda) at the local health center that finally got it all sorted out.
It was nerve-wracking because we really wanted to get the booster when our age group came up. Fortunately, (thank you, Science) we were able to do that and get our CDC card updated to reflect all our vaccinations, too. Another problem was solved.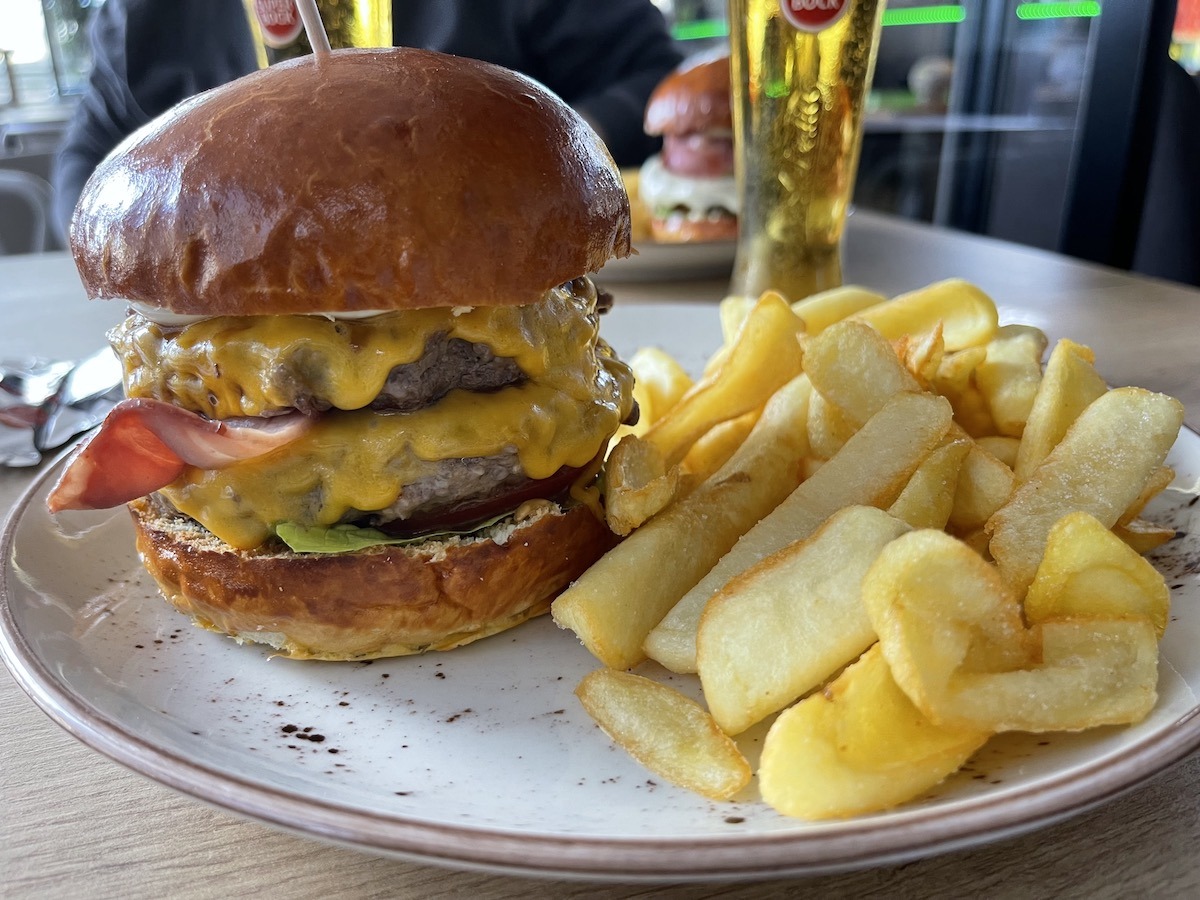 The good news is that while we waited to get everything done we had time to stop and have a gorgeous burger lunch nearby the health center. The health center closes down completely for lunch (as do most businesses). So we relaxed munched on our burgers and waited. All's well that ends well.
Walking Everywhere
A lot of people have asked if we have purchased a car. No, we haven't. We honestly don't need one right now. Our flat is conveniently located on a bus line and it's only a 20-minute walk to the beach. There's a large Pingo Doce, grocery store across the street that has just about everything. Several local restaurants have delicious and affordable Portuguese food, too.
When we want to go to Lisbon we can walk down to the train station in about 20-minutes. Then take the 30-minute train ride down the coast. If we want to head into Cascais, we can walk, it's about 40-minutes to the downtown area or weekly market.
We take rideshare vehicles like Uber and Bolt for times when we don't want to walk or have a lot to carry. They are super reasonable and typically readily available. The local bus is free to residents and we'll be getting a Lisbon transportation pass,the Urban Navengante, that you can refill monthly and get access to all the buses, trains, and ferries in the Lisboa area. The card is 40 euros a month, or 20 euros a month if you're over 65. It's a huge saving if you plan on traveling around the area a lot.
Our First Holidays Abroad
We experienced our first Thanksgiving, Christmas, and New Year's Eve abroad. While I'm not going to say that we didn't miss our families and all our favorite traditions we did enjoy creating new holiday memories and learning more about how the Portuguese celebrate.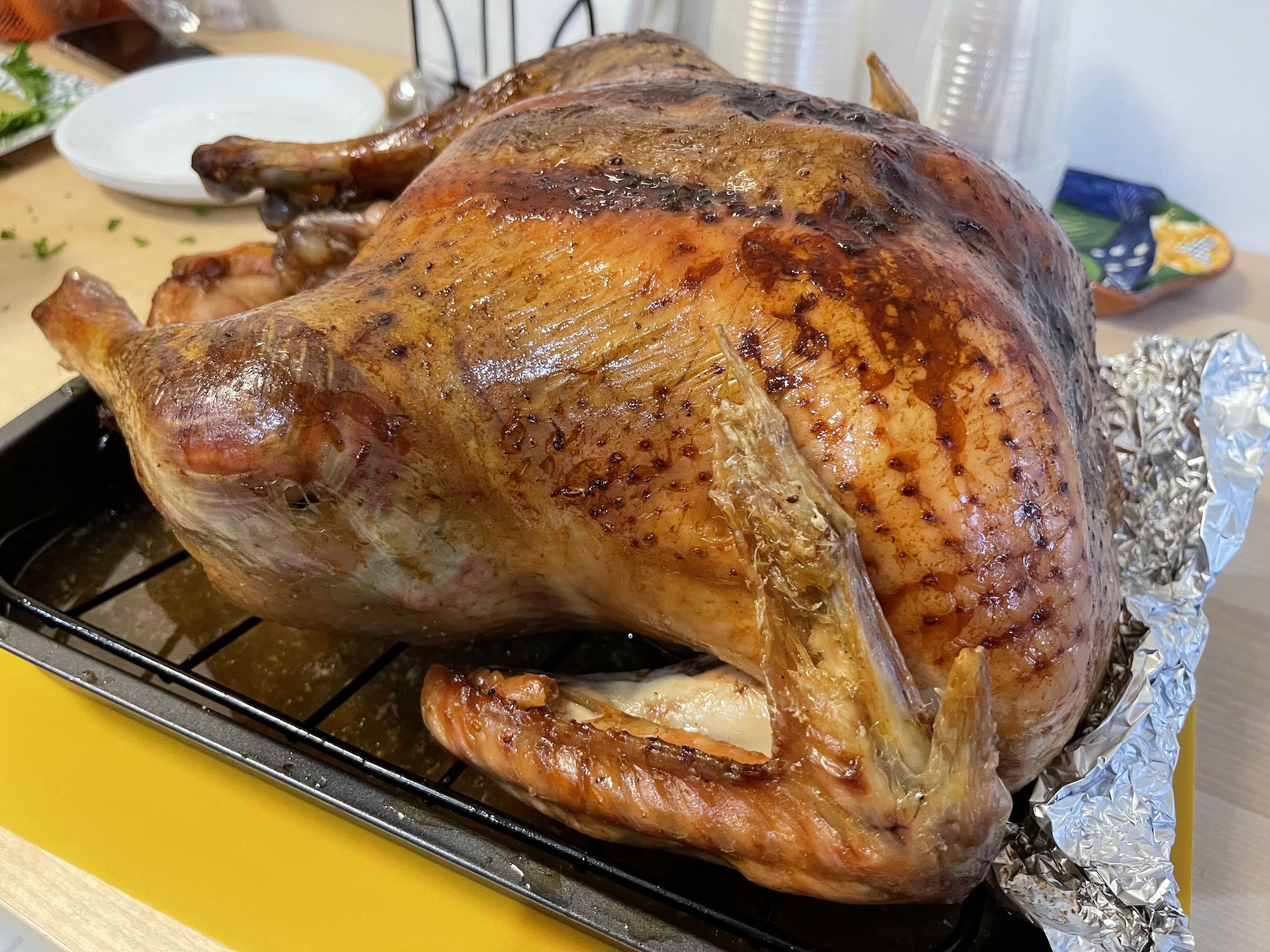 Thanksgiving of course is not celebrated here. We decided to get together with a few close friends and just celebrate being thankful for being here with each other in Portugal. Diana prepared a fresh turkey and everyone brought side dishes that made for a bountiful feast. It was a relaxed and special meal that I think we'll all remember for years to come.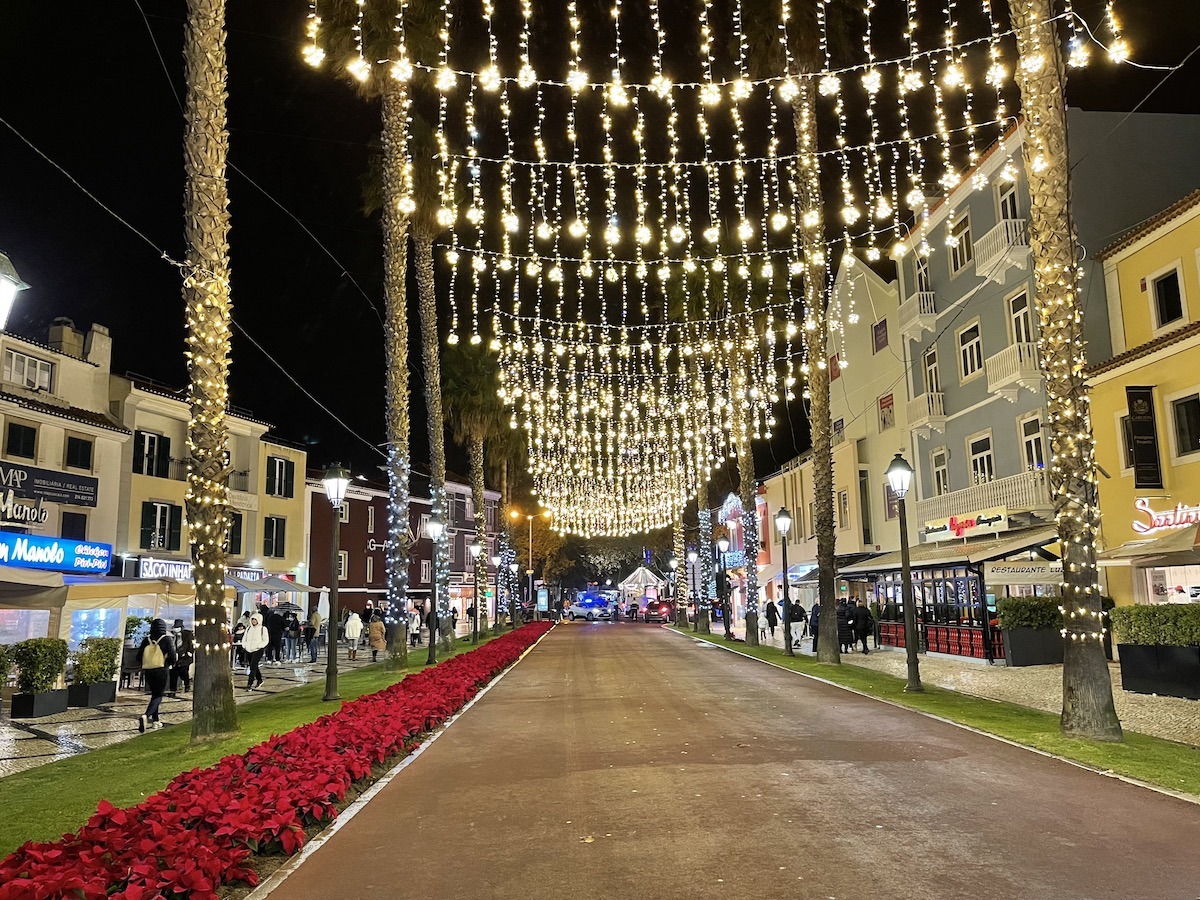 When Christmas came, we found ourselves in a lockdown again. In order to be safe, we decided to not gather with our friends and kept our celebrations to ourselves. We did get out and see all the beautiful holiday decorations. Cascais put on a real show the day the lights were lit with carolers and a jazz band that strolled the streets with Santa and lots of giant characters.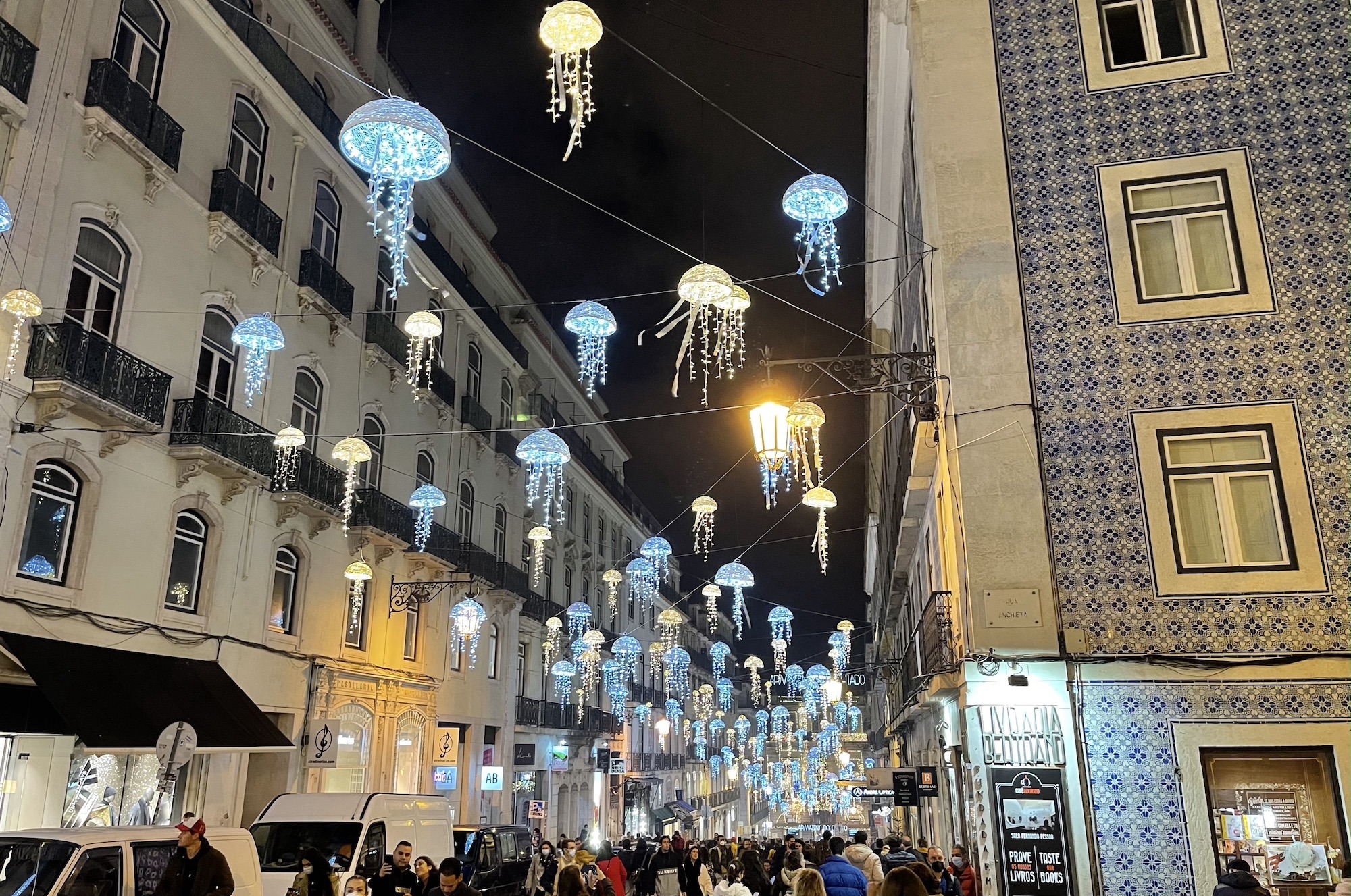 Lots of Fun
If you're in Portugal you simply can't miss the holiday lights in Lisbon. We were surprised by the crowds but we donned our masks and kept safely distanced.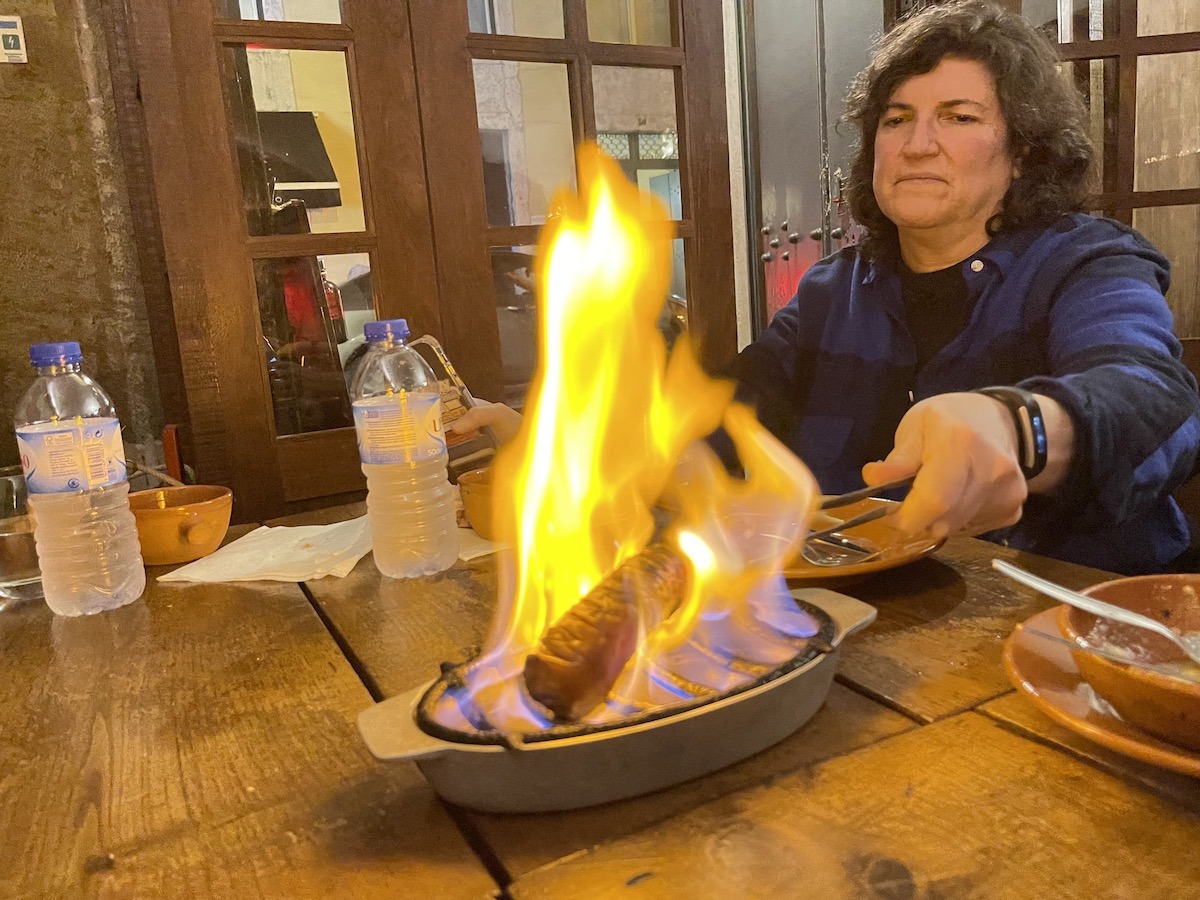 Lisbon still had the Christmas markets and all the light displays up as well. We went on a Christmas light tour with Lisbon with Pats and enjoyed every minute of it. Pats made sure our stops included local cheese shops, bakeries, and a great spot for mulled wine and flaming sausage. OSHA is clearly not here in Portugal.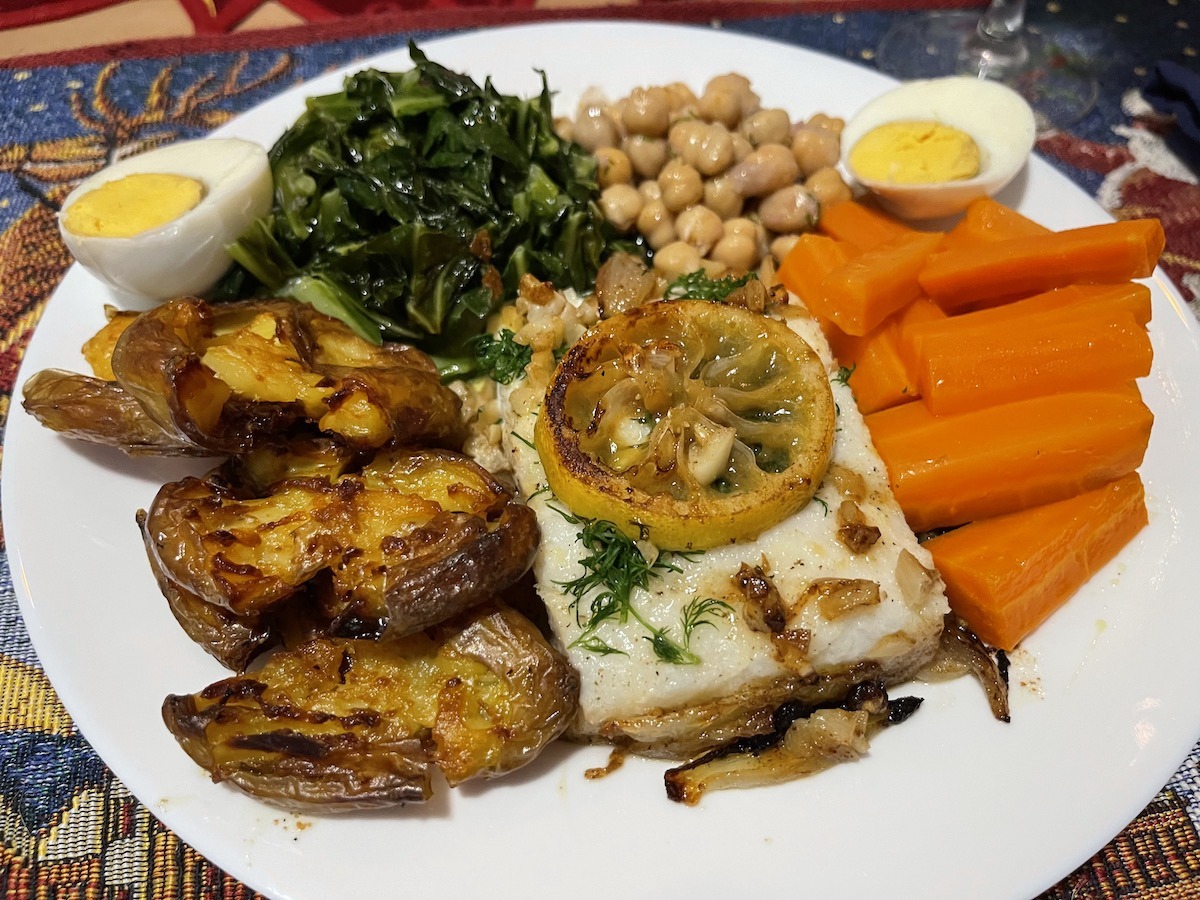 The food here in Portugal at Christmas is really special. The grocery stores are full of special cakes, pastries, and candies. Clearly, food is their way of celebrating and we love that! Our local grocer had everything you could imagine. All the fresh and dried fish, whole roasted pigs, all the side dishes, and special treats to make the meals complete. Diana prepared the traditional Portuguese Christmas Eve dinner of bacalhau, potatoes, cabbage, chickpeas, hard-boiled eggs, and vegetables. It was wonderful! Our former Christmas Day tradition when we visited family in L.A. was to go to Mort's Deli on Christmas morning for breakfast. We created it the best we could with scrambled eggs and bagels here in Portugal.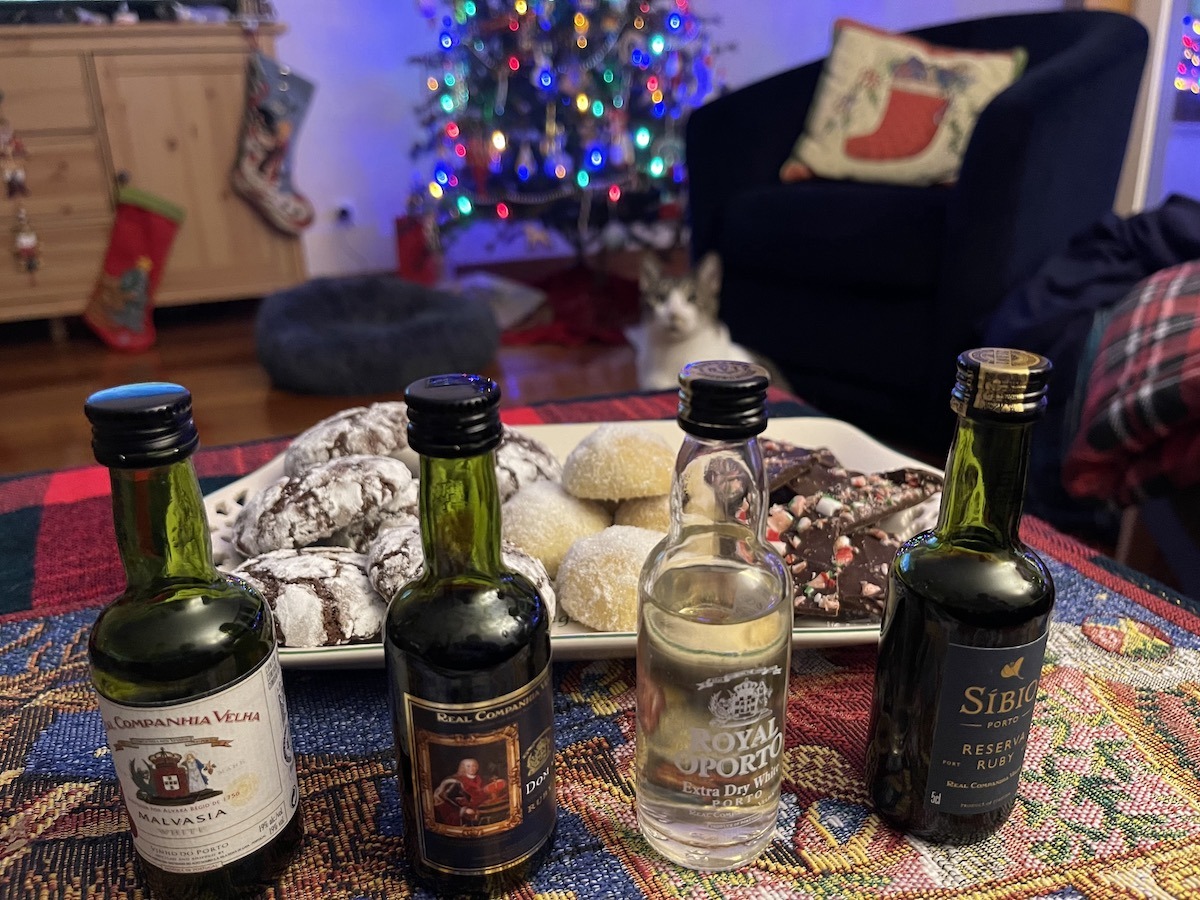 One of the highlights of my Christmas was a Port Wine advent calendar that Diana found for me at our favorite gourmet food store in Estoril (and a new store on the Cascais Marina, too!) Quinta do Saloio. Every day it was something different. Even a magnificent thirty-year-old Port wine was included.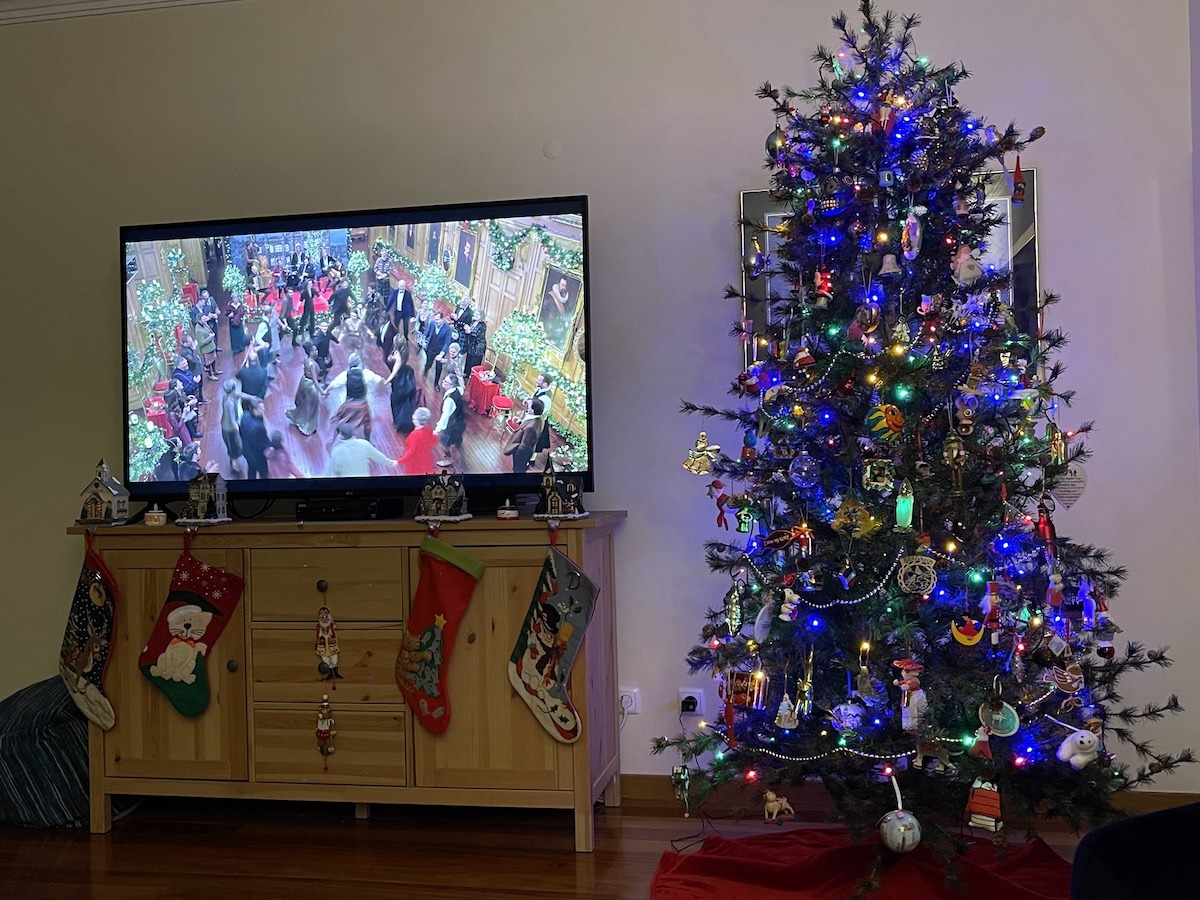 We opened stockings (with the cats), watched Hallmark movies, ate homemade Christmas cookies, and enjoyed the holiday decorations we brought from the U.S. We also had the Bolo Rei, king cake, which is something that is part of every Portuguese holiday table. All and all we think our first holiday abroad was a success.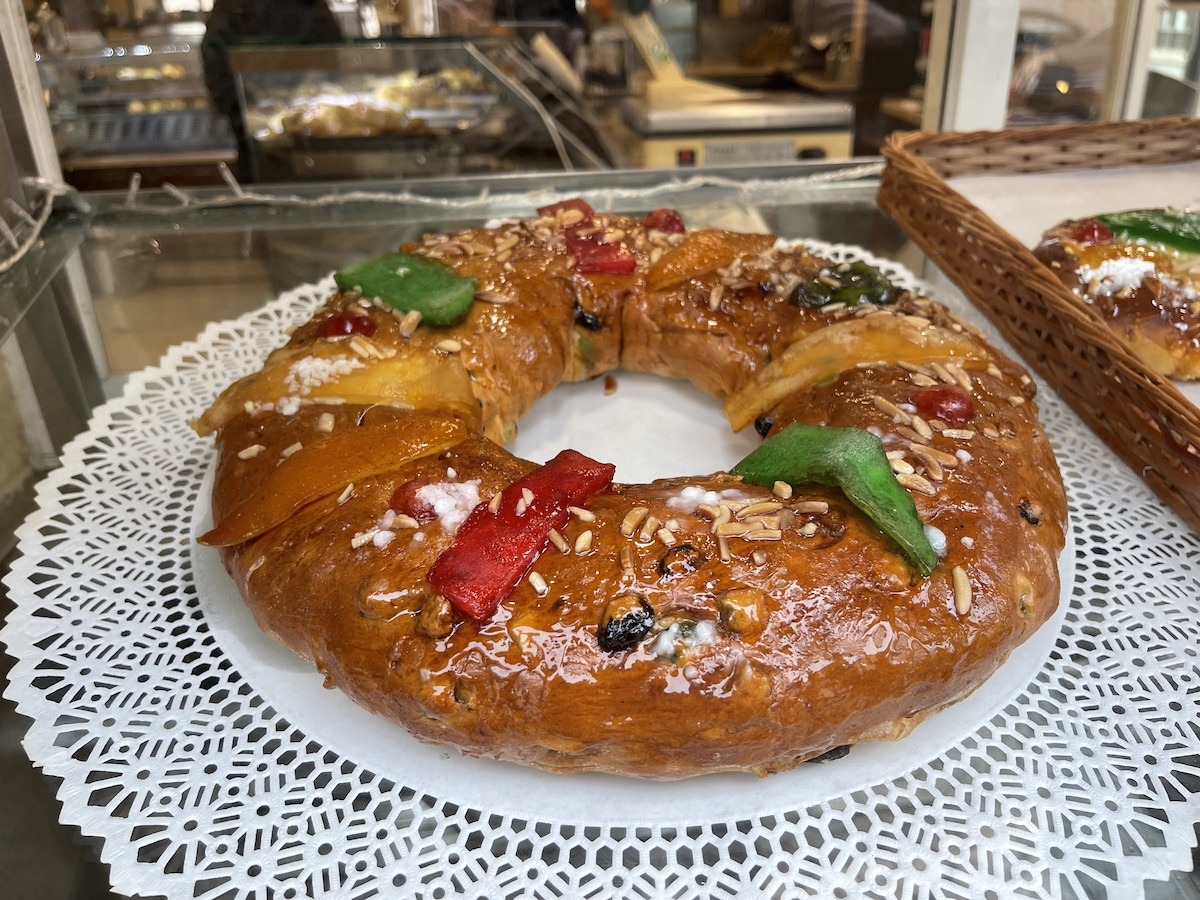 Still So Much To See
We've been limiting our travels because of COVID. But we just couldn't miss the chance to go to one of our favorite spots, Obidos during the holiday season. We went with a friend and it was simply magical. This remarkable walled city is even more beautiful with the holiday lights and decorations throughout the city. Even the iconic castle itself is wrapped in a big red bow.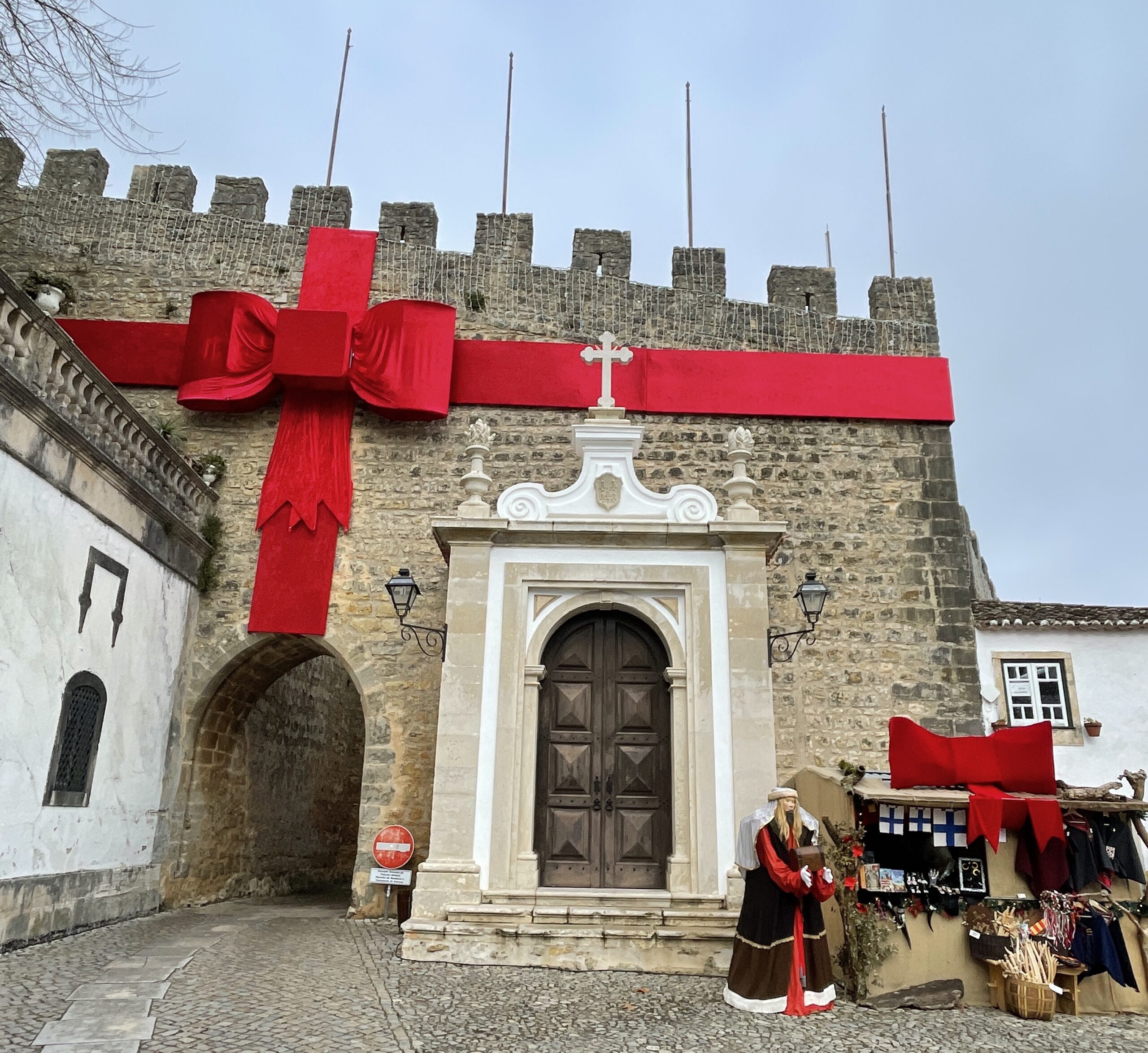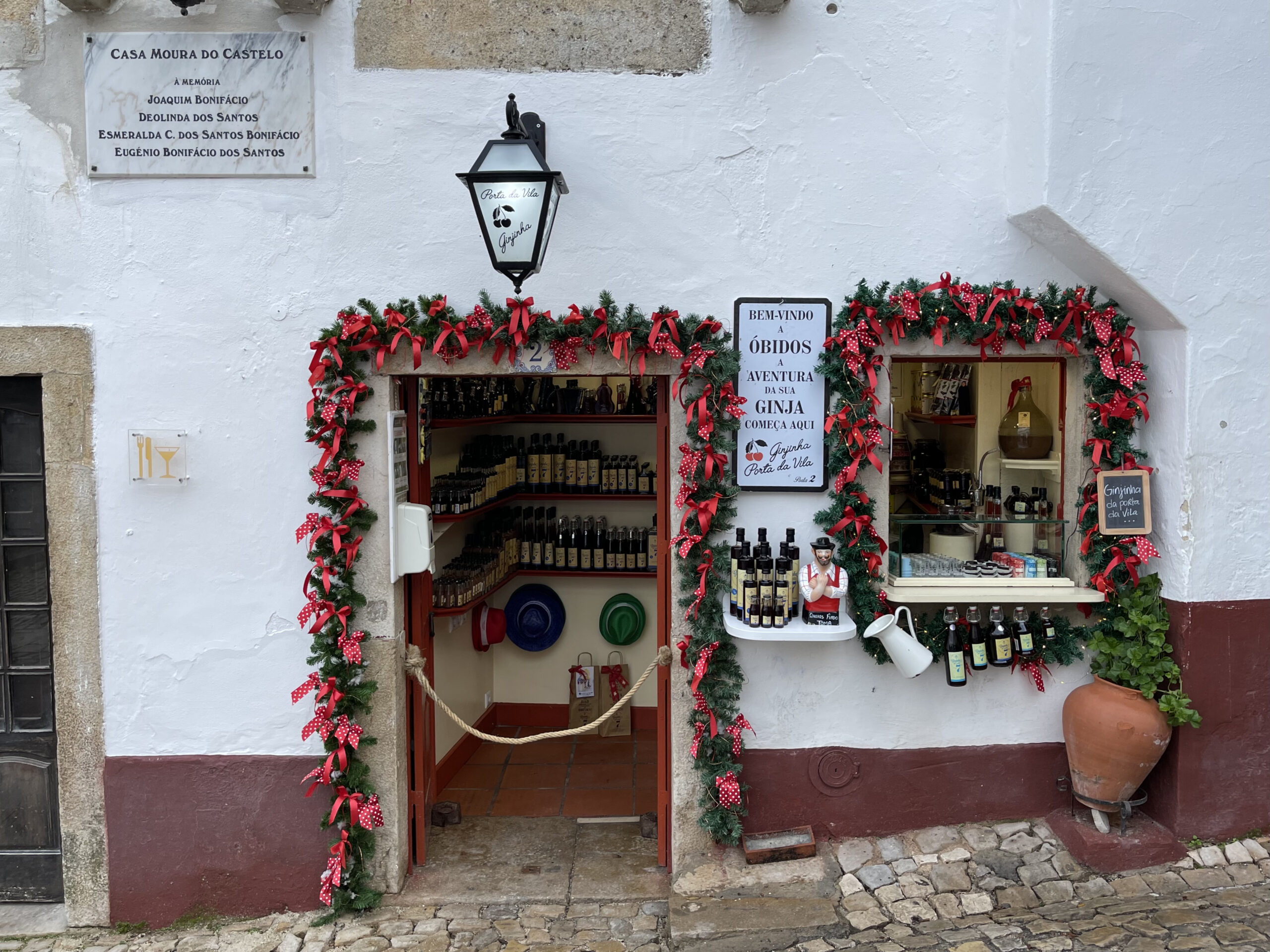 When you go to a town that is a UNESCO Creative City of Literature you have to stay at The Literary Man Hotel which is one of my personal favorites. Every room comes complete with its own library. The included breakfast is full of Portuguese pastries and cakes and served in their relaxing great room where you're surrounded by – books, of course!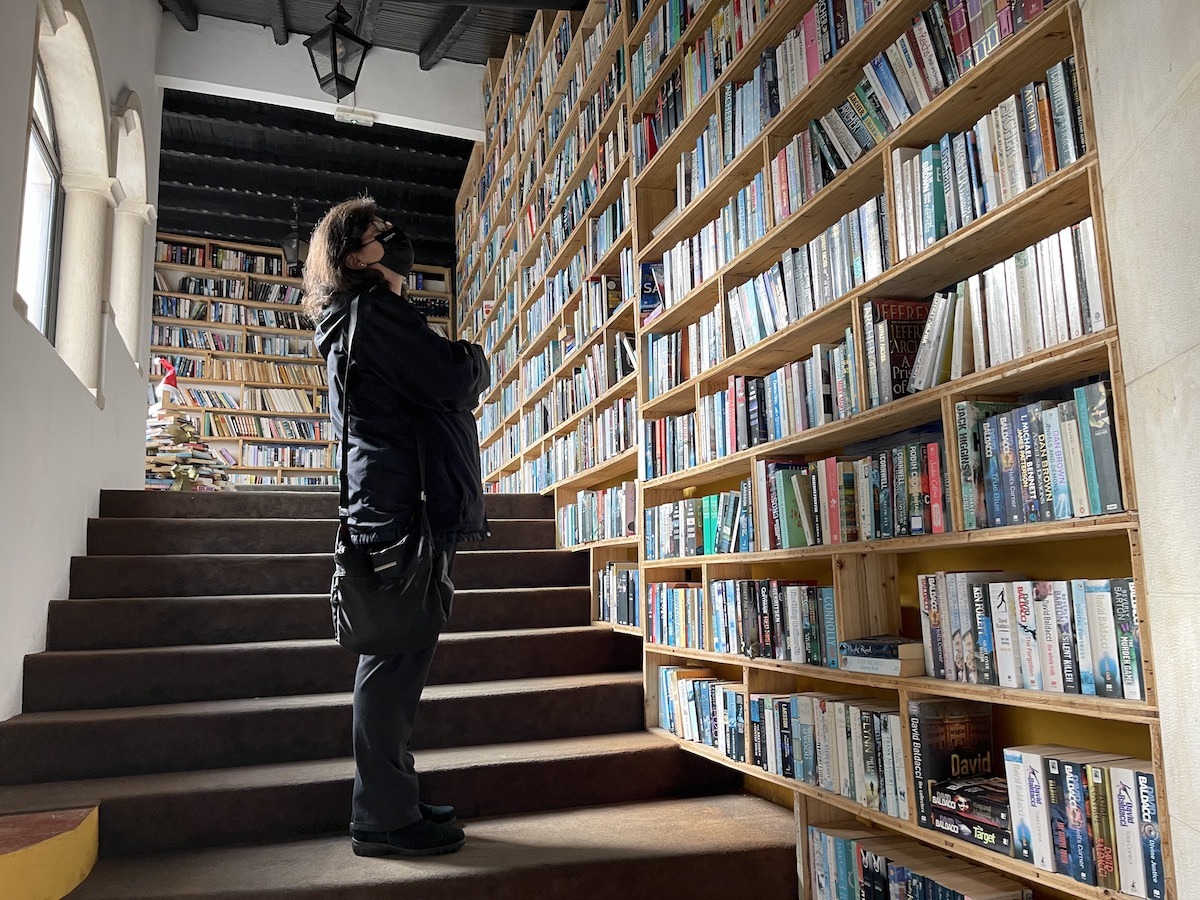 We hunted for treasures in the little shops finding unique items for our homes. We stopped for some tasty cherry Ginjinha liquor and had a remarkable meal at the Pousada do Castelo. The food and the service were impeccable. We were just about the only ones in the dining room, which made for a unique and special experience. We sure hope more people are able to get out and enjoy a meal there very soon.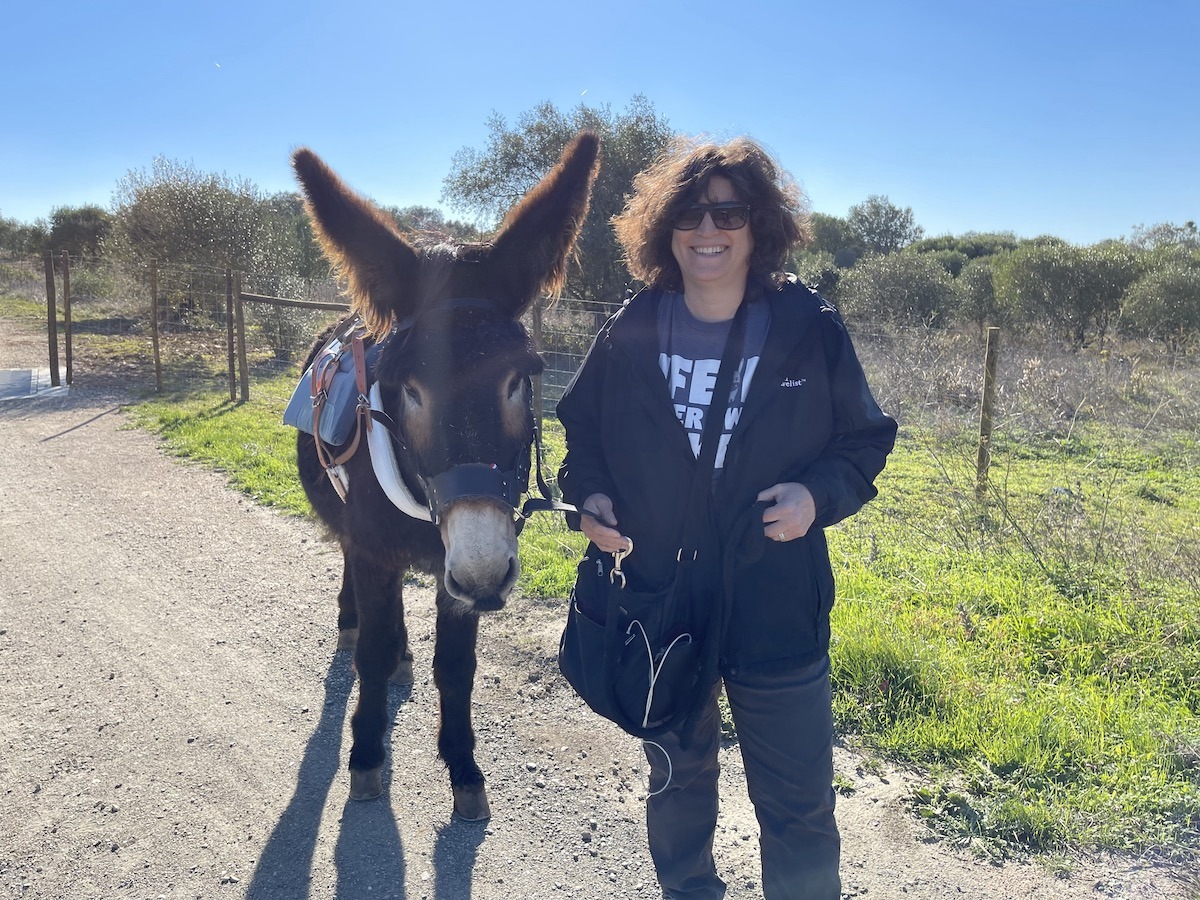 Get Out Into Nature
We also took a tour of the Sintra-Cascais Natural Park. It was only fifteen minutes from home but felt like we were far away in a tranquil remote natural beach setting. The hiking there provides spectacular views. A stop at the Quinta do Pisao also provided a respite that included learning about bees, a walk with donkeys, and learning how to "glamp" in the area. Being so close to places like this is why this area is one of the best places to live in Portugal.
We just cannot wait to continue our travels through Portugal. We're hoping to do just that very soon. In the meantime, we'll be exploring everything that is close by and there sure is plenty to cover.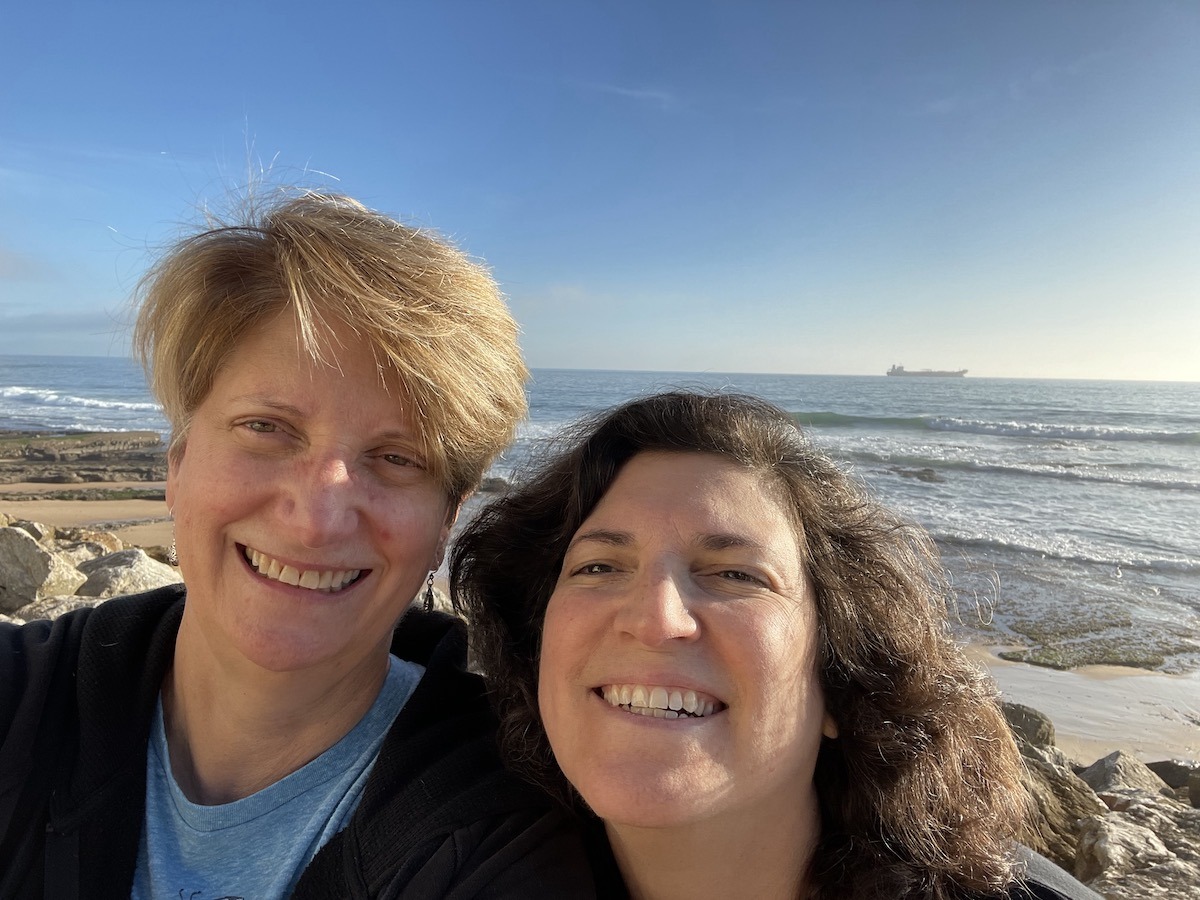 We Live In Portugal – We Are Locals
After nine months, we are starting to consider ourselves locals. We know where to shop, we know how to get around, we have a solid group of friends. Now we'll be looking to go deeper. Connect with more Portuguese people and continue learning from them.
We recently started a Queer Women In Portugal Facebook group to connect with more women here in Portugal and those in the process of planning to visit or move.
We'll be attending the Web Summit in Lisbon in the Fall and hope to network with more like-minded people there, too.
We're excited about being in Portugal and excited about what the future will hold. We hope you'll continue to follow our stories. If you think you might move to or retire in Portugal, ask us questions and come visit us in Portugal.
Pin It For Later