We've talked about how much we love the cosmopolitan atmosphere of Cascais, Portugal. The incredible dining, beautiful scenery, cultural exhibits, and luxurious shopping. But there's another side to Cascais that we love equally as much. It's the wild side of Cascais in the Sintra-Cascais Natural Park where Mother Nature rules.
Nature lovers can experience the best of Cascais through a program designed to explore in harmony with nature. Cascais Ambiente now offers the Rota do Occidente, or The Western Route. This new addition is a pedestrian program that is designed to promote "biohappiness," a way to be happy while respecting nature. We love how it offers a way to see the natural beauty of Cascais walking or biking, and experience some amazing activities interspersed.
Rota Do Occidente
The Western Route connects the coastline and the Sintra-Cascais Natural Park. This spectacular area is prized by locals and visitors alike. There are beautiful views, historical monuments, and Nature Interpretation Centers throughout. The rich variety makes this a totally engrossing and enriching experience. Bird-watching, tree-climbing, and personal interactions with nature are part of the experience. The route is designed to enable guests to enjoy nature while not leaving a negative impact on it.
Cascais Ambiente has carefully crafted a three-day/two-night program that offers visitors a chance to enjoy the spectacular scenery, taste the flavors of Portugal, engage in learning opportunities with knowledgeable guides, and experience overnight glamping along some of the most interesting terrain in Portugal.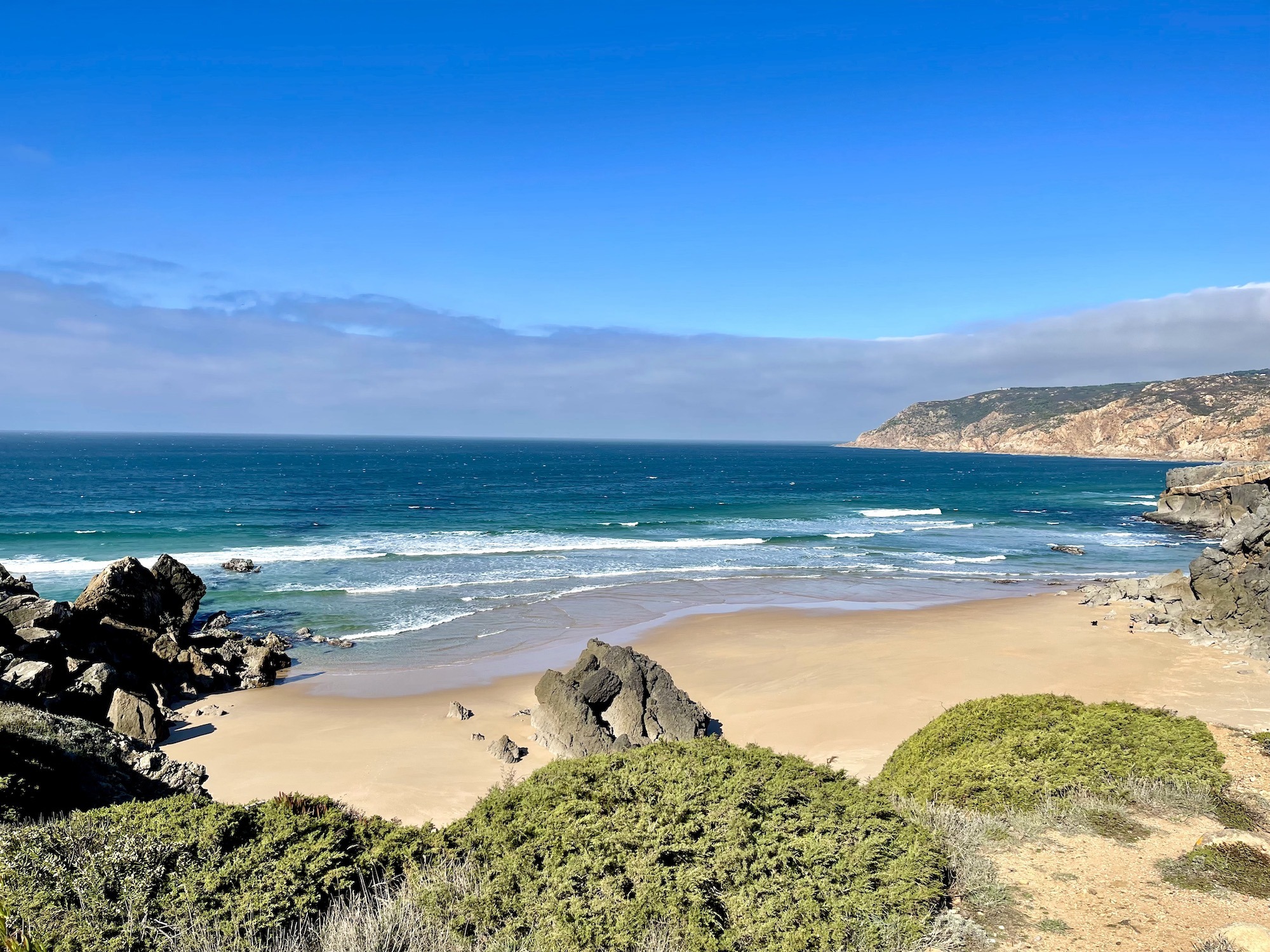 Hiking Along The Western Coast
Our visit included trekking through the Sintra-Cascais Natural Park with some of the most gorgeous scenery we've encountered yet in Portugal. We thrilled at seeing hidden golden sand beaches at the edge of rocky cliffs. Our senses went wild for the windswept hills covered with foliage and flowers. The trails were clearly marked and easy to follow. What was difficult for us was trying not to stop every few minutes. Each bit of walking gave us a new perspective and another jaw-dropping view. We did our best not to dawdle too much, but it was a challenge, that's for sure. The scenery is breathtaking and ever-changing. You can take as many photos as you like. And we took plenty.
After our scenic tour on foot, we had a chance to try some of the special offerings that come as part of the package. There are five different options and visitors can choose three to include in their program. We love the fact that visitors can tailor their program to suit their own interests. Each experience has its own unique pleasures so we think there are enough options to make a completely satisfying visit for anyone.
Exploring the Dunes
We had the chance to take a long walk on a well-kept boardwalk through the Dune of Cresmina, an area marked by moving sand dunes that shift and change. Some of the dunes move slowly over time and others look different from day to day. We enjoyed meeting a Biologist, who accompanied us on the walk and pointed out various plants and flowers. We learned which plants were native to the area and which species had come from somewhere else.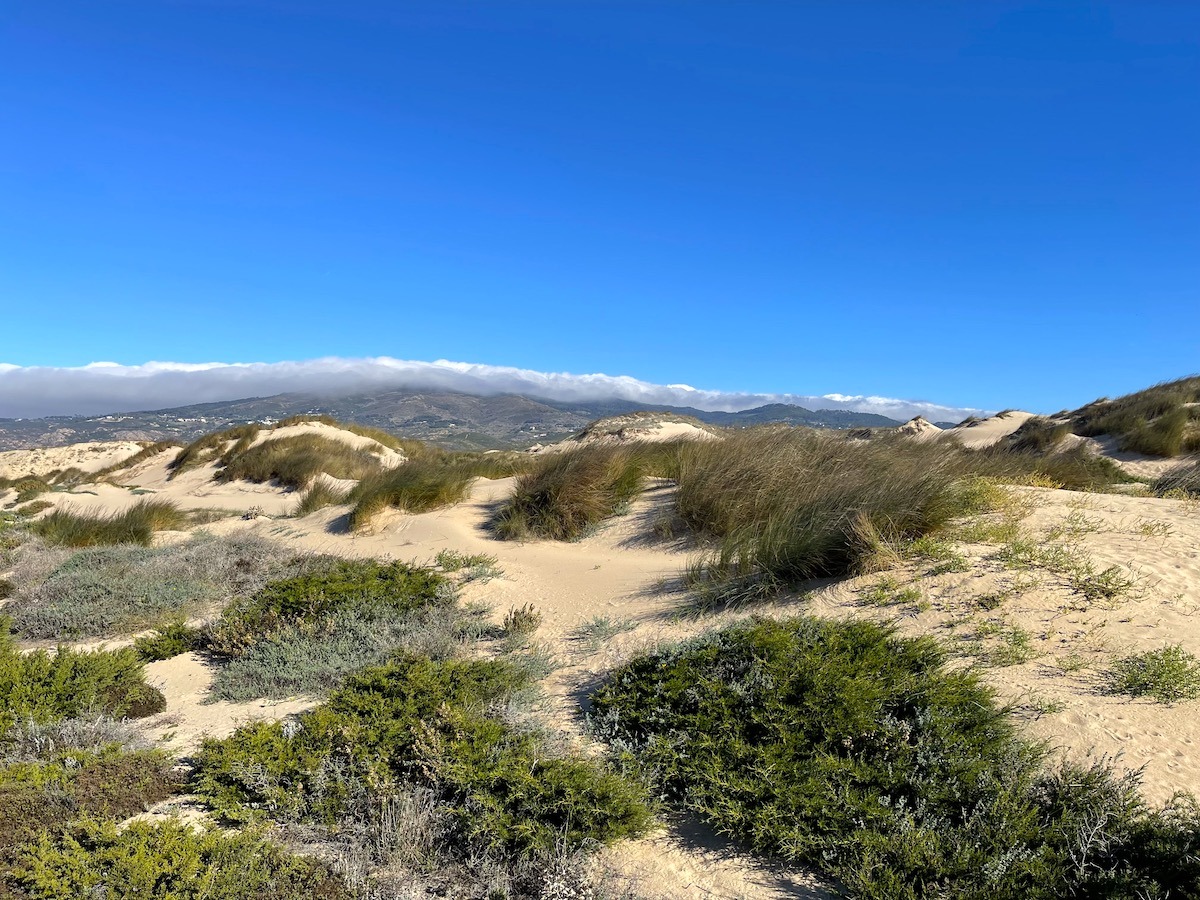 It was fun to look out over the landscape and see it literally shift before our eyes and learn about how fires and weather events impact the local environment. At the top of the walk was a lookout point where we could take in another stunning view and get a snack or drink if we wanted.
Quinta do Pisão
We visited Quinta do Pisão, a unique nature park environment that houses an ecosystem incorporating sustainable farming practices, preservation, and education. A human presence at the park can be traced back to some 5000 years ago. Archaeologists discovered a cave that contained the bones as well as utensils thought to date back to the bronze and iron ages.
A garden produces wonderful fruits and vegetables that are for sale at the farm store. Segway and bicycle rentals are available. There are also interpretive tours that help deepen understanding and appreciation of this remarkable place and the natural environment of this special area. The farm is a great place for Portuguese families as well as visitors like us to come and learn about habitat management practices, biodiversity, nature preservation, and eco-stewardship. We experienced some of the fantastic learning activities for ourselves.
Meeting A Beekeeper
Our day included the fun and informative Meeting a Beekeeper workshop where our guide showed us the inner workings of bee society and the role each type of bee has in the hive. We saw how honey is made and processed and learned about the importance of bees to the balance of nature. We saw firsthand how the bees create the honeycomb structure of the hive and the care that goes into ensuring the hives are safe and thriving. Our guide was extremely knowledgeable and answered all of our questions.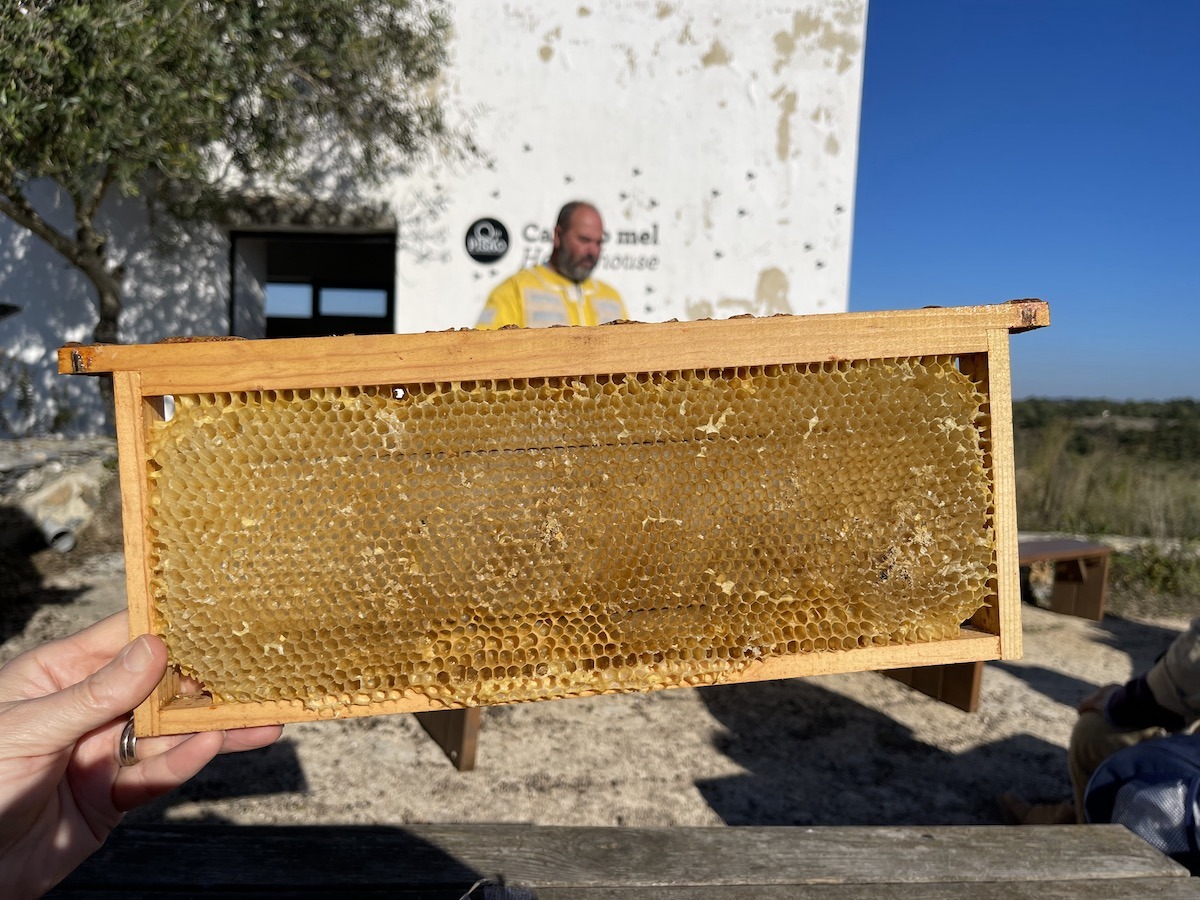 We learned about the domain of the bees and why honey that is made by the bees using different plant sources tastes different as well. We also had a chance to taste some of the pure honey produced by the bees at the hives we saw around us and it was delicious. This was a great way to learn more about how important bees are to the development of a healthy and diverse landscape – as well as producing a naturally wonderful sweet treat.
Glamping In Sintra-Cascais Natural Park
Though we did not spend the night, we did get a chance to see the glamping setup that is included in the full two-night program. We also enjoyed the hospitality of a hosted meal. The full program is all-inclusive of food, and we can definitely say that guests will not go hungry. The Portuguese passion for glorious food and drink does not skip even rustic visits to the great outdoors.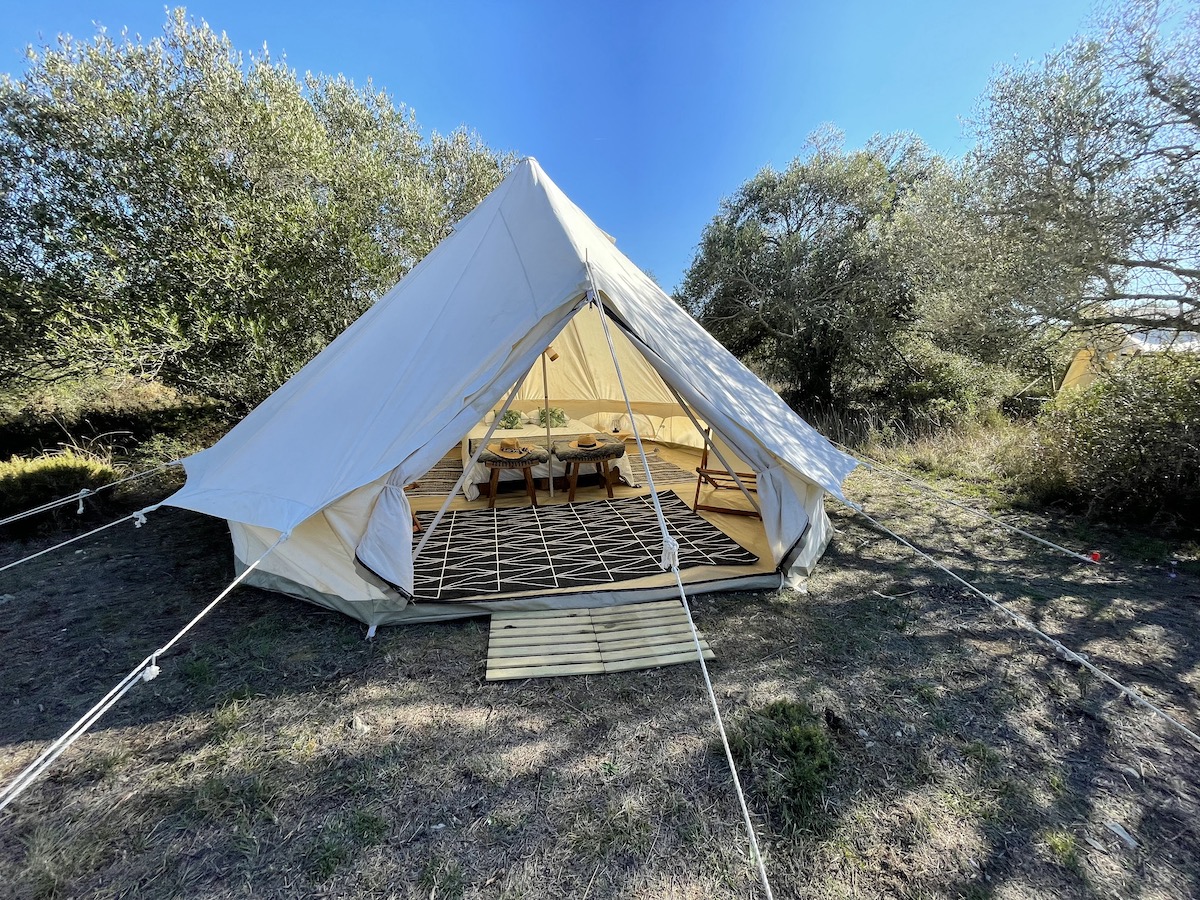 The complete program includes two overnight stays in two different locations so that visitors can enjoy the distinctive scenery of the Sintra-Cascais Natural Park each night. The roomy glamping tent we saw had many amenities and creature comforts. We can imagine taking in a beautiful starry night, reading a favorite book, and finally snuggling down in a warm and comfortable tent while still being able to feel part of nature.
We sampled a gorgeous buffet that gave us an idea of what the food in the full program would be like. Delicious sandwiches, fresh fruits, cakes, veggies, and even roasted chestnuts filled a large table. Many of the fresh flavors we enjoyed came from the vegetable garden and local producers. Options for vegetarians as well as those following a gluten-free diet were available so those with allergies or special health considerations will be well cared for in the dining department. We also enjoyed water, coffee, tea, and fresh juices to complement our culinary experience.
Meeting A Ranger
There are birds, animals, insects, and all kinds of creatures that call the Sintra-Cascais Natural Park area their home. One of our favorite parts of our visit to the Quinta do Pisão was meeting a ranger. We learned about all the other animals that are in the park, including sheep, horses, and our favorite, donkeys. There are over 20 donkeys now living in the Quinta do Pisão. We also learned that Portuguese donkeys are strong, stout, and quite woolly with their long, soft hair. We had the privilege of not only seeing the donkeys all together in a group (including a few youngsters) but we also got a chance to walk with two of them along a trail. It was a highlight of our visit.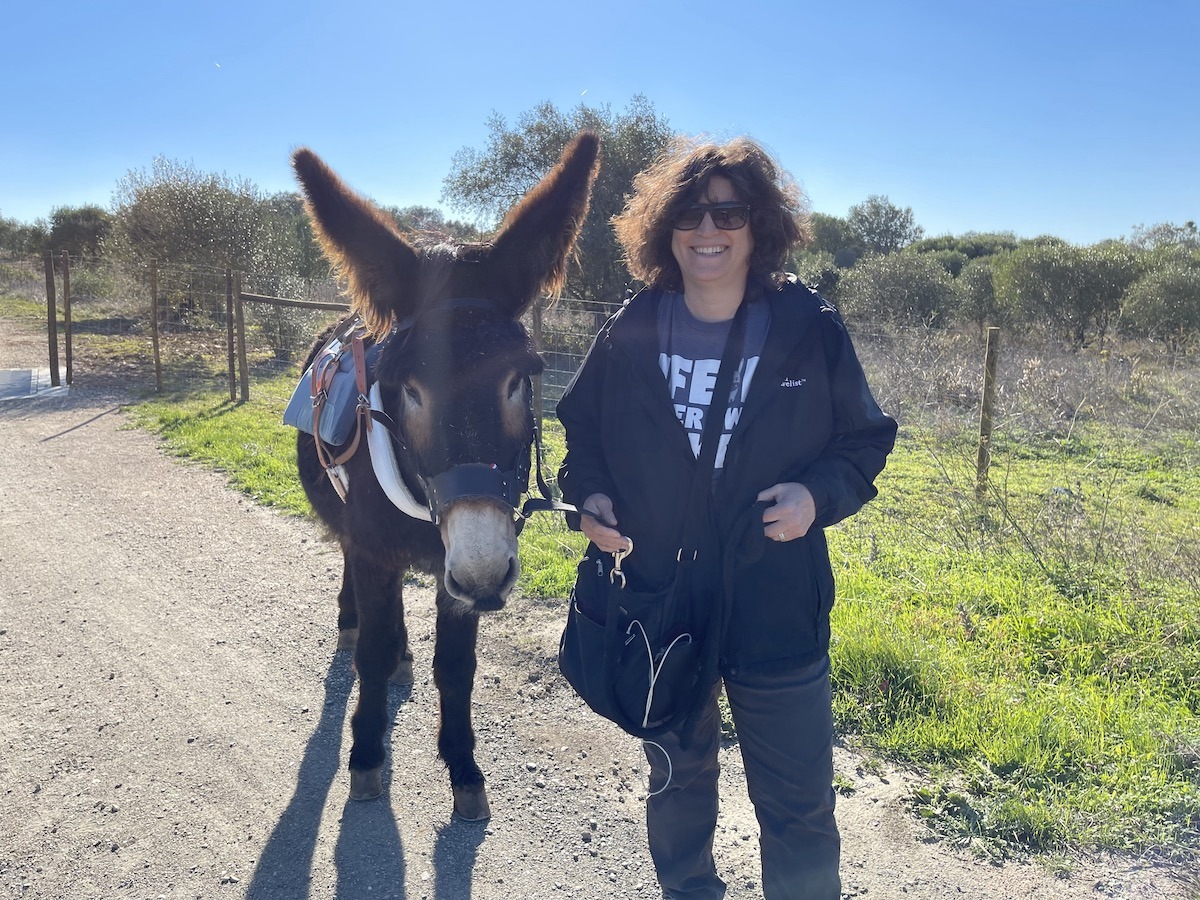 Choices To Suit Every Taste
The Rota De Occidente or Western Route program offered by Ambiente Cascais has plenty of options to suit every taste. The pedestrian route itself begins at the Eco-cabana at the entrance to beautiful Marechal Carmona Park and encompasses some 50 kilometers and consists of five different stages:
Ecocabana – Cresmina Dune (10 Km)
Dune of Cresmina – Quinta do Pisão (10 Km)
Quinta do Pisão – Peninha (10km)
Peninha – Duna da Cresmina (10km)
Cresmina Dune – Ecocabana (10 km)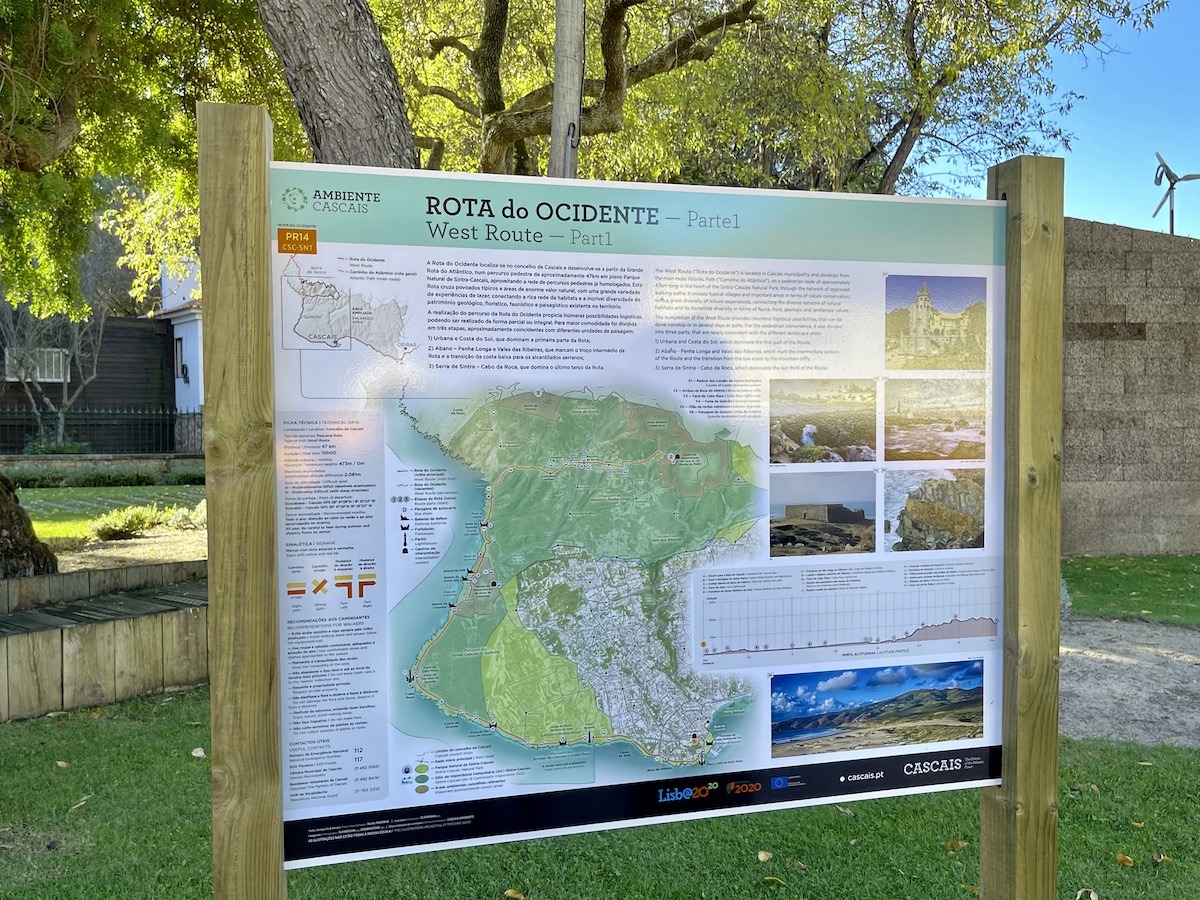 Guests can also choose from a variety of activities at various times during the program, including Mountain Bike, Electric Bike, Donkey Ride, Horseback Riding with a Guide.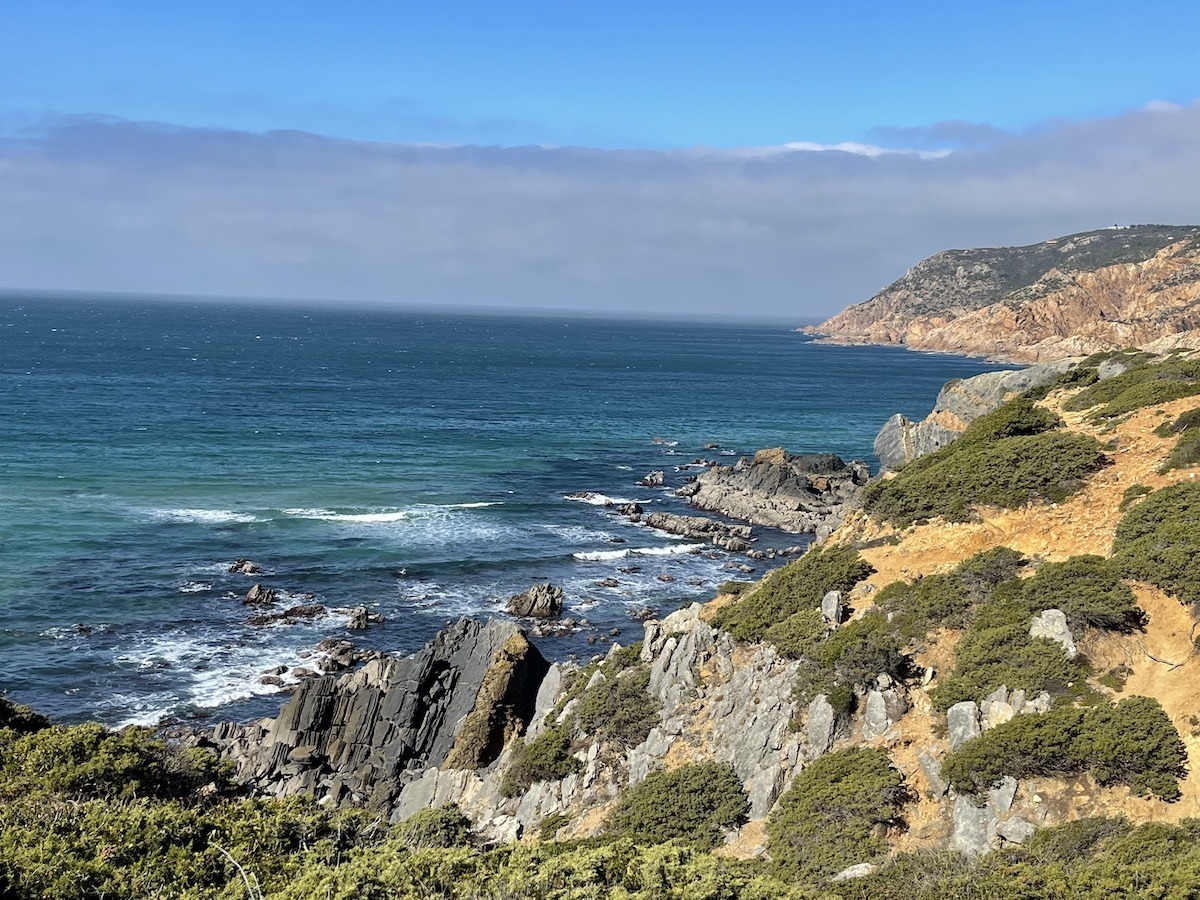 Nature At Its Best
There is so much to see and do in the developed areas of Cascais. It would be easy not to go beyond the beautiful hotels, spectacular beaches, glamorous shops, and elegant restaurants. But a visit to the Sintra-Cascais Natural Park including the Rota de Occidente is well worth including. It provides more than enough reasons to add a little off-roading to any trip in the area. With top-notch hospitality, remarkable scenery, ample opportunities for learning something new, and, of course, the presence of donkeys, we think a deep dive into the wild side of Cascais is an adventure well worth taking.
Pin it for later