10 Absolutely Surprising Reasons To Visit Oklahoma City
I wrote this post after our media trip that was hosted by See Oklahoma City. All suggestions and endorsements are solely personal. Our policy is to only share and recommend what we personally like and experience. 
Many destinations come up often when U.S. travelers are looking for somewhere to go that's different, offers a lot to do and has a tasty culinary scene. My bet is that Oklahoma City doesn't come up very often in those conversations or reviews. In fact, when we mentioned to friends that we were going to OKC most looked at us like, where?
Let me be the first to tell you this is a destination that will not only surprise you but beckon you to return. The people of Oklahoma City welcome everyone with open arms.
Oklahoma City has much to offer for every visitor but here in our opinion are the top ten reasons that you should book a trip today.
This is one place that everyone should visit. The memorial is designed as a remembrance of the bombing that killed 168 Oklahoma citizens. It is carefully curated to "offer comfort, strength, peace, hope and serenity."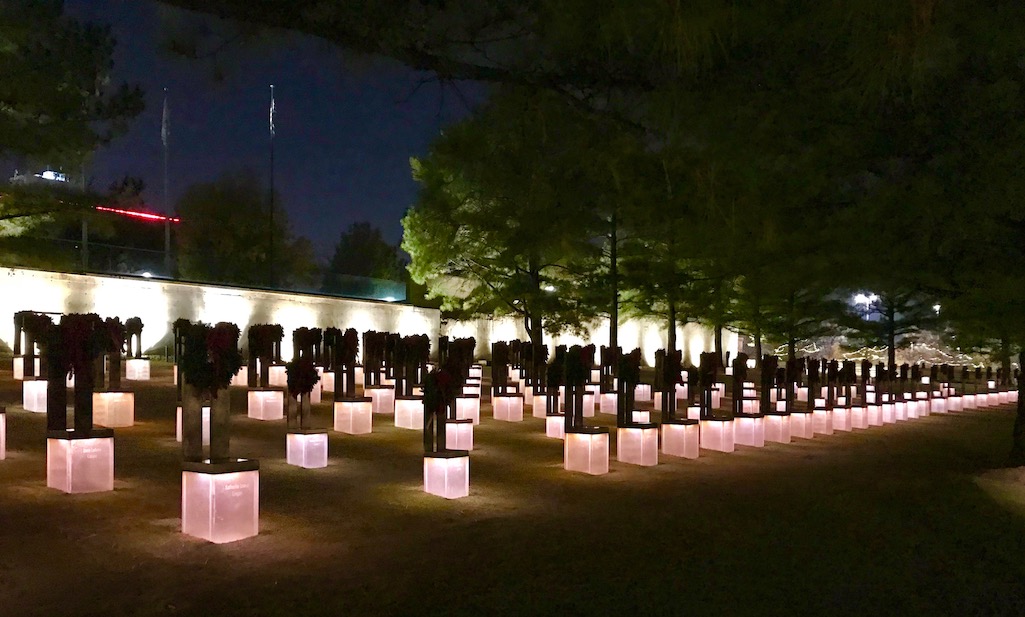 May we recommend that you visit the memorial in the evening. The crowds are smaller and the impact of the memorial is quite remarkable in the dark. The lighted "chairs" each engraved with the name of a victim is extremely moving. Take a moment to gaze into the reflection pool and allow your mind to wander, consider, assess and experience the many different emotions you will feel. Be sure to also visit the museum that tells the entire story in an interactive and modern way. Check out this short video to learn more about this important museum.
We visited Oklahoma City in December so we were lucky to see it decorated in all its holiday finest. We also happened to be there during the "super moon." Just strolling through the parks downtown made for great people watching. There was so much going on, ice skating, family activities and people doing exactly what we were doing – enjoying the moon and all there is to see and do in this popular area. Whether it's warm or cold weather you will enjoy walking through the beautiful Myriad Gardens and exploring the wonderful plants and flowers of the indoor tropical conservancy.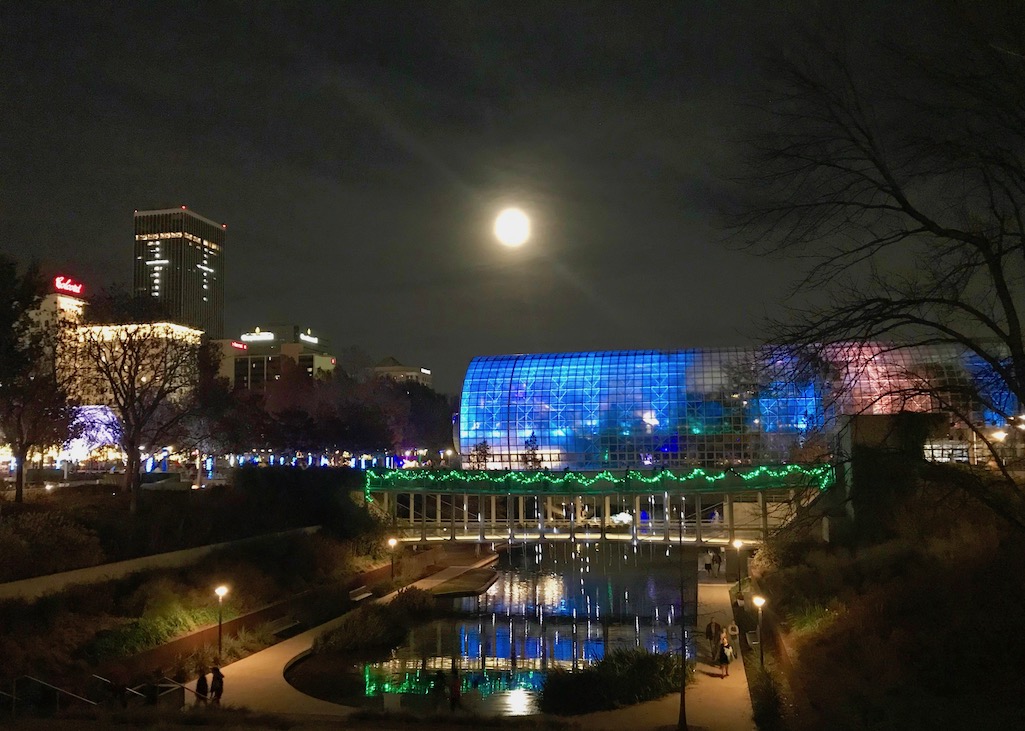 One of the things that is so nice about Oklahoma City is that everything is easy to get to. Most places you'll want to visit are about a ten-minute drive or less. The fun Paseo Arts District is a wonderful neighborhood where you can explore local galleries and shops. You will notice the creativity the moment you arrive.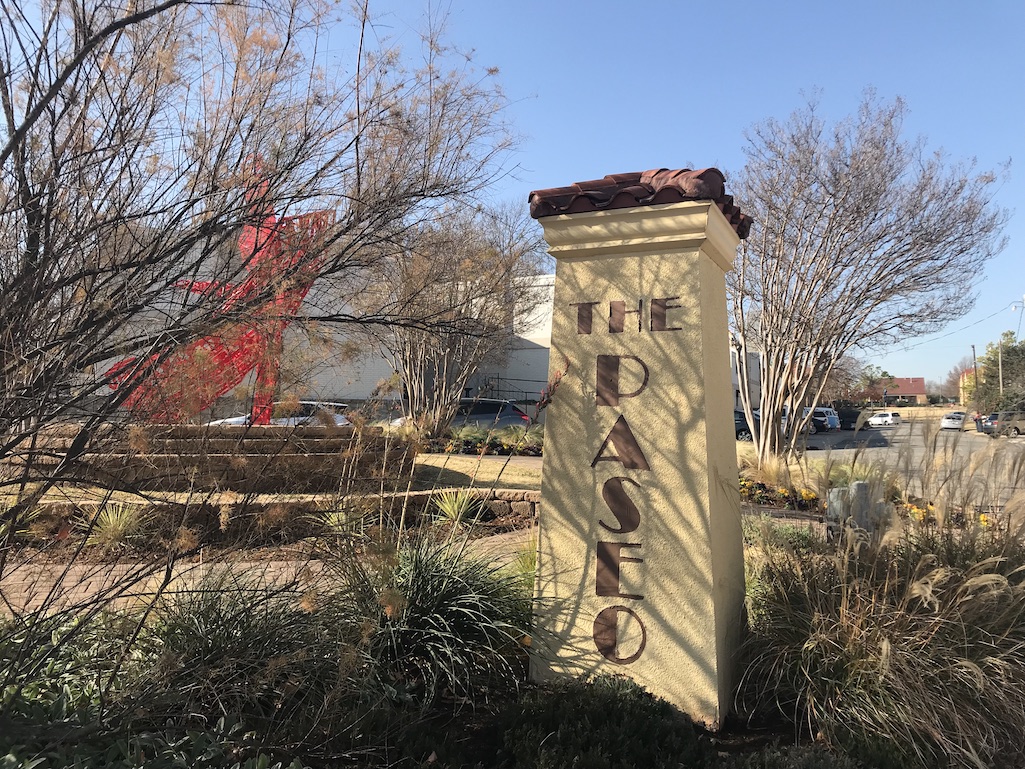 We especially loved Craig's Curious Emporium, which was loaded with cute and kitschy items. You're bound to find at least a few novelties to take home as gifts or goodies for yourself.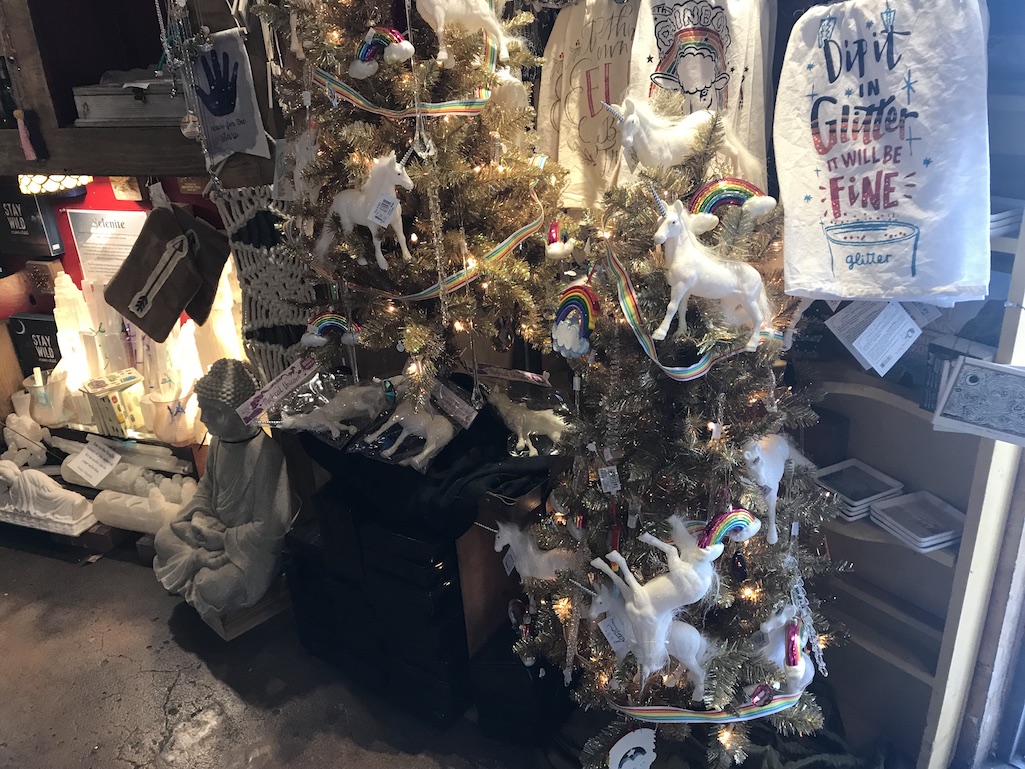 There are also plenty of places to eat. If you want an artsy sort of place with a cool bar, live music and farm to table fare, you can give the Picasso Cafe a try.  For a more romantic, casual but sophisticated  feel, the Paseo Grill features classic American cuisine, a great wine list and excellent service in a comfy environment. There are also coffee purveyor, bakeries and other spots to pick up a snack to sustain you as you wander through the many shops and galleries.
For a real taste of the Old West head to Stockyards City right outside Oklahoma City (ten minutes!). You can experience a Stockyards Stampede with real chuck wagons and horse riding demonstrations. If you're there at the right time, you can see an old time gunfight with fully costumed performers acting it out in the street.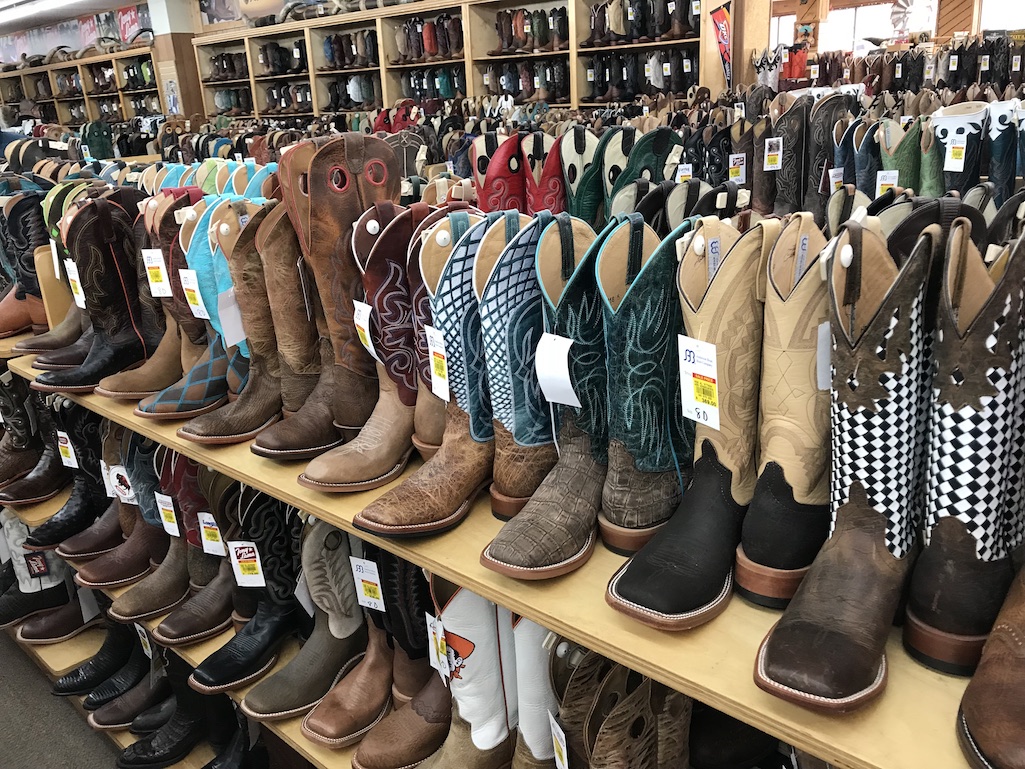 More fun awaits exploring the western stores loaded with cowboy boots, Wrangler jeans, cowboy hats, western wear, saddles and everything a cowboy or cowgirl could need.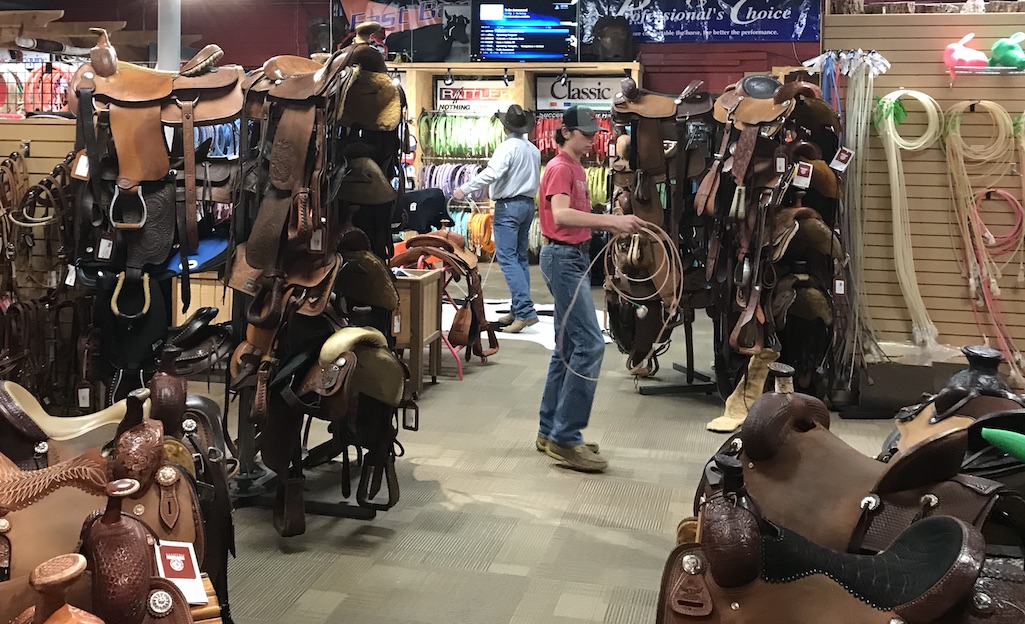 There are also boutique shops with a vast array of unique collections to explore. You'll discover many interesting finds like this bacon soda we saw! Be sure to stop in the iconic Cattlemen's Steakhouse for their classic steak lunch or dinner, local specialties like "lamb fries" or their special salad dressing recipe that is everyone's favorite. Also, be sure not to miss the Mustang Creek Alpaca Company for socks, sweaters, alpaca wool and other artisanal products.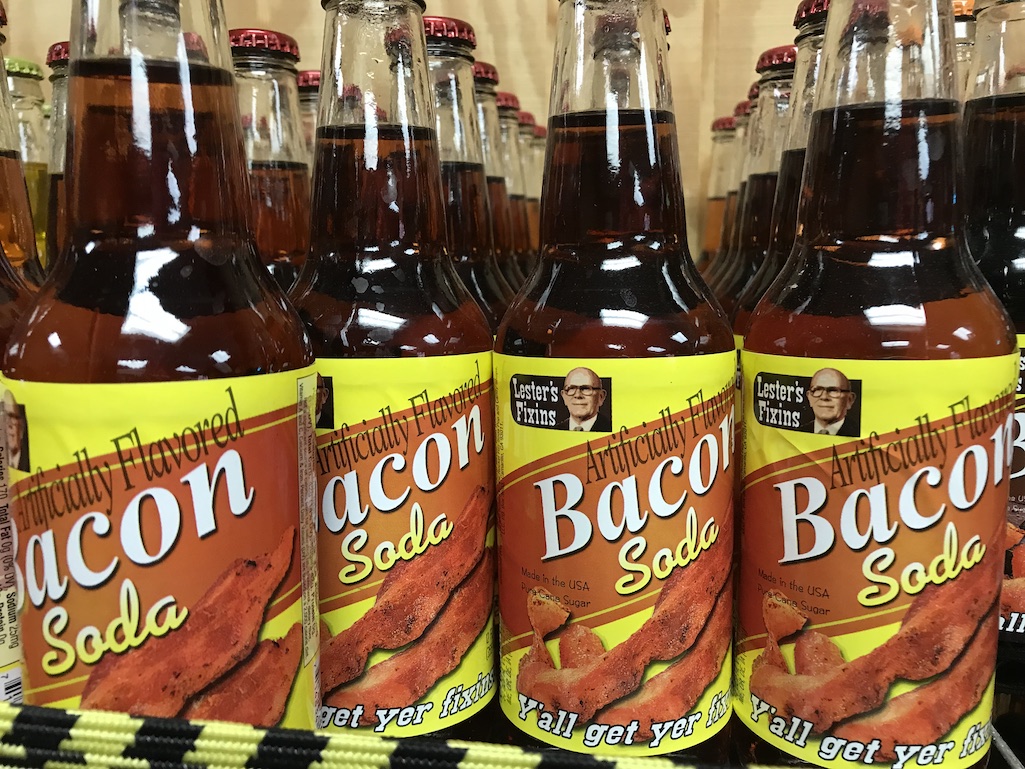 One of the most impressive sculptural monuments I've ever seen is the Oklahoma City Land Run Monument in Bricktown. The 47 statues that span 365 feet commemorate the 50,000 men and women who rushed to stake their claim for free land in the Unassigned Land in Oklahoma Territory on April 22, 1889. Not without its controversy, the term "Sooners" came from the settlers who sneaked over the border prior to the official start and claimed their land. The scope, size and artistry of this most significant monument, with it's attention to detail on the faces of its subjects, will affect you deeply as you recount the events that it depicts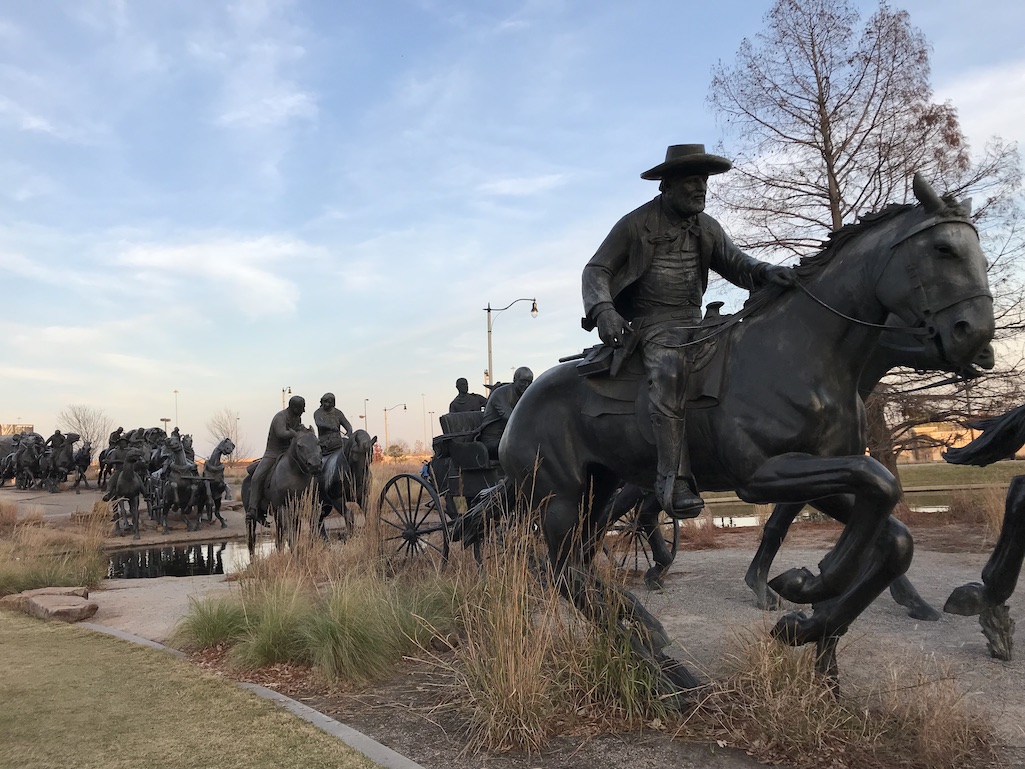 While you're in Bricktown be sure to walk around and explore all the many shops and restaurants. This entertainment district includes a ballpark and a winding lagoon complete with a water taxi service. If you get tired of strolling, your can always hop on for a water ride! Another surprising and fun Oklahoma City original is the American Banjo Museum. And, for baseball fans, the Chickasaw Bricktown Ballpark is home of the Triple-A affiliate of the Los Angeles Dodgers the Oklahoma City Dodgers. Sometimes there are non-baseball activities scheduled there as well, such as the Winter Wonderland fun time when we were in town, so be sure to see what's happening even if it's not baseball season during your visit.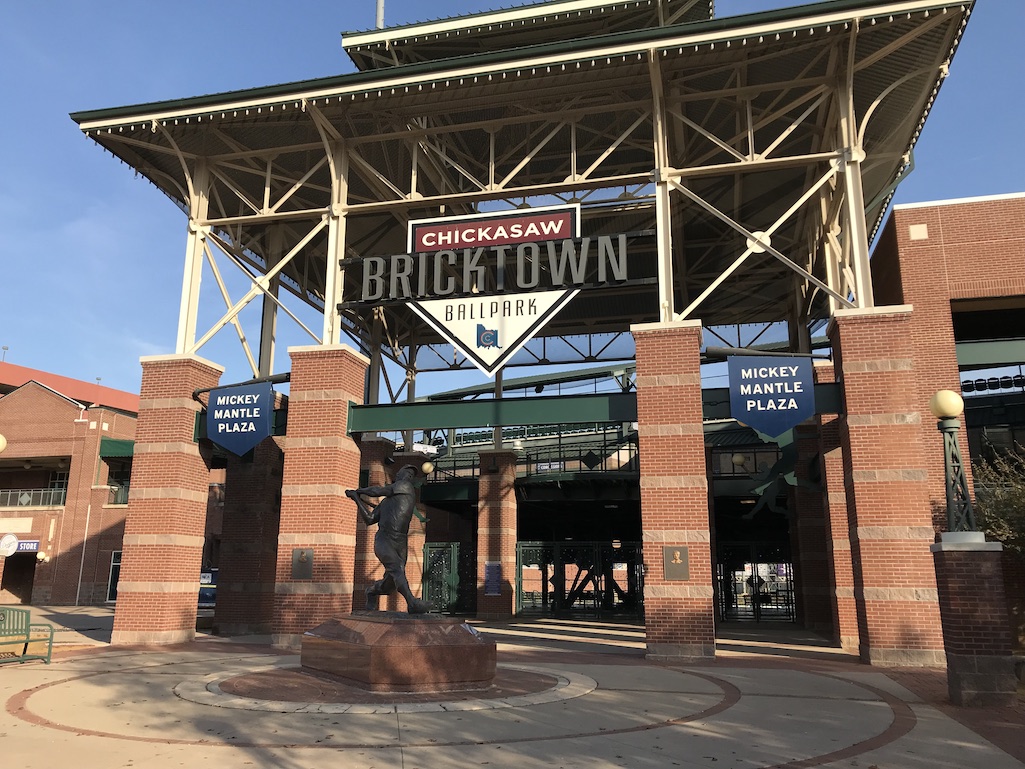 If you have a sense of humor and love a tasty Sunday Brunch head off to The Boom for their Sunday Gospel Brunch. These "gals" Kitty and Norma are irreverent, silly and lots of fun. In the vein of "Dame Edna" and other saucy, witty drag shows, these two are not afraid to speak their mind about a wide variety of topics. If you're shy, don't like audience participation or can't laugh at yourself and the silly world around you, this show is not for you. But even if you're on the fence, I encourage you to sneak out of your shell (I did) and go! They had me singing gospel songs on stage and laughing myself silly. And, I got a free libation for being a good sport. Who doesn't love that?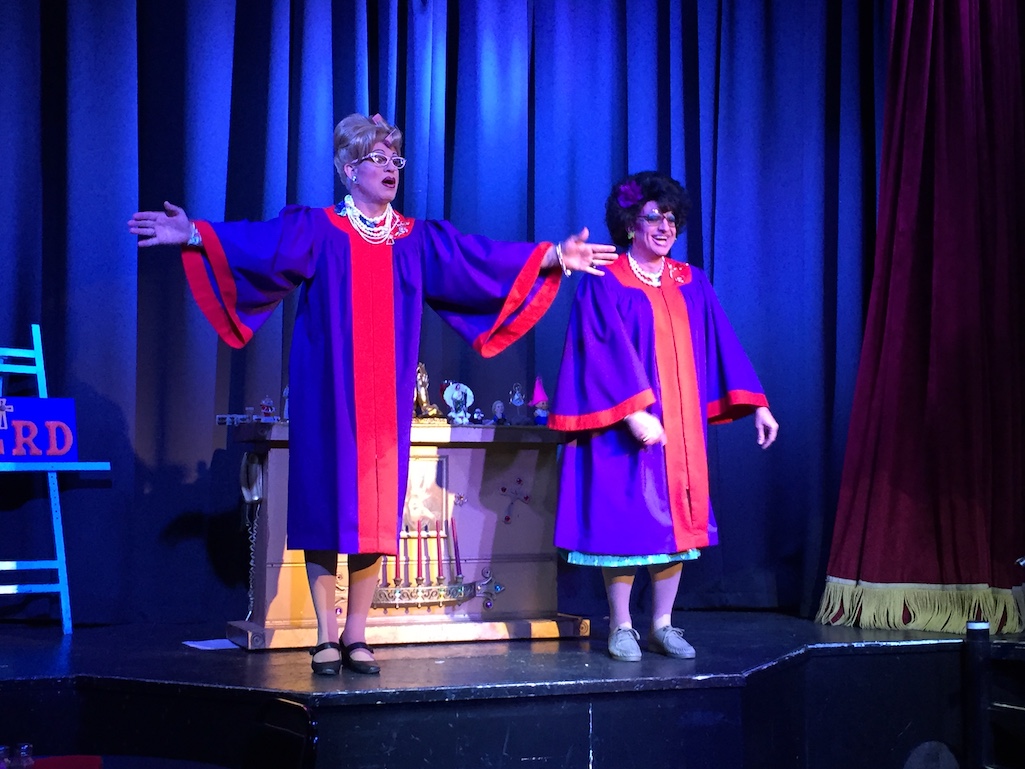 The Boom offers food to go with the show, and  we were impressed with their brunch selection. A favorite with the locals, the chicken fried steak was huge and delicious. And the DIY Bloody Mary bar  was loaded with many choices to mix your Sunday cocktail exactly to your taste. The crowd was fun, lively and seemed genuinely to have a great time. We even met some people who were regulars and also worked in the local theater scene. Shed your inhibitions and have a great time. The music was pretty great too!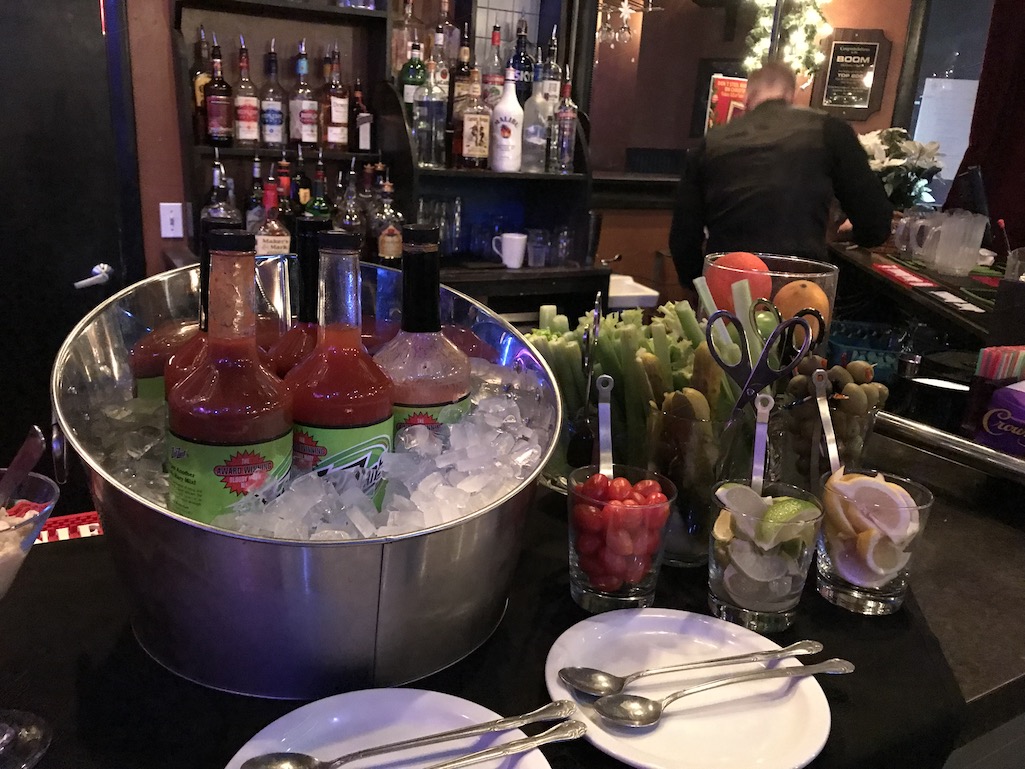 You can't head to the West without wanting to explore Western culture. One great place to start is the National Cowboy and Western Heritage Museum where you can experience classic and modern Western art. There you'll see works from Western art legends Frederic Remington and Charles M. Russell. Galleries are loaded with work on the American cowboy, Native American culture, firearms and much more. Not just a museum, it's a living testament to a way of life and the people who play a  part in it.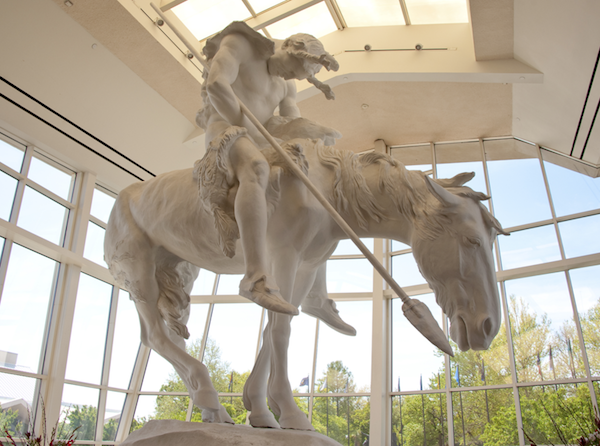 Just a ten-minute drive from downtown OKC is the Plaza District neighborhood. You can easily spend an entire day strolling from shop to shop, eating at a variety of restaurants and even taking in a live theater performance. We also loved exploring the side streets and alleys that are full of wonderfully painted street art.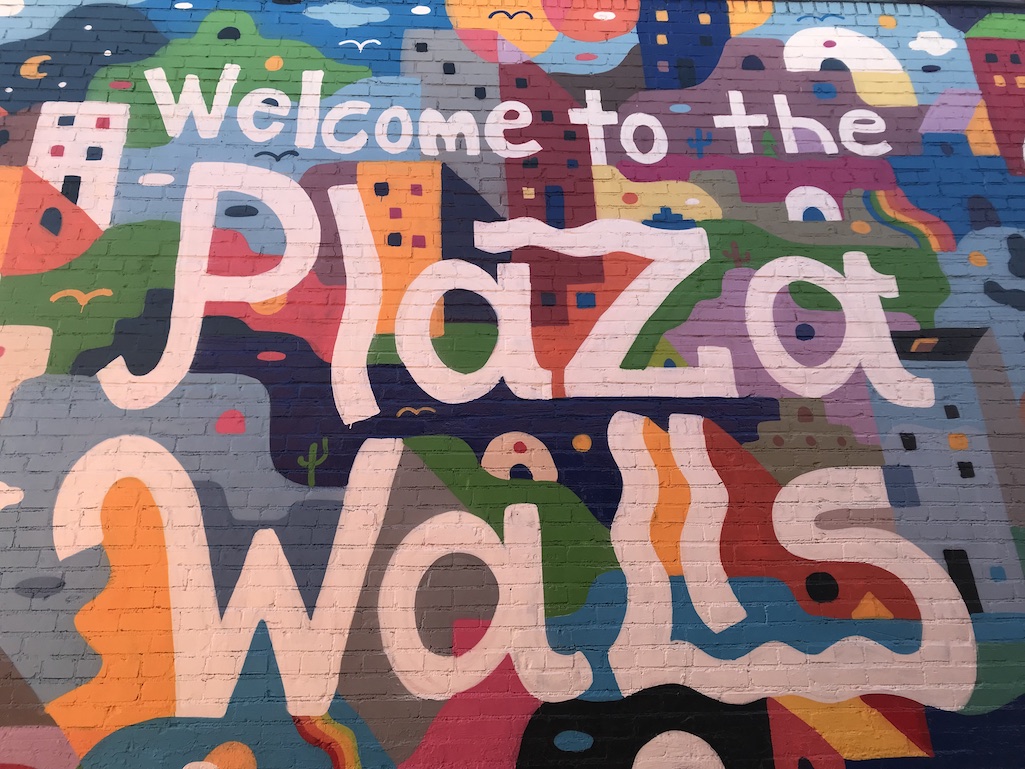 This is classified as a "hip and trendy" area but don't let that scare you away if you're not into vintage clothing and retro home goods. The fact is that shops and restaurants are all super friendly, carry a variety of items of all sorts to peruse and enjoy. And everyone is eager to teach you about the local offerings. Tons of great food and drink options are available too. In addition to spots for great ramen, shave ice, and modern local fare, the Mule is revered for its over-the-top grilled cheese. Stop in at Pie Junkie if you're hankering for a little slice of heaven. And if you want delicious pizza with a crispy crust, plenty of cheese and fun toppings galore, don't miss Empire Slice House. This joint has a super fun vibe, great pizza (whole or by the slice) and some really tasty local brews.
You will want to take a morning or an afternoon to visit this surprising and delightful museum in OKC. The Dale Chihuly: Magic & Light exhibit going on through December 2018 is one not to be missed. While you're there check out the Art of Oklahoma (through September 2, 2018). If you're a fan of modern art, like we are, visit the The New Art: A Milestone Collection Fifty Years Later (through May 13, 2018). Featuring Ellsworth Kelly, Grace Hartigan and more. This world-class art museum has much to offer to the art aficionado, so if you like to explore the best of the best, be sure to put the Oklahoma City Museum of Art on your must list.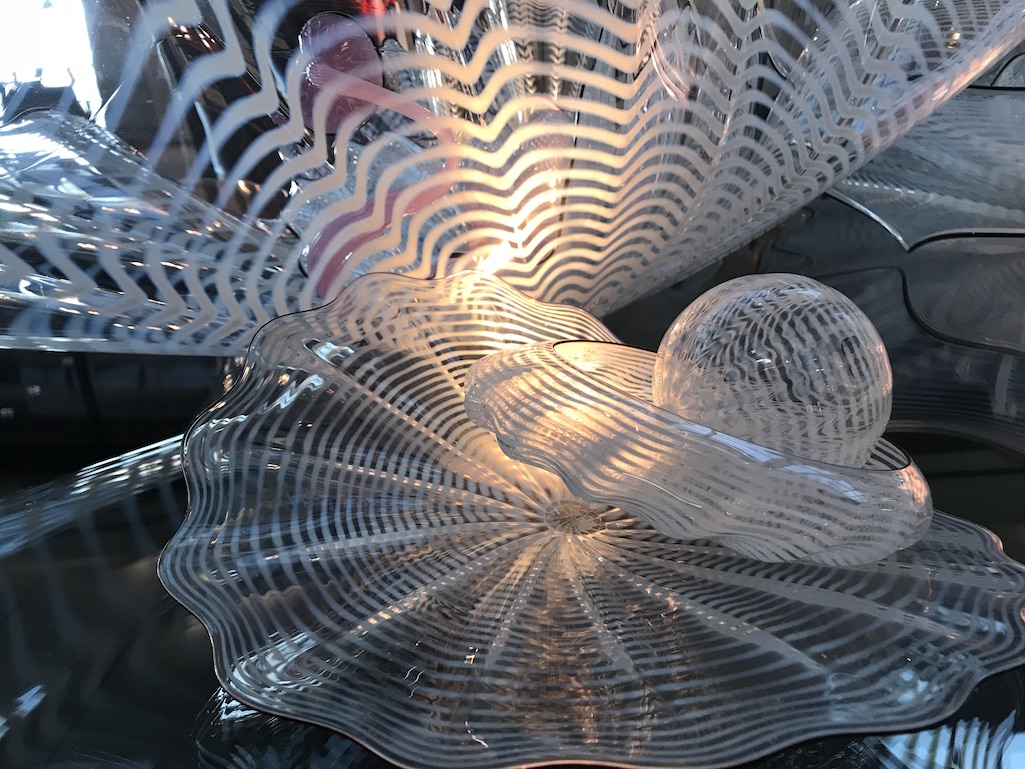 Imagine staying in a hotel that has a museum on its entire first floor. Sound like something you'd like? Then you better stay at 21c Museum Hotel. From the moment you walk into the lobby you are surrounded by modern art. This unique hotel is housed in a renovated Ford Motor Company Assembly Plant.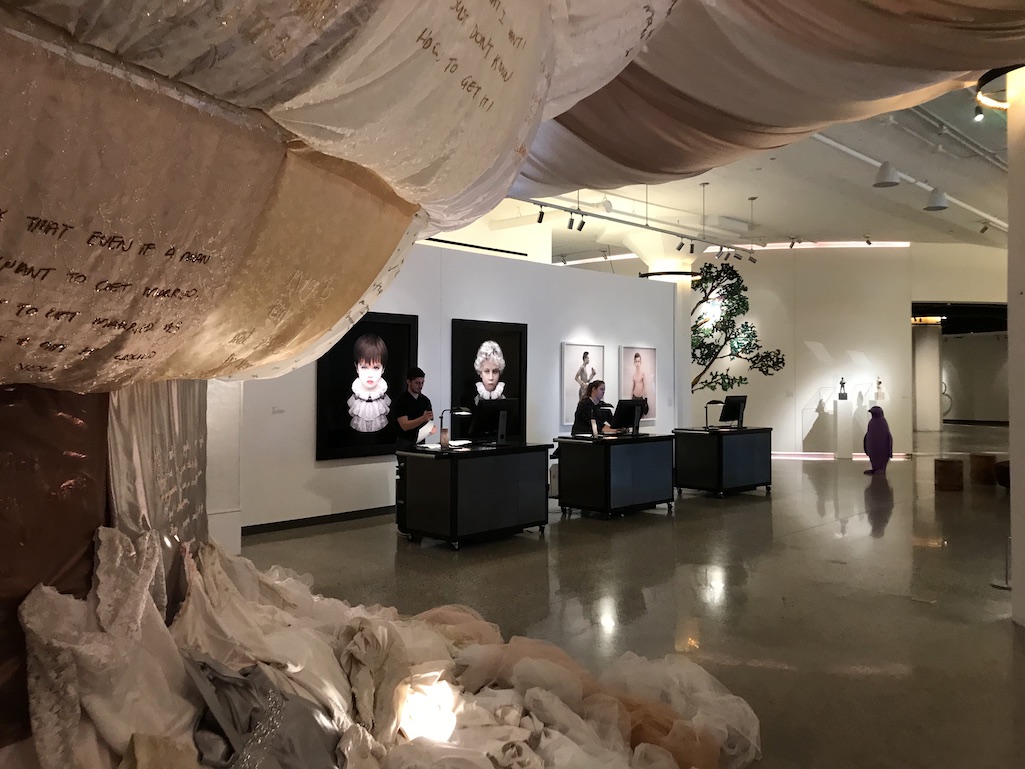 The modern rooms are smartly decorated and have all the necessities to make your stay more comfortable. I was personally a fan of all the electric outlets and USB ports (even some on the couch!). I loved the way the couch was set in front of the bed and  facing the TV with a coffee table – a perfect set up for relaxing or working).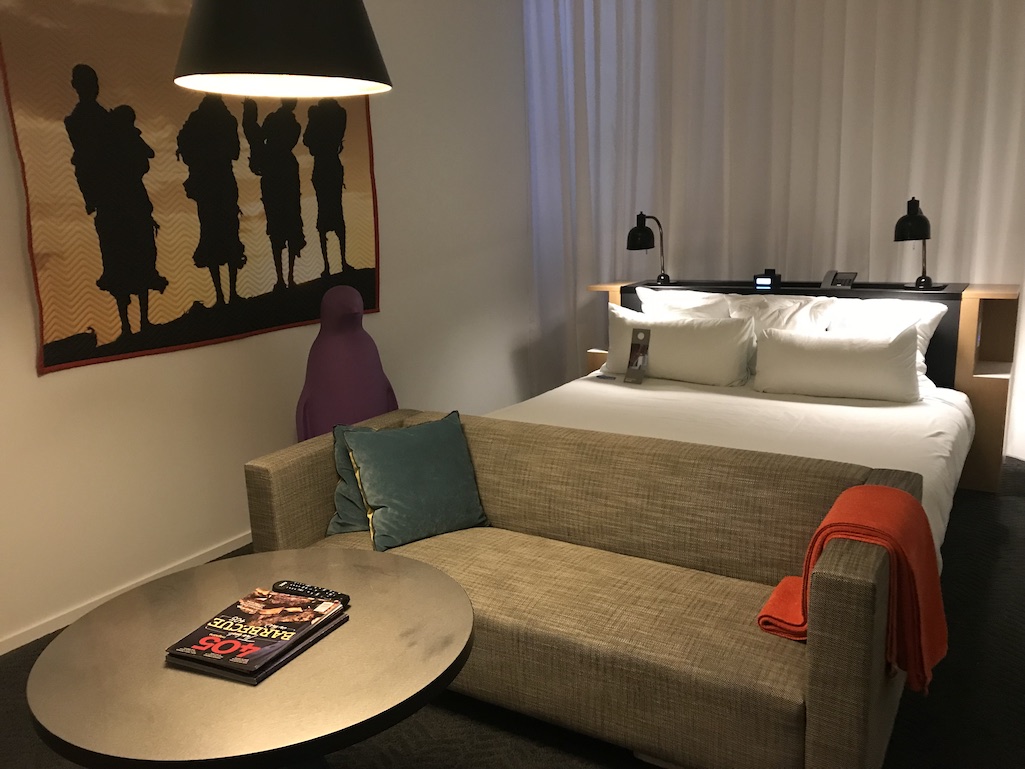 21c also has a fun and busy bar that creates memorable cocktails and conversations. The hotel restaurant, Mary Eddy's, features New American cuisine. The art theme continues throughout the space, a perfect spot to grab a bite and a cocktail before heading out to explore Oklahoma City.
Bonus Reason: Buttercup Farms If you missed Diana's post on the farm and the healing effects of donkey milk, check it out and go visit the farm. It's just a 30-minute drive from downtown OKC.
Not convinced? Then click over and see more details about the eclectic and delicious food that's available in Oklahoma City in our roundup of exactly where to eat. Just thinking about it makes me crave a waffle from Waffle Champion.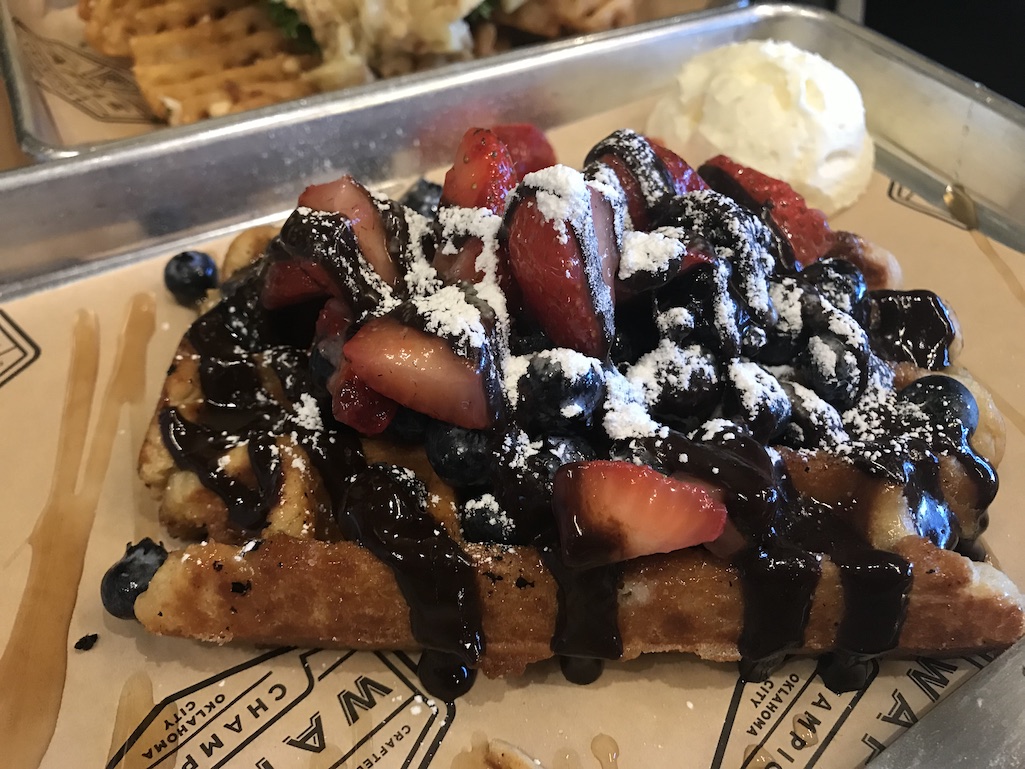 To learn more about planning a trip to Oklahoma City got to VisitOKC.com for tips, events and more.
Pin for your Oklahoma City Traveling Planning