5 Amazing Dishes from Argentina That Will Surprise You
We're pleased to present a guest post by Rosemary & Claire of Authentic Food Quest. 
When you think of the food in Argentina, what comes to mind?
Meat or beef? Malbec wines? Empanadas, perhaps?
It might surprise you to know that Argentina has so much more to offer beyond the expected.
On our quest for authentic food in South America, we found Argentina to be a country with a wonderful gastronomic history and heritage.
We are Rosemary and Claire, a couple, who are on a quest to discover and showcase authentic food from around the world. Our goal is to inspire travelers to have a deeper connections and experiences on their travels through authentic food. In 2015, we spent several months traveling through Argentina, discovering the authentic dishes of the country.
Coming out of that experience, we would like to introduce you to 5 amazing dishes from Argentina that will surprise you.
1 – Llama meat: A Specialty From The North of Argentina
To most Americans and Westerners in general, llamas are considered exotic animals. Not the type of animals one would think of eating on a regular basis. Yet, in the north of Argentina it is a different story. Llamas are popular for their wool and their meat is eaten in several regional dishes.
One of the benefits of llama meat is that it is high in protein and low in fat, making it a healthy meat. One of the most popular specialties you will find in the region is the Cazuela de Llama or llama casserole.
In this dish, you will find chopped up pieces of llama meat slow cooked in a stew with carrots and papas andinas (native potatoes). This dish is delicious and the llama meat is full of flavor.
If you've never had llama meat before and your travels take you to the north of Argentina, consider trying the Cazuela de Llama. You will not be disappointed!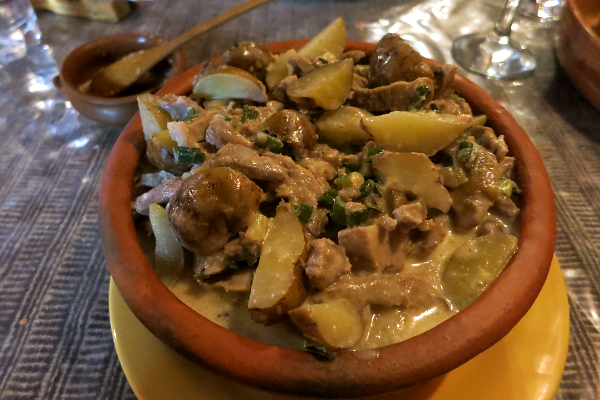 2 – Quinoa Empanadas: Flavorful Combination of Two Argentinean Specialties
While you may already be familiar with quinoa, you will be astonished to discover the unusual varieties that exist in Argentina. Quinoa, originally from South America, is known as the "Golden Grain of the Andes." In the Northwest of Argentina, the varieties are surprising. You will discover grains of different sizes and varied nutritional content.
The way quinoa is prepared in Argentina differs from what you may typically expect. One of the most unusual and delicious preparations is the quinoa empanada or empanada de quinua, in Spanish. As you may already know, empanadas are little pies, popular in Latin America and stuffed with different fillings such as cheese, beef, chicken, ham and more.
Biting into a quinoa empanada is opening up to delicious and hearty flavors. Unusual in presentation, the simple and hearty flavors make it a very rewarding treat. Give these unique empanadas a try on your travels to the Northwest region of Argentina.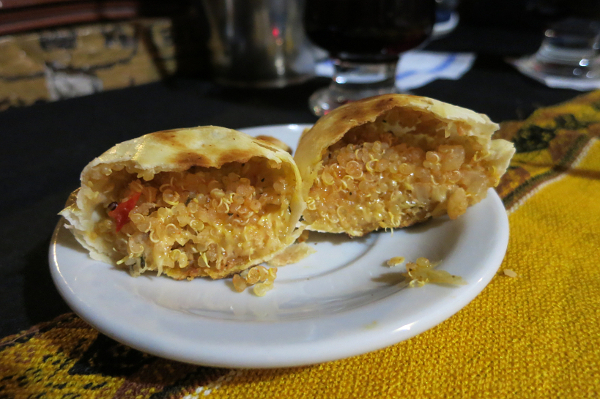 3 – Octopus: The Hidden Gem from the "End of the World"
Although Argentina is famous worldwide for its meat, seafood does play a role. In Ushuaia, a port town located in the Southernmost tip of Argentina, many local seafood specialties abound.  Ushuaia is a popular gateway city to the Antarctic Continent (South Pole) and is nicknamed "End of the World" or El Fin Del Mundo.
Food from this region is referred to as Fuegian food and it is heavily influenced by the natural resources. Fresh fish and seafood from the South Atlantic and Beagle Channel feature prominently.
One of the surprising specialties of the region is octopus. The way that it is prepared and served is also quite unique. At an authentic restaurant called Kaupé, we sampled this exquisite delicacy. We were served a generous piece of octopus that was lightly grilled. The octopus was garnished with a zest of lemon, a touch of brown butter and a pinch of salt. Accompanying the octopus were slices of boiled potatoes.
This dish was prepared in an uncomplicated manner and in a way that allowed the star ingredient, the octopus to shine. Filled with lovely flavors and tender textures, this alone is worth a trip to the "End of the World."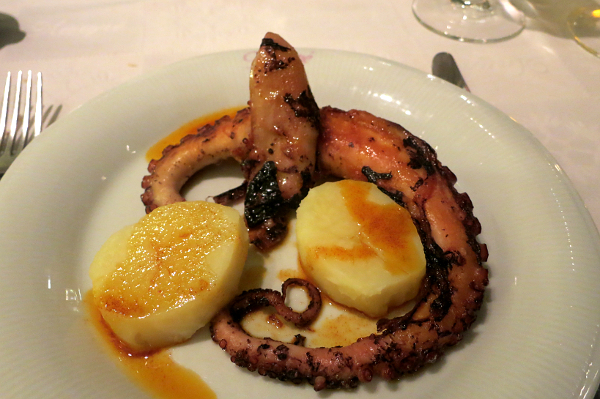 4 – Papas Andinas (Native Potatoes) For a Tasty and Colorful Meal
Papas andinas or Andean native potatoes are an important ingredient in the food from the Northwest region of Argentina. Due to the cold and in the high altitude where they grow, the papas andinas do not grow big in size. They tend to concentrate the minerals from the soil which provides great flavors and high nutritional content.
You will find several types of papas andinas. Some of the ones we enjoyed the most are:
Papas oca: the unique looking pine cone shaped potatoes come in either yellow or red colors. When cooked, they taste slightly sweet and literally melt in your mouth. Delicious! These were our favorite.
Papa verde: These are small green potatoes. They are a little bland and best eaten with an accompanying sauce.
Papa churquena: Small, round and yellow, this variety is very popular. You will find these potatoes accompanying most dishes. These are incredibly tasty, and our second favorite type of papas andinas.
One simple way to enjoy these native potatoes is to simply boil them in water and eat them with a slice of local cheese (queso fresco) and/or butter. A simple and delicious delight!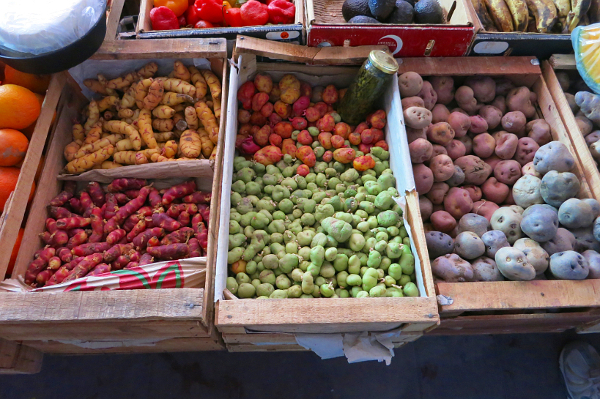 5 – Chocotorta: The No-Bake Dessert
Can you imagine eating a chocolate cake that you don't need to bake in the oven? That's what surprised us the most about the chocotorta. This very typical Argentine dessert is very popular at birthday parties.
Only three ingredients go into making this heavenly delight. The famous Argentine dulce de leche, which is "sweetened milk" and is similar to caramel. Argentine cream cheese called queso crema and chocolinas which are chocolate cookies.
This easy dessert is made by layering each of the ingredients in a dish. Start with a layer of the chocolate cookies, followed by dulce de leche mixed with the the queso crema. Continue the layering until the dish is full. Once the dish is full, the cake is placed in the freezer for one hour.
You will not find this surprising dessert on restaurant menus. It is something you will typically encounter at a private gathering or family event.  On your travels to Argentina, be sure to connect with the locals and try this unusual dessert.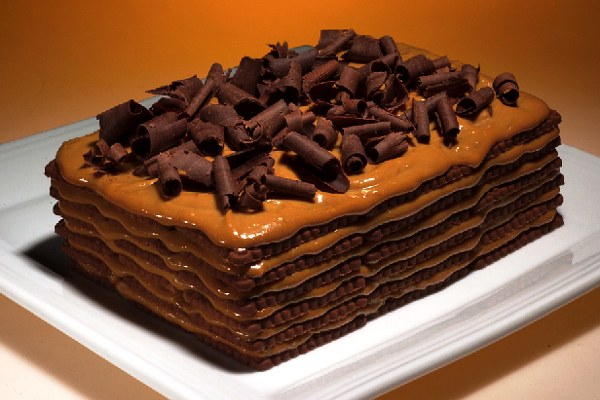 In the comments below, please tell us which one of these specialties from Argentina surprised you the most?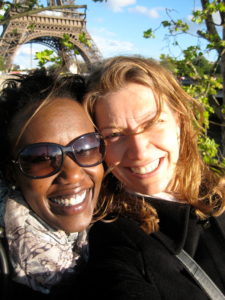 Authors Bio:
Claire and Rosemary are co-founders of Authentic Food Quest. They aim to inspire people to travel through authentic food. Join to follow their adventures here.
They have just published their first book Authentic Food Quest Argentina: A Guide To Eat Your Way Authentically Through Argentina. Get your copy at Amazon or Barnes & Noble today.
THE QUICK BITE: Rosemary and Claire of Authentic Food Quest help us discover 5 Amazing Dishes from Argentina That Will Surprise You.