6 Easy Tips That Will Make You Want To Take A Road Trip
This is a sponsored post. 
The warm weather is finally here. Spring seemed to take its sweet time getting here this year and now that it's finally arrived we're all ready to get out there and explore.
One of the best ways to do just that is the All American road trip. Some of us have fond memories of being crammed into the back seat of a sedan or station wagon to take that once a summer long-haul road trip. Cries of "she's touching me" and "he's looking at me" and the ever favorite "are we there yet?" punctuated the journey that we thought would never end.
But the payoff, once we arrived at our destination, was always worth it. Seeing beautiful sites, swimming in hotel pools, camping in the woods all made us forget about the bickering and boredom of the backseat.
As we enter that road trip season once again we'd like to share a few tips to help make the trek a bit more fun.
Safety & Comfort
Before heading down the road, making sure your vehicle is in roadworthy shape is definitely priority #1. Checking the oil, tire pressure and the spare tire are the basics. If you have a newer vehicle it's likely you can run a diagnostic check right on your dashboard to be sure you're good to go.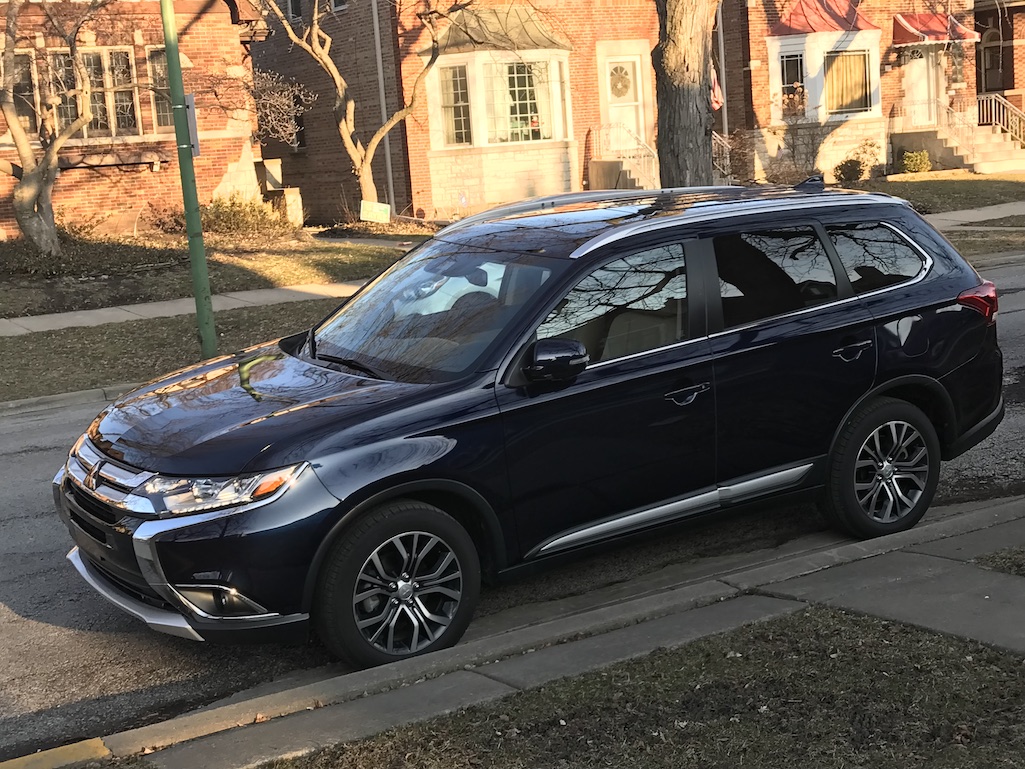 When we were heading to the Twin Cities our loaner vehicle was a Mitsubishi Outlander. This truly is a perfect road trip vehicle. With three rows of seats, there's room for 6 or 7 people to have enough space not to worry about anyone "touching" each other. If you don't need that extra row it quickly folds down for storage space. Even the second row of seats folds up separately if you need extra storage. Getting to the rear space is made easy with a remote power tailgate that easily opens and closes the door with just a push of a button.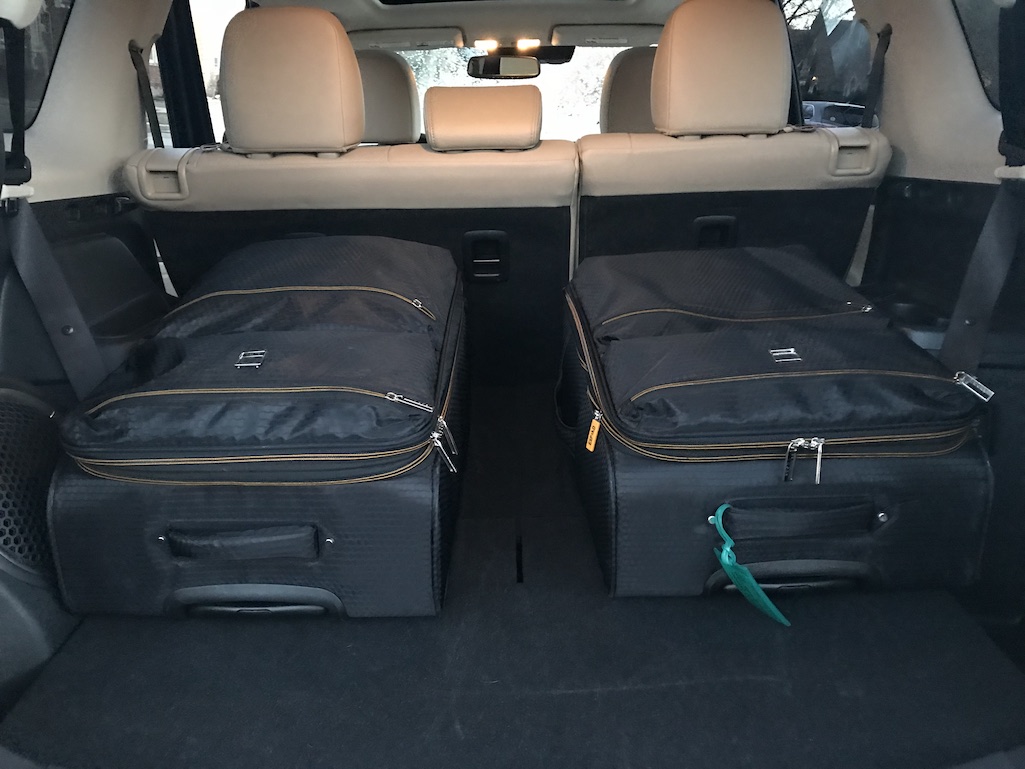 The Outlander also has plenty of safety features that ensure a pleasant and easier drive.
Adaptive Cruise Control
Multi-View Camera System
Rear Cross Traffic Alert
Blind Spot Warning And Lane Change Assist
Lane Departure Warning
Auto High Beam Headlights
Forward Collision Mitigation
Rise Body Construction
Since we were traveling when it was still cold and snowy we appreciated all the extra comforts on the Outlander like the heated steering wheel and heated seats. The front windshield wiper also has a de-icer that keeps the blades from freezing to the windshield.
The side mirrors automatically fold in when you turn off the car ensuring no one will harm them if you're in a tight-fitting spot.
Plan Ahead
Have a good idea of where exactly you're going. Doing a bit of research might save you hours of time on the road. Construction, festivals and road closures can make a drive frustrating and long. Reach out to local convention and visitors bureaus (CVB) of the destinations you are visiting. Most states have really comprehensive websites with local events, festivals, dining recommendations, accommodations and more.  For example, we checked out VisitRoseville.com before our trip to the Twin Cities. That's where we discovered that the Como Conservatory was having its Spring Flower Show the weekend we were visiting.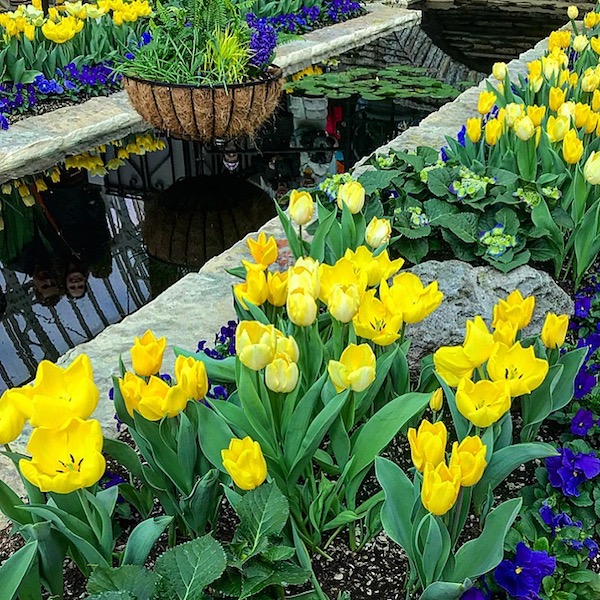 Also, check out the tourist information stops or offices. Most are clearly marked with road signs. Here you can often find free maps, ideas on what to see and do and discount coupons to attractions and local businesses.
Entertainment
These days with our ever-shrinking attention spans having entertainment while you're on the road is a must. The Outlander does a lot of heavy lifting on this front.
The large 7″ touchscreen on the dashboard makes it easy to connect your smartphone to Apple CarPlay™ and Android Auto™. If you're a Stereophile you'll appreciate the premium Rockford Fosgate sound system. With the latest in audio tech, you can have a dance party in the car or enjoy your favorite podcasts and audiobooks. The 710 watt sound system has nine speakers, which include a 10-inch dual voice coil subwoofer. You'll get a deeper bass and clear highs. We know we sure did!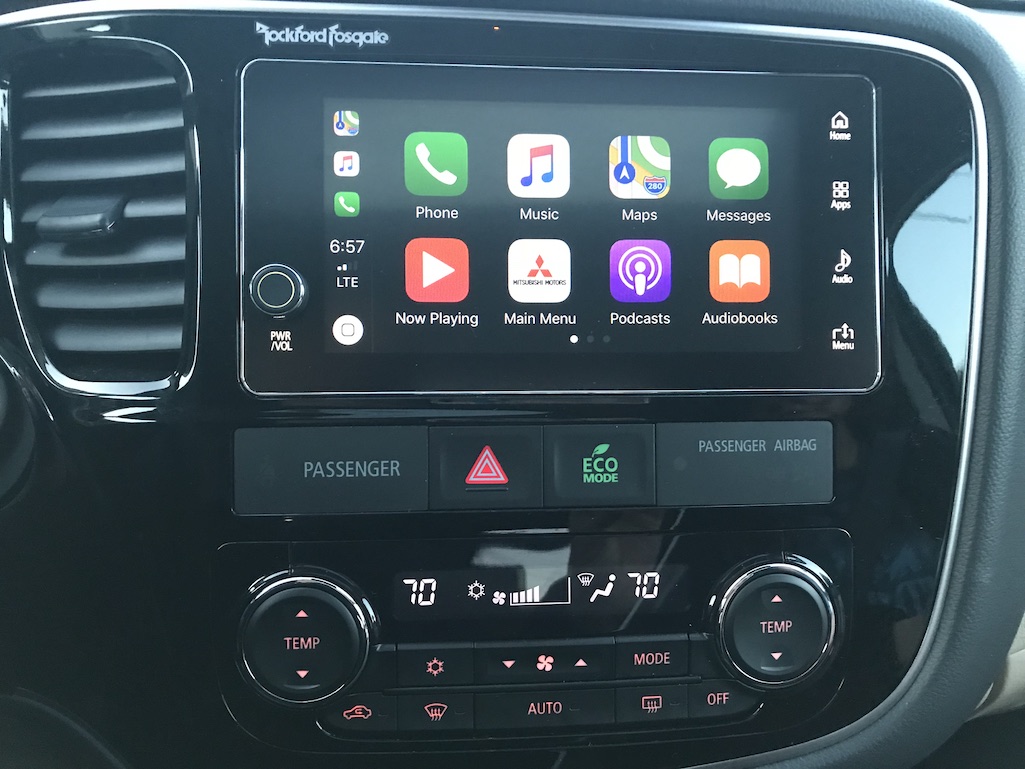 Apps And Maps
Most people rely heavily on navigation apps like Google Maps not only to get to vacation spots but for saving time on day-to-day trips. Since we are usually looking for places of interest while we're driving we often use one navigation on the car and another on one of our cell phones. The nav in the car keeps us informed of how long it takes to get to our final destination and the cell phone nav gets us to fun restaurants and attractions we might otherwise miss.
We often use the Waze app because it usually provides the quickest way to get to your destination. However, we always look ahead at the drop down directions to make sure it isn't taking us too far out of the way. It also has a tendency to avoid traffic lights and will have you making a left onto a busy street without a light, which sometimes takes twice as long as just taking the first light.
The Outlander makes it easy to connect to all your favorite apps with one touch of a button.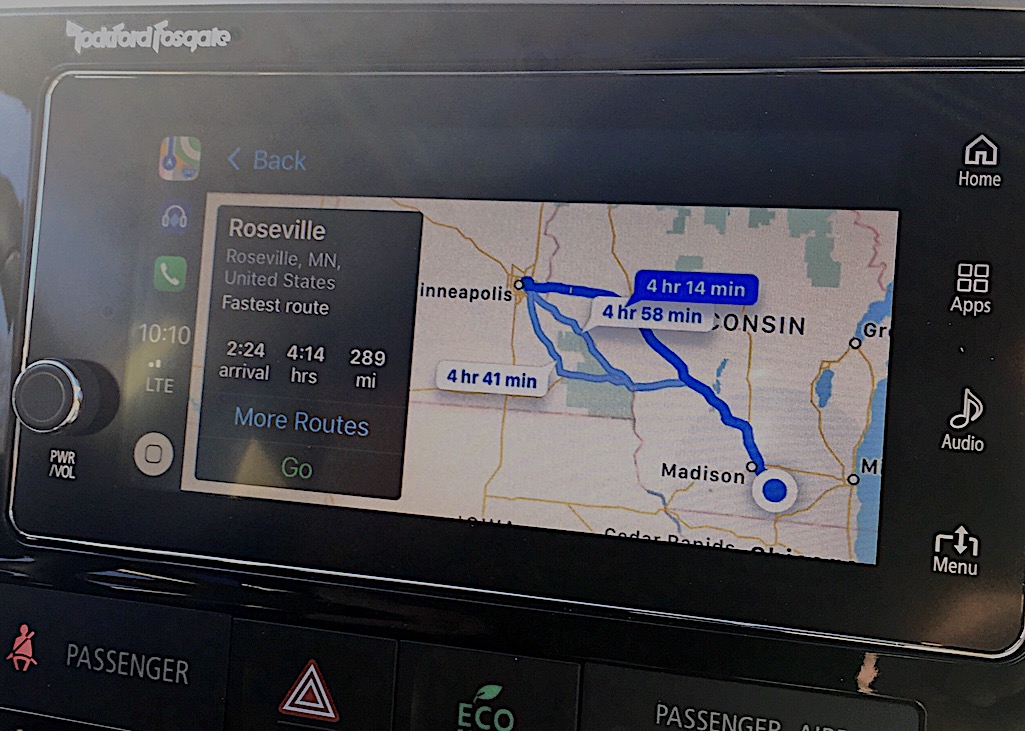 Waze has another good feature, though. It lets you know when there are police up ahead, construction, cars stopped on the road and other traffic alerts. There are also ads for nearby restaurants, gas stations and more. You can add your own tips as well along your route making it a fun game. Just be sure your passenger is manning the navigation. Don't adjust or change your navigation while driving. If you're driving alone pull over at the nearest exit and do all your adjusting in a safe and secure area.
When Is A Map a Map
Call us old school but we also take a road atlas and maps in the car when we travel. If you lose a cell signal or simply want to see where you are on a larger format the old-fashioned yet practical maps work out quite well. I like to see what's around where we're going. Many a fun side trip has happened because of a paper map. It's also a great way to find alternative more scenic routes.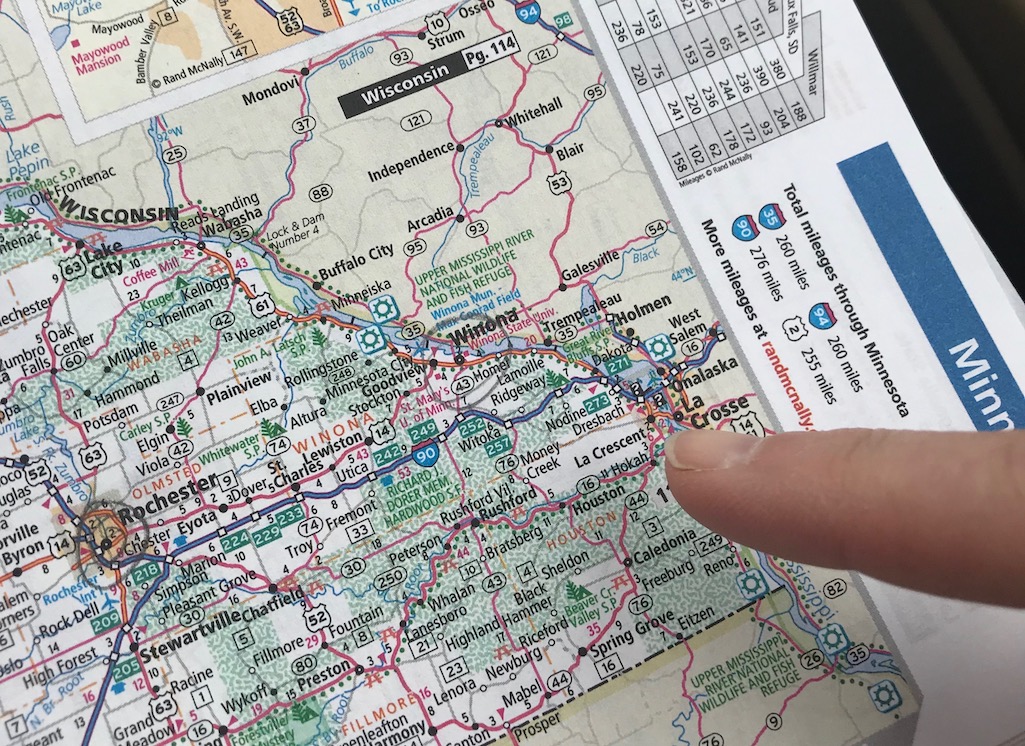 There are so many apps to discover places to eat along the way. From snacks to Michelin starred restaurants you can find them all easily with a few taps on your smartphone. Some of the free apps we like to use are ChefsFeed, TripAdvisor, Yelp, Zagat and Open Table. As always, these are users' opinions so you can't take them all as fact. By checking multiple sources you're likely to get a good idea of where you'd like to go.
If you're looking for gas or a pit stop near you try Waze, Gas Buddy, PublicBathroomNearMe.com, or Flushd.
Prepare To Stop and Go
One of the things we love best about road trips are the fun and unexpected stops along the way. We will typically leave more than enough time so that we can stop and check out things that interest us. A small hand painted sign on the side of the road saying "alpaca farm this exit" is sure to get a visit from us.
State parks, covered bridges, chocolate shops, farmers markets and bakeries are all just a few of the unexpected stops we're prepared to make along the way. When we don't have an assignment to get to we often don't even book a room in advance. That way we can stop overnight anywhere that interests us along the way.
One October, we traveled throughout France for 7 days with no reservations. Although it made this planner a bit nervous at the onset it turned out to be one of our best trips ever. We stayed at both 5-star resorts and just-off-the-highway budget hotels and enjoyed each one. Try the Hotel Tonight app for rooms that are currently available in the nearby area.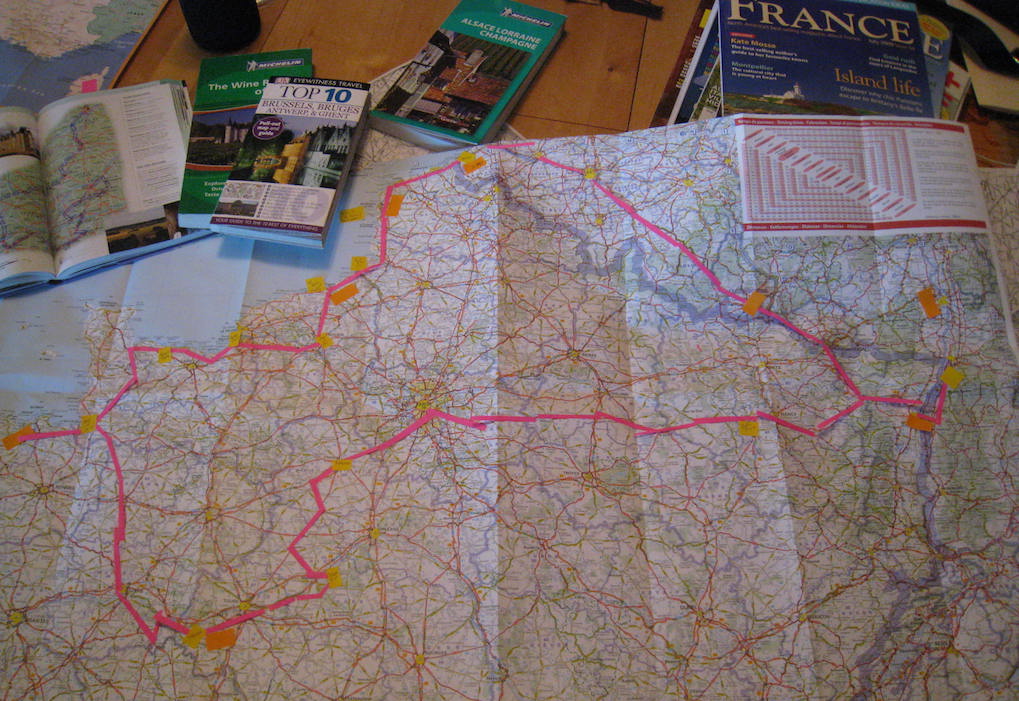 Just as soon as I say stop and take your time to enjoy the ride I will also say you should know when to move on. We've been on road trips around the world and sometimes more time at a destination is just not necessary. Maybe a place doesn't interest you as much as you thought it would. Maybe you're anxious to get to the next spot. Whatever the reason, remember that this is your trip. You control the timing and what you're doing. Stop when you want, and go when you want, too.
You Gotta Eat & Drink
Last but not least, be sure to bring snacks and water in the car. We typically bring our refillable water bottles and fill them up along the way. We also bring coffee and tea to start the trip. We both like to get an early start when we're road tripping. We bring energy bars, fruit, hard-boiled eggs and trail mix to get us started. We also bring other snacks both sweet and savory to satisfy just about any craving. I absolutely love Graze snack packs. They are small but packed with flavor and good for you foods. Easy to carry in your bag or purse, this snack will keep you from having to worry about getting hungry.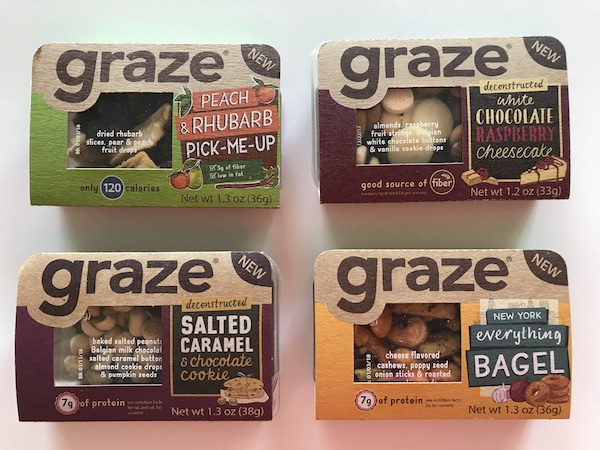 We have learned not to carry too many snacks. Some of you may be saying, no such thing. I can't tell you how many times we've brought home snacks we thought we'd need. We have a tendency to stop at local bakeries, candy makers, roadside shacks and farmers markets.
Beyond the snacks, stopping at local restaurants and markets along the way is also a fun way to experience the local culture and take a break. We've spent hours combing through apps and other websites trying to find local gems. We still find the best places by simply getting off the road and looking for ourselves.
On the way to Roseville, we stopped at Blue Gilly's Pancake Pier and Lunch Dock in Edgerton, Wisconsin for breakfast.  Just a few blocks off the interstate with the largest selection of pancakes we'd ever seen. It's always better to bypass the typical fast food choices and try a local spot. The cook indulged us and let us create a combo plate so we could try quite a few of the unique flavors they feature.
Get On The Road
Whether it's a one-hour trip or a cross-country adventure get out there and see the world. I promise you'll learn more about how much we all have in common. You'll see the beautiful landscapes and bustling cityscapes. Talk to people, say hello. You just never know where the conversation will take you. You will learn and grow from the experience.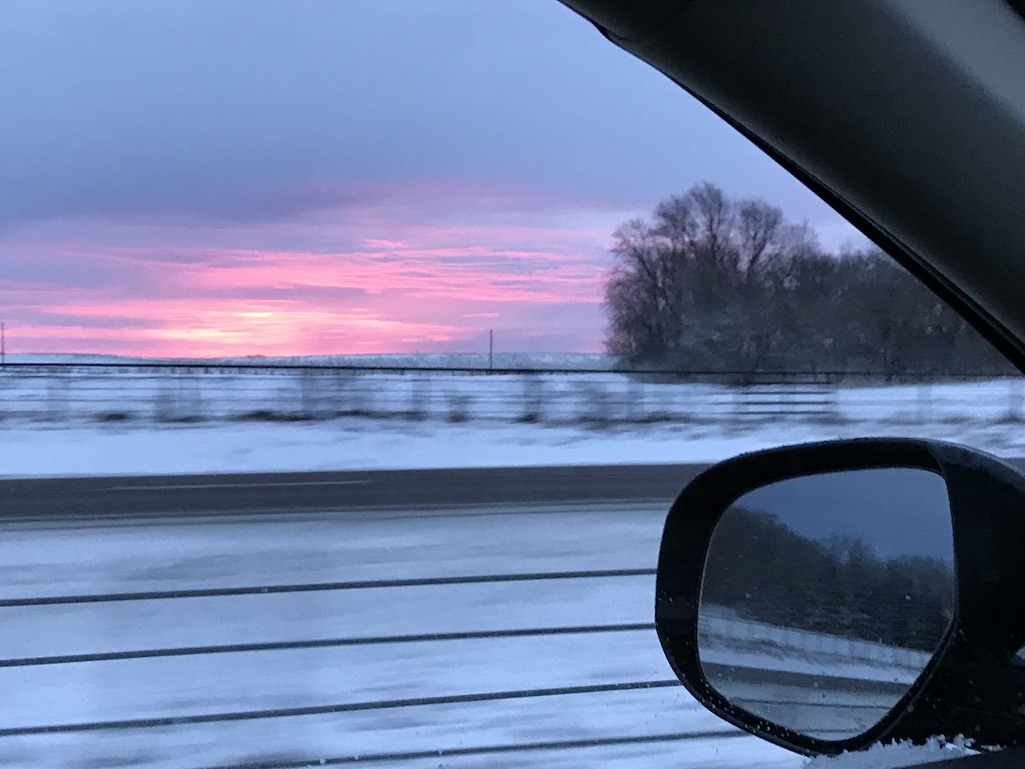 If you are looking to buy a car and would like more information about the Outlander be sure to check out Mitsubishicars.com.
Have a great trip!
We drove a Mitsubishi Outlander courtesy of DriveShop. All suggestions and endorsements are solely personal. Our policy is to only share and recommend what we personally like.                                                                         
Pin It For Your Road Trip Planning