Updated: June 2023
Our trip was hosted by the Hampshire County Regional Tourism Council. All suggestions and endorsements are solely personal. Our policy is only to share and recommend honest and fair reviews of what we personally like and have experienced.
We've spent many years traveling all over the world looking for unique and tasty culinary adventures. For the last six months or so we've made a concerted effort to travel to more destinations in our own country. We've been blown away by small towns like Big Timber, Montana where they have everything from pillowy giant cinnamon rolls at Big Timber Bakery to a tea company, Tumblewood Teas, run by two amazing local women. We simply couldn't wait to travel to more small towns and bring them to you.
Today, I'd like to take you on a journey to the east coast. We first became acquainted with Northampton when their historic hotel the Hotel Northampton on Twitter. They often shared photos of the hotel along with all the food and activities that were available in the area.  I have to admit it piqued our interest.
Discovering Hampshire County
I had never traveled to that part of the country so we made a plan to visit Hampshire County, where Northampton is located. The motto for Hampshire County is "the other side of Massachusetts."
Is Northampton in Boston?
Many people may instantly think of Boston when they think of Massachusetts. What most folks don't know is that it takes a little under two hours to drive from Boston to Northampton. We rented a car in Boston and made the trip.
It's a lovely drive where you'll see little charming towns sprinkled along the way. Towns like Framingham, Worcester, and my personal favorite Chicopee are all worthy stops on the route. As you get a bit closer to Northampton you'll start to encounter the well-known colleges of the area like Mount Holyoke, Smith, Amherst, U of M Amherst, and Hampshire College.
We had the chance to venture a bit outside of Northampton to more of Hampshire County and we'll share that with you in another post.
The Quintessential North Eastern Town
When you drive into Northampton you will be greeted by a vibrant town center that has a wonderful mix of historic buildings, churches, and shops that announce that you have arrived.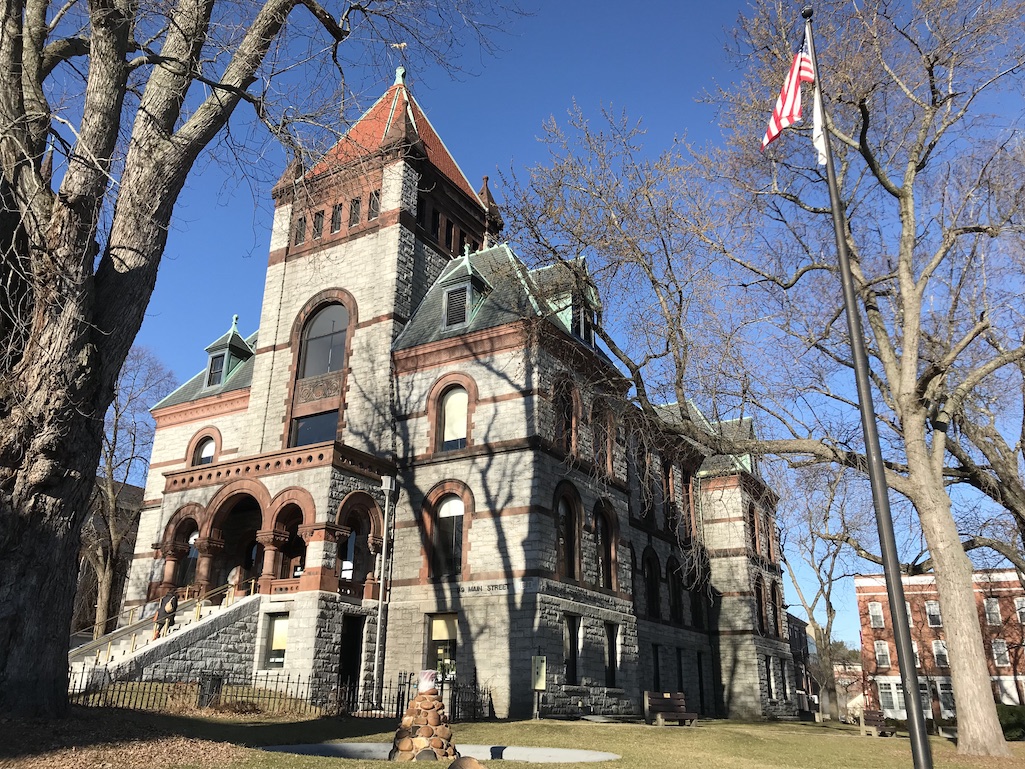 The Hotel Northampton is steps from the town's main streets and Smith College, making it an ideal place to serve as your headquarters during your stay. There are plenty of attractions, restaurants and shops within walking distance. Once you see how many places you'll want to stop in and try, walking everywhere is going to be your friend. It will help burn off some of those extra calories you may pick up along the way. So pack your comfortable shoes and your compression socks. Be warned: this is a place where packing your stretchy pants is a must!
Downtown Northampton
After we got settled into our room at the Hotel Northampton we were anxious to get started looking around. The hotel, which has 106 guestrooms and suites, opened in 1927.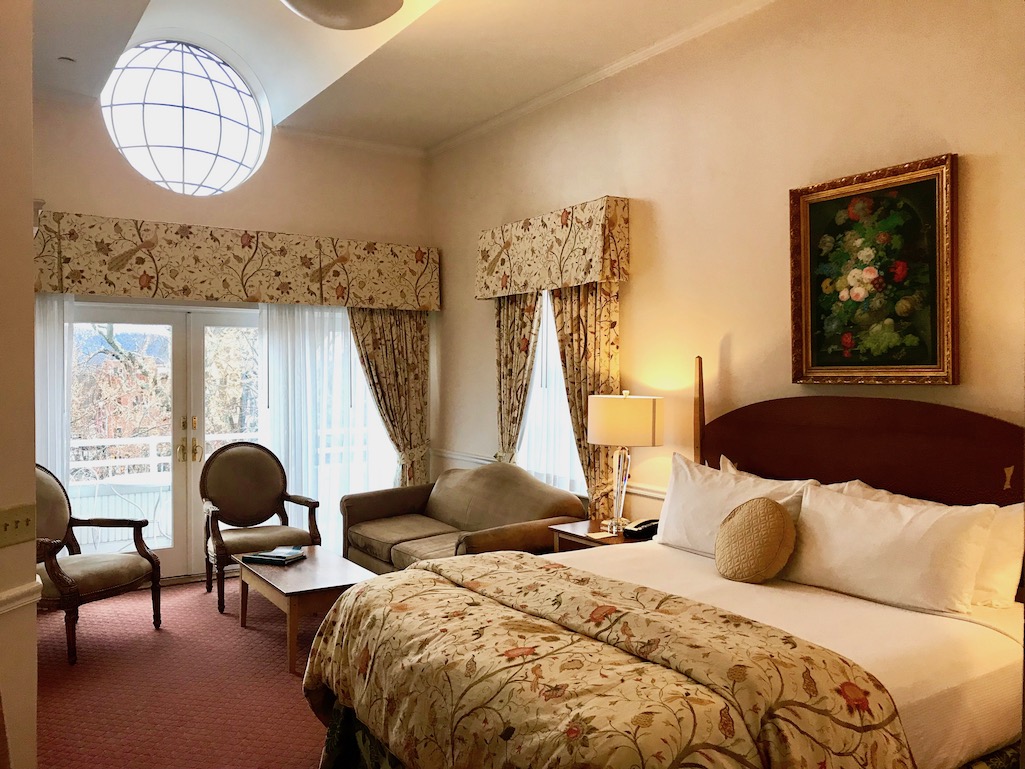 From the moment you arrive, you know why this hotel is a member of the Historic Hotels of America. The elegant lobby welcomes you and the sun-drenched conservatory made me want to order a cup of tea and while the afternoon away.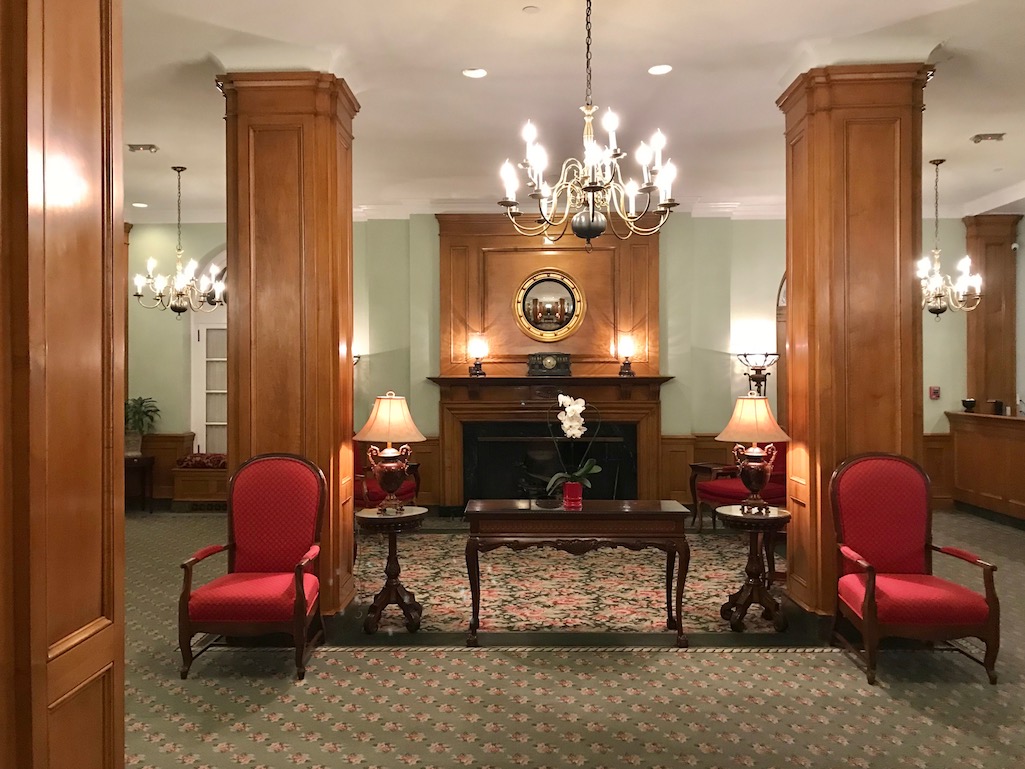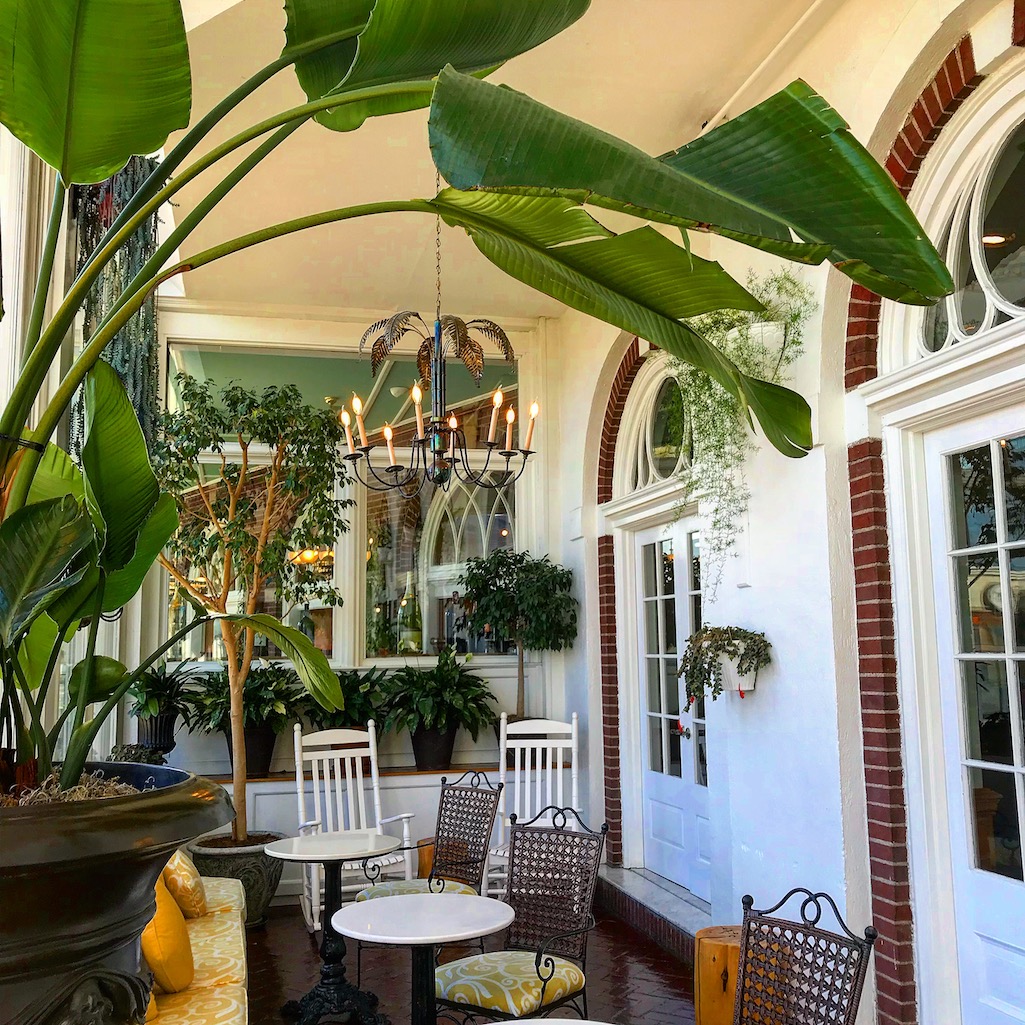 The hotel has two restaurants the Coolidge Park Cafe for casual dining and the Historic Wiggins Tavern, which has been painstakingly restored and maintained. Moving the original Wiggins Tavern built in 1786 from Hopkinton, New Hampshire to the Hotel Northampton was a brilliant idea. The tavern complete with the original signage blends in perfectly with the hotel.
Although the hotel is historic it has plenty of modern amenities for today's road warriors. Complimentary wi-fi, continental breakfast, and parking are included. There's even a 24-hour fitness center to work off those extra treats you will find yourself indulging in.
Diversity Everywhere in Northampton
Another thing we were pleased to see was the abundance of diversity and openness in Northampton. This place known as the Happy Valley or Paradise City has a vibe all its own. And everyone is welcome.  From same-sex couples happily walking hand in hand down the main street to all kinds of ethnic dining choices, this town beautifully celebrates inclusivity and diversity.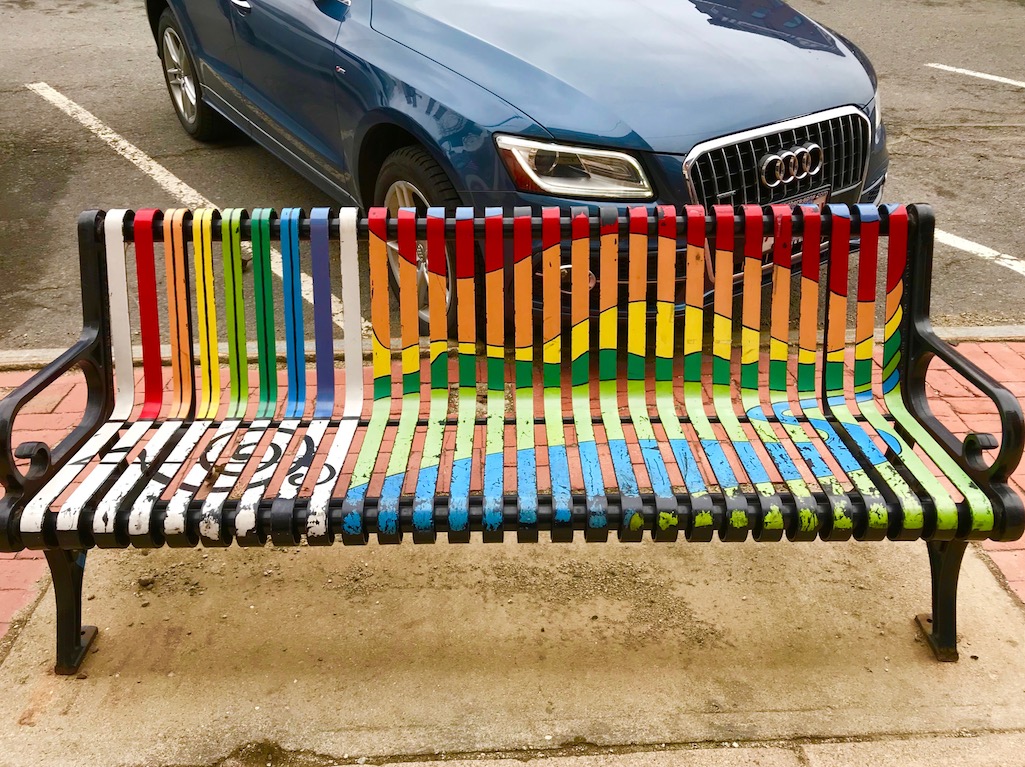 It's an incredibly safe town as well. We walked the streets late at night with not a worry. And when two women ask for a king-sized bed for their stay no one bats an eye or asks you if you're sure. Refreshing.
Northampton Things to Do 
Food in Northampton
No matter where you go in Northampton you will be given local choices. A lot of places give lip service to "farm to table" but with the rich, luscious soil that exists in this happy valley, it would be a crime not to use all that is produced here.  Here are just some of the Northampton, Massachusetts Restaurants that we experienced.
One of the things that is so wonderful about going back and remembering any visit is the smile that comes to my face when I see the food I ate in certain destinations. Recalling the smells, the taste, and most importantly the people behind the food. When we heard the story of how friends since third grade Christopher Ware and Alex Washut dreamed of running a restaurant together and made the dream come alive in Northampton we were charmed by Chris and later by our breakfast. This place feels like home and serves up locally sourced organic ingredients.
Their motto "love all people and cook them tasty food" is exactly what they are doing. There's a daily changing "Hash Of The Day," which was sweet and sour pork the day we were visiting and other great tastes like the pork belly benedict with sauteed greens, roasted garlic, and cheddar cheese. I still remember those flavors in my mouth. Mmmm.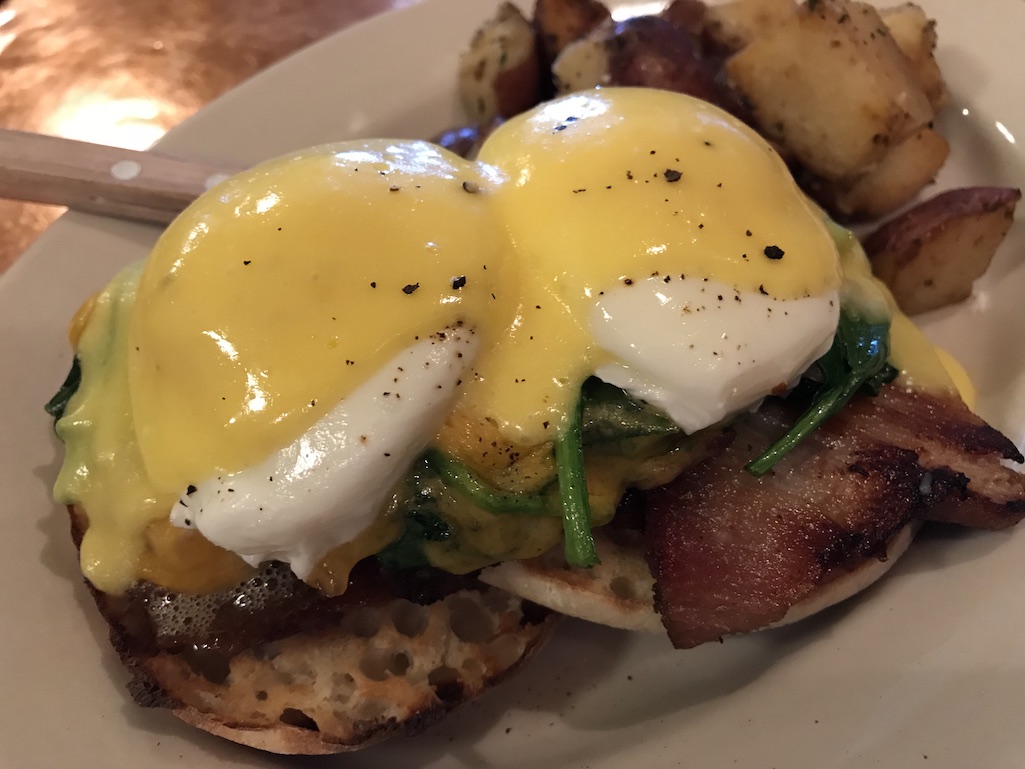 If you're looking for Italian cuisine try Homestead. Here you can "eat with family" handmade pasta and rustic Italian dishes prepared with the best ingredients New England has to offer. They also have wonderful craft cocktails and a fun bar too if you're looking for a great place to just relax and eat at the bar.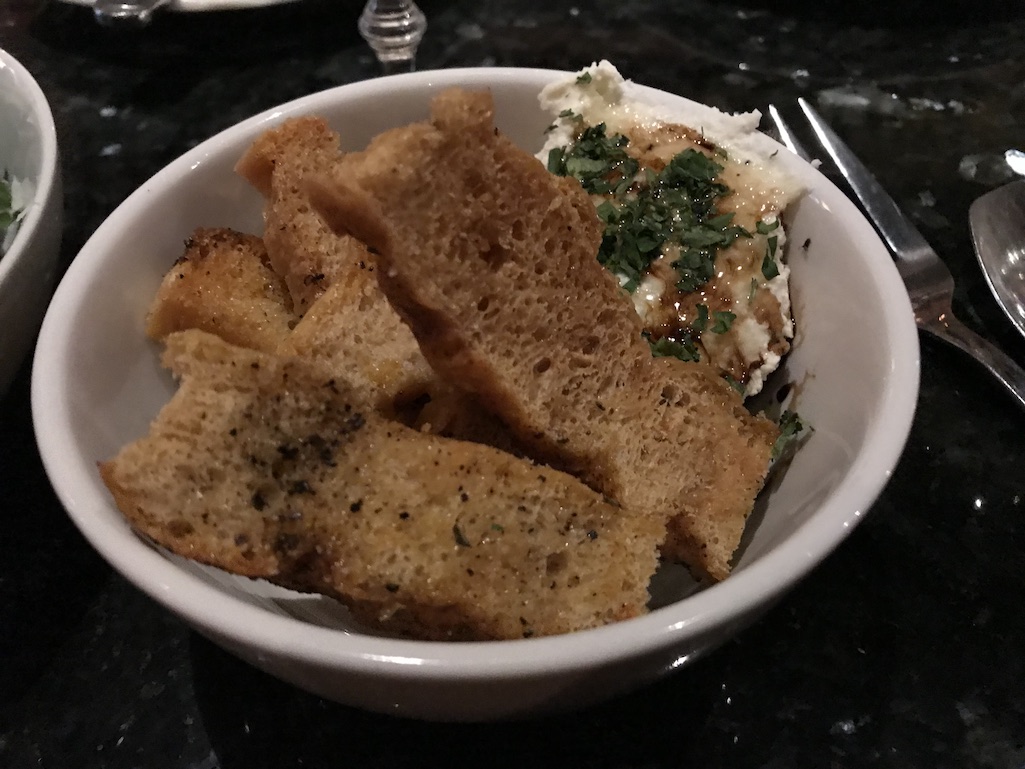 Everywhere you go now you can find local craft beer, right? What makes Northampton Brewery special is that they certainly check off all the boxes with the beer. Of course, they have many choices of great-tasting beer. What sets them apart is their attitude and their food. We walked in and felt like we were meeting old friends (are you sensing a theme about Northampton, yet?).
The server easily answered our endless questions about the beer and food patiently and with humor. They care. This comes across in the whimsical fonts on the menu to the time they spend explaining where the food products come from. They focus on humanely raised, hormone-free and antibiotic-free meats and poultry. They care about the planet. The bags, straws and takeout boxes are all compostable.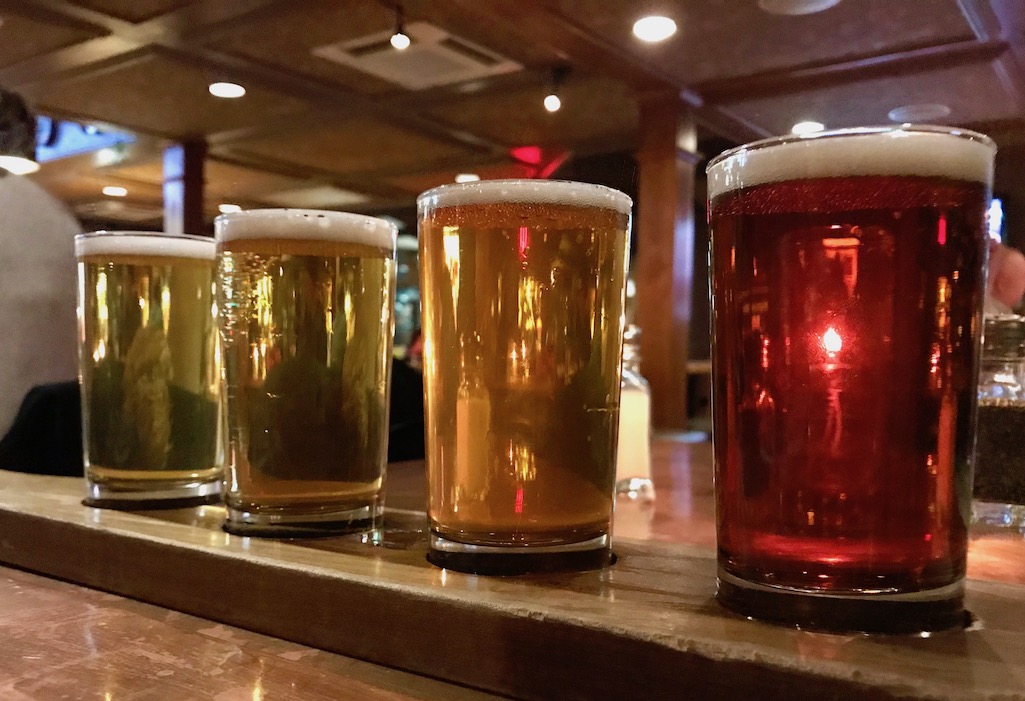 We had the Green Mountain Salad at Northampton Brewing, which featured a four-ounce black Angus beef burger, applewood smoked bacon, cheddar cheese, sautéed mushrooms, and caramelized onions, herb-roasted potato, grape tomatoes, red onion, and mixed greens (try the creamy dill parmesan dressing). This was the first and only time I can honestly say I didn't miss a hamburger bun. The flavors blended so well that it tasted like a cheeseburger salad with fries!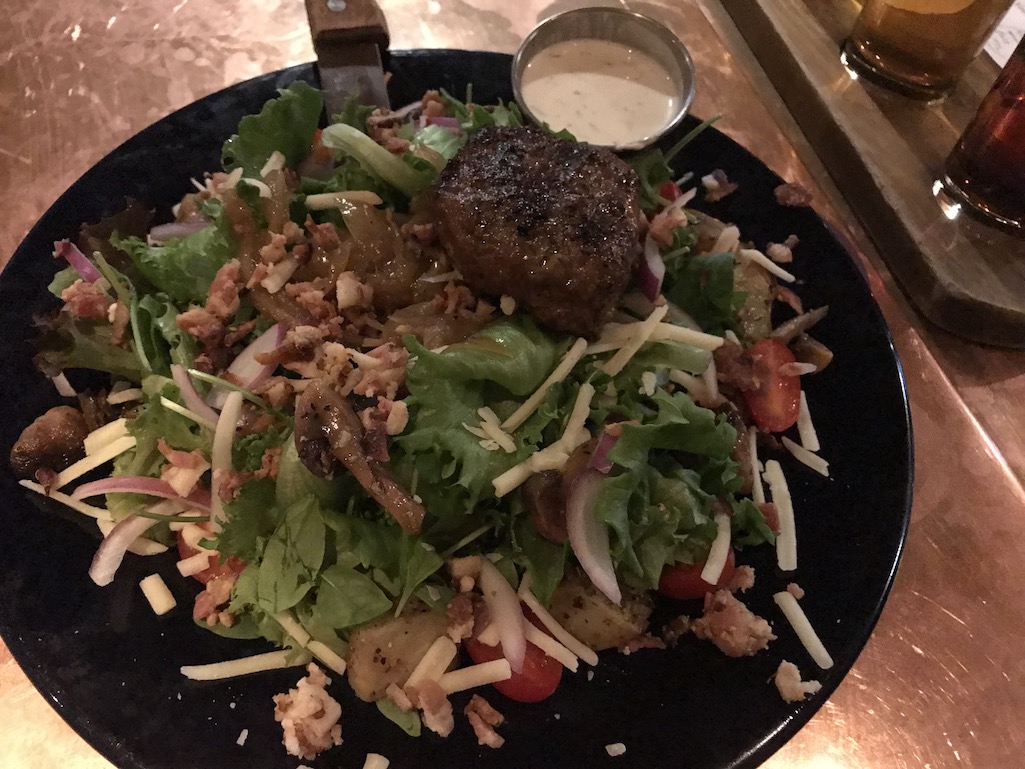 When a restaurant says it's "a natural foods" restaurant you know they are going to be putting out some good food. The Sustick family has been doing just that in Northampton since 1978.
We had a chance to sample a few of their soups, which were wonderful and perfect on a cold frosty night. You will be tempted to fill up on the house-made freshly baked warm whole wheat bread. Who am I to stop you?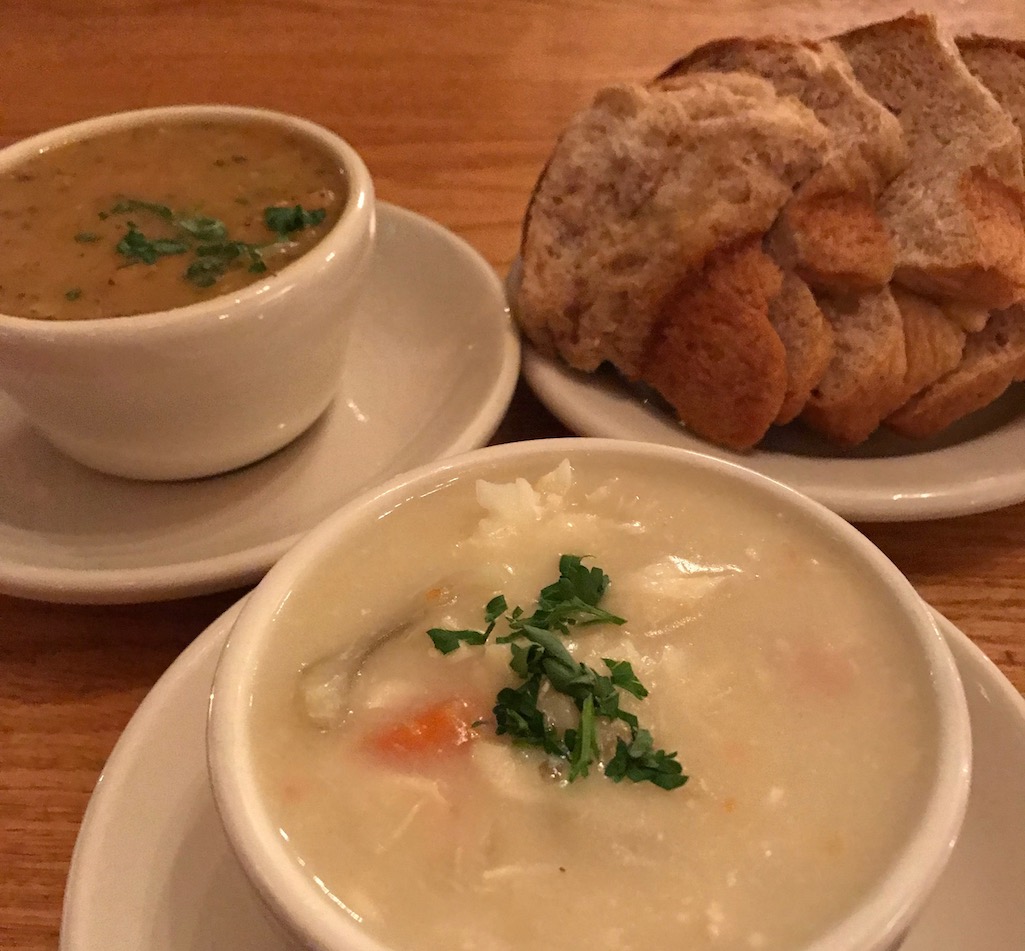 Other Food Institutions
It's not just the restaurants that make Northampton tasty.
One of the fun things we like to do when visiting new places is to check out the markets. No matter what season you can typically find local markets bringing out their best. Our tour of the River Valley Co-Op has us wishing we lived in Northampton. It's a supermarket similar to a Whole Foods but the focus is also on bringing in as many locally produced food items as well. We tasted local ginger syrup, salsa, pico de gallo even locally-made tortilla chips!
They have a large cheese and dairy section, house-made baked goods, fresh produce, meat, seafood, wine, and beer as well as a full wellness and health department. Although it's a co-op everyone is welcome to shop there and no ownership is required.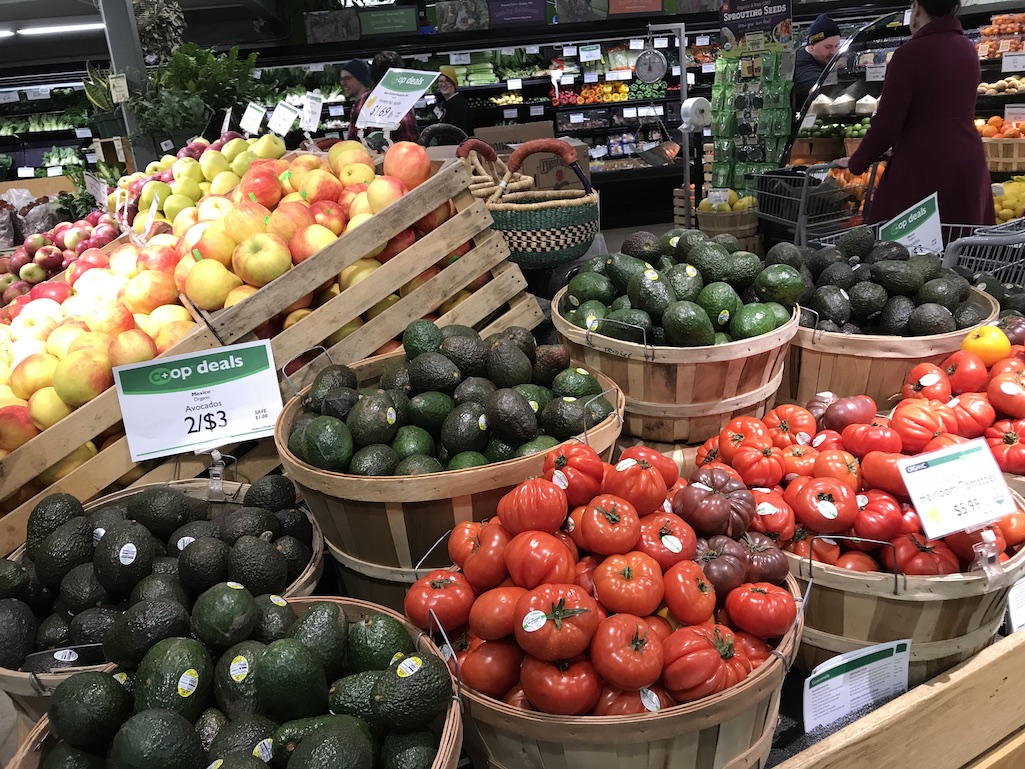 If you're looking to create a picnic check out Provisions. They have over 1,000 bottles of carefully curated wines to choose from. Keeping in mind that this is a college town there is a selection of over 400 wines under $15. If you're more into beer you may have a difficult time choosing from over 700 craft beers.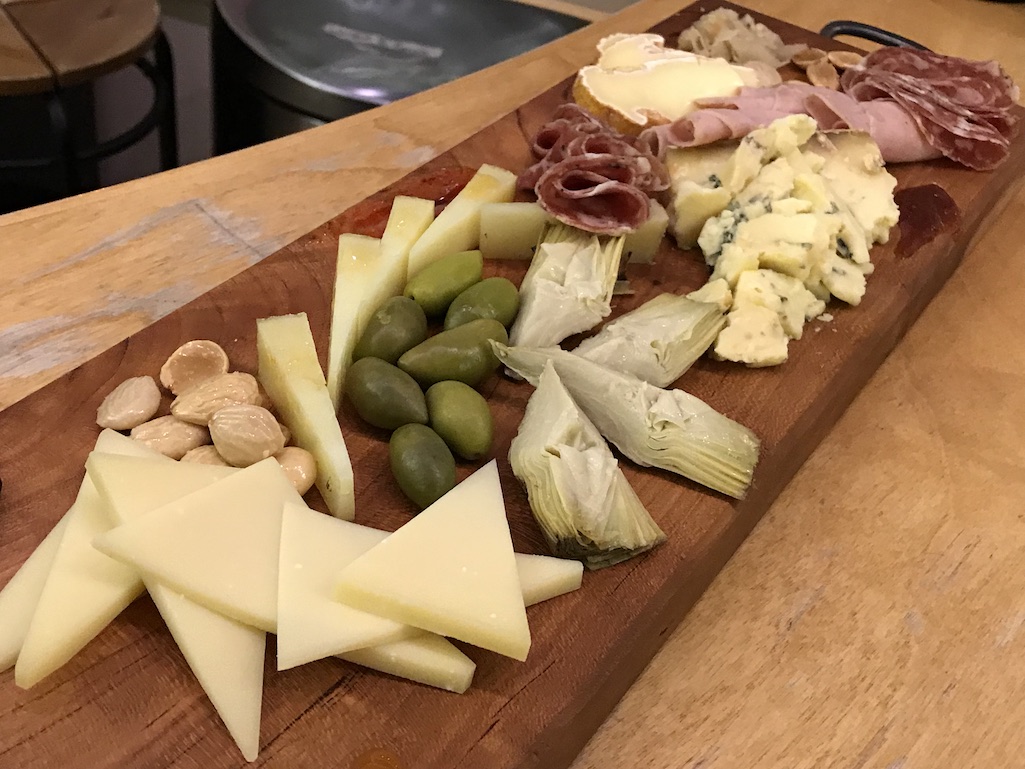 More Tempting Goodies
Everyone you meet in Northampton will ask you if you've been to Herrell's. It's not just the best gourmet premium ice cream in town it's an institution. The ice cream is wonderful but more importantly Steve Herrell, the founder is a true innovator and entrepreneur. He changed the ice cream business by making adjustments to the way it was mechanically churned to create a more hand-cranked type of ice cream. He also was the first to offer ground up cookies and candies into the ice cream creating "Smoosh-in®," which was shortly thereafter available in most ice cream stands.
With 40 flavors to choose from don't wait to get to the front of the line to decide. They also serve dairy-free, no-sugar-added ice cream, frozen yogurt, sherbets and sorbets.
In business, for over 42 years the company is now run by Judy Herrell. My guess is that Herrell's will continue to be a Northampton landmark for many years to come.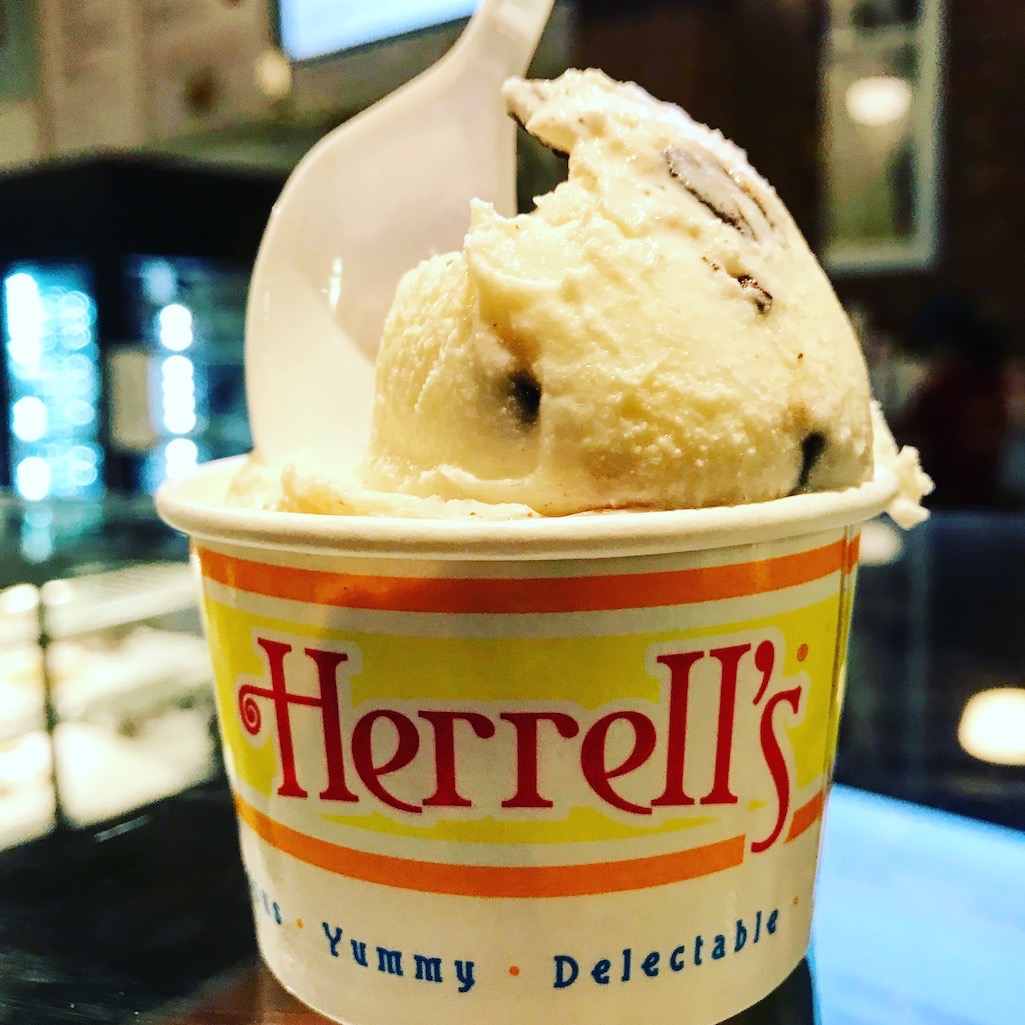 If you love candy shops that have a mix of all your old-fashioned favorites and handmade chocolate Sweeties in downtown Northampton is your spot. When you're walking around downtown taking in the sights you may need a sweet or two to sustain you. The good news about Sweeties is that they open early and stay open late. No matter what time you have a sweet tooth you can cure it at Sweeties.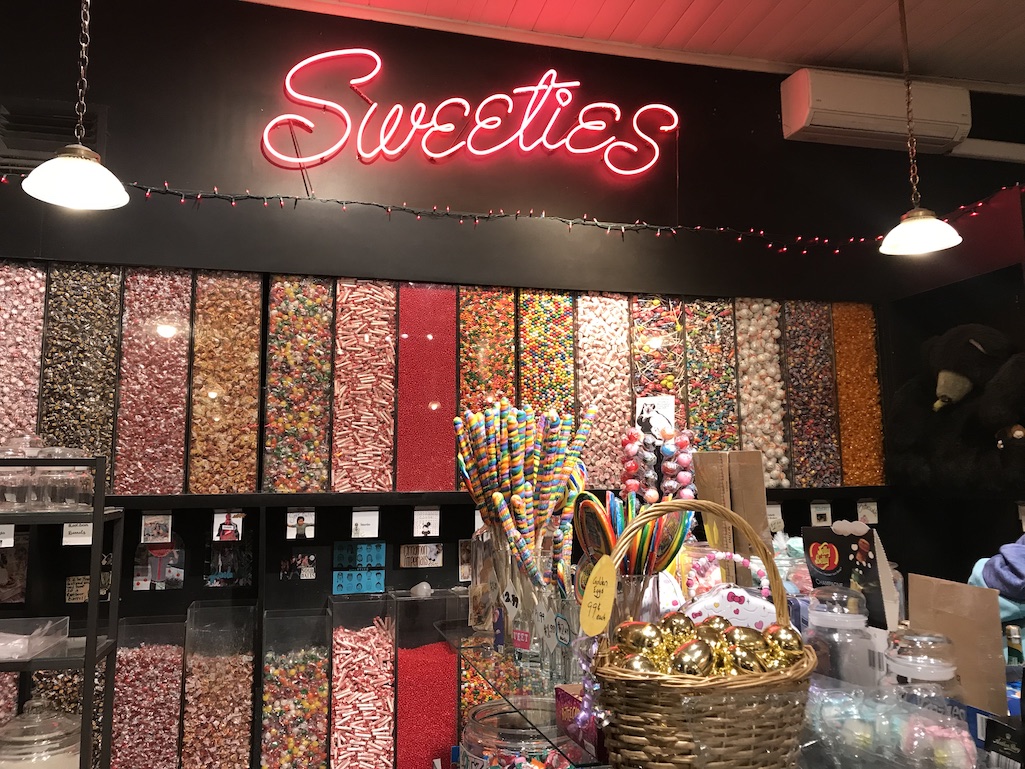 If you're looking for a quick and easy way to get a taste of Northampton try a food tour with Deborah Christakos of Pioneer Valley Food Tours. We experienced her two and a half hour tour one evening and tasted seven local restaurants and shops. Deborah is a font of knowledge about Northampton and the Pioneer Valley. She's also a fellow Food Travelist and has done her fair share of international travel too! We highly recommend her tour when in town. She also offers a vegetarian tour and customized tours as well.
Go to Northampton Don't Forget to Explore Hampshire County
This is just the beginning of the food adventures in Northampton. Stay tuned for more coverage soon. There is much, much more in Hampshire County, and all just minutes away. This region is more than just farm to table. This rich soil is in everyone's veins. The green way of life is just an important part of their culture. It's more than reusable bags and recycling cans. They love the land and love their community. They welcome everyone and the sense of caring and their commitment to helping each other is palpable. You need to experience it for yourself and we think you'll love it.
For more information on visiting Northampton and Hampshire County check out their website VisitHampshireCounty.com.
Pin For Your Food Travel Planning To Northampton