Best Travel Compression Socks
The best travel compression socks? Hope I didn't lose you already. When planning a trip there are so many things to think about. If you're like me you probably make lists and spreadsheets making sure not to forget anything. One of the things I most stress over is my feet. We love to walk and explore when we travel. It's one of the rare times when I don't even have to bother to look at my FitBit. So not having comfortable shoes and comfortable feet is a really big deal and can ruin an entire trip. I also love socks and have a complete drawer full of everything from cotton, wool to my favorite alpaca socks.
Women's Compression Socks For Travel
I discovered what soon became my "do not leave home without them" travel item years ago on my first non-stop trip from Chicago to Beijing. 13 hours in a plane? I read all types of articles on deep vein thrombosis  (DVT) which sounded really scary and was convinced I needed to be proactive since I was planning lots of long-haul travel in a relatively short period of time – over 100,000 miles to be exact. DVT is when a blood clot forms in one of your deep veins, or your legs when traveling and can cause leg pain, swelling or worse.
I discovered in my research that compression socks or travel socks, as they are now advertised, were an easy solution. My first pair of travel socks made their way to China and are still in my sock drawer today.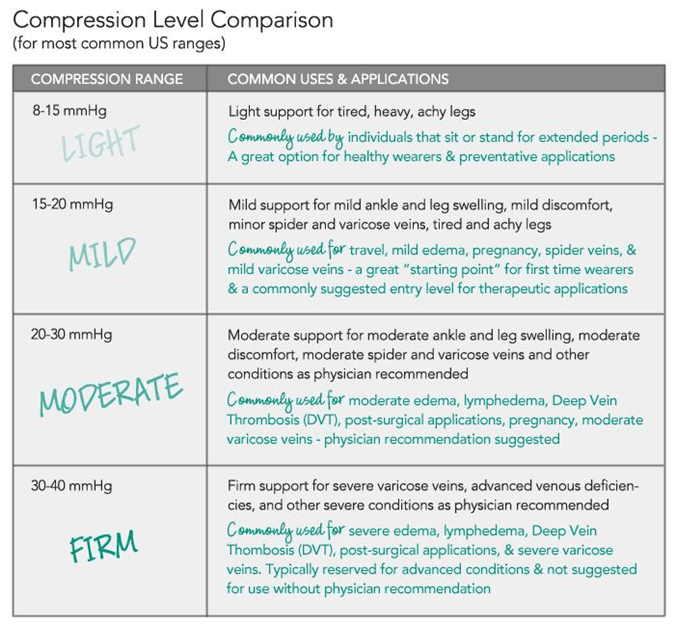 Back in those days, there weren't a lot of choices in compression socks most of them were either black, white or heaven forbid that ugly beige that your Grandma might have worn. Today there are more brands, styles, designs, and colors than you can imagine.
We visited the International Travel Goods Show in March and I had the chance to meet many of the compression sock vendors and try out some samples.
After testing all these brands I can tell you that they all offer high-quality compression socks and I would recommend any of these brands if you're looking for compression socks. They all have different styles and types of compression so are sure to get the one that best suits your needs.
Compression Sock Ratings
It's important to get the right fit and right compression rating. If you need medical grade compression socks ask your doctor what he or she recommends, but typically it's fine to use a compression rating of 15-20mmHg.  The ratings let you know how tight the compression socks will squeeze your leg. You'll probably also want a graduated compression sock, which means that the sock is tighter on your foot and ankle and gets looser as it goes up your leg. This helps promote circulation, reduce swelling, energize your legs and protect and energize your legs during long haul flights. It also helps even if you're sitting at a computer all day.
Another benefit of compression socks is wearing them when you are planning on walking all day. When we have a long walking day of travel planned or are attending a trade show these socks not only help our feet by helping circulation but I've found that they help my back as well.
 Travel Compression Socks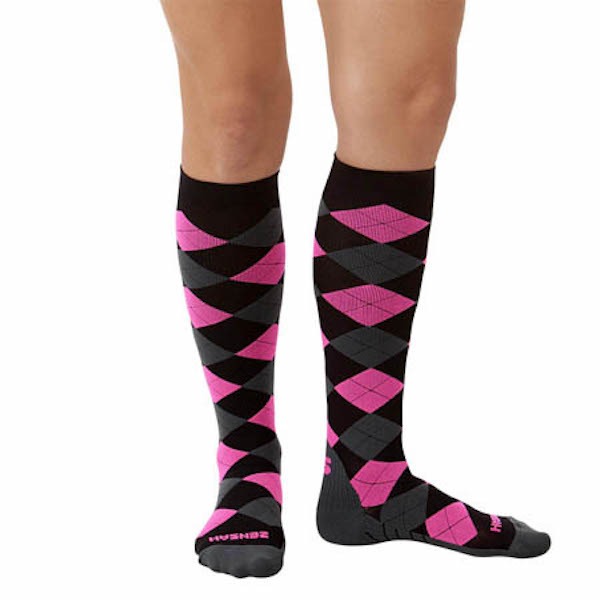 Zensah means "without" and this brand does a lot of work with athletes. Their goal is to ensure that each of their customers is "without limits." This is one of the original compression sock companies so they have many product choices. Whether you're walking, running, traveling, cycling or hiking they have a sock for it. Their Fresh Leg Compression Socks are perfect for travel and all-day walking. They have a little extra padded arch support in the foot, are moisture wicking and have advanced graduated compression.  For those who are a little more style-conscious, they have an argyle sock as well as a men's and women's dress sock. They also sell compression leg sleeves to wear with open-toed shoes or sandals. In my research, I also discovered that compression leg sleeves help with shin splints, which I suffered with for many years – wish I knew about them earlier! They also have a copper running sock that I'm going to need to try out.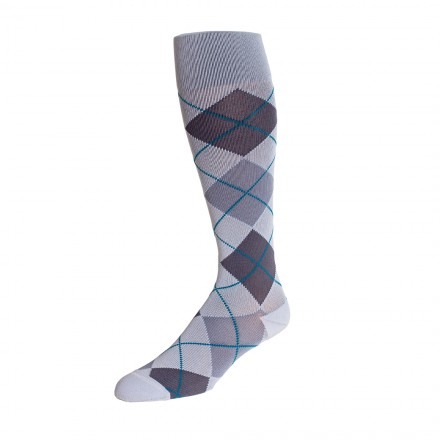 Fun Compression Socks
Rejuva Health Socks what I love most about Rejuva is that the founder Kelsey Minarik came up with the idea of making more fashionable compression socks after she suffered from DVT after a long flight at the age of 21! Discovering that compression socks aided in her recovery, Kelsey set out to make compression socks not only more fashionable but more understandable to the consumer. Rejuva Socks has a full line of fashionable compression socks as well as many styles of compression leggings, tights, thigh highs, and pantyhose. They have by far the largest selection of fashionable styles, colors, and fabrics available. I tested a pair of the argyle compression knee highs shown above and they're terrific. They're made of a soft nylon-spandex, have graduated compression and a padded heel and toe – I really appreciate the extra support. Rejuva also has a handy sizing guide that helps you determine which size will work best for you. I like that you actually have to measure your legs to get the correct fit. To hear Kelsey's story watch this sixty-second video and you'll see her passion for creating the Rejuva brand and need to help others avoid what she went through.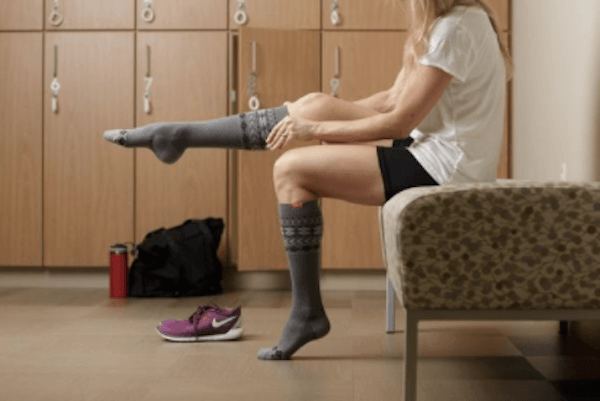 Vim & Vigr is another company that is fashion forward in the compression sock market. They use several different fabrics – nylon, moisture wick nylon, cotton and wool in many patterns and colors to fit any busy lifestyle for men and women. They have an extensive selection of socks for women and also have a selection of women's tights. All of their socks are 15-20mmHg which makes them great for wearing all day, every day. I tried the Women's Mint and Black +Turquoise heel nylon sock and it was super comfortable for an everyday sock. I must say it looked great with my standard black pants!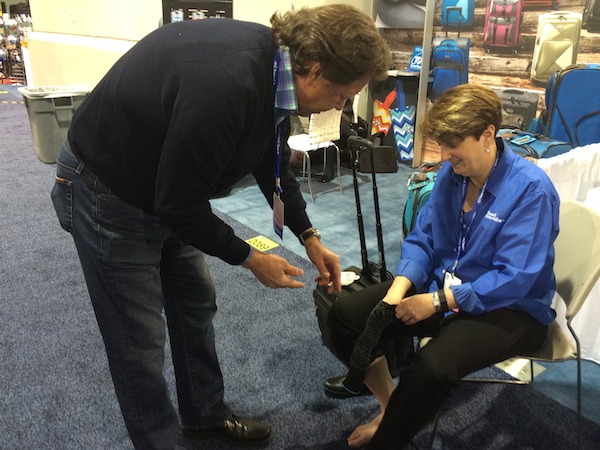 SockWell their Homegrown Wool Initiative "strongly supports American sheep farmers helped to create a market for wool sheared from free-grazing Rambouillet merino sheep. Producing beautiful, fine-micron wool here at home."  When I was walking the International Travel Goods Show I was, of course, wearing my trusty compression socks. When I started talking to the gentleman at the Sockwell booth he insisted that his socks were better and made me change my socks right there in the booth! After first resisting, I had to admit they were pretty darn good socks. The pair I tried didn't have the arch support but I'm guessing if they did they would be on par with my usual brand. Funny thing about these socks, when I was testing them a friend spotted them right away and knew the brand very well and loved them. Compression socks are the new black.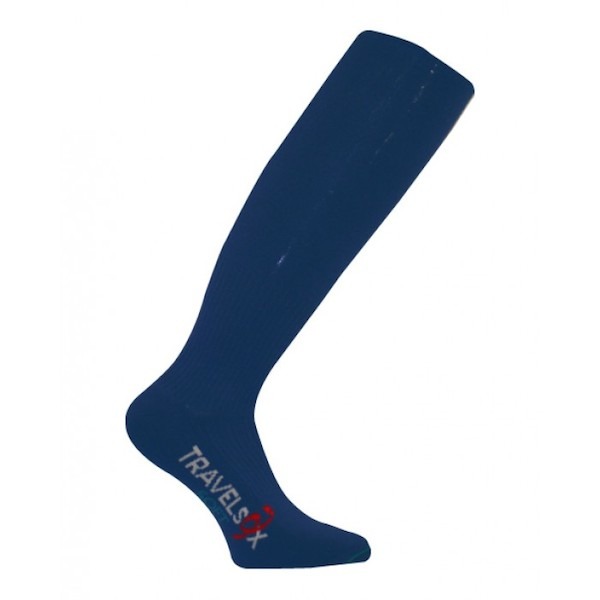 TravelSox this is the brand I've been using since the beginning of my compression sock discovery. Like the rest of the compression sock leaders, they have a wide line of compression socks for travel, work, medical and sports uses and have added more fashion-conscious designs. All their socks are made in Italy and have patented designs. I especially like the AB-X padding, which helps provide an additional cushion, which I like when I wear them as walking socks. I tried their new TSS6000 Soft Padding OTC and really like the new softer fabric. They also include their Silver DryStat anti-bacterial, anti-fungal, anti-viral, which reduces foot odor and are quick drying, minimizing blisters meaning you can wash them out in the sink and be ready to go the next morning while traveling.
More compression with style these ATN Pride Socks are a fun way to brighten up your day. They are made from antimicrobial fiber and very soft and comfortable. I really appreciate the wide band top which helps keep them up where they belong.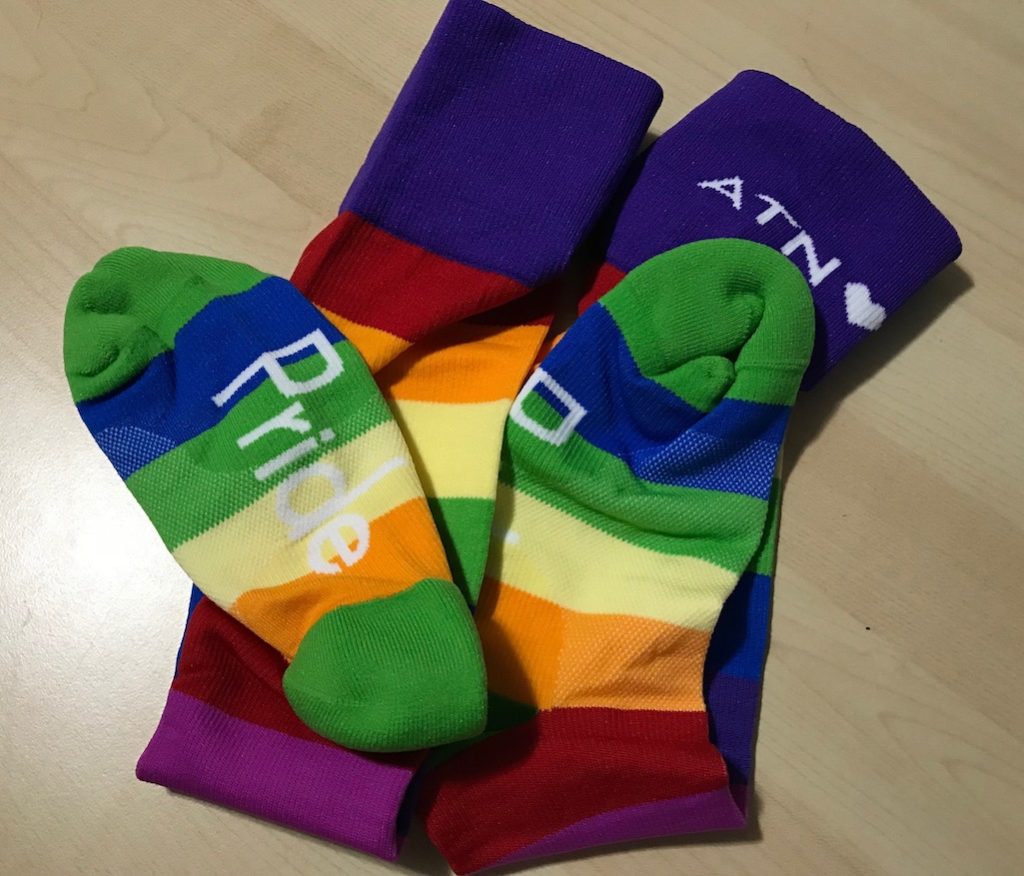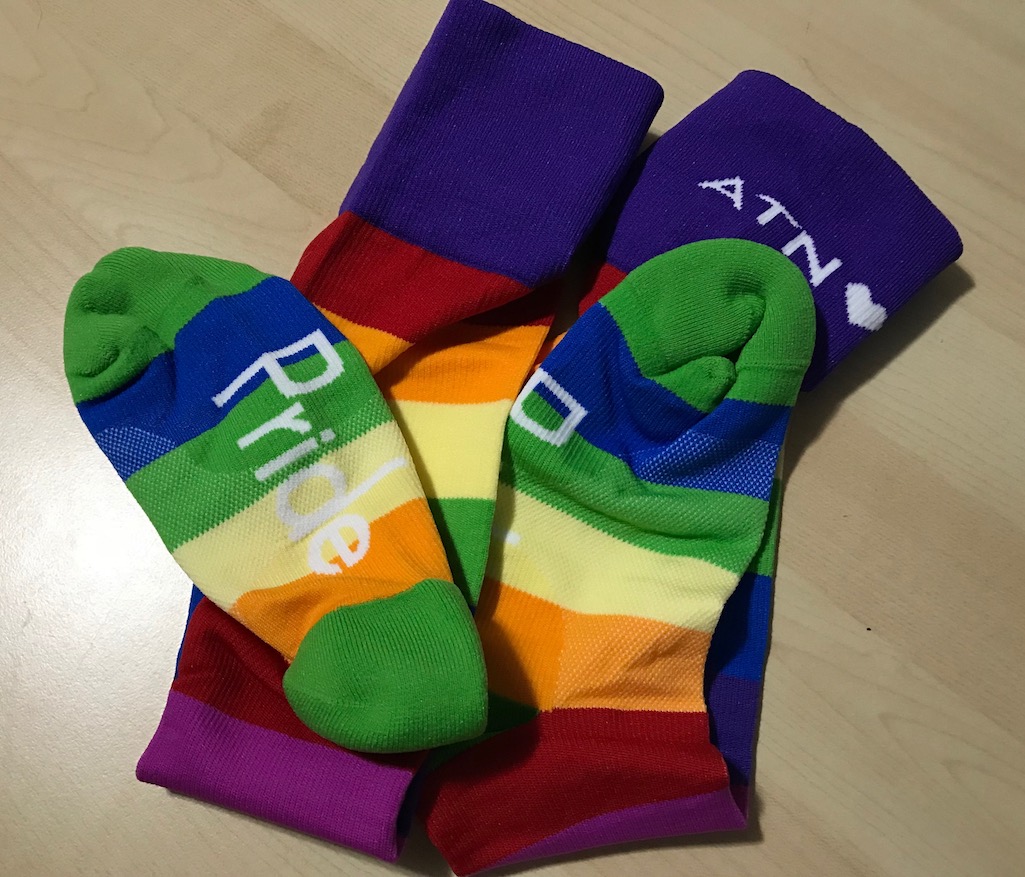 One of the tricky things about compression socks is putting them on. Because they are tighter than "normal" socks it's difficult if not impossible to just pull them on. Luckily, every compression sock vendor has a handy how-to guide on their site. Rejuva Health includes a handy instruction card in their hand-packed packaging. In case you're wondering here's a super quick video from Travelsox below on how to put them on easily.
Did I convince you that you need a pair or two of compression socks the next time you travel or have a lot of walking or working to do? I hope so. This is just a sampling of compression socks on the market there are many other brands and styles to suit just about everyone. Most compression socks run between $30-$35 USD per pair. Try them once and you'll feel the difference.
QUICK BITE: Check out our research on the best travel compression socks. We'll show you why you need to consider adding these game-changing socks to your travel must-have list.