May is #NationalBurgerMonth and we love our burgers. Whether it's just a burger on our own backyard grill or a unique burger by a top chef we love them all. In honor of our comfort food friend here are some that have stood out in our travels around the world.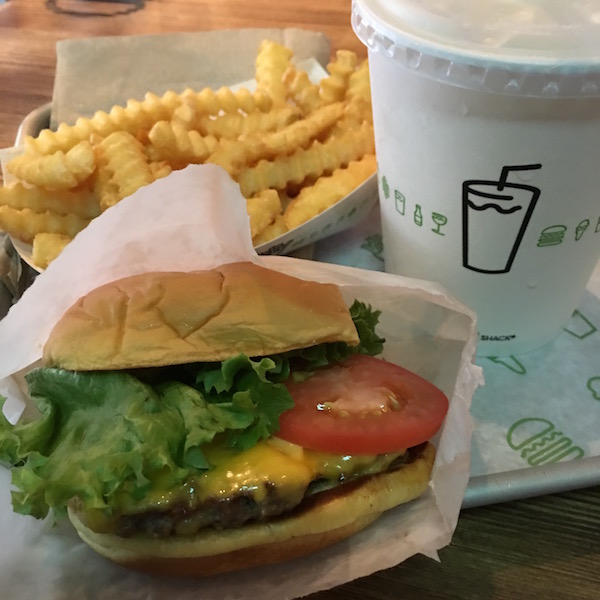 Shake Shack – A New York legend that has now expanded. We were lucky enough to get one when hey came to Chicago two years ago. They are consistent and delicious. Especially like their crinkle cut fries.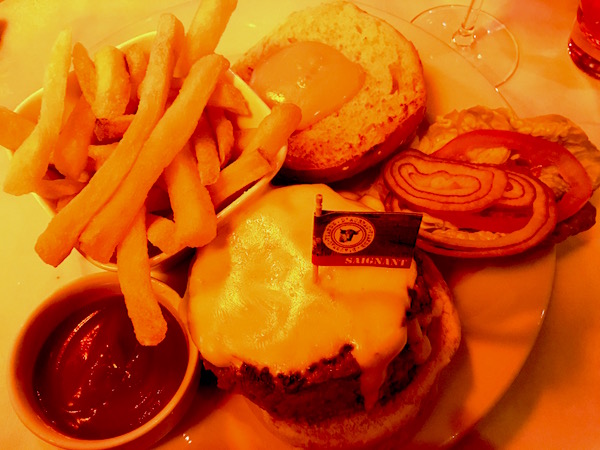 Paris! You never disappoint but sometimes we just want a cheeseburger. Magnifique!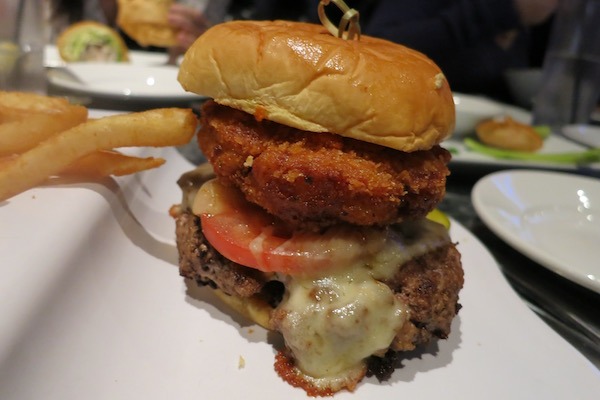 Fried macaroni and cheese on top of a cheesy burger. Yummy! From our friends at Kings. Go for a bowl afterward to work off all those calories.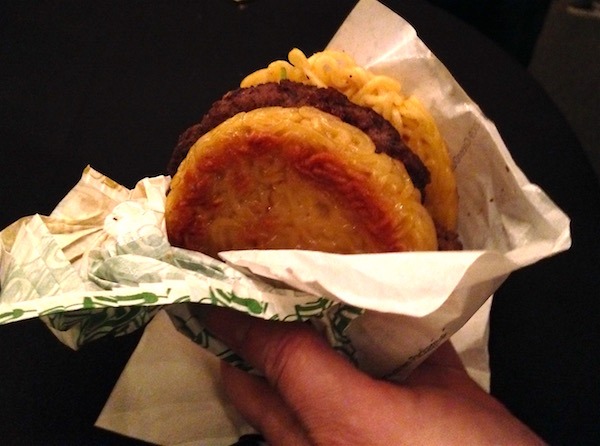 A bun made out of noodles? Now that's different and delicious. Ramen burgers first appeared at Smorgasburg in Brooklyn NY.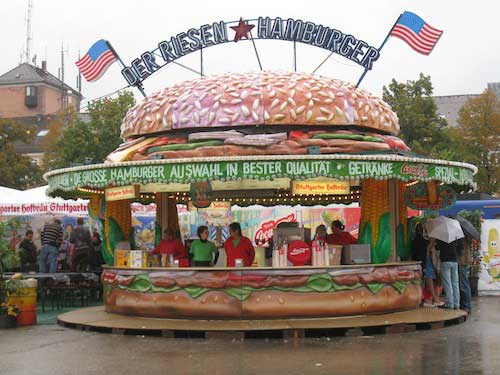 You can't eat this one but it sure was fun to look at. We spied this fun food booth in Stuttgart, Germany during the famous Volksfest.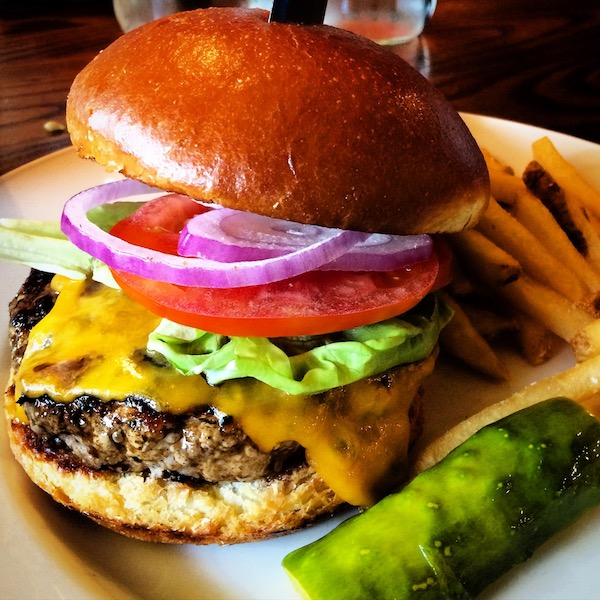 No road trip is complete without a burger stop. This 1/2 pound house blend of fresh ground pork and beef from the Farmhouse Restaurant at Fair Oaks Farms in Indiana definitely worth the stop.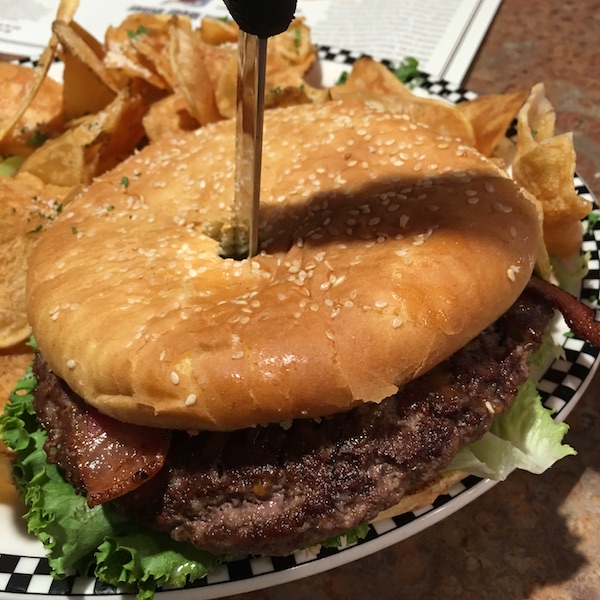 This was probably the largest burger we've ever had. We shared it and still couldn't finish it. We were on the road from Larkspur to Garden of the Gods and stopped for this Black Bear Diner 10 oz. all beef specially seasoned monster. The housemade kettle-style Parmesan chips are delicious too.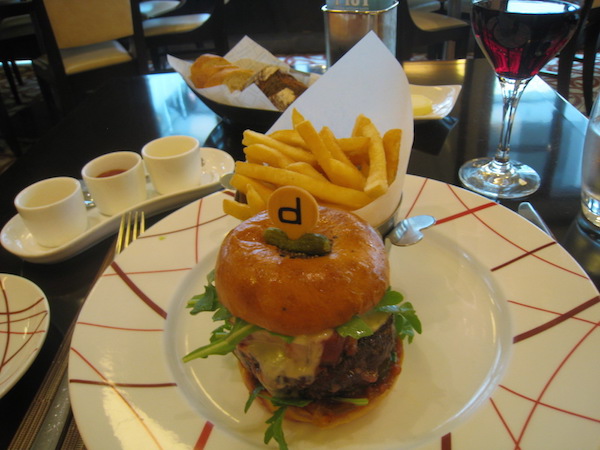 Sometimes you gotta have that really special burger. While in Singapore I stopped in Daniel Boulud's db Bistro for this elegant treat made with braised short ribs and foie gras. Worth every single calorie. Don't forget the warm madeleines for dessert. They are exquisite.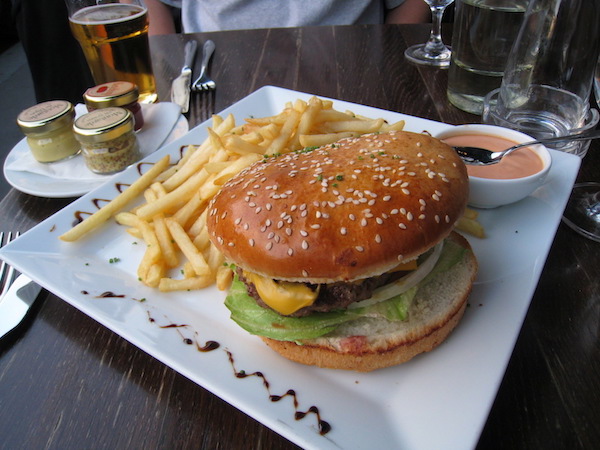 We found this lovely burger while walking the Avenue des Champs-Élysées a few years ago. When we went back last year it was gone. So sad. We'll just have to go back and find a new favorite!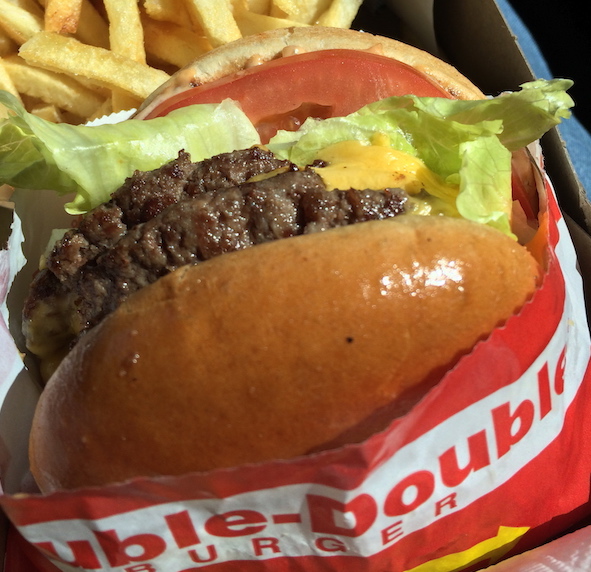 Arguably the most talked about burger west of the Mississippi the In-N-Out Burger chain offers an addictive made fresh to your order burger. Our only wish is that their fries were a bit more crispy. Regardless, we stop there every chance we get.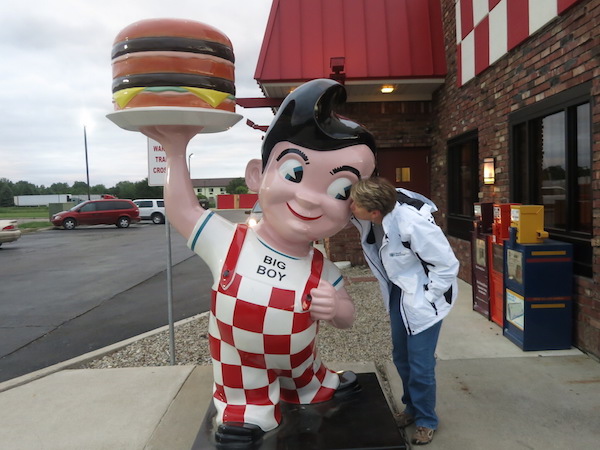 Another popular road trip stop for us is Bob's Big Boy. Who can resist this guy or his delicious burgers? In an amazing bit of good luck, when we visited Milwaukee we discovered that at Kil@wat Restaurant, which is owned by the same people that own Big Boy, you can actually order a Big Boy burger cut into quarters as an appetizer. Heaven!
Home Town Favorites!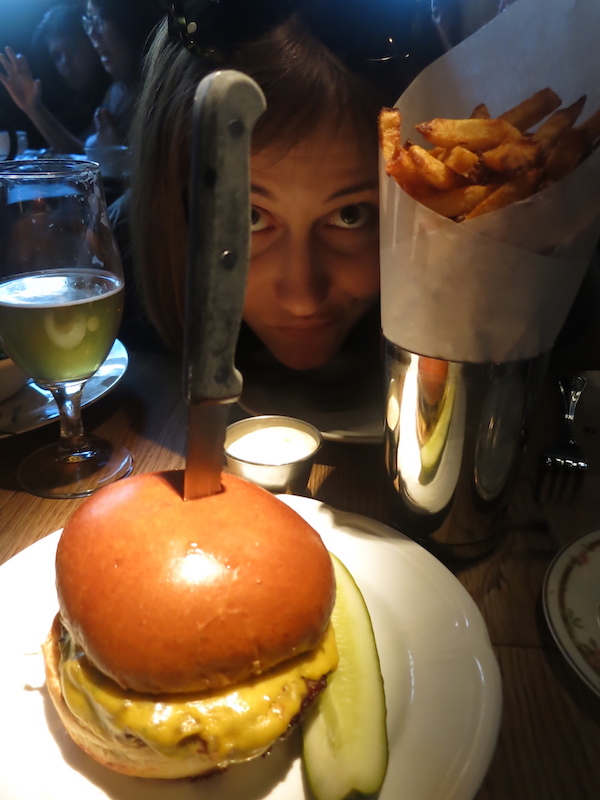 We'd be remiss if we didn't include all the fine burgers in our hometown, the Windy City, Chicago. This Au Cheval burger may not look like much but it's consistently voted the best burger in the city.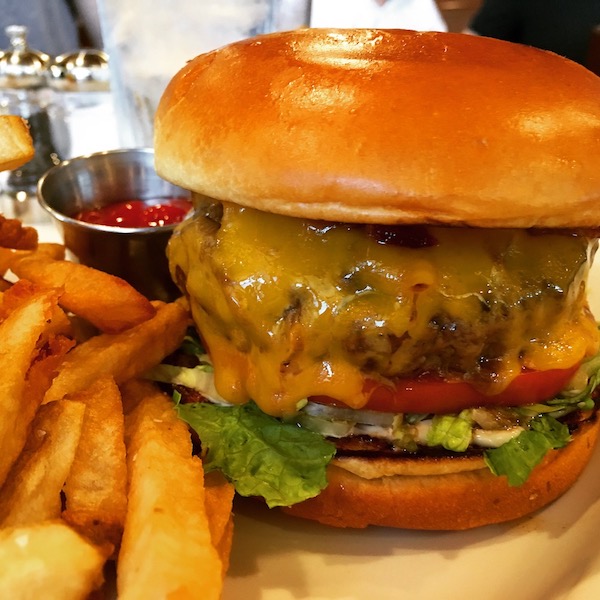 If you're in town, don't miss Da Coach's Steakhouse burger at Ditka's. We love the Angus beef burger with cheese.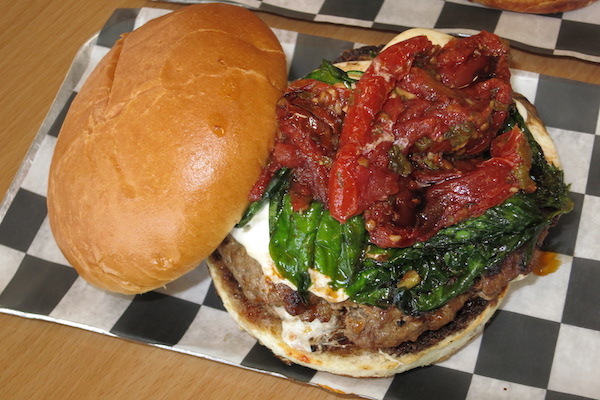 Over on the south side of town, Burger Point is creating some tasty, globally inspired burgers like this Caprese Salad burger. If you're visiting McCormick Place for a convention or conference check them out. It's a quick 5-minute walk.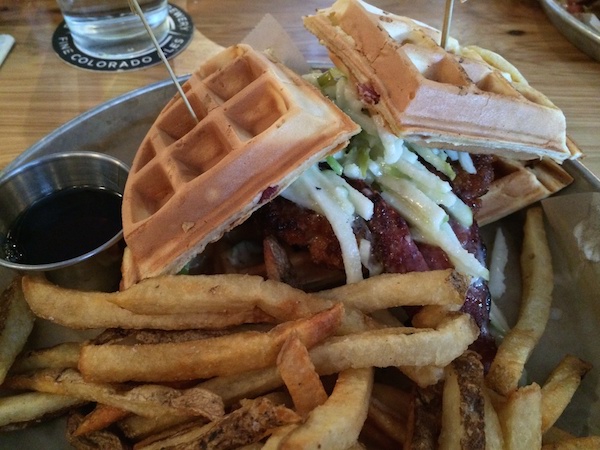 Burger Bar is another spot with many types of delicious burgers. This chicken burger and waffles knocked our socks off.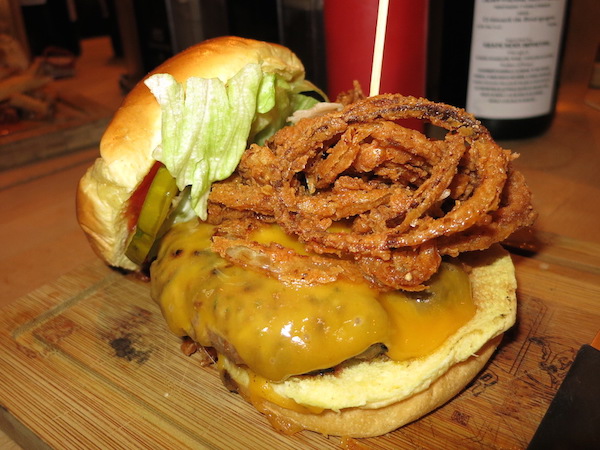 The burger shop Butcher and the Burger lets you customize everything. Your meat, your seasonings, your bun, your toppings. All are first quality options so it will take you a bit to choose.
Our Latest Burger Finds…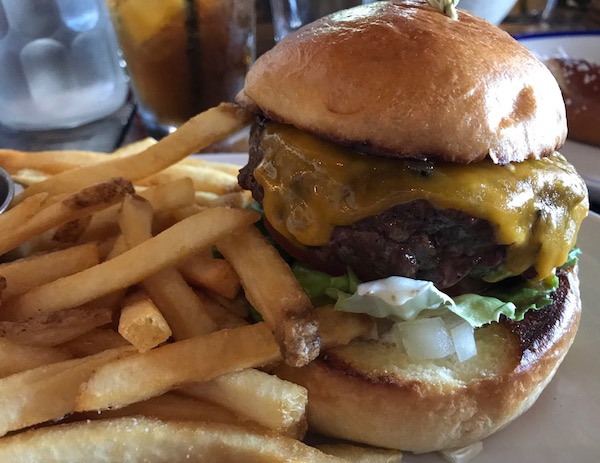 We just got back from St. Petersburg, Florida where we made some terrific burger finds. At Stillwaters Tavern, former Top Chef contestant Jeffery Jew has lots of tasty food on the menu in the popular Beach Drive restaurant. Our short rib burger with sharp cheddar and pickled mayo really hit the spot.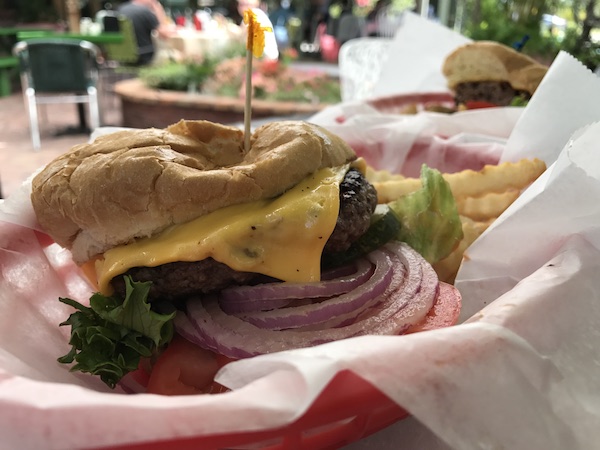 If you want to just sit back and relax The Chattaway Drive-In is for you. They've been making burgers in St. Pete for over 80 years. We loved the beautiful gardens and koi pond. There's also an indoor tea room where you can book an afternoon tea – just call ahead to reserve a spot.
The Locale Market is a one-stop shopping center and eatery by Chef Michael Mena in downtown St. Pete. We sampled his burger and grouper sliders and we loved them. While you're there be sure to grab a cookie, brownie or other goodies from their on-premise bakery too.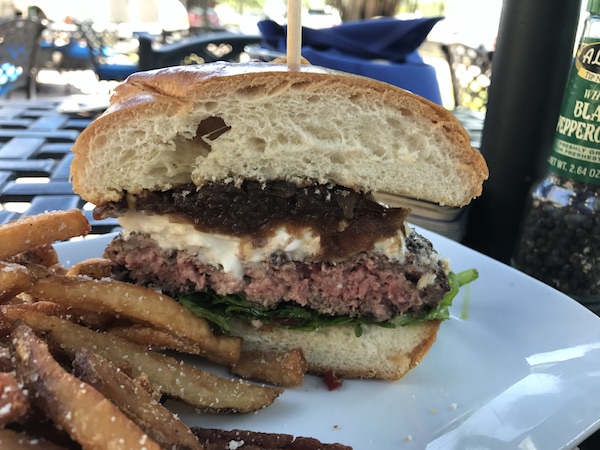 When the menu has burrata and burger in the same description you know we have to try this one.  We discovered the delicious combination at the Parkshore Grill on Beach Drive. We split this big burger and it was plenty. The balsamic caramelized onions, arugula and sun-dried tomatoes along with the soft fluffy bun had us swooning. Add crispy hand cut Parmesan dusted  fries and you're in for an absolutely perfect meal.
Had enough? This is one list that could go on and on and on…. Let us know your favorites so we can check them out in the comments below.