Baked Chicken Parmesan is our healthier take on the classic Italian dish that we grew up loving. Old school recipes aren't really the healthiest options when you look at how they're typically prepared. The chicken is usually breaded and fried before the sauce and cheese go on top. So, let's face it, traditional Chicken Parmesan is a fat bomb. But you can still get all the flavor without making yourself regret that you overindulged. Our simple Baked Chicken Parmesan recipe is out-of-this-world delicious without the need for breading and frying. It's a little bit different, but we love it. And it fits right in without the guilt when you're looking to lighten up a little without missing all the delicious flavor for dinner.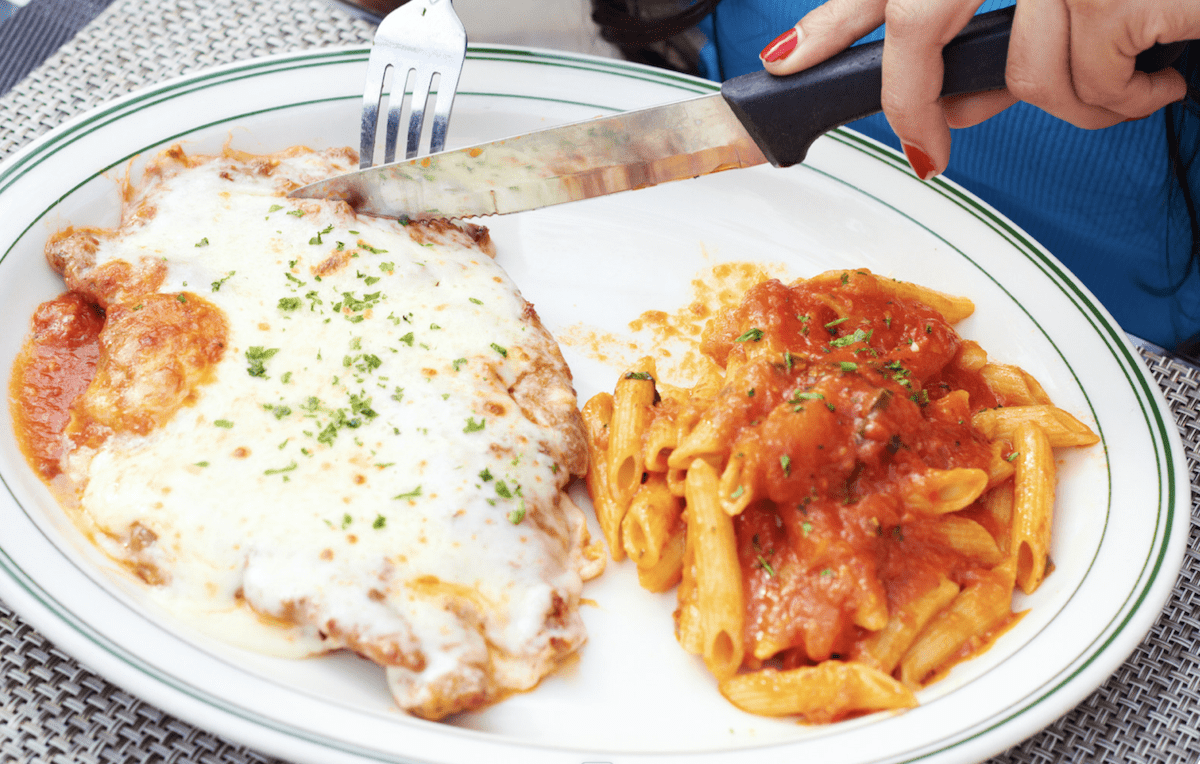 Easy Baked Chicken Parmesan Options For Busy Cooks
There are a few different ways you can go about making baked Chicken Parmesan our way. You can cook the chicken in a pan with some olive oil and garlic first. Then put the sauce and cheese on top and bake it until it's all melty good. Or, you can put it in the oven and bake the chicken then add the sauce and at the very end, top with cheese and broil it. You can do this in a toaster oven too. And, finally, if you're really looking for a quick tasty healthy meal, you can take already cooked skinless, boneless chicken breasts, put the sauce and cheese on top, then pop it in the microwave until everything is warm and the cheese has melted. It really is that easy. And best of all this chicken parm recipe goes great with veggies or a salad. And, if you want to splurge, just add a side of your favorite pasta, make it whole grain for a boost, and you're good to go.
Baked Chicken Parmesan Recipe
So now that we've told you how easy it is to make, here's our healthy take on Chicken Parmesan.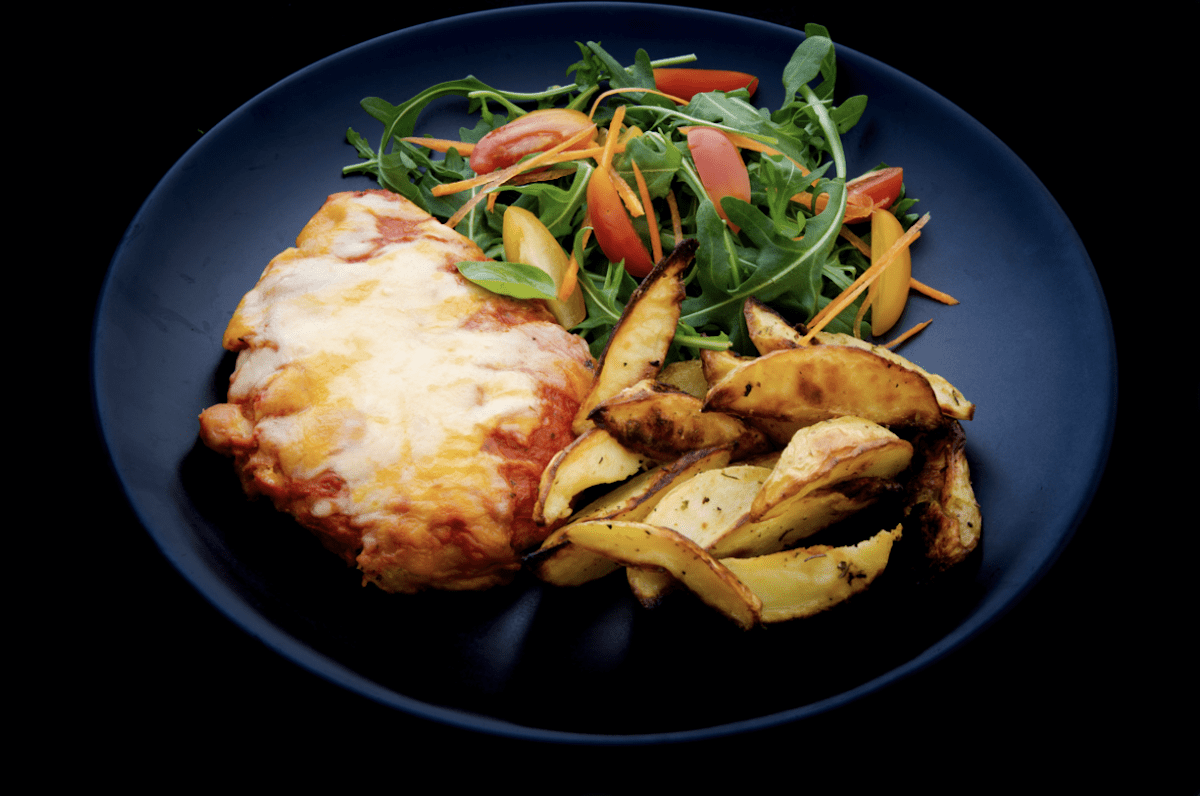 Ingredients (for two)
2 Chicken Breasts, skinless and boneless
1 Cup of your favorite marinara sauce
1/2 Cup grated Parmesan cheese
1 Cup of part-skim Mozzarella cheese
1-3 Tablespoons Extra Virgin Olive Oil
1 teaspoon garlic powder
1/2 teaspoon dried oregano (or 1 teaspoon fresh)
1 teaspoon dried basil (or 1 Tablespoon fresh)
Directions
We'll assume you want the healthiest preparation of Baked Chicken Parmesan. So in our directions we'll be baking it all the way.
Preheat oven to 375 Fahrenheit.
Rub each chicken breast with 1/2 Tablespoon of Extra Virgin Olive Oil
Sprinkle each breast with garlic powder and half of the dried or fresh herbs
Place on a baking sheet and bake for 15-20 minutes, or until breasts are fully cooked through
While baking, mix the Parmesan and Mozzarella cheeses together
Remove cooked breasts from oven and spoon marinara sauce over each breast
Sprinkle the remaining herbs over the sauce on each breast
Top each breast with the Mozzarella Parmesan mixture
Bake for 10-15 minutes or until sauce is warmed through and cheese is melted
Note: If you find that your cheese is not getting bubbly and you're afraid your chicken might be getting tough, use the broiler on your oven for a few minutes. Keep constant watch so that you do not burn the cheese.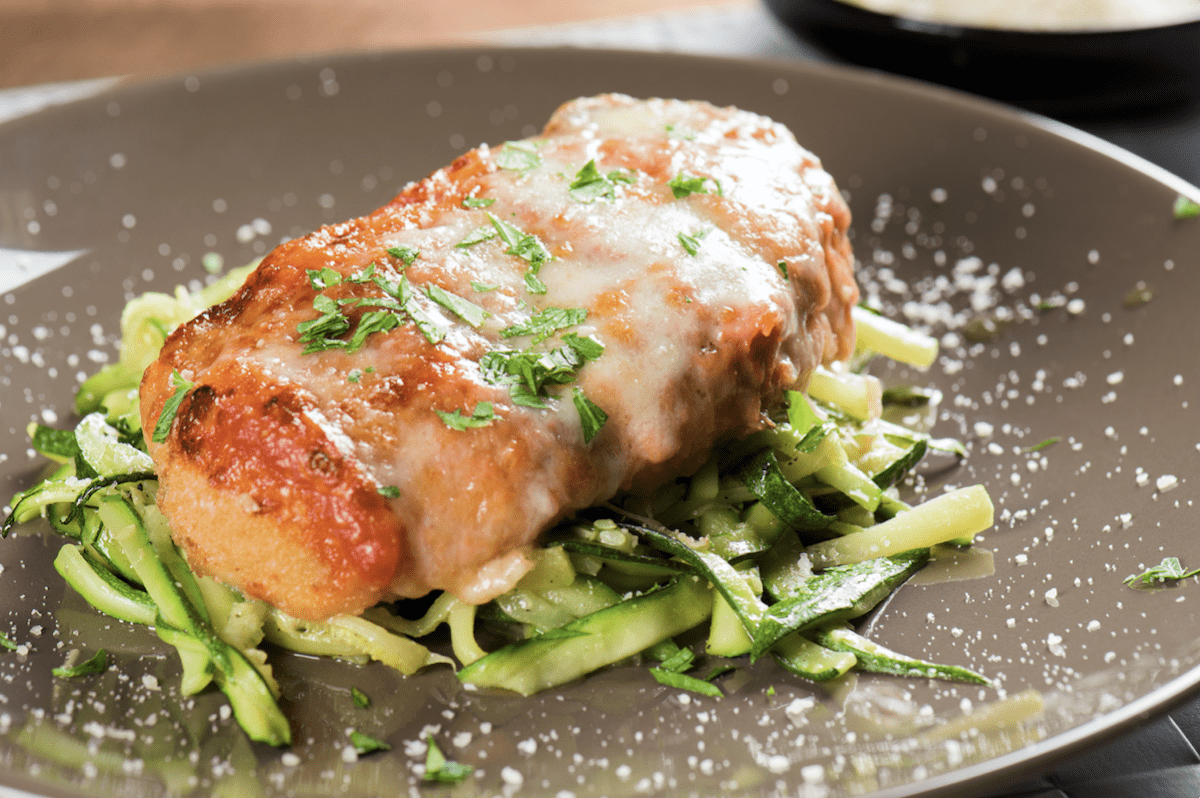 You can serve Baked Chicken Parmesan over pasta or, use our yummy zucchini spaghetti recipe for a side dish. A nice green salad is also a great option.
So there you have it. Our super easy, tasty, and healthier Baked Chicken Parmesan recipe. It's one of our favorite baked chicken recipes. We hope it becomes one of your favorites too.
Pin to your favorite recipe board on Pinterest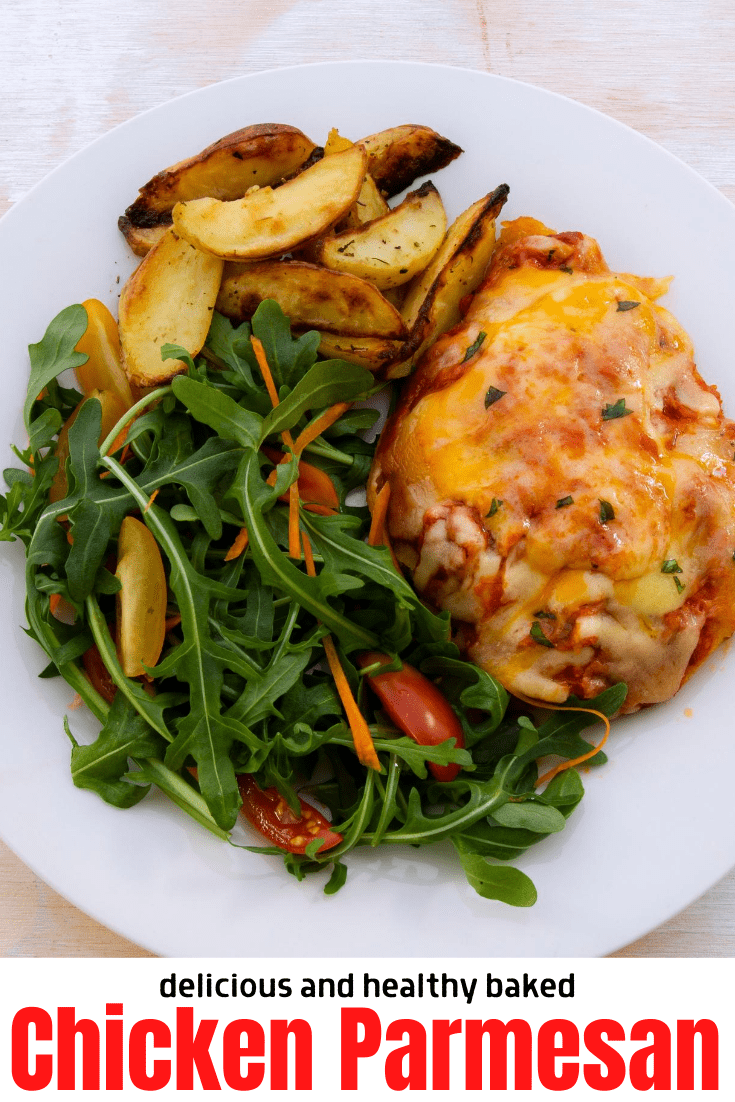 .