Devon Avenue – Chicago Little India
We recently had a chance to tour Devon Avenue, Chicago's own Little India with Anupy Singla, author of Indian for Everyone. If you live in Chicago you already know that it's loaded with many ethnic neighborhoods – Italian, German, Chinese, Puerto Rican, Polish, we have it all. If you haven't visited Devon Avenue's Little India you should take the time to visit. It not only has many wonderful Indian restaurants but is also filled with shops carrying all sorts of Indian delights from spices to jewelry and more.
The first stop on our tour was the fantastic Patel Brothers market. This is a huge store loaded with everything that you might need to make a perfect Indian meal and then some.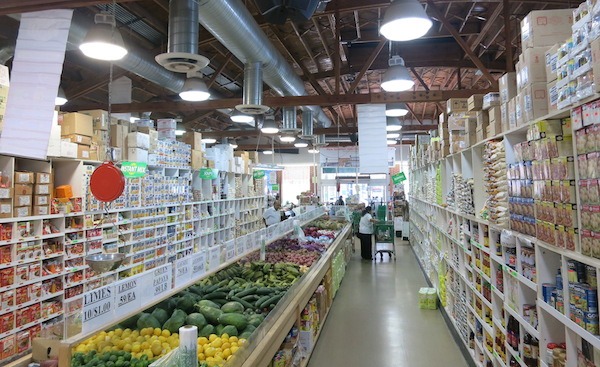 The aisles are wide and they carry many items that you wouldn't find anywhere less comprehensive for Indian cuisine.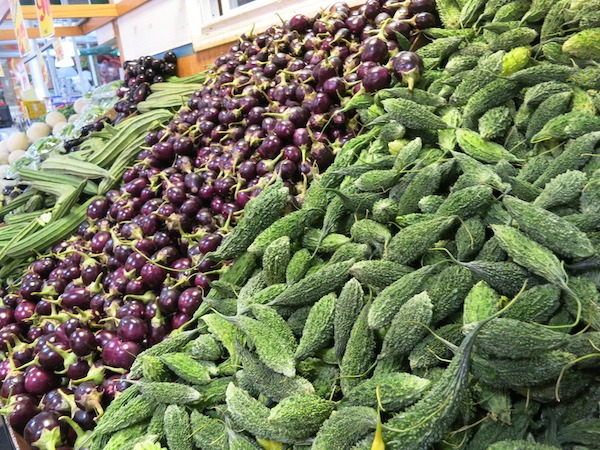 Fresh produce is available in abundance. Many fresh spices, fruits and vegetables can be found, including Indian eggplants and bitter melon.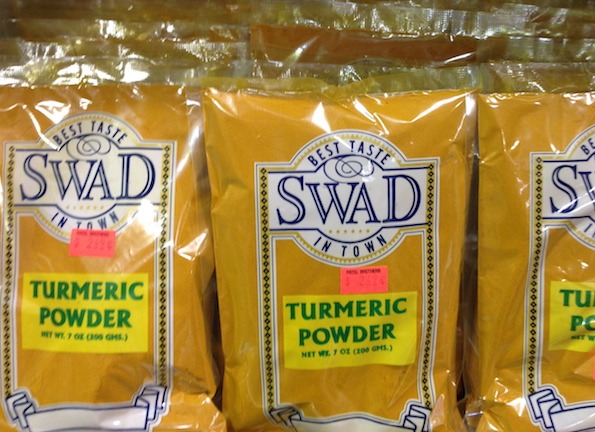 They also package their own spices, providing reasonably priced versions of those often used in authentic Indian cuisine.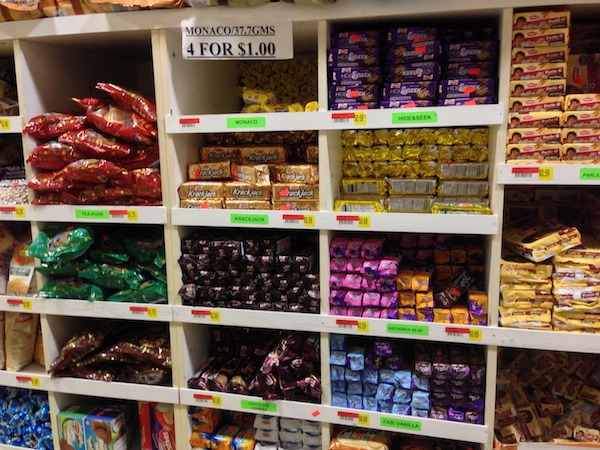 And there are plenty of snacks, both savory and sweet for that quick bit of Indian flavors on the go.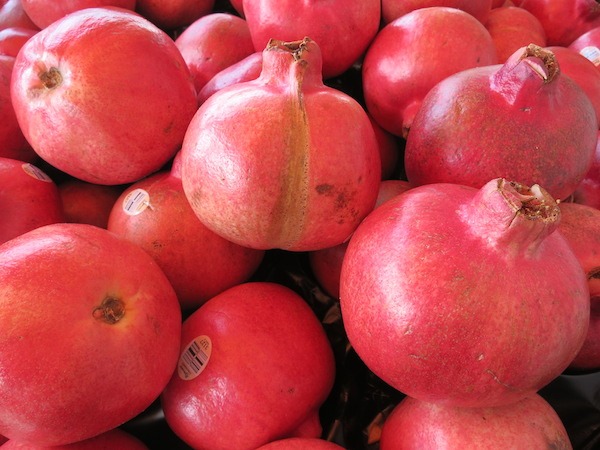 Our knowledgeable guide Anupy even showed us how to pick fresh ingredients, like choosing the best pomegranates.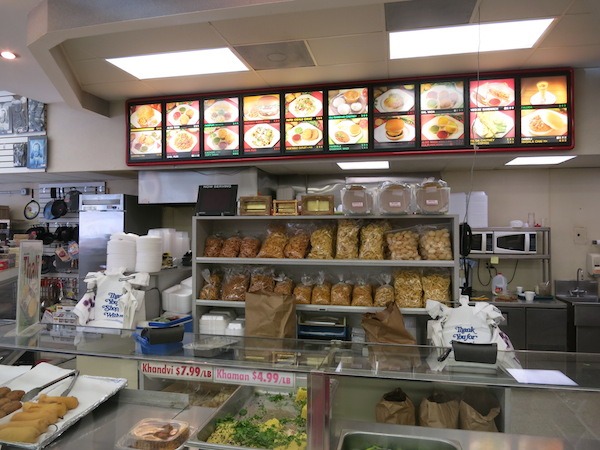 We then had a chance to visit Kamdar Plaza, well-known for having the tastiest authentic Indian snacks. Known as a place that people come for Indian "fast food," Kamdar supplied us with several treats to check out on our visit.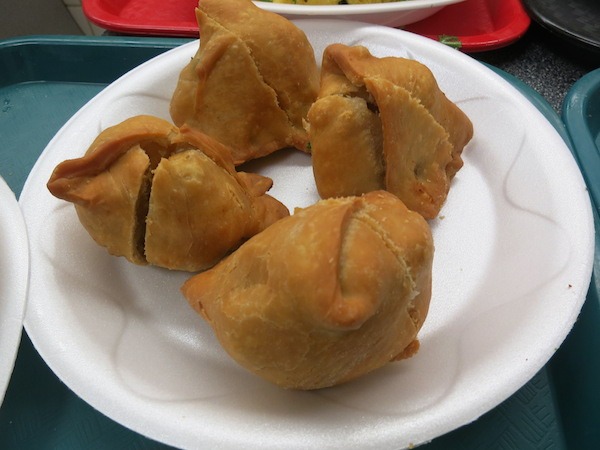 We enjoyed some plump and crispy samosas.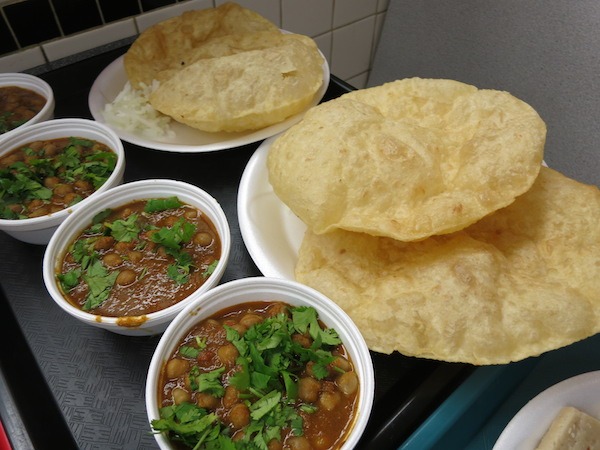 And some warm and satisfying chickpea stew.
The potato patties were spicy, with a perfect blend of crisp exterior and soft inside.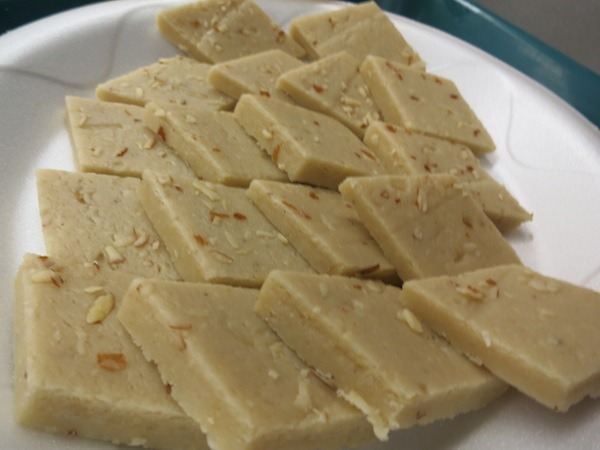 And we tasted some of Indian sweets, like Barfi, an Indian dessert with a funny name but delicately sweet flavor perfect for ending our meal.
We learned a lot on our visit to Devon Avenue in Chicago and from our tour guide Anupy. Mostly we learned that Indian food is not as  intimidating as it may first seem. Many of the spices can be bought in prepared blends and delicious chutneys can be added in various combinations to create the tastes that you most enjoy. We even tried our hand at making some Bhel Puri, a dish we tasted and fell in love with at Kamdar. And it was pretty good for a first try! We'll definitely be testing out more recipes, especially those in Anupy's latest cookbook, Indian for Everyone.
To get you started,  here's one of her recipes from Indian for Everyone that you can try for yourself.
Sookhi Dal (Dry, Spiced Lentils)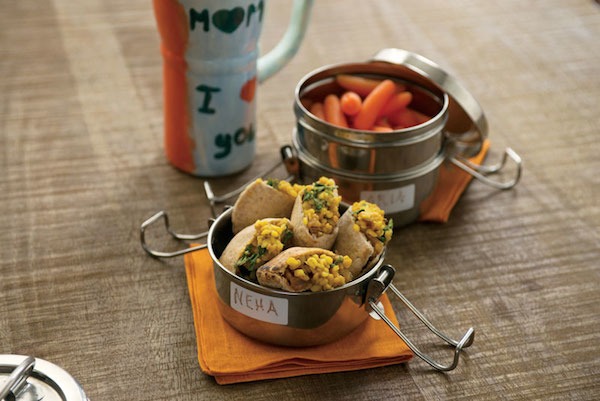 In the Punjabi home, this dried version of soupy lentils is eaten with unleavened bread and a curry on the side. I tend to use it as my favorite filling for a wrap or pita on days when we just can't think of anything else to make for dinner. I often buy mini pitas and stuff them with this dry lentil dish for my kids' lunches.
Yield: 7 cups / 1.7 L
Tools: You'll need a heavy-bottomed, 6-quart / 6-L (or larger) stockpot or Dutch oven with a lid and an 8-inch / 20-cm frying pan.
Ingredients:
2 cups / 420 g duhli moong dal (dried, split, and skinned green dal), picked over and washed (they look yellow)
3 cassia or bay leaves
2 whole cloves
1 (3-inch/ 8-cm) stick cinnamon
3 whole dried red chiles
½ teaspoon turmeric powder
3 cups / 710 mL water
3 Tablespoons / 45 mL ghee or vegetable oil
1 pinch hing (asafetida)
1 teaspoon cumin seeds
1 medium yellow or red onion, diced
2 teaspoons plus 1 pinch salt, divided
1 Tablespoon grated or minced ginger
3 cloves garlic, peeled and minced or grated
4 fresh Thai, serrano, or cayenne chiles, stems removed and chopped
1 teaspoon amchur (dried mango powder)
1 teaspoon Garam Masala
1 teaspoon ground coriander
1 teaspoon red chile powder or cayenne pepper
Juice of ½ lemon
½ cup / 10 g fresh cilantro, minced
Roti or Naan for serving (optional)
Tortilla wrap or pita, for serving (optional)
Hummus, for serving (optional)
Chopped onion, tomatoes, lettuce, and avocado, for garnish (optional)
Directions:
1. Combine the dal, cassia leaves, cloves, cinnamon, dried chiles, turmeric, and water in a heavy-bottomed, 6-quart / 6-L (or larger) stockpot or Dutch oven over medium–high heat and bring to a boil. Typically, a frothy film will form over the dal as they boil—just skim off and discard it.
2. Reduce the heat to medium–low and simmer, partially covered, for 11 minutes. Remove from the heat, cover completely, and set aside for 5 minutes, allowing the dal to absorb the extra moisture.
3. Carefully remove and discard the whole spices. Stir gently. The dal should be al dente—firm, but cooked through. Cover and set aside to cool slightly while you prep the remaining ingredients.
4. In an 8-inch / 20-cm frying pan over medium–high heat, warm the ghee. Add the hing and cumin seeds and cook for 40 seconds, until the cumin seeds sizzle and turn reddish-brown.
5. Add the onion and the pinch of salt to the frying pan. Cook for 2 minutes, until slightly browned. Add the ginger and garlic and cook, stirring constantly, for 1 minute.
6. Add the fresh chiles, amchur, Garam Masala, coriander, and red chile powder. Cook for 5 to 10 seconds and remove from the heat.
7. Transfer the contents of the frying pan to the stockpot containing the dal. Add the remaining 2 teaspoons of salt, the lemon juice, and the cilantro and stir carefully, taking care not to break down the dal too much.
8. Serve traditionally, with the Roti or Naan, or as a wrap in a tortilla or stuffed in a pita smeared with a little hummus and garnished with the onion, tomatoes, lettuce, and avocado.
Recipe & photo reprinted with permission from Indian for Everyone by Anupy Singla, Agate Surrey, October 2014.
THE QUICK BITE: Take a trip down Devon Avenue, Chicago's own Little India, with us and author Anupy Singla. Then try out a recipe from her latest cookbook Indian for Everyone.