Dining at the White House
Book Review
by Diana Laskaris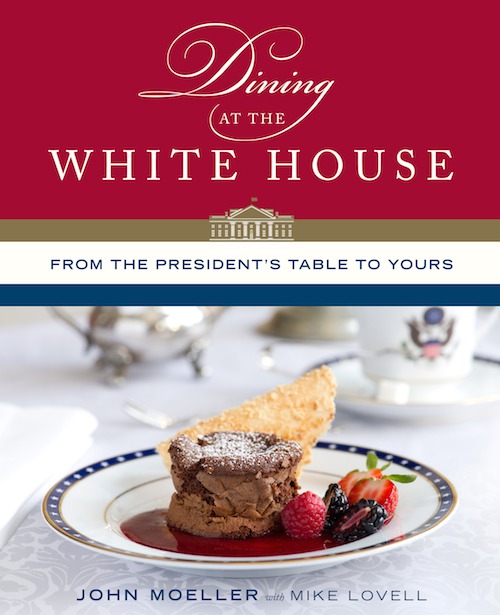 As most of you know, I'm a huge fan of the interplay between history and food. My love for Thomas Jefferson's Creme Brûlée and tales of the Founding Foodie know no bounds.
Well, thanks to the folks at Life Reloaded Specialty Publishing who provided me with a digital review copy of the book Dining at the White House: From The President's Table To Yours, I got the chance to see behind the scenes of more modern culinary pursuits like cooking for first families and their guests as experienced by White House Chef John Moeller, who spent more than a decade on the job. He was there through three separate Presidential administrations, from 1992 until 2005.
Think about it. Three different chief executives, their families, friends, guests. Making meals that meet their needs and desires. Staying innovative and inspired. Keeping everyone happy. Getting dishes out on time and on budget… I can barely manage to deal with the idiosyncrasies of my own family – much less three families of such distinction.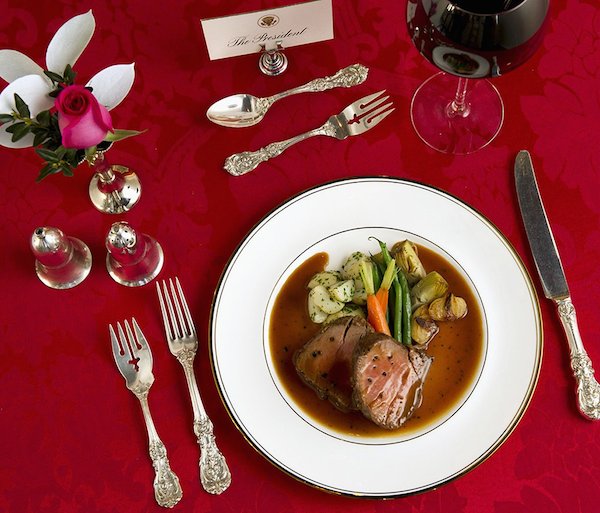 It's a great book, one that has won awards for both best cookbook for the year and best celebrity memoir of the year by prestigious independent literary organizations.  It's a super fun read that I enjoyed for a number of reasons, which I'll share with you.
First, readers get Chef Moeller's insider details that, though respectful and modest, still titillate those of us prone to enjoying food porn.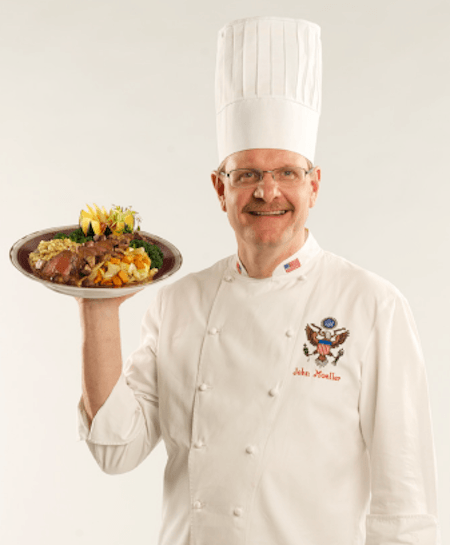 For instance, Chef Moeller describes the preparation of a meal for the 1999 Sara Lee Front-runner Awards luncheon, indicating that the social secretary was "especially delighted" that Julia Child was among the day's guests. Chef Moeller didn't have time to worry about that; he was busy making sure that the event meal was being prepared and served properly.
He must have done a bang up job because Mrs. Child decided she would like to visit the kitchen, compliment the culinary team. They even took a picture to prove it! This was a meal served during the time that the Clintons were the first family and the Chef  must have been gratified, even just a little, to see a note from Julia Child to Hillary Rodham Clinton, which is shown in the book, stating that she was "delighted to find the White House sparkling, and the service beautiful and attentive, and the food delicious." Okay, so I'm not and never will be a White House chef, but that gave me chills.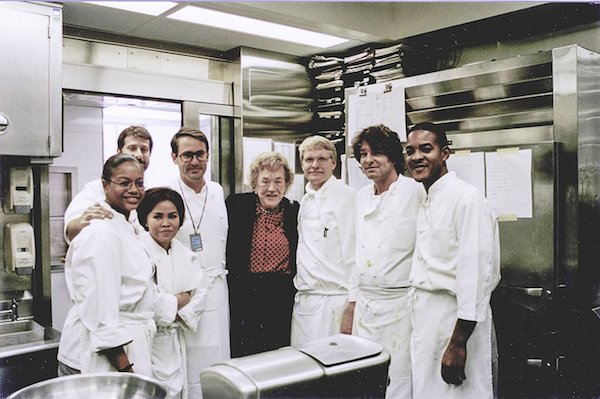 That is just the first of many wonderful stories and experiences shared by Chef Moeller about his time at the White House. And, as if a peek into the inner workings of White House cookery wasn't enough, Chef Moeller includes stories and recipes covering the George H.W. Bush, Clinton and Georg W. Bush years. From breakfast orders for resident guests to formal dinners honoring former presidents, you'll find tales and tastes to satisfy your curiosity. I have to admit, even just seeing Poached Maine Lobster on a plate with the presidential seal on it made me feel like I was getting a glimpse of culinary history myself.
Congressional Picnics, Movie Night at the White House, Dinner on the occasion of the Summit of the Americas, and more are seen through the eyes of someone who did the meal planning, preparing, and even serving of some of the world's most important people. Recipes include everything from tamale salad to black truffle-scented Merlot sauce.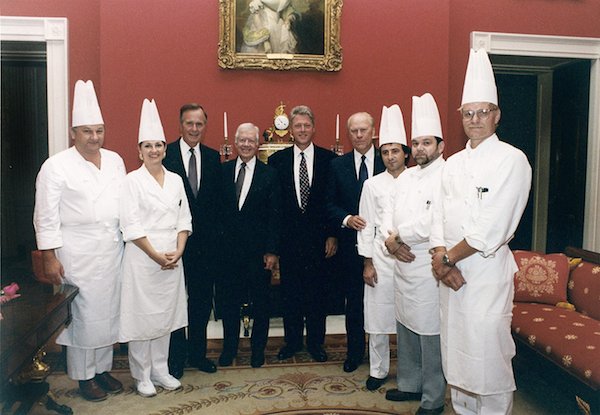 Whether your curiosity is piqued by meals conceived and carried out in the White House, personal stories from in the trenches, seeing the development of Hillary Rodham Clinton's vision of "American Fusion" cuisine, or just want some amazing recipes to try so you can eat like the first family, Dining at the White House has much to offer. Check it out and let us know what you think.
If you'd like to try out one of the Chef's recipes for yourself, how about giving this a try.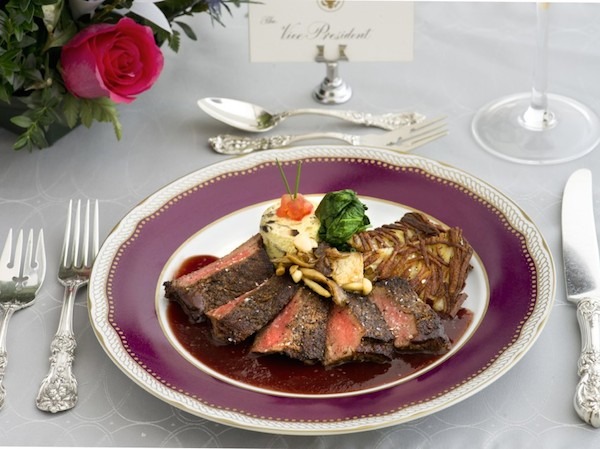 Pan-Seared Bison Loin with Madeira Sauce
Pan-Seared Bison Loin
Serves 6
Preparation Time: 40 minutes
Cook Time: 15 minutes
3 (10-ounce) bison strip steaks
2 tablespoons canola oil
Salt and fresh milled black pepper
Remove steaks from refrigerator 30 minutes before cooking. Season steaks with salt and pepper.
Heat oil in medium pan over medium-high heat. Place steaks in pan, and sear 4 to 5 minutes per side for medium rare. Transfer to plate, and rest for 5 minutes.
Madeira Sauce
Serves 6
Preparation Time: 10 minutes
Cook Time: 15 minutes
2 teaspoons unsalted butter
2 shallots, thinly sliced
5 peppercorns
1 sprig fresh thyme
½ cup Madeira wine
1 cup prepared demi-glace
Salt and fresh milled black pepper
Melt butter in medium saucepot over medium heat. Add shallots, and sauté 4 to 5 minutes, until lightly browned. Add peppercorns and thyme, and sauté another 2 minutes. Add wine, and bring to boil for 10 minutes, or until reduced by 80%. Add demi-glace, return to boil, and decrease heat to simmer for 5 minutes. Season with salt and pepper. Strain into another saucepot, cover, and keep warm over low heat.
Disclosure: I was provided a digital review copy of this book. I was not compensated for this review and all opinions are my own.
All Photos and recipe courtesy Chef John Moeller and LifeReloaded Specialty Publishing. http://diningatthewhitehouse.com
THE QUICK BITE: Go behind the scenes of  cooking for first families and their guests, discover insights and explore recipes with White House Chef John Moeller, who spent more than a decade on the job in Dining at the White House: From the President's Table to Yours.