El Cid Resorts in Mazatlán Something For Everyone
If you live in a certain climate it's that time of year when winter sets in. The skies are gray a little too often and you start to get a little tired of the cold, ice and snow.
Your mind starts to wander. Dreaming of the warm sun on your skin, soft ocean breezes and a fruity drink in your hand.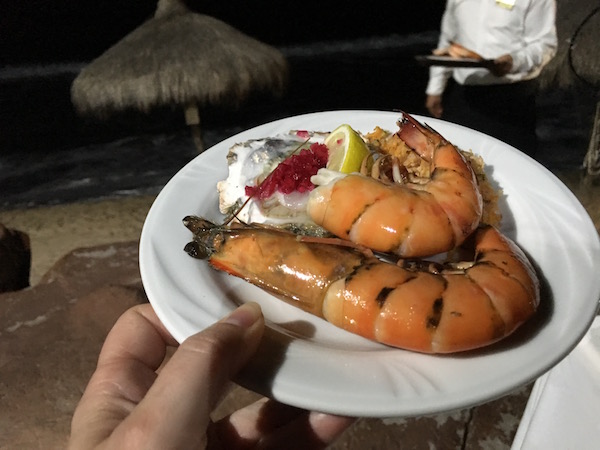 Mexico has been a quick, affordable getaway destination for many years. One area we hadn't explored in Mexico was Mazatlán. Located on the Pacific Ocean this Mexican city supplies more than 30 percent of the food to Mexico. It's also know as the "shrimp capital" of Mexico.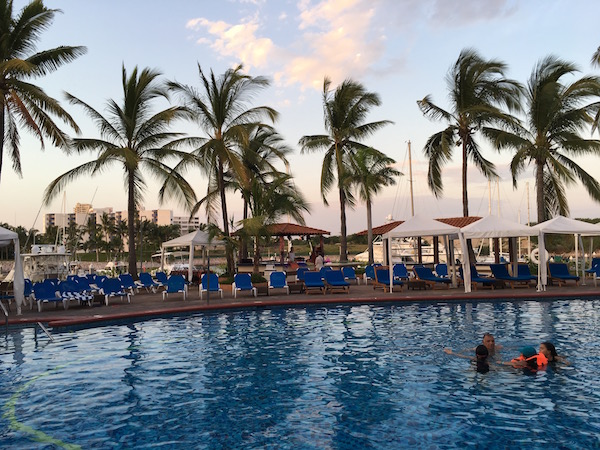 El Cid Resorts
One of the most affordable ways to travel is to choose an all-inclusive resort package. As you might suspect, they are not all created equal. Those of us who want to experience authentic local food may even avoid these type of places.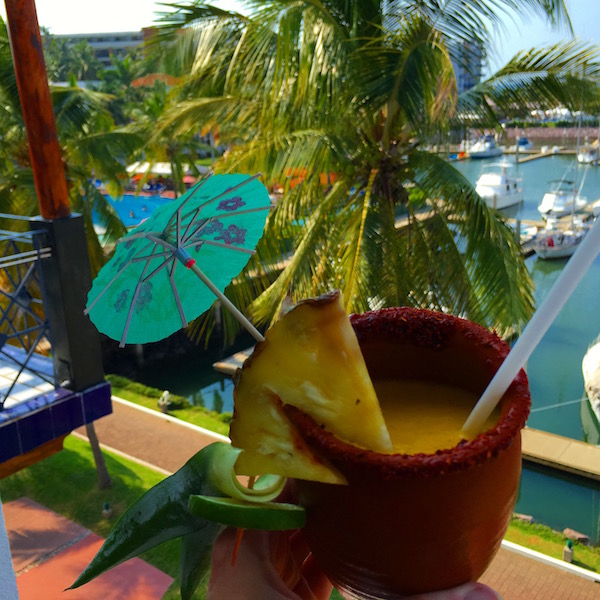 We certainly found that this was not the case while staying at the El Cid Resorts in Mazatlán. From the tropical cocktail handed to you on arrival to the fresh handmade tortillas at breakfast, beautiful dessert pastries and everything in between the was food local, authentic, plentiful and varied enough to satisfy every palate. What if we told you that prices for at this all-inclusive resort start at just $100 per night? Got your attention? Read on.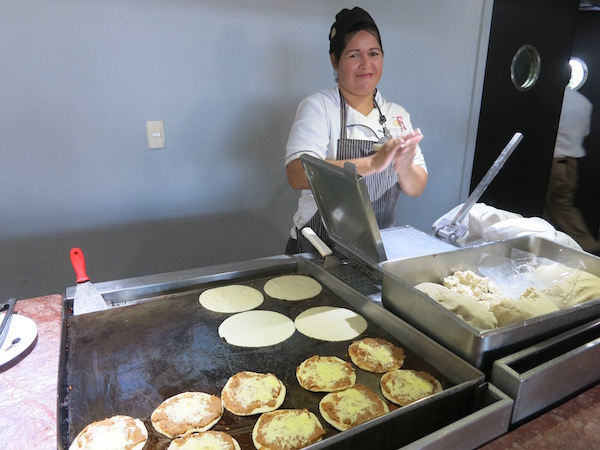 Many Choices
What's really interesting is that there are three resort properties to choose from here: El Cid Castilla Beach, El Cid El Moro Beach, El Cid Granada and El Cid Marina Beach. Each resort has its own unique features and amenities.  They are located near one another and conveniently reached by a shuttle bus.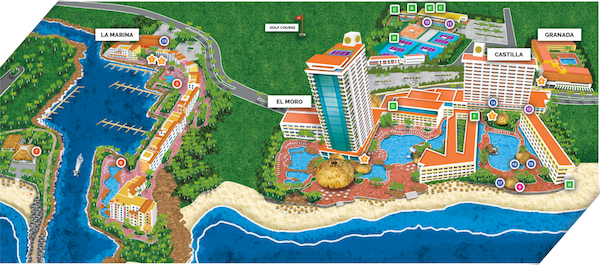 If you choose the Club Elite inclusive package you can dine at any of the restaurants at all the El Cid properties.  Even if you don't want to dine on authentic Mexican cuisine with over 15 restaurants to choose from you will find many delicious options to your taste .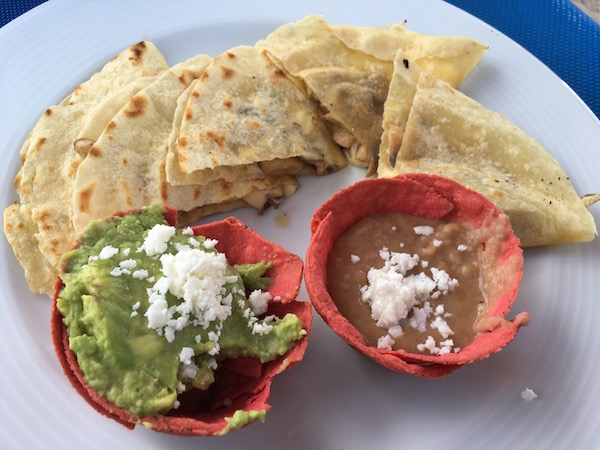 For an indulgent treat, stay in your bathing suit all day and enjoy the snack bars and cocktails from the pool. If you like fine dining in a casual setting reserve a table at one of the restaurants at the resort. Your choice of Italian, Japanese, Mexican, Argentinian cuisines and more await.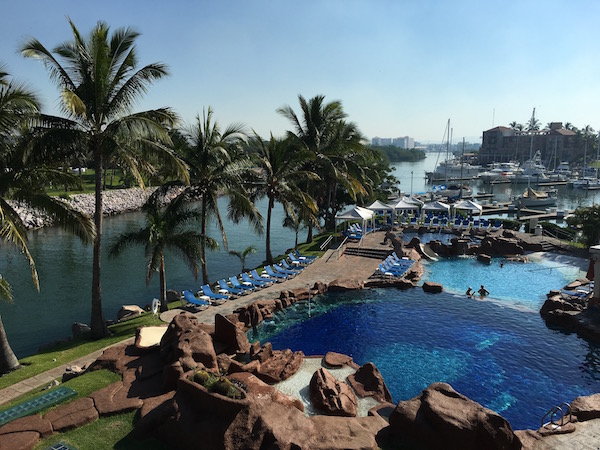 Activities For Everyone
While food and drinks may be how we choose a destination we certainly like to find other ways to entertain ourselves once we're there.
El Cid Resorts have plenty of beaches with water sports galore. Banana boat rides, snorkeling, stand up paddle boards, jet skiing and more can all be easily arranged.
If it's a family vacation you want the resort has a Kids and Teens Club full of activities to keep the young ones busy while you do some grownup relaxing on your own.
Golfing, tennis and spa facilities are all available at the El Cid Country Club.
Of course, the resort can also accommodate wedding parties, conferences, family reunions and other gatherings for just about any size party. While we were visiting, a gorgeous wedding took place right on the beach. Revelers were dancing under the stars enjoying a perfect Mazatlán evening.
More About the Food
One of the things that we enjoyed about Mazatlán and the El Cid Resorts was the abundance of fresh seafood. We dined at the La Marina restaurant and feasted on fresh shrimp, octopus and tuna prepared many different ways. It was wonderful!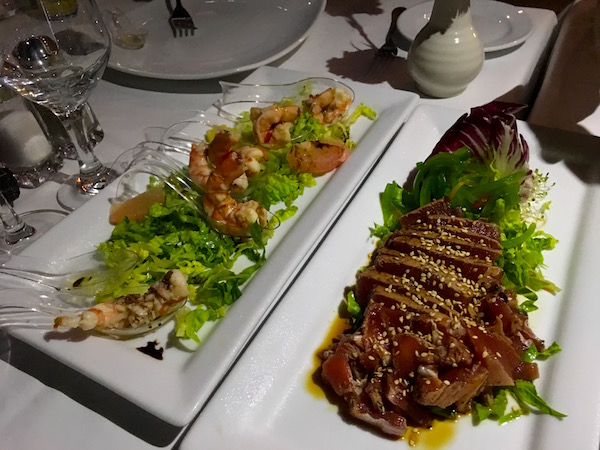 Breakfasts were delicious buffets and ala carte menu items for every size appetite. Fresh juice smoothies were the highlight of many of our mornings. A favorite was a trio of Mazatlan Machacas made with beef, shrimp and pork served with sides of refried beans, sweet corn tamale and au gratin peppers.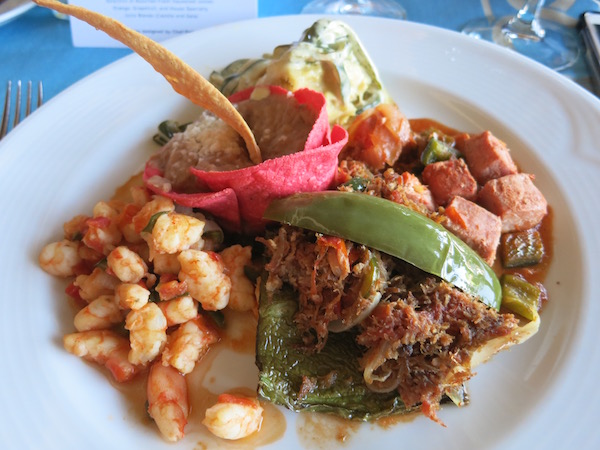 The only problem you might have is deciding what to eat and where during your stay at one of the El Cid Resorts in Mazatlán.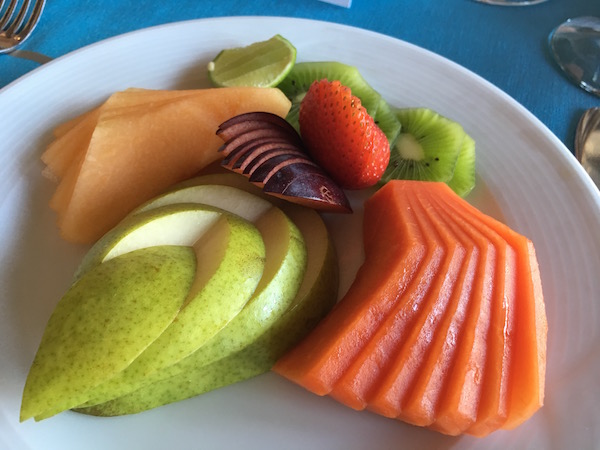 Abundant fresh fruit and Mexican pastries baked daily make it difficult to decide where to start.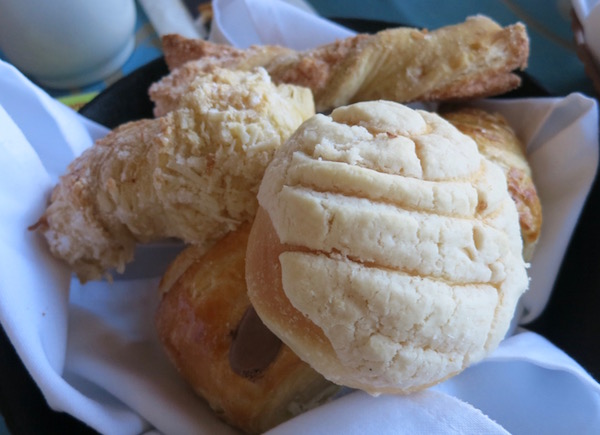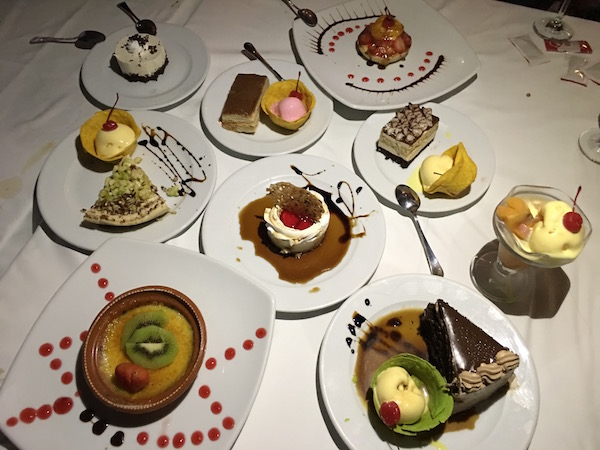 No meal is complete without a delectable dessert to finish it off. You better leave room to try them. With so many to choose from our waiter insisted we try them all! Not a problem if you A) are on the inclusive meal plan and B) bring your stretchy shorts, pants or skirt.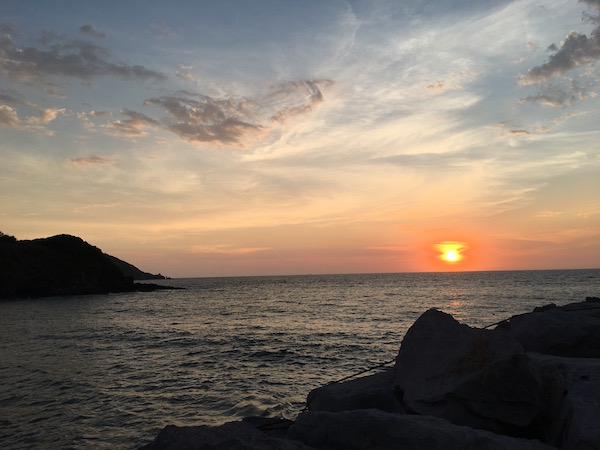 Relax And Unwind
After all this feasting you will be able to relax in your comfortable spacious room for a great night's sleep.
Check the El Cid website for the latest promotions. There's a Mazatlán Deal going on right now! Save up to 60% off and 2 kids under 12 stay, play and eat free! Those deals include inclusive Elite Accommodations plus an $1,200 USD Resort Credit Coupon Book. Rates start as low a $205 USD per night.Hurry and see their website for all the details.
More On Mazatlán 
While staying at the El Cid Resorts you'll want to make time to explore Mazatlán as well. There's plenty more to do, see and eat.
Fresh caught oysters on the beach, cruising the Malecon, one of the largest seaside walkways in the world in an open air pulmonía blasting your favorite songs, shopping at bustling local markets, taking an excursion to nearby Deer Island are just a few of the fun experiences that await you.
Sue was recently the guest of El Cid resort in Mazatlán. She was not financially compensated for this review. As always, all opinions are her own and reflect her experiences.
We'll be bringing you more tasty tips on some of the Mazatlán, shops and attractions you won't want to miss very soon. 
Read more about my visit in Culinary Roots in Mazatlán, Mexico
THE QUICK BITE: Check out the El Cid Resorts in Mazatlán for a fantastic easy, affordable get away this winter. Sun, surf and sand await at this all-inclusive resort where delicious food and options abound.