Folios Cheese Wraps Low Carb Ideas
Cheese glorious cheese wraps! We love cheese, and we're always looking for great new ways to use it. One of our favorite low carb things to do is to nestle veggies, avocado, or turkey inside a slice of cheese. That was our previous way of making delicious cheese wraps. But now, Lotito has made something so much better that we'll probably never use our old way again.
Disclaimer: We were provided Lotito Folios Cheese Wraps to sample. We did not receive financial compensation. The opinions expressed are ours based on our own experience.
What Are Folios Cheese Wraps?
Lotito's Folios Cheese Wraps are one of the most ingenious products we've seen in a long time. That's why we wasted no time in trying them out. What are they? Well, that's pretty simple. They're round, flat, lightly baked cheese slices that are about the size of a regular tortilla but they're actually better. For those worried about sensitivities, they're lactose-free. They're also gluten-free, but to be fair so is most cheese.  Think of them as great bread, tortilla, or flatbread alternative. And even better, you can easily warm them up and shape them to make a crispy crust. Our heads are spinning over how fun this can be.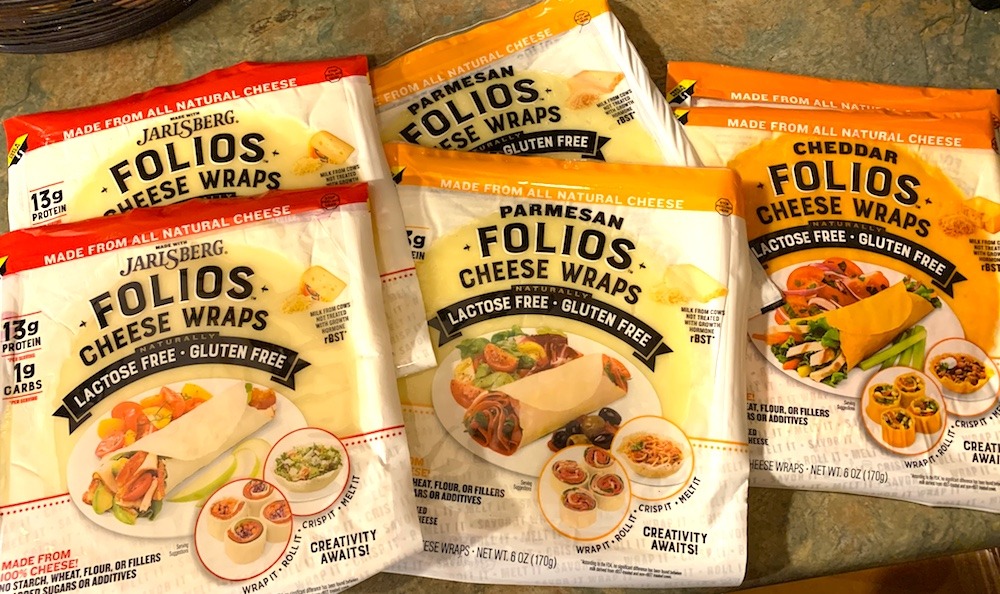 Great Cheese Wraps Flavor Options
Right now, Folios Cheese Wraps come in three different cheese flavors: Cheddar, Jarlsberg, and Parmesan. Each package comes with four wraps. That provided us with a lot of options to test drive them in a variety of ways. Just off the top of our heads, we imagined creating crispy salad bowls, soft wraps in place of boring lettuce or carby wraps. The variety of flavors appeals to us because we like different combinations with different cheeses.
Creative Ideas
We looked for inspiration, ideas, and recipes at the Lotito Foods website. The idea of Caesar salad cheese wraps using Parmesan and spaghetti in a crispy Parmesan bowl made us smile. We thought the Jarlsberg smoked salmon cheese wraps looked yummy. We also loved the idea of making a crunchy, cheesy bowl to hold our salad. So we gave some of these ideas a try. And they were all delicious.
Super Easy To Use
Lotito has made using the Folios cheese wraps super easy. They come in a package just like tortillas but are smartly separated with a parchment sheet between them. That makes it easy to separate them and, if you're going to microwave them into a crunchy bowl, you can just flip the paper over a bowl, shape the cheese and remove the paper. It's truly awesome. It takes just a minute in the microwave to heat them until they bubble and are ready to shape.
What We Made With Cheese Wraps
We let our imagination soar and made several different dishes with the Folios Cheese Wraps. Of course, we had to make a cheesy bowl, so we followed the directions for heating the cheese and forming a bowl. It came out great. We made cheddar bowls and filled them with salad greens, avocado, tomato, and veggies. So good.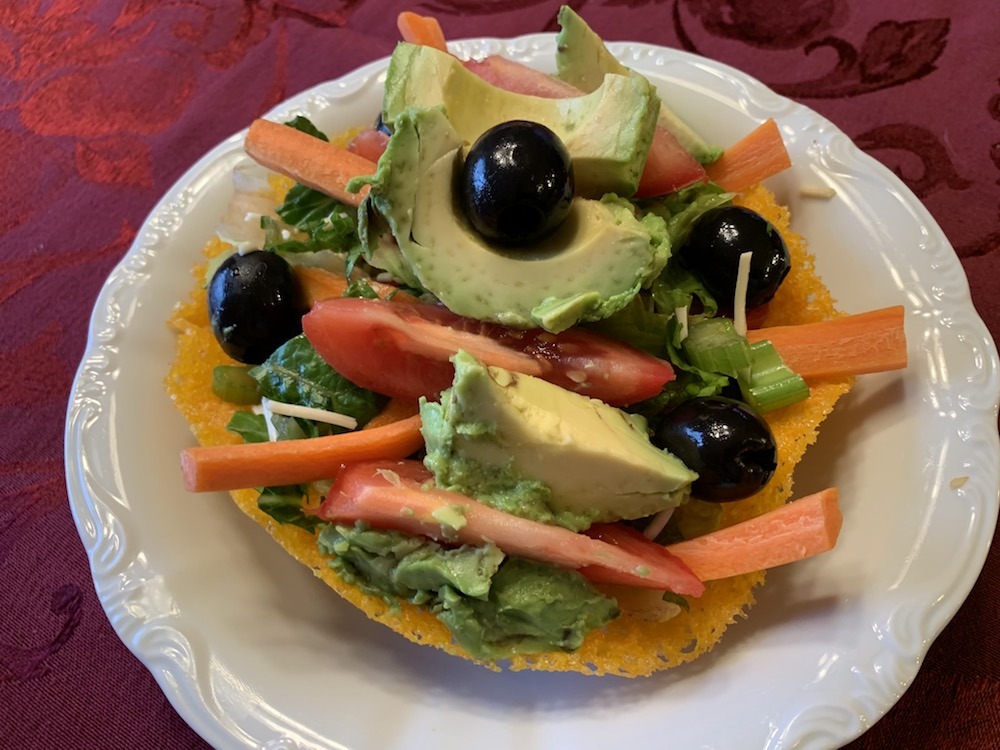 Rueben sandwiches are a favorite here, but they're also calorie and carb bombs. So we tried Lotito's suggestion for a Jarlsberg Rueben wrap. We got some extra lean corned beef, added a little homemade Thousand Island dressing and rolled it up in a Jarlsberg cheese wrap. Then we popped it in the microwave for just under a minute. Wow! These are flavor bombs without all the calories. If you're a sauerkraut fan, you can easily put some sauerkraut inside before you heat. That's a good way to get some healthy fermented veg into your diet too. These roll-ups make a good low carb option for those watching their carbs too.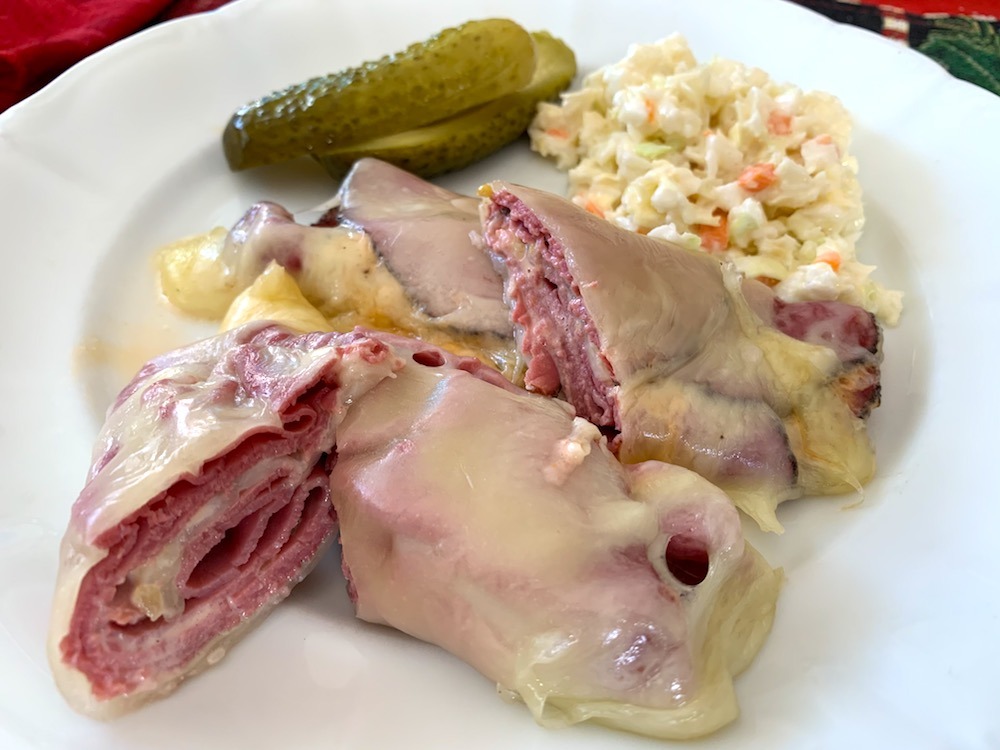 Sweet Ideas
While the obvious choice is to use Folios Cheese Wraps to make savory dishes, they can be used cleverly for some sweet dishes too. You just need to be creative and think about what goes together. This makes a great way to cut down on excess sugar but at the same time get a lovely fix of sweetness to tame your cravings in a healthier way.
The Lotito website has a recipe for a Jarlsberg Cheese Pannekaker that tops a crisp Jarlsberg cheese wrap with raspberry jam and a sprinkle of powdered sugar.
We're fans of apples and cheddar and thought a great idea would be to fill cheddar cheese wraps with thin apple slices and warm them up. Another idea is to use Parmesan Folios to wrap around melon or your favorite fruit. Kind of a sweet and savory combination we love.
So Many Ideas, All Great Tastes
Place a Parmesan cheese wrap around asparagus and prosciutto, take a Jarlsburg wrap and fill it with salami and coleslaw, or fill a crisp cheddar bowl with your favorite homemade chili. The ideas are really limited only by your imagination. The taste of the Folios Cheese Wraps is a true cheese flavor. There are no weird aftertastes and there are no strange texture problems whether they're crisped, warmed or just out of the fridge. We'll continue coming up with tasty ways to use these clever cheese wraps because we just like them a lot. To see some recipes come to life, check out the videos on the Lotito website.
Portable Snack
Because the Folios Cheese Wraps are real cheese, they require refrigeration just like real cheese. But if you're planning a picnic, getaway, drive, or afternoon out, you can make some highly portable snacks to take with you in a backpack or your lunch bag. Just be sure to consume them within the normal time frame. Check the packaging for more details.
Easy To Find, Easy To Enjoy
Folios Cheese Wraps are pretty easy to find. We even saw them at our local Costco store. To see where you can find them in your area, check out their website here.  There's also an online store listed that you can order from to have them shipped to you nationally.
That's A Wrap
A cheese wrap that is! We really enjoyed the fun, smart, and tasty Folios Cheese Wraps. If they sound like something you'd enjoy, we encourage you to give them a try and let us know what you think. We'd love to get some of your ideas on how to use them too. Please feel free to share any of your ideas in the comments.
Pin To Your Recipe Boards on Pinterest