How To Spend A Really Awesome Weekend in Grand Rapids Michigan
Michigan. The mitten state. When you think about Michigan you might not think of culinary diversity but you would be wrong. Many towns in Michigan actually feature some of the best food in the Midwest. Located just about a three-hour drive from Chicago, Grand Rapids is one of those places we wanted to explore.
We'd like to thank Experience Grand Rapids for hosting our visit to Grand Rapids. We also received the Mazda CX3 to test drive on our road trip from DriveShop. As always, all opinions are our own and reflect our experience.
We had heard that Grand Rapids was known as "Beer City USA" for all the local craft breweries in the area but after just a little research we learned that it has so much more to offer.
Let's Hit The Road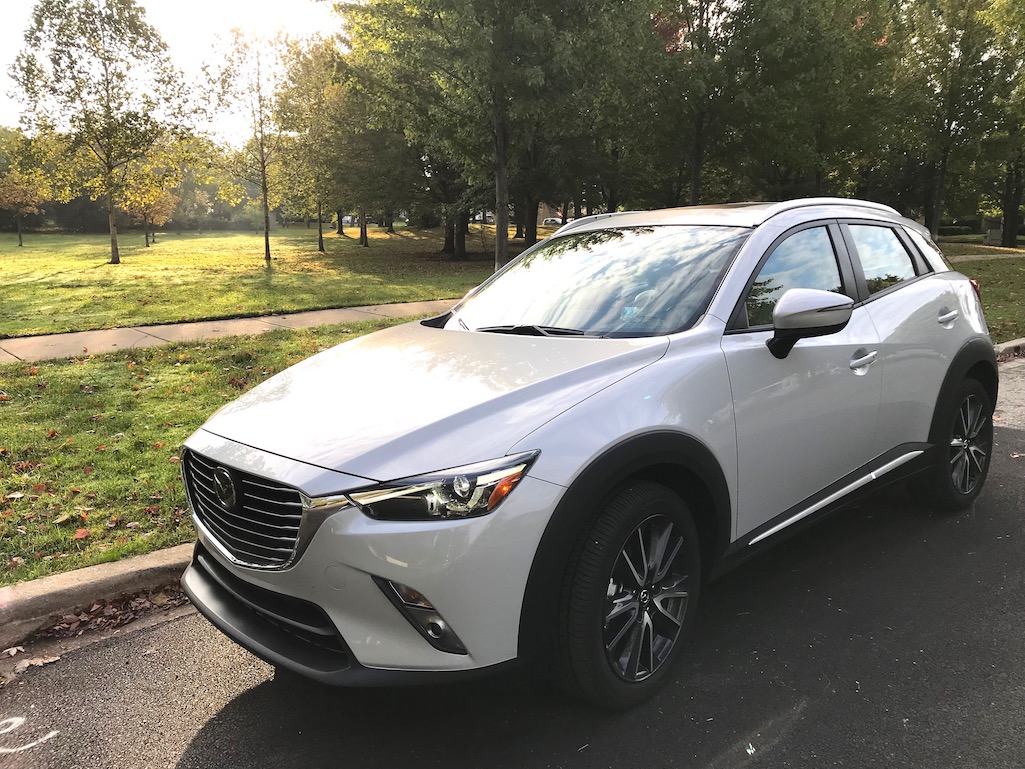 We jumped in our shiny new Mazda CX3 from Drive Shop and shouted "Road Trip!" One of the great things about living in Chicago is that there are so many wonderful road trip destinations within just a few hours.
The CX3 is a compact crossover vehicle that is perfect for a road trip. It's really sporty and has all the bells and whistles you'd expect in a new car. We really appreciated the Mazda Radar Cruise Control that practically drives the car for you. The Active Driving Display keeps you keenly aware of the speed limits and your speed. Safety is an important part of your drive and you can be sure that this vehicle has you covered.
Let's Eat! 
The three hours sped by while we listened to tunes from the 60s and 70s, as well as the weather and the news. We love listening to all kinds of entertainment on our trips and the Bose audio system in the Mazda CX3 sounds great. With SiriusXM satellite radio you can find something for everyone!
Our first stop in Grand Rapids was for lunch. We were craving a burger and we'd heard that The Cottage Bar & Restaurant had a special burger aptly named the "Cottage Burger."  In fact, it's so good USA Today even listed it in the 51 Great Burger Joints.
This 1/3 pound beef patty is served on a dark rye bun, topped with green olives (unusual but really good), Swiss and American cheese, lettuce, tomato, BACON!, and their special hickory mayonnaise. Let's just say we were off to a delicious start.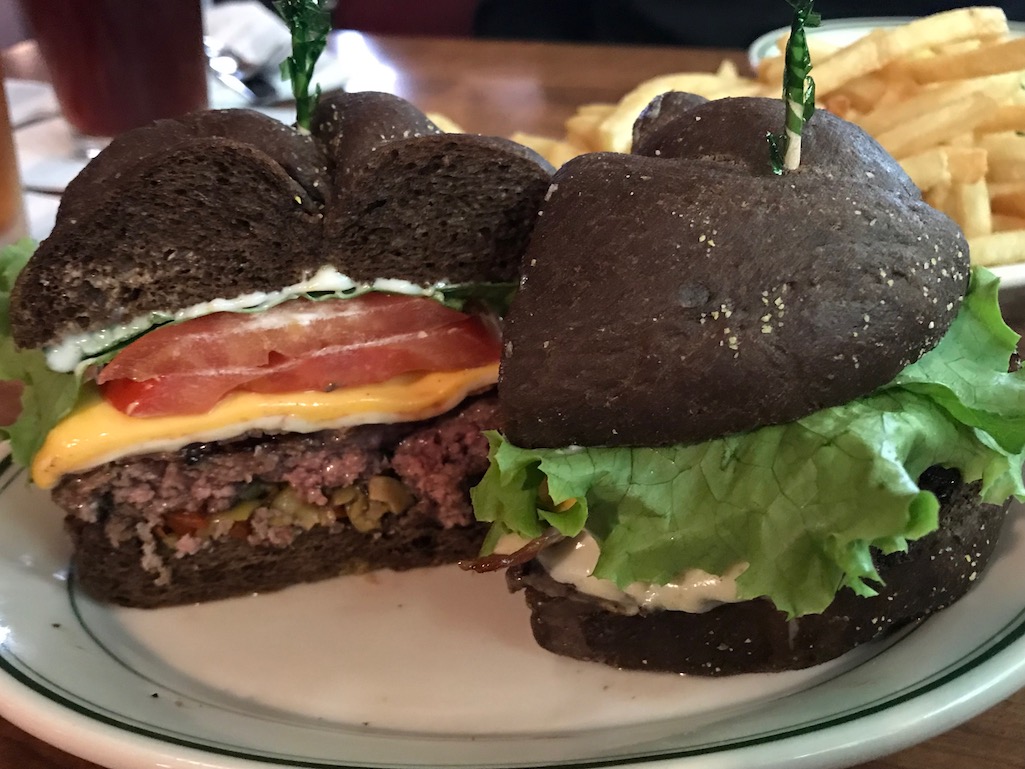 Let's Relax
Now to check into our home base for the weekend. Our host hotel was the Amway Grand Plaza part of the Curio Collection by Hilton. From the moment you walk into the gorgeous and expansive lobby, you know you're in for an extra special stay. Located in the heart of downtown Grand Rapids the Amway Grand Plaza is truly grand and perfect for weekenders to make the most of their stay.
This historic hotel erected in 1913 is a member of Historic Hotels of America®. The weekend we were visiting happened to be the final weekend for the amazing annual ArtPrize event in Grand Rapids.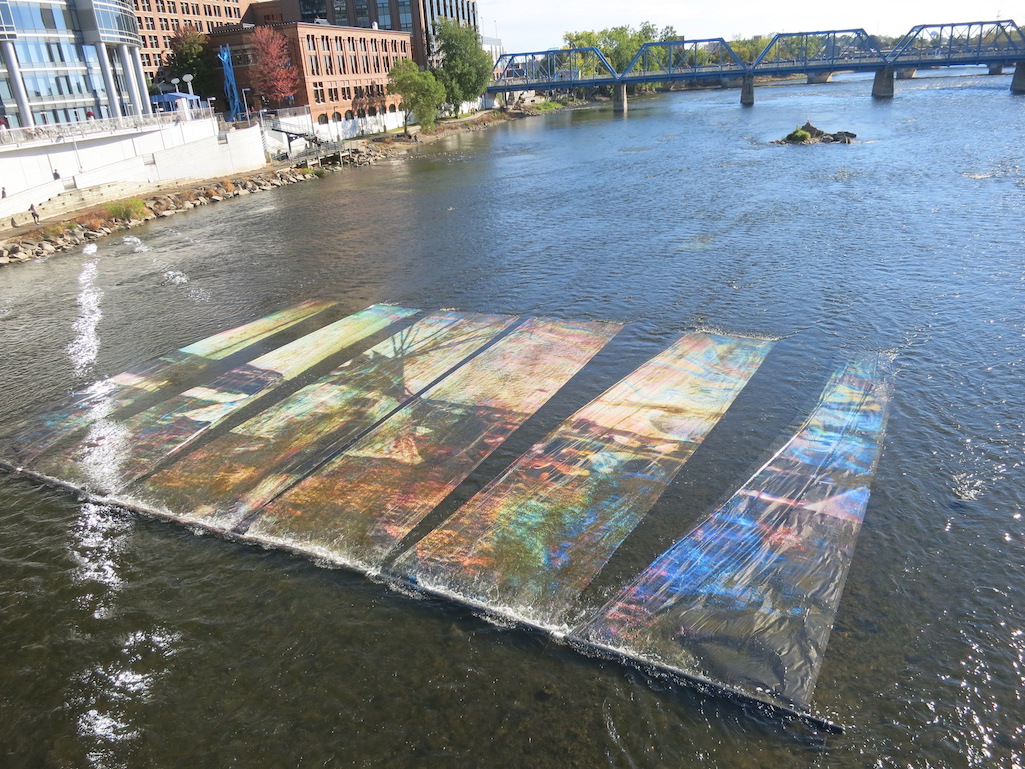 ArtPrize is a unique event that lasts 19 days every fall. It's free and open to the public. The unique art competition accepts applications from anyone who wants to submit their work.  There are prizes awarded by public vote and also by a jury of art experts. The art is placed extensively throughout the city in galleries, restaurants, bars, museums, public parks, bridges, vacant storefronts and office spaces. The idea is to encourage visitors, art lovers, students, families, just about everyone there to explore the limitless possibilities that art and artists represent.
Throughout our weekend we saw many groups of people from all over strolling the city and enjoying the art. It's a great way to see the city, experience culture, meet new people and share ideas with others.
If you're an art lover, plan your visit to Grand Rapids around this wonderful event that attracts some 500,000 visitors.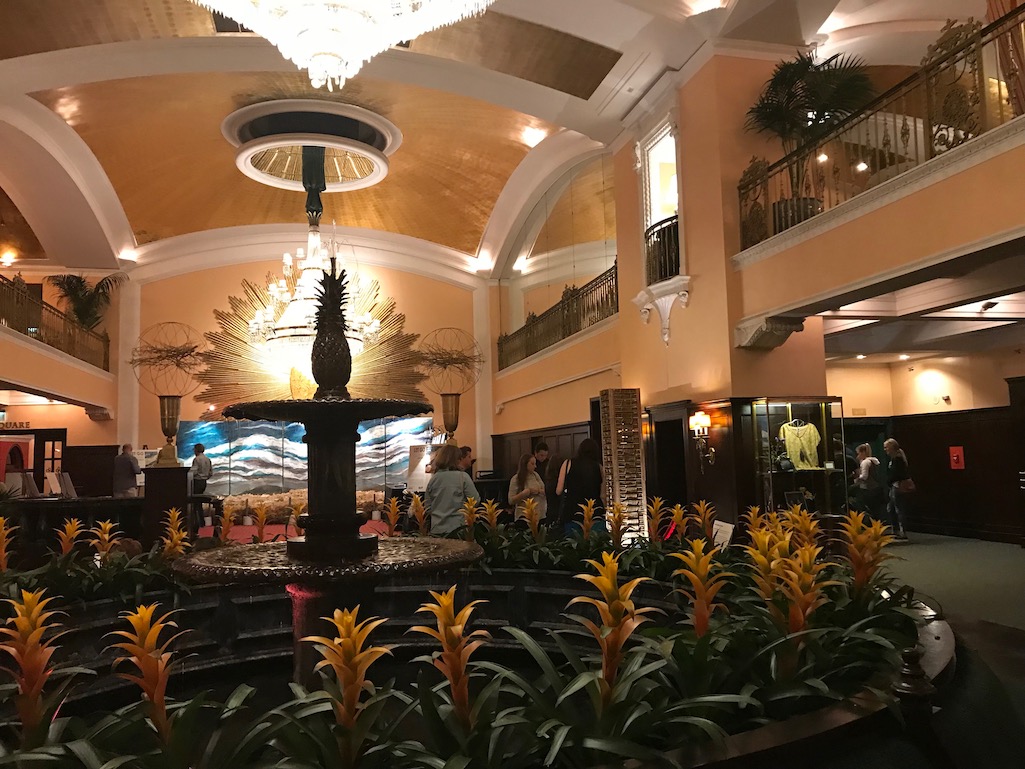 The Amway Grand Plaza had many works from ArtPrize displayed throughout the hotel. In fact, the Public Vote Grand Prize Winner of $200,000 "A. Lincoln" by artist Richard Schlatter, a portrait of Abraham Lincoln created completely out of pennies was on display in the lobby.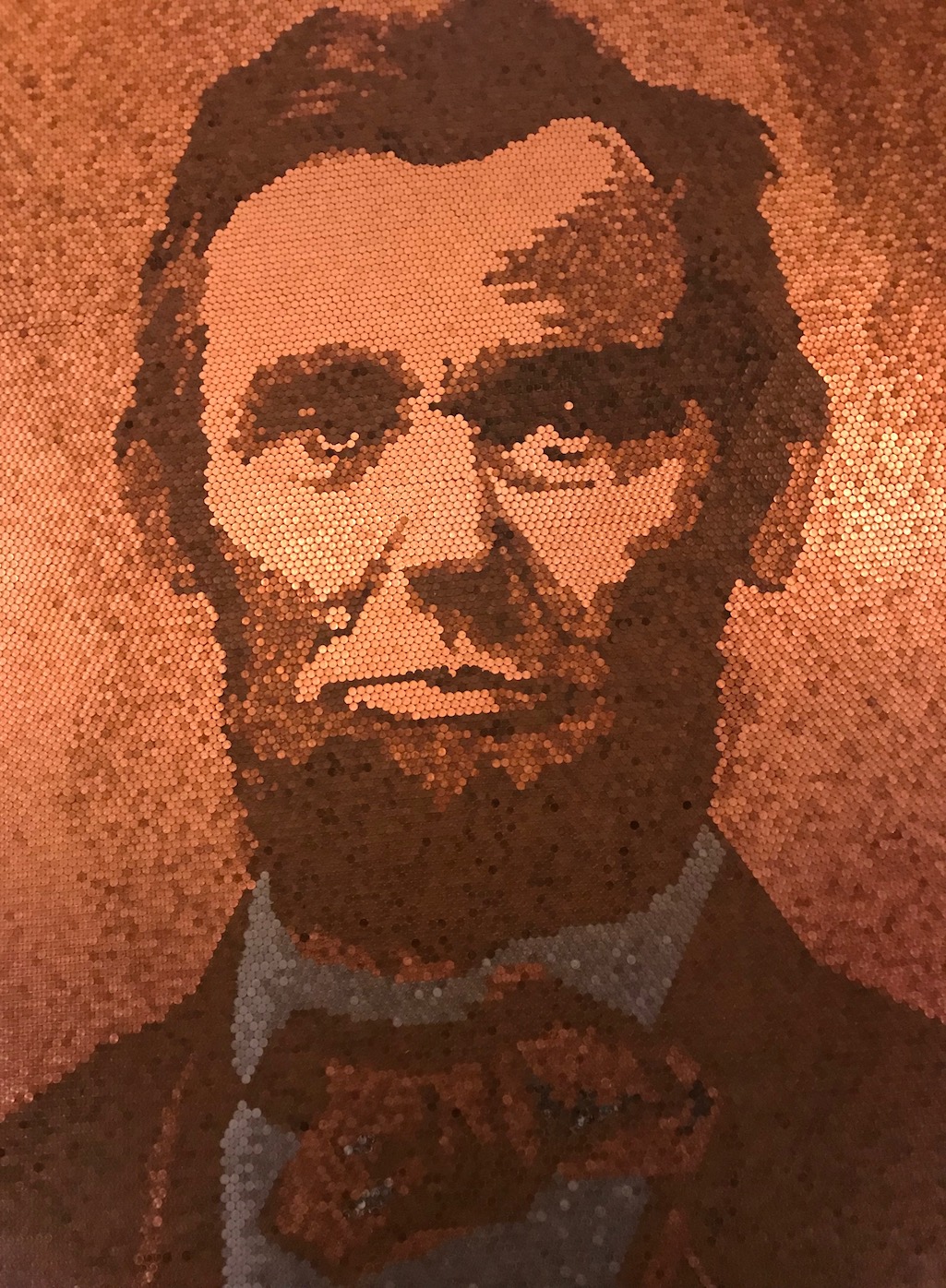 Beer Me!
We mentioned earlier that Grand Rapids calls itself Beer City, USA. USA Today readers voted and named Grand Rapids Best Beer Town and Best Beer Scene. So you know it's legit. They have a Beer City Ale Trail that covers more than 60, yes that's 6-0 breweries!
There's even a Beer City Brewsader Passport. If you collect 8 stamps from these breweries you get your very own exclusive Brewsader t-shirt! Check out the details at ExperienceGR.com/Brewsader.  There are beer tours that cart you around from brewery to brewery so you can really enjoy yourself without having to worry about driving or anything else.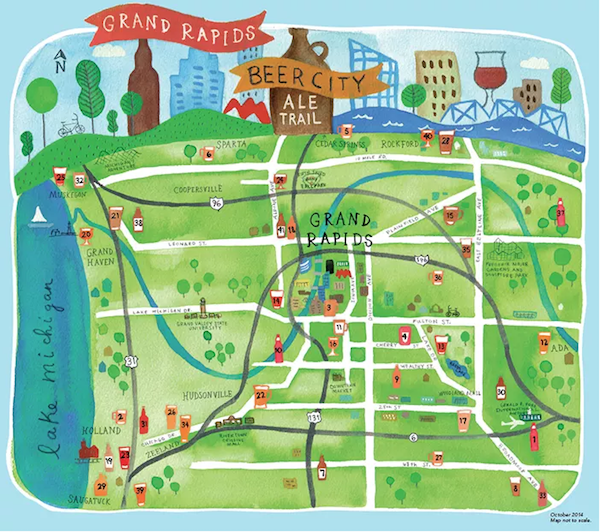 Although we didn't get to all 60 breweries we did try quite a few local brews, some in incredibly unique and memorable places. For instance, have you ever thought of a funeral home as a great place to get a beer? Well, if it's, Brewery Vivant then it certainly is that place. They serve Belgian style beer in what is now a fun and hip setting. This place was packed on Friday night so come prepared to sip a beer, chit chat and wait.
Cherry Street
The Brewery Vivant menu is a mix of French-inspired food and bar grub. Don't miss the Crock O' Pickles. These house pickled veggies make a wonderful snack with beer along with some tasty soft pretzel loaves. They also have a popular burger, steak frites, and even boar bourguignon.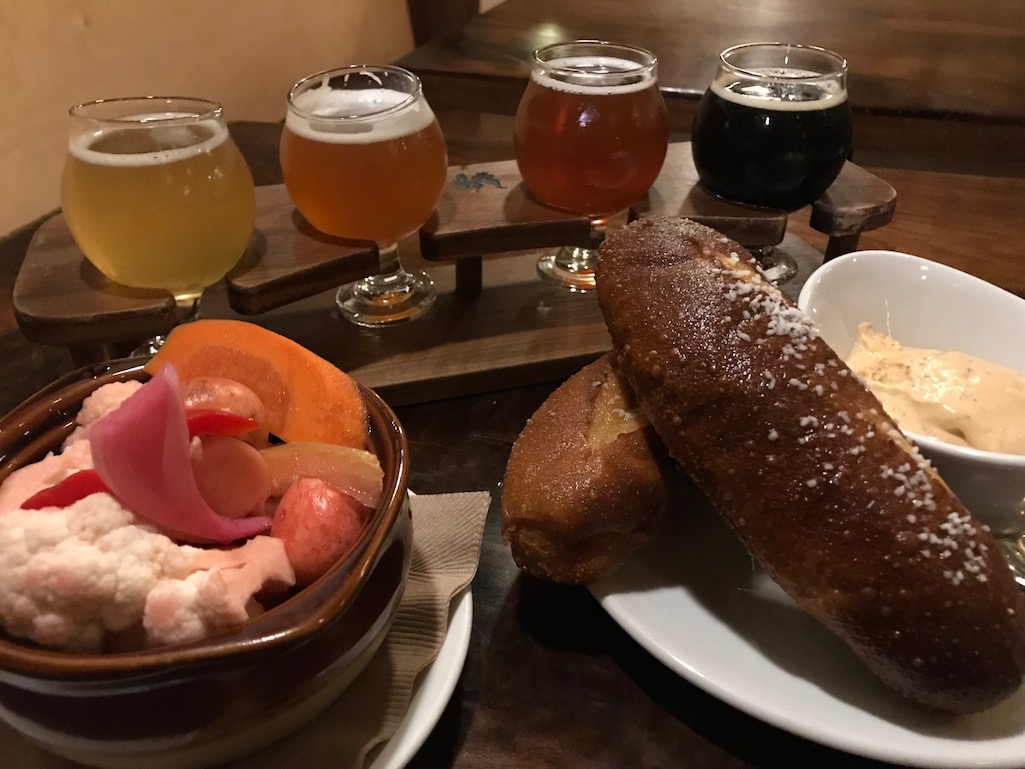 While you're there take some time to explore the neighborhood. Cherry Street has lots of cute shops, bars, and restaurants to check out. Right across the street from Brewery Vivant is Green Well. It's a great place to grab another local beer (they have quite a list) and something tasty to eat.
The menu has everything from appetizers to full plate dinners. Honestly, the menu was so terrific we had a difficult time selecting what to eat. It's an international feast of choices. Brazilian, Indian, Cuban, German, Mediterranean, lots of veggie dishes and classic burgers, salads and soups. We had the mussels which were excellent. The tomato, garlic and spinach made this taste almost like a Caprese salad. We also and the tasty chicken and waffles.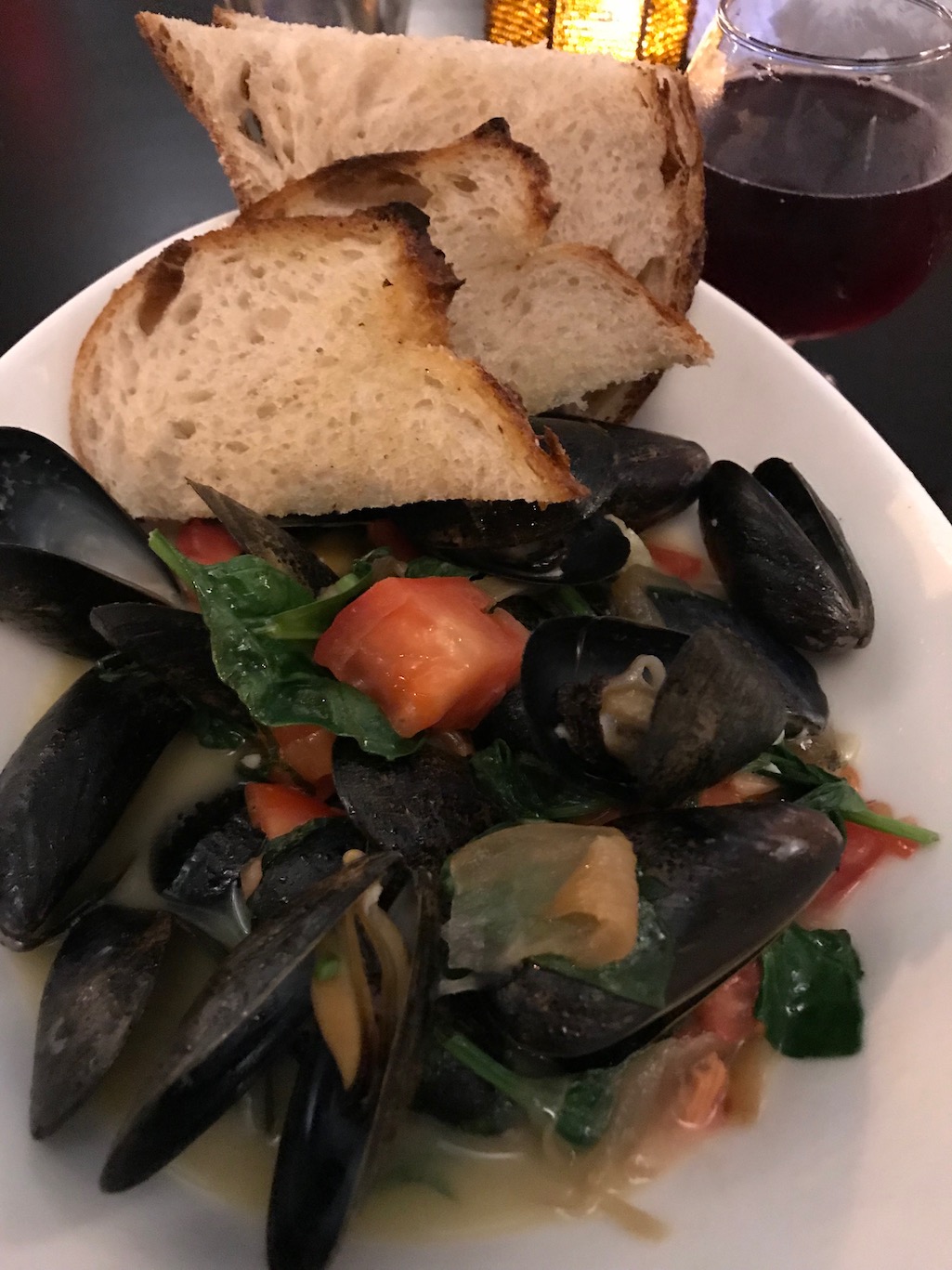 Sweet Endings
After all that if you're hankering for something a little sweet walk back across the street to Le Bon Macaron. They have an interesting selection of flavors like Marie Antoinette cake batter, cassis, yuzu, and champagne plus all the traditional flavors you would expect. A full coffee bar, tea selection and hand-crafted French and Italian sodas will quench your thirst.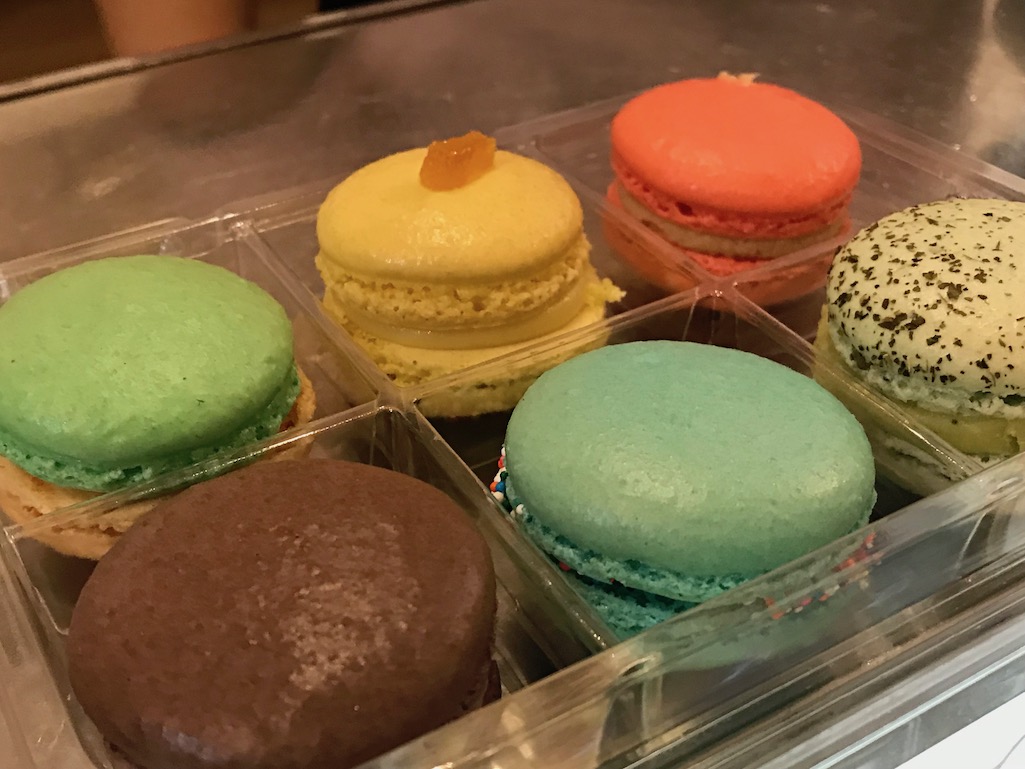 More Beer
Another popular spot to try some local brews is Founders Brewery. They have a huge facility, restaurant, and bar. If you visit when the weather is nicer you'll get to take advantage of their outdoor patio. It's lots of fun, very crowded on a warm night and a great place to hang out, try some beer and grab some food.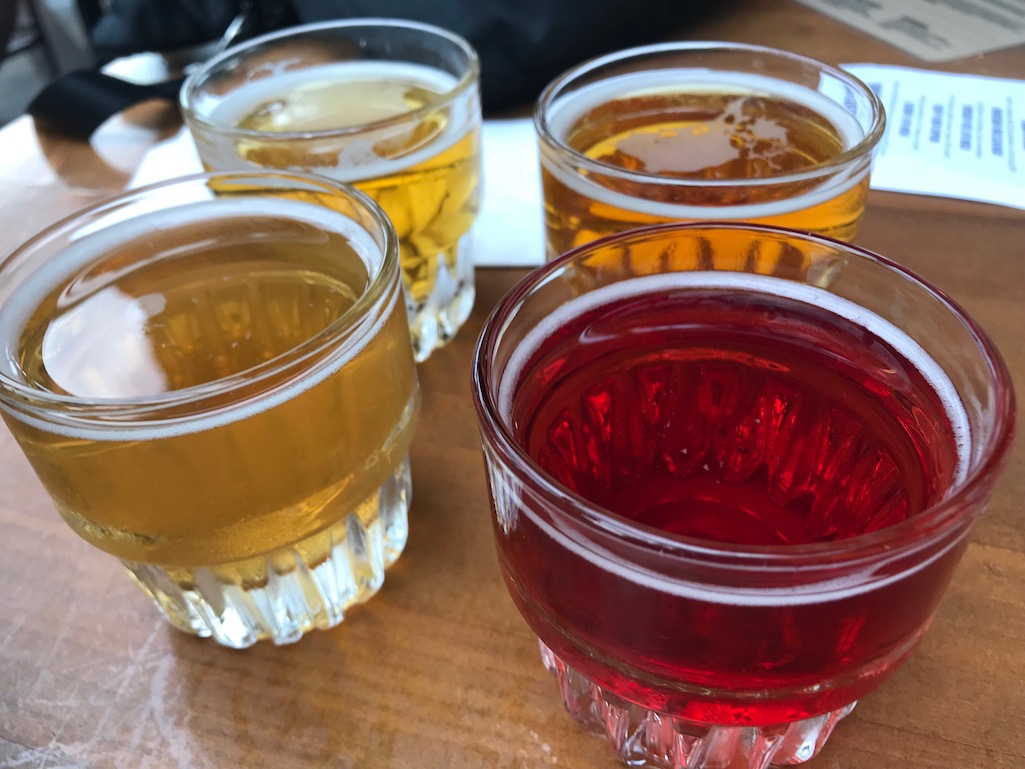 We had a couple of sandwiches which were really good but what really had us oooing and ahhing was the cheesy garlic bread. Don't miss it!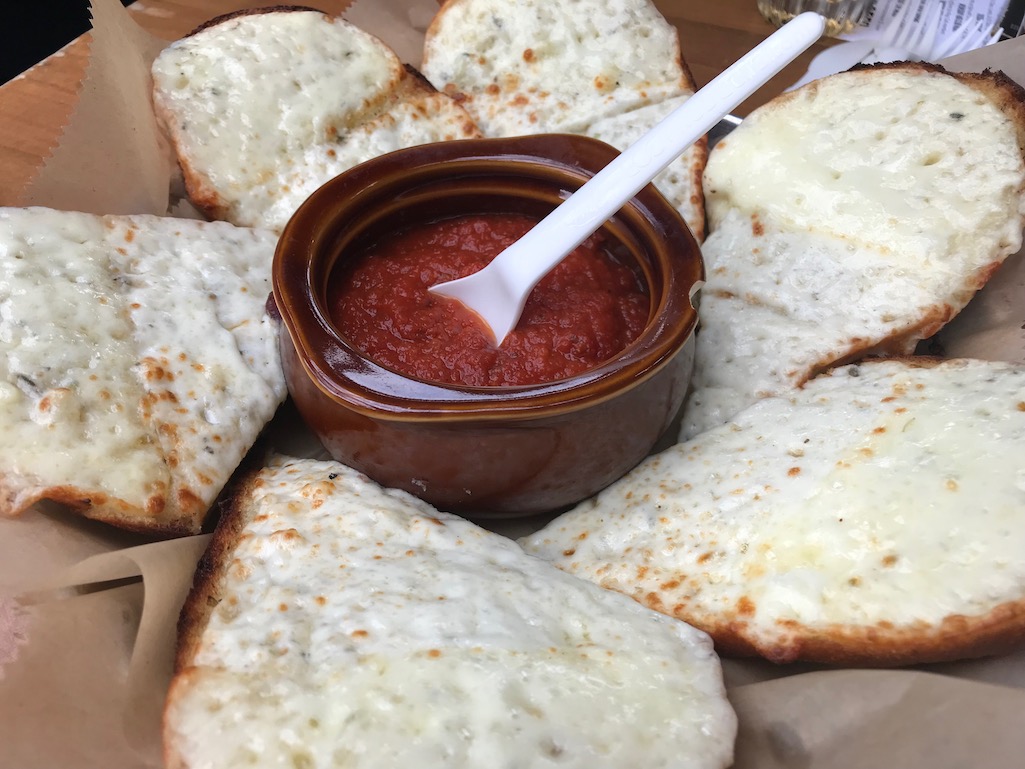 Grand Rapids Downtown Market
One of the do-not-miss spots in Grand Rapids for us food lovers is the Grand Rapids Downtown Market. It's filled with lots of shops and restaurants for all your interests. Be sure to plan enough time to stop in each stall and check out all the locals goods.
Some of the vendors in the Downtown Market are Fish Lads fresh and prepared seafood, Rocket Pies Bakery, Blue Spoon Pasta Studio, Carvers Grand Rapids Finest Meats, Madcap Coffee, Sweetie-licious Bake Shoppe, Pho616, Sushi Market and much, much more.
What makes the market even more special is that they offer cooking classes, seasonal markets and even have an Incubator kitchen for culinary entrepreneurs. It's a full working area with all the bells and whistles from a catering area to production area and packaging area.
We'd also suggest you stop and ogle the bakery items at Field and Fire Bakery. They have fresh baguettes, croissants, cookies and more. Their chocolate financier is by far one of the best I've ever had.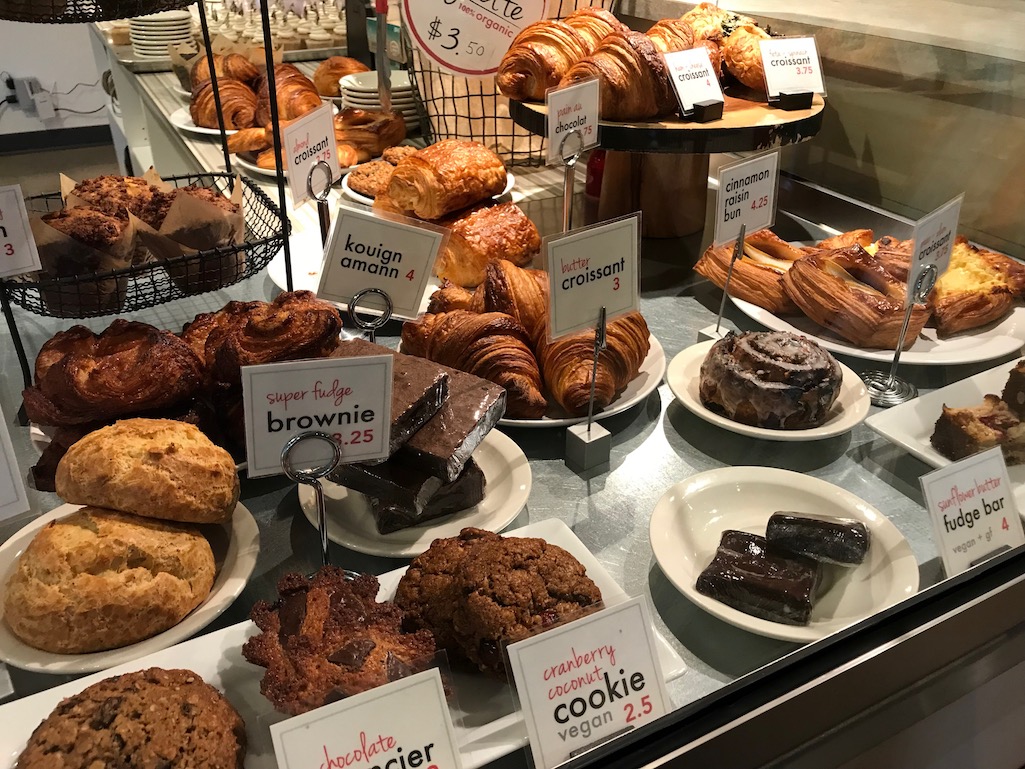 Eating in the Downtown Market
If you're looking to relax after exploring the market there are several sit down restaurants to enjoy. We tried Social Kitchen and Bar for breakfast and loved their "design your own" skillet for $12. You choose from a laundry list of sautéed veggies, sauces, meats, cheeses and how you'd like your eggs prepared. Don't miss the Social bacon, which is a super-thick cut pork belly with a yummy bourbon vanilla glaze that arrives sizzling at your table.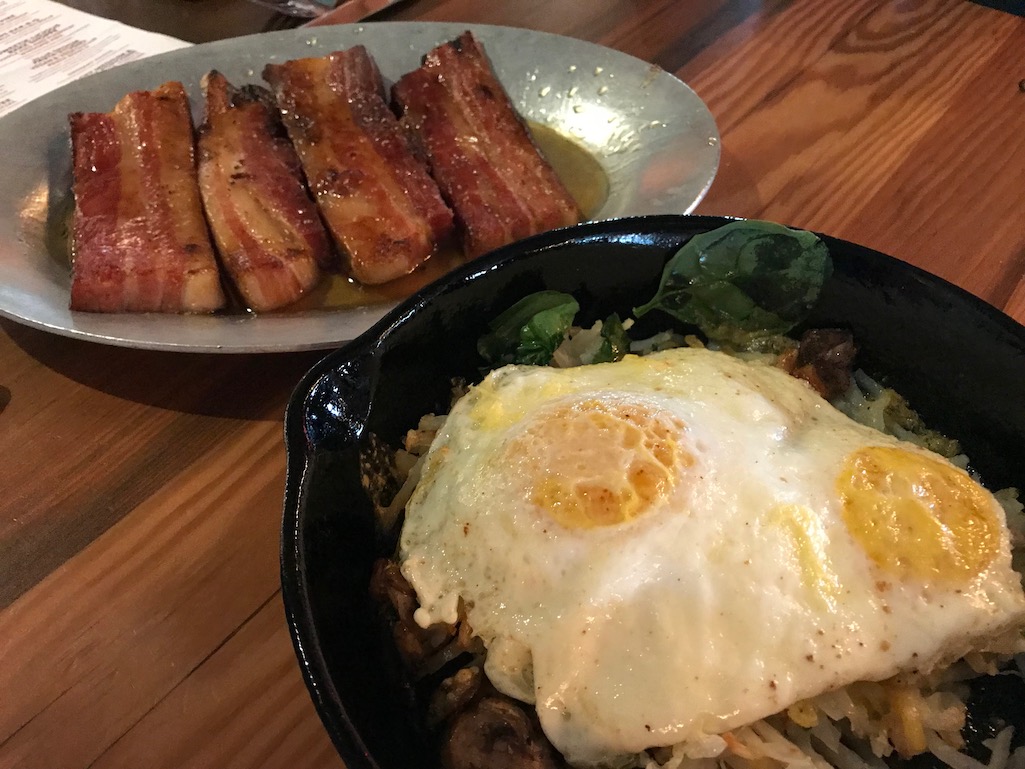 Another spot in the Downtown Market we just adored was Aperitivo. It's not only a full-service charcuterie and cheese counter but it also has some of the most knowledgeable cheesemongers in the business.
We had a chance to chat with co-owner Kate Leeder, a former Chicagoan and Sous Chef at noted restaurant NAHA and cheese buyer at Whole Foods. Kate brings her cheese expertise to Apertivo.
You can pick up cheese, meat and wine to create your own boards at home or kick back, relax and let them do the work for you. We had a lovely afternoon sampling some wonderful French cheeses recommended by Kate that we wouldn't normally have access to.
If you just want to sit and have a sip or two you can also bring in food from one of the other food specialty spots in the market. They're happy to serve you either way.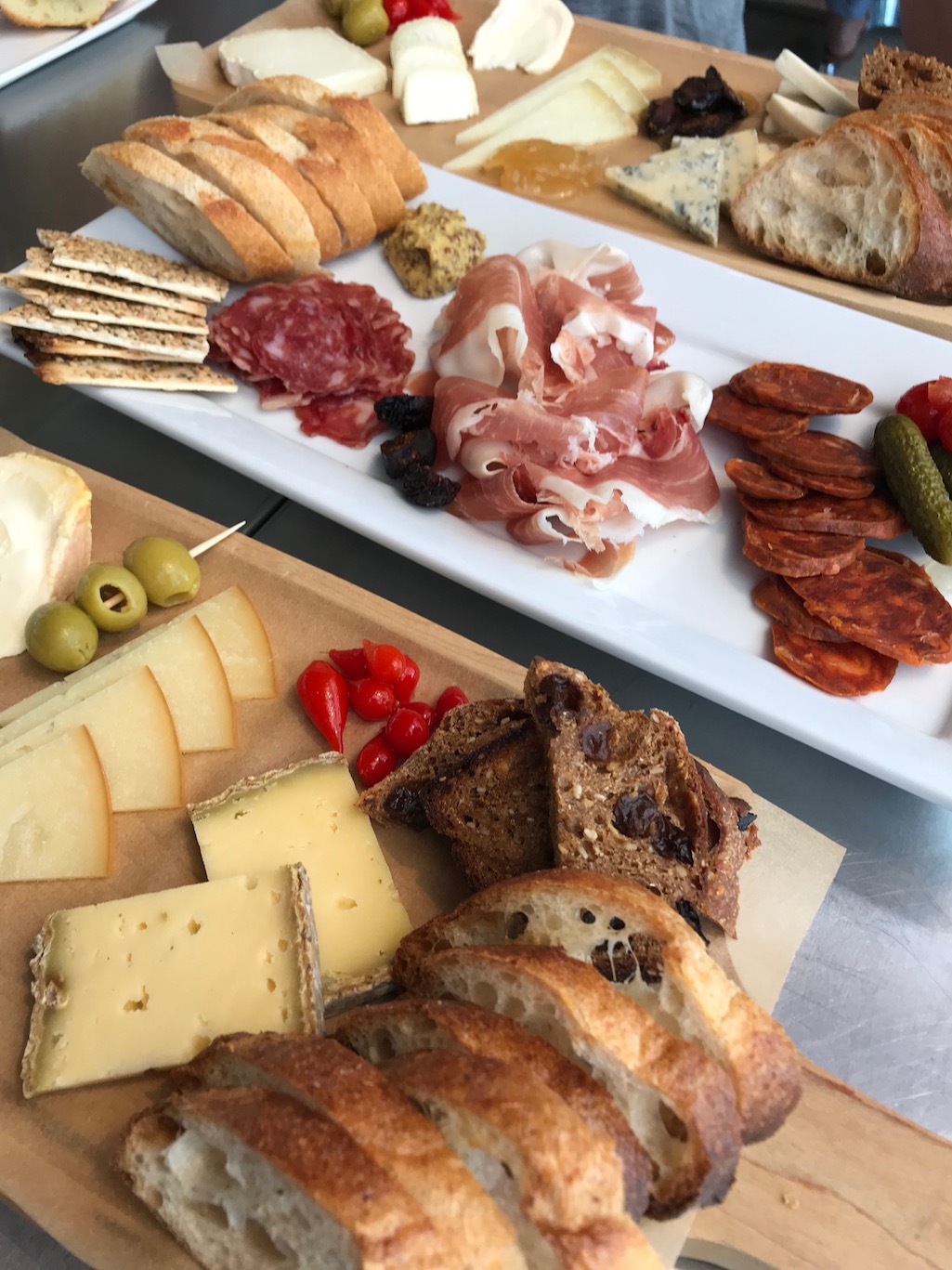 If you need a break from all the fun-seeking, stop back at the Amway Grand Plaza and relax. The indoor swimming pool, fitness room, tennis courts and spa are at your disposal. After the rest get back out there! There's a lot more to explore in Grand Rapids.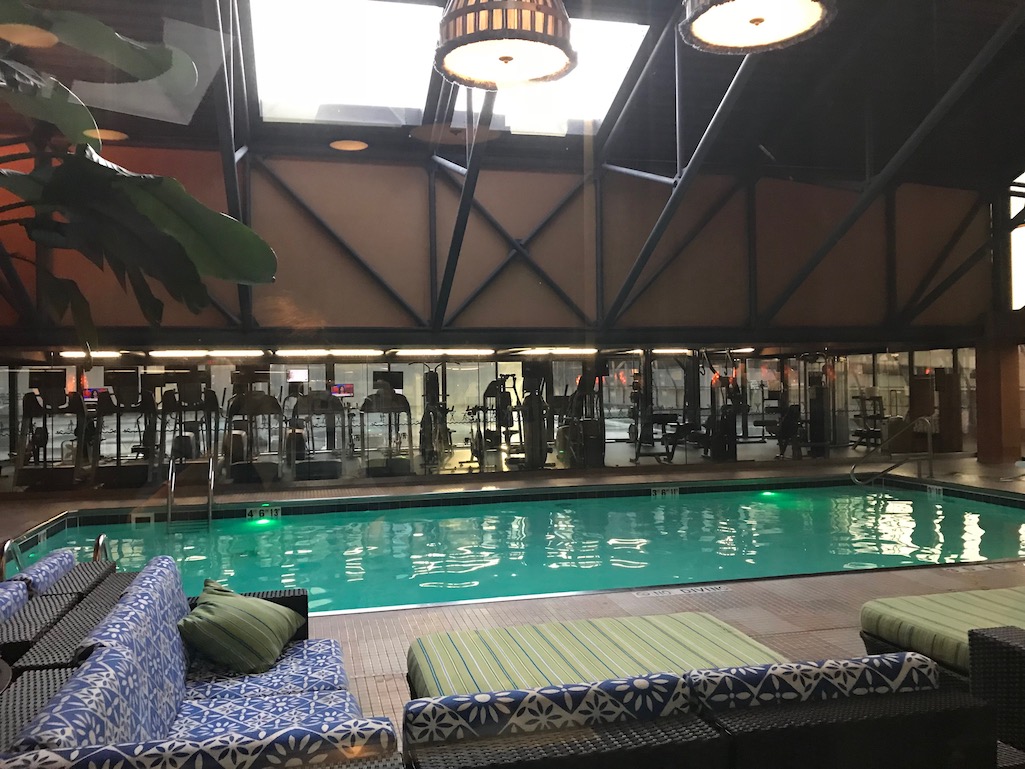 Heritage Hill 
We took a short spin over to the historical Heritage Hill neighborhood. If you're architecture buff you will fall in love with this part of town that has everything from Queen Anne, Colonial Revival, Greek Revival and even a Prarie Style house from one of our hometown favorites Frank Lloyd Wright.
After putting in some serious steps exploring you'll want to discover a few places to rest a spell, have a coffee, tea or cocktail and think about what to eat next!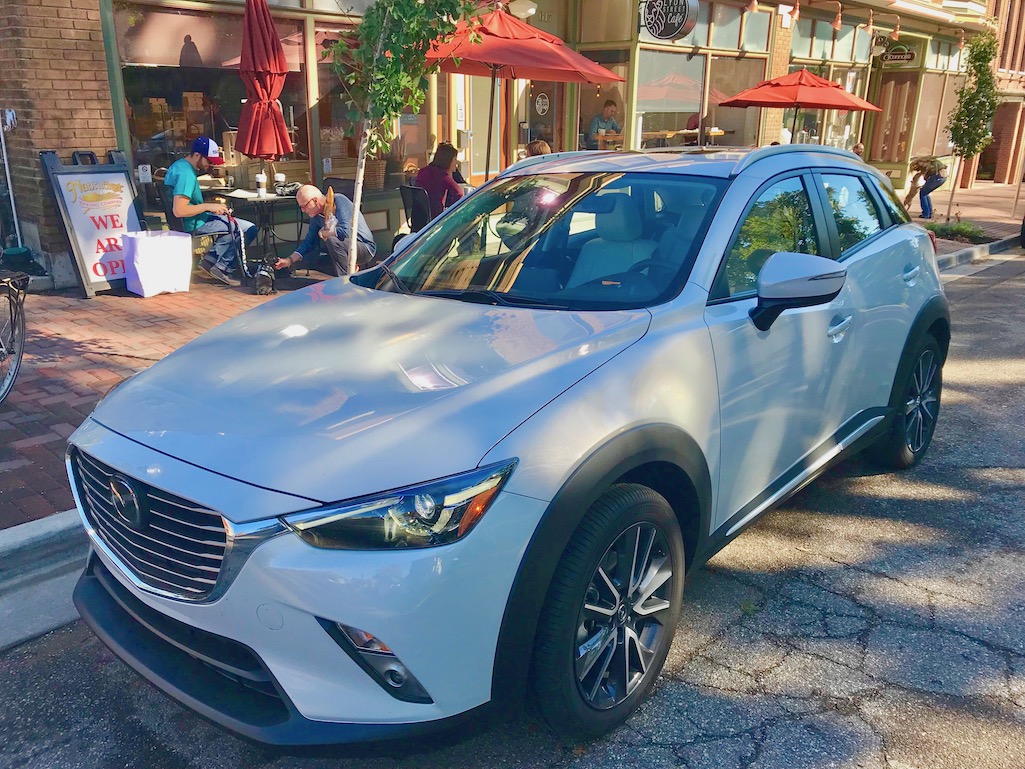 Neighborhood Eats 
There's one corner of Grand Rapids that's perfectly built for us Food Travelists. In just one block you can experience the Nantucket Bakery, Martha's Vineyard wine and gourmet store and Martha's Pizza.  Word of warning when you walk into Nantucket the intoxicating aromas will have you jonesing for everything you see.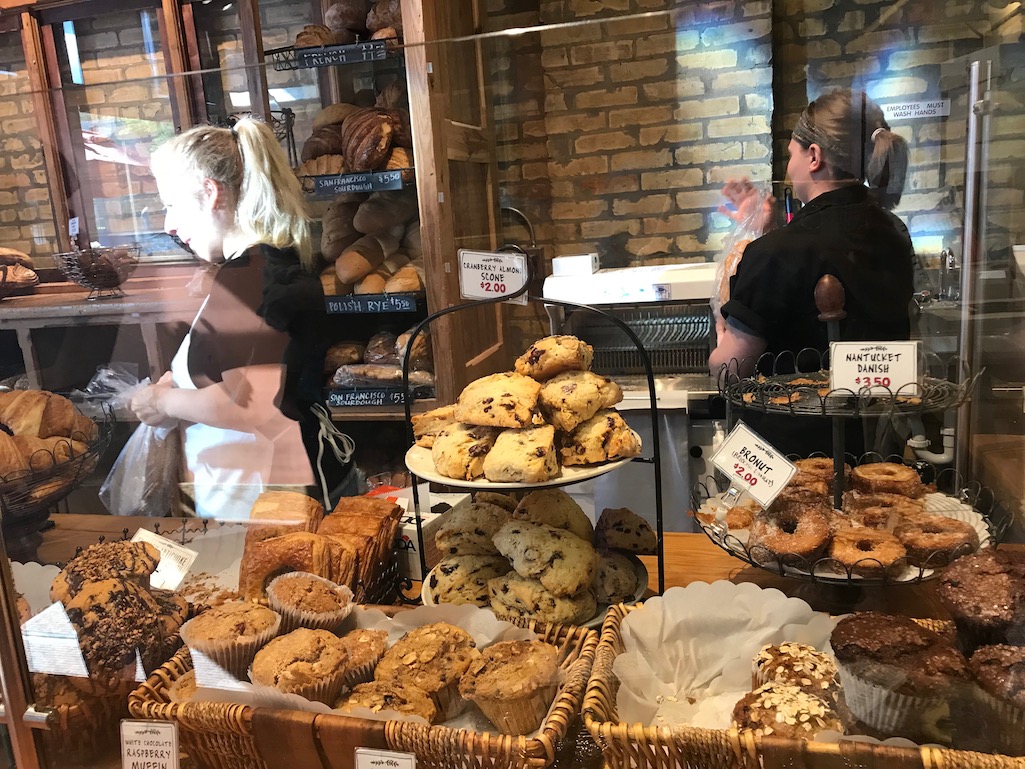 Martha's Pizza next to Martha's Vineyard had some really original pizzas with unique ingredients. We had our eye on the Fairhaven, a veggie pie with fresh mushrooms, onions, red peppers, Kalamata olives and sun-dried tomatoes.  They're all ready to go by whole pie or by the slice.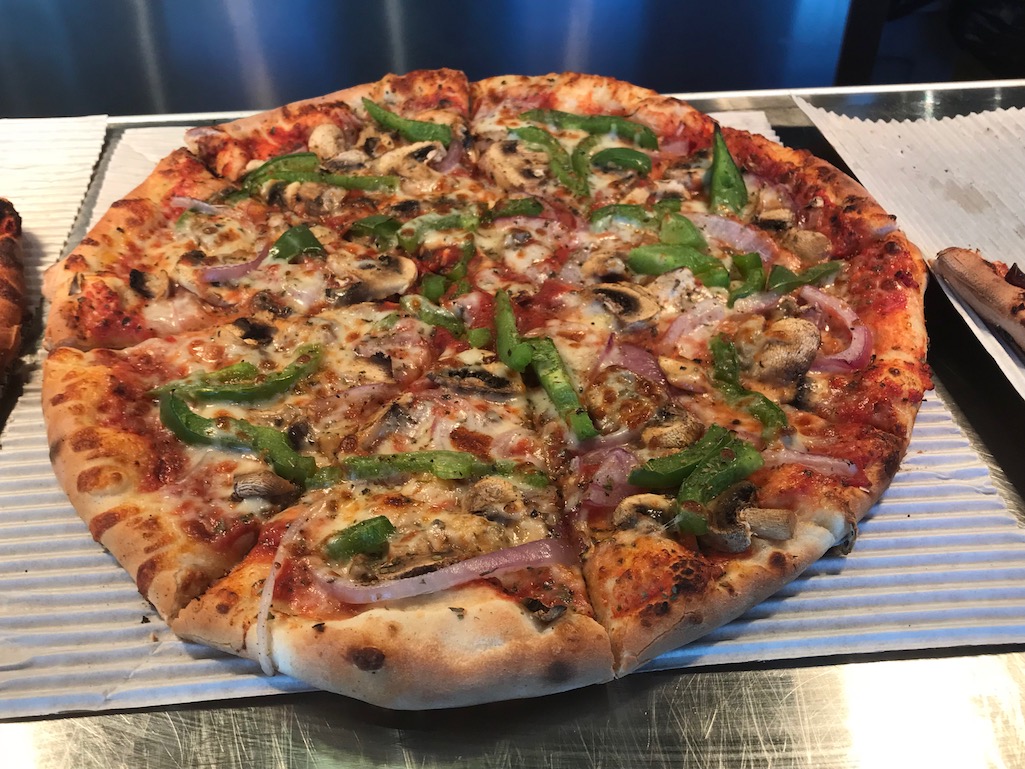 Martha's Vineyard is a full wine store with a ton of local brews too, but it seems more like a friendly corner store. This is a great place to pick up everything you need for a picnic. The pre-made sandwiches looked delicious!
Wait There's More
Grand Rapids may be known as Beer City, USA, but that certainly doesn't mean that the food scene is secondary. In fact, every neighborhood has its special places beckoning you to taste and experience. You can easily explore it all by following the self-guided Grand Rapids Food Trail, a handy guide to many delicious spots in Grand Rapids. You can use the guide to find markets, cooking classes, breakfast, burgers, donuts and even haute-cuisine.
If you're looking for more suggestions, here are a few more recommendations that we found enjoyable too.
Schnitz "World Famous Delicatessen." We stopped by when they were just getting ready for the day so unfortunately we didn't get to sample their traditional and unique deli sandwiches. But we've heard great things and they supplied the bread for our delicious French Toast at Real Food Cafe on the other side of town. Once we heard that we had to stop by just to check it out. It looks fantastic so we'll be back!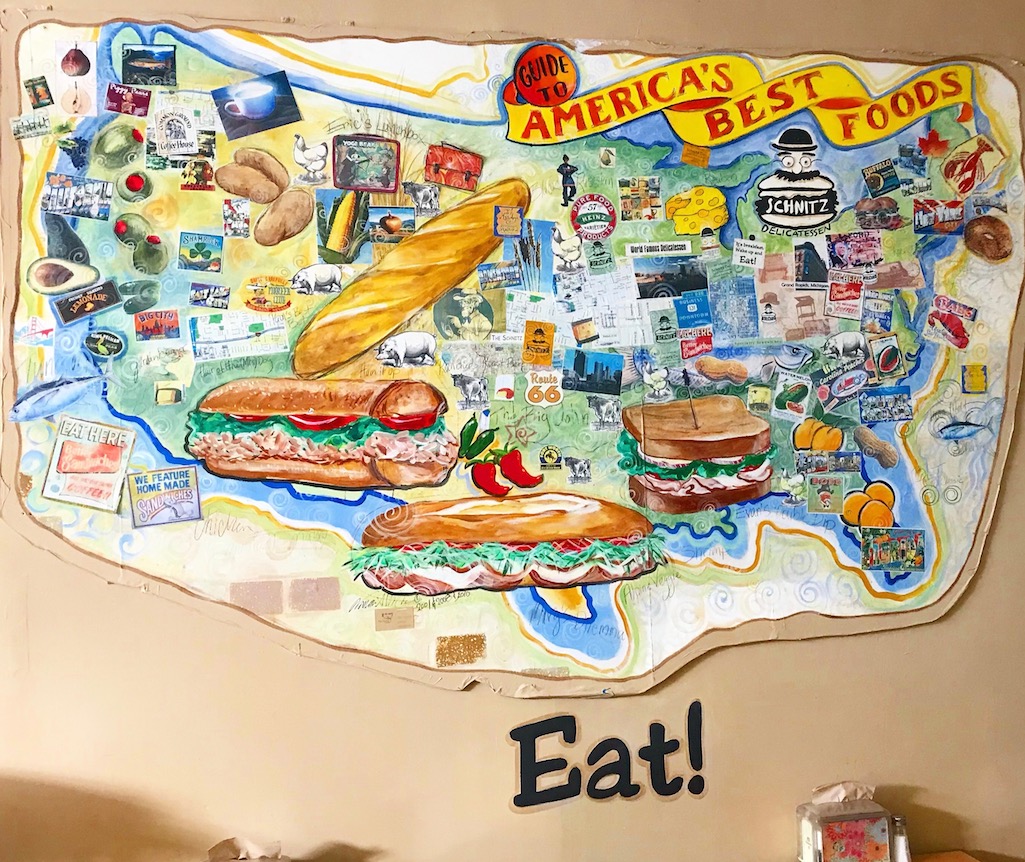 Our photo does not begin to do justice to this little gem in Grand Rapids. You guessed it, they serve really good food. Simple and fresh breakfast is a treat at this great spot. There are a zillion omelet and egg choices along with a whole host of expected and unexpected breakfast choices. A plus for me, a crazy tea drinker, they serve Harney and Sons tea!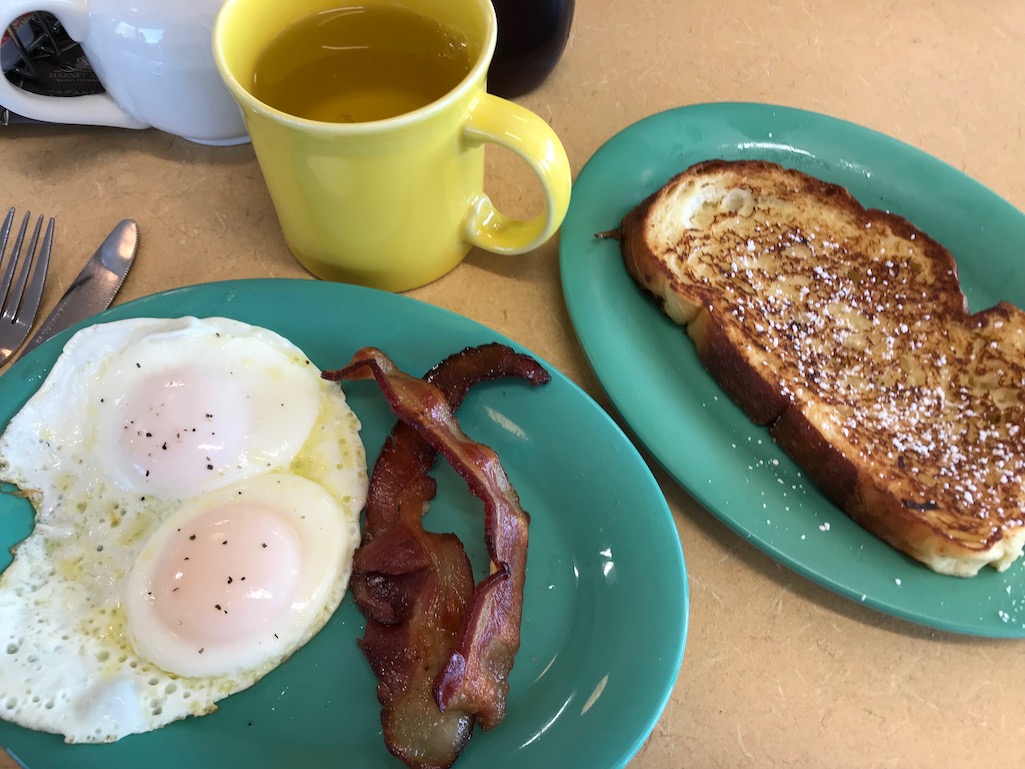 Billed as "donuts the way Grandma used to make" and they are not kidding. The recipe they use for their yeast raised donut has been in the family for five generations. That's some serious donut cred. Their family has been getting up at the crack of dawn to make the donuts for decades.
We tried several of their creations but one of the more unique donuts was the mac and cheese donut, ooey, gooey, crunchy it's an indulgence that's worth trying!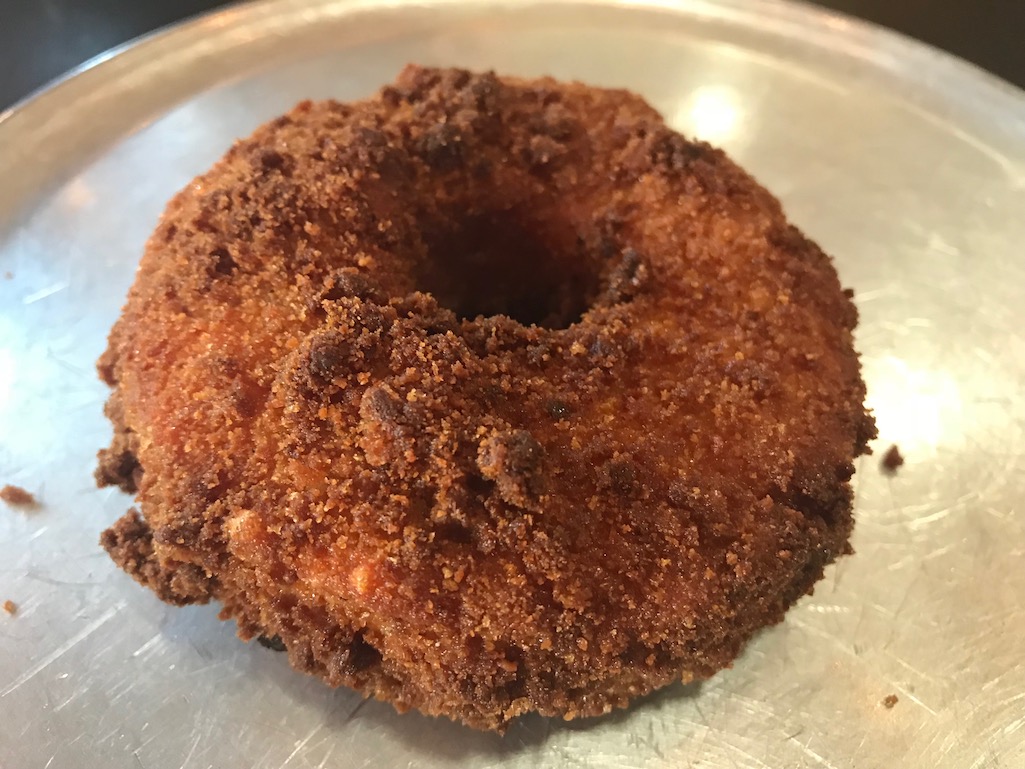 A terrific spot if you're looking for a place to relax and try a few local beers. They have over 200 craft bottle beers and some yummy eats.  Be sure to try their famous smothered tots with Colby jack cheese, BACON!, sour cream and green onion. It's a local favorite for Sunday brunch and a late night snack.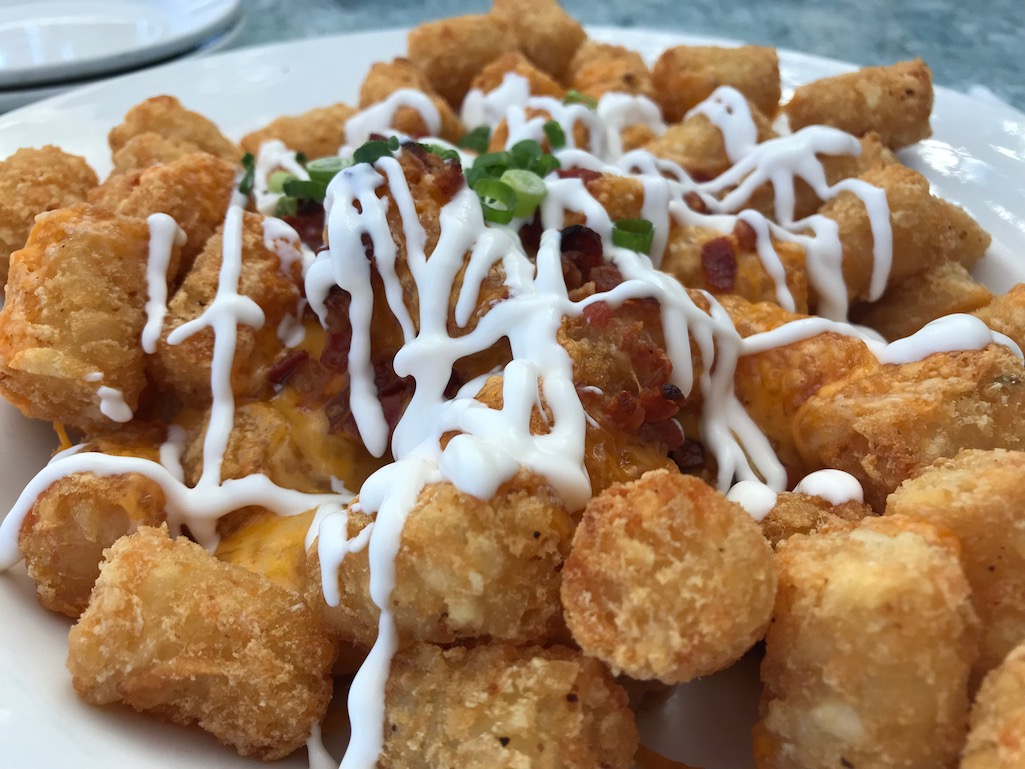 If you are animal lovers like we are, be sure to stop in the Happy Cat Cafe. You can book half or a full hour and spend some time mingling with feline friends. You get your choice of beverage and for a few cents extra you can buy some treats or catnip to share. Happy Cat has an adoption program that offers an opportunity for those seeking a kitty to come and get to meet some furry friends and make a match that could lead to a forever home for a homeless feline and a new friend for life for you. But you don't need to be looking for a fur baby to visit. In fact, many local students want to chillax a bit take a study break by enjoying the company of some fabulous pussycats and having a coffee with their furry companions for a bit.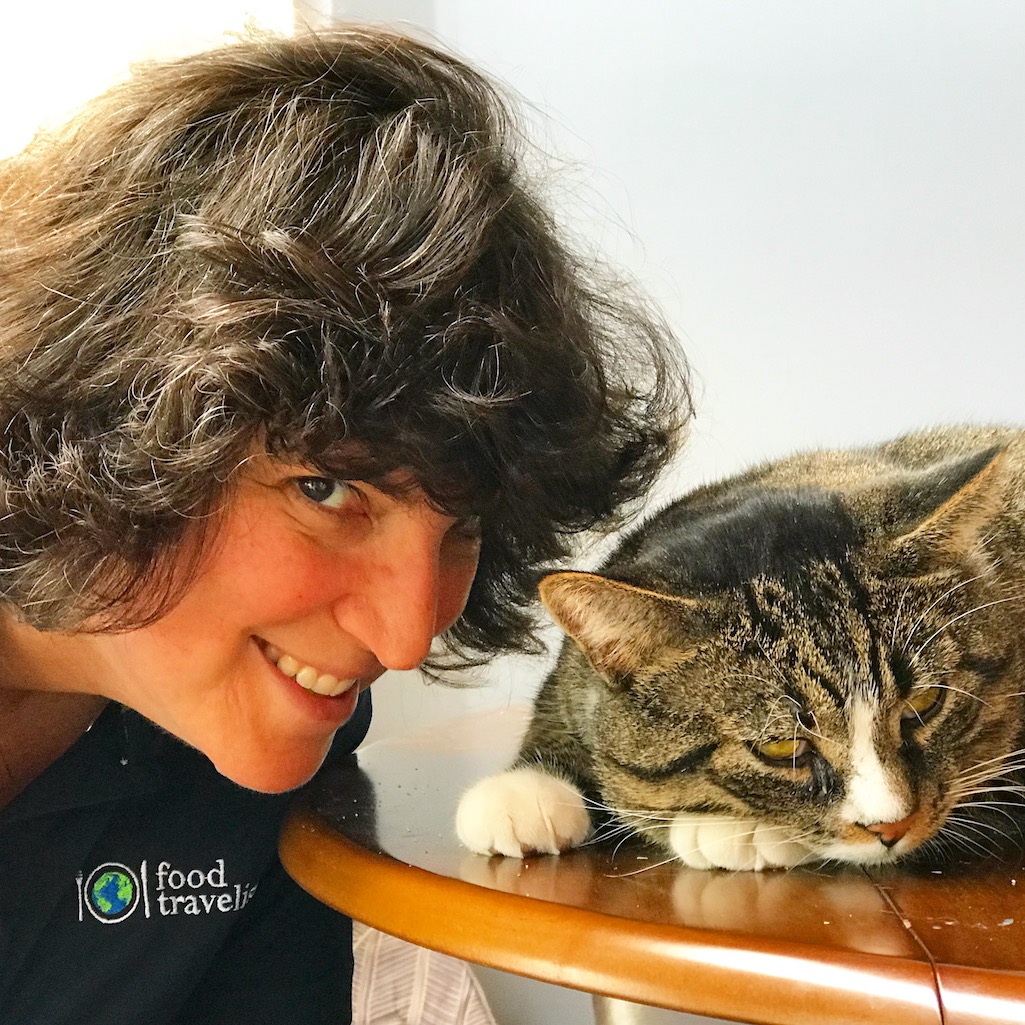 Visit Grand Rapids
Although we gave you plenty of ideas for what to eat, see and do in Grand Rapids be sure not to miss the many other the attractions, museums and cultural events available in the city. GR has a symphony, opera, the Gerald R. Ford Presidential Museum and many other important museums.
We sure found a lot to keep our taste buds interested in while visiting Grand Rapids. We only wish was that we had more time and more room in our bellies for all the many options that surrounded us at every turn!  We'll definitely need to make another trip to continue our eating explorations.
To plan your own trip to Grand Rapids be sure to visit ExperienceGR.com for more information. 
Pin to your board for planning your next Midwest culinary destination