Probiotics For A Happy Travel Tummy
Probiotics For A Happy Travel Tummy 
Disclosure: This post was sponsored by Align Probiotics. The opinions are completely our own based on our experience.
Those of us who love to travel know that it has many benefits. The excitement of jumping on a plane or train. The thrilling first glimpse of a faraway land. Tasting new and different foods. These are all things we look forward to every time. Unfortunately, travel can also take a toll on our bodies. Diana and I have found that adding a high-quality probiotic supplement to our daily routine helps us manage our digestive health even while traveling.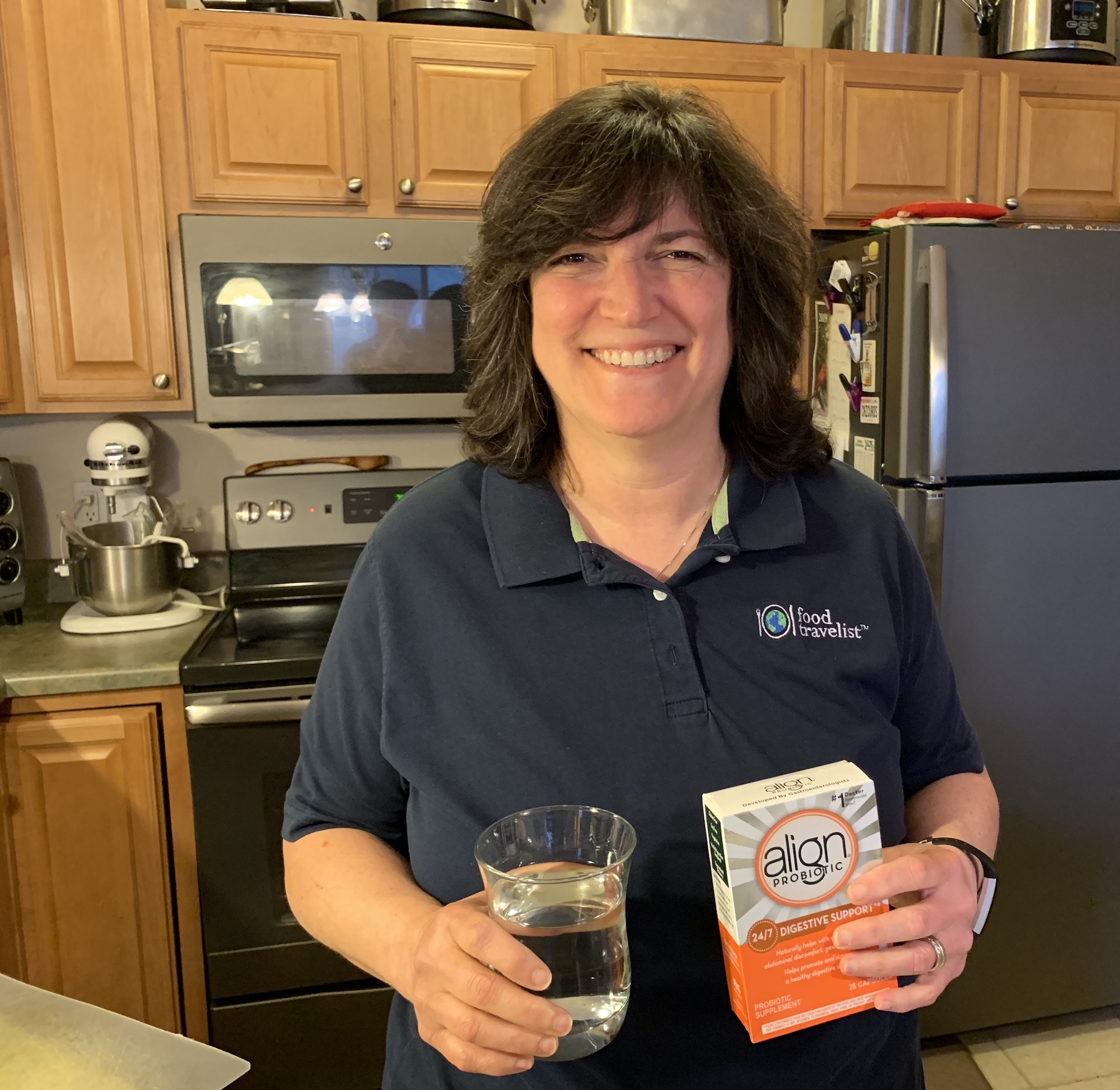 Sometimes, changing your routine, shifting time zones and eating unfamiliar foods stresses our digestive systems. But we can counteract some of the impact on our bodies and help maintain our digestive balance* with probiotics. We've had good personal experience using Align Probiotic supplement daily to keep up our "gut health" whether we're at home or away traveling.
What Are Probiotics?
You've probably heard of probiotics or maybe even tried them in one form or another. Probiotic bacteria may be found in some yogurts or fermented milk products as well as in a probiotic supplement like Align. Probiotics are good bacteria that provide a health benefit and are essential for many body functions, including healthy digestion. If you've experienced occasional bloating, gas or abdominal discomfort, this could signal that your digestive system might be out of whack.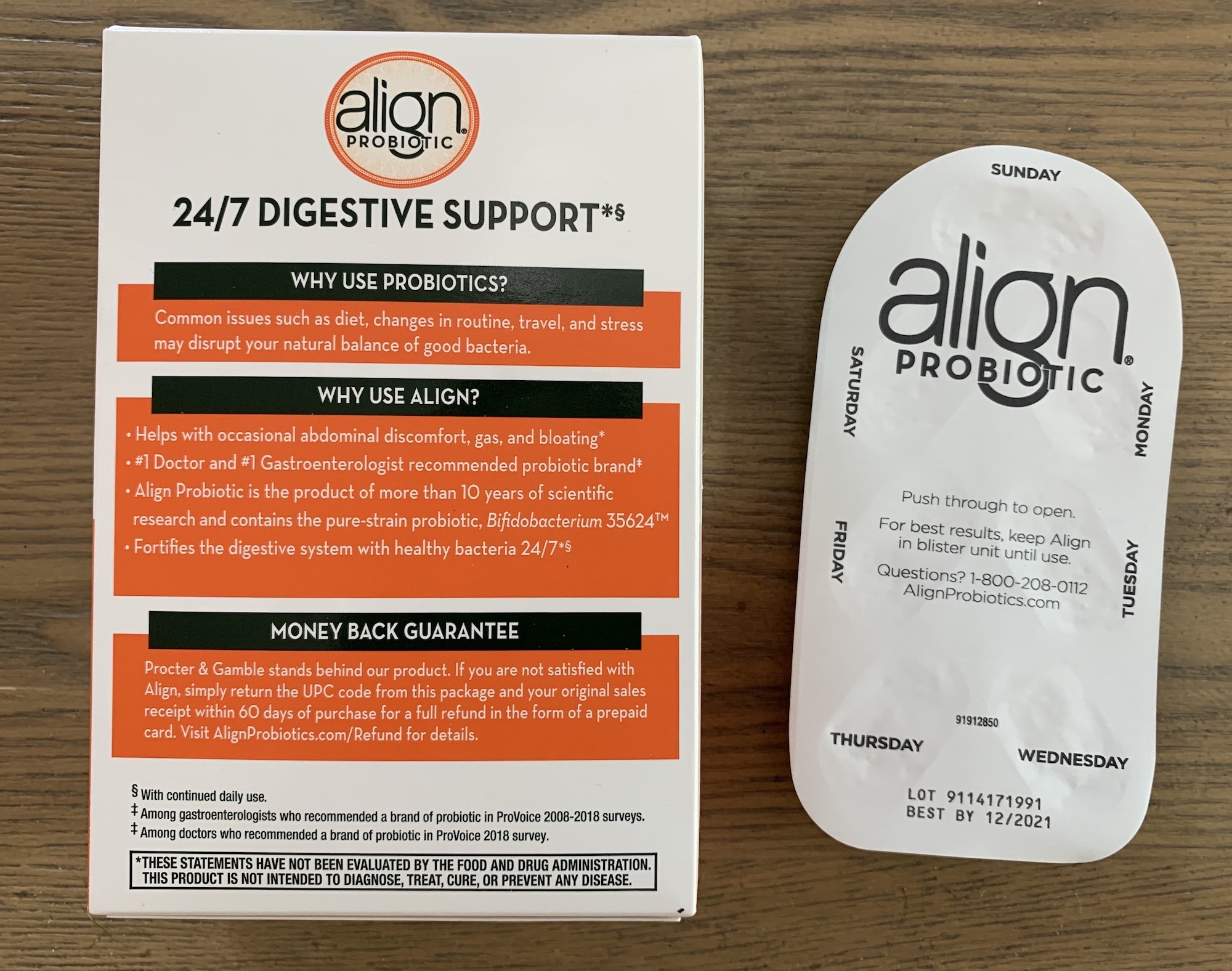 Probiotics are living organisms and not all probiotics are the same. In the US, for example, yogurt is not required to contain any live cultures, and tests have shown that some yogurt produces have a wide range of levels of live bacteria. And how much yogurt can you really eat on a regular basis? That itself might cause us a little digestive upset. In order to provide the most benefit you need a product manufactured with the highest quality, standards and processes. For us, the easiest approach is to use a high-quality probiotic supplement.
Why We Like Align Probiotic
We like Align Probiotic because Align partnered with leading gastroenterologists, authorities in digestive health, to identify the best probiotic strain to help with occasional digestive upsets.* Align's patented strain of probiotics, Bifidobacterium 35264TM, can fortify your digestive system with unique, healthy bacteria 24/7.§ In fact, it's the #1 Gastroenterologist recommended probiotic.‡ As a part of your daily routine, Align can help maintain your digestive balance.*
Align also comes with a 60-day money back guarantee, so we know they stand behind the quality of their product. Align is gluten-free and is the result of more than 10 years of scientific research. They take gut health and good bacteria seriously!
Give It A Try
Here's how we've used Align and we invite you to try it too. Pick up a package Align Probiotic. We get our jumbo-sized pack at Costco, but you can find Align just about anywhere you'd expect like Walgreens, Target, CVS or even online at Amazon.com. For best results, try Align for at least one month to help soothe occasional abdominal discomfort, gas and bloating.* It's especially useful if you start before you go on a trip.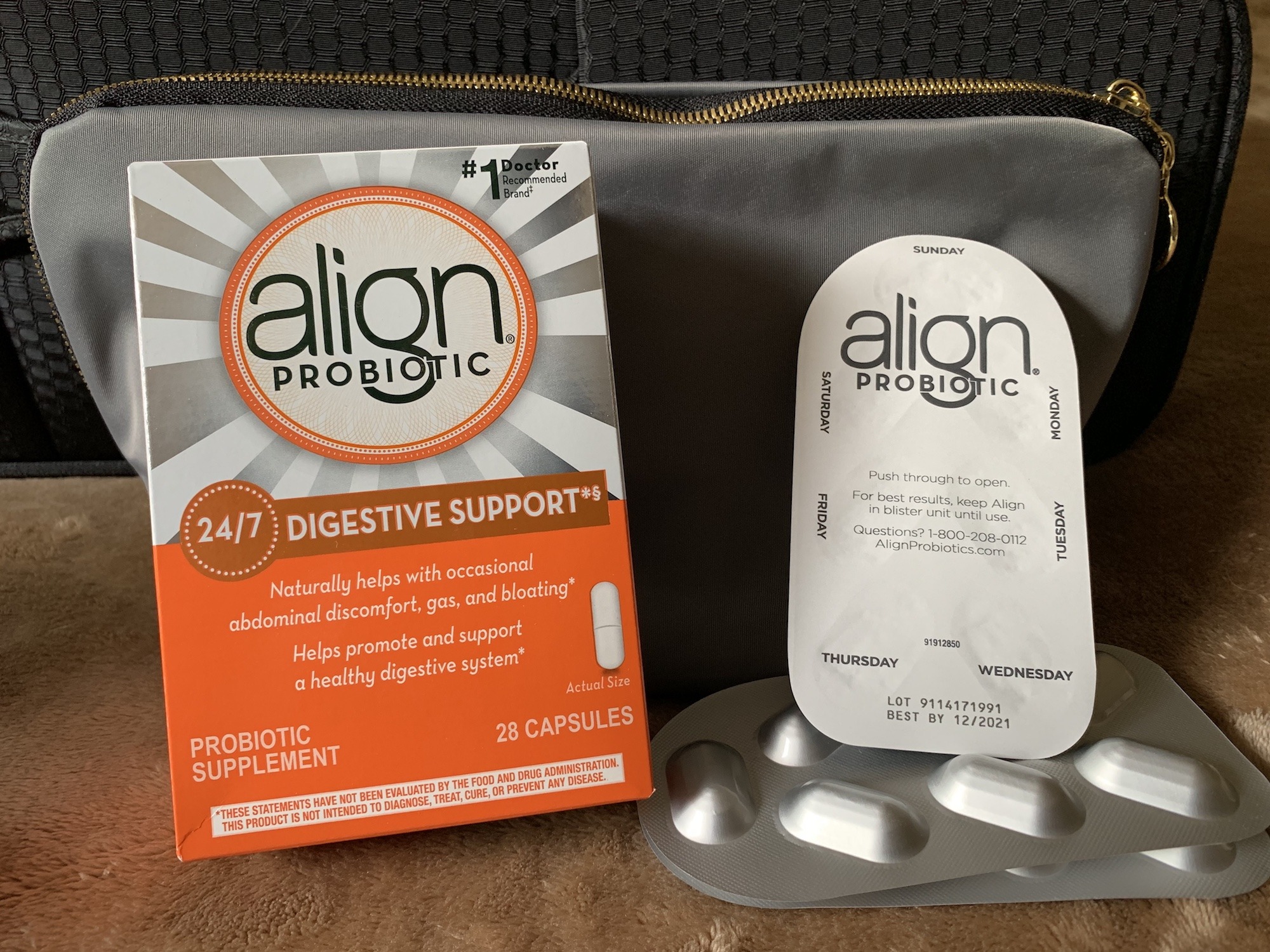 Take one capsule every day like you would a vitamin. The blister packaging makes it easy to deal with regardless of if you're at home or on the road. You don't need to keep it refrigerated and Align's packaging ensures that the probiotic remains at an effective level until the best by date on the package. You may experience some bloating or feel gassy the first few days as your system adjusts to having all that good bacteria. After a month you can see how you feel and then use it ongoing for best results. The blister packs are not only easy to take with you but also a conveniently packed in 7-day sheets. Each section is clearly marked with the day of the week. It's perfect for travel without the hassle or forgetting if you took them. The package lets you know.
Trust Your Gut
As you know, we travel A LOT. We sure do love it, but there are a lot of things to consider when it comes to traveling and your health. Anything you can do in advance to make your travel experience better goes in our plus column. We've all had an unfortunate experience where our digestive system in particular just couldn't adjust to all the stress put on it by the many changes we demand. While we may be willing to go to the limit for our food travel experiences, we also want to have fun and stay healthy.
Although we wish we could eat whatever we want, whenever we want, wherever we want all the time, unfortunately, those days are behind us. These days we want to be sensible while still enjoying all the adventure and deliciousness of exploring new destinations without being overly concerned about how our digestive system will feel along the way or when we get home. Align Probiotic offers us a good way to promote and support a healthy digestive system and help maintain our digestive balance.* Rather than wasting time to trying sort through the clutter and misinformation about probiotics in a crowded market, we stick with Align because it's a quality product we know we can trust.
Let us know if you've used probiotics before, how you've found them and certainly if you give Align a try. We'd love to hear your thoughts!
Disclaimers: ‡ Among Gastroenterologists who recommended a brand of probiotic in a ProVoice 2008-2018 survey.
§Fortifies your digestive system with healthy bacteria 24/7 with continued daily use.

This is a sponsored conversation written by me on behalf of Align. The opinions and text are all mine.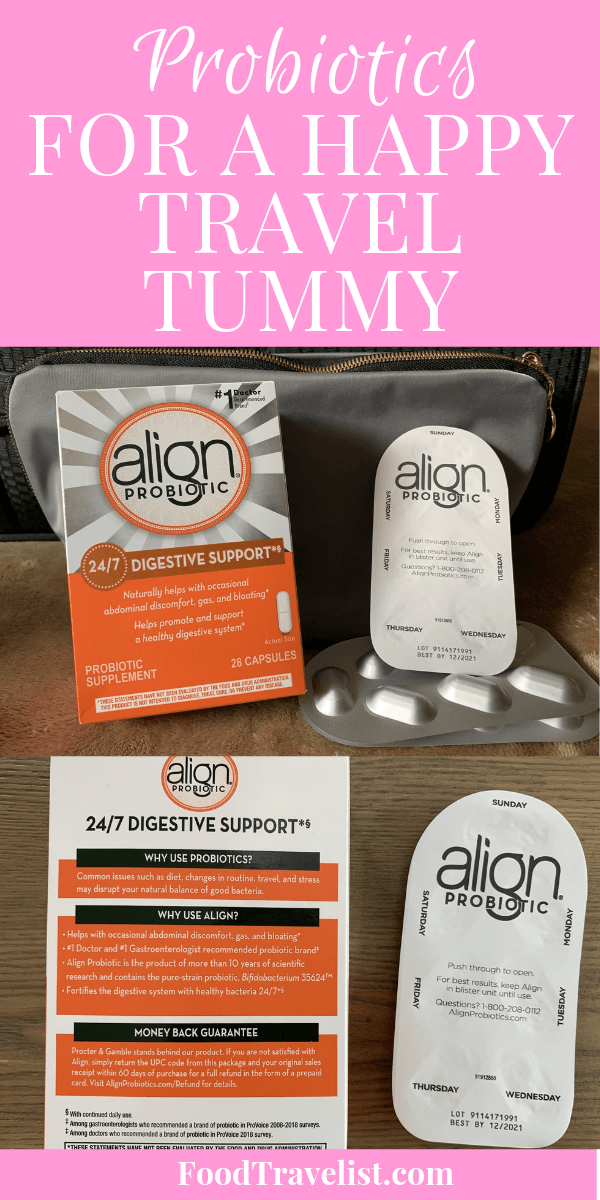 ​