Unique Things To Do in Portland, Maine
Are you looking for unique things to do in Portland, Maine? We recently traveled to Portland, Maine for the Women In Travel Summit (WITS). We always look forward to attending this all-women conference. It's empowering to be surrounded by women who work in travel for three days. The comradery, networking and learning can't help but elevate your travel writing game.
As you might expect during our visit we ate lobster. Truth be told, we ate a lot of lobster for breakfast, lunch and dinner. We also ate a lot of other tasty food too but that's a story for another day.
Since we were so busy eating, and learning and eating we enlisted the help of our expert traveling gal pals from WITS to help us tell the other side of the story of Portland, Maine. This seaside town is full of wonderful things to do on and off the water. We asked our colleagues at WITS19 to tell us about their favorite unique things to do in Portland, Maine. Here they are:
Unique Things To Do In Portland, Maine
The Victoria Mansion House Museum
Suggested by Suzanne Fluhr of Boomersque.com
On Instagram: @Boomersque2
Although some might disagree, humankind cannot live by lobster alone, so you should spend some of your time in  Portland, Maine visiting places that are not food related. One that satisfied my interests in history and design was Victoria Mansion-house museum, a National Historic Monument. 

Built between 1858 and 1860, the Victoria Mansion is considered to be one of the finest examples of Pre-Civil War Italian Villa architecture in the United States. Remarkably, 90 percent of the interior is original and in the process of being carefully conserved.
Victorian interior design may be well over the top for today's tastes, but it is a feast for the eyes to visit this family home from a time when more was more. An Italian artist painted many of the walls and ceilings, employing the ever-fascinating faux (false) 3-dimensional appearing trompe l'oeil technique.
The Victoria Mansion is open from May 1st through October 31st and during the Christmas Season, either on a docent-led tour or a day pass where docents are present in the individual rooms. Check the Mansion's website to plan your visit.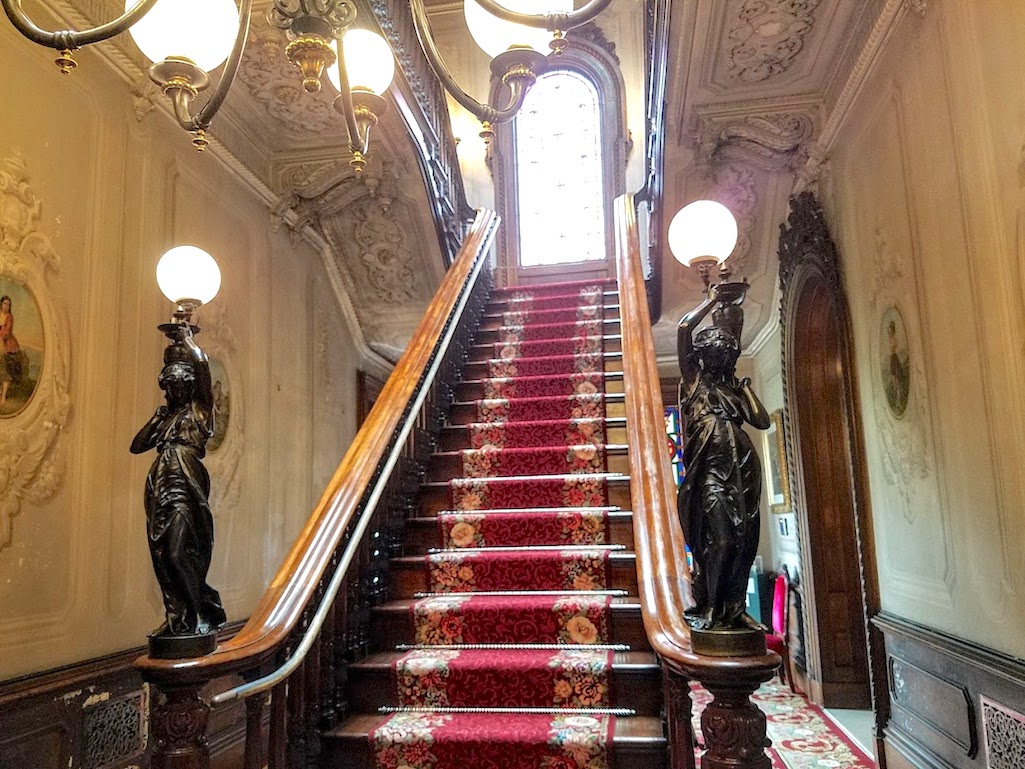 Eastside Bayside Mural Walk
Suggested by Jeanette Hardy Baum of BravePursuits.
On Instagram: @bravepursuits
Whether you step foot into a museum in Portland, Maine or not, there are opportunities to experience local artists work everywhere you go- you just have to know what you are looking for. From beer can design to restaurant signage, to city walls covered in murals- local businesses seek out artists to help their brand stand out and create spaces that are lively and welcoming.
In the constantly evolving industrial neighborhood of East Bayside, there is literally art around every corner. Also known as Yeast Bayside for its dense concentration of breweries, East Bayside is home to a large population of New Americans from Africa and has seen tremendous changes in the past 10 years. I was lucky to stumble upon the East Bayside Mural Walk and would recommend it to any traveler wanting to experience an interesting neighborhood and appreciate some amazing art that deviates from the maritime narrative found in downtown Portland.
To see the murals, walk on the Bayside Trail, starting at Anderson Street, and walking towards Diamond Street. A map of some of the murals can be found here, but like most street art exploration, be sure to look down every alley as things are always changing. You can bookend the short walk with a brewery stop at Goodfire (Anderson St)  and Rising Tide (Diamond Street)- both breweries feature art by Better Letter Handpainted Signs, several of the artists behind the East Bayside murals.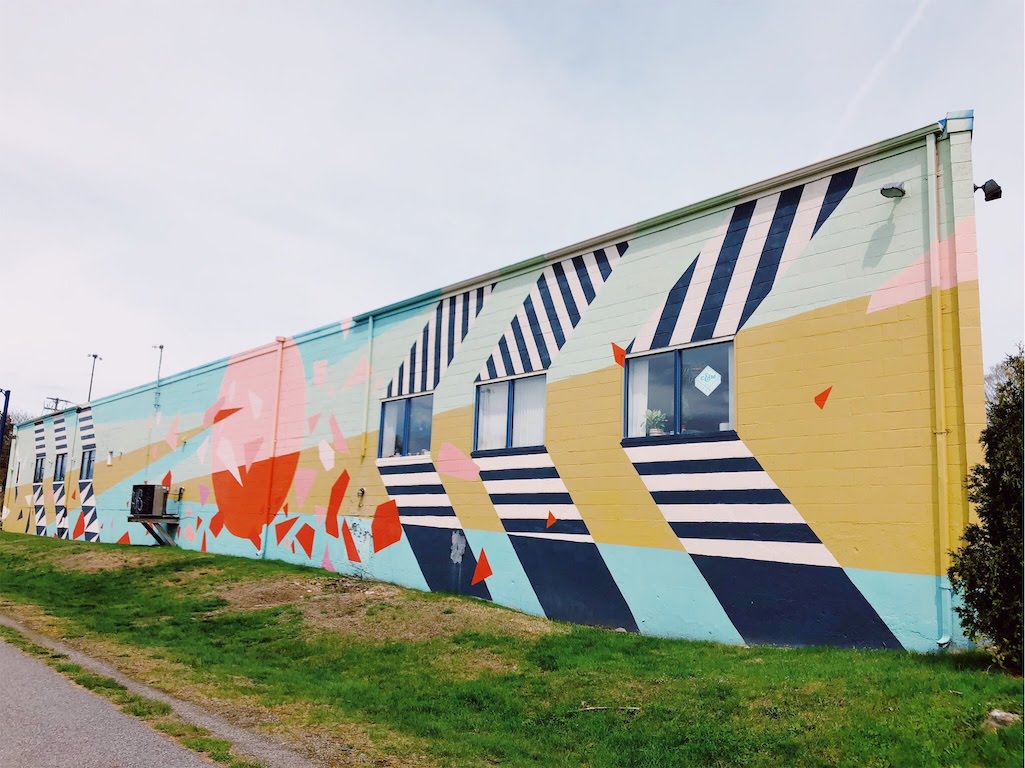 Portland Fire Truck Tour
Suggested by Robin Smith
On Instagram: @atouchofluxurytravel
A unique way to see the city of Portland Maine is to take the Portland Fire Truck Tour. The
Portland Fire Engine Co. provides a multimedia history tour with a knowledgeable tour guide. It is a fun tour for children as well as adults. They give everyone fire gear, a fireman's coat and hat if you want it as you ride the back of a vintage fire truck and see all the famous landmarks around the city. (What child doesn't want to be a fireman for an hour or two?)
During the tour, we explored Portland's peninsula and its many lighthouses and forts as well as the amazing architectural buildings hidden inside the cobblestoned streets that make up the city.
Our guide displayed high-resolution photographs through an onboard multimedia system. This brought interiors, and distant landmarks up-close for detail.
Some of the sights we learned about were US Customs House, Casco Bay Lines, Shipyard
Brewing Company, Maine Narrow Gauge Railroad, Fort Allen Park, Fort Gorges and Bug Light.
Despite the rainy weather, our tour was great and we all learned new things about the city. The tour can accommodate 13 people at a time. You must be mobile enough to climb onto the back of the firetruck, but that is the only restriction.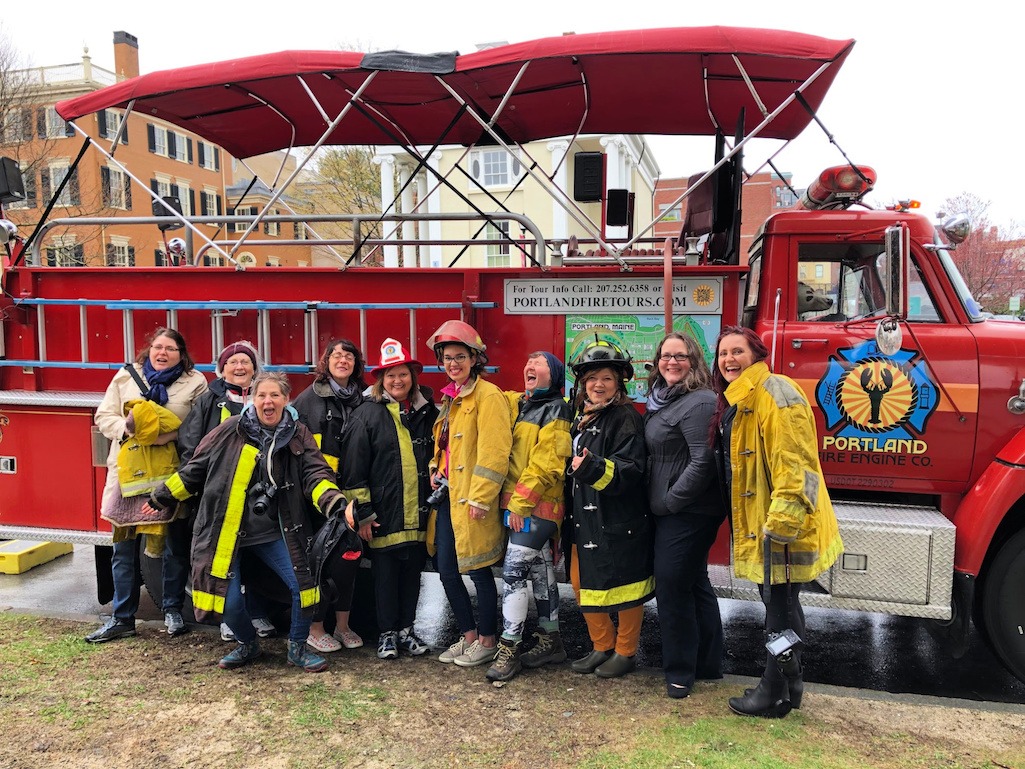 Portland Art Museum
Suggested by Pamela McKuen of AllTheWritePlaces
On the plaza fronting the Portland Museum of Art is a steel behemoth depicting the number 7. It's a sculpture by the late Robert Indiana, a beloved Maine artist best known to the world for the iconic LOVE stamp with the tilted "O."
The museum, the largest and oldest public art institution in Maine, pays tribute to the rich artistic tradition of the state and its creators. It also boasts extensive holdings of American, European and contemporary art, and decorative objects like glass and scrimshaw.
The PMA, as it is affectionately referred to by locals, anchors the city's downtown arts district. Its galleries and collections sprawl among three architecturally significant buildings and a sculpture garden.
As you wander, you'll come across cherished and diverse works by Pierre-Auguste Renoir, Henri Matisse, Mary Cassatt, John Singer Sargent, Claude Monet and Andy Warhol. The State of Maine Collection features Winslow Homer, Louise Nevelson and Andrew Wyeth, among others.
Also on view are a bronze sculpture of a dancer by Edgar Degas and a collection of portraits by photographer Richard Avedon.
One gallery is the Modern Menagerie, filled with animal-themed art by many of Maine's best-known painters and sculptors. Among them are a wall-mounted, crystalized buck's head and a whimsical sculptural assemblage of shorebirds and fish.
The museum also owns and operates the landmarked Winslow Homer Studio in nearby Prouts Neck.
For more information, visit Portland Museum of Art at https://www.portlandmuseum.org/.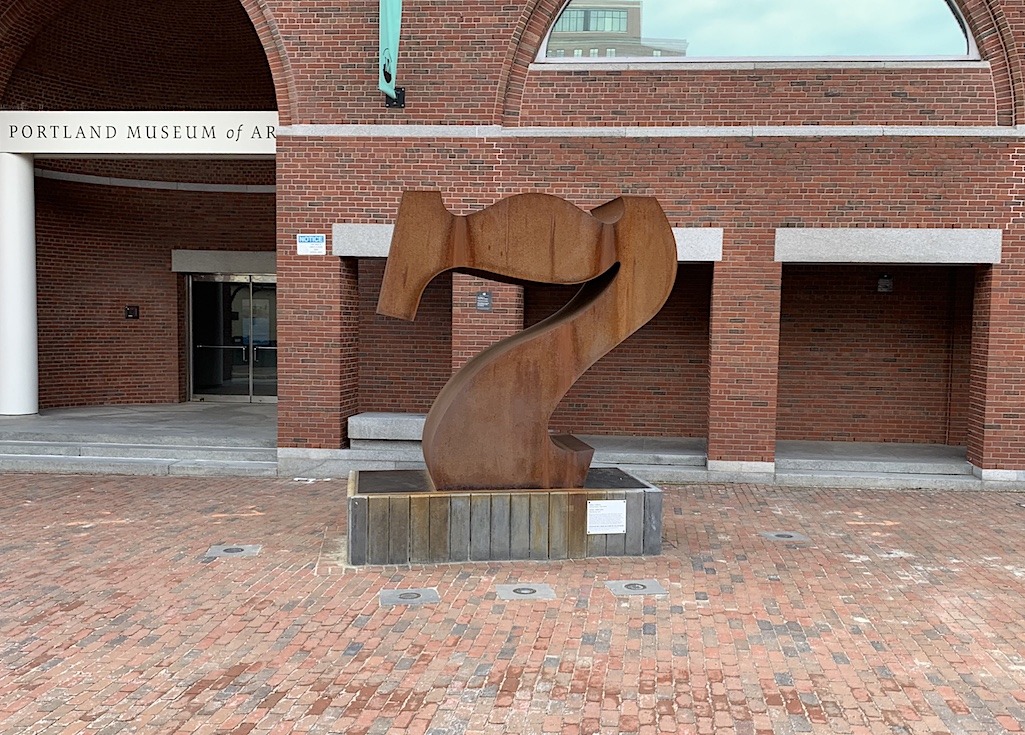 Bayside Bowl
Suggested by Allison Fraser of Tour and Table.
On Instagram: @tourandtable
If you want to take your fun inside, Bayside Bowl has the lanes for you. There have 20 USBC-sanctioned 10-pin bowling lanes. And they are a stop on the PBA tour, hosting the PBA League Elias Cup.
Walk-ins of all ability levels are welcome, or you can reserve lanes 48-hours in advance. Groups can reserve lanes beside one another. Lane rentals are $30/hour (maximum 6 people). Bumpers are available for the kids. Sock rentals or shoe rentals are $4/pair. Moore's Pro Shop is onsite for other needs.
Inside, there are small dining areas to explore. Food and bar service is also offered down on the lanes. Eats include wings, pizza, sandwiches and salads. Vegetarian and vegan as well as gluten-free options are available. Drinks range from creative cocktails and mocktails to wine and beer from the local craft beer scene.
Outside, The Rooftop is a great place to hang out and watch the sunset. It has a "self-serve" (no table service) bar and taco truck to keep you happy. The space is also open for brunch, with frittatas, pancakes and yogurt on the menu. Friday and Saturday nights on The Rooftop are 21+.
Bayside hosts live music most Friday and Saturday nights on the Bayside Bowl stage. In the Fall and Winter, there are laneside DJs to get you moving.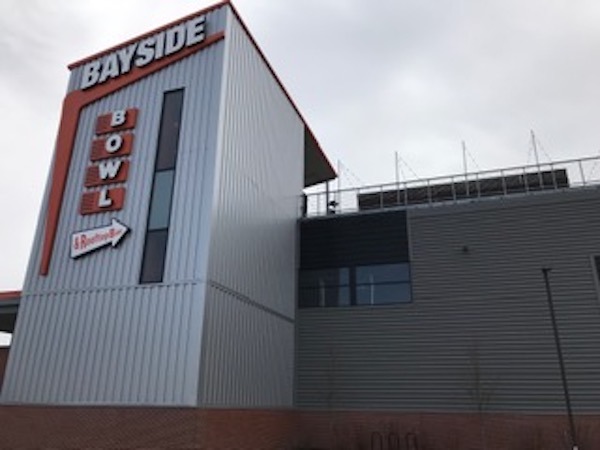 Watch An Epic Sunset on East End Beach in Portland, Maine
Suggested by Anne-Fleur Andrle of JackandFerdi 
On Instagram: @jackandferdi 
Nothing beats the view of the golden hour from East End Beach. Just a few minutes walk from the city center, this small yet charming beach is a way to catch the city sunset and the ocean sunset all in one.
Nestled at the foot of the hill of the Eastern Promenade, Portland's only public beach has long been a favorite for swimming, dog-walking and sunbathing. Take a seat on one of the benches, unpack your picnic and take in the panorama of Casco Bay. A top experience would be to rent a kayak or a paddleboard and experience a scenic sunset from the water. If you have time, give yourself an hour or two before the sun goes down and take a walk across the historic Eastern Promenade. This 2-mile waterfront trail built along an old rail corridor offers spectacular views of the bay and beyond.
Maine Brew Bus
Suggest by Evelyne Budkewitsch of CultureEatz
On Pinterest: @CultureEatz
When planning a trip to a new destination, we often look up all the things to do there and it's foodie pleasures. But sometimes, the best way to really discover the spirit of a place is through a glass, a glass of alcohol that is.
And the best way to get a sampling of Portland is by taking a tour with The Maine Brew Bus. Portland Maine is one of many cities with a thriving brewing scene. In fact, it is home to over a dozen breweries, plus a handful each of wineries and distilleries.
I recently took a tour with The Maine Brew Bus and I just loved the experience. The guide was absolutely awesome, funny and full of educational information. The tour included a brewery, a winery, and a distillery. Four generous samples were poured at each place. Having a chance to try beers, wines, and spirits in one tour was a big bonus in my books.
The brew bus tour was great as they know which boozy establishment is worth the trip. On your own, you may not know which to pick. A nice sipping pace was set (and yes you will be a tad tipsy), plus no one in your party has to be a designated driver. Just chill back, have a drink and enjoy the tour.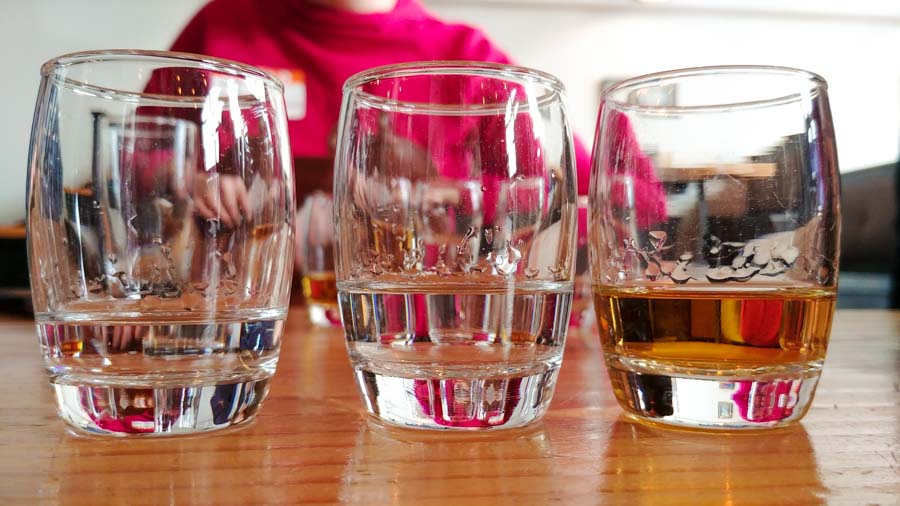 L.L. Bean Store Visit
Suggested by Tonya Denmark of Detail Oriented Traveler
On Instagram: @DOTraveler
Maine is known for its Great Outdoors, and who better to lead the path down the hiking trail than the experts at L.L.Bean. Located in Freeport, just a short 20-minute drive or Amtrak ride away, the L.L.Bean store is open 24 hours. In fact, they say their doors never lock.
L.L.Bean started his company over 100 years ago selling boots. Since then it grew to be synonymous with outdoor adventure and supplies, everything from camping to clothing. In addition to exploring the flagship store, L.L.Bean offers outdoor discovery programs.  They'll take you fishing, kayaking, snowshoeing and more.
If you don't have time to step out on one of their outdoor discovery programs, try an archery lesson located inside the store. My fellow group of eight other women had an opportunity for a lesson. Located in a protected room, the archery assistant will set you up with the right size bow. She teaches stance, aim, and most importantly, which is your dominant eye. Fortunately, shooting the bow isn't difficult. Aiming and accuracy on the other hand definitely takes skill and practice. Paired in twos, the archery expert offers advice after each shot on how to improve. I even hit my target twice.
A visit to Freeport is a great addition to a Portland trip, just shopping, and archery at the L.L.Bean Flagship store alone!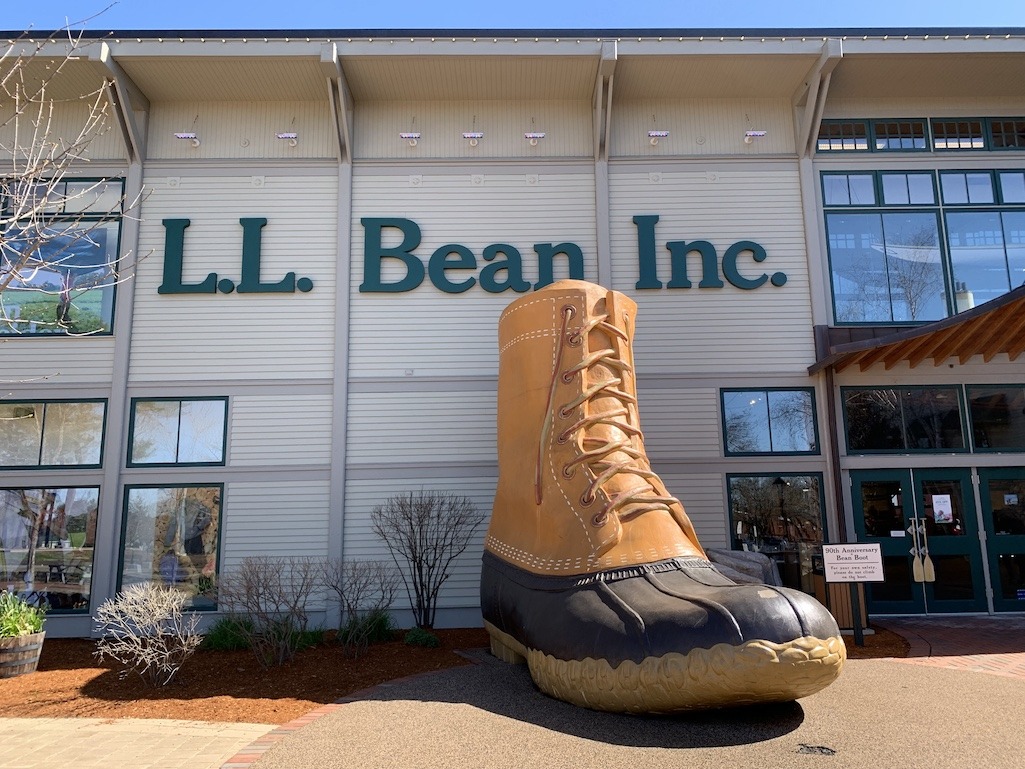 Soakology

Suggested by Elizabeth Tittle of The Adventurous Spinster
Soakology, located in the Old Port section of Portland, is a haven from the bustle of the street activity just outside its doors. The day spa provides a sense-ual respite from all the sightseeing.
Natural lighting fills the spacious reception area. Soft fairy lights strewn throughout rustic, skeletal tree branches enhance the illumination of the space. The aroma of herbs and teas waft through the air, spark the imagination and transport you to the exotic places from which they are imported.
Step behind the rustic barn door to a private, tranquil retreat, tucked behind airy, washed linen draperies. Slip into a luxe silk robe, lined with the softest terrycloth. Sink into a downy-soft chair. Soak your feet in a copper vat filled with a soothing mixture of warm water and a blend of herbs. Feel the tensions of your mind and body gently melt away as the therapist strokes and gently kneads the pressure points of your neck and shoulders with healing oils.
Nourish your body with a light nibble and a refreshing beverage from the tea house, delivered to your overstuffed throne. Don't rush out at the end of your experience. Linger in the lounge. Order a pot of tea and browse the beautifully appointed and well-stocked store. Emerge refreshed and ready to take on the Port City.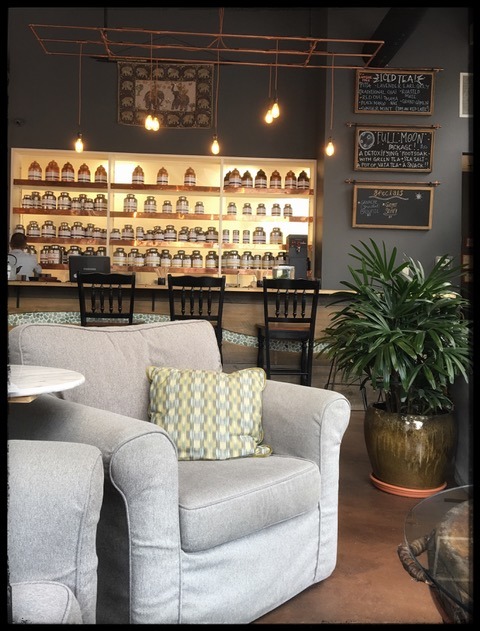 Lucky Catch Cruises

Suggested by Marcie Cheung of Mommyland
On Instagram: @marcieinmommyland
One of the coolest things to do in Portland, Maine is to learn how to fish for lobster! Lucky Catch Cruises has a fantastic 70-80 minute boat tour around Casco Bay. You'll see old Civil War forts (like the popular Fort Gorges) as well as Maine's famous lighthouses. But, the real reason to do this cruise around Portland is to learn about lobster. The crew will pass out bright orange aprons and gloves and they will put you to work as they talk about Maine's long history of lobstering.
They even have lobster pants for little kids! You can participate as much or as little as you like. For those who want to get involved, you'll have the opportunity to bait the traps with herring and push the traps into the water. You'll also be able to clean out the bait from the old traps. And watch out for the seagulls! They are eager to eat the bait and love hanging out near the boat in hopes of a quick snack! Some of them will even score a little crab!
If you are looking for an entertaining boat ride where you'll learn about lobster fishing, head to Lucky Catch Cruises. You won't regret it!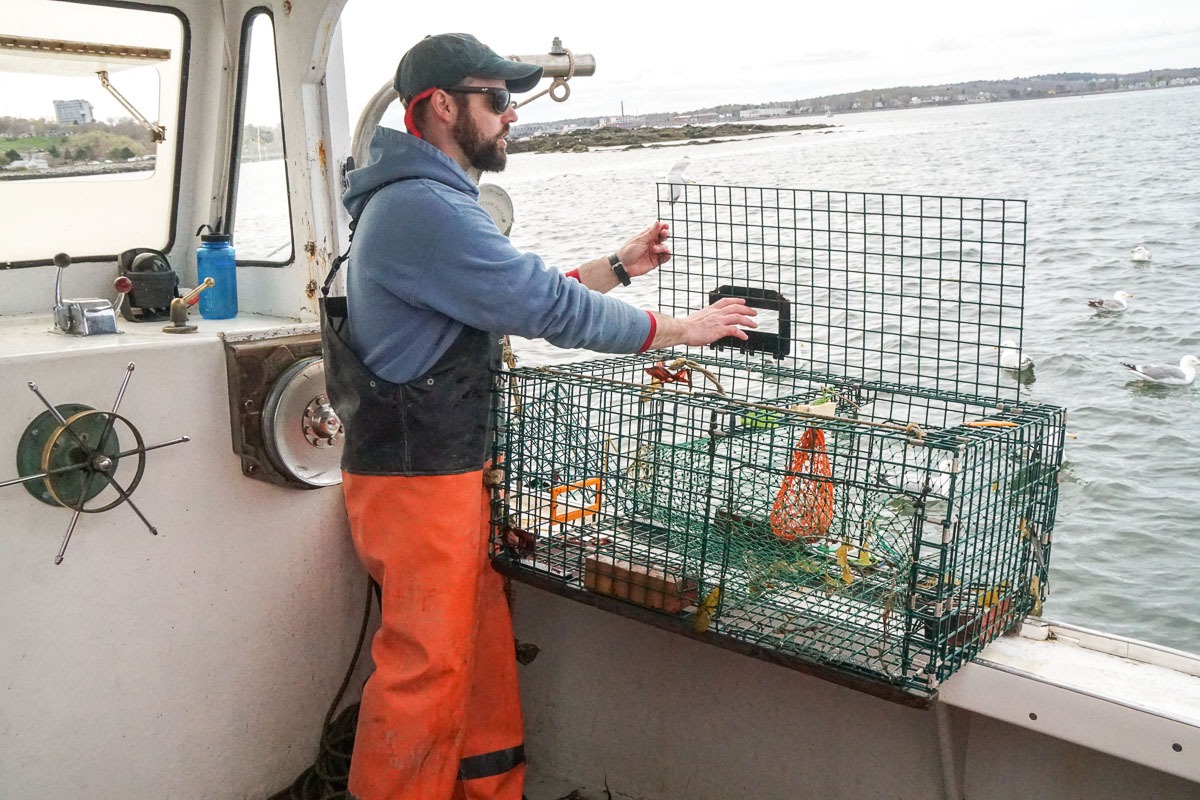 Sunset at Sumner Park
Suggested by of My Wandering Voyage
On Instagram: @mywanderingvoyage 
Portland, Maine is on the east coast, so you wouldn't think it would have as beautiful sunsets as they do sunrises. But you would be wrong. The Peninsula where Portland sits like a saddle, dipping down where the Old Port is and up again at Munjoy Hill, an old historic neighborhood.
There's a small green space called Sumner Park where the highest point of Munjoy Park is. It's a popular spot among locals to catch the sunset over the city and Back Cove.
To get here, you can climb the stairs off of Washington Avenue or go the long way around. Either way, it's uphill. But the views are worth it.
On your way there, make sure to admire the Henry Wadsworth Longfellow mural at the end of Marion Street, right before you climb all those stairs.
When I was there, we had such a vibrant sunset, since it had been cloudy all day. But when the sun started to sink, the clouds broke, and the colors were reflected among the clouds. It was a wonderful memory for the last day in Portland, Maine.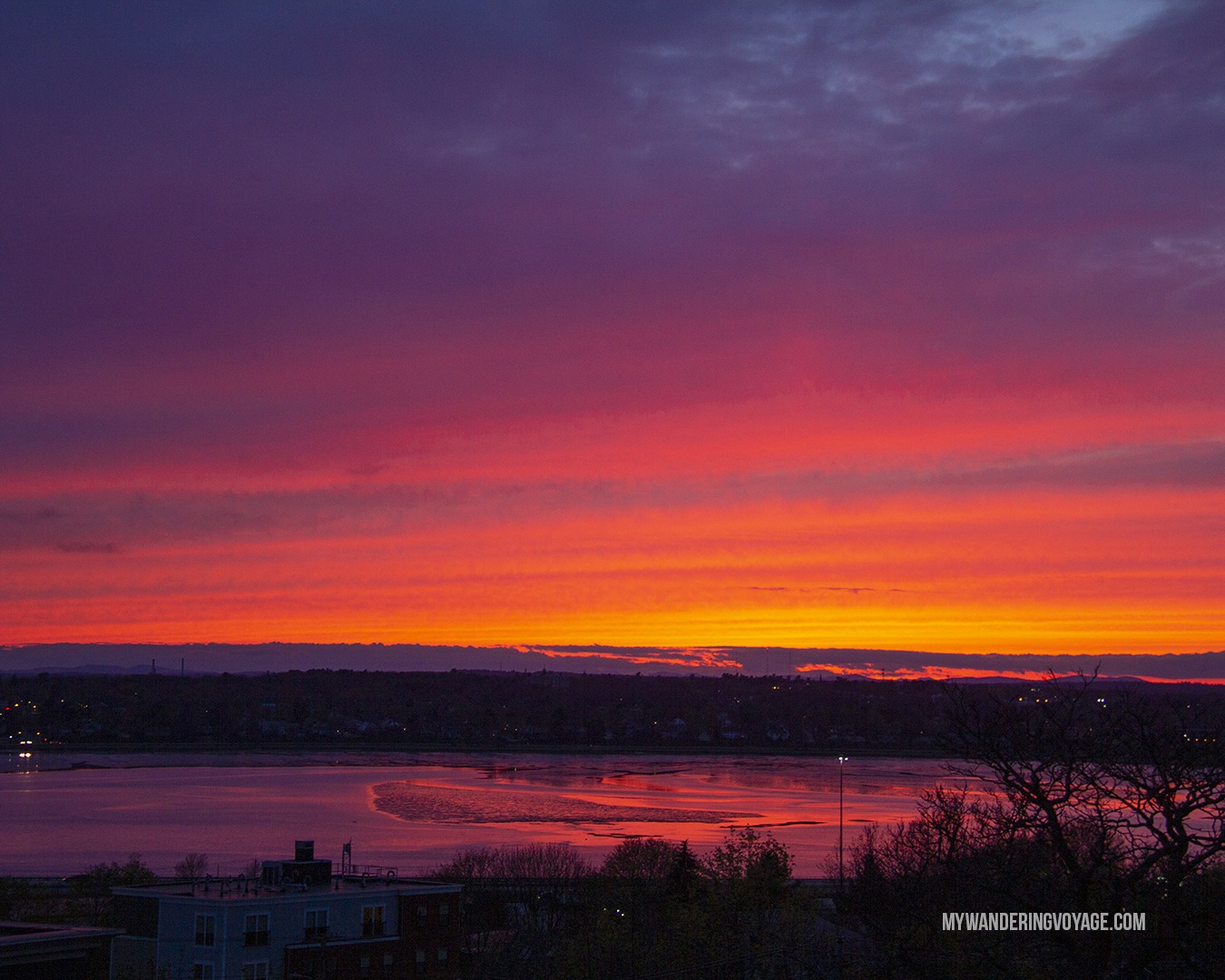 Real Portland Tour
Suggested by Lindsay Davies of I've Been Bit
On Facebook: @ivebeenbit 
What better way to get to know Portland than hopping on a tour given by a local? Whether it's your first time in town or you've visited the city before, you won't want to miss The REAL Portland Tour!
Derek, your tour guide, was born and raised in Portland, ME. A college librarian in the winter months, he's a plethora of knowledge as he shows you the local side of this 'jewel by the sea'. This is no ordinary tour! Not only does it take you to not just one but THREE lighthouses in the Portland area, but he'll give you some of the best advice for good eats, great treats and Portland's fascinating history. Take in everything he has to offer as you travel through the downtown core, the Arts District, the Old Port and the Eastern Promenade with all of the local hotspots in between. Admire the eclectic shops and Victorian architecture as you traverse the city from the tour van, taking in all of the fun factoids Derek has to offer!
Chances are he'll offer it at the end of the tour, but if it doesn't come up – ask Derek about his Portland rap. It'll blow your mind!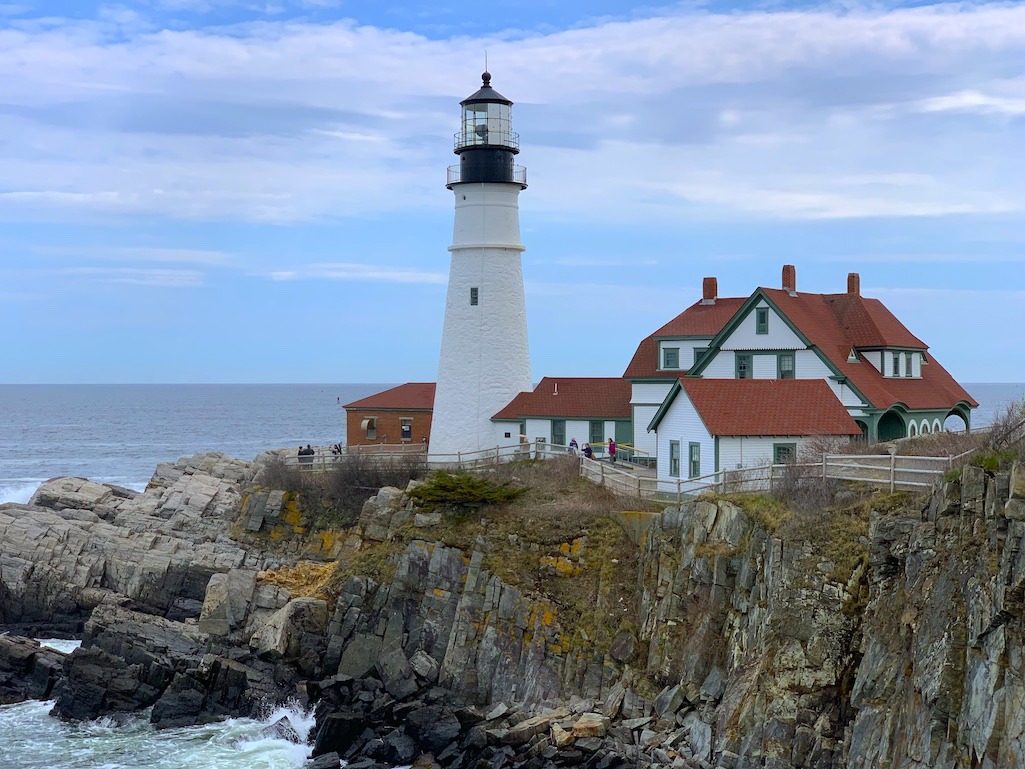 One More Thing
We're adding one more unique thing to do in Portland, Maine. Take a drive to Harpswell. It's less than an hour away but you'll be treated magnificent hiking trails when you arrive. We had the chance to hike the Cliff Trail which provided us some stunning views of the area. While you're there don't miss the Giants Stairs on Bailey Island. It's a short 15-minute walk but you'll see that it's well worth the effort.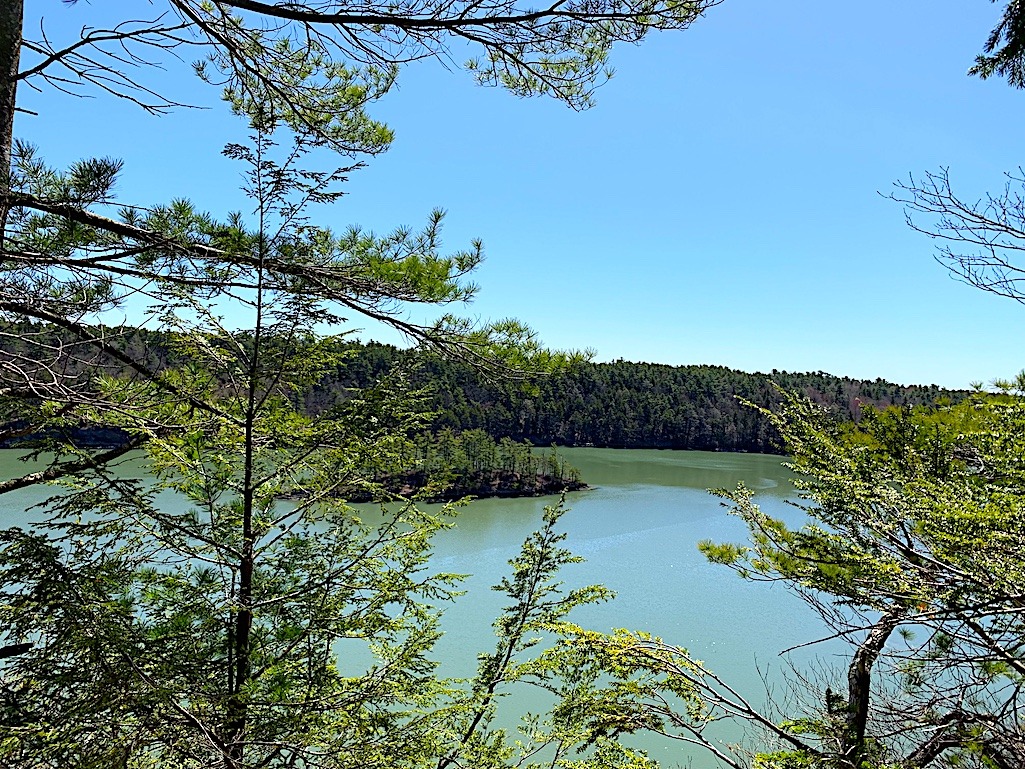 You can be sure that there are plenty of spots to eat more lobster in this neck of the woods. Since we have to end with more food we also had a wonderful lunch with a view at Morse's Cribstone Grill in nearby Bailey Island. This Crabster sandwich had crab and lobster you just can't beat that.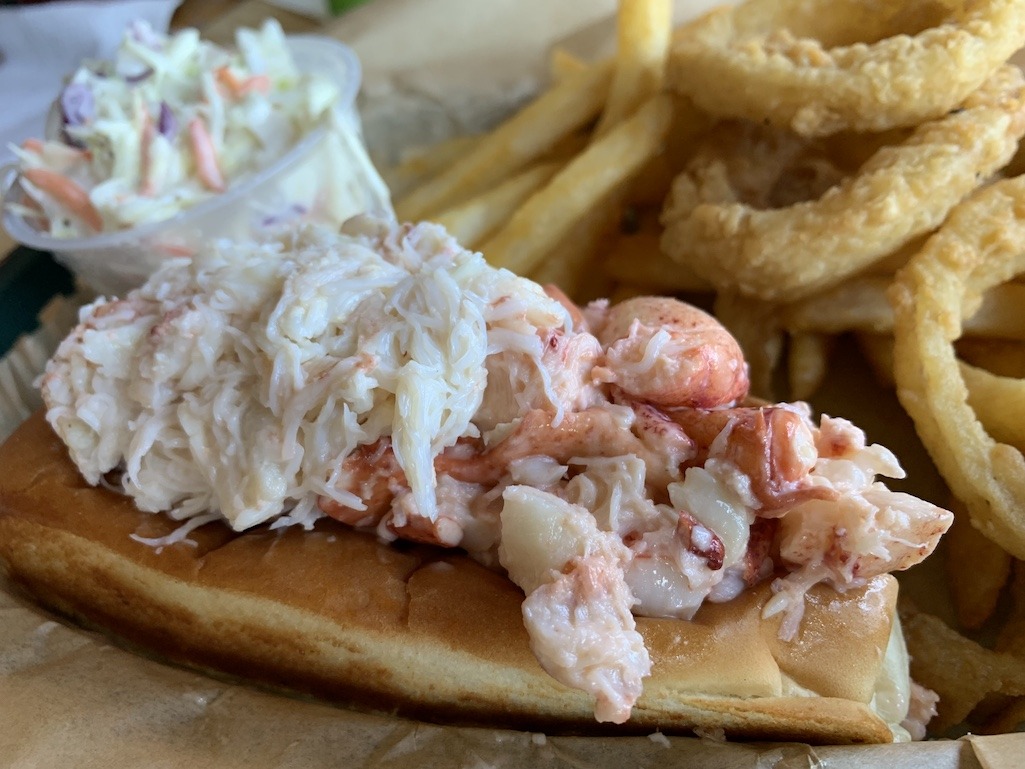 As you see there are many, many things to do in Portland, Maine besides just eat. We hope you get a chance to explore Portland, Maine yourself and let us know your favorite spots.
Pin To Your Portland Travel Ideas Board On Pinterest