Quick and Easy Turkey Tetrazzini
Did you know that the "tetrazzini" in Turkey Tetrazzini signifies a pasta dish with cream sauce? The creamy dish with turkey, noodles, mushrooms and peas is named after Italian coloratura soprano Luisa Tetrazzini, for whom it was first made. You could also choose to make it with chicken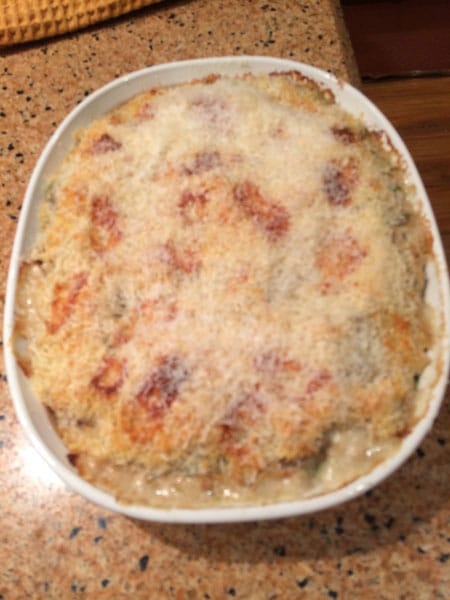 This turkey tetrazzini recipe is a great dish to use leftover turkey in a delicious way without muss and fuss.
Ingredients
8 oz long pasta of your choice – fettuccine, spaghetti, linguini, etc.
2 cups of cooked turkey chopped or diced
1 sweet onion, diced
1 lb. button mushrooms, sliced
1 cups frozen peas
1/2 stick butter
1 can cream of mushroom soup
1 tsp granulated garlic
2 cups grated Parmesan cheese, divided
1 cup heavy whipping cream
1 cup Panko bread crumbs
salt and pepper, to taste
fresh parsley or chopped green onion or chives to garnish (if desired)
Directions
Cook pasta to "al dente" instructions on package
Melt butter in a large, deep frying pan over medium heat.
Add sliced onions and cook until they start to soften.
Add mushroom slices and cook until they start to soften.
Add peas until they are thawed and warm, mushrooms are cooked and onions are clear and soft. Add granulated garlic, salt and pepper to taste.
Turn heat to low and add cream of mushroom soup.
Stir in enough cream to make a very thick sauce, not soupy.
Add cooked pasta and 1 cup grated Parmesan cheese and stir until everything is well blended.
Put mixture into a buttered 15 x 10 casserole dish.
Blend Panko and remaining Parmesan cheese and cover top of mixture evenly.
Bake in oven at 375 degrees F for 30 minutes or until top crust begins to brown and mixture becomes bubbly.
Remove from oven and let cool for 5-10 minutes, then cut into squares.
Top each square with fresh parsley, chopped green onion or chives, if desired.
Turkey tetrazzini goes nicely with a crisp green salad.
THE QUICK BITE:  Turkey tetrazzini with noodles, mushrooms and peas in a creamy sauce is a great way to use up leftover turkey or to make anytime.