Plano, Texas, just 20 miles away from the hubbub of Dallas, offers a wide variety of dining options from upscale and elegant to cheap and cheerful. All of it is delicious. Whatever you have a taste for, we'll show you great choices at the best restaurants in Plano, Texas.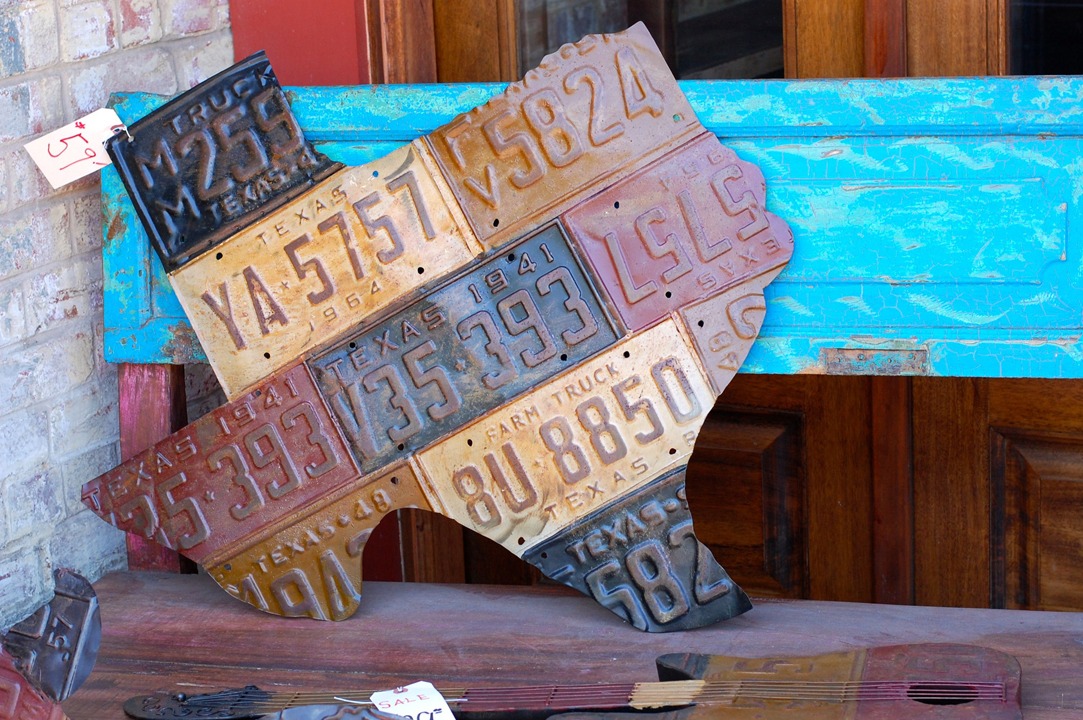 Disclaimer: Visit Plano sponsored our trip and this article. The opinions expressed are strictly our own based on our personal experiences.
Lay of the Land
Plano, like just about everything in Texas, is big. Choosing parts to explore at one time will be easier. And there's no better place to start than Legacy West for some of the best places to eat in Plano, Texas. Loaded with shops, hotels, and tons of great food. If you're looking for a place to stay, check out our review of the gorgeous Renaissance Dallas – Plano at Legacy West Hotel.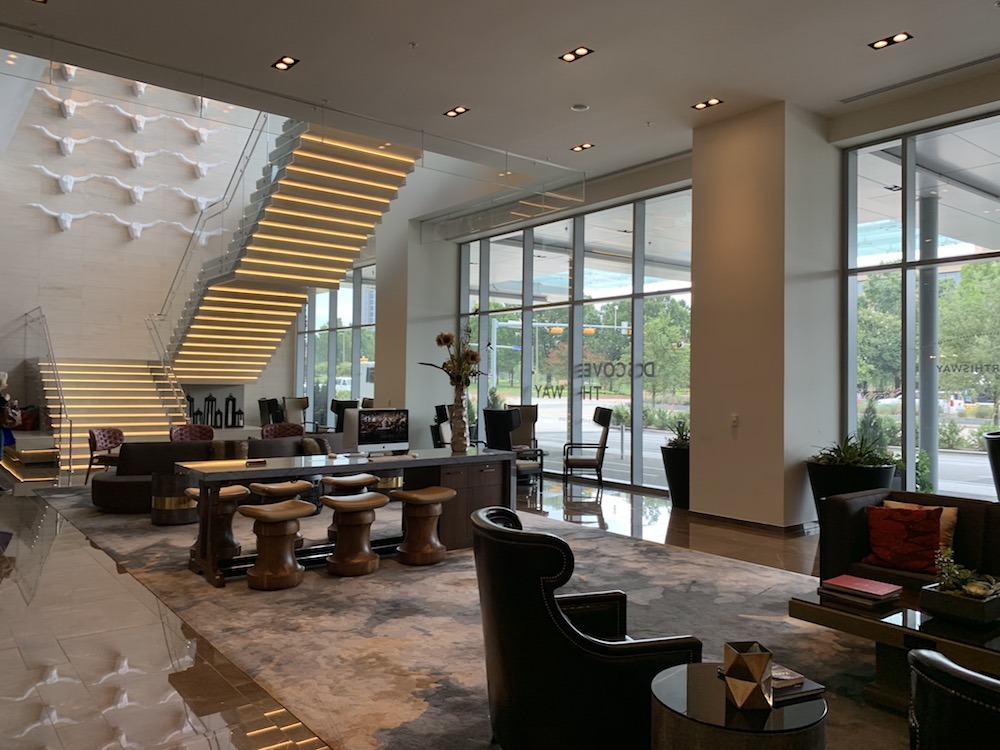 Legacy Food Hall
One of the latest trends we see happening around the world is the adoption of food halls. Plano is right on trend with its Legacy Food Hall filled with lots of food, drink, and entertainment. There were so many choices we couldn't try them all. But we did our best to give you an idea of the wide variety available. Here are a few of our very favorites.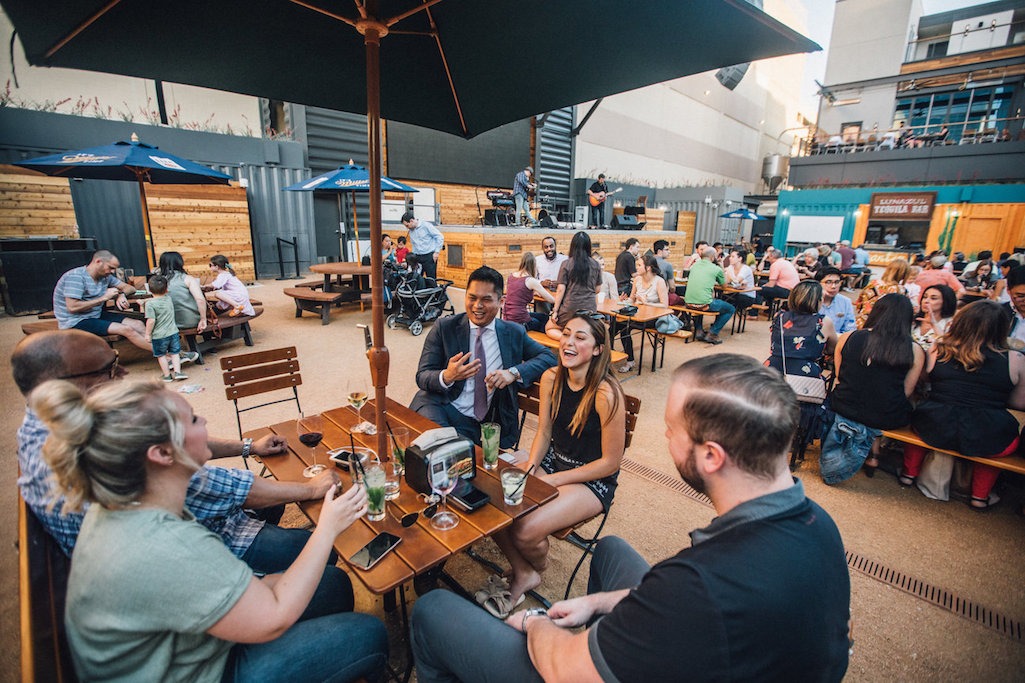 Shawarma Bar
We crossed many culinary borders to try chef Yaser Khalaf's enticing Mediterranean flavors at Shawarma Bar. The chicken shawarma was grilled to perfection and stuffed inside a tasty wrap along with veggies and garlic sauce. It was irresistibly crunchy, chewy, garlicky, and yummy.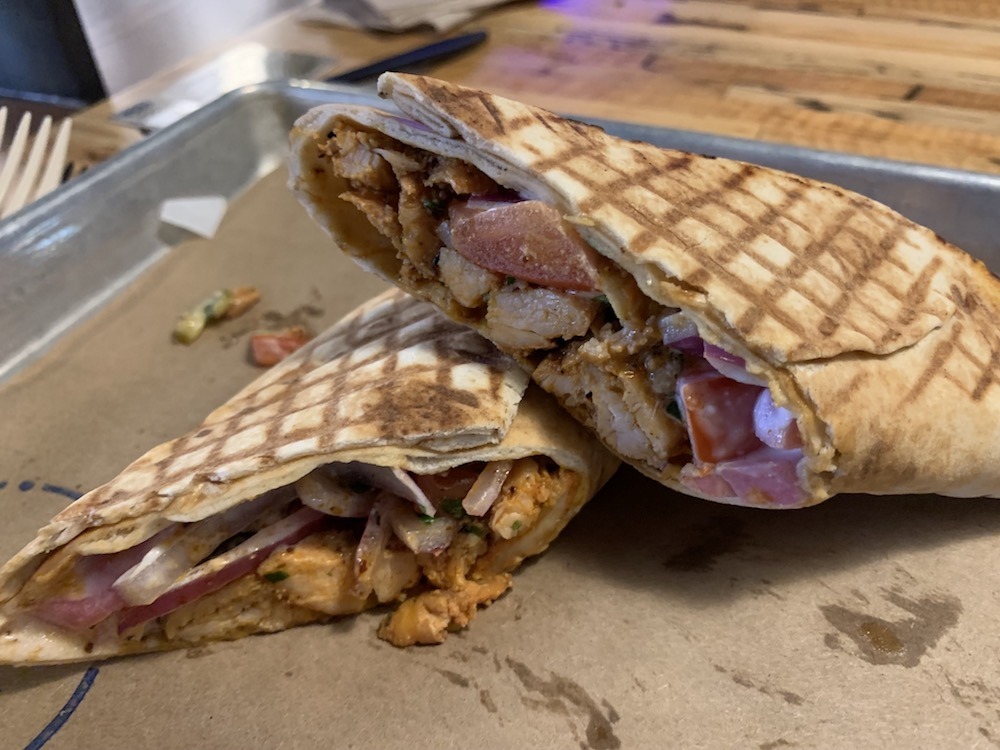 Roots Chicken Shak
Top Chef competitor Tiffany Derry offers some of the tastiest fried chicken we've ever had (and we've had plenty!) at Roots Chicken Shak. Her Southern style infuses every bite. So does the duck fat she uses to fry everything. Yes, we said it. Duck-fat fried chicken. It's so good maybe it should be in a new all-poultry category. We tried several of the sauces for dipping the wings to add that extra kick.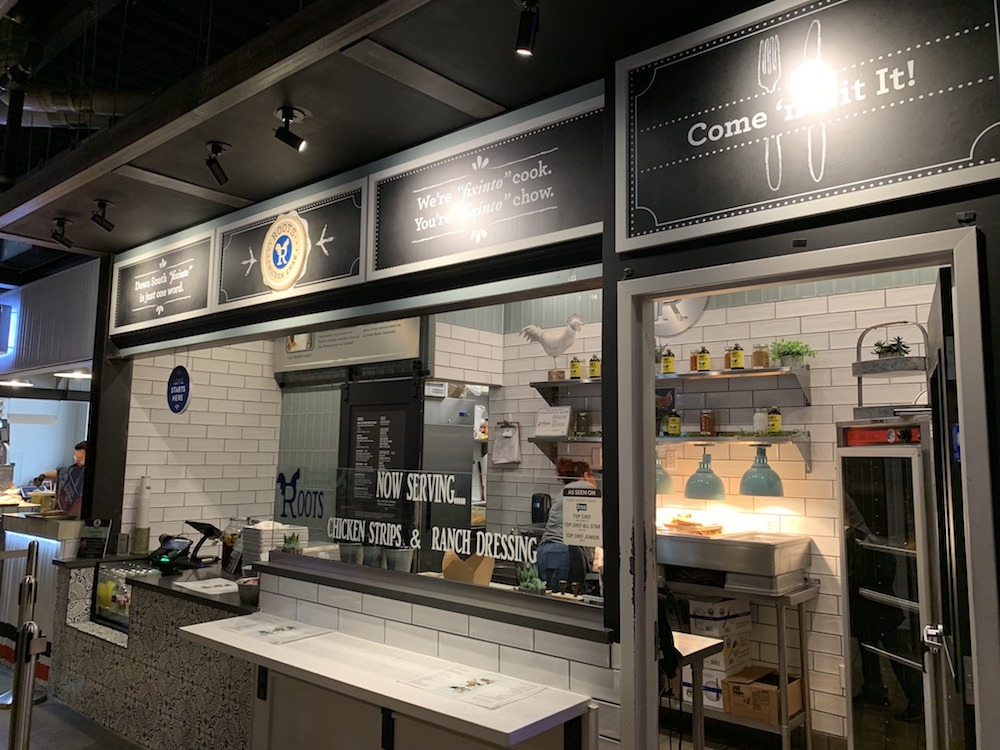 Son of a Butcher
We have to admit that we're suckers for sliders. Especially when they're served up with wagyu beef and Martin's Famous Potato Rolls. When the folks at Son of a Butcher call this slider a classic, they're not kidding. We gobbled our little bitesters down in nothing flat. You can make it a double, add various toppings, and have a load of waffle fries to round out your meal. This little taste of nostalgia was up to date delicious.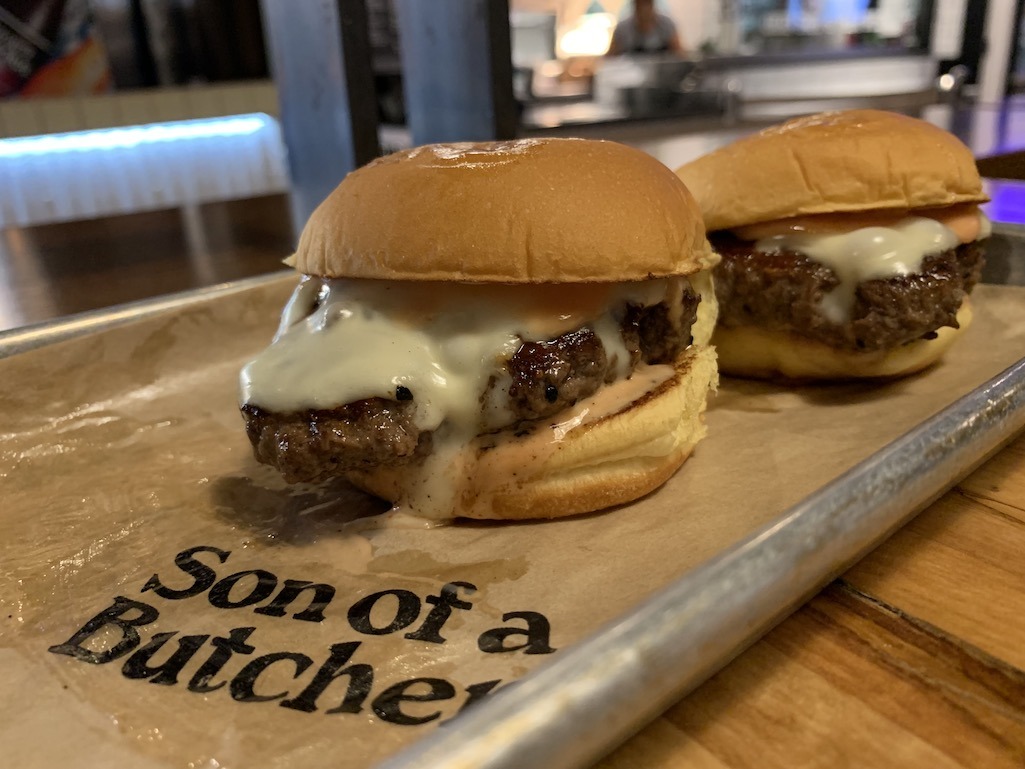 A Whole Lot of Options
As big as our appetites are they're no match for the number of delicious options at the restaurants in Legacy Food Hall. If you want Chinese, Indian, Nuevo Latin, German, BBQ, Italian, and more, you'll find it all at this massive complex of eateries. There are also plenty of options to satisfy your sweet tooth from Belgian waffles to fresh-baked cookies, cupcakes, French macarons, and fruity popsicles. You literally could spend all day working your way through the many food stalls there.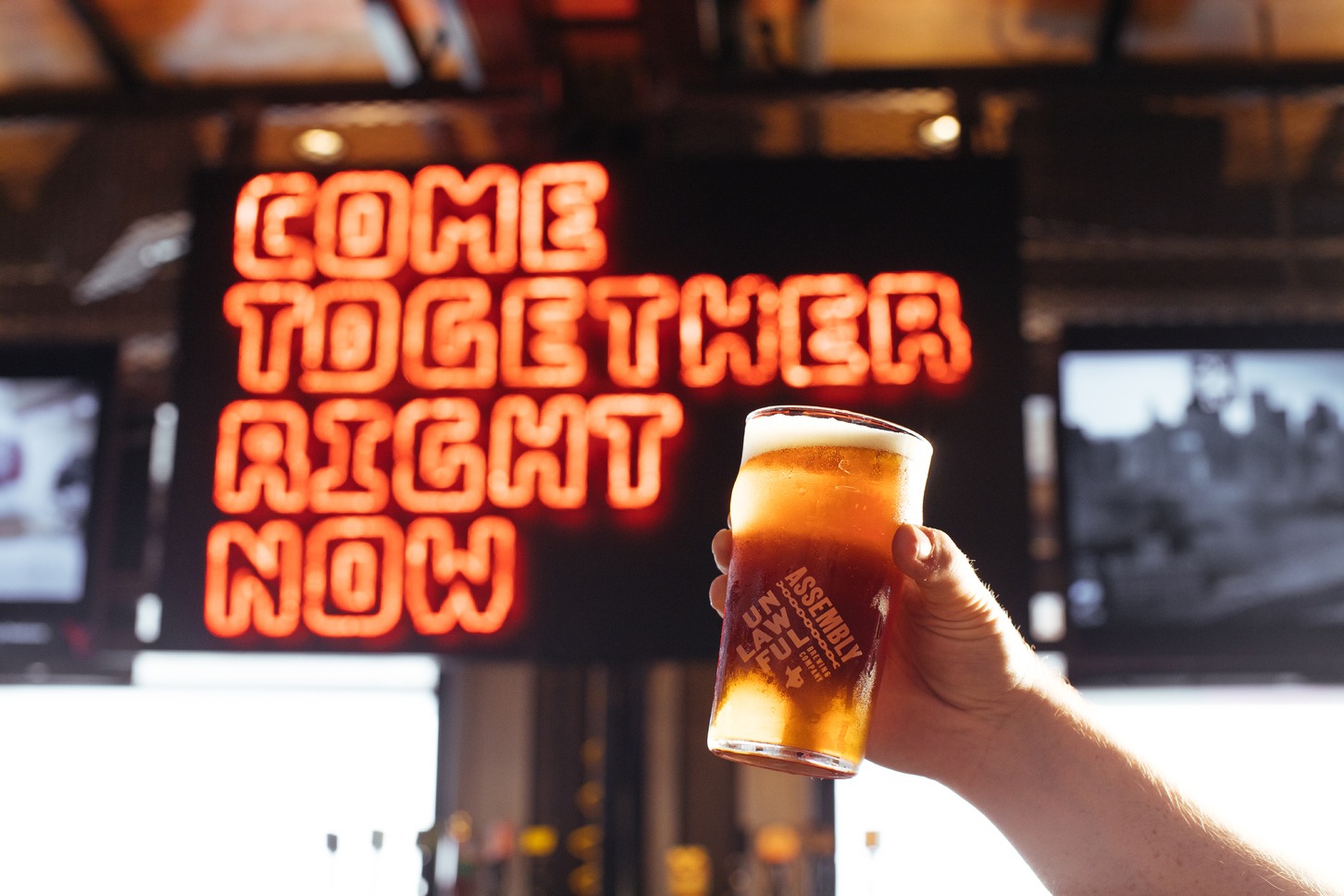 Unlawful Assembly Brewing Co.
We just couldn't miss trying out some of the local drafts, so we helped ourselves to a flight inside the Unlawful Assembly Brewing Co. taproom upstairs. We can totally see just kicking back, sipping a few carefully crafted local brews, hanging out, and enjoying the tunes, games, or whatever might be going on in the Box Garden, the outdoor entertainment area of the Legacy Hall. It's a great idea that makes Legacy Hall a fabulous one-stop shop for fun during your visit.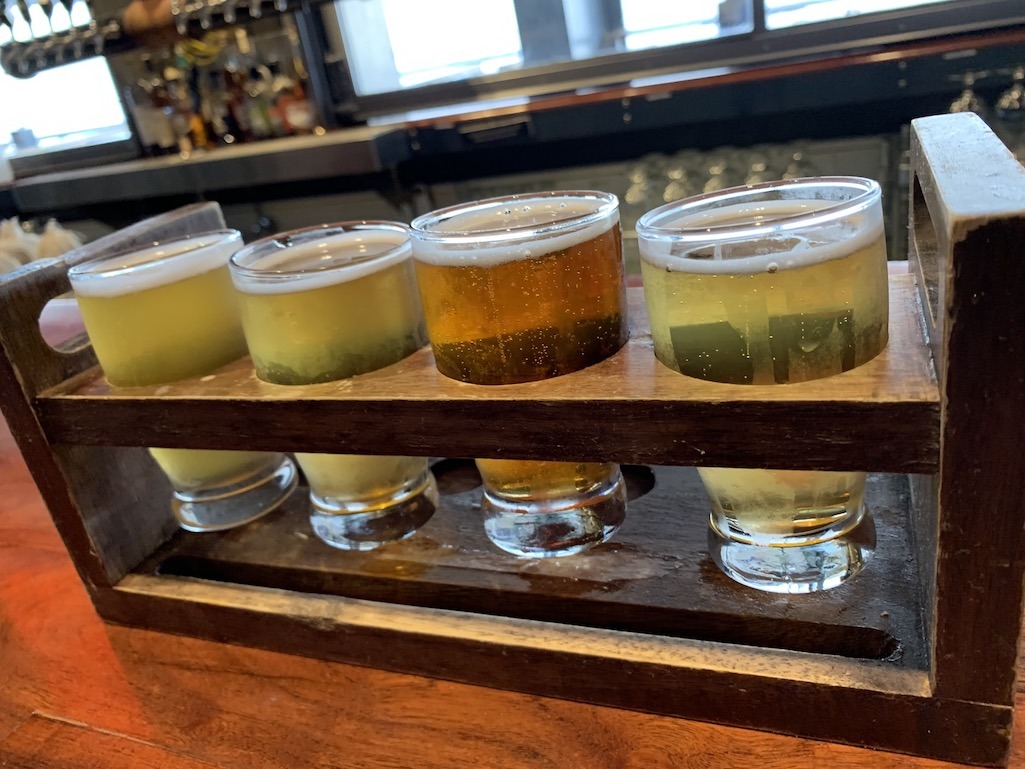 Breakfast On The Boardwalk
After a good night's rest in our comfy, quiet room we were ready to get the morning started. We headed out to the Boardwalk at Granite Park, another area set up with hungry folks in mind. This lovely row of diverse food spots is perfect for strolling, munching, drinking, and having a great time morning, noon, or night.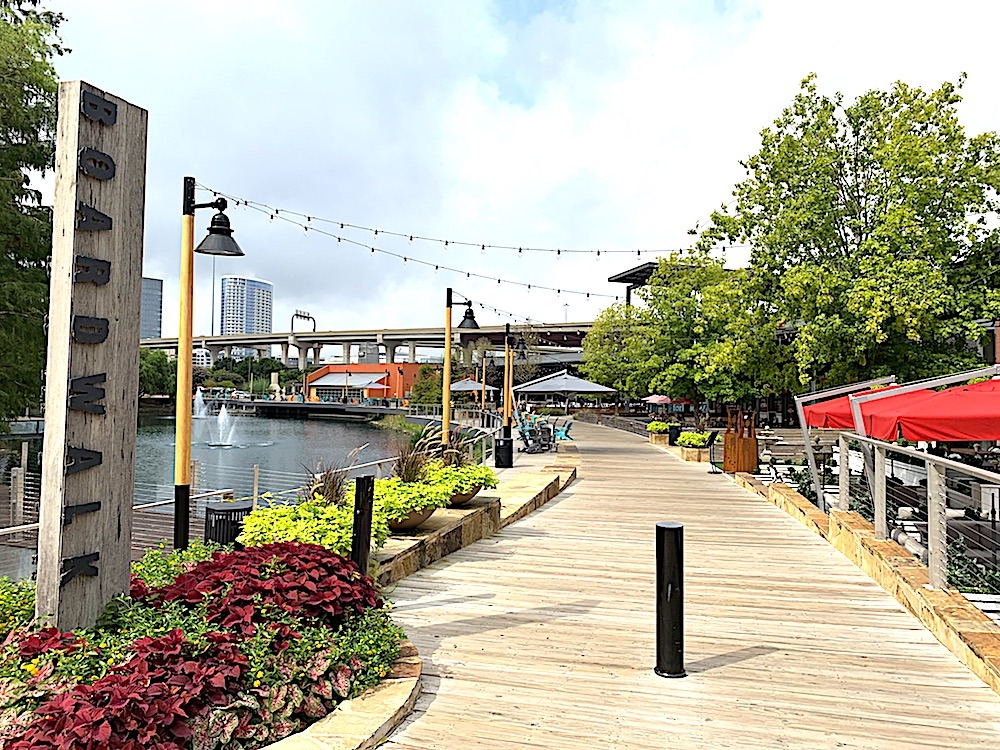 The Biscuit Bar
Nothing says good morning like a big, buttery, flaky biscuit, right? Right! And the mother maker of all biscuit breakfasts in Plano is The Biscuit Bar on the Boardwalk at Granite Park. We hear from insiders that the line for the weekend brunch is really long (but moves fast) so we decided to check it out during the week.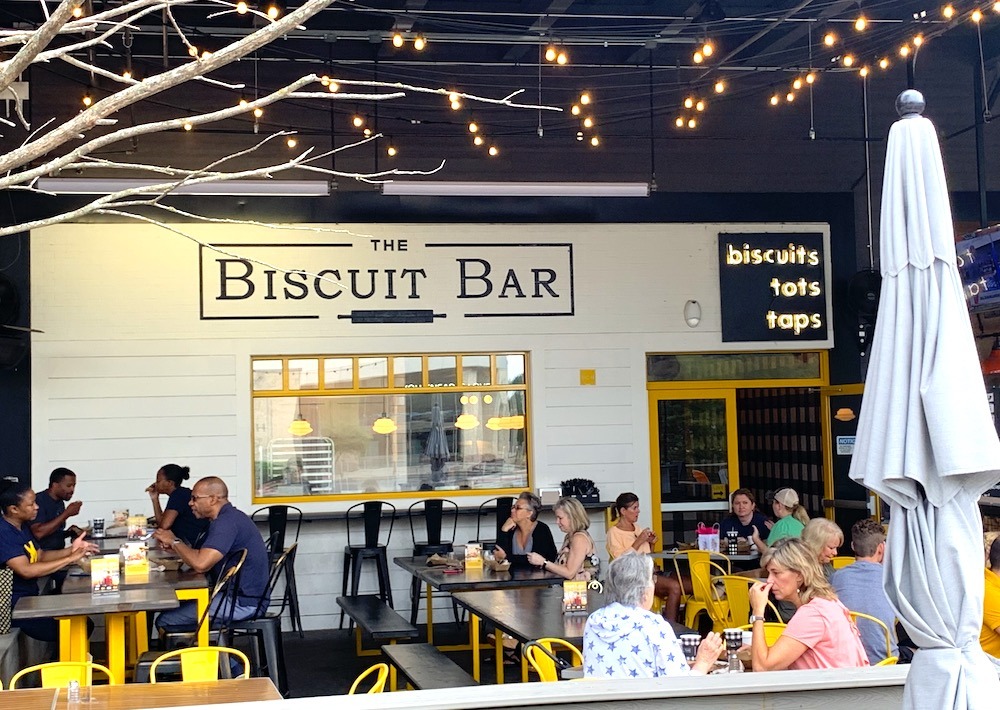 We decided to go whole hog on our breakfast biscuit, ordering the "Rough Night," which has basically everything you could think of piled on a biscuit. What, you may ask does that include? How about this: Southern fried chicken, burger patty, ham, turkey, pulled pork, bacon, tots, cheddar, and house-made sausage gravy. You thought we were exaggerating when we said "everything" didn't you? Well, we weren't. And it tasted even better than it sounds. The biscuit is out of this world delicious and all of the ingredients just do a happy dance in your mouth.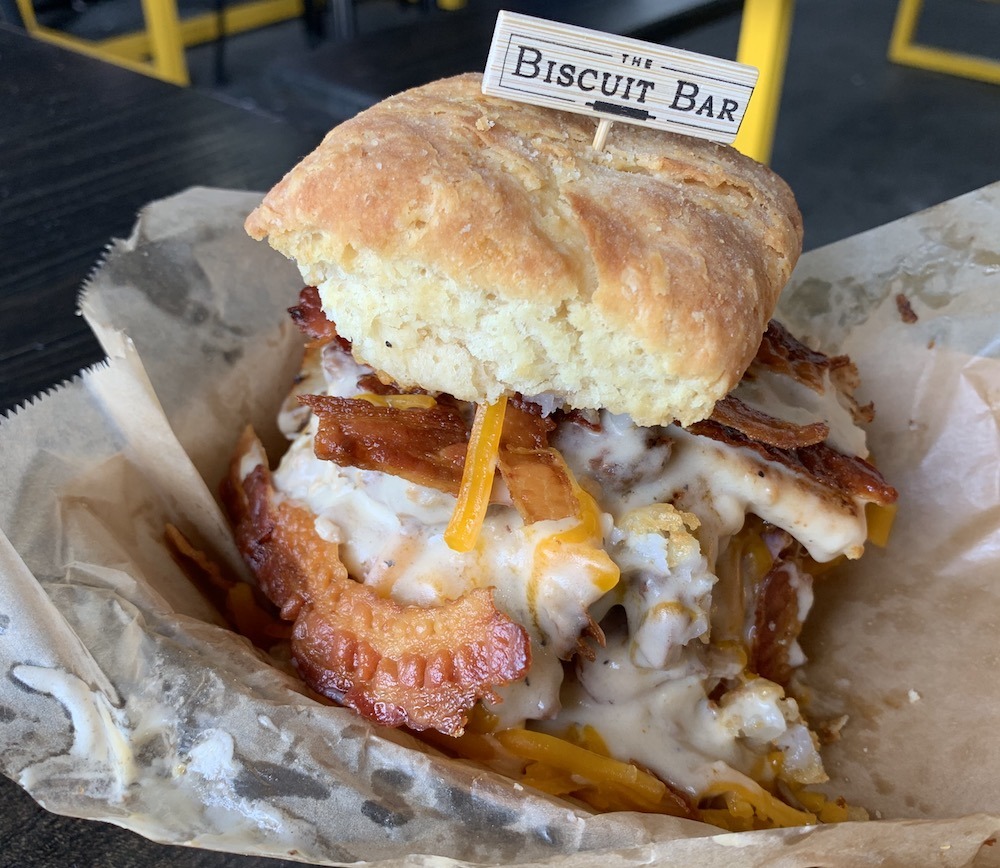 Of course, when you have such a major breakfast, you really need to have breakfast dessert. We opted for the Hot Chocolate Biscuit, including a flakey, buttery biscuit covered with chocolate gravy and topped with toasted marshmallow fluff. It was sweet and savory and incredibly delicious.
Union Bear Brewing Co.
If you've got fresh food and beer on your mind, you'll love the large and lively Union Bear Brewery + Kitchen with its huge tap list and relaxing west coast vibe. This is a lively spot offering "no coast beer" and an approachable, fun environment. We think hanging around, quaffing a few, and making new friends here could easily become a habit. They must too because it stays open late most nights.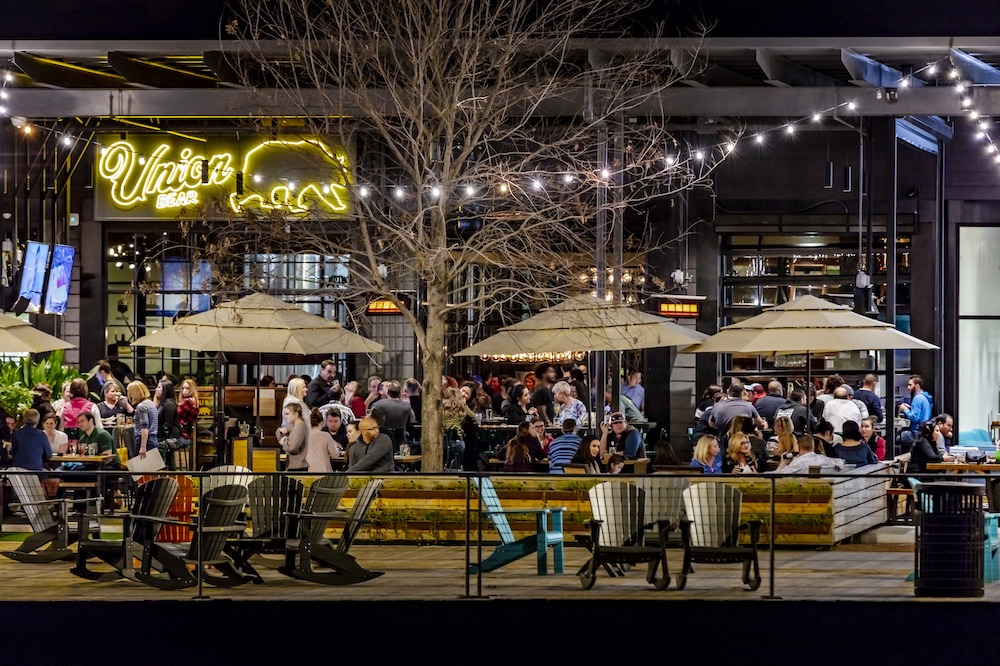 Other Dining Options
If you feel like bar and restaurant hopping, you can enjoy lots of different spots on the Boardwalk at Granite Park. Chip's Old Fashion Hamburgers sure has burgers, but also Tex Mex, baked potatoes, and even seafood to satisfy all your cravings. Edith's French Bistro provides a touch of elegance with its gorgeous decor, full bar, and irresistible dishes like champagne Mac & Cheese or Chateaubriand for Two. Edith's offers a high tea service for a way to really refresh and enjoy some time to relax. Good Union Urban BBQ partners with local providers to give you the freshest bites and best craft beers. Try one or all of these tasty spots and linger a little longer at this lovely waterside spot.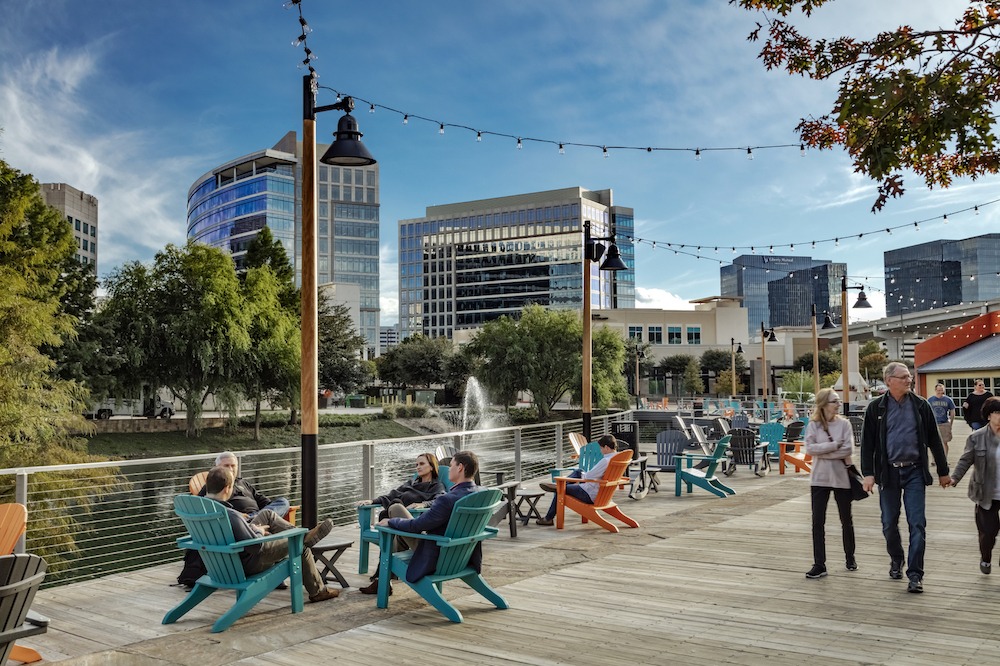 Historic Downtown Plano Arts District
One of the best things about Plano is that whether you like shiny and new or vintage charm, you can have it all. The Historic Downtown Plano Arts District is loaded with plenty to eat and drink, including some wonderfully authentic ethnic bites.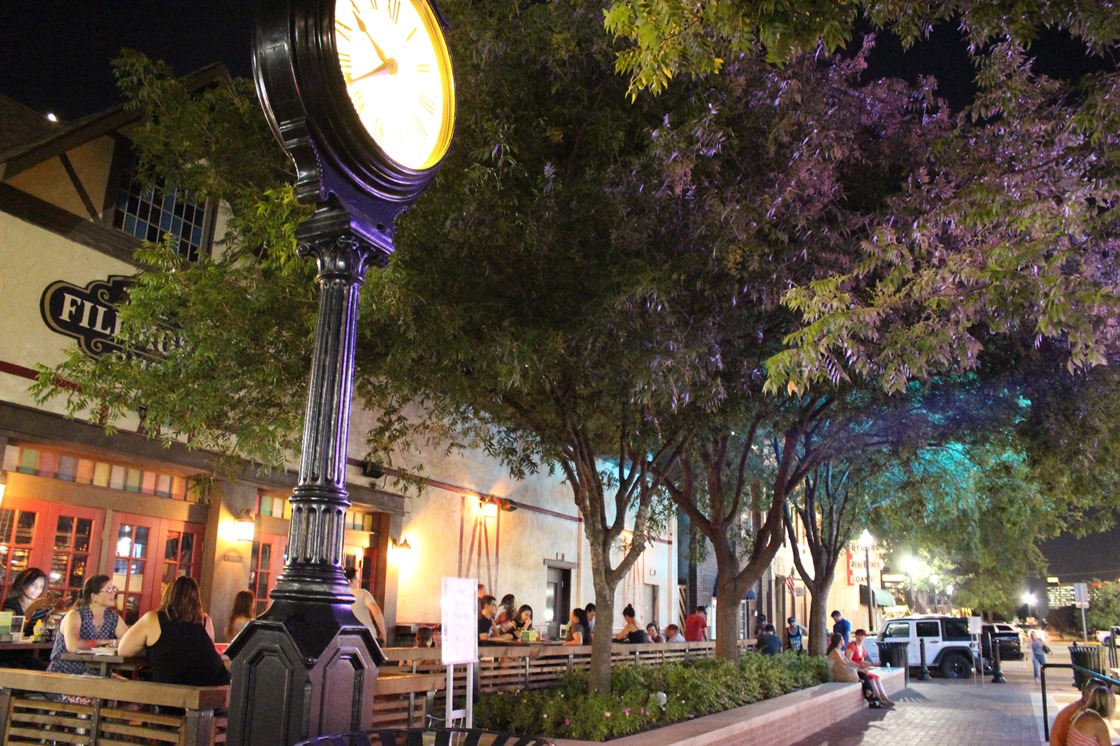 Jörg's Cafe Vienna
You may notice that we emphasize the diversity of Plano's food scene. But we haven't shown you nearly enough. In fact, even if you like Austrian food (and who doesn't?), you can just come to Plano! Don't believe us? Well, you'll have to hit Jörg's Cafe Vienna as we did. This small, lively, and authentic spot is just another fun place in Plano's expansive list of tasty surprises. We had so much fun with the locals drinking Austrian and German beers, eating bratwurst and schnitzel, and looking at the colorful decor. Photos of the owner's family, who supported him in getting the restaurant up and going, add to the sense that you are part of the fun.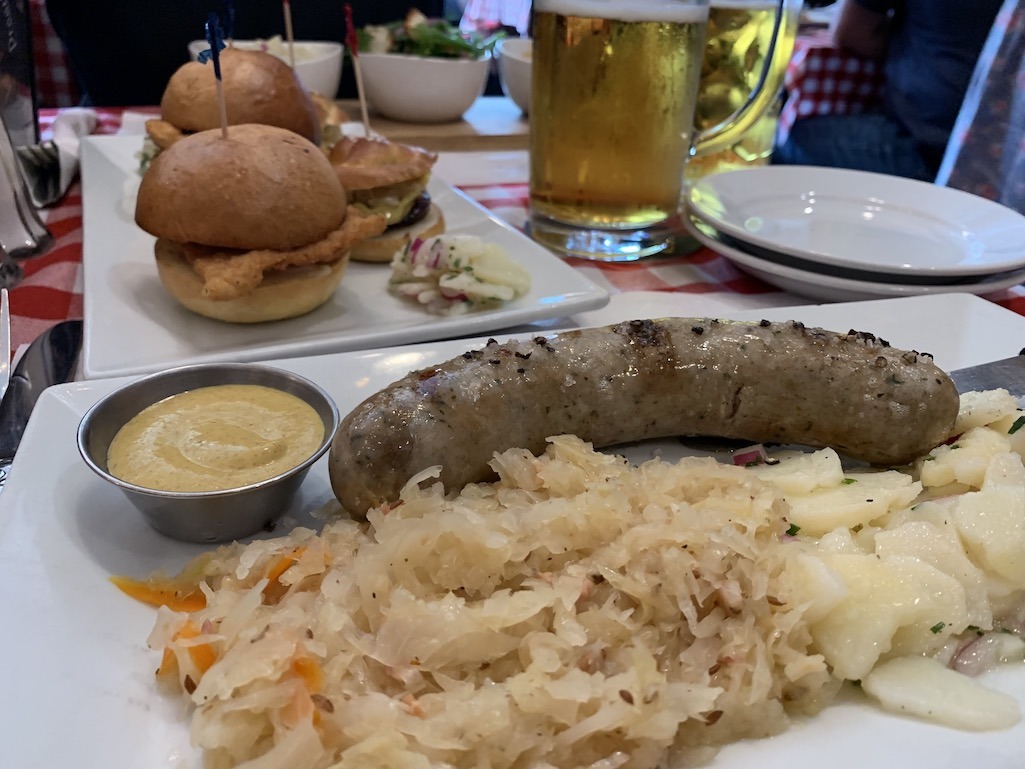 Eaters Rejoice
There are even more unique places to eat in the Historic Downtown Plano Arts District. Old favorites are being joined by new spots all the time. For a classic pub, try The Fillmore Pub. You'll feel like you've been going there to grab a pint and a bite with friends you've known for a lifetime. Another great spot, Vickery Park, offers a great tavern experience. And Ye Ole Butcher Shop, just a bit off the beaten path, has a name that pretty much says it all. Urban Rio and La Paloma Taqueria have authentic Mexican flavors that Texas is known for. And Lockhart Smokehouse offers an award-winning BBQ that you won't soon forget.
More to Eat and Drink
Other downtown Plano restaurants can keep you happy as well. Urban Crust is known for its delicious pizza as well as the 32 Degrees Rooftop Bar. You can enjoy a happy hour there while looking out at the brick-lined streets, art galleries, boutiques and murals that make this such a special part of Plano. Ebusu Robata & Sushi offers a new tasty dinner option for fans of Asian cuisine, while Better Than Sex Desserts, well, the name probably tells you all you need to know. There are other delicious options from coffee to pizza and much more but we hope we've whet your appetite a little to explore this fun and Plano area.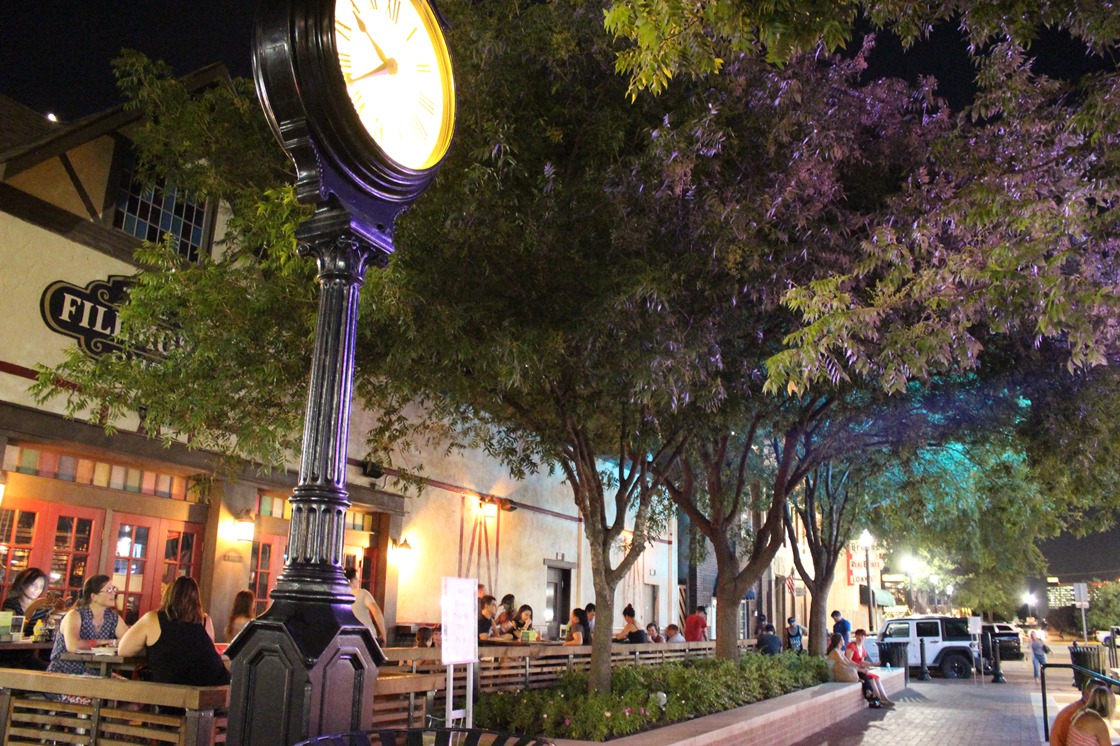 Brunch & Lunch
We love a hearty meal that can last a good part of the day. Two of the places we visited could easily provide you with enough tucker to keep you from tuckering out even during the most strenuous shop-hopping. (Did we mention Plano is also a shopper's paradise? Stay tuned for that in another post!)
Whiskey Cake
The name Whiskey Cake combines two of our very favorite things – booze and sweets. So what could a place with this moniker offer in our quest for a tasty, filling, Texas-sized meal? As it turns out, just about everything we could hope for.
Make it Your Way
If there's anything we love, it's a boozy brunch. And there's nothing more fun than a DIY Bloody Mary bar. Whiskey Cake's ample bloody bar first caught our attention, then captured our hearts. Your server brings you a healthy serving of vodka (we split ours in two). Then you take it over to the fully-loaded bar station and make it any way you like. Add tomato juice mix and spice it with hot sauces and horseradish. Then choose your garnishes from among celery, tomatoes, carrots, olives, roasted garlic, cheese, pickles, lemons and limes, and even bacon! Finish your glass rim with regular or flavored salt.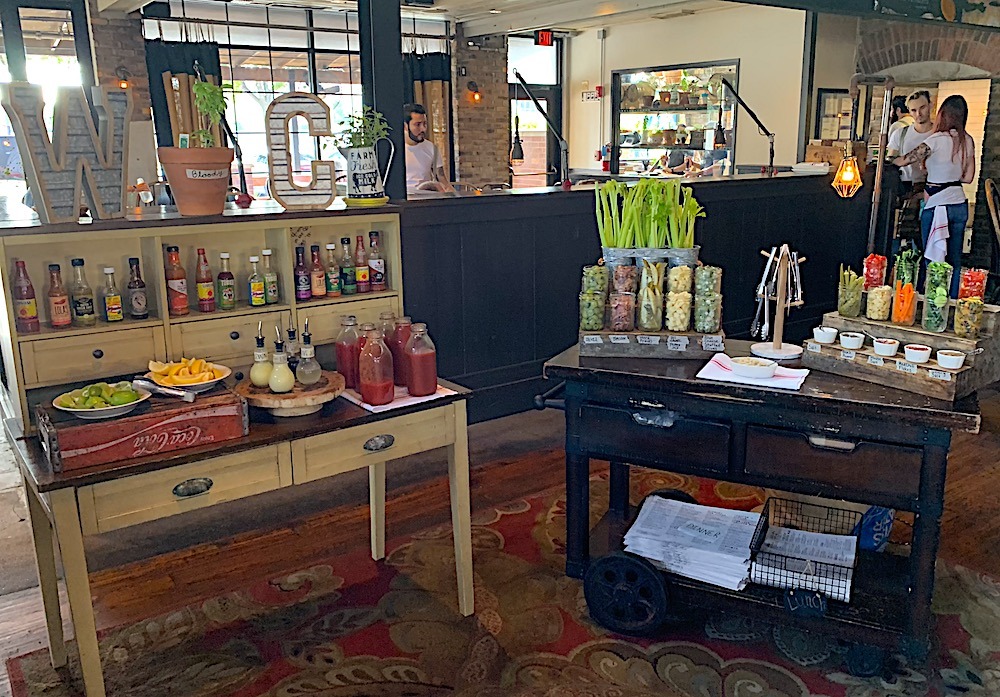 Savory or Sweet
So many choices on the menu looked delicious, it was hard to choose. Sue went with the savory B.E.L.T (bacon, egg, lettuce, and fried green tomatoes) "from the hen." Diana chose the amazing banana caramel pancakes. There's heartier fare like whiskey braised short rib hash as well as salads, soups, and other snacks. It would be impossible to leave here hungry.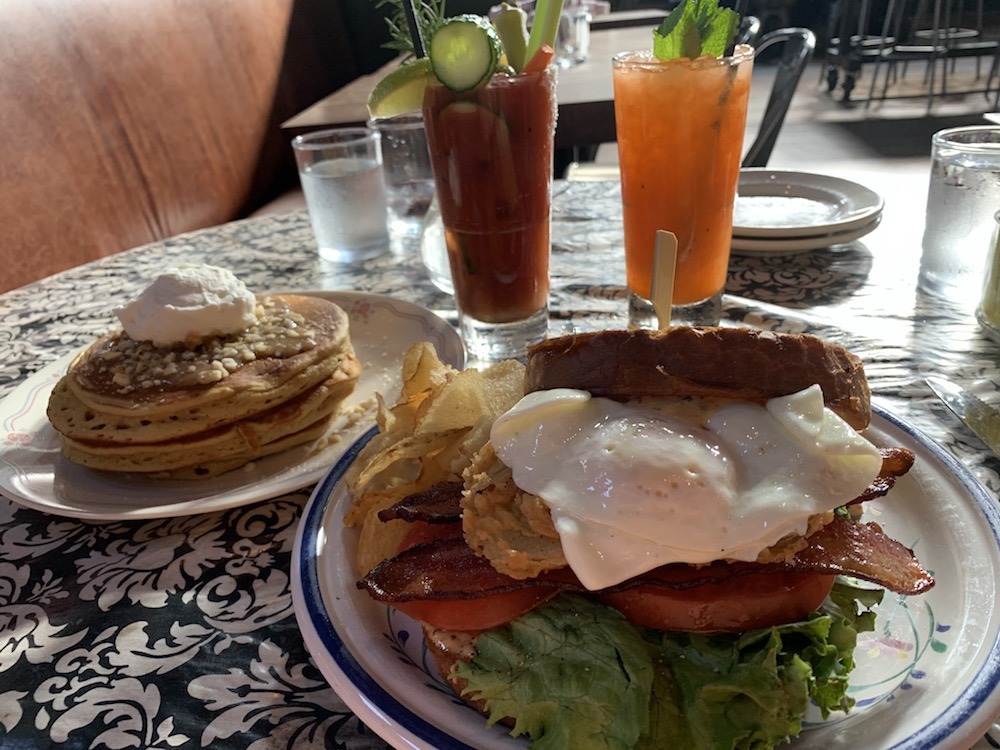 Bavarian Grill
We just can't get enough of hoisting our stein in the air and singing Ein Prosit! Let's face it, our home base is in Wisconsin now, so it's always on our minds. Fortunately, the folks in Plano understand well the joys of German food and fun. When we went to a keg-tapping celebration at the unassuming Bavarian Grill, we were thrilled with what we found.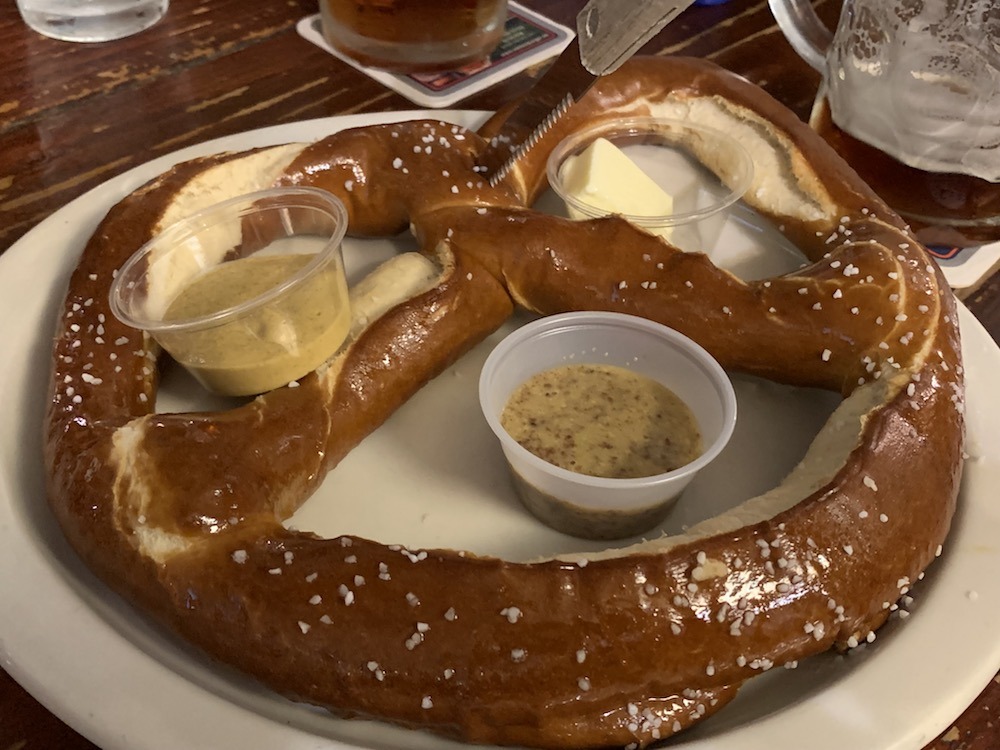 The restaurant has several rooms adorned to the hilt with tons of German photos, flags, steins, and memorabilia. The jovial sounds of people having fun are everywhere. The backroom is a "beer garden" with communal tables of revelers ready to have a good time.
Schnitzelfest and Beyond!
During our visit the Bavarian Grill was celebrating Oktoberfest and Schnitzelfest – two complementary occasions. With plenty of German beer to drink and over 30 types of Schnitzel to try, we were in heaven. The menu also had many traditional Bavarian specialties such as roast pork, sausages, dumplings, and more. Singing, drinking, and playing games were all part of the festivities. While in the middle of Texas, we felt like we were in the land of lederhosen and dirndls, at least for a little while.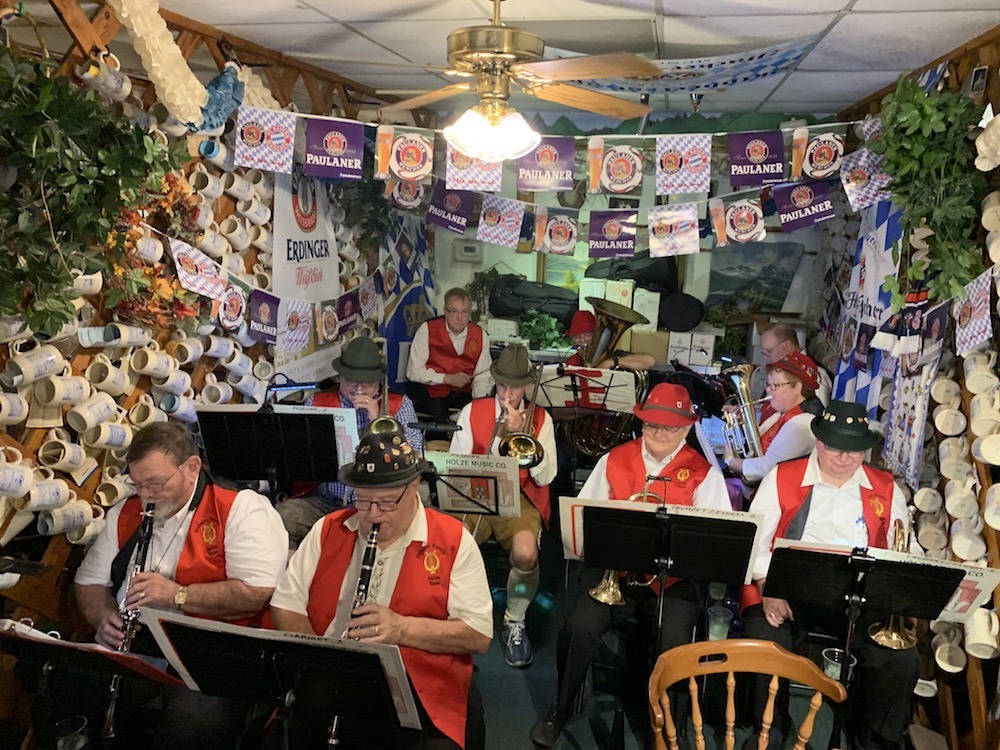 Special Treats
One of the best things about traveling to a new place is the chance to taste the local flavors and check out their unique treats. Plano is no slouch when it comes to special bites, so we wanted to share just a few of them with you.
Donuts at WOW!
Wow! Donuts and Drips is a different sort of donut place. Instead of looking at the racks and picking out one of the many sweet rings available, you actually look through the several showcases they have. Each case has a representative of the ornate decorations that they put on each of their traditional yeast donuts. You place your order and they make it for you right then and there. We couldn't resist a rainbow-adorned beauty and one with a delicious combination of chocolate and strawberries. They also use tea and coffee brewing systems designed to give you the perfect made-to-order cup.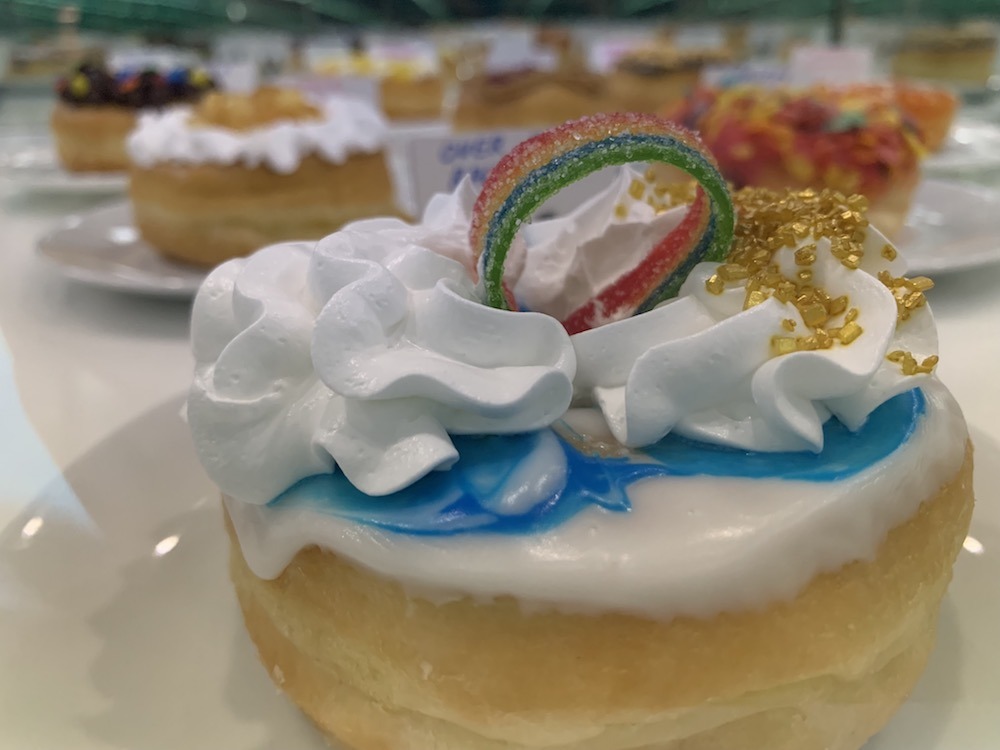 Meccha Matcha, Kura Revolving Sushi, and Other Asian Treats
There are some great Asian-focused shopping centers that house a variety of fantastic options for your entertainment and eating pleasure. If you're a fan of the bold, grassy, green tea product Matcha, then you'll love Meccha Matcha. It specializes in Matcha products like beverages and ice cream that have various levels of Matcha ingredients. You can get something mild, bold, or somewhere in between. The level of Matcha is strictly up to you.
Sweet Hut Bakery and Cafe is a great Asian bakery with baked buns, cakes, and gorgeous pastries that you can pick out like at a cafeteria. You can eat in the cafe or get a box of goodies to take home. While everything looks delicious, some of the whimsical items look just too cute to eat.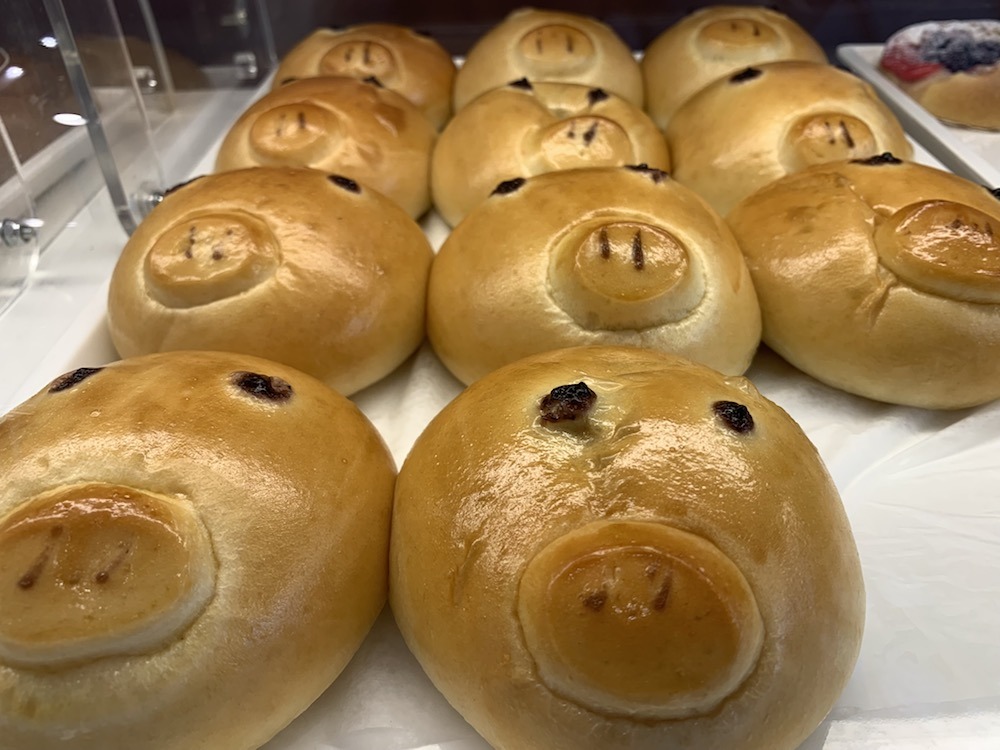 Mitsuwa Marketplace is a large grocery store filled with all manner of  Asian ingredients, including some hard to find imported goods. There's also a dine-in area with offerings like ramen, pork bowls, sushi, udon, soba, and tempura.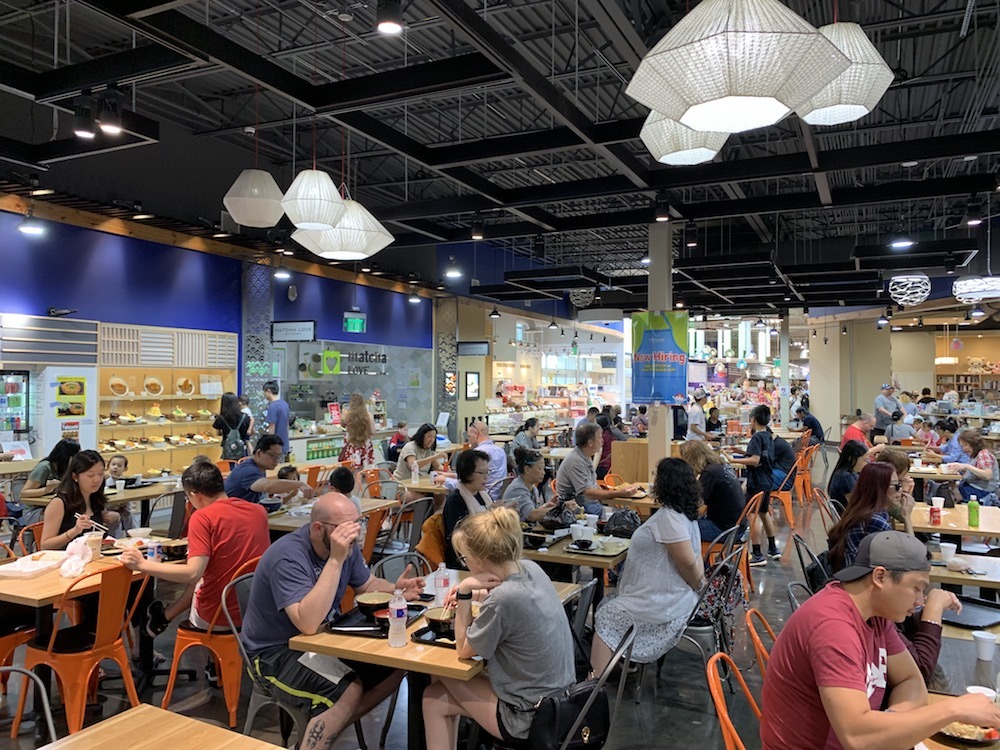 And, if you've never been to a revolving sushi bar, you owe to yourself to go. Kura Revolving Sushi Bar offers tons of fun with dishes whisking by diners ready for the taking. They also offer prizes for depositing enough plates to help their mascot on his digital adventure. It's entertainment and food all in one place.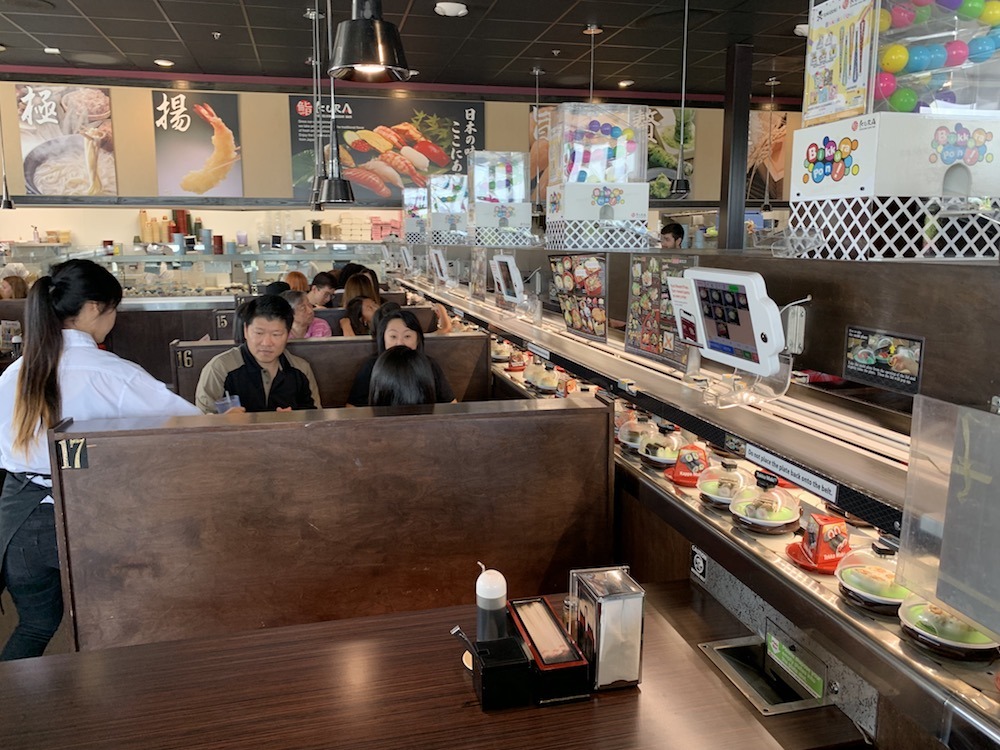 Milky Treats Ice Cream
What would a visit to anywhere be like without ice cream? We wouldn't know because we went to the awesomely creative Milky Treats Ice Cream. Providing the warning that this is a "Diet Free Zone" lets you know what you're in for – an unconventional, exuberant ice cream shop. The unique approach that Milky Treats offers begins with its handmade ice cream flavors. They use local ingredients and make it in small batches. Then they add your choice of cereal. Yes, that's right. That tasty stuff you loved as a kid but for some reason feel guilty about eating as an adult.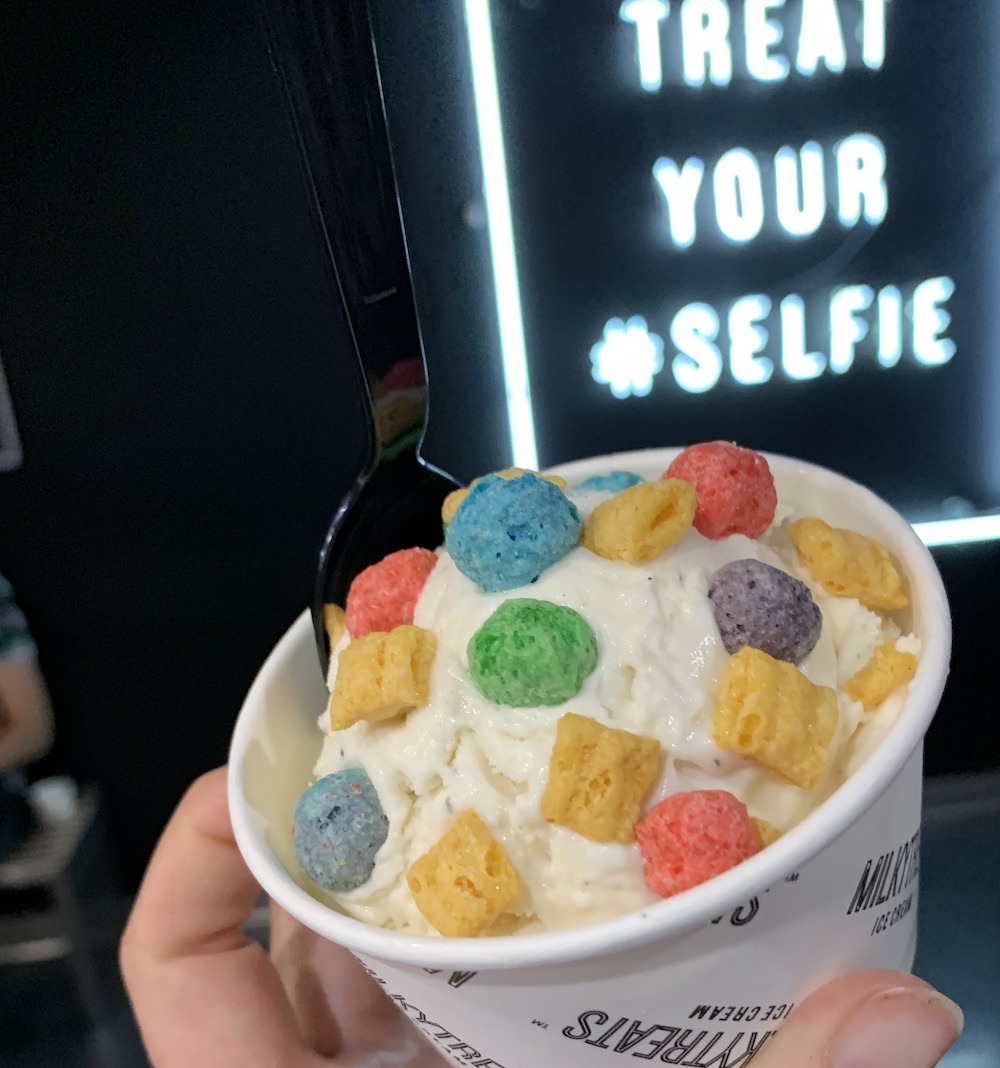 Guilt be gone as we stocked up on an ice cream sandwich made with a donut and a cup filled with ice cream and Cap'n Crunch. How fun is that? Really, really fun. Co-founder Karmen Lau scooped, smiled, and made the environment fun for us and everyone else who stopped in for a sweet treat.
Beard Papa's Cream Puffs
If you want to hear about what's new and noteworthy in the sweet treats category, then listen up. Beard Papa's cream puffs are tempting tastes of everything you love. Crispy dough puff on the outside, rich and gooey filling on the inside, covered with a tasty shell-like matcha tea, chocolate, or caramel topping makes a delicious combination. These are substantial sweeties, about the size of a big Italian meatball. You'll only need one to satisfy your sweet tooth. You can choose the inside and outside flavors and they fill them right while you're waiting and serve them ice cold. Even if the cream puff isn't your thing, Beard Papa's has other desserts like chocolate lava cake and cheesecake as well as custard cream drinks like a super thick shake.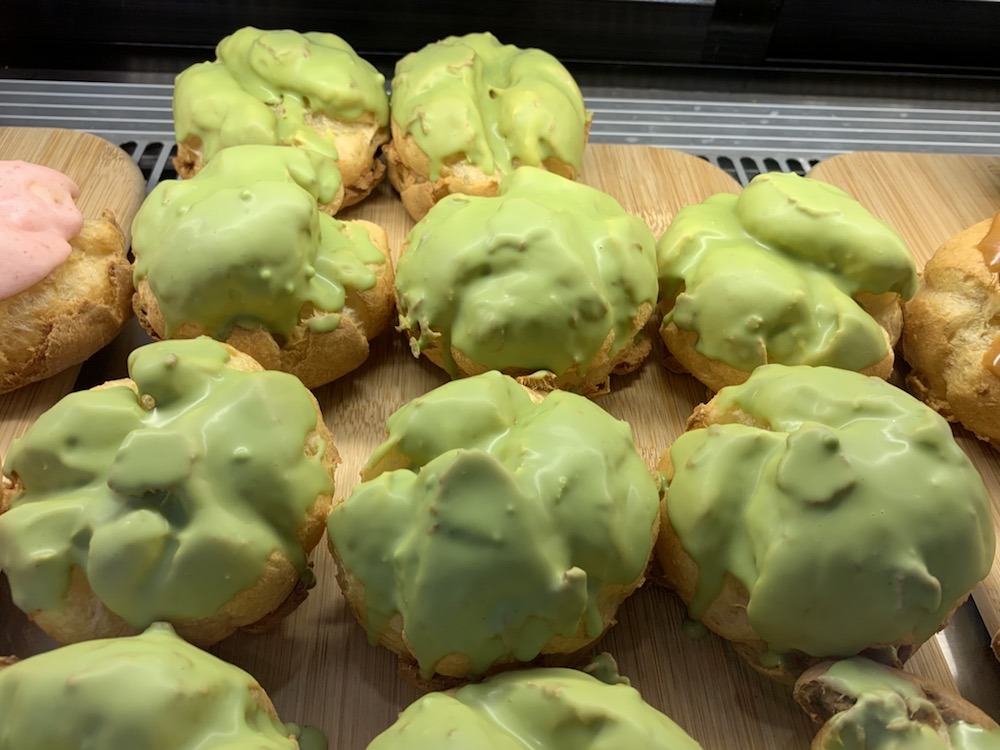 Gelato Cone
Our stop in at the Gelato Cone surprised us because we just couldn't get over the beautiful gelato selections and how many different types they had. Even more impressive were the "lighter" versions, perfect for after a meal or when you just don't want that much ice cream. You get all the flavor with fewer calories and you'll feel less full. We loved that. There are a few locations in Plano and throughout Texas.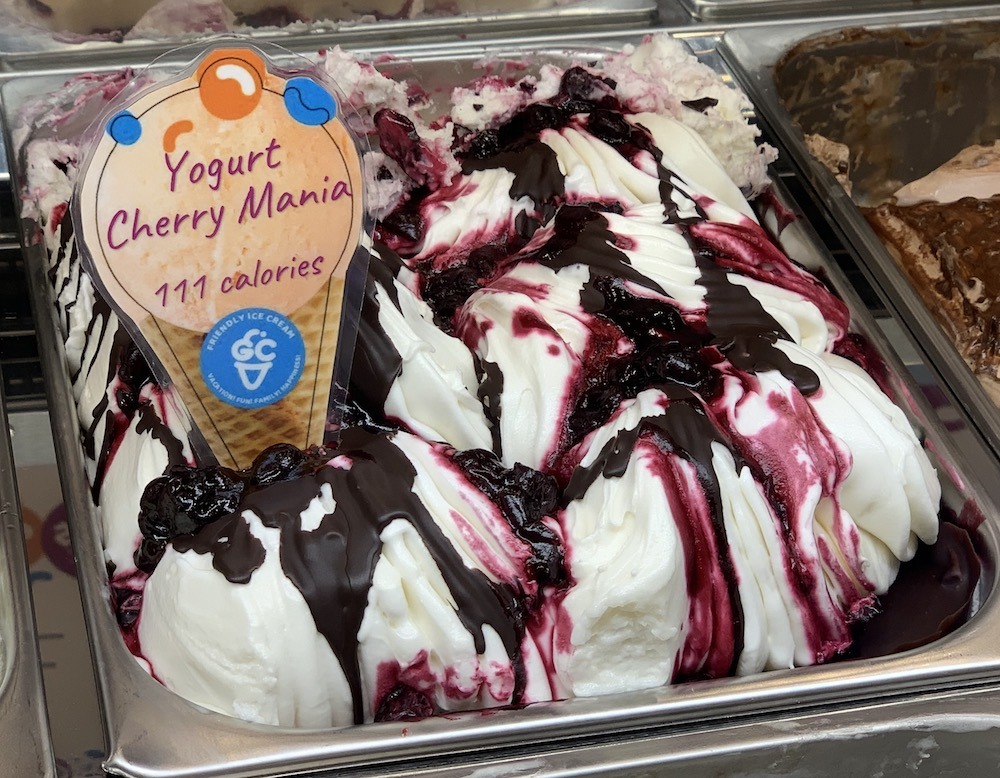 Winner, Winner Pick A Dinner!
There are so many choices for a great dinner out we thought we'd highlight a few of our favorites. These are not the only choices – there are a ton of options. But we want to point these out to you because they were so good.
Mexican Sugar
It would just be all kinds of wrong not to have a meal highlighting the Latin flavors so loved in this neck of the woods. And we hit the jackpot with our tasty dinner at Mexican Sugar Cocina y Cantina near the Shops at Legacy.
Best Service Ever
The first thing we have to praise about this huge restaurant was the way we were pleasantly welcomed from the moment we arrived. We didn't have reservations and the restaurant was obviously very busy. Even so, we were graciously offered a table where a smiling server walked us through all of our many questions.
Tequila Library
Whether or not you're a tequila lover you'll be impressed by Mexican Sugar's extensive handcrafted tequila library. And you'll find specially crafted cocktails and flights if you want to try a few different flavors. They even have "Mexican moonshine" varieties unlikely to be available elsewhere.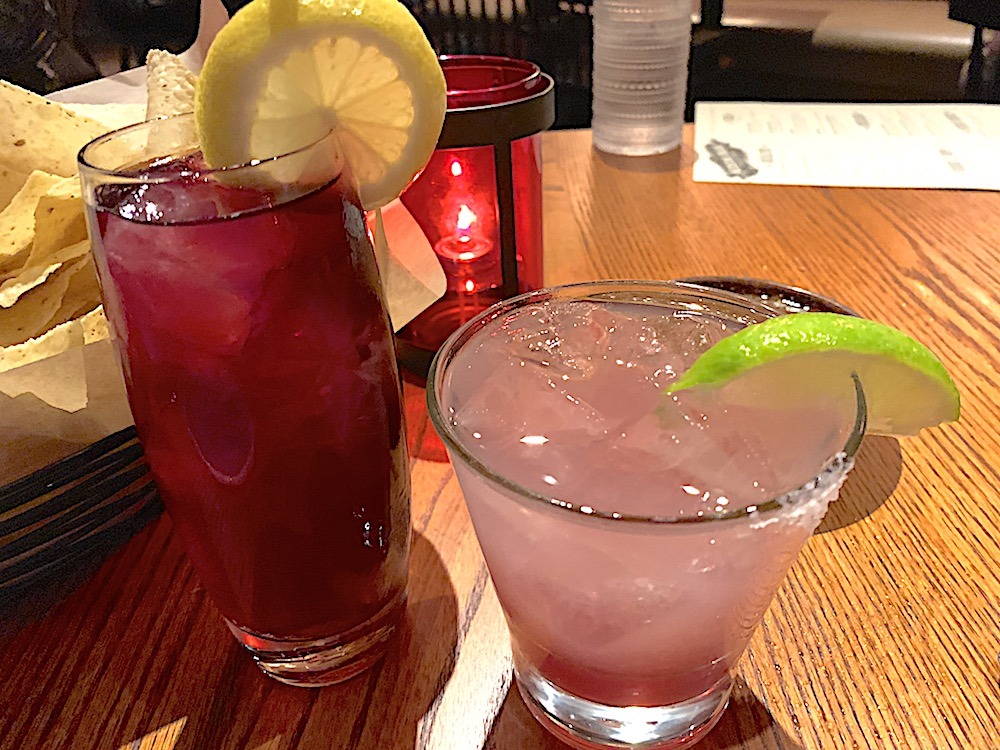 Incredible Edibles
There's a little bit of fusion going on here. We started with some incredible arepas, typically a Colombian or Venezuelan dish. Ours were griddled corn cakes filled with slow-roasted barbacoa, slaw and cilantro cream. Next we had the surf & turf fajitas with grilled lobster tail and slow-roasted beef tenderloin. Let us be clear, we shared this immense dish. With two split lobster tails and a generous amount of delicious beef, we could easily have shared this dish with two other people. Having said that, we did an admirable job of working our way through this "indulgent but so worth it" treat. There are many other options on the menu from tacos and enchiladas to full platter meals. Our best advice: go hungry!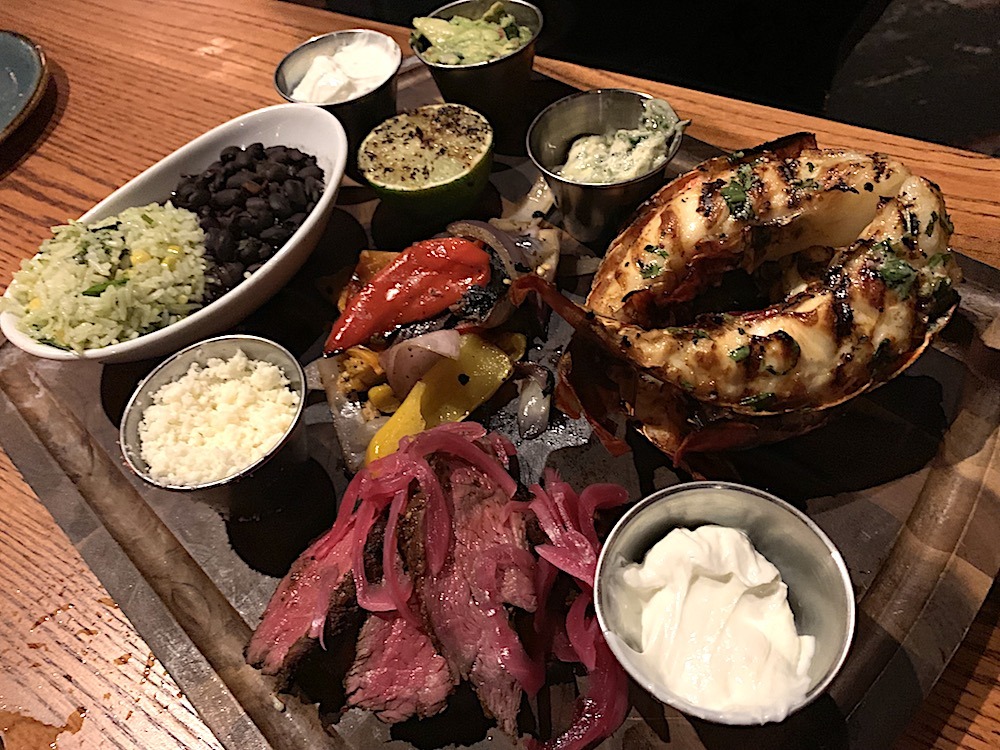 Haywire
We love eating local and the restaurant that kept coming up as the perfect place to enjoy local fare was Haywire. Their multi-level experiential dining space offers a variety of ways to enjoy your time there – it's really up to you and what you want.
If you've got the time to "saddle up & settle down," Haymarket offers 3 full levels to explore. You can have cocktails on the lower level, enjoy local flavors from fresh-baked bread to locally raised beef on the second level, and then finish the evening with a nightcap on the rooftop patio. They are able to handle large parties and we've seen a special champagne dinner on their menu so you'll want to check for any surprise happenings before you go.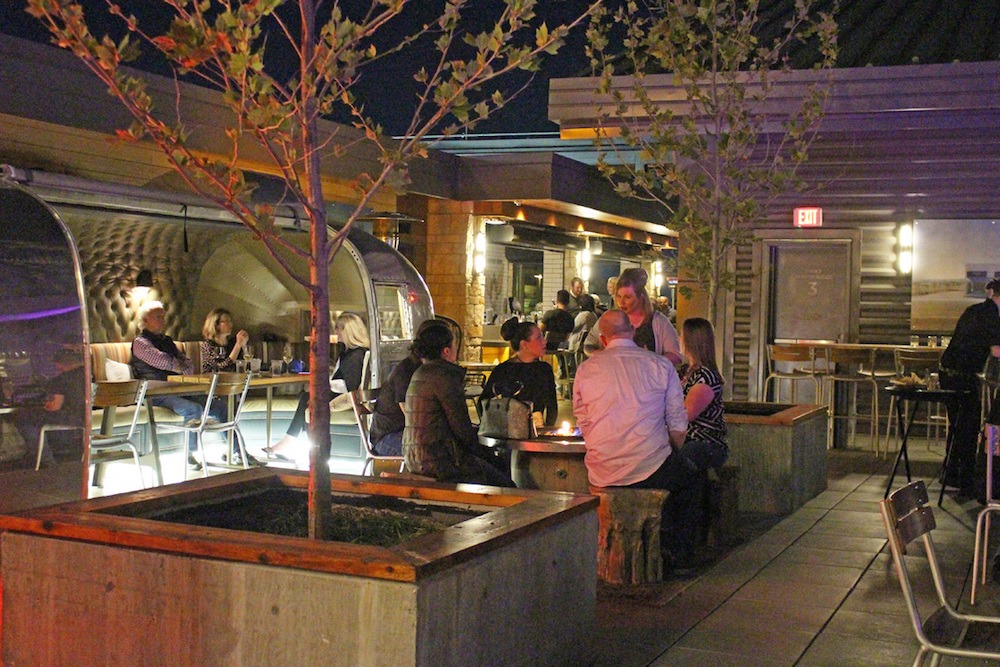 The Taste of Local Restaurants in Plano, Texas
We couldn't resist the Branding Iron Onion Rings to start our meal off right. Other starters that caught our eye were fried green tomatoes, mini elk tacos, and black-eyed pea hummus.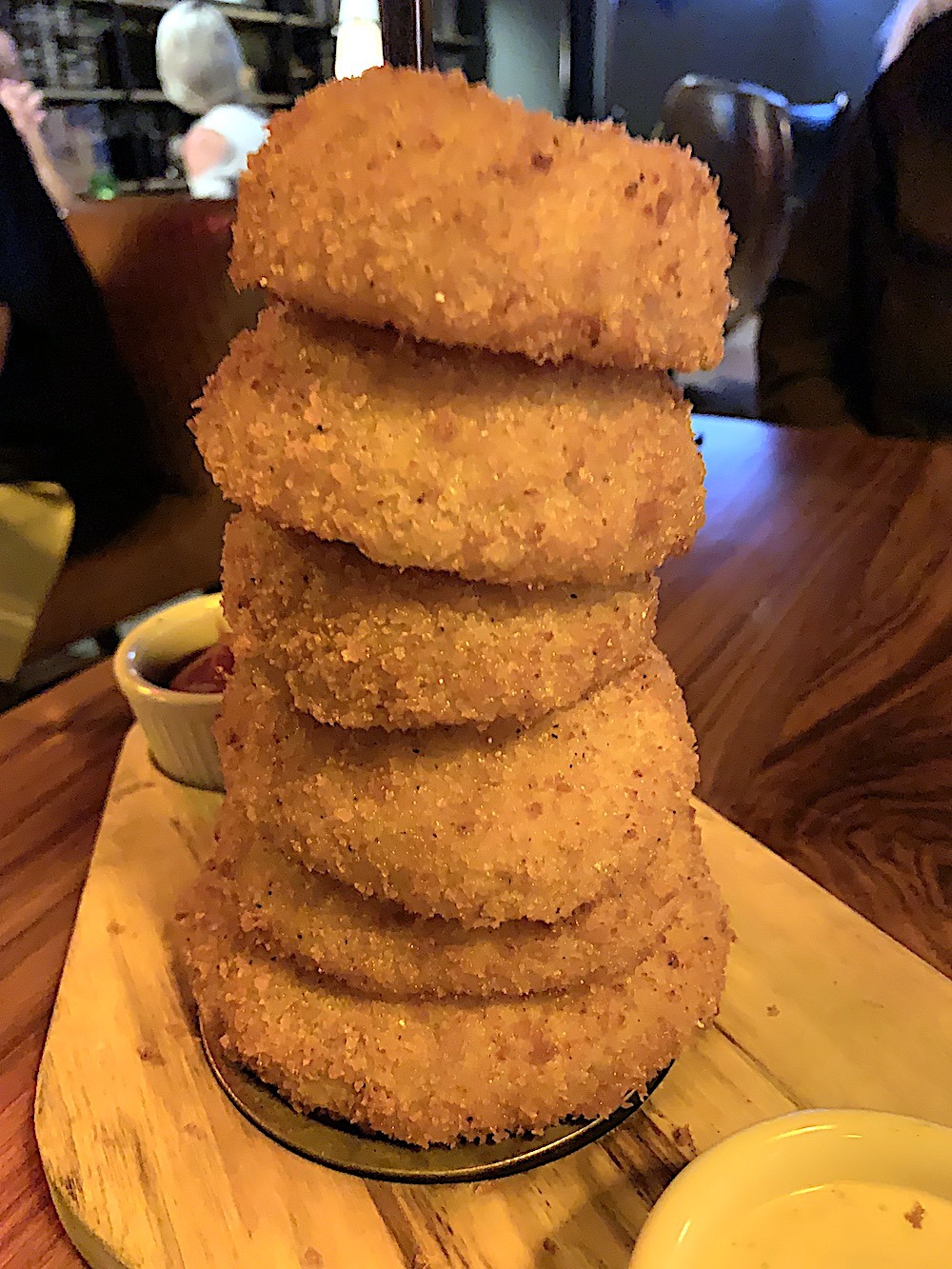 Welcome to Flavortown
We enjoyed a Cadillac Burger with double wagyu patties, cherrywood bacon, and all the other toppings we love nestled on top of a flavorful potato bun. We also chose the TX whiskey bbq baby back ribs, doused in TX whiskey bbq sauce, served with a side of creamy cadi-mac'n chi and buttered cornbread. Needless to say, we went to town on this meal – flavortown, that is! Everything was fresh and delicious. And our servers were attentive and cheerful, despite the fact that this place was absolutely hopping.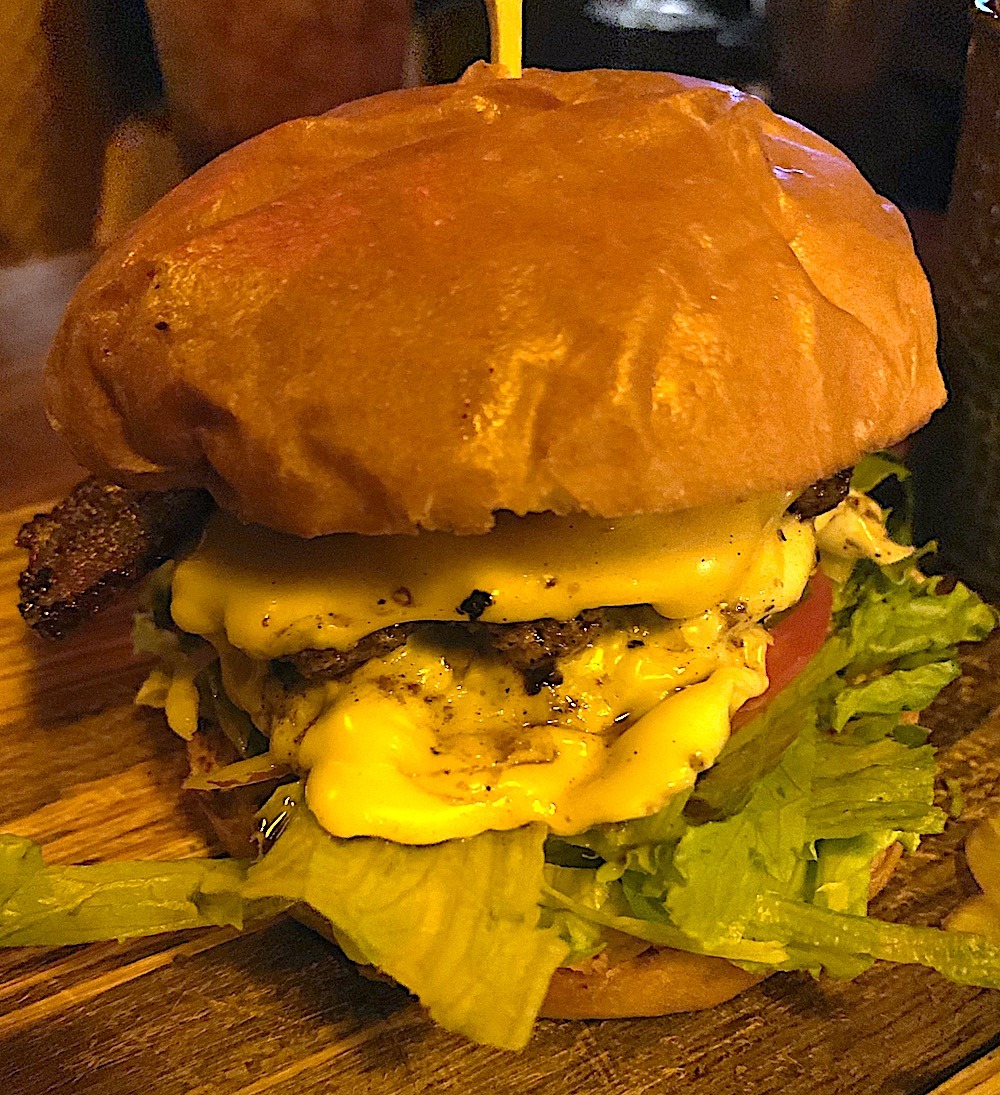 So Many Restaurants in Plano, Texas
As you can tell, we had a lot of great food experiences during our visit. We hope you've found a few ideas here on how to eat your way through the best places to eat in Plano, Texas. While you would expect to find great Latin flavors and BBQ, we hope we've expanded the possibilities for you. And while we've covered a few of the authentic cuisines available there, rest assured that there are even many more. Whether you want to dress up, dress down, or get something to take back with you, restaurants in Plano offer a huge variety of satisfying food choices that will fill you up and keep you smiling.
Pin To Your Food Travel Boards on Pinterest