Women In Travel Summit – Milwaukee
›
Diana and I were recently invited to speak at the Women In Travel Summit presented by Wanderful and held in Milwaukee April 21-23rd. We were thrilled to be asked. We absolutely love meeting other women travel writers and know most of them are food lovers too.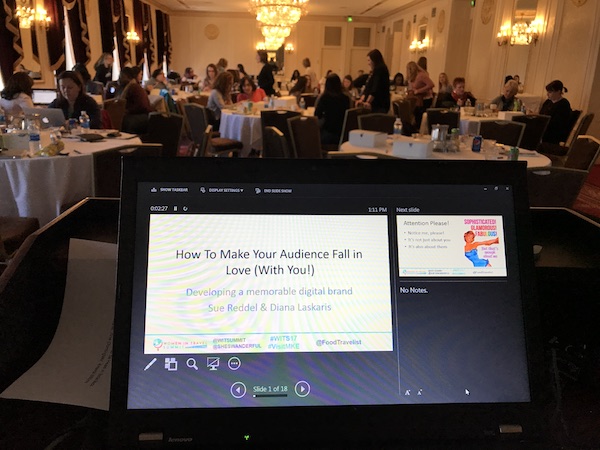 Our presentation was during the Blogger 101 sessions on the first day. Our topic was "How To Make Your Audience Fall In Love (With You!), Developing a Memorable Digital Brand".  This is an area that is near and dear to our hearts. We were excited to share our thoughts and experiences with our audience.
One way that we connect with our audience here at Food Travelist is with our own personal experiences and relationships. We thought that bringing an experience to the presentation would help illustrate our point.
Meet Our Friends 
We called our friends at Fannie May and asked if they'd want to help us make our session a little sweeter. As you may know, I'm a huge fan of Fannie May and have been enjoying their handmade candies since I was a kid. We often write about the latest Fannie May and share their latest creations and promotions on Food Travelist.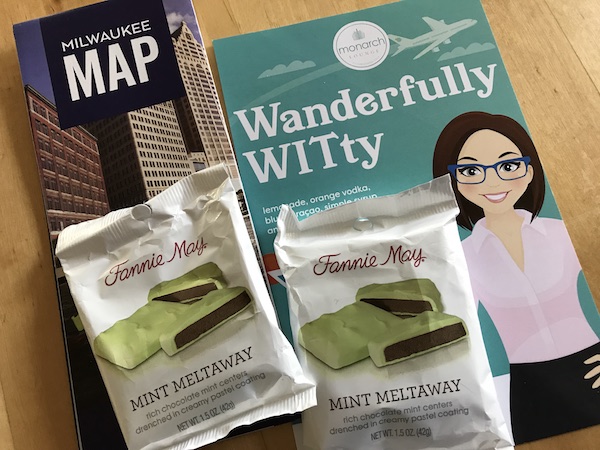 As we began our session we talked about how important it is to develop relationships with brands that connect with you and your audience. As we did this we handed out the Mint Meltaways (one of Fannie May's most iconic candies) to our attendees. They oohed and ahhed as they unwrapped their little treats. Let's just say that they got the message loud and clear!
Thanks @FoodTravelist for the Mint Meltaway from @fmchocolate. Heavenly! #WITS17 #VisitMKE

— Michele DeBella (@MicheleDeBella) April 21, 2017
@FoodTravelist awesome information and the @fmchocolate were amazing

— Andrea Smoak (@andreavsmoak) April 21, 2017
Fannie May has been bringing their fine chocolate to fans for over 95 years. We'd be remiss if we didn't remind you that Mother's Day is right around the corner on May 14th. You can order something very sweet easily & quickly at fanniemay.com.
We had fun sharing our thoughts on brand building and meeting all the travel bloggers, brands, and destinations that attended the event. As we often say, we believe that a rising tide lifts all boats so we're happy to share our expertise to help other women build successful businesses too.
We Learned A Lot Too!
We also had the opportunity to attend many of the other sessions that were very informative and gave us lots of ideas about how to further build our brand and connect with more brands and destinations. Panels that included destination and brand managers provided insiders' knowledge on how to pitch stories and secure press trips were also valuable. Another panel of seasoned entrepreneurs provided real-life stories on successes, challenges and setbacks that also inspired attendees.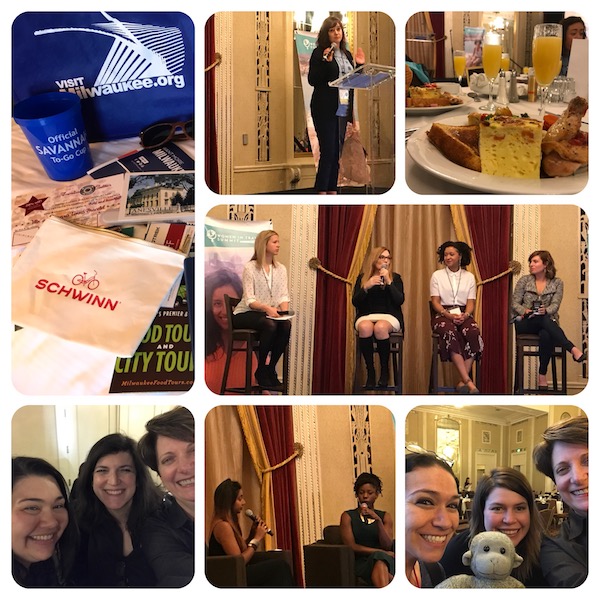 We  met with destinations and brands in Power Networking sessions. There were one-on-one sessions and nine-on-one sessions available for seasoned travel writers and beginners alike.
One of the best parts of the experience was meeting so many talented women writers we've known online for  years but never met in person. We loved meeting new friends too.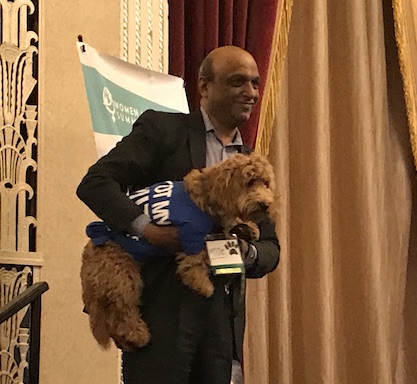 Another star of the conference was Millie, the pet concierge at the four-diamond Hilton Milwaukee Downtown where WITS17 took place. She took the stage and wowed the crowd. If you needed any downtime Millie was there for free pets and snuggles.
Milwaukee Rocks
WITS17 was hosted by Visit Milwaukee. If you've read any of our previous articles on Milwaukee you know that we're big fans. Of course, we would expect them to roll out the red carpet and welcome over 400 women to their city. Milwaukee did a wonderful job holding the opening night ceremony at the Harley-Davidson Museum. It was an evening filled with great stories, great food and great music played by the awesome cover band Random Maxx. Our only question is why the heck weren't more of you gals dancing?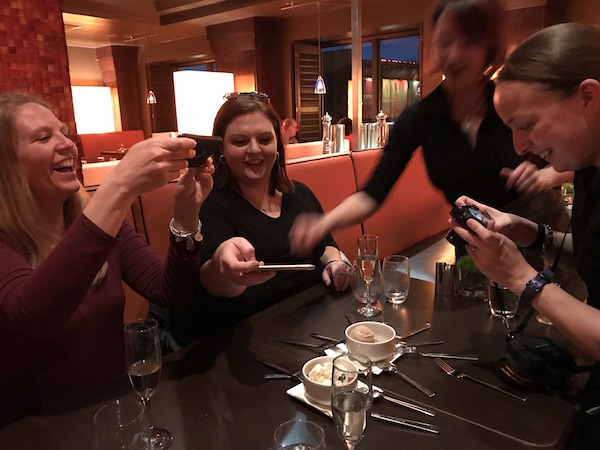 No trip to Milwaukee is complete without exploring some new food. We dined at Kilawat, which we really enjoyed. Our server Jo was a rock star and our new friends from Visit Kenosha kept us totally entertained. We had a ball learning about all the great food and fun Kenosha has to offer and met some new blogger friends too!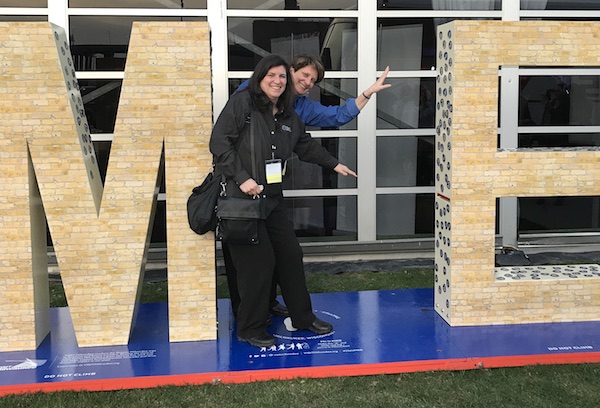 Milwaukee planned lots of tours around town for attendees to really get a feel for what this city on Lake Michigan is all about. Tours and activities included the beautiful Milwaukee Art Museum, beer tours, walking tours, food tours, a baseball game and even a Bloody Mary Tour!
Join Us At Women In Travel Summit in 2018
We had such a great experience at WITS17 that we waited with anticipation during the Sunday Brunch to hear where the next summit will be held. We were so excited to hear that for WITS18 we'll be at one of our favorite international destinations – Quebec City May 4-6 2018.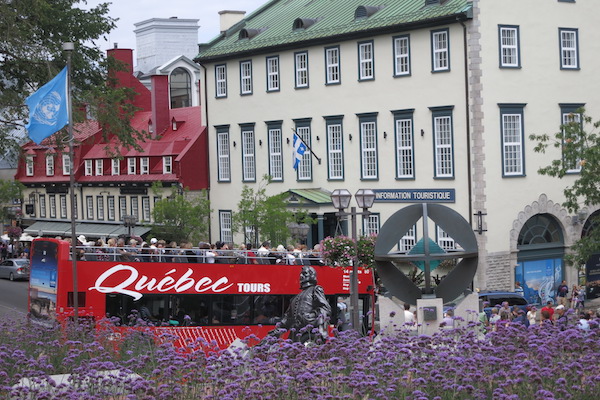 Located close to the United States, Quebec City offers flavors of Europe in this stunning city on the St. Lawerence river. We already purchased our tickets to WITS18 and are excited to be staying at the host hotel the Fairmont Château Frontenac. We toured the hotel on a visit to Quebec City years ago and its wonderful history and architectural beauty is incomparable.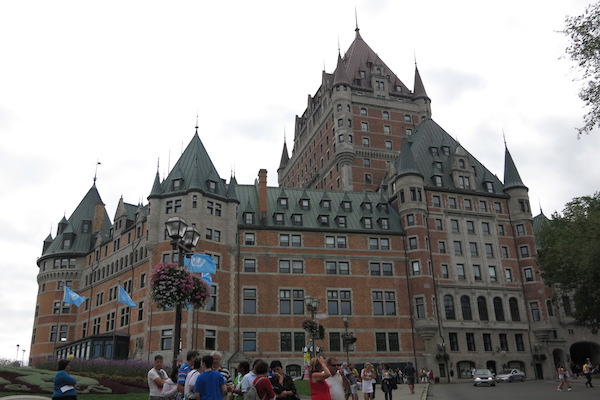 The hotel also has an environmental initiative that we can't wait to be a part of,  Chateau Boréal. For every guest that forgoes the daily cleaning of their room, the Fairmont Le Château Frontenac will plant a tree. The trees are then planted in the Montmorency Forest. It is the largest teaching and research forest in the world.
For more information about WITS18 and to order tickets check out their website at sheswanderful.com/witsumit/.
We hope to see all our women travel blogger friends in Quebec City in 2018! If we met (or if we didn't) at WITS17 in Milwaukee please connect with us. We want to stay in touch. If you have any questions about WITS or our presentation please don't hesitate to reach out and say hi!