Make Your Own Delicious Bread!
Sometimes just the smell of fresh baked bread is enough to make your mouth water. Walking by a bakery early in the morning where the warm loaves are lined up in the window and the open door allows the scent of crusty wonderment to flow freely through it can be more than an invitation – it can be a command.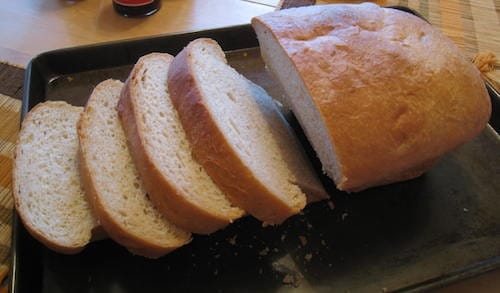 But we often think that it's way too much effort to make our own bread. It involves too many steps, takes too long, is just not worth it. Well, depending on the bread you're trying to make that may be true for you. But we've made this delicious simple recipe and it was all in all, easy. It was also worth it when we got to smell the fresh bread baking in the oven, touch the warm loaf as we sliced it and, enjoyed the fresh pure taste of a lightly buttered slice toasted just so.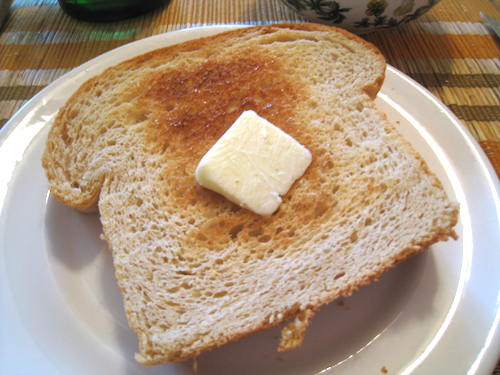 Tasting breads from around the world is one of our favorite food travel treats. So why not make your home just as delicious a destination. This basic recipe is very versatile. It can be used for sandwich bread or dinner rolls, or fancied up with cinnamon swirls or herbs.
Try this recipe and let us know if you think it was worth it. We sure do!
Soft White Loaf
If you are using loaf pans ( 8 1/2 x 4 1/2) this recipe will make two loaves 1 1/4 pounds each. Be sure to spray the pans with cooking spray or oil before you put the dough in them.
You will want to start by making a starter. In bread making it's the starter that gives your loves their bounce!
Ingredients for Starter
2 1/4 cups + 2 1/2 Tablespoons unbleached all-purpose flour
1 3/4 cups room temperature water
2 Tablespoons + 1 teaspoon honey
3/4 teaspoon instant yeast
Directions for Starter
Combine the flour water, honey and instant yeast in a large bowl. Whisk (by hand or with whisk tool on hand or stand mixer) until smooth and well mixed, like a thick pancake batter, for about 2 minted. Cover the bowl with plastic wrap and set aside.
Ingredients for Dough
2 cups + 3 Tablespoons unbleached all-purpose flour
1/4 cup dry nonfat milk
3/4 teaspoon instant yeast
9 Tablespoons softened unsalted butter
2 1/4 teaspoons salt
1 Tablespoon melted butter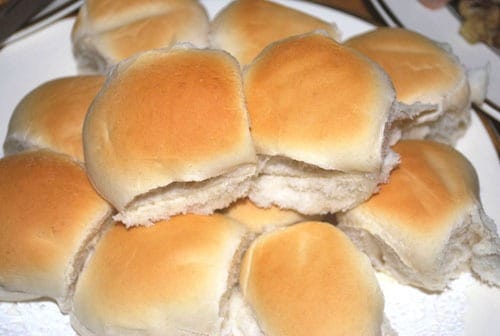 Directions
In a medium sized bowl, whisk the flour (if whisking by hand and not using the whisk on a hand or stand blender set aside 1/4 cup of the flour), dry milk and instant yeast. Sprinkle the floor mixture onto the starter and recover tightly with the plastic wrap. Allow it to set for 1 to 4 hours at room temperature. It will begin to bubble through the flour you sprinkled on top.
Mixing the dough.
If using a stand mixer, add the butter to the bowl and mix with the dough hook on low speed for 1 minute or until the flour comes together to forum a rough dough. Scrape down the bowl and incorporate it all. Cover the bowl with plastic wrap and allow to rest for 20 minutes.  Then sprinkle on salt and knead the dough on medium speed for 7 to 10 minutes. It will be very sticky until the very end. If it is still too sticky, add a little flour. If it is too dry, sprinkle a little water. Knead until it forms a smooth ball.
If mixing by hand, add the salt and butter to the bowl and stir with your hand until flour is moist and knead in the bowl until the dough comes together. Put dough on a lightly flour counter and knead for 5 minutes, adding just enough extra flour to keep it from sticking. When it is a smooth ball, cover it with the upside down bowl and let it rest for 20 minutes. Then knead for another 5 minutes until very smooth and elastic. It will still be a little sticky, but if too sticky add a little of the reserved flour.
First rise.
When the dough has formed either way, place it into a 4-quart or larger bowl that is lightly oiled with cooking spray or oil. Lightly spray the dough as well .Cover with a fowl, lid or plastic wrap and mark the bowl where double the height would be.  Allow the dough to rise for 1 to 2 hours or until it reaches the mark.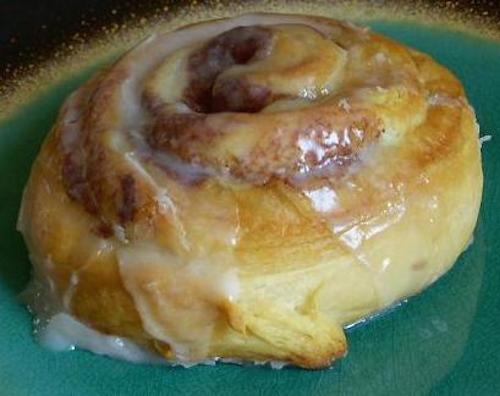 Shaping and second rise.
When the dough has doubled in size, pour it out of the bowl and cut it in half. Shape each piece into a loaf by lightly rolling it into a wide rectangle that will fit into the pans. Pop any large bubbles and smooth over. Place the loaves into the oiled pans. It will be about 1/2 inch from the top. Cover the pans loosely with oiled plastic wrap and allow them to rise until the center is about 1 inch taller than the side of the pan, about 1 1/2 to 2 hours.
Set the shelf at the lowest level in the oven and place a baking sheet on it. Then put a baking sheet on the bottom of the oven. Preheat to 350 degrees F for 45 minutes before baking.
Bake.
Put the two loaf pans on the hot baking sheet and put 1/2 cup of ice cubes into the pan on bottom of the oven. Do this quickly to avoid letting heat out of the oven. Bake for 50 minutes or until the loaves are golden brown. Half-way through, turn the pans around for even baking.  When a wooden toothpick poked into the middle comes out clean and the loaves are golden, they are done. Remove and put the loaf pans on a wire rack. Brush the tops with the melted butter. When they are cool enough to touch, remove from the pans and allow them to cool topside up on the wire rack until just warm, about an hour.
Think of all the ways you can serve the bread while it is baking and enjoy!
THE QUICK BITE: Try this versatile recipe for delicious soft homemade bread and enjoy the smell and taste of fresh baked bread in your own home. It's easier than you think!