Night Festivals Offer Something for Everyone
There's something captivating about night festivals and events. Whether you're enjoying music and a picnic in the park, seeing exotic offerings or sipping hot wine under bright glittering lights, night festivals offer a whole new perspective on food travel. Here we show you a few of our favorites.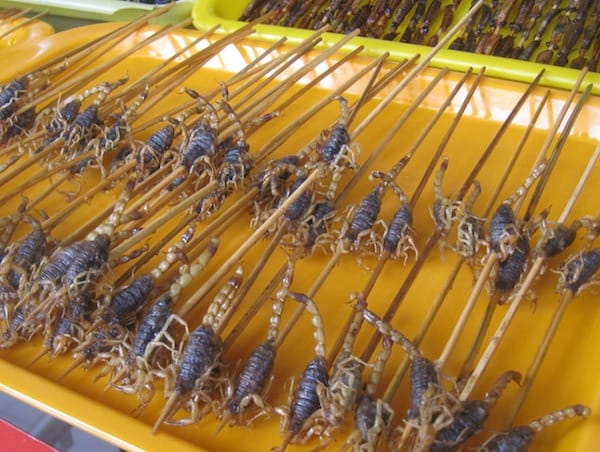 Donghuamen Night Market
One of the  most exotic night markets can be found in China. The Donghuamen Night Market is located in the northern end of Wangfujing in Beijing. There are many familiar Chinese delicacies on display such as spring rolls, dumplings, crab cakes and candy fruit. But what makes this market so memorable is its unusual food stalls offering such different tastes as deep fried crickets, centipedes, silk worms, scorpions, lizards and starfish on a stick. Whether you want to try some of these unusual tastes or are just there to enjoy the view, this is one night market you certainly won't be able to call boring.
 
 
German Christmas Markets
Germany becomes a magical place of twinkling lights, hot mulled wine, and tasty treats around Christmas time. There are more than 100 Christmas markets, with even the tiniest town celebrating in style. Here are a few of our favorites.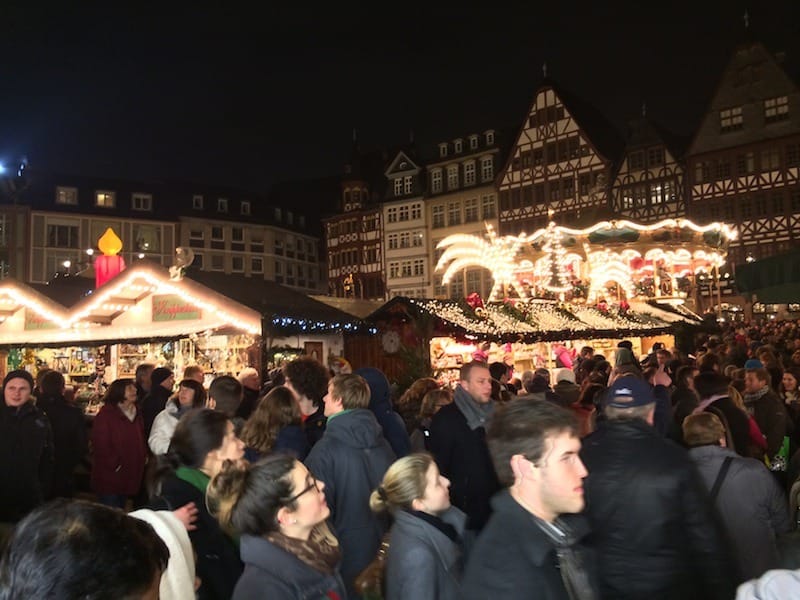 Frankfurt
One of the oldest Christmas markets in the world, the Frankfurt market has been making people happy for over 600 years. It is one of the most popular Christmas markets in Europe. With more than 200 stalls of arts and crafts, food and drink and a 30-meter high Christmas tree it's easy to see why. Concerts are given from the balcony of St. Nicholas Church, and the Gluhwein, gingerbread, baked apples, kartoffelpuffer (potato pancakes), sausages and many delicious treats are everywhere.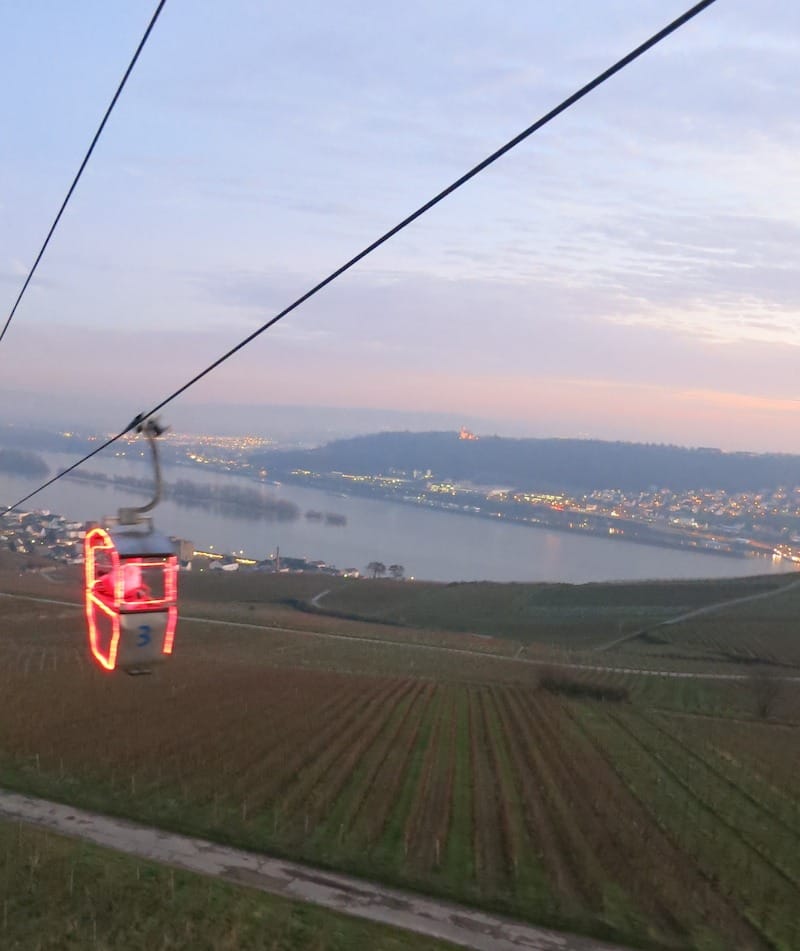 Rüdesheim
This Christmas market winds through the town, dotted with stores and stalls selling food, handcrafts, candy and more. Set in the chocolate-box old quarter, there's a certain romance to the sparkling evening. You can even enjoy a cable car ride and enjoy the sunset before you start on the evening's enjoyments. And, while sampling the many international treats, don't miss out on the famous Rüdesheim Coffee, made with locally distilled Asbach Uralt Brandy, and whipped cream, ideal for warming you up on a cold evening.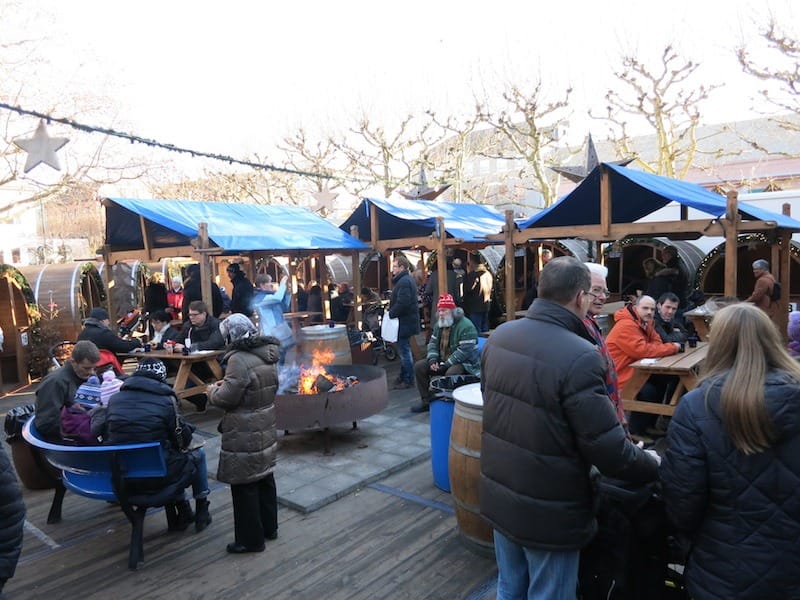 Mainz
The Mainz Christmas market can be smelled before it's even seen. The scent of roasting almonds, gingerbread, roasted chestnuts and mulled wine waft through the air of this busy Christmas festival. Despite the fact that the festival is also open during the daytime, all the action really happens at night. The stalls are lit, the Christmas tree glows and the giant wooden Christmas pyramid filled with carved figures. Concerts and music are a big part of this festival, and you can hear fair-goers singing while eating and drinking all that Mainz has to offer.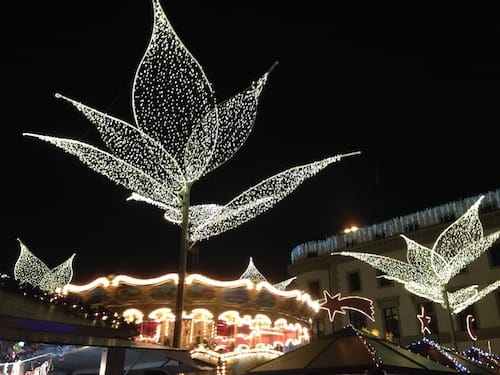 Wiesbaden
The most spectacular feature of the Sternschnuppenmarkt inWiesbaden has to be the incredible Twinkling Stars from which it gets its name. The symbol of the city is the lily, and brightly lit giant lilies adorn the streets making it a spectacle that captures the imagination. The many food stalls of the festival offer hot mulled wine, crepes and grilled sausages, pork and other specialties. It's truly a feast for eyes and tastes buds.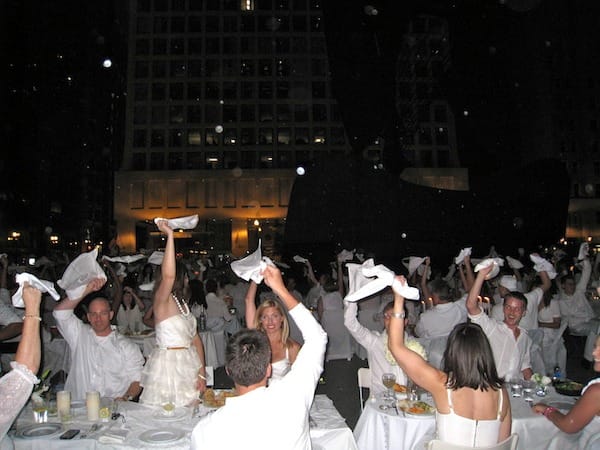 Dîner En Blanc/Dinner in White
The original Dîner En Blanc was begun 25 years ago in Paris by a handful of friends. The idea is to dress in white and go to a secret destination revealed at the last minute and have a chic picnic in public. Now there are nearly 15,000 people each year, eating at such amazing venues as the Eiffel Tower, Place Vendôme, the Chateau de Versailles and the Esplanade de Notre-Dame. After enjoying an extraordinary evening, each person cleans up their space and the event disappears as though it never happened. The concept has so captured the imaginations of diners everywhere that there are now events in 40 cities worldwide, and it has spawned American counterparts such as Dîner en Noir and Dîner en Sweatpants!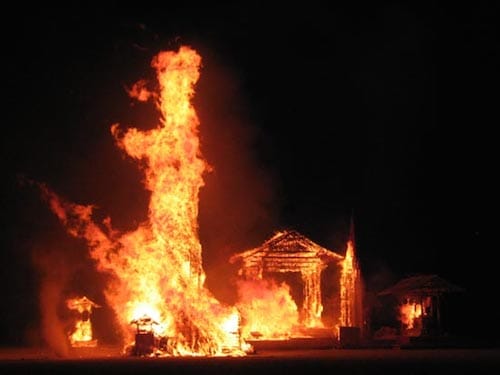 Burning Man
One of the most unusual events you will find at night is Burning Man, a gathering in Nevada's Black Rock Desert, where thousands of participants gated to create a temporary Black Rock City, dedicated to community art, self-expression and self-reliance. One week later, they disappear, leaving no trace behind. The festival has various annual themes, but a consistent activity is fire performance.   "Fire is the Very Heart and Essence Of Life" says the literature and so there are fire ceremonies, processions of ceremonial flame, and most importably, the burning of a large wooden effigy known as  "The Man," originally representing a spontaneous act of radical self-expression. The event has grown into a huge sort of pop culture activity, complete with theme camps, music, art installations, and, of course, festival tickets (though it is now a nonprofit organization) and rules.   There are so many different night markets, festivals, fairs and events that we've only scratched the surface here. We hope you are encouraged to explore the night events in your town as well as those far away that provide an opportunity to put you into the culture of another space. It is certain to provide you with food for your tummy as well as food for thought!
THE QUICK BITE:  From unusual foods to twinkling nights to radical-self expression, night festivals offer something for just about everyone.