More Than One Way To Watch A Baseball Game in Busch Stadium
I was hosted by the Explore St. Louis on a recent trip to St. Louis. We were not financially compensated for this review. As always, the opinions shared are our own and reflect our experiences.
Baseball isn't just the great American past time. It's also an outing that most of us have enjoyed at some time in our lives. Whether going to a game with your Dad, watching games on TV or, as in my case, listening to the White Sox on a transistor radio with my Grandmother. Everyone in the U.S. seems to have a baseball story.
When I visited St. Louis I had the chance to take an insider's tour of the St. Louis Cardinals Busch Stadium. Now, before you start asking which Chicago team I support and what about the rivalry between the Cubs and the Cards, let's call a truce. At least stay calm for a minute or two and enjoy my view of one of the best ballparks in North America.
Busch Stadium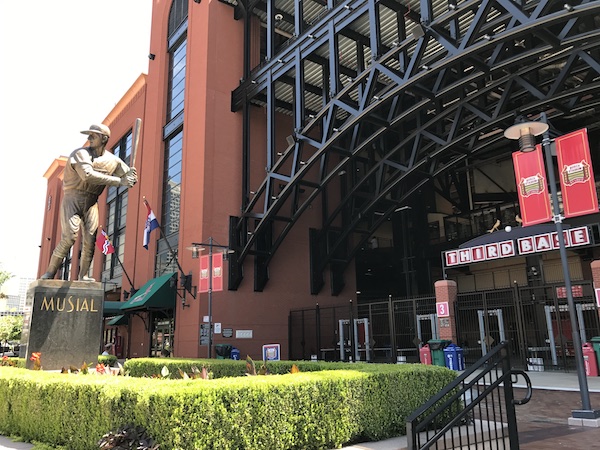 Located in the heart of downtown St. Louis, Busch Stadium was opened in 2006. The Cardinals also managed to win the World Series that very same year, the first team to win in an inaugural season of a brand new ballpark in almost 100 years.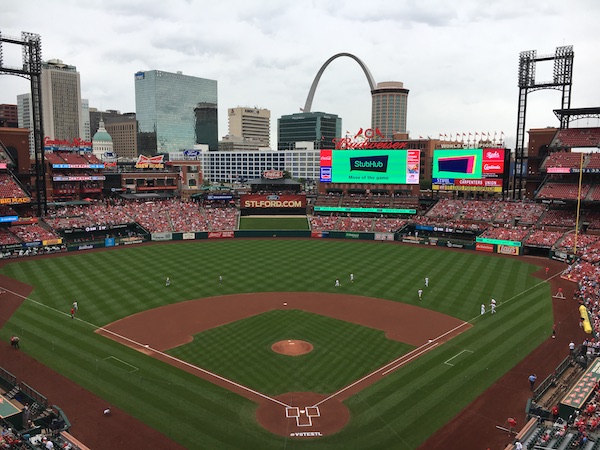 The tour took us throughout the park, inside and out.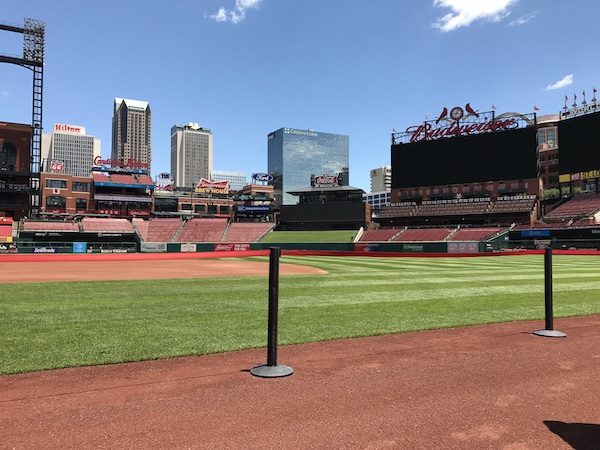 We even went into the Cardinals dugout and got a view right from the field. If you're interested, anyone can purchase tickets to take the full tour and experience it for themselves. You can buy tickets on the Cardinals website.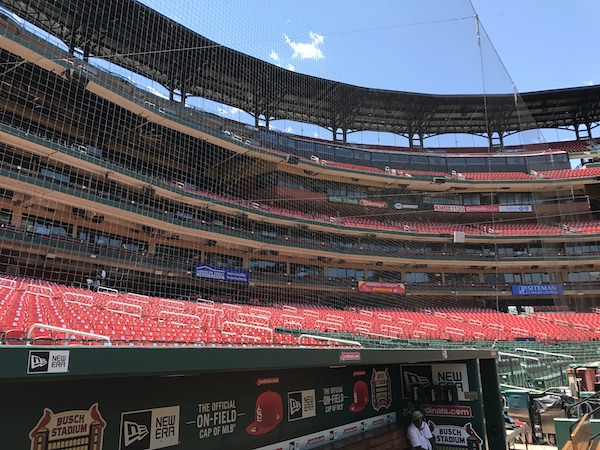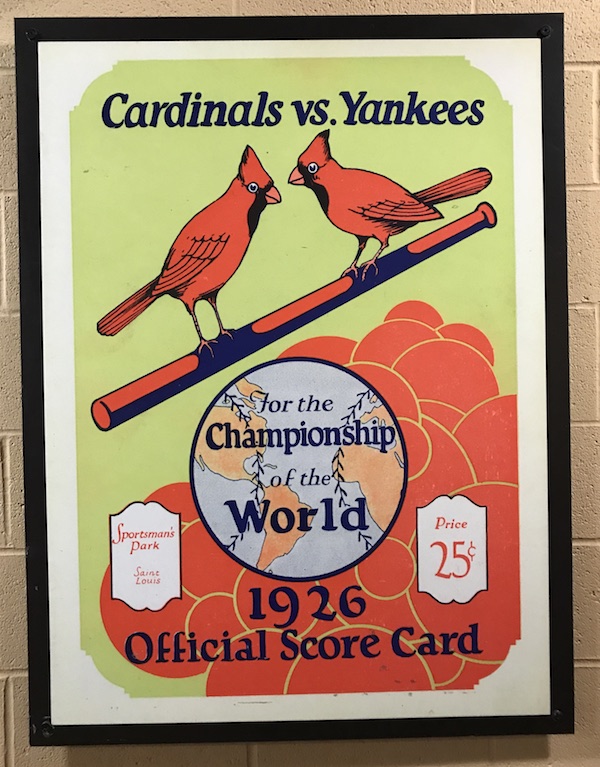 There's also quite a bit of nostalgia around the stadium too. You will find old game posters and all the Cardinal logos throughout the history of the club. Since I'm a bird fan and especially a friend to my little red birds I loved seeing them everywhere.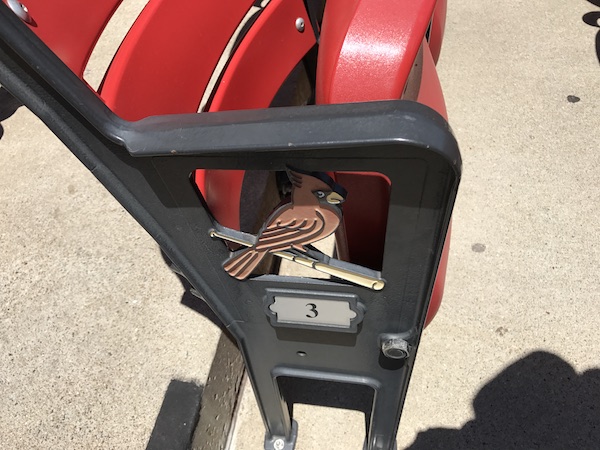 See The Game For Many Different Angles
One of the most fun things I learned while visiting Busch Stadium was how many different ways and places in and out of the stadium you could watch the game. Like many other major league baseball teams, the Cardinals' ticket prices are set through a dynamic pricing system. This provides fans with many price options. The prices are adjusted based on who is playing, weather, ticket demand and team performance.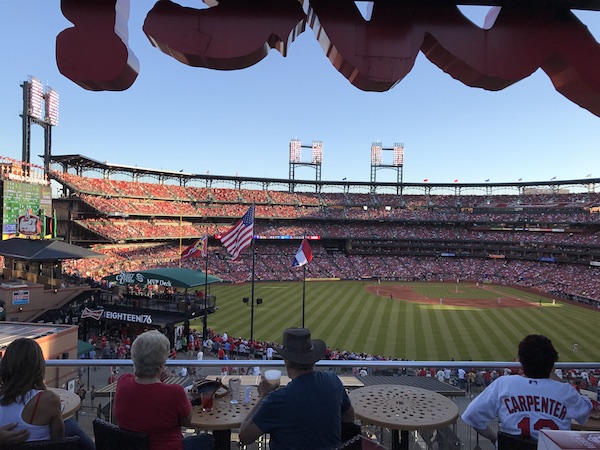 If you're looking for a more intimate baseball experience you may want to check out the Cardinal Nation rooftop seating. Modeled after the rooftop seats outside of Wrigley Field in Chicago, these seats provide a view into the park and flexible seating. Drink and food packages are also available.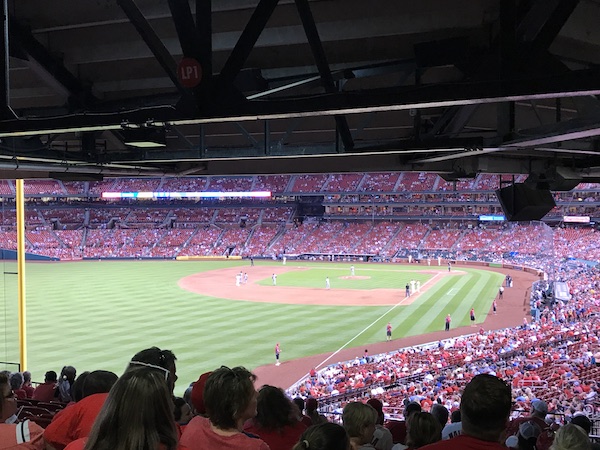 Inside the park, there are also many seating options. One of the places you can get a higher level look from is the Left Field Porch.
Eats in Busch Stadium
Of course, we had to check out the food at Busch Stadium. While you will most certainly can expect the traditional hot dogs and Cracker Jacks, you might be surprised to find much, much more. For example, the hot dog offered is the all beef Famous Nathan's dog originally from Coney Island!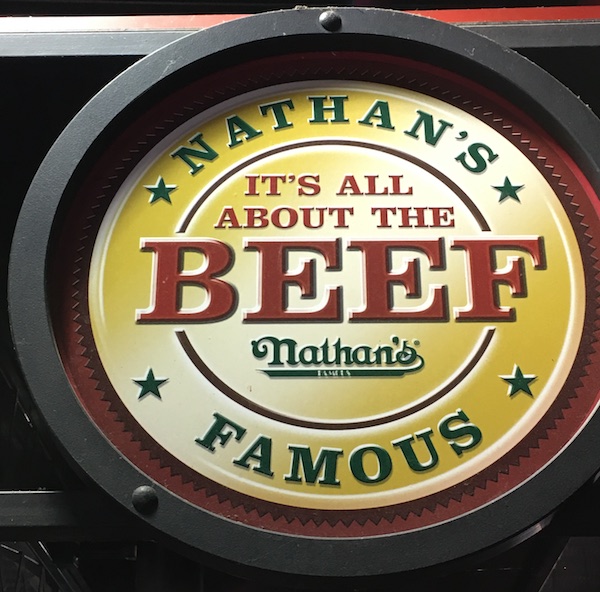 From Bavarian pretzels, bratwurst, bratwurst wrapped in pretzel dough, corn dogs, hamburgers, Asian stir-fry, nachos, ice cream, and more, they really have it all.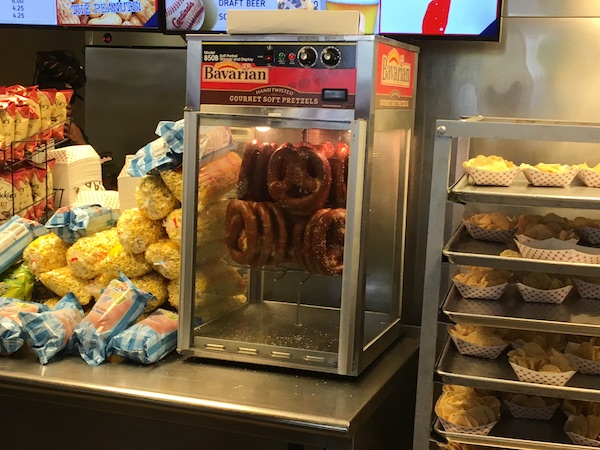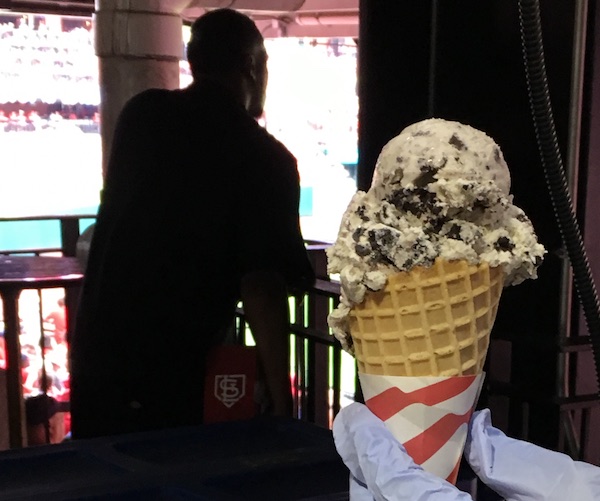 Dinger's donuts served in a St. Louis Cardinals helmet is one of the more unique and tasty treats you'll find at Busch Stadium.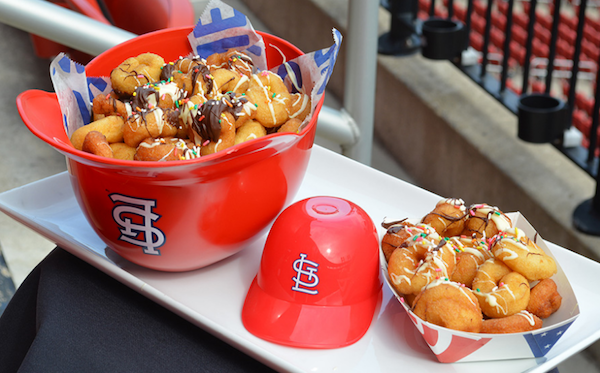 One of the many interesting food facts about Busch Stadium is that attendees can bring in their own food and beverages. There are many places in the Stadium to enjoy your own food. This certainly would reduce the cost of attending a game and make it much more affordable for families wishing to go to a game. There are limitations on cooler type and sizes but most food is allowed in. Alcoholic beverages and plastic containers larger than 2 liters are not allowed. No outside food is allowed in any of the suites of Cardinals Club and some other areas, so be sure to check before you head to the ballpark.
Watching The Game Outside the Park
Right next door to Busch Stadium in Ballpark Village. This unique location is a sports lover's dream. From the Fox Sports Midwest Live central hall that houses jumbo screens for watching the game to the Cardinals Hall of Fame & Museum also located in the complex, this is certainly a lively gathering spot for every sports fan.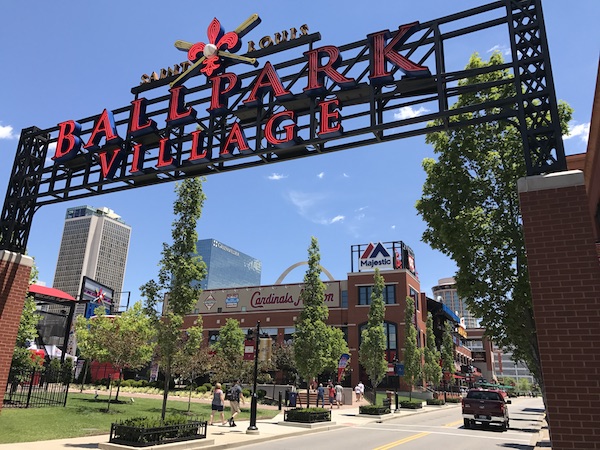 Giant platters of nachos served family-style is certainly one of the favorites at Ballpark Village.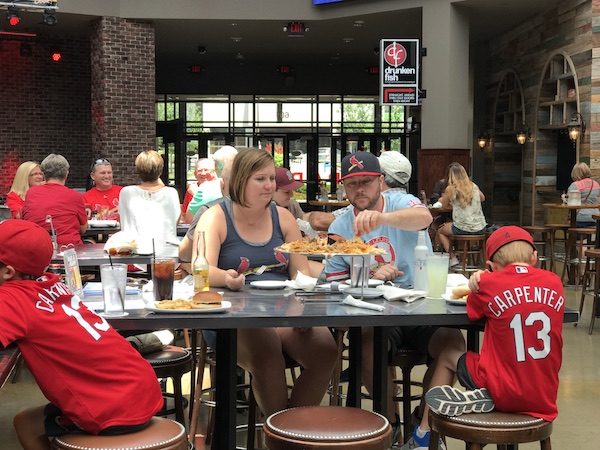 While visiting St. Louis you must try one of their local specialties – fried ravioli. Lightly breaded ravioli filled with meats, cheeses, and spices then dipped in marinara sauce pair well with an ice cold beer.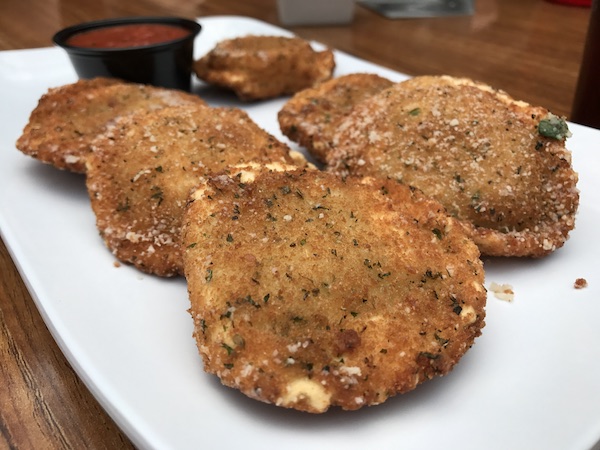 If you're looking for more of a meal the delicious classic burger was enough for even the heartiest appetite. Two large patties with all the fixings was easily one of the biggest burgers I've experienced.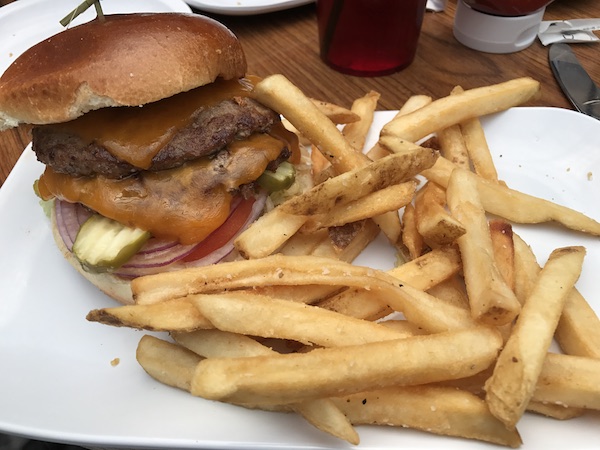 If you're looking for a sky view of the game head over to the rooftop of the Hilton across the street from Busch Stadium. Here you get a bird's eye view as well as access to a full bar, fancy snacks, salads, shared and small plates and pizzas from The Three Sixty rooftop bar.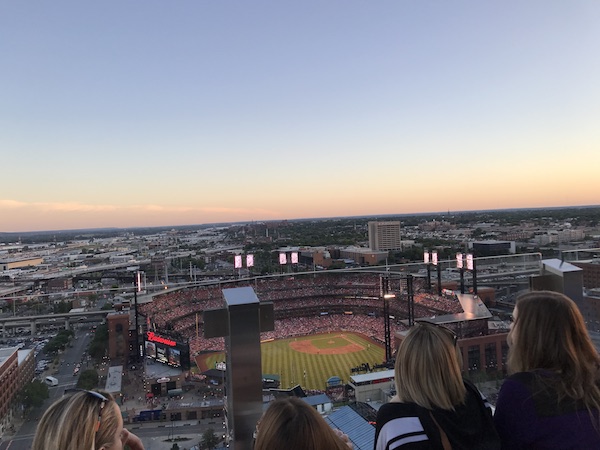 I was happy to see they carried my favorite vodka – Tito's at the Hilton's rooftop bar.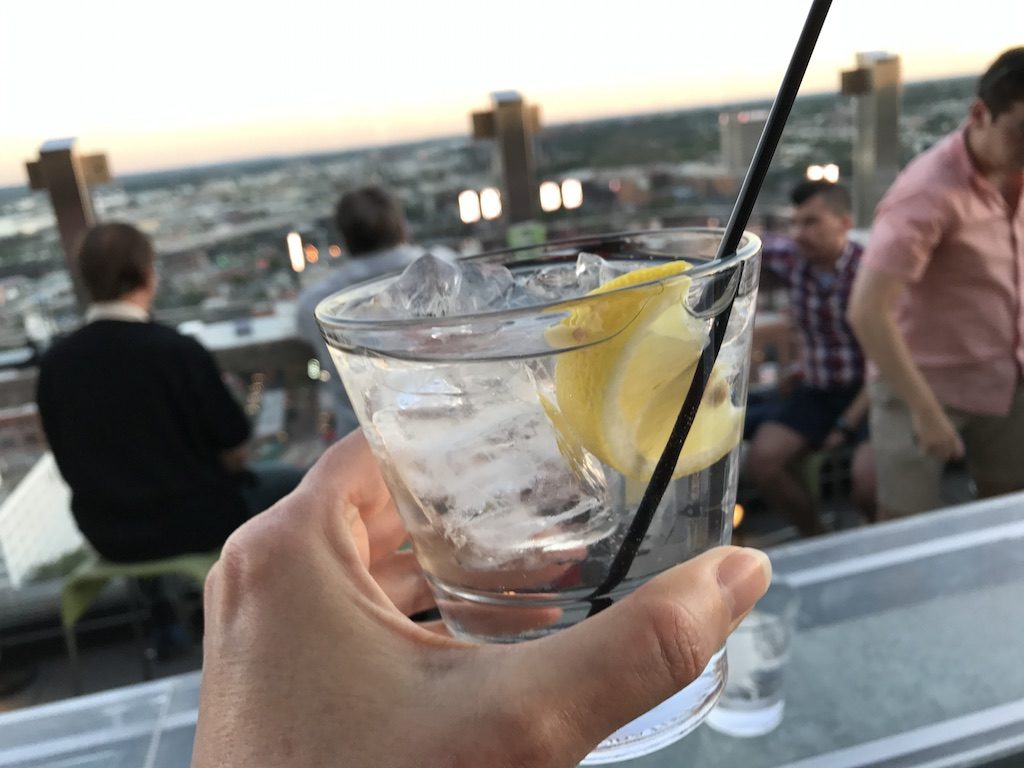 The Hilton at the Ballpark Downtown St. Louis also offers many different packages that include customized Cardinals rooms, tickets to the game and a view of the park from your room. You can find all the details on their website at www.hilton.com.
Cardinal Nation
If you're a baseball fan to any degree the St. Louis Cardinals Busch Stadium and its Ballpark Village are well worth a visit. If you simply can't decide what vantage point to watch the game from do what we did and try a few options. I even spied some Cubs fans during my visit, who had the courage to wear Cubs shirts. I met and talked to a lot of friendly people in and outside the park. They all had one thing in common – baseball. If you're looking for a terrific sports experience with many seat, food and drink choices, Busch Stadium is for you.
For information check out their website www.mlb.com/cardinals.
Pin It!