Philly Food For Everyone
Finding the best Philly food can keep you busy for a long time. We had just a couple of days to scour the City of Brotherly Love for the tastiest treats we could discover. Lucky for you, we did it! From Fishtown to South Philly to Center City and more, we took to the streets.  Although we're sure that you can find something to please everyone, the choices may be overwhelming. To make your decisions easier, we share a few suggestions from the best Philly cheesesteak to unique ethnic Philadelphia restaurants so you can make the most of your visit.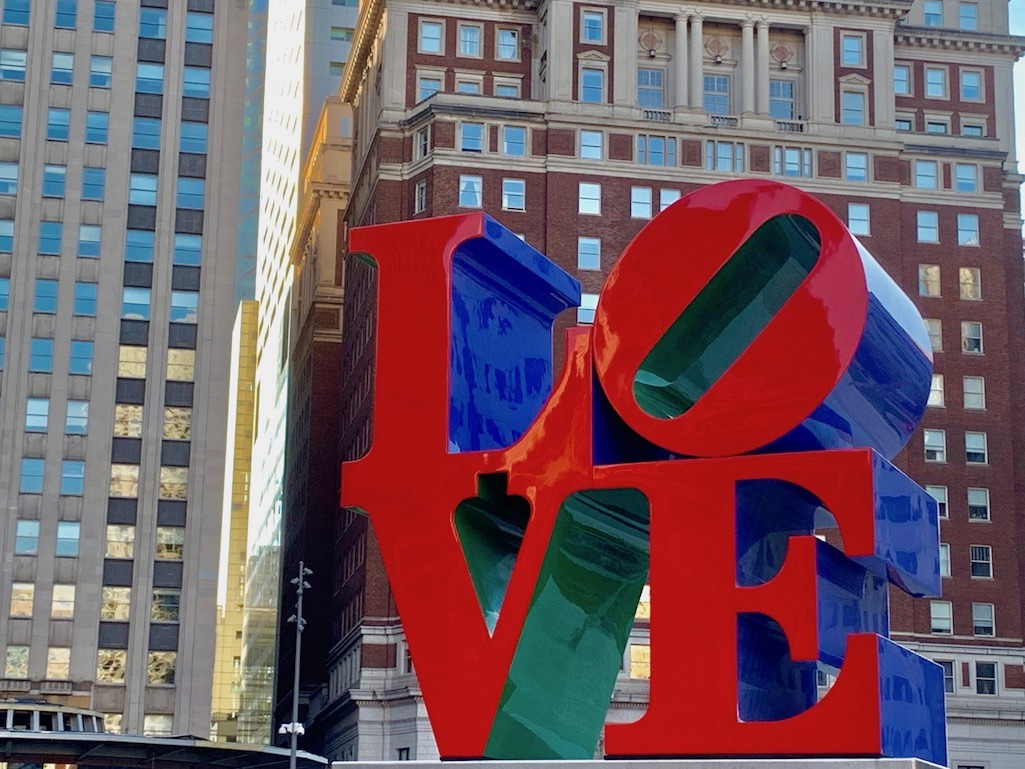 Delicious Donuts
Life is short, so let's start with my favorite sweet for any time – donuts! As you would expect Philly food options include several places that are well-known for their versions of the heavenly holy treat.
Federal Donuts
If you can only make it to one donut spot, make this the one. Federal Donuts is the brainchild of James Beard Award-winning chef Michael Solomonov and a few of his closest allies. As you might expect, their elevated creations have taste levels that are simply off the charts. We tried some of their most unique flavors like grapefruit brûlée, banoffee (banana toffee) and turtle. Each one is more delicious than the next. For an extra special treat, you can get a fresh "hot" donut made to order. Literally, the warm cinnamon sugar covered dough ring of pleasure comes into your hand and you think of nothing else.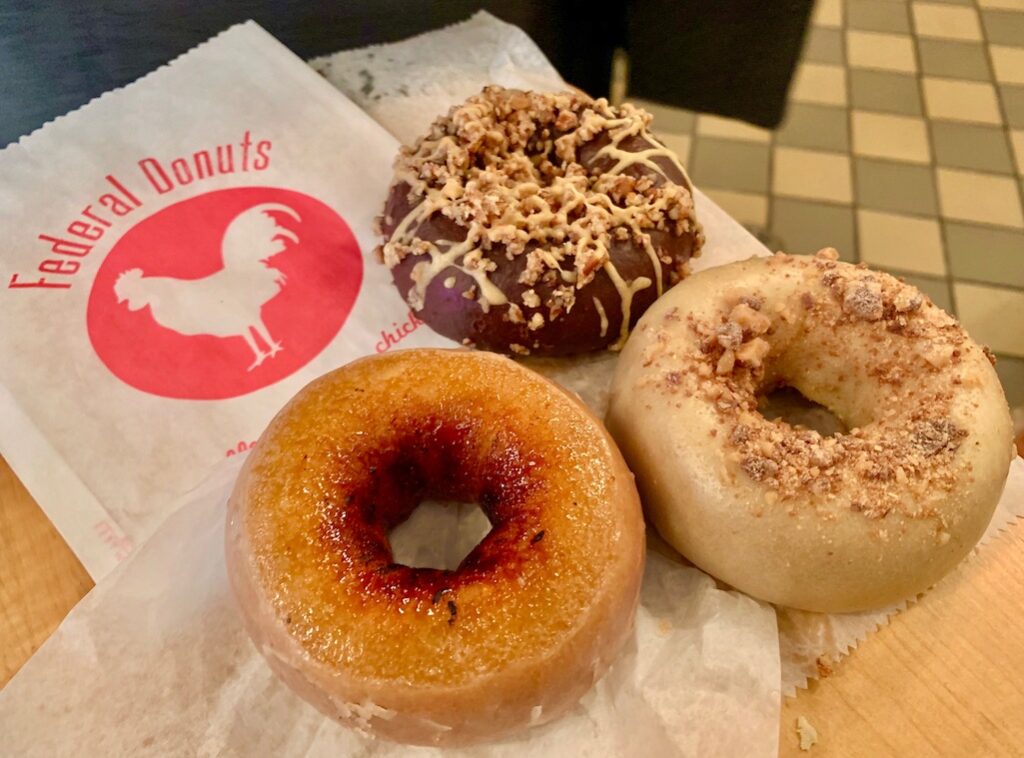 But you really should. Because Federal Donuts also serves amazingly crispy double-fried chicken with your choice of spice blends and freshly brewed coffee. There are several locations so you should be able to feed your need all over town.
We'd also like to tell you about a sister project of Federal Donuts. The idea for The Rooster was originally hatched as a way to use the leftover parts of chicken from Federal Donuts to make soup sold to support a local nonprofit organization. The restaurant, now focused on deli-style food, has grown to support thousands of folks in need every year.
Beiler's Doughnuts
Beiler's Doughnuts is another great choice. If you go to Reading Terminal Market, you'll know Beiler's by the line of people that runs down the aisle. When you sneak a peek, you'll see the doughnuts being formed, baked, filled and frosted right before your very eyes. It really doesn't get any fresher than this.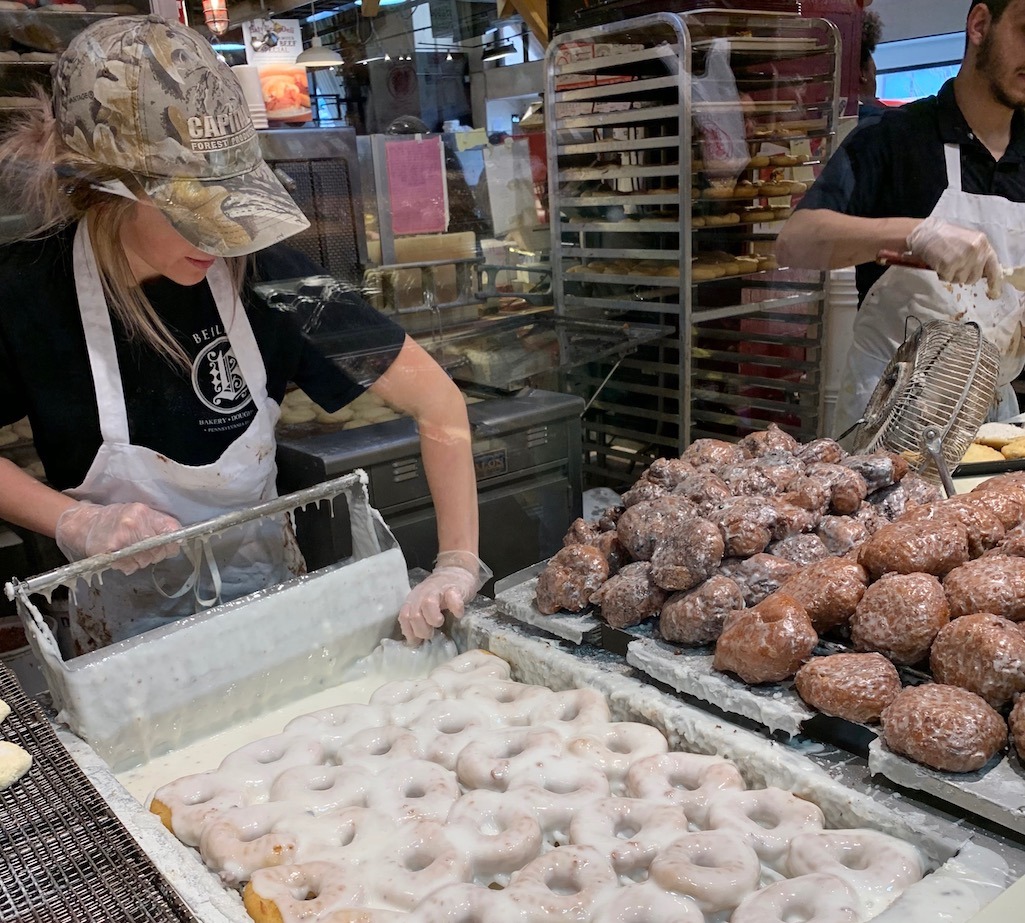 While we can ease your search for where to buy delicious donuts, we can't help you narrow down the many flavors. Beiler's has a ridiculous number of creative and classic options. We couldn't resist the Blueberry fritter and classic glazed. You can try such offerings as chocolate fruity pebbles, caramel apple, key lime or maple nut creme. The line moves fast so if you're not sure, try a few!
Favorite Philly Foods
Any discussion of Philadelphia food has to include certain iconic items. We're pretty sure that fist fights may have erupted over who has the best Philly cheesesteak. Philly food also offers a unique twist (pardon the pun) on a favorite snack like the soft pretzel. Whether you want to try Italian "water ice" or grab a fresh hot bagel, Philly food has you covered.
Soft Pretzels
Traveling with Sue is like having a separate set of tastebuds that dance to a German beat. Soft pretzels from Bavaria have their own special place of honor. But we were thrilled to learn that the soft pretzels in Philadelphia also occupy a unique place in the hearts of Philly food lovers.
We literally walked off the plane and into the airport when we saw the Philly Pretzel Factory sign. This seemed a clear signal to us that we should begin our taste testing right away. Who are we to say no to the universe?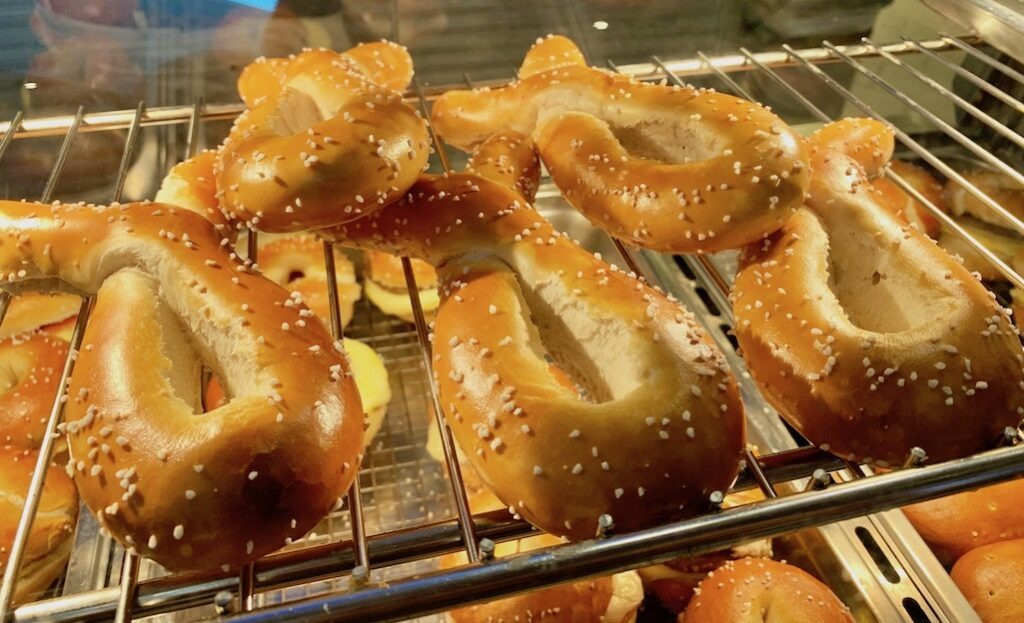 The unique thing about these pretzels is that they are not big and wide twists like the Bavarian style pretzels as big as your head. Soft, light and chewy, they are rather small and scrunched in shape. This means they make a perfect snack. You don't need to figure out how to wrap the rest up to save for a later time. There are three different choices of mustard you can top your pretzel with if you like – yellow, brown, or hot. If you're looking for more than a snack, you can find sandwiches, pretzel dogs and other filling ways to enjoy the pretzel dough.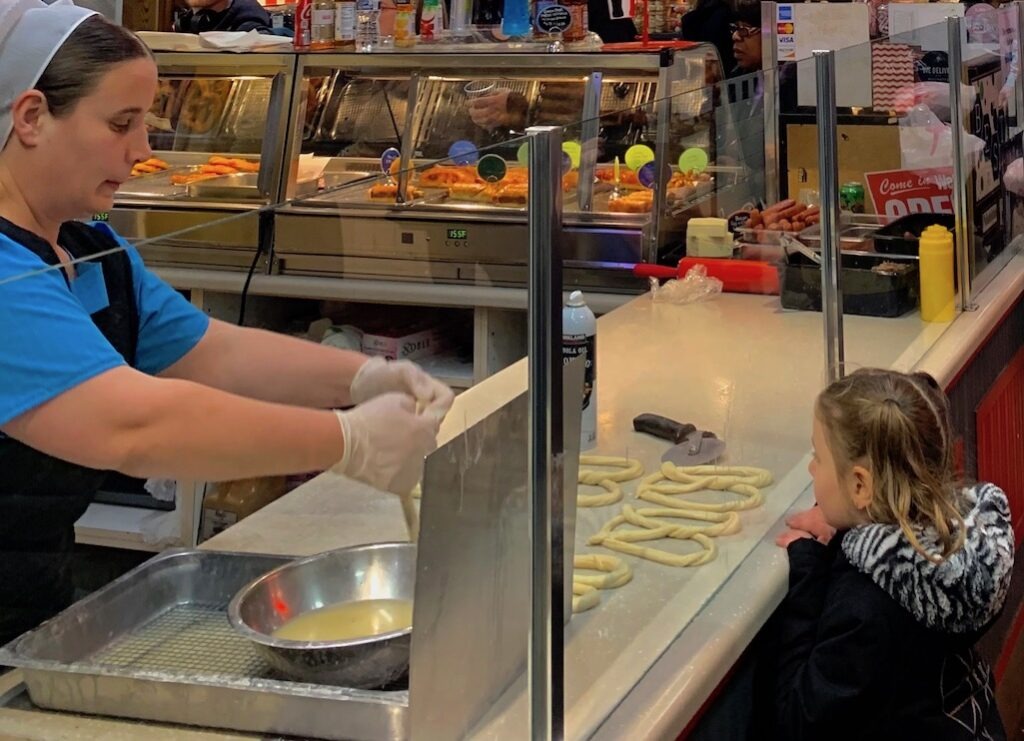 In the Reading Terminal Market, Miller's Twist offers another option for soft pretzels. These are more traditional in shape and you can watch them being made fresh by the Amish bakers at their station.
The Best Philly Cheesesteak Debate
No self-respecting food travel writers would be able to go to Philadelphia and not consider the cheesesteak. We are no exception. We talked with several people, both locals and expert visitors to get their various opinions. If you don't know, a Philly cheesesteak at its core is a long roll filled with sliced beef. It often comes with cheese (or Cheez Whiz), onions, peppers or any other various assortments of toppings.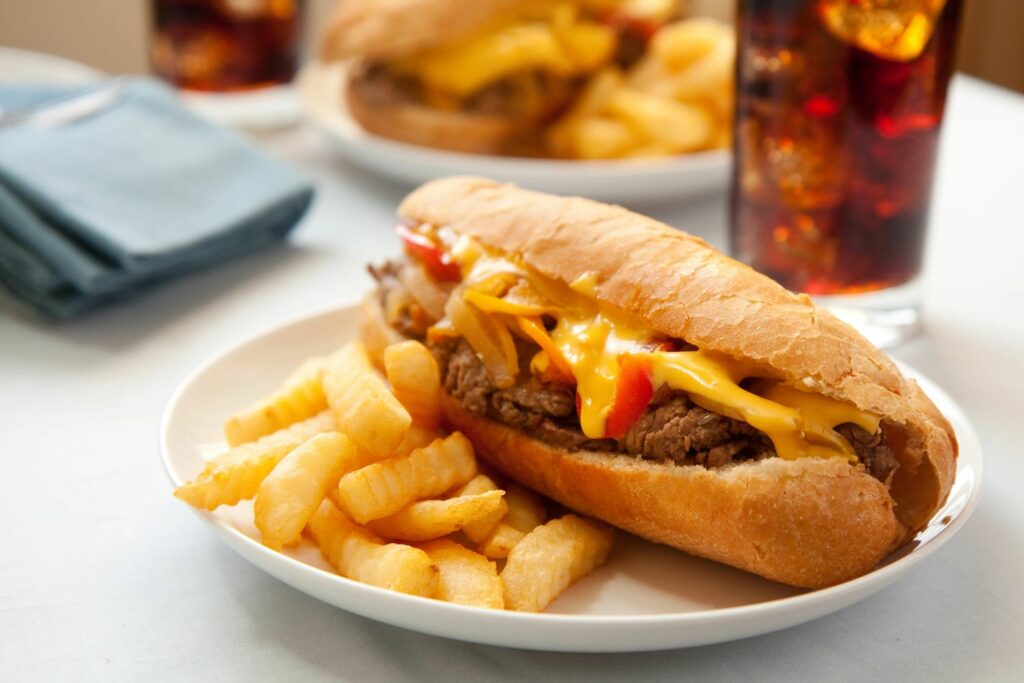 Most histories of the Philly cheesesteak trace its beginnings to Pat and Henry Olivieri, a hot dog vending pair of brothers, who got tired of dogs and made a "frizzled beef" sandwich like those they had back in Italy. When Pat sat enjoying his sandwich one day, a cabbie driving by found the smell irresistible and asked Pat to make him one. He loved it and suggested that Pat had a future beyond the hot dog. Pat's King of Steaks was born and the rest, as they say, is history.
As with many great ideas, success begets competition. Along with Pat's, there are many others creating their own versions of the iconic sandwich. Geno's, Tony Luke's, Campo's Deli, Dalessandro's, Jim's and Shank's Original all have their raving fans. Steve's Prince of Steaks pays homage to Pat's with its tongue-in-cheek reverential name. But Steve's has carved its own place in history. Working with Amoroso's Bakery in 2015 they broke the world record for the longest cheesesteak sandwich – a mind-boggling 480 feet!
Go With A Winner
Rather than jump into the fray, we decided (as we often do) to take a different approach. We took an Uber ride to John's Roast Pork, a shack in South Philly that our driver, surprised at our venturing off the beaten path, acknowledged as where the locals go. Pleased with ourselves, we got in the long line. Funny about little places like John's. The locals know it, but sometimes, others do too. In this case John's, now run by third generation John Bucci, Jr.,  has a James Beard Foundation Award medal hanging on its wall. The Bucci family earned top honors as one of America's Classics. So, figuring that if they could make a tasty pork sandwich, they were probably capable of doing a pretty good Philly cheesesteak too. Guess what? We were right. We shared one of each and now understand why this is a local favorite.
If you have the time, we'd recommend you try a variety of Philly cheesesteaks. Each will have its proponents and you'll have to decide for yourself. One other hot sandwich spot that had a long line is DiNic's Roast Pork in Reading Terminal Market. You can tell how seriously their customers take their sammies just seeing the incredible number of roasts piled up in the morning waiting for the lunchtime crowd and beyond.
Breakfast & Brunch
One of the best things about traveling is that you can eat three meals a day. Sometimes we don't do that at home. But when we're out exploring a new destination, you can bet you'll find us up early checking out what goodies we can eat from morning until night.
Breakfast
We love discovering unlikely spots that challenge expectations. So you won't be surprised to hear that we had to try breakfast at Pearl's Oyster Bar. There's something really fun about moseying up to a long counter with some other hungry folks before they head off for the day. And even better when so many dishes on the menu jump right out at you it's difficult to choose just one.
So it was at Pearl's. After struggling with choices like a breakfast po' boy, shrimp and grits, and creme brûlée French toast, we settled on the crab cake Benedict and chicken and waffles. They were both absolutely delicious. The crab cakes were abundantly full of lump crab. And the buttermilk fried chicken was set off nicely with tangy ranch dressing to counter sweet honey and butter. A perfectly delicious way to start our day.
Other Breakfast Spots
For real breakfast fans, Green Eggs Café might be worth checking out too. There are several locations, but you'll want to arrive early as the wait can be quite long. The options look tasty and could easily satisfy your choice for either sweet or savory. Short rib Benedict, cookie dough stuffed French toast, huge breakfast burritos, red velvet pancakes, and the kitchen sink skillet struck us as worthy of a try. We also heard wonderful things about Morning Glory Diner, Sabrina's Café and Spencer's Too, Cafe La Maude and Honey's Sit 'n Eat. There were easily enough A-List recommendations to triple our stay's worth of breakfasts and then some.
Brunch
As you know, we love exploring the areas of a destination where people actually live. One part of Philly that we decided to venture out to is Fishtown. Boy, are we glad we did! Aside from the wonderful nods to the namesake that appear on doors, trash cans, lights and just about everywhere else, Fishtown has a lot to recommend it as a place to hang out, eat, drink and have fun. Just so you know, the Fishtown neighborhood got its name from its role back in the day as the center of the shad fishing industry along the Delaware River.
Suraya
One of our favorite spots during our visit is the delightfully unassuming Suraya. Part Lebanese restaurant, part market, part Garden of Eden, this neighborhood favorite warrants a long, relaxing visit especially for brunch. A breezy Middle Eastern cornucopia, Suraya is named for the grandmother of two (brother and sister) of the four owners. The ethos is "Levant-inspired" meaning that the food, drinks, desserts, and ambiance are reminiscent of the Eastern Mediterranean of grandma Suraya through which siblings Nathalie Richan and Roland Kassis pay a modern homage.
Drinks can be surprisingly lovely, such as the Lebanese chai tea with rose petals. Dishes include classics like za'atar manóushe (Lebanese flatbread), soft strained yogurt cheese labneh and traditional hummus as well as modern twists such as hummus with mushrooms, pine nuts and brown butter, which are as delicious as they sound. Of course, there are plenty of desserts such as the rose and pistachio cruller and maámoul to satisfy your sweet tooth too.
While we were there, some people were enjoying the bar, others dining in the bright and open restaurant and a few were lounging in the back garden. With a relaxing bit of music and the sounds of a water fountain, we could imagine whiling away plenty of time here before buying a treat or two at the Suraya market and heading home. Make sure you call in advance for a spot. This place is deservedly popular so you'll want to make a reservation well in advance.
Pizza Brain
As long as you're in Fishtown, walk around a bit and enjoy. There are plenty of ways to and drink your way through the neighborhood. A few of the local favorites include Pizza Brain, where you can get a slice in the fun environment of a "Pizza Museum," recognized by the Guinness Book of World Records as having the largest collection of pizza memorabilia.
Little Baby's Ice Cream
Not too far away is Little Baby's Ice Cream if you're feeling like something cold and sweet. They offer some fun flavors of Philadelphia style (made without eggs) like lychee lemonade, smoked cinnamon, speculoos and chocolate salt malt as well as non-dairy soft serve options. They have a rotating list of flavors including some really wild ones like Abe Fisher Rye Bread Cheesecake, Everything Bagel, Ramen and Maryland Bar-B-Que, so check them out and see what's there when you're ready to scream for ice cream. There are a couple of other scoop shop locations so if you don't make it to Fishtown, check them out wherever you are.
Philly Style Bagels
Of course, if you don't want everything bagel ice cream, you just might want a real everything bagel. And, as fortune favors the bold, you'll find those and many other options at Philly Style Bagels. A tiny corner shop loaded with yumminess, PSB offers right-sized bagels (ones you can eat without too much guilt) as well as sandwiches and spreads. There are plenty of vegan options in both bagels and toppings. They also offer special flavored bagels throughout the week. And, if you have a little one with you, they even have kid-sized bagels, which just made us smile.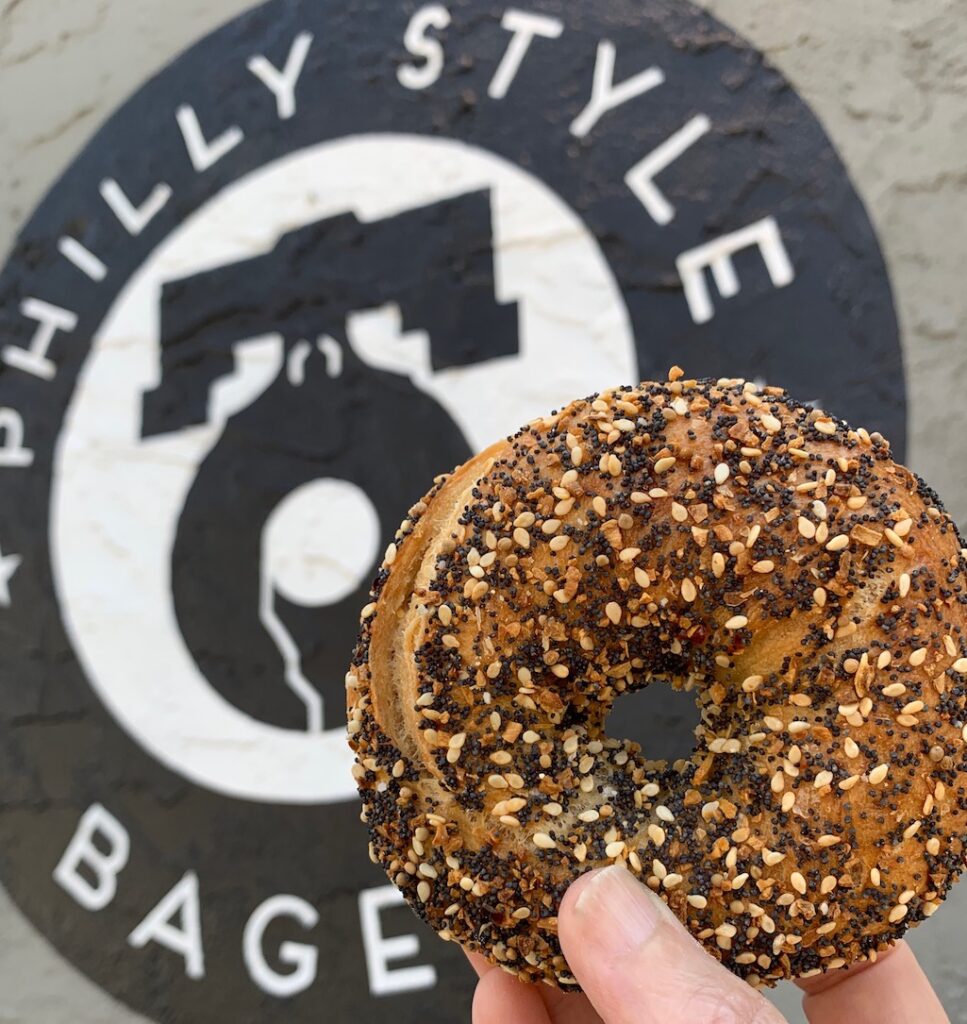 Other Fishtown Fun
If you have more time to wander around, Fishtown offers a lot more. Frankford Hall is a kind of casual German-ish beer hall with plenty of games like foosball and table tennis. We imagine it's quite lively at night, so if that's your scene it looks like it would be plenty of fun – and we heard that the beers are big'uns though we were too full from our wonderful brunch to give them a go.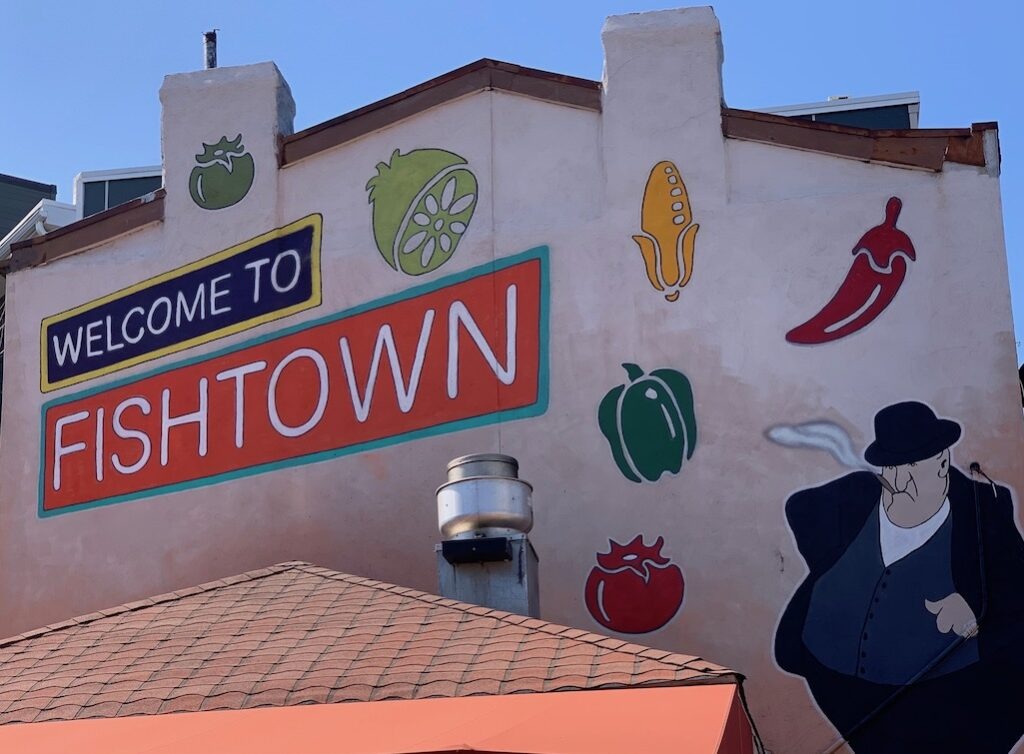 For coffee lovers seeking a good cuppa joe, you will enjoy visiting the La Colombe Coffee Roasters. The expansive space not only has all the coffee drinks you'll want, but it also has a cafe with some pretty tasty looking food. You'll find draft latte, cappuccino, cortado, cold brew and many other options along with teas, pastries, sandwiches and more. The big open space accommodates plenty of people, so you might even make a friend while you're there.
Johnny Brenda's is another notable spot in Fishtown. We first heard about this dining and music venue from the driver bringing us in from the airport.  They serve a full menu all the way until 1 am, so if you're up for late night antics, you'll want to check in and see who's playing. There's also a downstairs, a back room and happy hour specials. Lots of local bands love to play there too so you can get a real taste of the Philly music scene along with something tasty.
Lunch
Options for lunching on Philly food are only limited by your imagination. From sit down luxury to grab-n-go casual, you will find something delicious to enjoy all over the city.
Dutch Eating Place
Thinking about where food and culture collide, we'd be remiss if we didn't mention the Amish population of Pennsylvania Dutch you may have heard about. Especially if you visit (and we highly recommend you do!) the amazing Reading Terminal Market, you will see several Amish merchants, many of whom are wearing a version of traditional Amish clothing. We've previously mentioned Miller's Twist soft pretzels and Beiler's doughnuts, which are both Amish establishments. For a hearty lunch, you can't do better than Dutch Eating Place. You may have to stand in line for a few minutes, but it moves quickly and the food is worth the wait.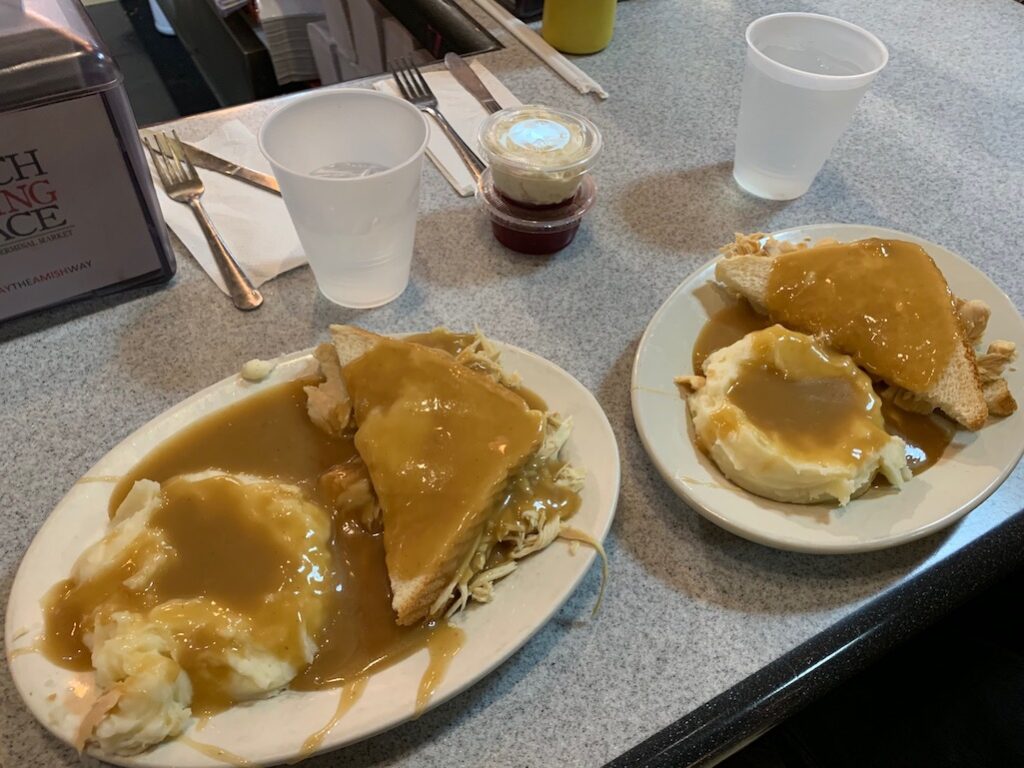 Dutch Eating Place offers a wonderful array of hearty comfort dishes like a homemade chicken pot pie. They have homemade soups, grilled items, and weekly specials, such as chicken & waffles, pork & sauerkraut, and hot roast beef. But one of the things that we couldn't resist trying is their hot oven roasted turkey. Having heard about the oversized portions we opted to split a serving. That was a good choice – there was more than enough for two! The turkey was moist and fresh, mashed potatoes were real, the gravy was over everything and we felt like we were having our very own mini-Thanksgiving. Sides included cranberry sauce and coleslaw. Honestly, we were stuffed on half the dish, so keep that in mind when ordering here. Dutch Eating Place is also known for oversized pancakes and a huge apple dumpling. We will have to save those for next time though.
Ethnic Eats
Philadelphia is a great place to enjoy some great ethnic food as well. South Philly is home to the Italian Market on 9th Street. Although it's probably not quite as Italian as it once was, you can still find plenty of food stalls offering fresh produce, meats, fish, and other goodies. There are also some bakeries, coffee houses, and Italian restaurants to visit nearby. We also stopped into Superior Pasta Company for a look at some seriously authentic looking sauces and prepared pasta dishes like baked ziti and lasagna. Anthony's Chocolate House and Di Bruno Bros. House of Cheese are stalwarts of the neighborhood, with many years of loyal fans singing their praises.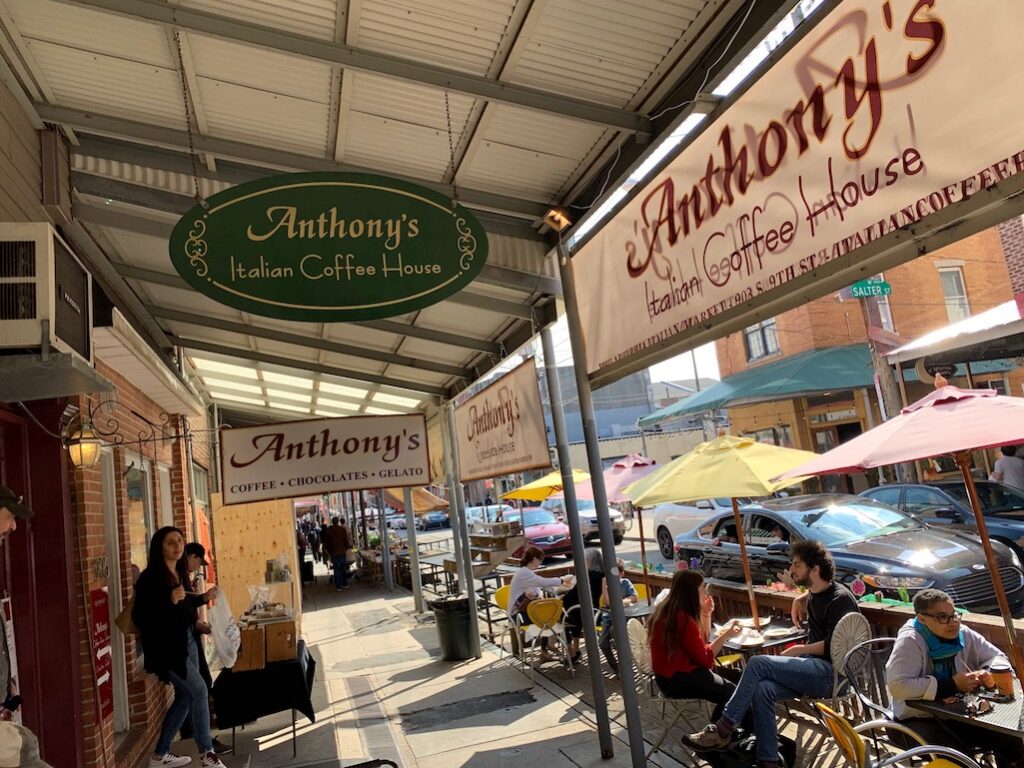 For something different, head on over to Philly's Chinatown. Full of options for Asian eats, the neighborhood has some wonderful art and sculpture as well. We surprisingly discovered an incredible bakery there called Paris Baguette, loaded with beautiful French-inspired creations like cakes, cookies, pastries, and savory items as well. We couldn't resist strolling down the aisle, smiling at each enchanting mini-masterpiece. A bigger surprise was that Paris Baguette is actually a Korean chain with more than  3,500 locations worldwide. You can enjoy a dose of French-Korean-Chinatown local experience all in one sweet spot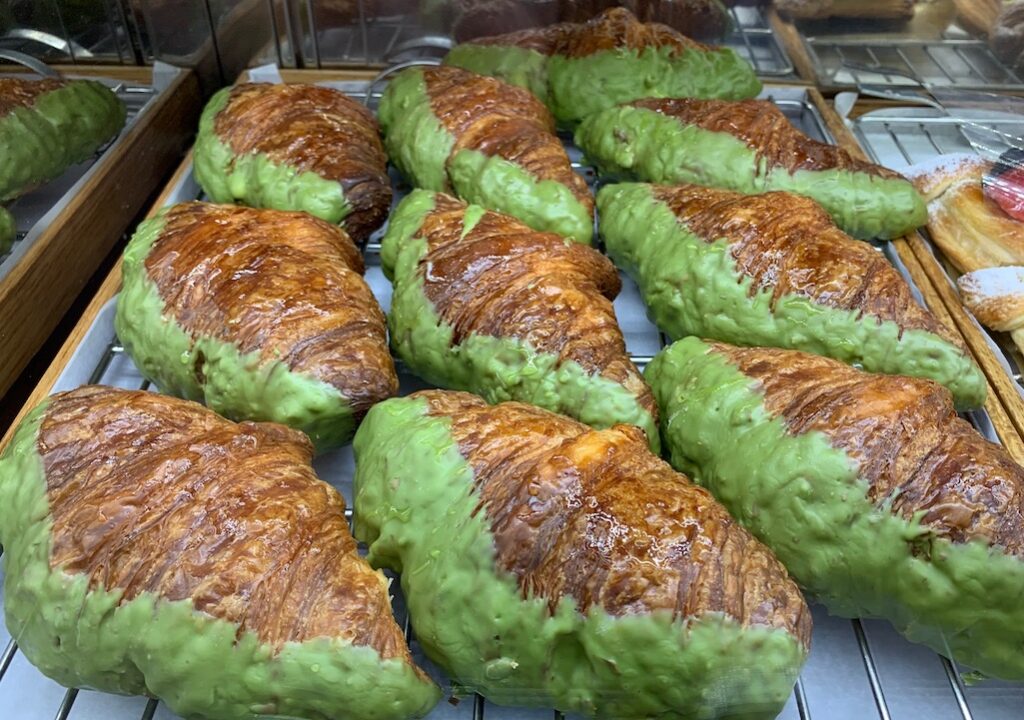 Dinner
As if there aren't enough choices to make your head spin during the day, decisions about dinner can be downright dizzying. As with many cities rich in history and in food, Philadelphia offers just about anything to suit your fancy. We got tons of recommendations from many locals. Places like Blind Pig, Southernish, Pietro's Coal Oven Pizzeria, Warm Daddy's, Andy's Fried Chicken, Dmitri's, Soul City, Verdi's, North 3rd, Santucci's and the list goes on and on.
Barbuzzo
We opted to try the praised and popular Barbuzzo Mediterranean Kitchen & Bar in the fun "Gayborhood" within the fashionable Midtown Village part of town. After a bit of a wait, the host seated us in the busy, buzzing eatery. The restaurant is long and narrow with very dim lighting making it quite cozy. The menu offers an array of intriguing combinations so we decided to try a few different items. We started with some charred asparagus with spelt berries, spring onion, ramp vinegar, and pickled rhubarb, which set the bar for the yumminess to come. Watching the pizzas being made right in front of us in the open kitchen made it impossible not to order one – so we tried the Margherita loaded with San Marzano tomatoes and freshly made cheeses.
The one item everyone told us we had to save room for was a dessert. The salted caramel budino is legendary. With a dark chocolate crust, vanilla bean caramel and creamy custard, it was the perfect finish. Barbuzzo's owners Marcie Turney and Valery Safran have transformed the area through multiple restaurants and boutiques that are as unique and fun as they are welcoming.
Parc
When you walk by the traditional-looking bistro Parc in swanky Rittenhouse Square, you'll feel like you're in Paris. The tables outside with chairs facing the park are perfect for people-watching. We even saw more than one dog joining in with their dining companions, completing the authentic scene. Fans of traditional bistro food will be pleased with the well-crafted and recognizable dishes. We opted for a trout almandine and the Saturday special of Filet de Boeuf Rossini, topped with foie gras and a demi-glace sauce. If you are looking to go a bit lighter, there are plenty of seafood and other options. Because the volume of music and people having fun escalates consistently at night, if you're on the sound-sensitive side we'd recommend booking an outside table or coming earlier in the day. There are plenty of opportunities as Parc also serves breakfast, lunch and midday meals.
Don't Forget The Drinks!
Another fun part of the fabulous Philly food scene is the vast array of bars and lounges from chic to divey. We popped into a few to get the vibe. El Vez is a brightly-colored, upscale Mexican spot with a huge busy bar sporting a glittering low-rider bike as a centerpiece. Part of the Starr Restaurant Group (that also owns Parc) we hear they have a great happy hour as well.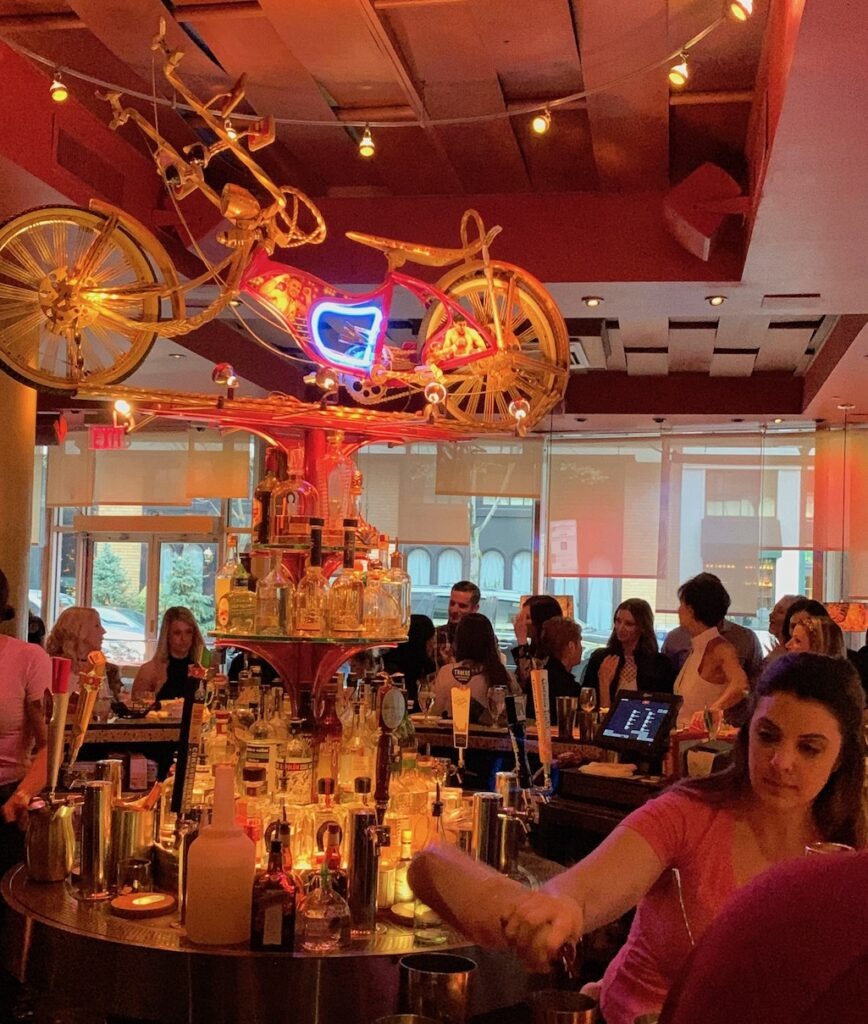 For elegant but still lively cocktail time, check out Rouge. This attractive restaurant serves full meals as well, but we tested them out on one of our favorite libations, the Old Fashioned. And they did an admirable job. Fun cocktails like the Tokyo Fizz, Italian Breakfast, Kentucky Pope and Bear Trap keep company with classics like the Sazerac, Daiquiri, and Negroni. They also have wine, beer and sparkling to cover all the bases.
When you're not feeling elegant or swanky or trendy, then you know how we felt during our rainy night out on the town. And what can cheer you up better than a good old fashioned Tiki Bar? That's right – nothing. Luckily Philadelphia had planned to make us happy and right in the midst of all the cool kids was a perfectly kitschy Tiki bar, with a glowing sign and all the trimmings just waiting for us. Not only were there great Tiki cocktails but at the happy hour, they had some pretty darn good pot stickers too. We loved the hula grass hanging over the bar, the skull candle holder on the table and pufferfish light hanging overhead. No matter how wet you are coming in, by the time you leave you feeling warm and happy.
The Beautiful Bellevue
While I wanted to help you navigate the Philly food scene in this article, I'd be a total loser if I didn't at least give you a hint about where to stay. The Bellevue Hotel is literally a gorgeous building with an interesting history of its own. Any Food Travelist will feel right at home as you pass by a chocolate shop and see a William-Sonoma store right at the end of the entrance. There's also a dining court downstairs for the locals who work in the Center City neighborhood. Luminaries have stayed there from J.P. Morgan and Katherine Hepburn to heads of state and U.S. Presidents. There are amenities up the gazoo, salon & spa, sporting club, and Tiffany & Co. included. Oh, yeah, and the rooms are to die for – roomy and elegant.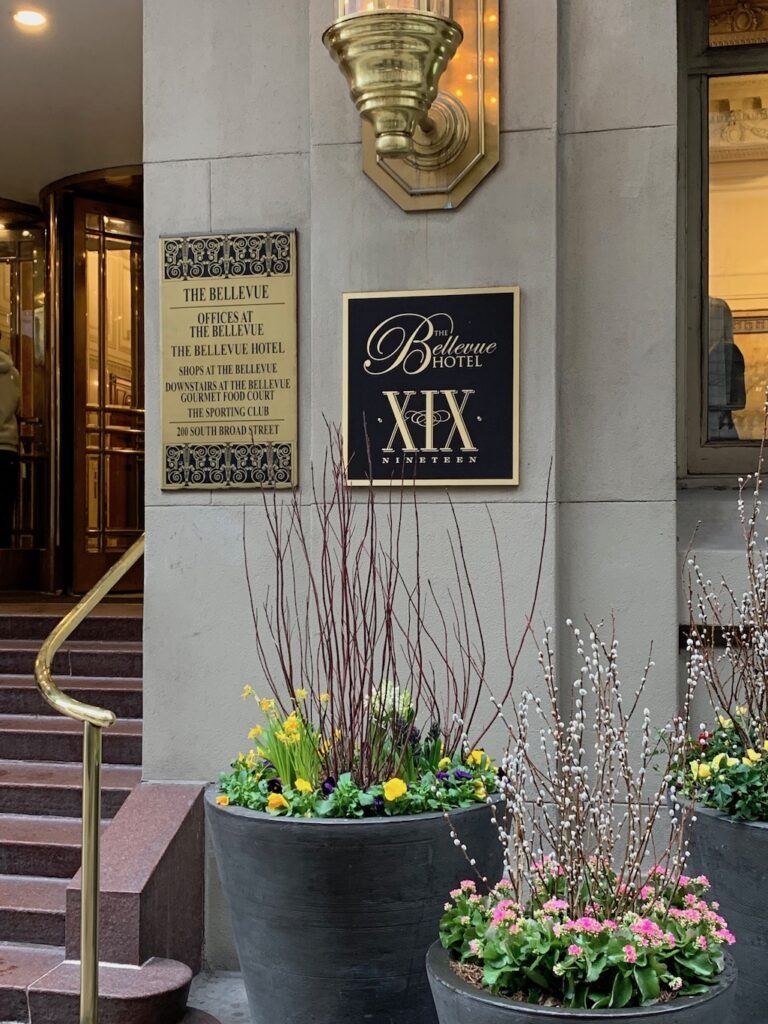 There's a Palm Restaurant serving classic steak and lobster and the Tavern on Broad serving cool beer and tasty bites until the wee hours seven days a week.
But XIX Nineteen at the top of the Bellevue really sparkles. There's a signature restaurant, bar area, and a cafe. What a beautiful place to dine on the gourmet fare or unwind with a drink and watch the sunset or catch the city view. It's easy to see why many folks choose XIX for their special occasion. And one special occasion we always love to celebrate is afternoon tea. The Bellevue offers our favorite repast on weekends, filled with pastries and scones, those little sandwiches we love and, of course, your choice of excellent loose leaf teas.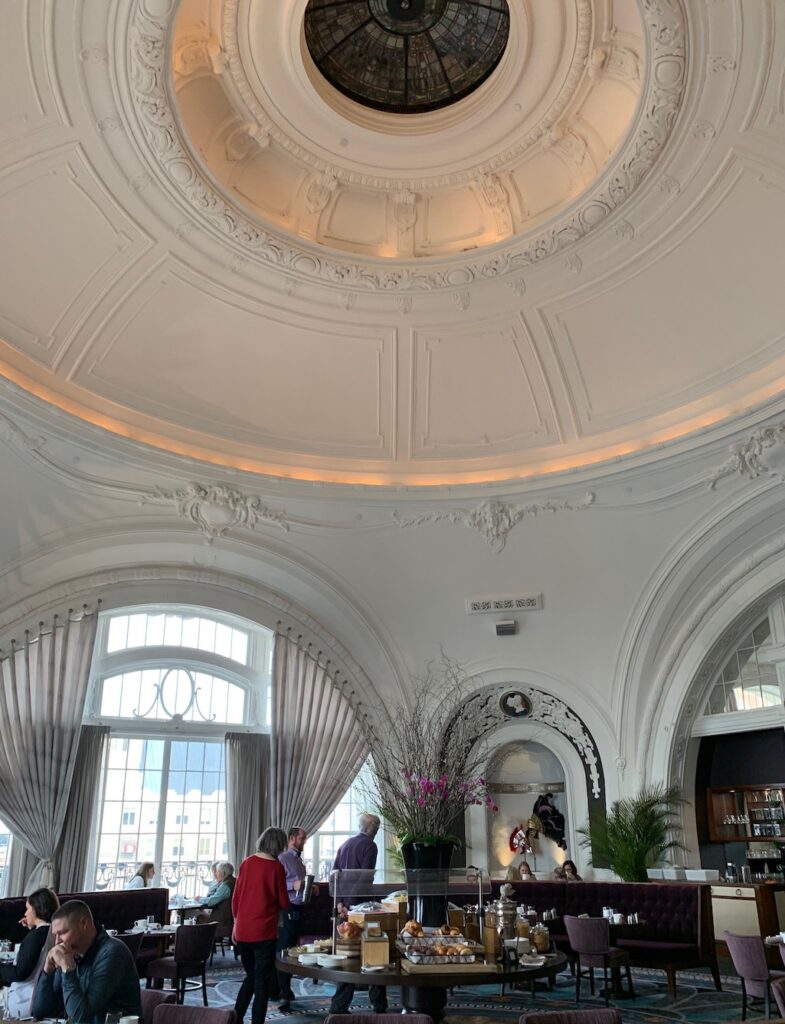 In the heart of Philadelphia, surrounded by the amazing presence of America's historic past, the Bellevue offers a touch of elegance and grace that welcomes and embraces you during your stay.
Tip Of The Philly Food Iceberg
This post is ridiculously long. But you get the idea that deciding what to eat in Philadelphia requires quite a bit of navigation. I hope you find some interesting suggestions here and some leads to other places you will want to try for yourself. If there's one thing we learned on our visit to Philly, no matter how long you're there, you could always stay longer and find more to see, eat and do. Iconic items like the Philly cheesesteak are just the tip of the iceberg. We offer you just a little taste of this incredible city and look forward to having you share your own stories of discovery with us.
Our trip was hosted by Visit Philly, as always all opinions we share are our own and reflect our personal experience in the destination. 
Pin On Your Philadelphia Travel Board On Pinterest