Southwestern Slow Cooker Vegetarian Chili
It's the time of year we pull out our favorite fall cooking appliance – the slow cooker! While you may not immediately think about it, the slow cooker is a great source of global cuisine. Chicken Cacciatore, Beef Bourguignon, Chickpea Stew,  Thai Curry, Chicken Tagine, Italian Wedding Soup, and much more can all be made easily and conveniently with the help of this wonderful kitchen appliance.
One of our classic fall comfort meals is chili and cornbread. Making chili in a slow cooker is such a breeze that we've developed many different versions using a variety of spices and ingredients. Here's one of our favorite recipes that is actually vegetarian. It's so filling and delicious that even carnivores will be satisfied, but it's easy to add cooked shredded or ground meat of your choice if you like. Southwestern spices to provide a Tex-Mex flavor fest that will warm you up and make you happily full. It's easy to put it in the slow cooker and let it sit all day while you go about enjoying other activities.
Southwestern Slow Cooker Vegetarian Chili
The ingredients and spices we provide are the ones we like and use often. This is the kind of recipe that's difficult to mess up, so if you have other veggies you'd like to add go right ahead. And, if you want a meaty version, just add cooked ground or shredded beef, pork, chicken, or turkey and it will integrate the flavors just fine.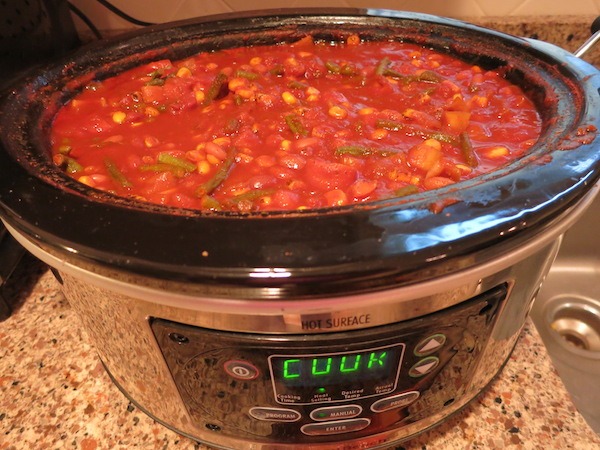 Ingredients
1 large white onion, chopped
2 small cans tomato paste
2-4 large cloves fresh garlic, chopped
3 large carrots, diced
3-4 celery stalks, diced
1 can of dark or light kidney beans
1 can red beans 1 can Great Northern beans
1 can pinto beans 1 cup cut green beans
1 1/2 cup frozen or canned corn kernels (thawed or drained) roasted corn kernels are great too
2 Tablespoons ground cumin
2 Tablespoons chili powder
2 cans diced tomatoes
1 can tomato puree
2 Tablespoons olive or vegetable oil
*1 Tablespoon pickled sliced jalapeños
*Be careful to choose the heat level you want. These come in mild or spicy varieties. If you want it really hot, use about a teaspoon of the juice from the spicy ones – that'll make your eyes water. Use less or the mild version or just the peppers and not the juice for a milder chili. You can also leave this out. Be sure you know the heat level of your chili powder too – it could be just spicy enough for you. Adjust to your own taste buds.
Directions
1. Chop onion and garlic.
2. In 2 Tablespoons of oil brown garlic lightly then add onions and brown them. If you want to add ground meat, do it now and cook until crumbled and light brown.  If you want to add shredded meat, cook it beforehand and put the shredded cooked meat into the pan until it is warmed through.
3. Place all the other ingredients and the onions/garlic (and meat if using) into your slow cooker.
4. Cook on low for 8-10 hours or high for 4-5 hours.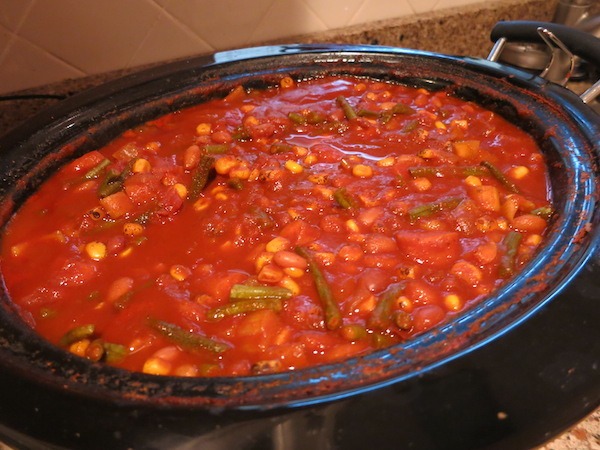 Condiments While some people eat their chili "straight-up" we love to put all kinds of toppings on ours. You can choose from this list or add any others that you prefer. It can be fun to create a "condiments bar" and let people choose from the flavors they want to customize their own chili. grated cheese sour cream diced raw onions or crispy fried onions strings chopped fresh cilantro shredded lettuce tomato salsa or pico de gallo garlicky croutons tortilla strips diced fresh tomatoes lemon or lime wedges for squeezing.
This makes a great meal after a long hard day at work, to eat while watching a sporting event, or just hanging out with friends. An added bonus is that it stores well and tastes even better the next day!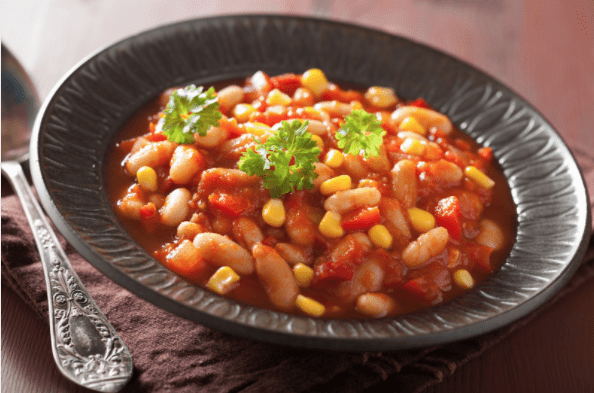 There are plenty of slow cookers and crockpots on the market choose the one that fits your needs the best.
THE QUICK BITE: Making chili in a slow cooker is a breeze. We've developed many different versions using a variety of spices and ingredients. Try out this Southwestern version that is even vegetarian!
Pin it to your favorite food board on Pinterest