Taste of the Old West in Cody Wyoming
I recently had the privilege of being the guest of the Park County Travel Council in Cody, Wyoming. I was not compensated for this post and all opinions expressed are my own and reflect my experiences.
The Old West. Many of us who live in large cities, like us in Chicago, wonder what it would be like to experience the west and its unique cultural experiences. If you're interested in doing some exploring in the west you must check out Cody, Wyoming.
Many people plan a visit to Yellowstone National Park not realizing that there are 5 distinct entrances to the over two million acre park. It takes a lot of research to be sure that you see what you want to see and don't waste time driving in circles. The entrances are many miles and hours apart and the park is in three different states, Wyoming, Montana, and Idaho.
One of the best places to start your Yellowstone National Park journey is in the northwest city of  Cody.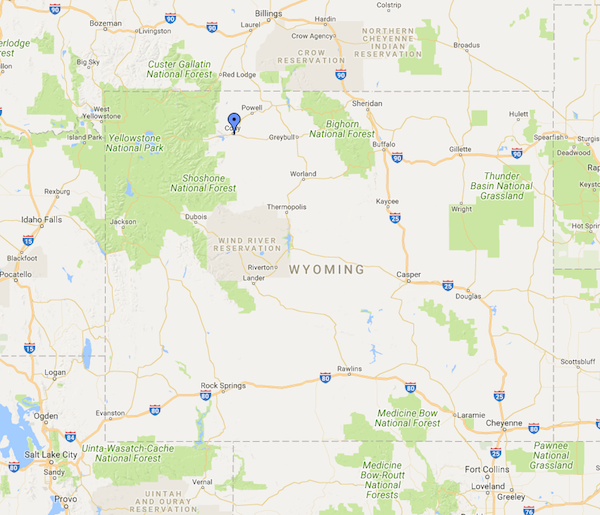 Many people who are touring the western United States by car and who have visited Mount Rushmore in South Dakota also make the trip to Yellowstone National Park. Cody is easily accessible on this route and makes for an entertaining and tasty stop. Located just one hour from Yellowstone it's a perfect place to visit along the way.
The City That Buffalo Bill Built
When you arrive in Cody the width of their streets will immediately strike you. Although it's a relatively small town most of the main streets are very wide. Why? The streets were originally built to accommodate horses and carriages and the wide streets allowed these "vehicles" to turn around easily.
Named after the infamous Colonel William Federick "Buffalo Bill", the city of Cody was largely created by Buffalo Bill. He saw Cody as a natural stop for travelers on their way to Yellowstone National Park. To learn more about this legend and his important influence on the western world you need to visit the Buffalo Bill Center of the West in Cody. Here you'll learn about the vision Buffalo Bill had not only for Cody but for the world to experience the west and visit beautiful Yellowstone National Park.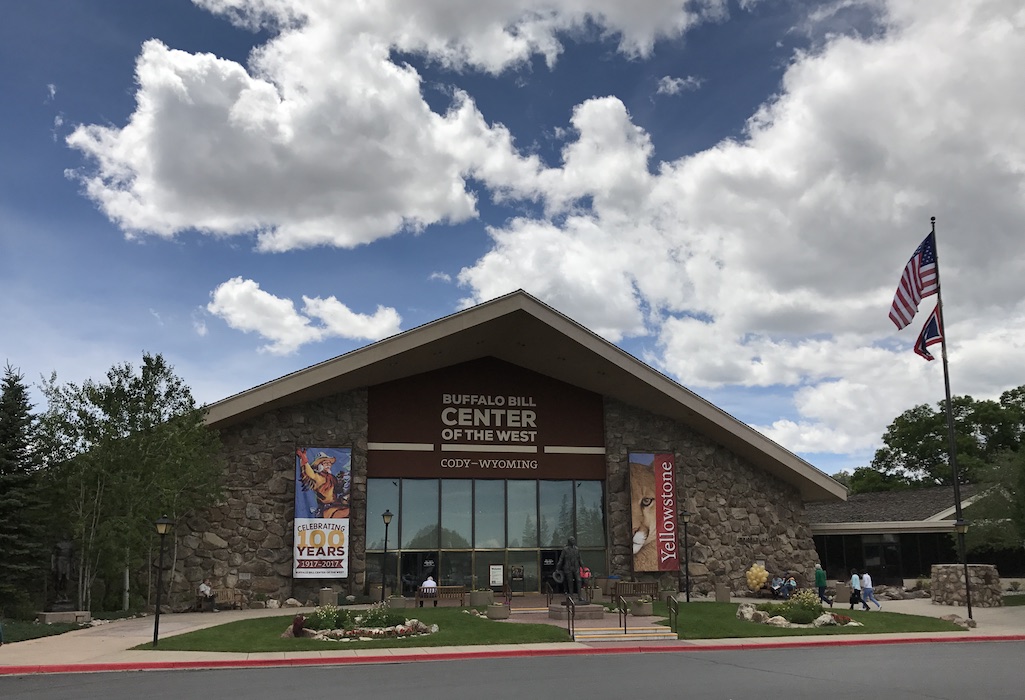 The center is five separate museums under one roof. I spent the majority of an afternoon there and didn't even begin to scratch the surface. You could easily spend two full days exploring the museums and taking in all the activities they have to offer. The Buffalo Bill Museum, Plains Indian Museum, Whitney Gallery of Western Art, Cody Firearms Museum and the Draper Museum of Natural History all are worth a visit.
As an art-lover, I adored the Whitney Gallery which includes magnificent renderings both traditional and modern from Yellowstone National Park. There are also interactive stations to draw your own postcards and many videos to keep even the most distracted kids busy and interested.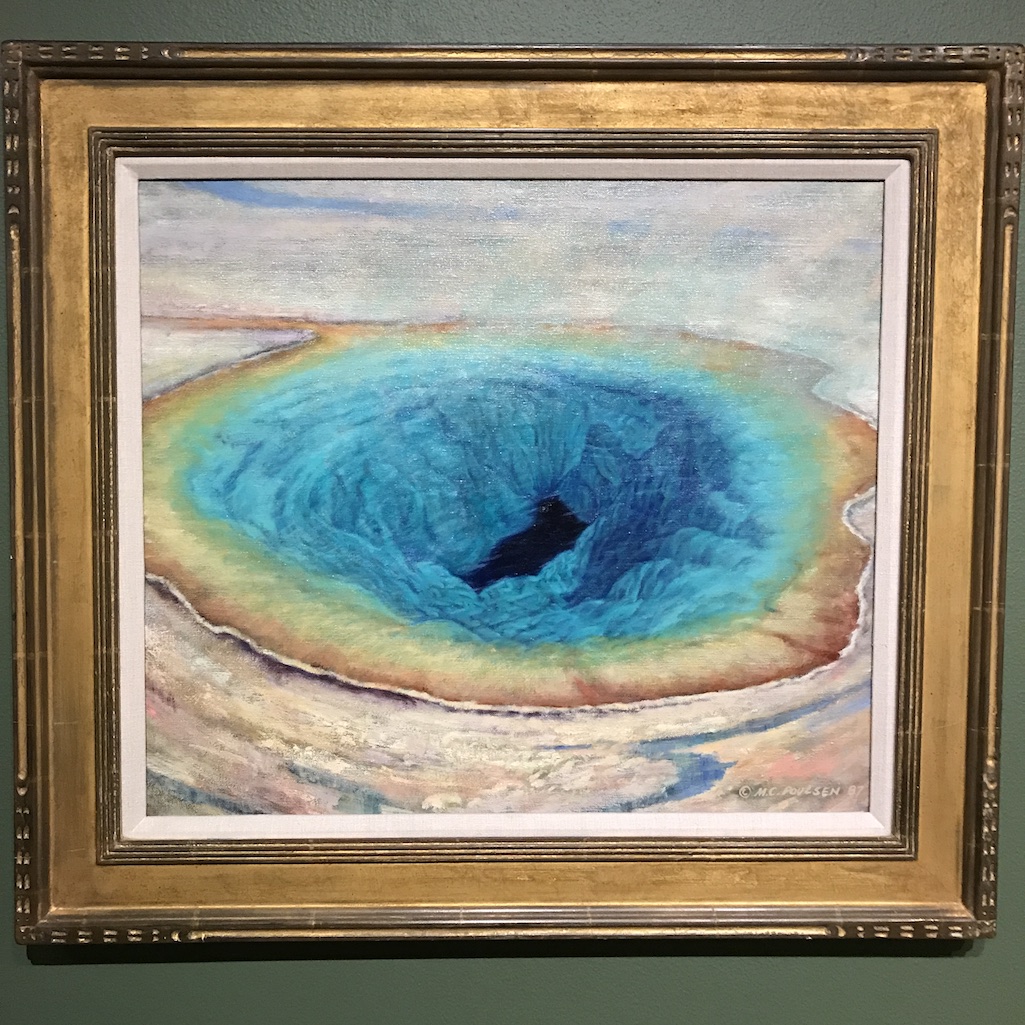 Spend some time getting to know more about Buffalo Bill. You might be surprised, as I was, that he was an unlikely feminist who supported the rights of women. He also had much respect for Native Americans and employed in his famous Wild West Show and paid them well.
Another project he spearheaded was the development and finance of the irrigation and reclamation project in Cody by constructing the Shoshone Dam which at the time was the tallest dam in the world. It was later renamed Buffalo Bill Dam by an act of congress.
While you're at the Buffalo Bill Center of the West be sure to check the schedule for activities. While we were visiting the annual Pow Wow was taking place. Native Americans from the area came together to celebrate their culture and history.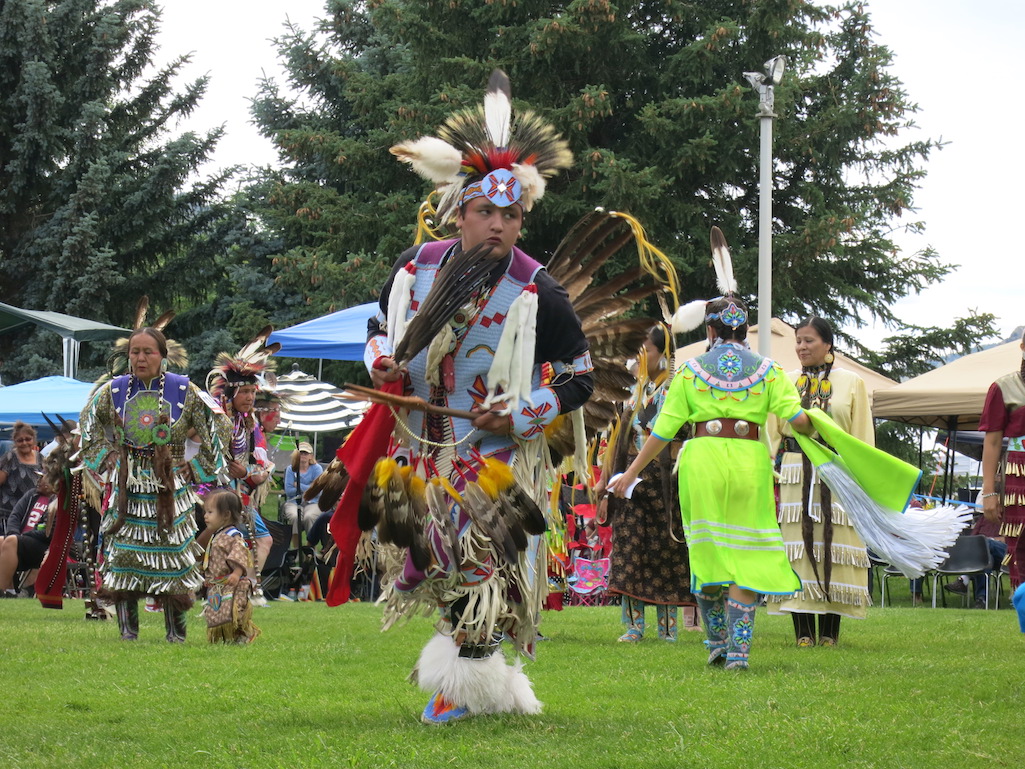 Dancing, drum groups, and authentic Indian arts & crafts were all available for purchase. Fresh Indian fry bread had a busy line the entire time we were visiting.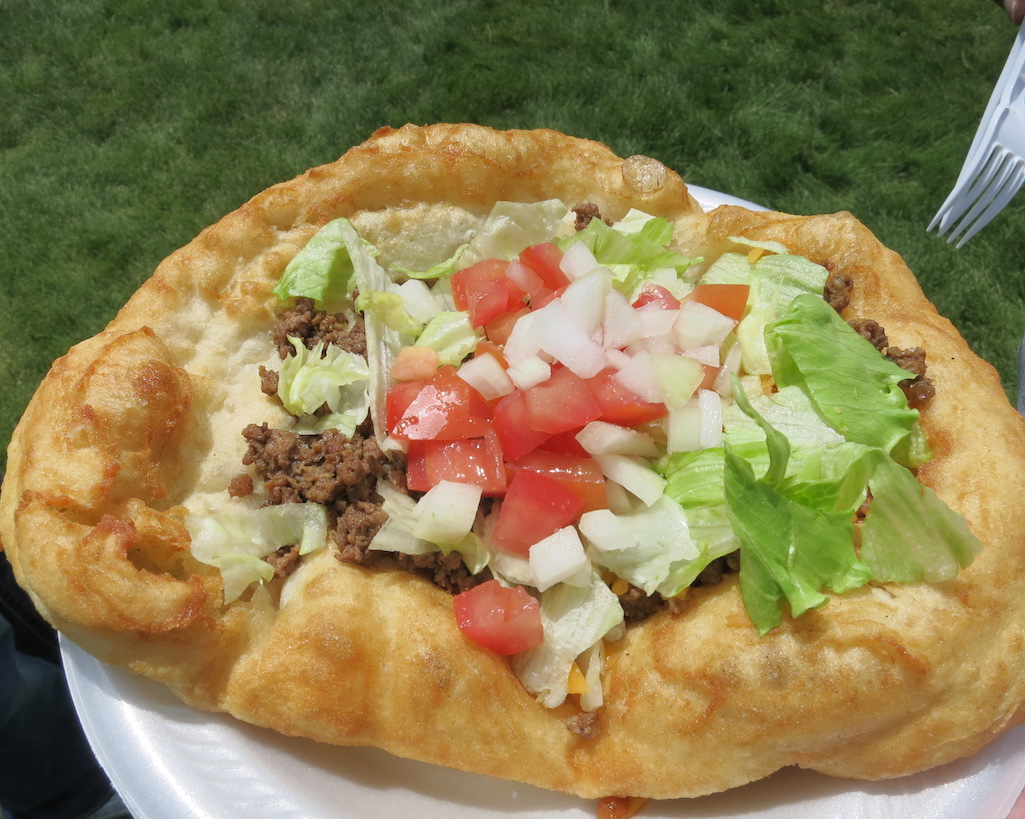 And don't miss Dan Miller's Cowboy Music Review while visiting the Buffalo Bill Center of the West. It's a fun family music show that's been entertaining visitors and locals for over 13 seasons. The music ranges from cowboy, bluegrass, gospel, and crowd pleasing patriotic themed numbers. Simple good old fashioned entertainment accompanies a buffet dinner meal featuring prime tenderloin, organic BBQ chicken, and all the fixings. For the best value purchase a combo ticket which includes admission to the Center of the West.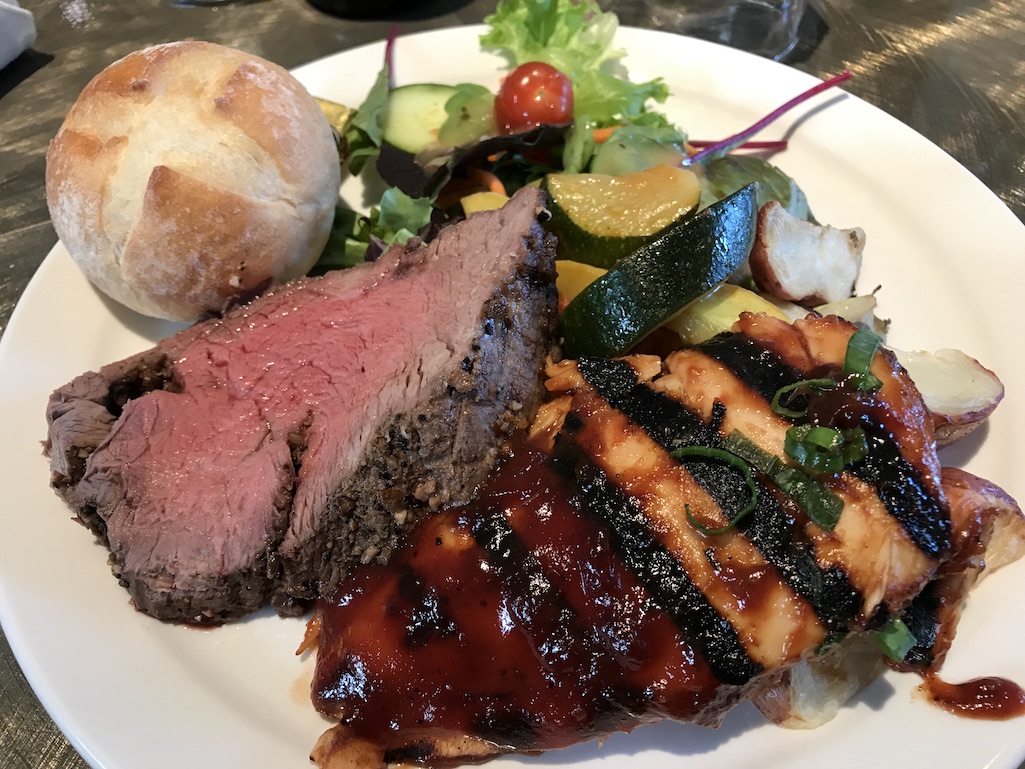 Western Main Street
Once you've soaked in the history of Buffalo Bill, you'll need to spend time on the main street. One way to get a great overview of Cody is to take one of the Cody Trolley Tours. Here your humorous tour guide will provide more insiders details on Cody. Once you've got the lay of the land you can begin your walk around town.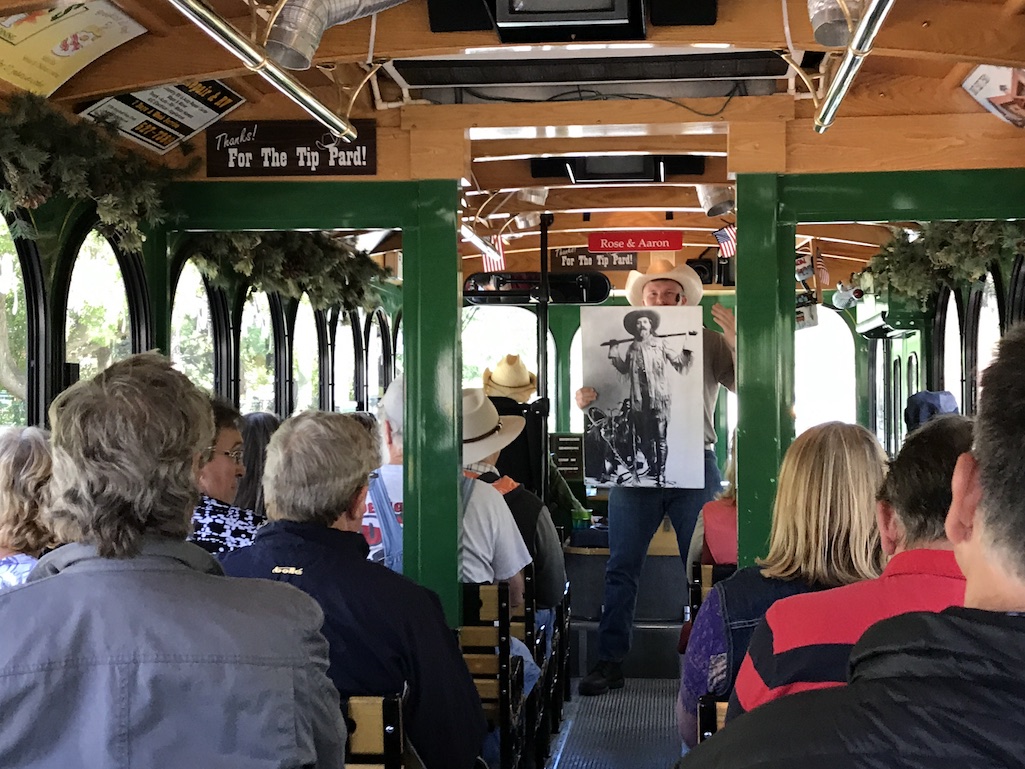 One of the must-visit spots in Cody is the Irma Hotel built by Buffalo Bill to honor his daughter, Irma. This historic hotel built in 1902 has housed some famous western personalities like Annie Oakley, Calamity Jane, and Frederic Remington.
On the National Register of Historic Places by the National Park Service, the Irma Hotel received recognition of its cultural contribution to America. One of the unique things about the Irma is the cherrywood bar, which was a gift from Queen Victoria. Legend has it (there are a million legends you'll hear about the prolific Buffalo Bill) that the Queen was quite taken with Bill after she saw his Wild West show in London and sent along this gift.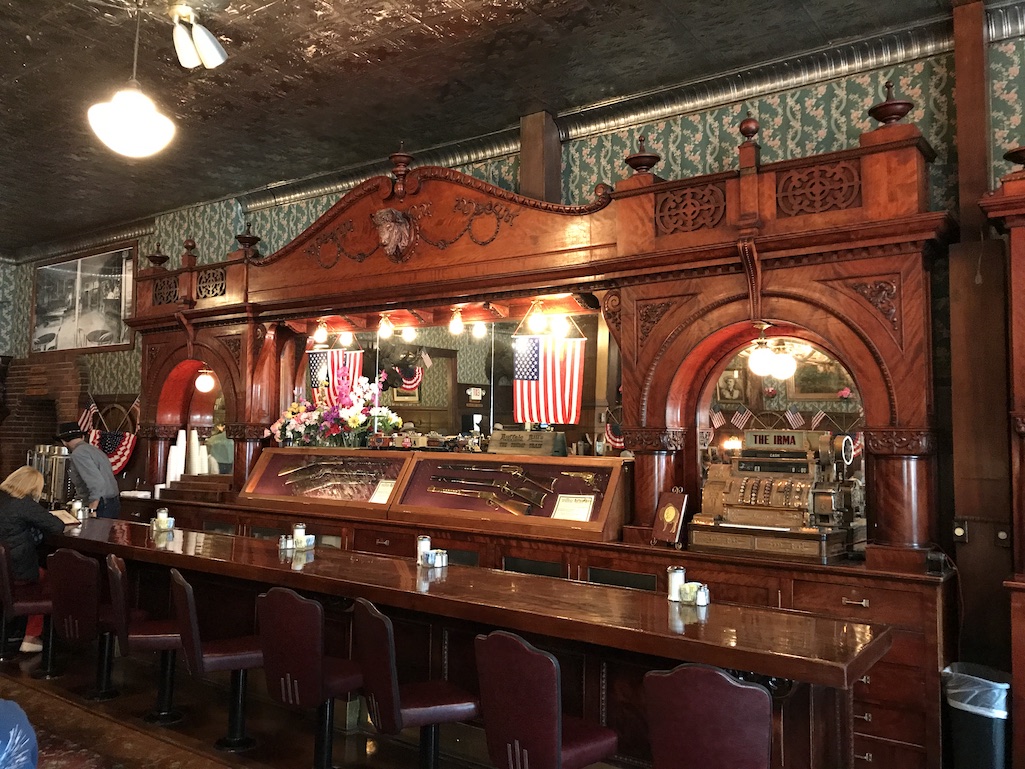 Another historic spot in town is the Chamberlin Inn where other luminaries stayed like one of my favorites Ernest Hemingway. It's a beautiful boutique hotel in downtown Cody. The relaxing courtyard is a perfect spot for relaxing, have a drink or coffee and listening to live music on the weekends.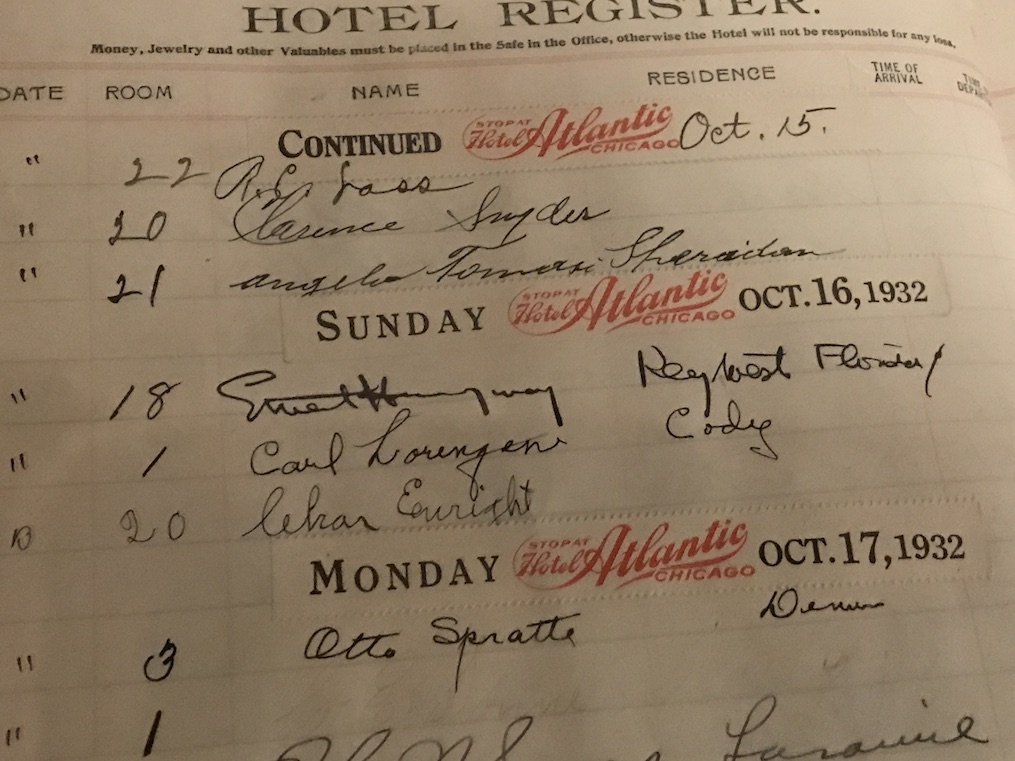 Tasty Food In A Western Town
With all the walking around town and learning about the west, you're bound to work up an appetite. Don't worry Cody has you covered. You won't even need to leave the Irma Hotel to get one of the biggest buffets in town. It wouldn't be polite to visit and not try their world famous prime rib. The west has some of the best beef in the U.S. so be sure to try it and help yourself to the generous salad bar while you're at it.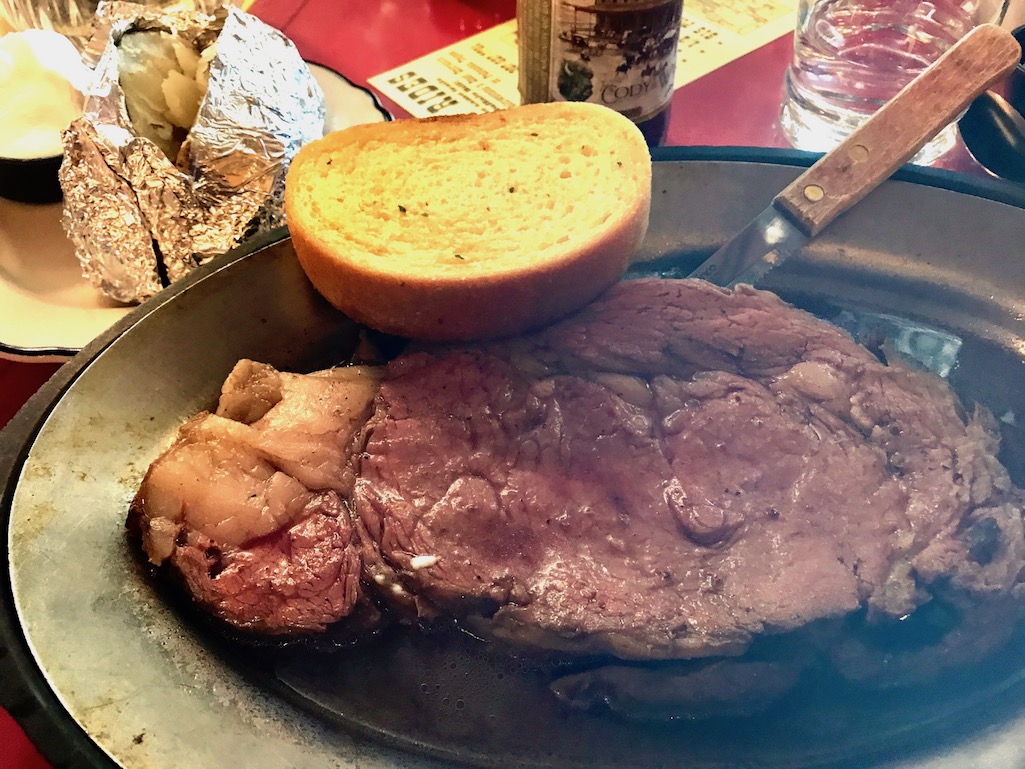 You can also sidle up to the bar and try a Buffalo Bill beer. A light and refreshing pilsner that really hits the spot.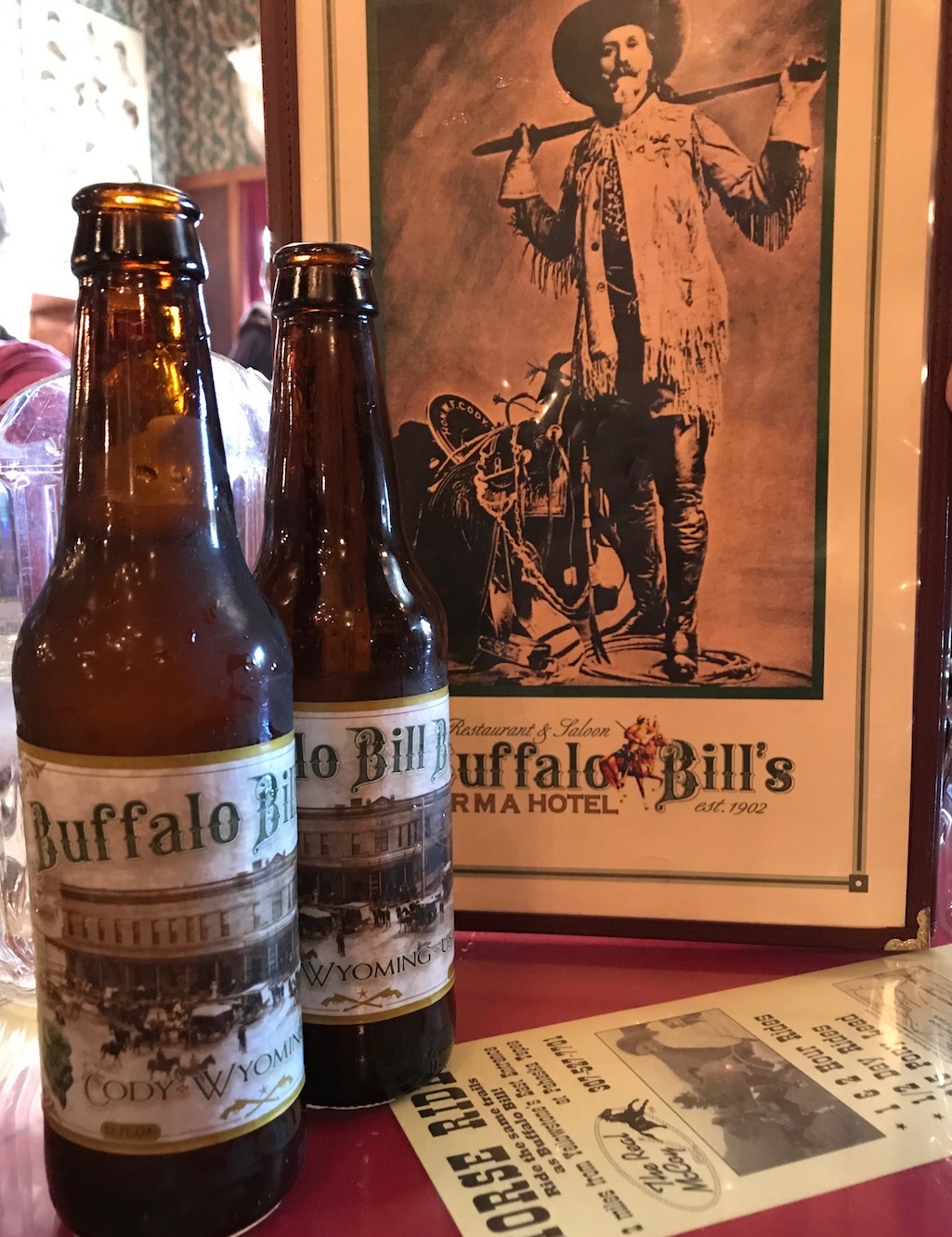 One of my favorite eating spots in Cody was The Local. As you might suspect they feature local food purveyors. They source their food from purveyors that use sustainable agricultural practices and humanely raise animals. This Ishawooa Mesa beef burger with white cheddar cheese, butter lettuce, pickled shallot and aioli on the homemade brioche roll is absolutely unforgettable. And you know I'm a burger lover so that's saying something. Just looking at it again makes me want it right now. Locals pack this place so be sure you get there early to get a seat.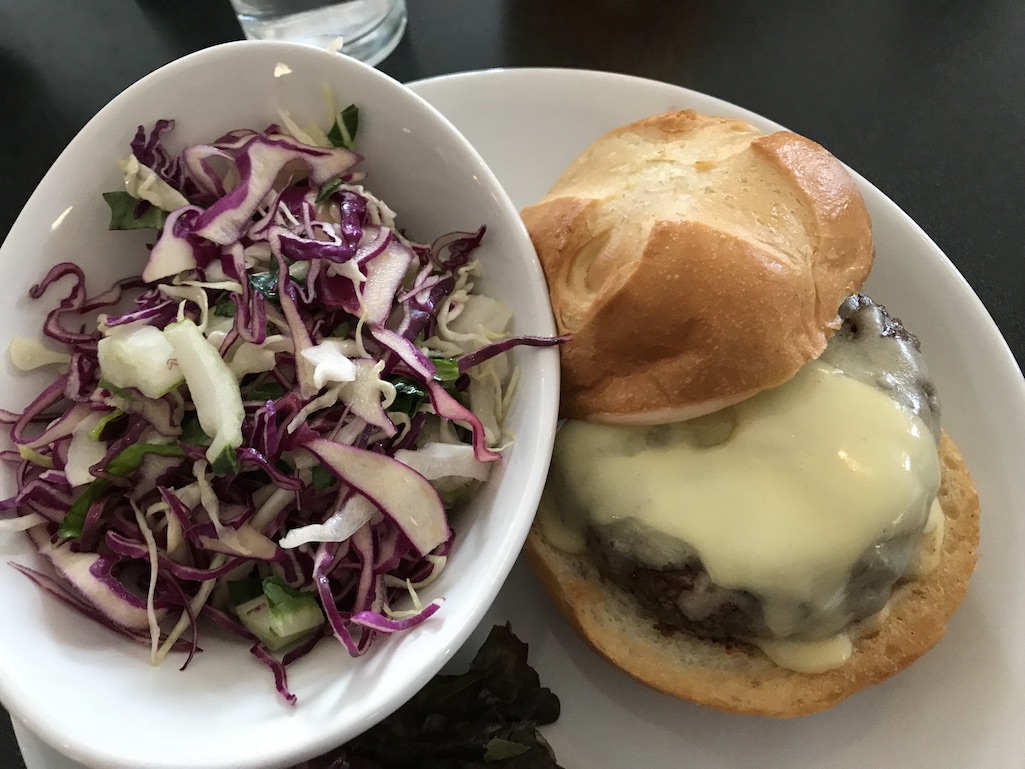 If you're looking for more southwestern food Zapata's will be to your taste. Open for lunch and dinner they have many traditional Mexican dishes to choose from.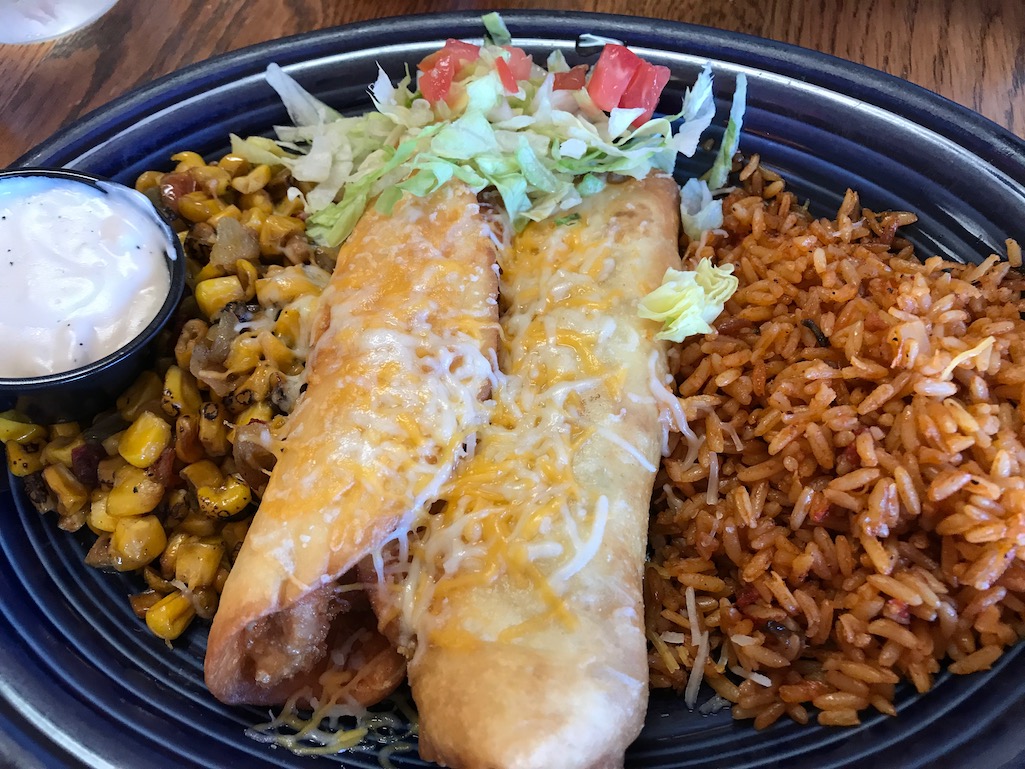 Another spot for more tasty meat choices is the Rib and Chop House. Whether you try their Angus Beef New York Strip, hand-cut rib eye or the giant Tomahawk Steak you can't go wrong. I opted for the more lady-like famous filet and it was delicious. You don't like meat? No worries, they have plenty of chicken, fish and veggie options too. They also have a gluten-free menu as well.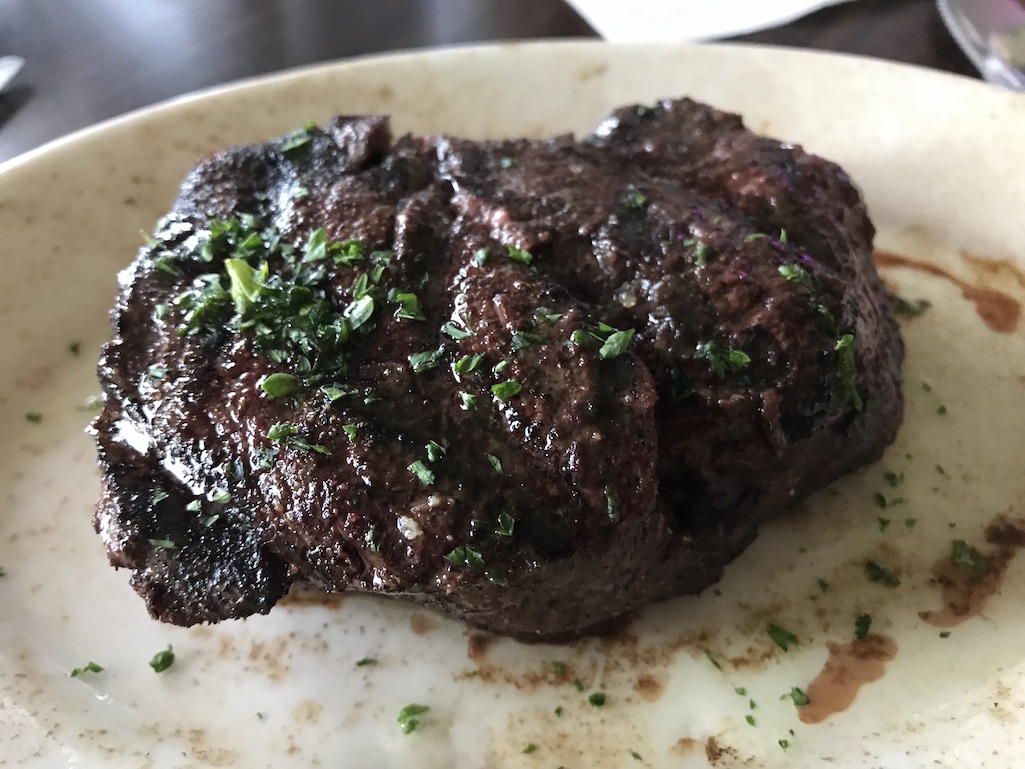 Leave a little room for dessert they have several options that you won't want to say no to.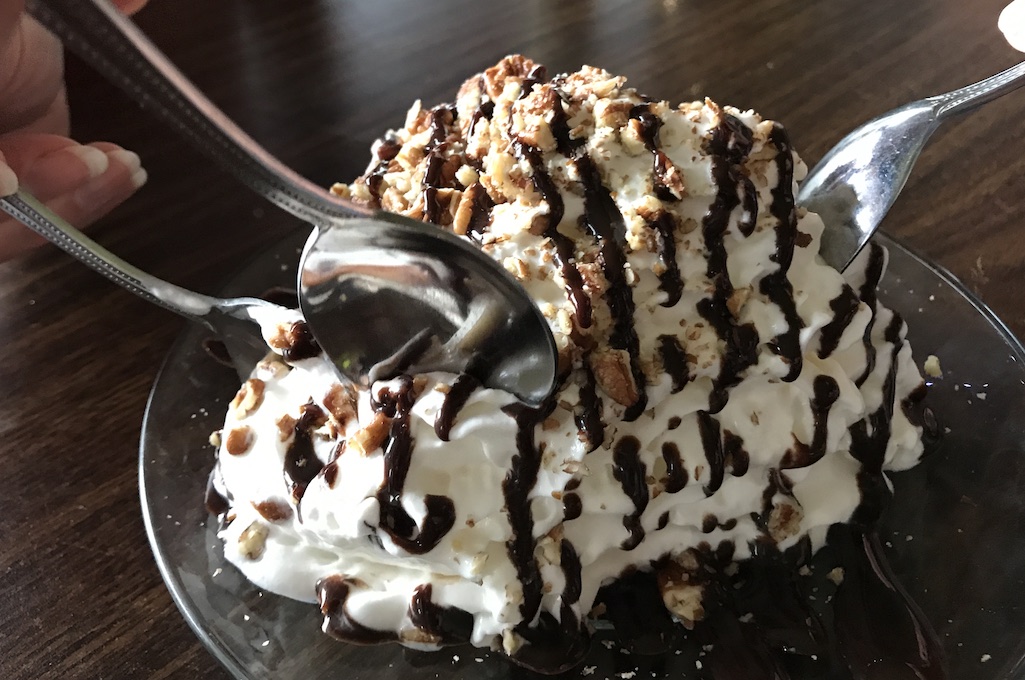 History We Can't Forget
There are many parts of American history we'd like to forget. We think it's important not to forget these events in order to ensure they don't ever happen again. A powerful example of this is the Heart Mountain Interpretive Center located just 14 miles outside of Cody, Wyoming.
A collection of photographs, videos, interactive exhibits and meticulously curated artifacts brings every visitor into the day-to-day lives of Japanese Americans who were relocated and confined here during World War II.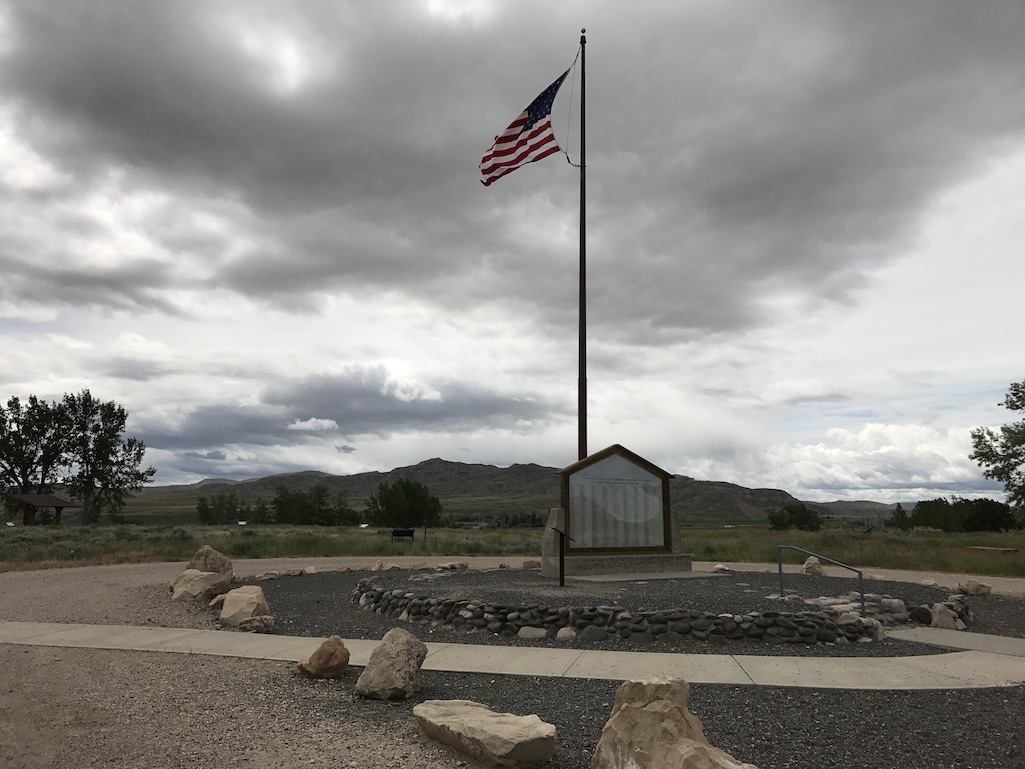 The center provides an experience that is chilling yet insightful and respectful of the Japanese culture. Most noteworthy, it explores the indignities, civil rights issues and hatred that is a grim reminder that our current society must never forget and never repeat.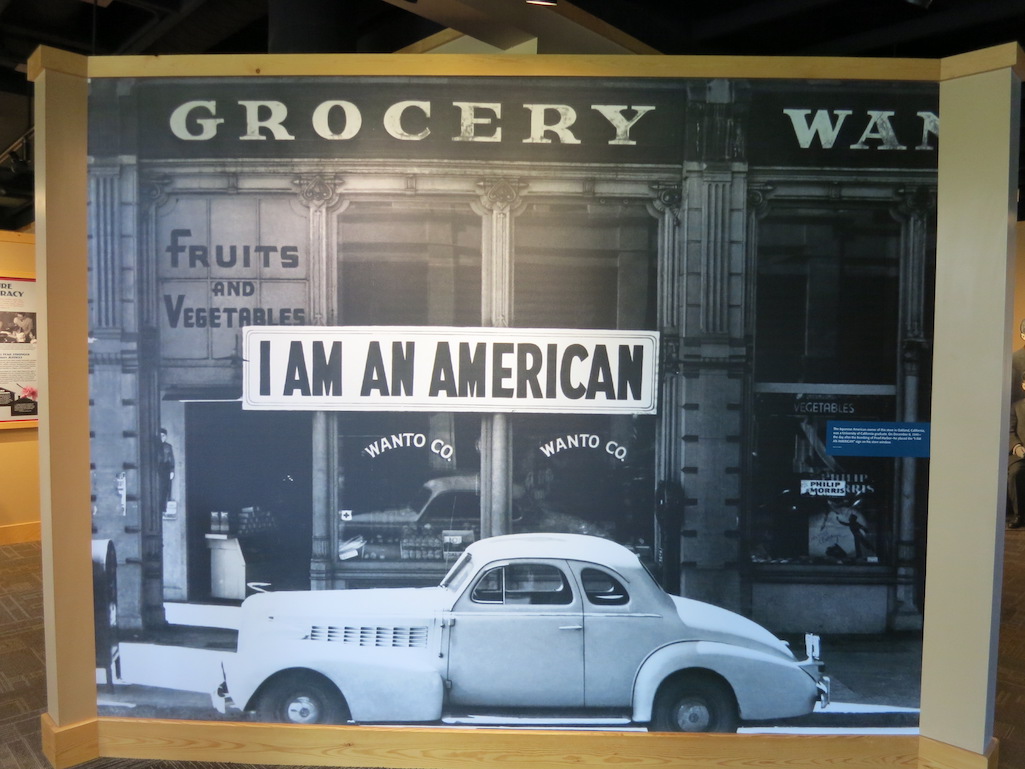 The Wild, Wild West
For a real feel of what an old Western town might have looked like a visit to the Old Trail Town in Cody will be like stepping into the way back machine. The collection of over 26 authentic structures dating from 1879 to 1901, assembled there along with furnishings, photographs, and memorabilia. All moved from parts of Wyoming and Montana by historian and archaeologist, Bob Edgar.
Some of the highlights include the original cabins used by the outlaws Butch Cassidy and the Sundance Kid and a famous Wyoming saloon that was patronized by the famous "Hole-in-the-Wall Gang".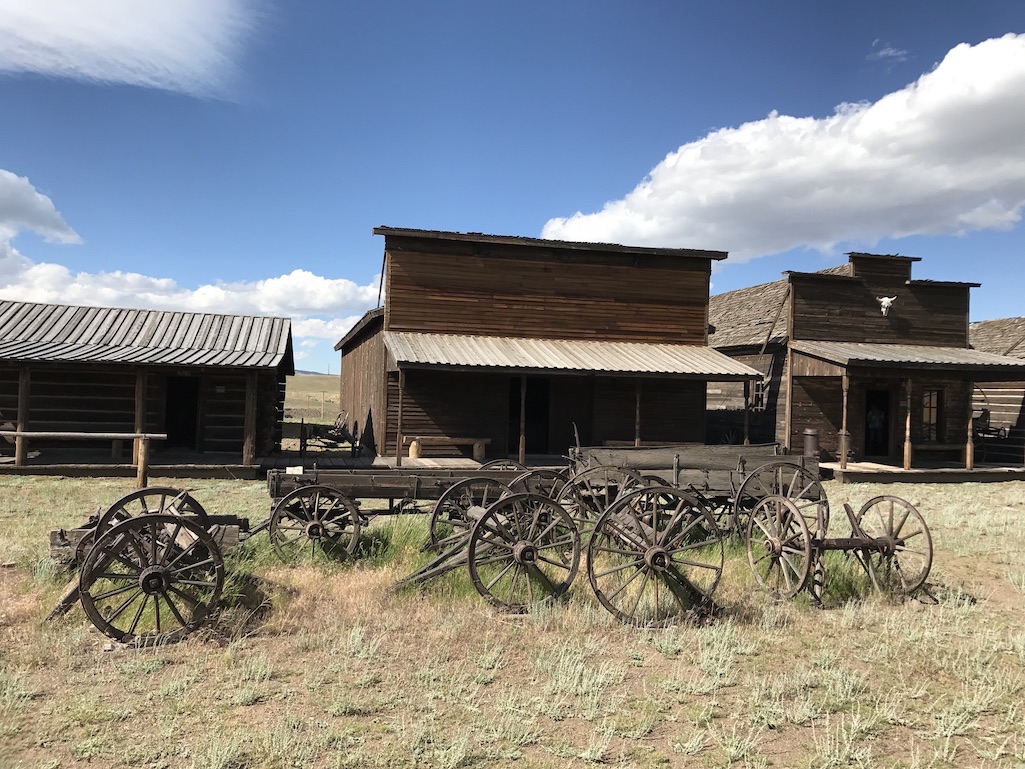 Guns are an important part of western culture. While I'm not a gun owner I have to say that I had a new appreciation for guns, their owners and their place in American culture after spending some time at the Cody Firearms Experience.
More than just a shooting range, they offer instruction in firearm education and provide an education on gun history. They have guns that were used in the old west and you can learn to shoot them with one-on-one instructors. They also display a large array of guns and explain the historical part they played in building the Old West. You can view a wildlife display of Wyoming creatures and try your hand at an animated laser rifle and pistol arcade.
In the west, people used guns for protection and for survival because hunting was the main source of food and sustenance. That's something most of us city slickers can't really comprehend until we hear the stories.
I had never shot a gun in my life and to say I was a little apprehensive is an understatement. Wanting to learn I took a deep breath and listened closely to my NRA Range Certified Safety Officer instructor and general manager Paul Brock.
They fully enclose the range area and keep the sound to a minimum with headphones and double-walled concrete so the folks in the main room can safely watch behind ballistic glass. Additionally, you can choose guns from the old west or more modern day semi-automatic pistols or rifles. And, there's even a Gatling gun which fires off 20 rounds before you know it.
I tried a single action Colt revolver and a Winchester shotgun both from the mid-1800's. Although the target was only 25 yards away, it may as well have been 100 yards. I couldn't get my aim on the pistol quite figured out although I did at least hit the paper a couple times. The shotgun was a different story. Right out of the box I was hitting near the bulls-eye. It was much easier to control and adjust my aim.
So what did I learn? Guns are loud and very powerful. I can understand the appeal. I'm glad I had the opportunity to learn about them the how they fit into the Western lifestyle.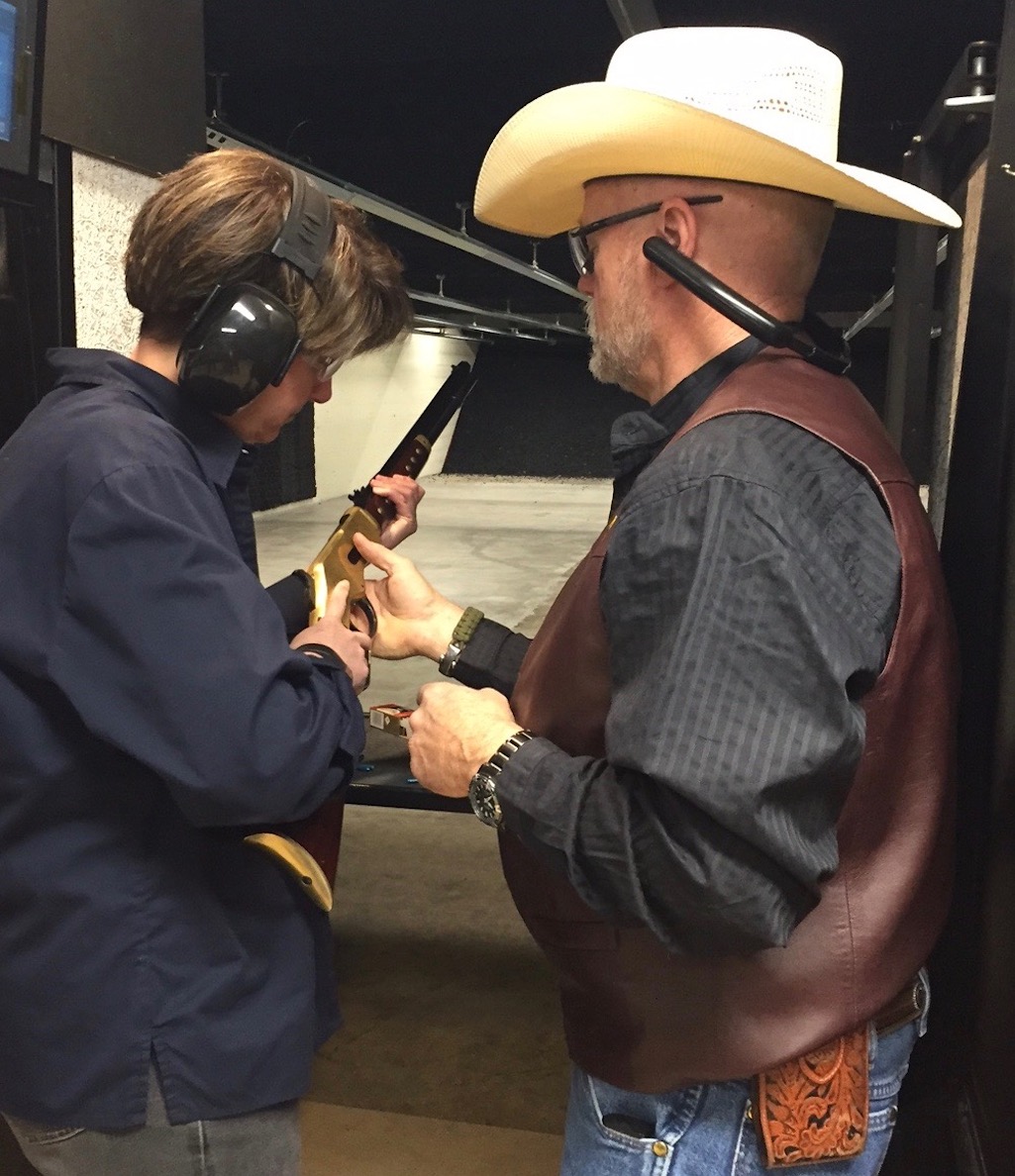 You Gotta Go To The Rodeo
Another unexpectedly fun experience was the Cody Stampede Rodeo. I'd never been to a rodeo before, so I had no idea what to expect. It starts like every other sporting event in America. Singing the national anthem. One thing you can't escape in the west is the sense of civic pride. I really liked it.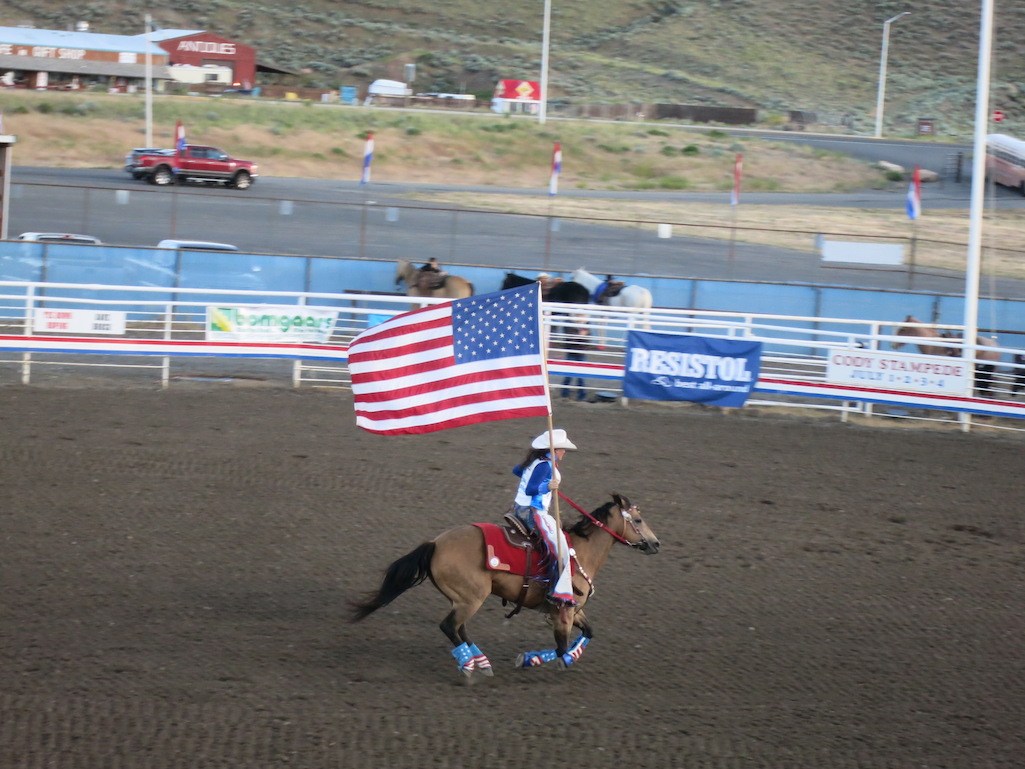 I laughed, sang along with the silly 70's and 80's songs and oohed and ahhed at the Cowboys trying to rope the cows, ride the bucks and do horse tricks. Kids try to catch tossed t-shirts and will run around the ring after the baby calves to win prizes at this family-friendly experience.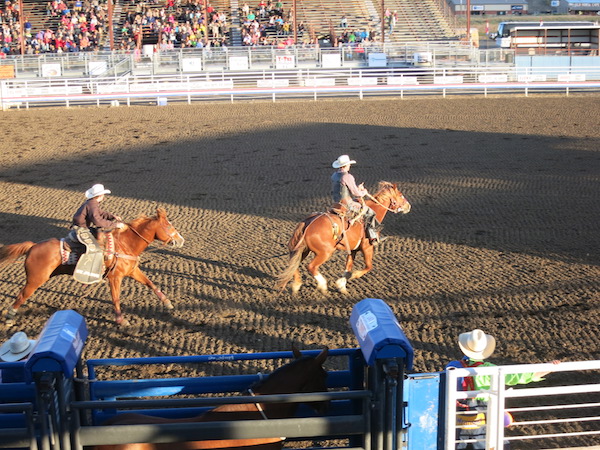 Our entire section in the stands was rooting for a little girl we never even met. It was adorable. The kids, the parents, everybody had a great time, myself included. They run the rodeo every night June 1st through August 31st. Be sure to get there early to get a good seat in the Buzzard Roost (the seats near the bulls) to see all the action.
Easy Travels To The West
You can easily fly to Cody on one of United's convenient flights if you're not doing a summer road trip. Folks from Denver, Chicago, Portland, Columbus, and Syracuse can take advantage of United's direct flights from mid-June through mid-October.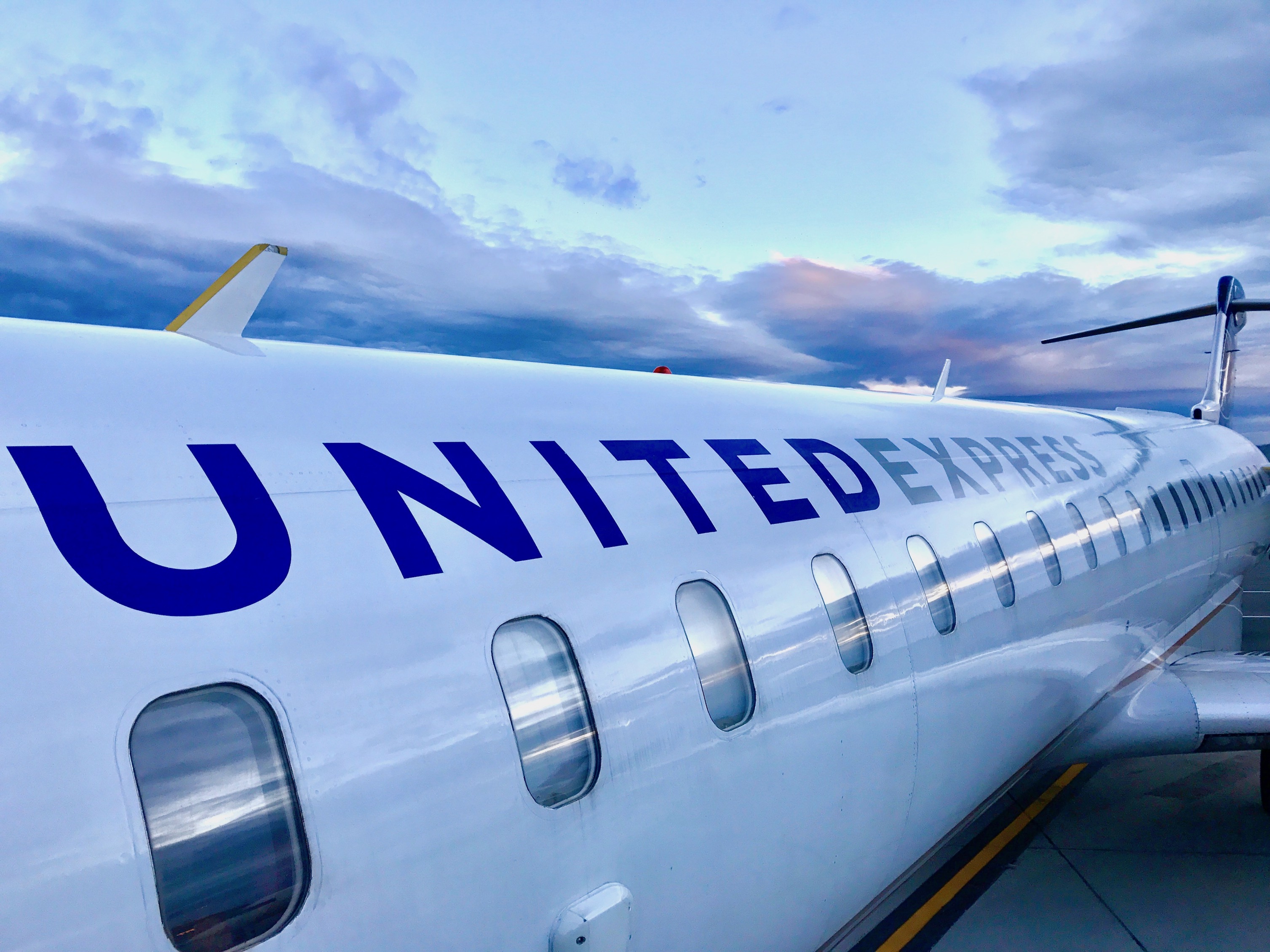 If you're looking for clean, modern accommodations with a full breakfast buffet check out the Holiday Inn-At Buffalo Bill Village. Don't let the name fool you. The kids will enjoy the pool and the grownups will love the newly renovated and super comfortable rooms. Located on the main drag you can walk every where from this hotel.
As a result, if you're looking for a real western style experience loaded with history, adventure and good eating head to Cody, Wyoming. For all the 4-1-1 check out yellowstonecountry.org for trip planning and more!
Pin This Post For Your Food Travel Planning