Madeira Is Portugal's Hidden Gem
Portugal has rocketed to the top of desirable destinations for travelers around the world. Beyond the mainland, Portugal has two autonomous regions, the Azores and Madeira. Madeira is an archipelago or group of islands. Madeira Island, the main destination, is about an hour and a half flight from Lisbon. If you're like us and love going to places that are still a little under the radar, then you will want to add Madeira to your must-visit list. Wondering what to do in Madeira? You're in the right place. Read on to discover our recommendations for the best things to do and see in Madeira, Portugal.
What To Do In Madeira
Old Town Funchal
Funchal is the largest city and capital of Madeira. Madeirans take pride in their history and culture and nowhere is that more evident than in the location of the first settlement, Old Town. You can wander down the cobblestone streets and get a sense of Madeira's history. The interesting architecture, stately old homes, and classic churches mingle with lively new shops, restaurants, bars, and cafes. A vintage hat factory and boot factory continue producing quality items as they have for decades. Art lovers will enjoy the Painted Doors Project along Rua de Santa Maria. This creative public art project invited local and visiting artists to use the doors, and sometimes walls, windows, and other spots,  as their canvas.  The resulting artwork makes for a fun and colorful stroll down the long cobblestone road, adding even more character to the rich cultural scene in Old Town.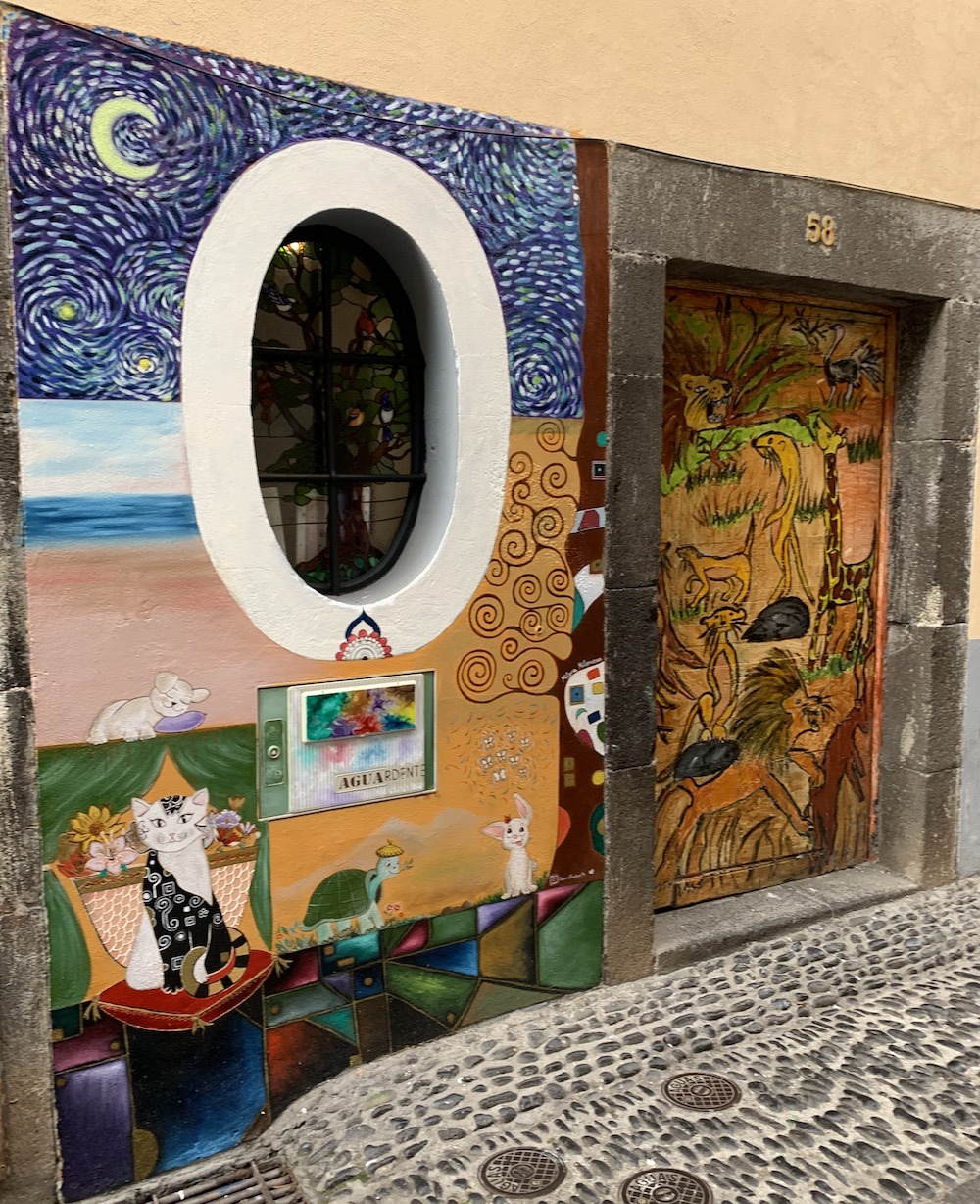 Monte Village, Palace, And Gardens
To get a spectacular view of Funchal with its architecture and gardens as well as the beautiful blue Atlantic ocean, take a ride on the Funchal cable car. This gondola lift will take you up on a 15-minute ride to the hilltop village of Monte. In Monte, the lush Botanical Garden spans over 35,000 square meters filled with exotic plants, fruit and coffee trees, koi fish ponds, peacocks, and tropical flowers from around the world. The extensive grounds of Monte Palace include a central lake with ducks and swans.  Monte Palace Museum is a multilevel exhibition space with more than 1000 contemporary sculpture works from Zimbabwe and hundreds of beautiful mineral specimens collected from around the world. The hundreds of unique artisanal tile panels that decorate the grounds and walkways represent an important collection of regional tiles produced as early as the 15th century.
Wicker Toboggan Ride
Back in the mid-1850s, people got from the top of the hill in Monte down to the city of Funchal by zooming down in a wicker basket attached to two wooden rails. The "sledge" or wicker toboggan was the main form of transport then but now remains as a fun attraction for visitors.  A ride on the Monte Sledges built for two come with two attendants called carreiros. The carreiros wear white uniforms and straw hats. They stand on the back of the toboggan and steer riders downhill on the winding road.  As you can imagine, the sledge ride can be bumpy but thrilling for those who like a good whoosh down a hill. Carreiros dos Monte has been called one of the world's coolest commutes and one of the best things to do Madeira style that you won't find anywhere else.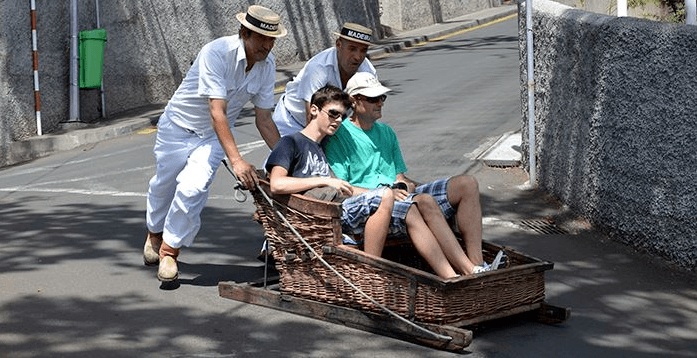 Santana Traditional Houses
Santana is a darling town in the northeast of Madeira. It boasts an incredible number of gorgeous and unique flowers such as birds of paradise and trees full of Angel's Trumpet flowers. Where else can you see literally hedges and hedges of hydrangeas? We don't know. As much as we love the plants and flowers, most people come to Santana to see it's fun and different traditional Santana houses. These homes are quite small, with a sort of A-frame triangular shape. The thatched roof is made from reeds, which used to be quite bountiful in the area and thus were commonly used for this purpose.  These traditional houses were mostly found in rural areas and built by local farmers when the town was settling in the early days. Today, over 100 of these cultural treasures have been preserved thanks to a  cultural heritage initiative. Many of the houses are slowly being restored but you can see some great examples in the center of town where several of them are clustered. An office of tourism, postal service, local weaver, and various local artisan products for sale can be found inside the structures.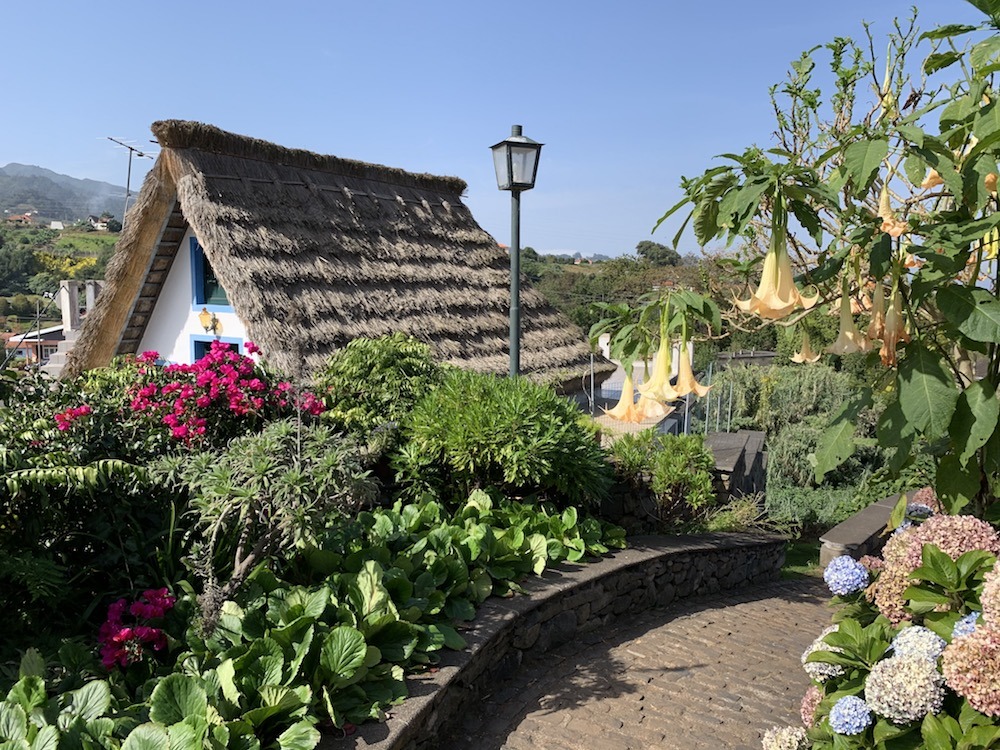 Santana Produce
We noticed a few stalls of a fruit market across the street so we took a stroll over there and chatted with friendly local vendors who enjoyed explaining what some of the unfamiliar fruits were and giving us tastes. Madeira is known for its unique bananas. They are much smaller than the typical bananas you see in your local grocery store. There is also a unique fruit known as a green banana or delicious fruit, which has oblong green skin but when opened has small sections that resemble corn. The taste is sweet and, well, delicious. We saw fruits that we were a little better acquainted with like the soursop and cherimoya. But the number of different colors and flavors of passion fruit was amazing. If you happen to be visiting the Santana houses downtown and the fruit stand is open, walk across the street and pay a visit. You'll get a great education in Madeira's local fruit and you might even make a friend or two with the locals, as we did. The more you get to know the friendly locals, the more you'll understand the best things to do Madeira style.

Go For A Wander
Madeira has lots of peaceful meadows, deep verdant valleys, hillside vineyards, dramatic cliffs, and ocean views. It's fun to see some of this diverse area on foot if you are able. Madeira's many walking routes and trails are all over the island. Some walks are easy and great for short strolls. Others are challenging and can take up half a day or more. Waterfalls, plants, flowers, wildlife, and, of course, amazing views are ready to be discovered. Unique to Madeira are Levada trails that offer some insight into the workings of Madeira living. A Levada is a small aqueduct or channel that was originally used to bring water from the northern part of the island to the southern part, which is much drier. Today levadas are also used to provide hydroelectric power, which is one of Portugal's chief strengths. Madeira offers many footpaths, trails, and walking routes that offer a great way to take in some of the area's natural beauty.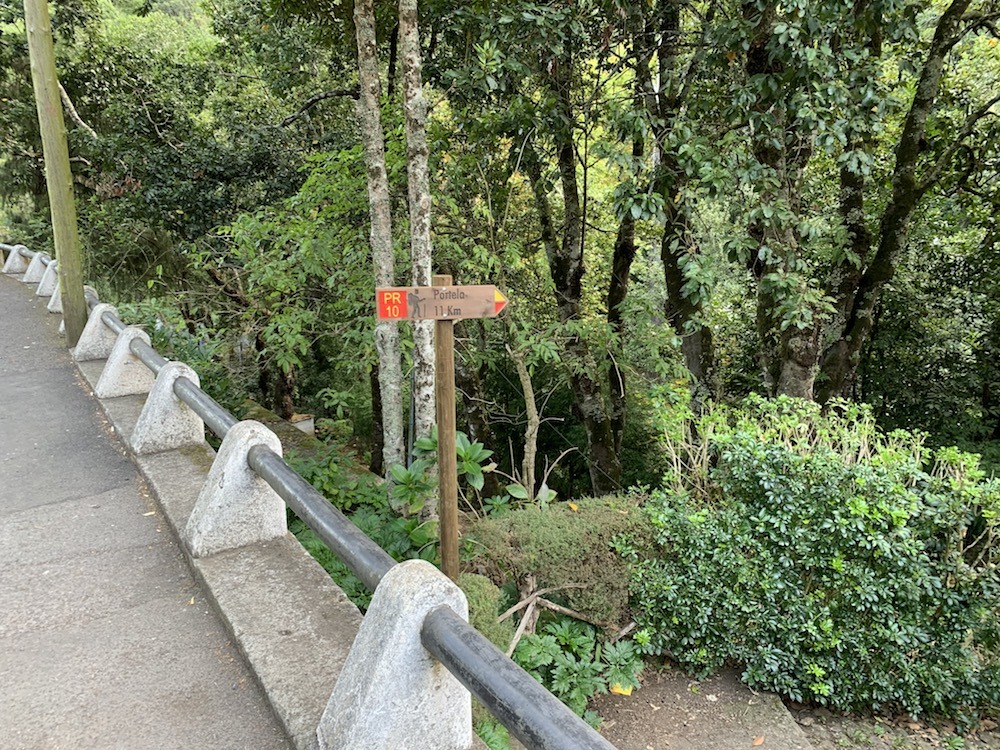 More Things To Do In Madeira
Active Tourism
There are plenty of other active tourism opportunities on Madeira. On the more adventurous side, you can go rock climbing, rappelling, sliding, and canyoning. The hills, cliffs, and waterfalls provide great challenges in beautiful surroundings. 4×4 vehicles offer excursions and here are plenty of places for trail running, mountain biking, horseback riding, orienteering, and geocaching adventures in the forest and other areas. For those who want to go up in the air, Madeira offers places for hang gliding and paragliding with unforgettable views. Less strenuous but equally thrilling are options for birdwatching, golfing, and various tours from rickshaws and Segways to coaches, electric bubble cars, taxis, and more. Sea lovers can enjoy surfing, sailing, diving, bodyboarding, SUP, jet skiing, sport fishing,  and windsurfing. And, for the ultimate sea life experience, boat trips for whale and dolphin watching can be done any time of year. There are plenty of tour and rental companies that can help you find the perfect ways for you to enjoy your visit to Madeira. Check out some of the active tourism opportunities in Madeira here.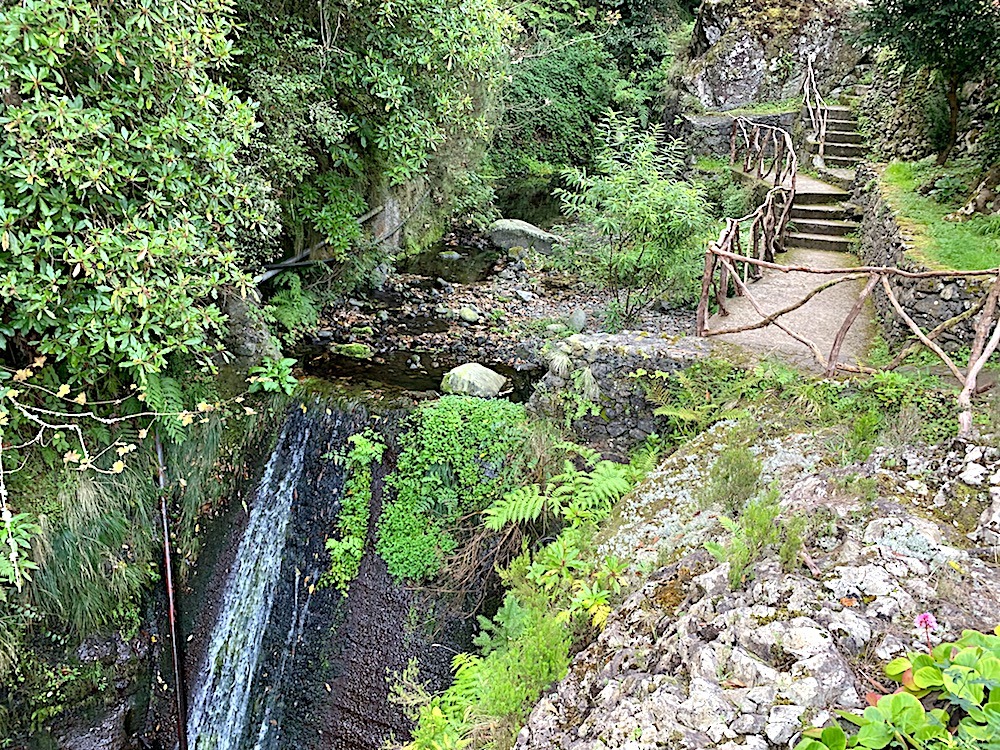 What Is The Most Beautiful Part of Madeira?
Mountain Top Sunrise
At nearly 6,000 feet high,  Pico do Areeiro is one of the tallest mountain peaks in Madeira. It's also the perfect place to watch the sun come up over this island paradise. If you're willing to get up before the sun, you can take a scenic 45-minute drive from Funchal, passing valleys, hills, meadows, and more until you reach the top. Various tour operators provide different packages and island tours.  We took a jeep tour with Discovery Island Madeira tour that included a trip up for the sunrise with a portable breakfast. The views from the mountain top were amazing, and to watch the character of the landscape change with the lighting made the photographers who endured the trek smile. Depending on your tour, you'll probably also make some scenic stops on the way back. It is cold at the summit so bring a good coat and wear sturdy shoes as you'll need to walk a little on a rocky path to get to a great spot on the mountain to see the sunrise.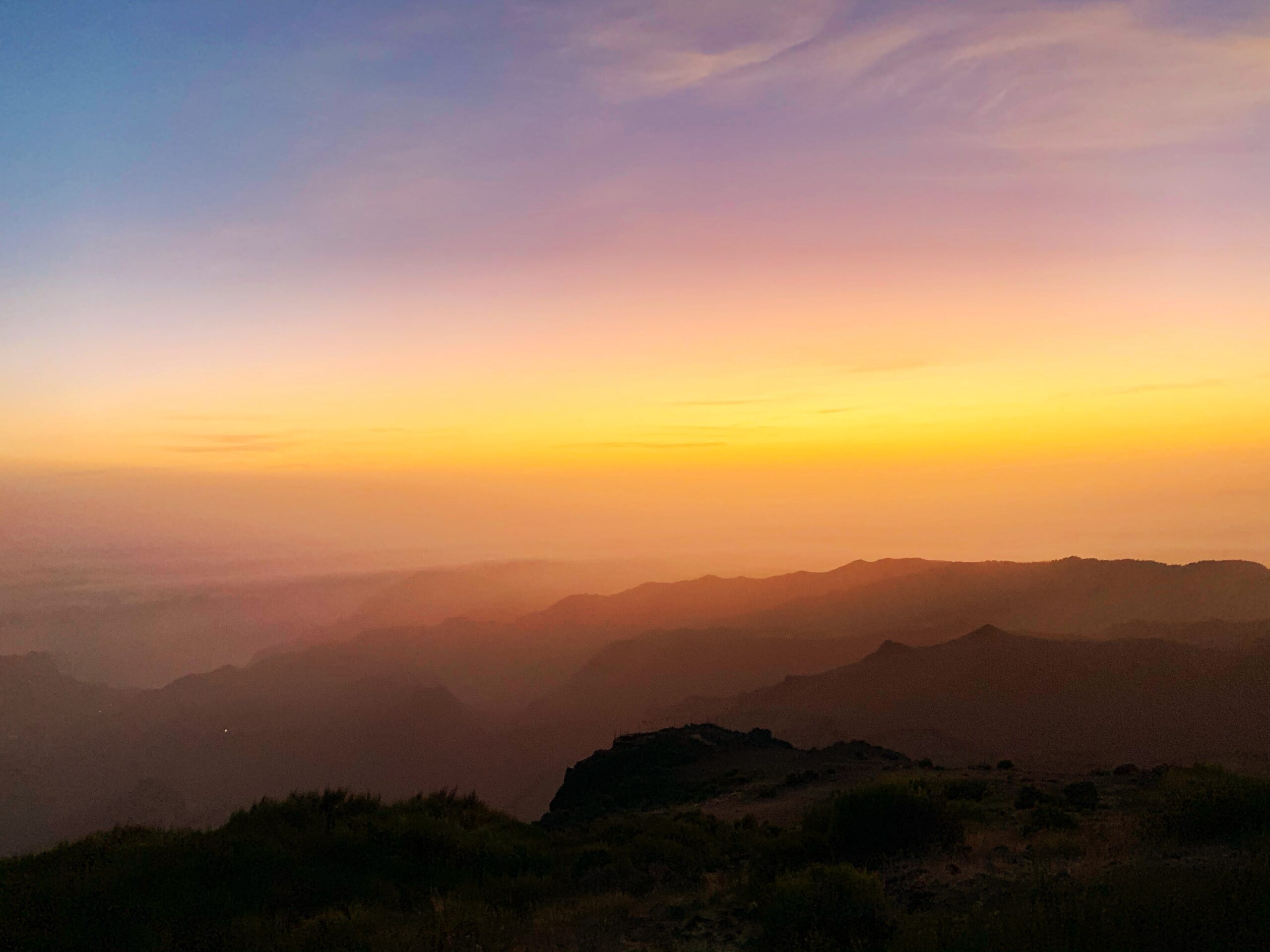 Food Glorious Food
No matter where you are in Portugal, you will find some of the best food in your life. Madeira is no exception, and it even adds a few new treats to the gastronomic scene. Madeirans are able to enjoy the freshest delights from the ocean as well as plentiful produce. But don't worry if you're not a seafood lover. There are plenty of amazing meat as well as plant-based options to keep every diner completely stuffed and happy for the duration of your visit – no matter how long you stay.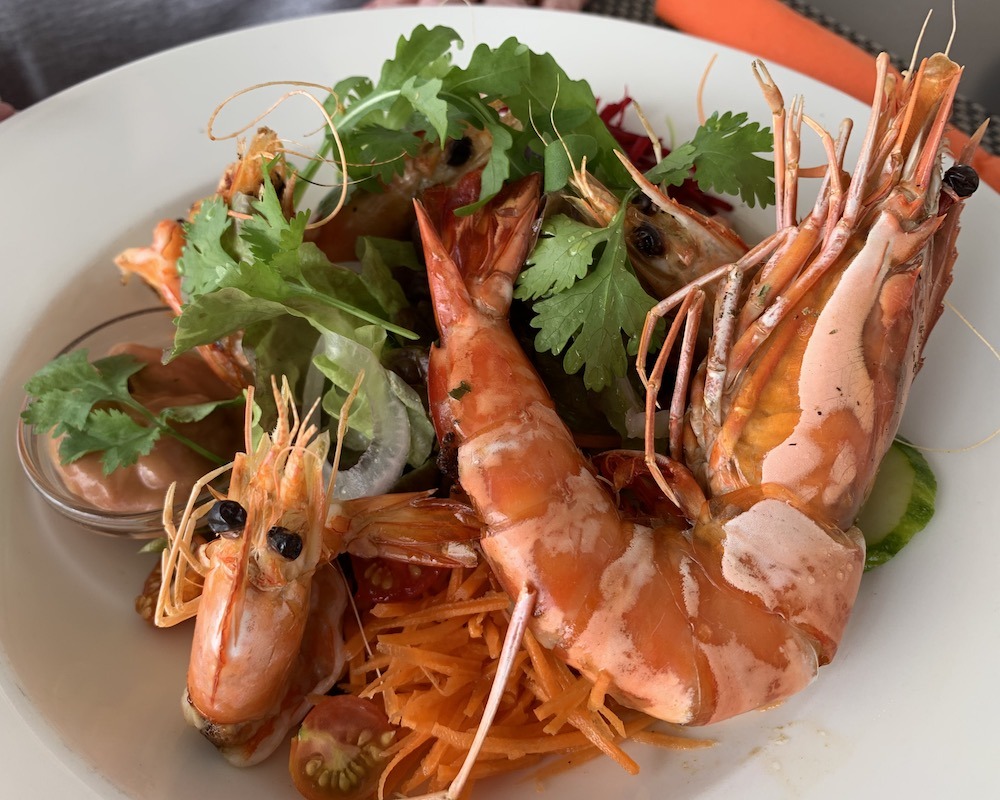 Some of the most delicious dishes are also unexpected. Limpets or lapas as they are known by Madeirans are a kind of mollusk that thrives along the rocky shore. They become a favorite snack or appetizer for locals and visitors alike. Sauteed in a pan in garlic butter and often served with a squeeze of fresh lemon. The perfect partner for lapas (and anything else if you ask us) is a sort of flat round bread made with flour and mashed sweet potato called Bolo do Caco. Caco is the flat stone on which the bread is baked. Often served with delicious garlic butter, the bolo is something special on its own, but is also used for sandwiches with beef steak, grilled pork or tuna, and even ham and cheese.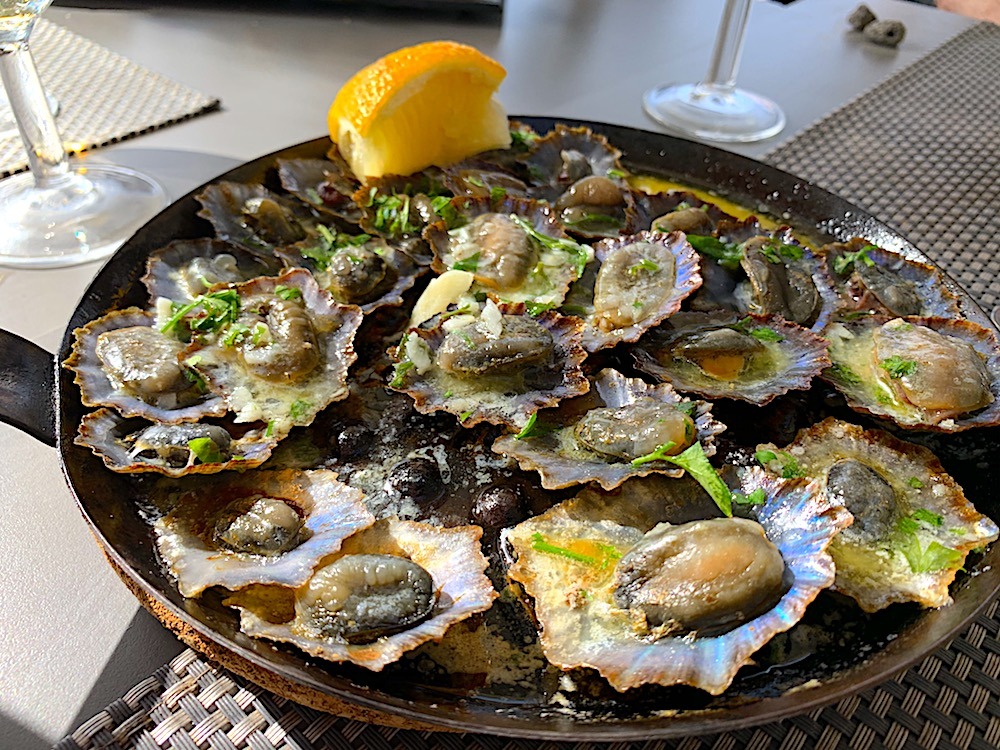 A Very Special Place
A fantastic place to try lapas and fresh seafood are Fajã dos Padres.  This is a spot that you will want to spend some time at, so plan for several hours to visit. Fajã is a combination rustic resort, beachside café, Madeira wine cellar, vineyard and gardens all rolled into one.  The property was once a place where Jesuits enjoyed the summer, the scenery, and excellent terroir.  The main features of the property are down by the beach so you get there by taking a brief cable car down the mountain. During the ride, which lasts only a couple of minutes, riders will see beautiful beaches, dramatic cliffs, lush gardens, and vineyards. Once you arrive at the bottom, you can really explore what this amazing property has to offer.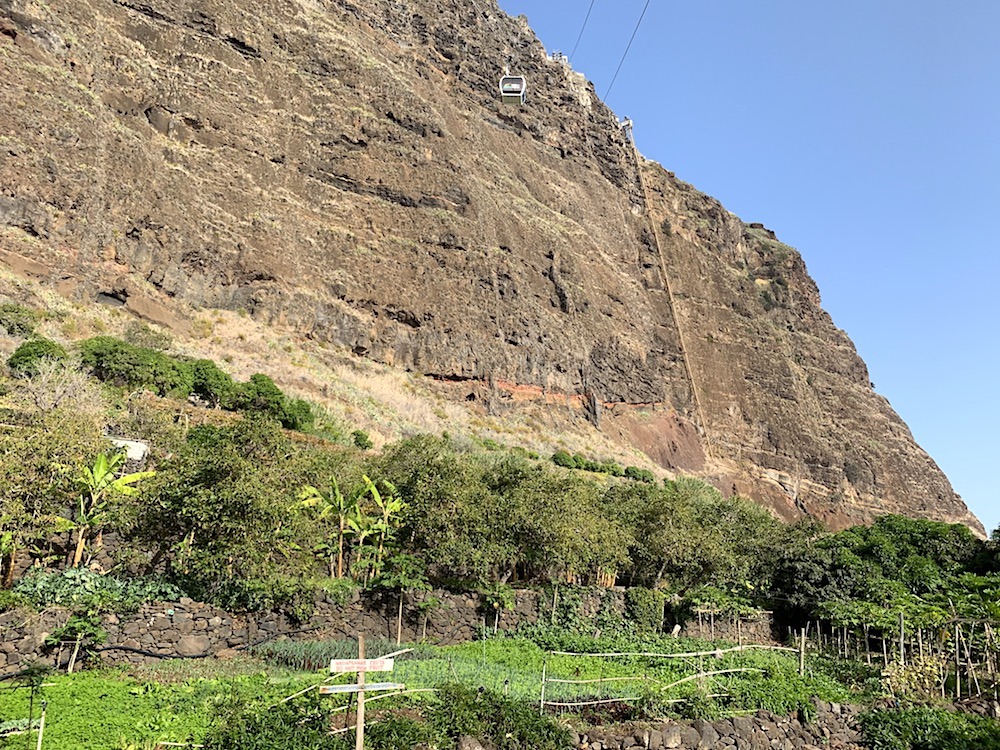 There is a small wine cellar, where the proprietor makes delicious Madeira wine. The gardens and vineyards are all intertwined, so a walk down the cobblestone lane offers views not only of grapevines but avocado and fig trees, squash vines, pomegranate trees, and many other fruits and vegetables as well. While walking, you'll pass by some of the villas that are available to rent. The cozy and charming cottages would make for a perfect seaside getaway if you really want to escape the hubbub of the city. At the bottom of the walk, you will find the wonderful outdoor restaurant overlooking the seashore. Dishes include lapas, fresh fish, salads, and many traditional Madeiran specialties like picadinho, cubed beef in a savory sauce served with plenty of French fries. The food goes perfect with some great local wine. Bring an appetite and some friends because portions are quite hearty here.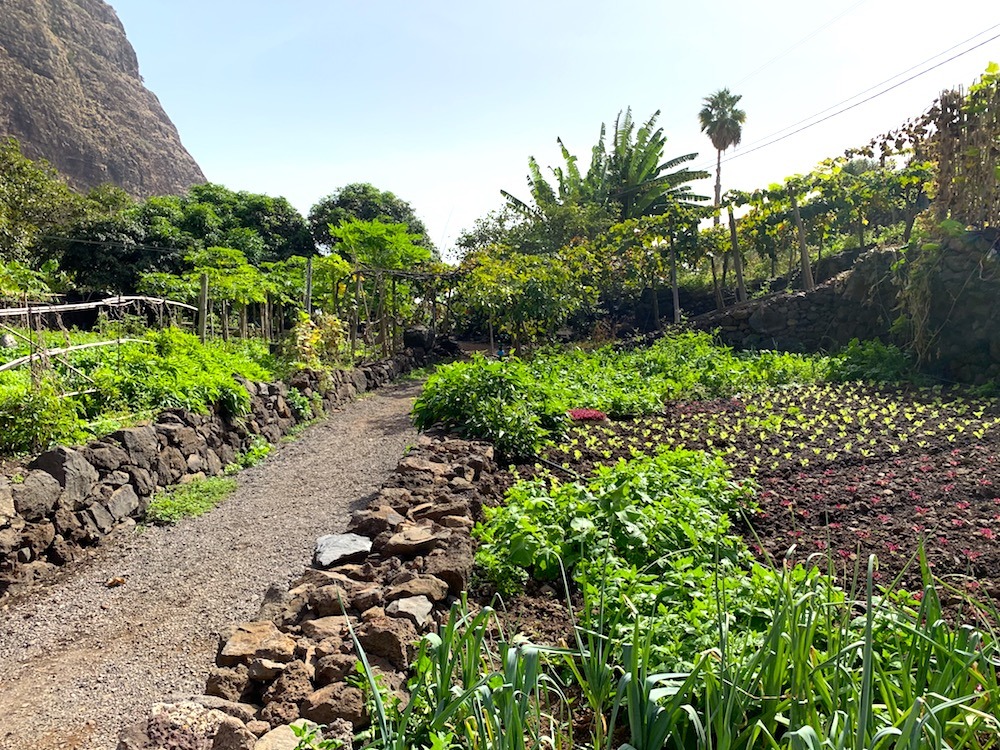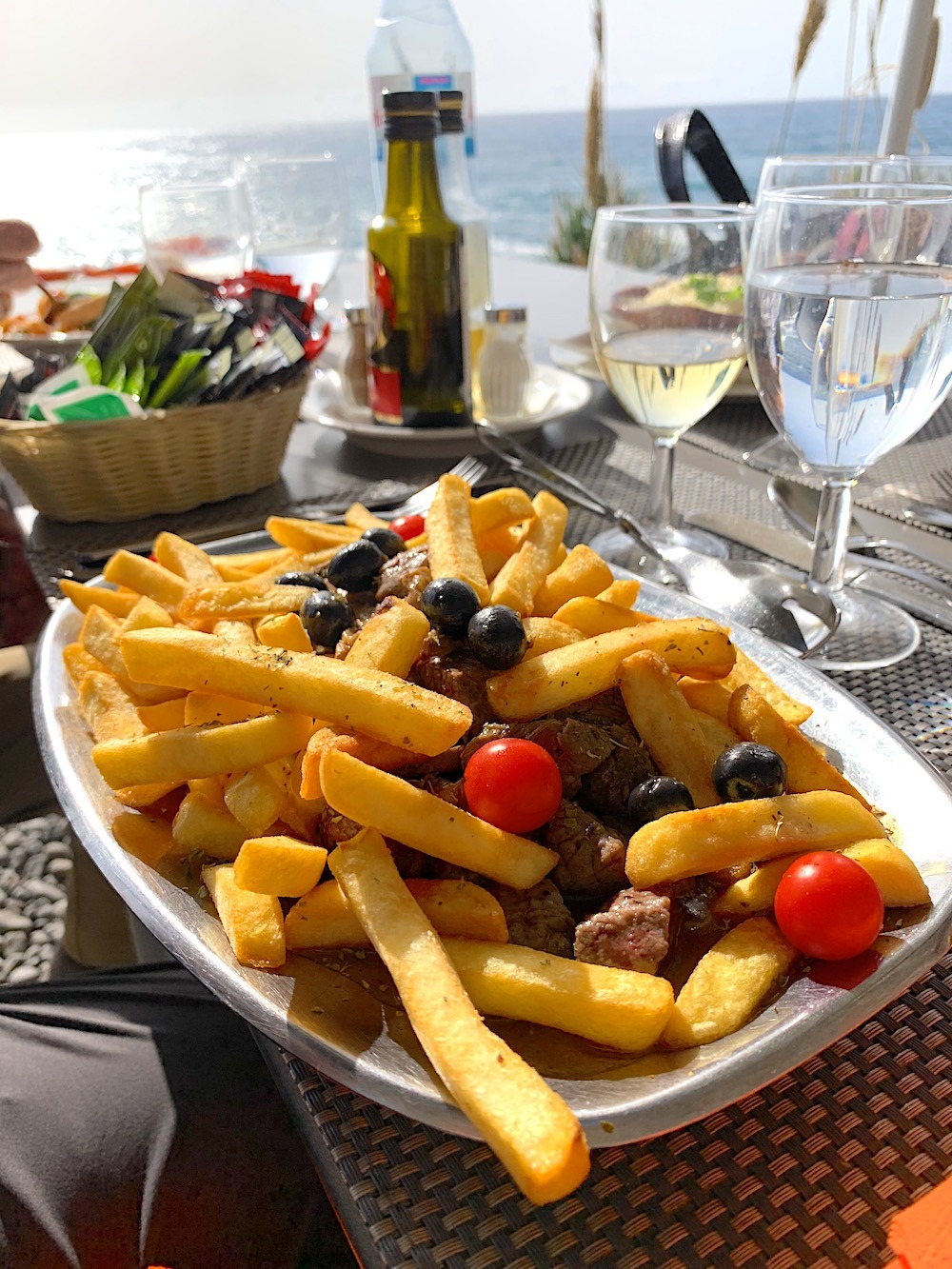 Dine On A Veranda
Another wonderful place to dine is Quinta do Furao in Santana. This peaceful spot has an inn as well as a restaurant, set among the picturesque scenery of hills, valleys, and its very own organic vineyards. Tools used to make the wine, including a huge old-style press, are around the grounds for viewing anytime. The flowers and plants around the property are gorgeous. We saw several different colors of bougainvillea, including orange ones, which we had never seen before. Take a stroll before or after eating to enjoy the scenery.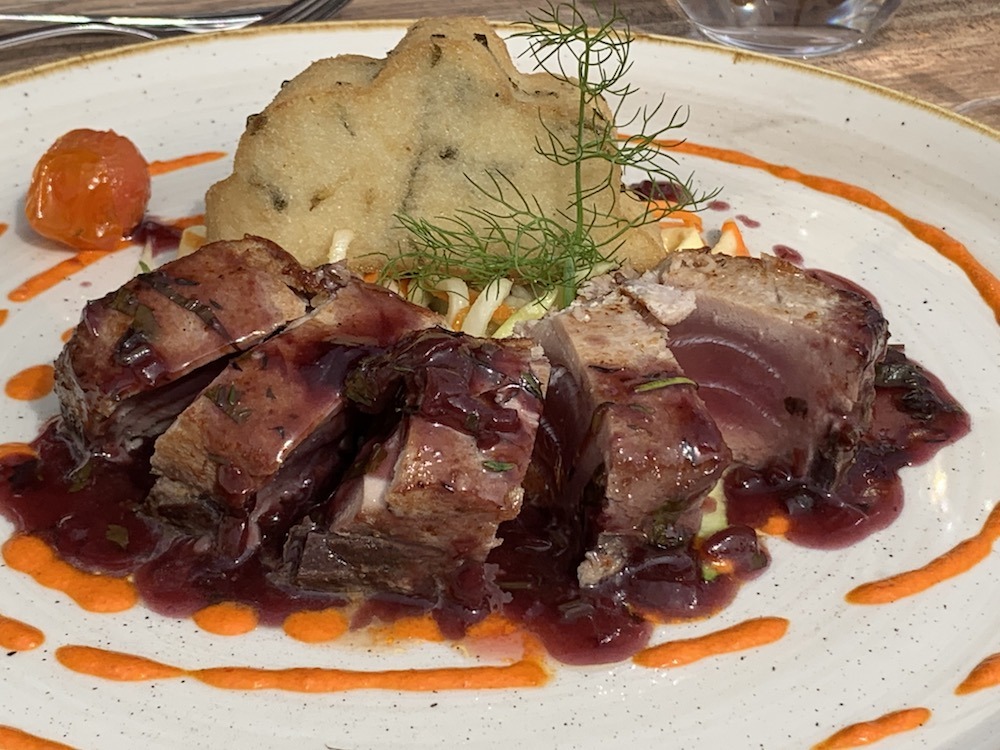 The restaurant serves exceptional traditional Madeiran cuisine. You'll find limpets, octopus, grilled tuna, pork, beef, and vegetarian dishes, prepared thoughtfully with the freshest seasonal ingredients. Don't forget to try the house-made sweet potato bread served with garlic butter. Just limit yourself because it is so good you might fill up before your meal.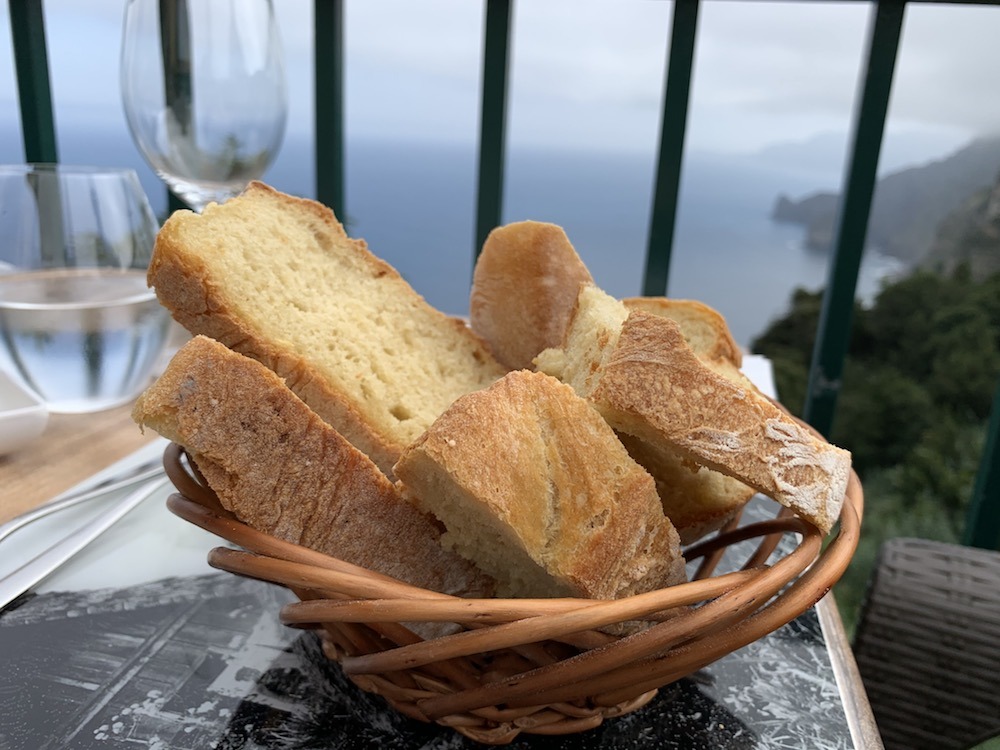 If you like the vibe, the view, and the food, there's an inn with views of the mountains and sea from its cozy rooms and cottages. Relax in nature and enjoy a truly memorable stay.
Quench Your Thirst
Madeira has a lot of delicious beverages before, during, and after any meal so be sure to explore them.
Madeira Wine
The most famous drink, of course, is Madeira wine. This term refers to a wide variety of fortified wines that are produced in Madeira but enjoyed throughout the world. Madeira wines range from dry to sweet. Many different grapes are used to make Madeira wine, both red and white. The most common red grape is the Tinta Negra. The most popular white grapes are Sercial, Verdelho, Terrantez, Bual, and Malvasia. Malvasia grapes, also known as Malmsey, are often used to make the sweetest of Madeira wines.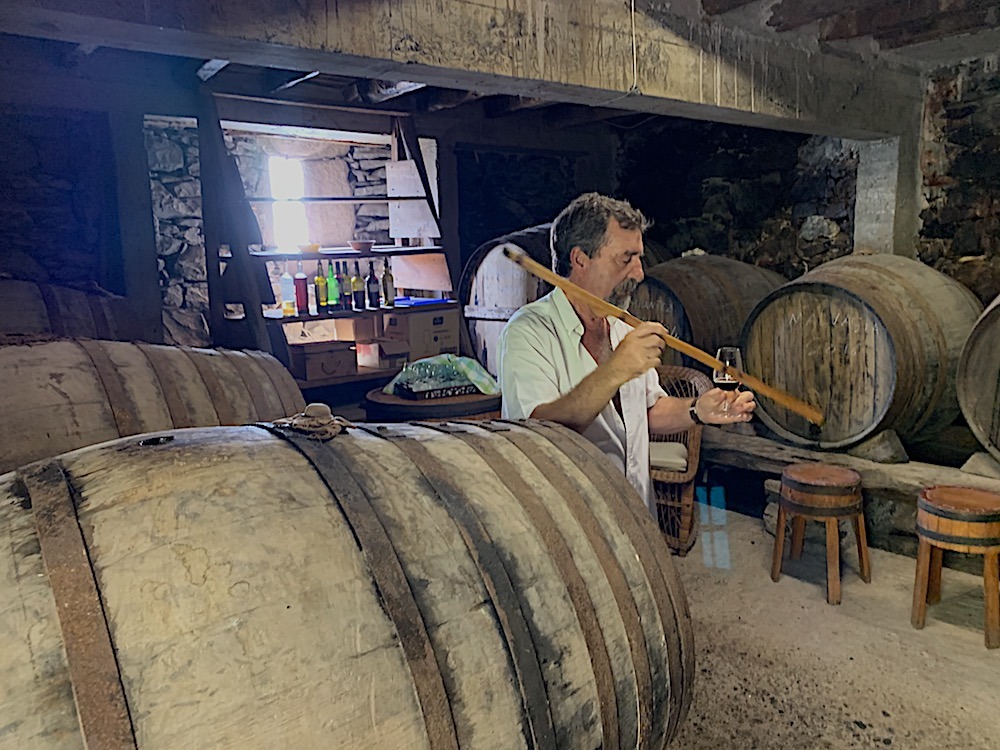 There are lots of wonderful spots to try Madeira. Blandy's is a well-known brand around the world and they offer tastings and tours. For a total experience, you can rent one of their four lovely apartments located next door. Enjoy some Madeira wines and bites at a nice wine bar like Paixão do Vinho or immerse yourself with a Madeira wine tour.
Poncha
Another local favorite drink is Poncha. Poncha is a strong fruity punch-style drink made with cane sugar alcohol known as aguardiente. The alcohol is mixed with honey, sugar, and citrus juices like lemon and orange. There are many variations, as each place has its own preferred recipe. You can find even Poncha bottled in stores to take home as a souvenir. Some of the best spots for Poncha are  Madeira Rum House, Casa da Poncha , and Rei da Poncha.
Cortadinho
Madeirans love good coffee. And what is better than coffee with a little extra? In this case, the extra in the coffee is a little Madeira or port wine. Top it off with a twist of lemon peel and you have a Madeiran tummy warmer called a Cortadinho or sometimes Cortado for short. But don't confuse this with the Spanish cortado, which is expresso with a splash of milk. On our way back down from our mountaintop sunrise, we stopped at a small local restaurant bar called Abrigo Do Poiso on the way back down. We sampled their cortado and warmed up right away.
Brisa
Brisa is a nonalcoholic drink popular with Madeirans. This sparkling fruit soft drink comes in flavors such as orange, lemonade, and apple. However, the flavor that the locals love best is passion fruit.
Shoppers Delight
Shopping in Madeira is fun, too. There are lots of small shops to explore for local treasures and fun items to take home.
Farmer's Market
The Mercado Dos Lavradores (Farmers' Market) in Old Town Funchal was one of our favorites There are a lot of vendors on different floors in this beautiful building. You'll find flowers and plants, and lots of fresh fruits and vegetables. Vendors freely offer tastes in hopes that you'll agree theirs is the best. Just remember that you can't take fresh produce with you out of the country so be sure that if you buy something you'll have time to enjoy it before you leave. The lower level has a fresh fish market where you'll see the different local fish, including the scary-looking black scabbardfish, which is quite popular.  You'll see plenty of the beautiful "azulejos" tiles and panels that portray various regional themes.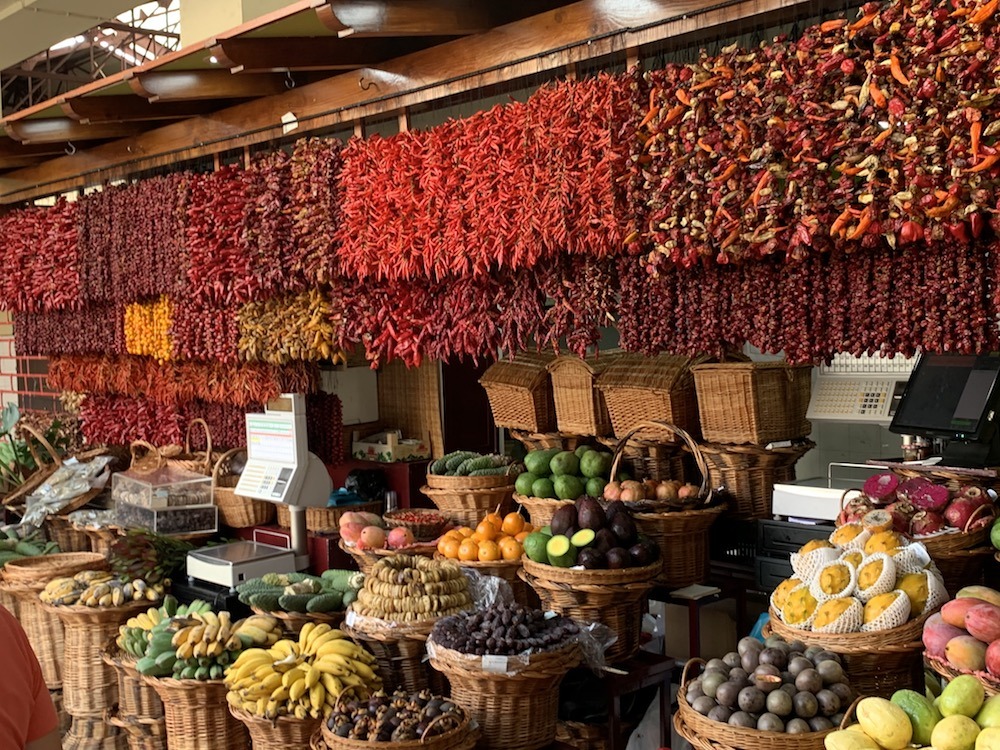 Shopping Malls
If you like to see a lot of stores in one fell swoop, Madeira has you covered. Three major malls cover pretty much all the bases. Forum Madeira, La Vie Shopping Center, and Madeira Shopping have retail stores, restaurants, and entertainment all in one place. You can shop till you drop, or until they close, whichever comes first.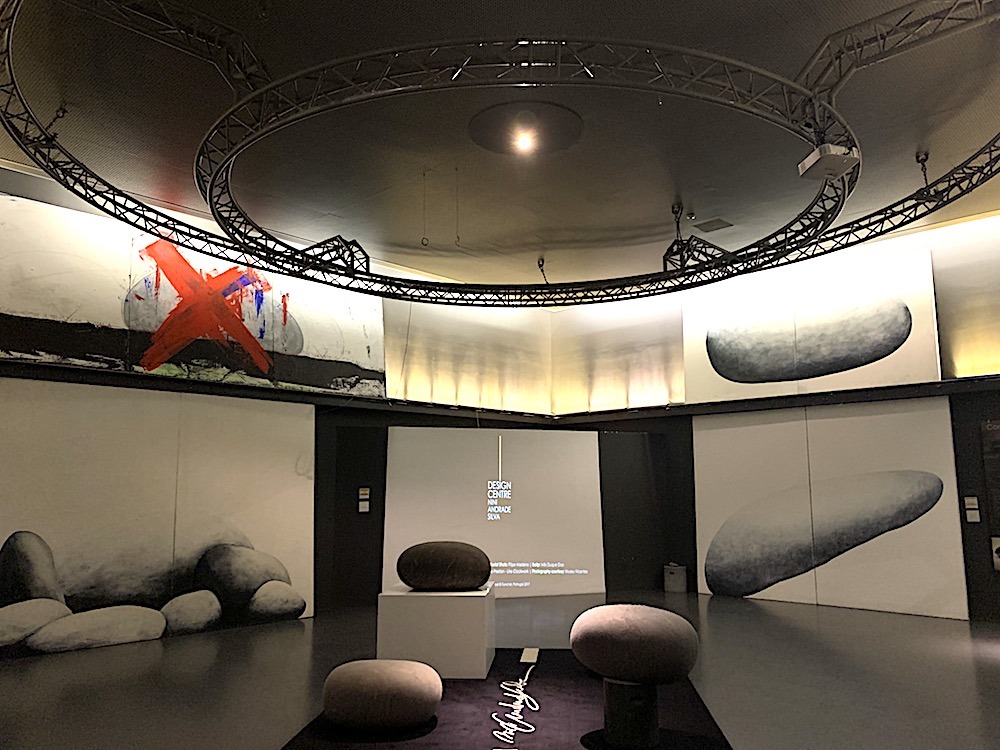 For a different type of collection, visit Nini Design Centre. Renowned designer Nini Andrade Silva has created a unique and multi-faceted space where you can explore the museum gallery with interesting exhibitions providing insight into her work. There's also a small shop where you can purchase merchandise. Or hang out in the cafe lounge and have lunch or a drink in the afternoon. The restaurant DC Atelier is expensive but well-liked. If you'd like to dine, be sure to make a reservation in advance. There's also a room for private and group events.
Stay Somewhere Beautiful
Accommodations in Madeira provide options for whatever suits your mood. Faja dos Padres and Quinto do Furao offer lovely private getaways. For a fully opulent stay, try a luxury visit to The Cliff Bay, a stunning five-star resort that offers beautiful grounds and every amenity you could want. Perched above the Atlantic Ocean, this top-notch spot offers the best of amenities. Enjoy a spectacular meal at two Michelin-star restaurant Il Gallo d' Oro. Relax at multiple bars and bistros, swimming pools, and a full spa. Or work off some tension at their tennis court or gym. To push it over the top, stay at Les Suites at The Cliff Bay, a new expansion with 23 luxurious suites. The Suites has its own infinity pool, first-rate restaurant, gym, and wellness facilities. Suites guests also have access to all Cliff Bay amenities and both hotels offer direct access to the sea.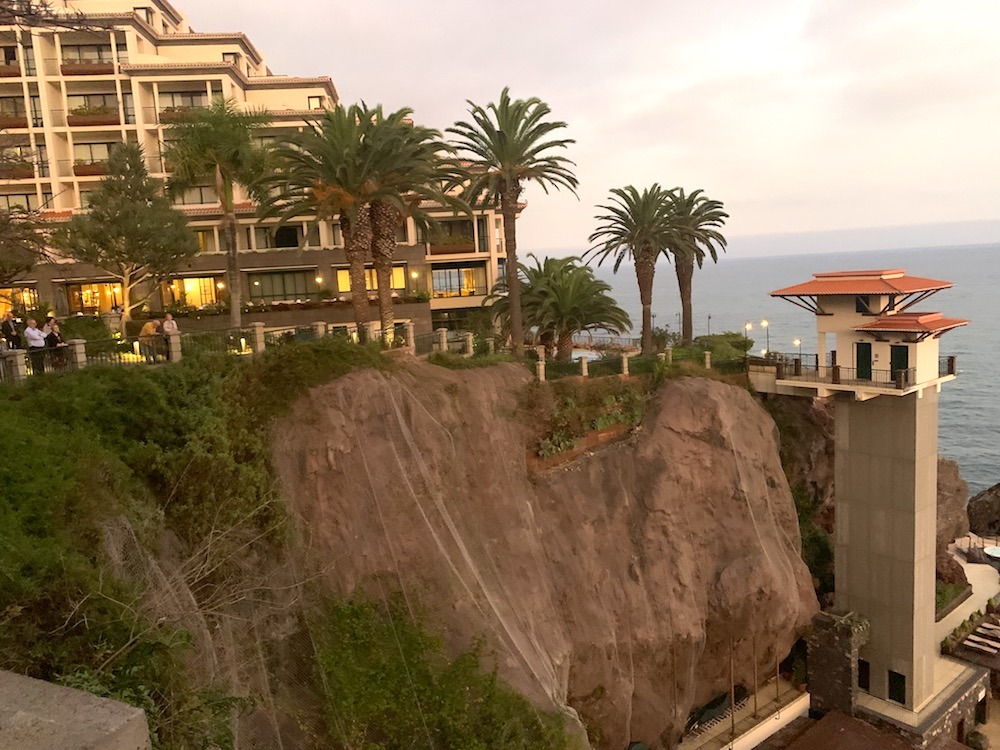 We had a delicious dinner at Les Suites restaurant Avista. The diverse menu offered Maderian specialties along with incredible Asian cuisine including fresh-made sushi and sashimi.  We tried some of everything, including perfectly portioned little dessert bites. Along with some fabulous Madeira wine, the food made for a delicious and memorable evening. Avista also offers afternoon tea for a delightful repast in a most beautiful environment.
Is Madeira Worth Visiting?
We love Portugal. There are so many beautiful, cultural, historical, and delicious ways to explore this incredible country. It can be tempting to spend all your time on the mainland. But the hidden gem of Madeira makes venturing a little off the beaten path well worthwhile. From mountain-top sunrises to oceanview sunsets, the scenery is breathtaking. The cuisine is unique and delicious. You can spend time in Madeira enjoying art, culture, shopping, and tons of activities both indoors and out. For a place that gives you the joy of discovery without huge crowds and long lines, give Madeira a try. It might just provide you with the vacation of your dreams.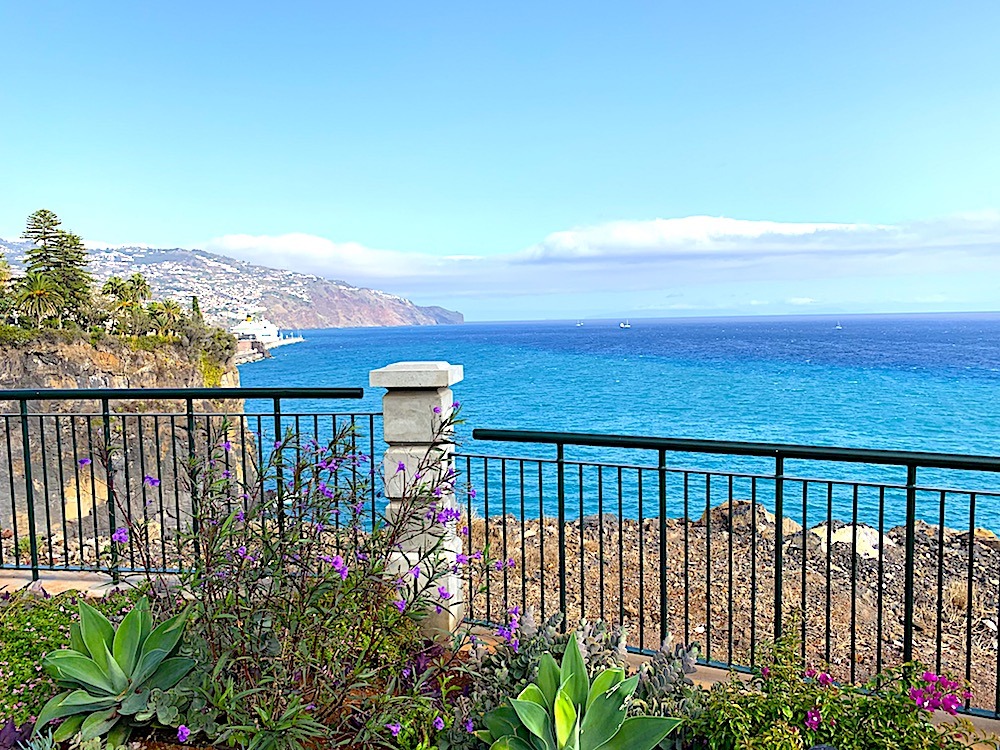 Our visit to Madeira was sponsored by Visit Madeira and TAP Airlines. As always, our opinions are our own and reflect our experiences.
Pin to your Food Travel Board on Pinterest