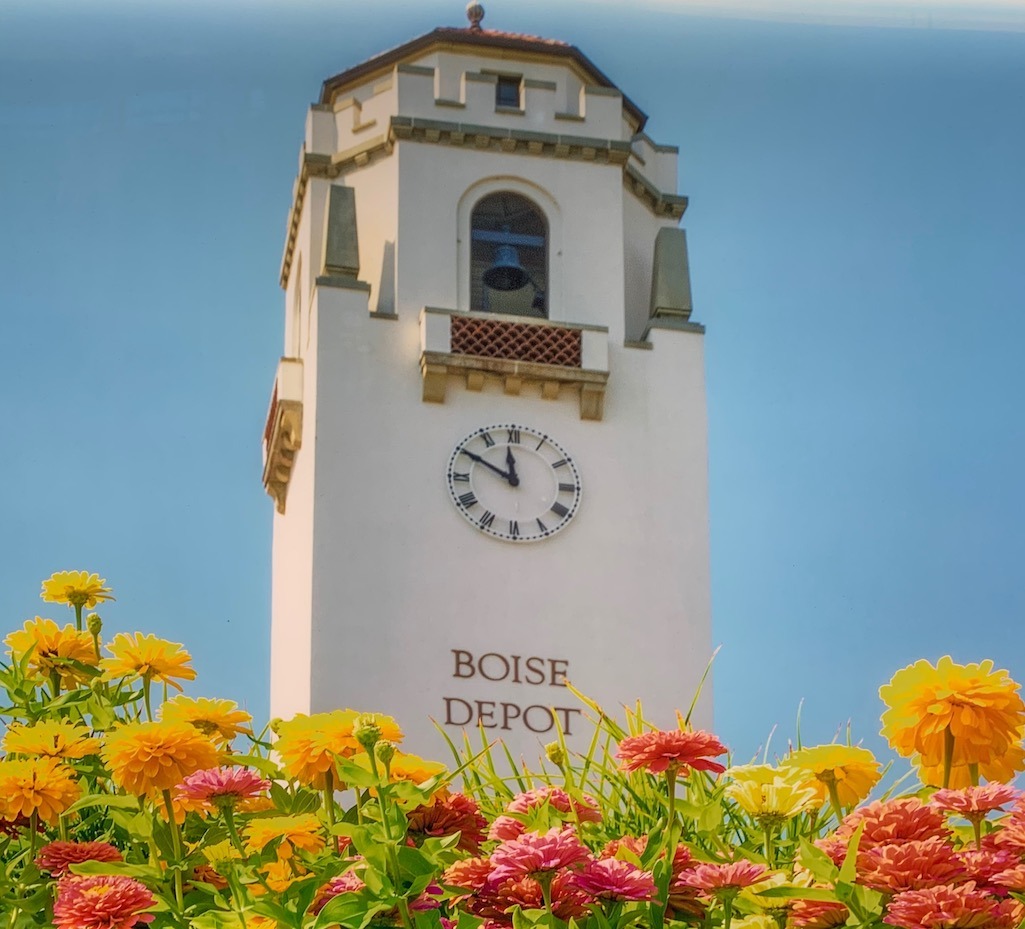 Hidden Gem Discovered
Boise, Idaho may have been under the radar as a great visitors destination, but the word seems to be out…and loud. There are so many things to do in Boise you'll be busy from the moment you arrive. We recently had a chance to visit this bustling college town and found ways to experience its appeal first hand. We offer a taste of what we discovered here with you.
Comfy Hotel
Sometimes it's challenging to find a quiet and comfy hotel that's still close to the action. Luckily The Grove Hotel Boise has you covered. Our room was spacious, well-appointed and quiet. The bedding was quite comfortable and we slept well while we were there. We loved that they offered a free wine tasting of Idaho wines on Wednesdays and offered lovely cool citrus-infused water for you to fill your water bottles.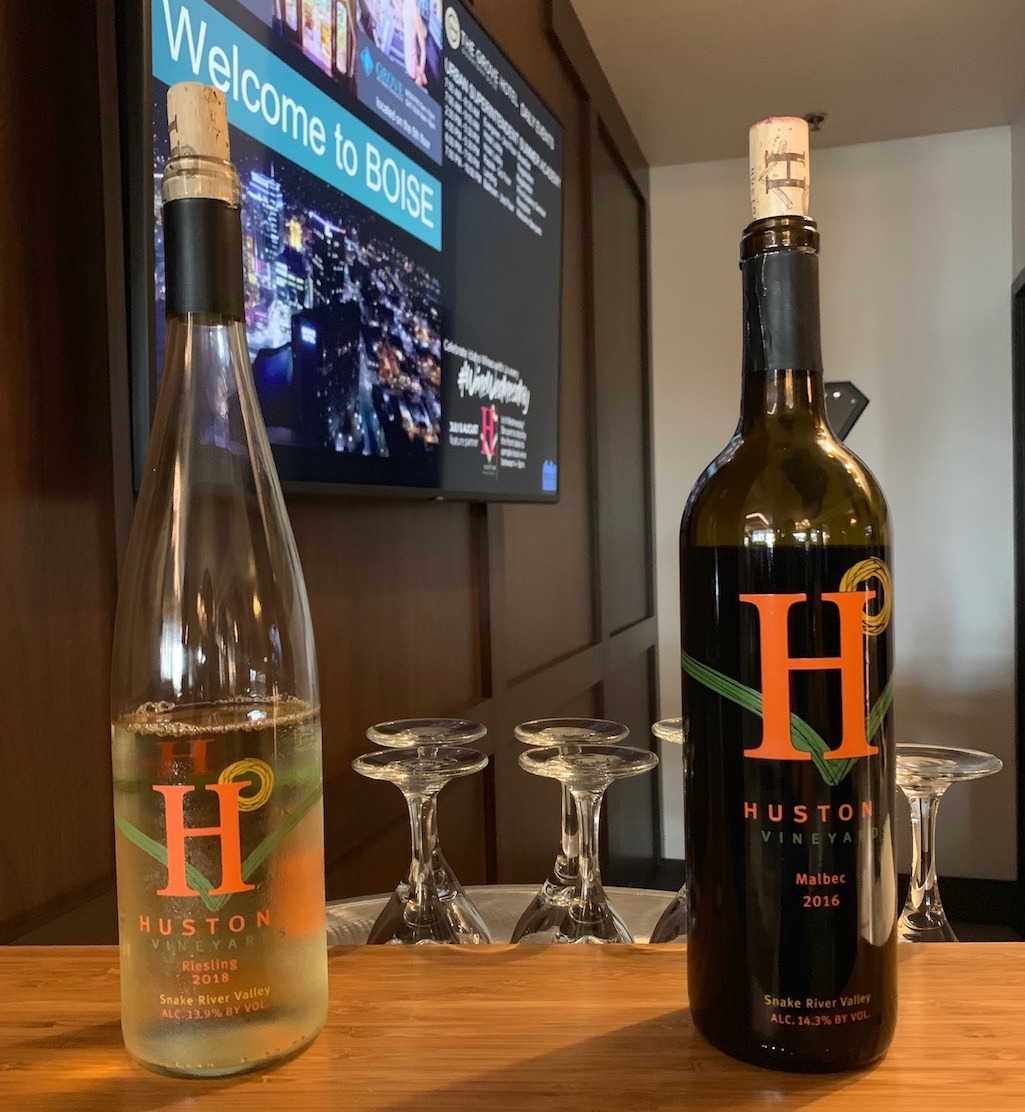 If you want to be even more green during your stay, they offer reward perks skipping the housekeeping services. A large fitness club with an indoor pool, hot tub, and dry sauna are yours to use as well. The Grove's Trillium Restaurant gets good marks for New American cuisine and the bar offers a relaxing environment. Both have happy hours that encourage you to try Idaho beverages. And, it's convenient location is close to many things to do in Boise, Idaho.
Start With Some Art
Boise is a town for art lovers. There are many galleries and collectives where you can see what's going on. The Boise Art Museum (known as BAM – we love that!) has a permanent collection of some 4,000 works in all media and embodies BAM's mission to create visual arts experiences that engage, educate and inspire.  Exhibition, classes, workshops, and tours augment the collection encourage interaction with the artistic sensibilities it shines in its spotlight.
Freak Alley
While much art can be found inside Boise, it's outside where it really shines. Tons of public artwork, sculpture and street art pepper the city. Nowhere is this more vividly evident than at the outdoor mural, graffiti and street art collection known as Freak Alley in Boise's North End neighborhood. This outdoor gallery is really a one-of-a-kind experience.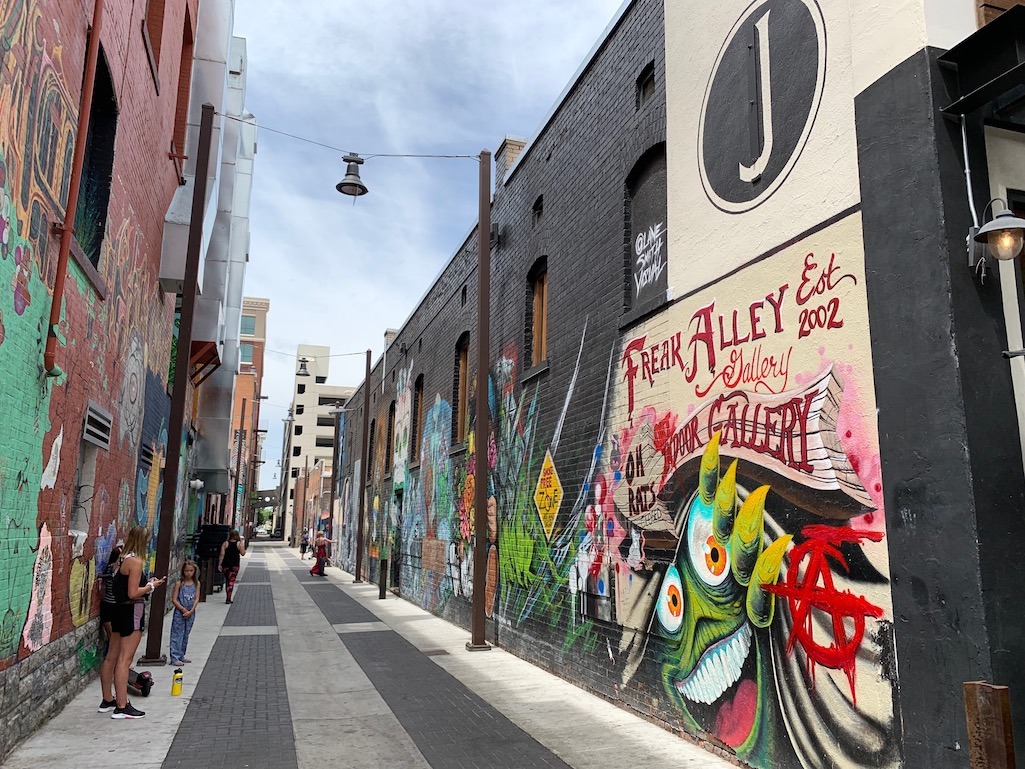 You'll find yourself, as we did, going from one part to another, noticing something new and different every time you move. This living space of artistic expression renews and changes as some works are replaced by others so what you see now may be different the next time you go. It's fun and crazy and raw and real. And one of the best things we've seen when it comes to modern art. Put it near the top of your list of things to do in Boise, Idaho.
A Capital Capitol
Coming from Madison, Wisconsin where we have a beautiful capitol building of our own, we enjoyed seeing the capital of Idaho exhibit similar prowess in its statehouse building, known as "A Capitol of Light." Having undergone a great restoration and expansion, the building was rededicated and reopened in 2010 with a celebration enjoyed by thousands of proud citizens. We just love looking at the beautiful 208-foot tall dome and the locally quarried blocks of sandstone that add both majesty and dignity to this important stately site.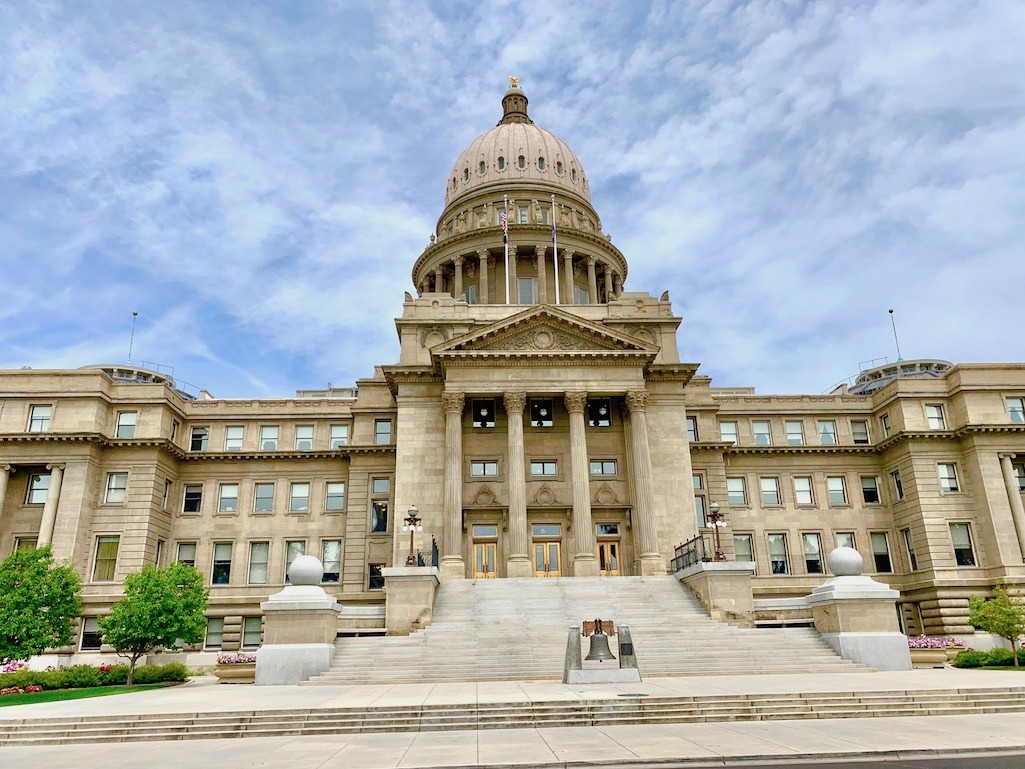 History Of Humanity
When deciding what things to do in Boise, Idaho, we encourage you to explore this highly walkable city on foot as much as you are able. One of the most rewarding walks you might take is to the Idaho Anne Frank Human Rights Memorial. This park spans nearly an acre and contains so many different areas for contemplation, we spent quite a while here just sharing silence and exploring ourselves. There is a long wall with meaningful quotes by everyone from world leaders to slaves.
Several sculptures and sitting areas educate as well as inspire reflection. Take some time to sit by one of the small water features to listen to the sounds of the water mingling with the birds and allow Anne's faith in humanity to wash over you as well. When you want to continue your journey, take a few steps further and find a bridge that goes over the Boise river where you might just see folks happily floating along on everything from kayaks to inner tubes.
Indulge Food Tour
Of course, we have to explore the food scene everywhere we go. After all, we're Food Travelist, right? So we love it when there's an opportunity to get a good dose of inside eater tips in a short time. If you are like us, one of the best things to do in Boise is to take an Indulge Boise food tour, which will introduce you to some of the best eateries in the city. Then you can decide what you love and go back for more later as you continue to explore.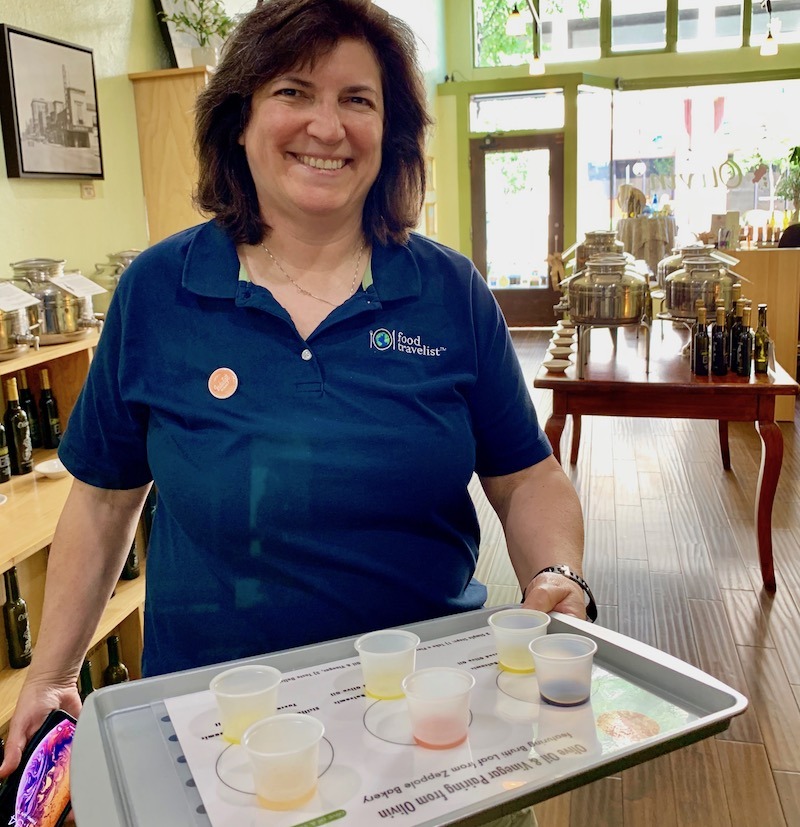 Indulge offers a variety of food tours to meet your interests, but we took the Historic Downtown Boise Food & Cultural Tour, which took about 3 hours. We visited restaurant, bakery, chocolate shop, olive oil & vinegar taproom, ethnic and cultural spots, tasting goodies along the way. We'll talk about more of those places as we delve into Boise's hot, hot, hot food scene but for now, even if you're short on time you don't have to miss out on the tastes of Boise.
Basking In The Basque Block
Fun Fact: Boise has the largest Basque community in the United States. Yes, it's true. Who knew? Well, you will if when you're looking for things to do in Boise, Idaho you realize that the Basque Block, home of Boise's Basque community and living ethnic history is well worth visiting. Just as a reminder, the Basque Country is an autonomous community of people that straddles the border of France and Spain. The Basques have a unique language, culture and, of course, cuisine.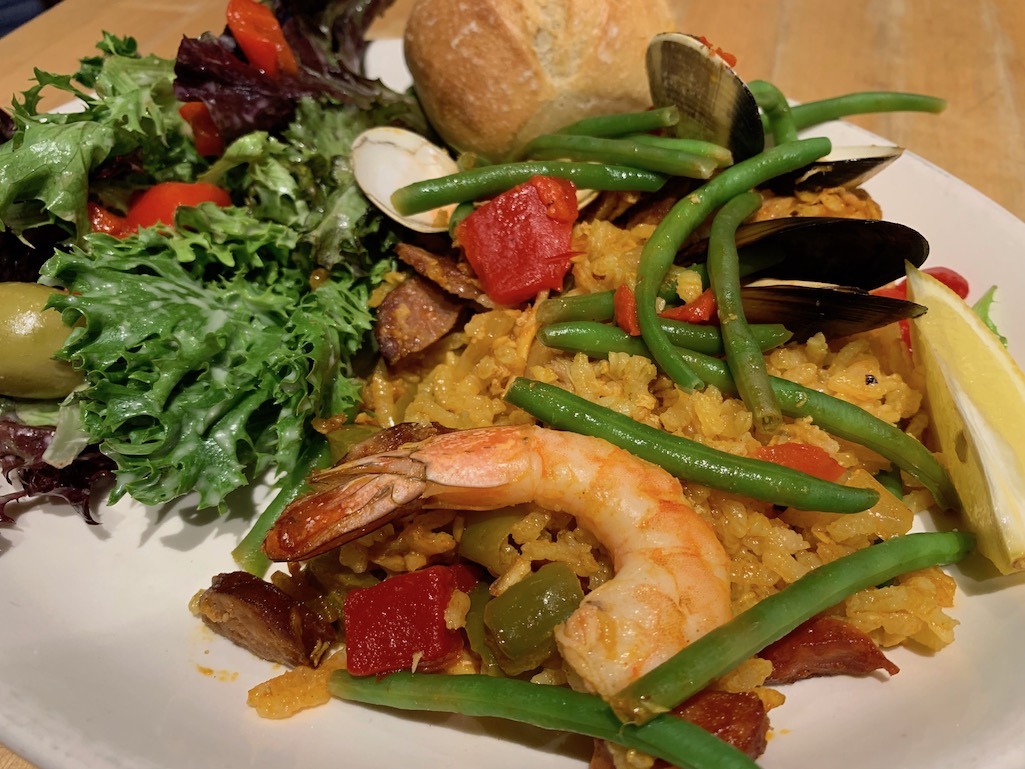 The history of the Basques coming to Idaho dates back to the mining era in the 1800s when many who came to strike it rich ended up, with or without the gold, staying in this place they quite liked. Many became shepherds and encouraged family and friends to join them. The Basque Block holds many cultural treasures including an informative museum, cultural center and original boarding houses where Basque shepherds would room while between gigs.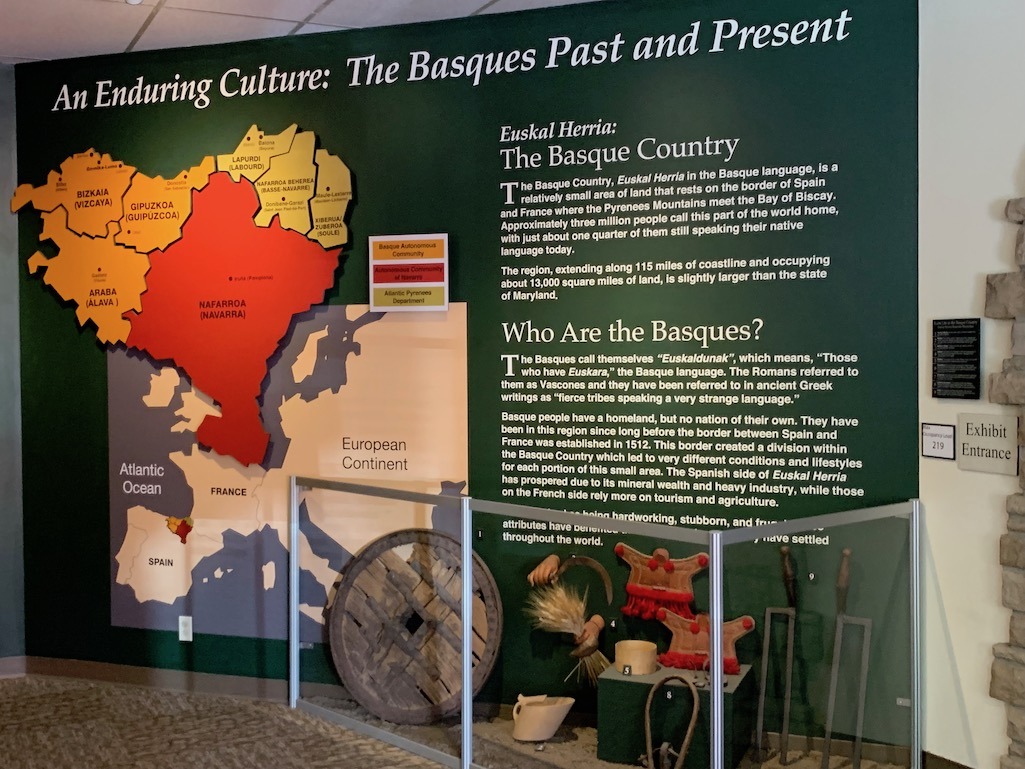 You'll recognize the neighborhood by the red, green and white flags displayed at the beginning of the block. Of course, no ethnic neighborhood would be complete without a place to get ethnic foods. The Basque Market carries unique imported Basque items, offers classes and events. We'd suggest having a glass of delicious Basque wine with a few pintxos to help you soak up the ambiance. If you're lucky, you may discover a fest or celebration happening outside with music and dancing. What a treat!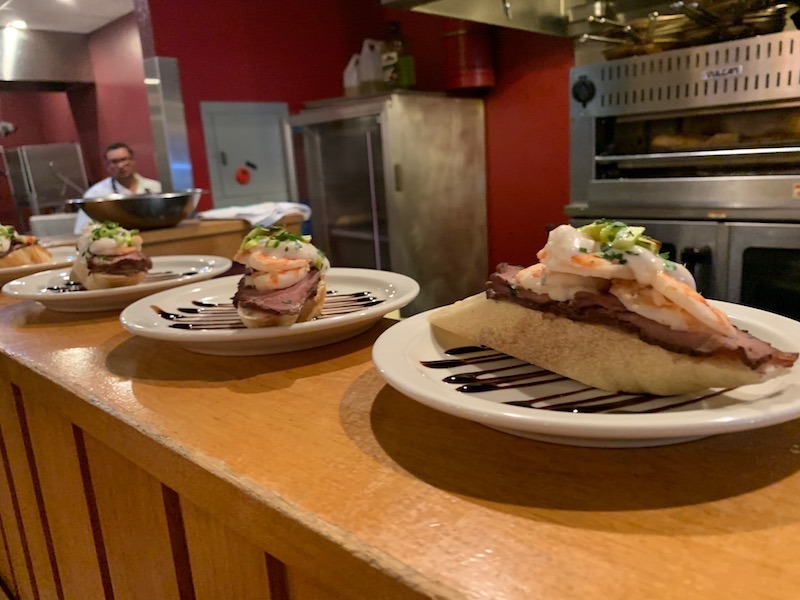 Begin With Breakfast
One of the best things to do in Boise, Idaho is the same as anywhere for us – breakfast! If you want a full plate in the morning, just about everyone, local and visitor, will point you in the direction of Goldy's Breakfast Bistro. And for good reason. Voted one of America's Top Ten  Breakfasts, Goldy's has a menu makes it hard to choose. Literally, everything sounds like it would be delicious and based on our choices and the looks of those on the tables around us, it probably is.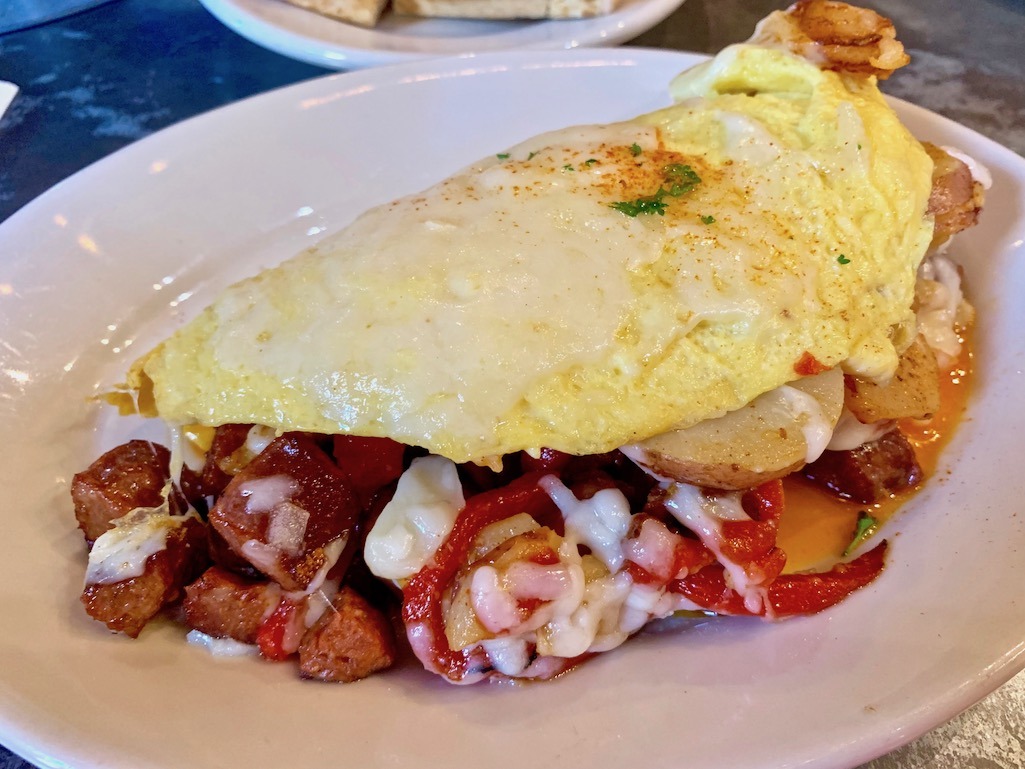 Sue opted to try the Basque omelet loaded with Basque chorizo and cheese. I'm a sucker for sweet potato anything, so opted for eggs with sweet potato hash browns. We both left with smiling faces and happy tummies. The place is not big, but it has some tables downstairs and an upper level with more. We'd recommend getting there early, though as it fills up once the city's awake. There's also a Goldy's grab and go bakery next door, if you want something to drink and a quick bite and be on your way.
Do Not Skip Donuts
You may know I'm a donut fiend, so we were thrilled to see that Boise has its share of purveyors. We tried Guru Donuts and enjoyed their sense of humor as well as their delicious scratch-made treats. Flavors change all the time, so we won't lead you astray telling you all about the mouth-watering bites we had.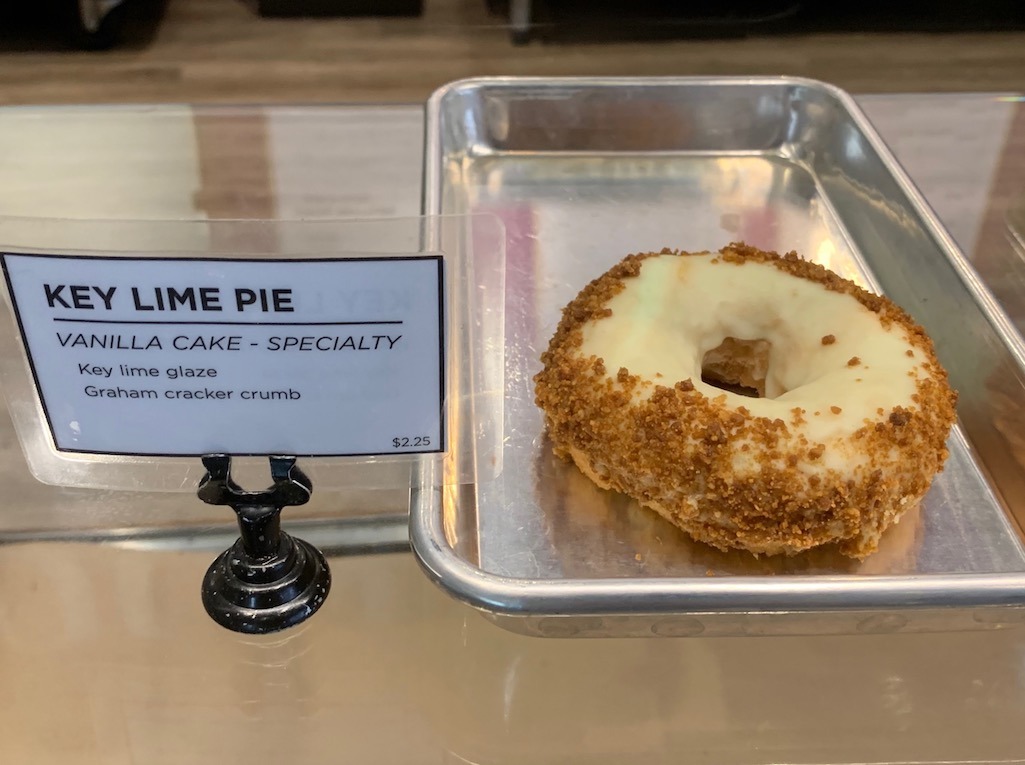 But you should know that they have raised and cake donuts as well as potato donuts. It's Idaho, of course, they have potato donuts. They also have vegan donuts, limited editions, and many beverages, hot and cold. They even have a few other food items so if you need to finish your plate before you have a dessert, I pity you, but they might help you out.
Nature Abounds
If you know us, you know we love nature and animals. And, we're geekishly proud to call ourselves birders. So it's no surprise that we jumped at the chance to visit the World Center For Birds of Prey. Also home to the Peregrine Fund, this conservation, education and exhibition center is full of history and information as well as feathered friends. We viewed the huge California Condors, who are their focus of major conservation efforts and study. And we saw several raptors who had been rescued and are on their way to rehabilitation.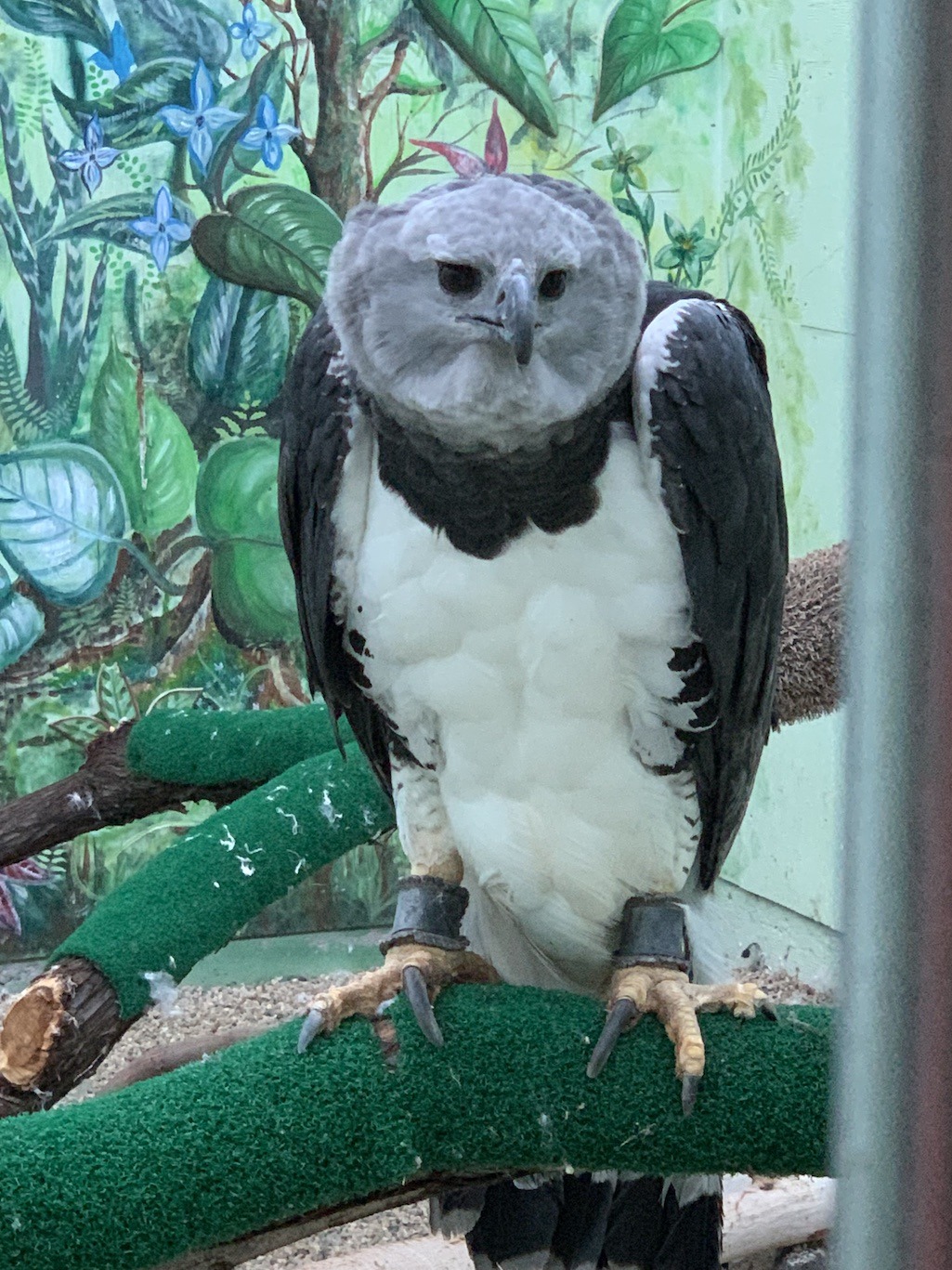 The Archives of Falconry are fascinating, with exhibits that explore the unique relationship between bird and man that this ancient form of partnership represents. We had to show our support with a few purchases of books and t-shirts about raptors and birds as well. It's just about a 20-minute Uber ride from downtown and so worthwhile. We'd highly recommend you go visit for yourself.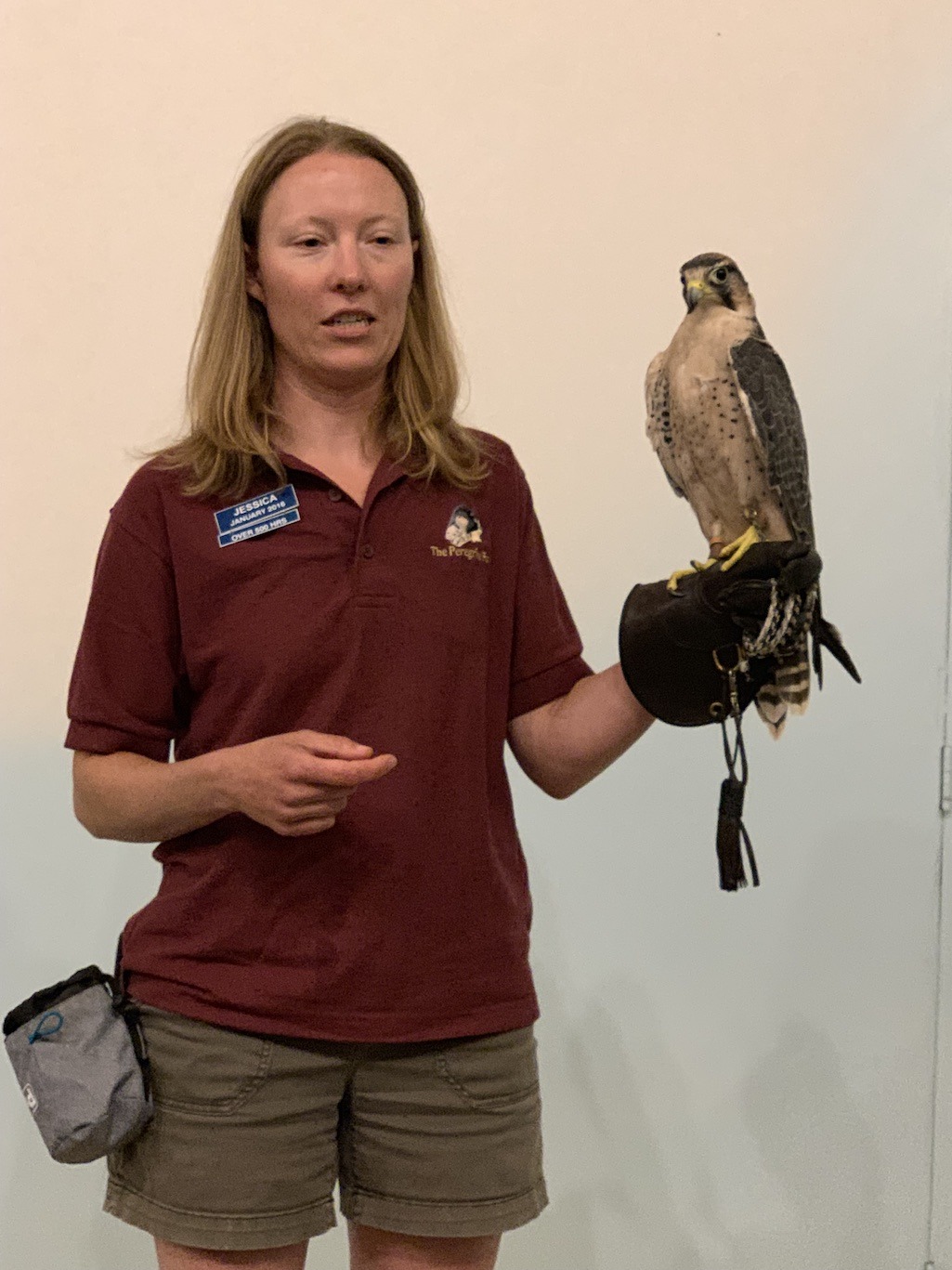 If you feel like getting a bit more outside time, there are plenty of parks and natural areas for walking, hiking, and biking too. Camel's Back Park and Table Rock Trail are just a couple of ideas of where to stretch your legs when you want outdoorsy things to do in Boise, Idaho.
Lunch Is Everywhere, Man
Put A Fork In Me
After taking in some of the fun things to do in Boise, Idaho you'll probably work up an appetite. Luckily there are oodles of options for places to get your chomp on. We started at Fork restaurant, where Loyal to Local is more than just words. The menu oozes its personality, with categories like "share, sample, savor," "from the garden," and "burgers & sammys." We shared a couple of items including a crispy chicken salad and rhubarb bbq pulled pork sandwich, both of which were fresh and delicious. Of course, don't forget to sample some rosemary-parmesan Idaho French fries. This is, after all, the motherland of potatoes.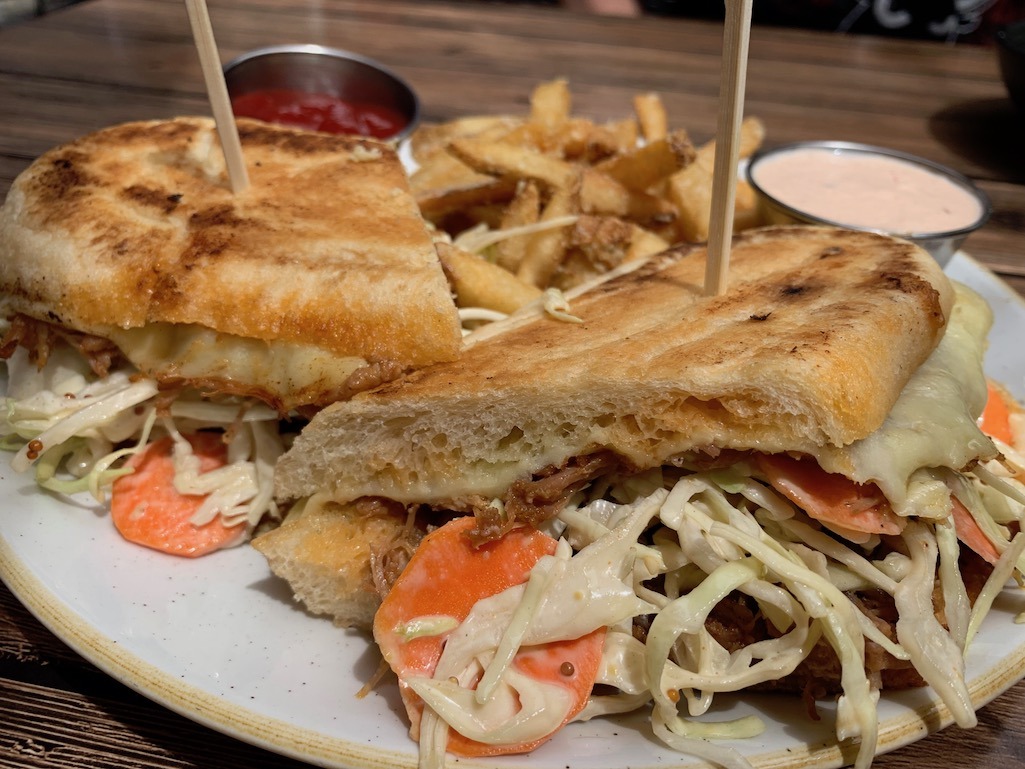 Fries With Burgers On The Side
Speaking of potatoes, we'd have to throw ourselves into a dungeon if we didn't tell you to pay a visit to the Boise Fry Company. Yes, you can get an awesome burger here. They have turkey, bison, funguy (70% beef, 30% mushroom), vegan or original beef. But you gotta tell by the name that the fries are the star of the show. It's a fry bonanza where you get to choose the type of potato, style of cut and then top it with the spices of your choosing.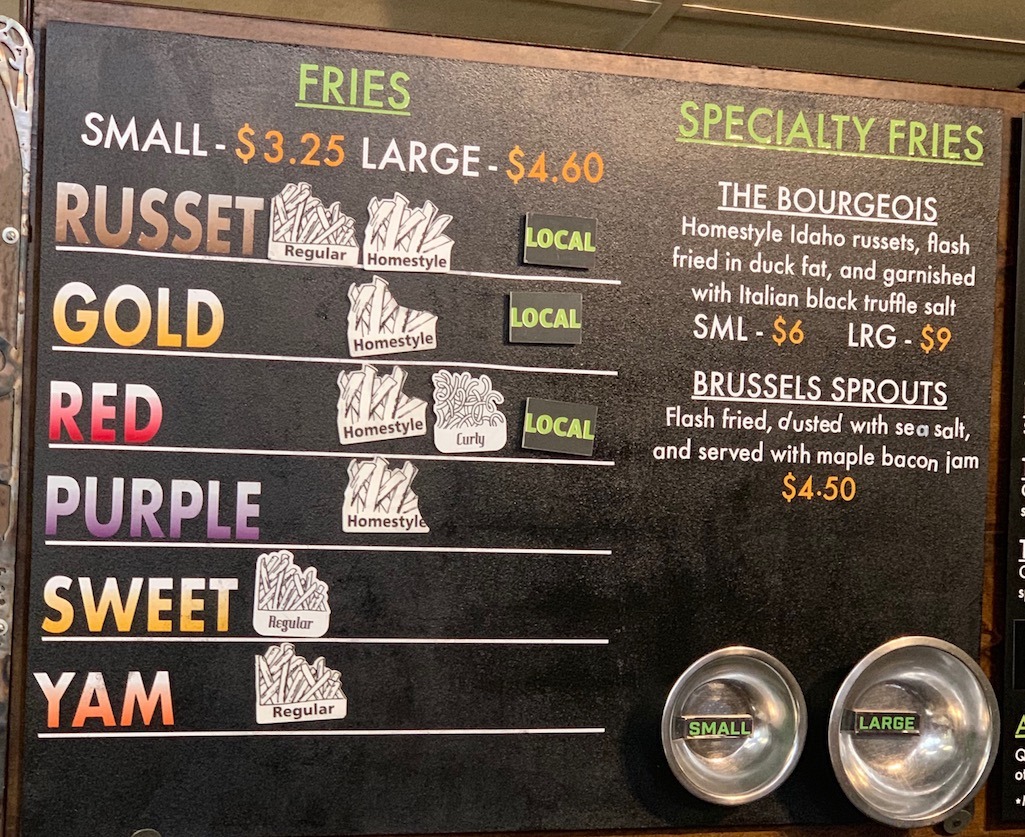 We had so much fun deciding and ultimately went with local potato types and complementary cuts, as advised by our knowledgeable cashier. Then we took our booty over to the sauce and spice stand and chose from many different options. We tried the blueberry ketchup and garlic aioli sauces as well as the garlic-rosemary salt. They have an unusual sweet as well as savory selections like cinnamon-ginger or vanilla, too. You can really live it up and try them all!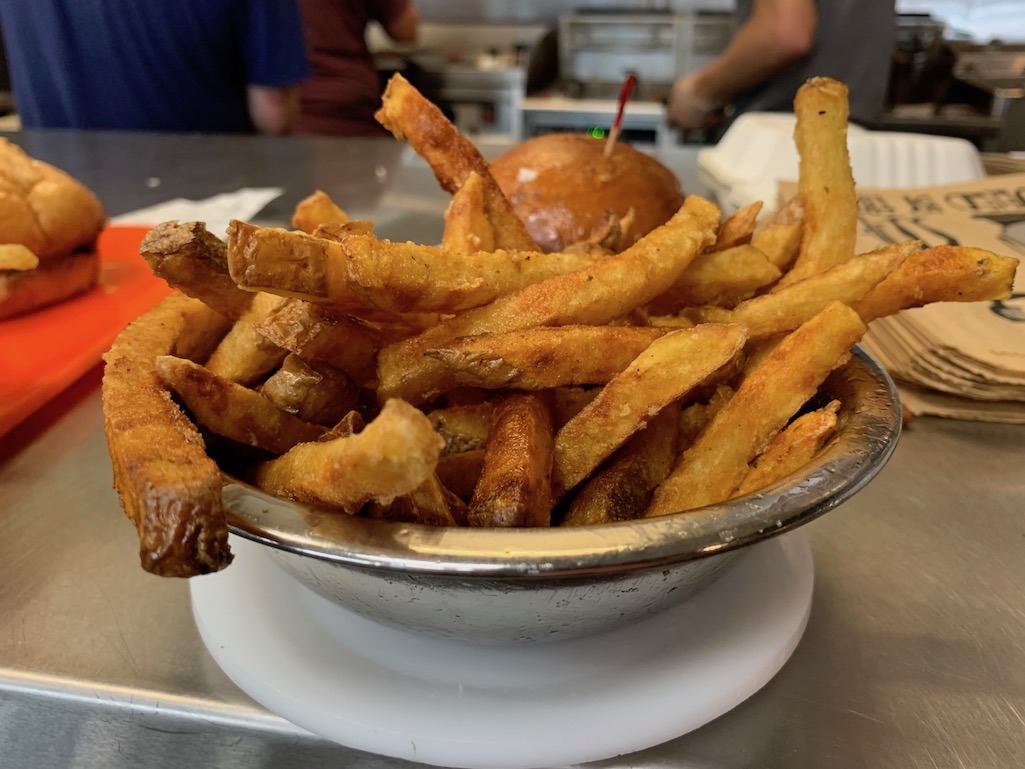 But one of the things we loved most about this innovative joint is its devotion to sustainability. They produce little to no waste, use Energy Star lights and appliances, and recycle their sunflower oil in cars. They also strive to use natural, local, organic and sustainable food products. Not only is this a fun meal to eat, but it's also a great mission to support.
Bacon? Bacon!
What a great name for a restaurant. Especially when that's what it serves. Bacon everywhere. In everything. In every form you can imagine. And even some you can't. Maybe that's why they go through 8 tons of it a year! From the minute you see the bacon-y sign at the entrance, you know you're in for a bacon-lover's dream. Chef John Berryhill one of Boise's favorite culinary figures, decided to focus his efforts on this porcine concept.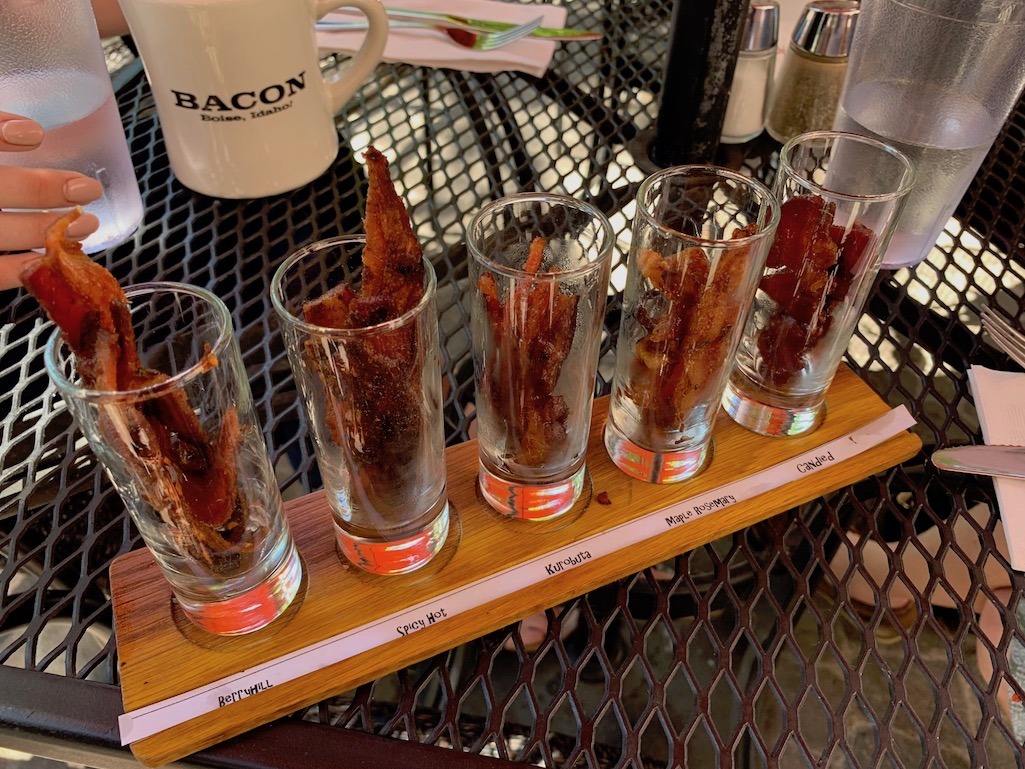 Bacon, all day, every day, features bacon dishes, bacon drinks, bacon beverages, and even bacon shots so you can try all 5 preparations they offer. We had the opportunity to try a bacon Bloody Mary, bacon lasagne and a sampling of the 5 different types, ranging from spicy hot to candy sweet.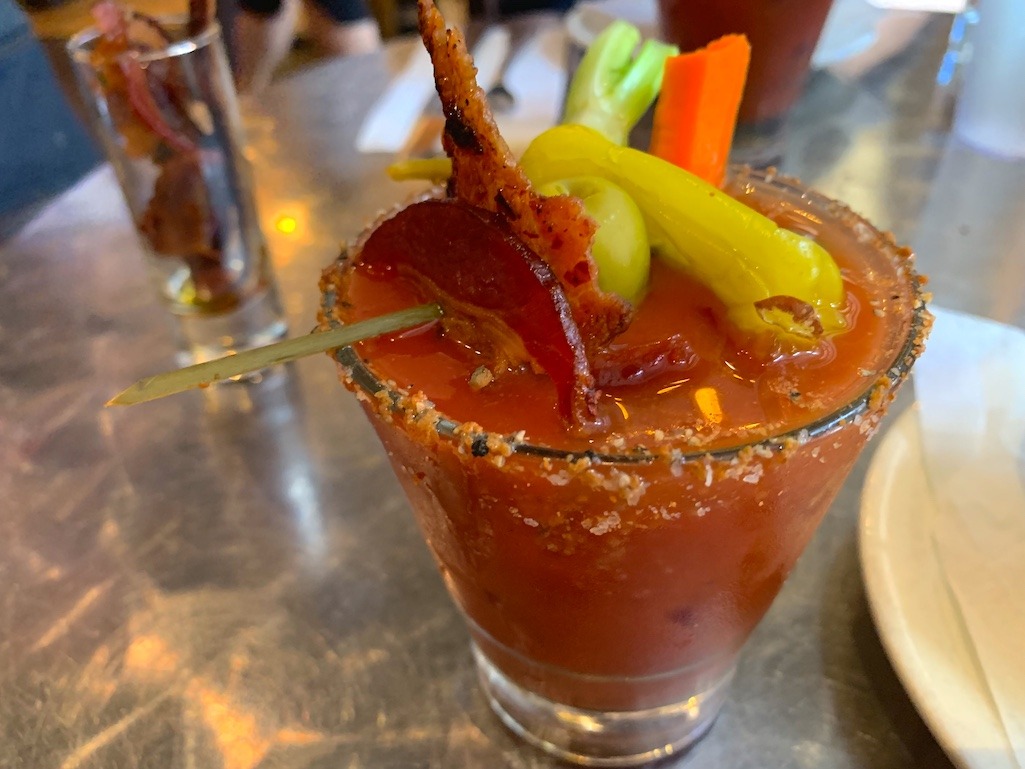 Of course, there's plenty of bacon SWAG and even packaged bacon and bacon coffee you can get to make at home. A family affair, these folks also give back to the community and get involved in helping to better the lives of young people. And, they've switched to paper and bamboo – chemical-free and 100% biodegradable straws and cocktail picks. We love that as much as we love bacon!
Elegant Ethnic
We love ethnic dining and so it's no surprise that we loved the gorgeous and tasty Mai Thai restaurant. Serving modern Asian cuisine, this chic spot has been unsurprisingly voted Best of Boise in several categories for 12 years in a row. Colorful and creative dishes offer familiar pleasures like potstickers and fried rice as well as exciting offerings like Swimming Angel and Evil Jungle Prince.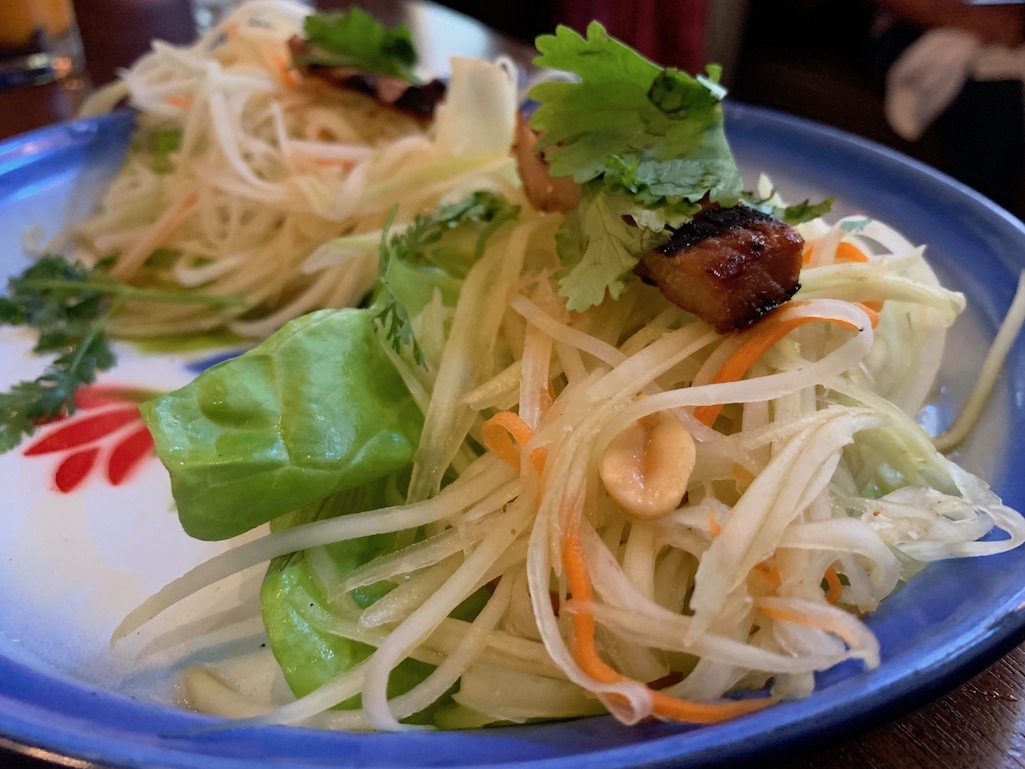 Not only are the plates stunning, but the restaurant is as well. Many pieces by an apprentice to glass artist Chihuly adorn the restaurant as does a lovely water fountain. They have many gluten-free, vegetarian and vegan options, and use premium jasmine rice from Thailand.
It also makes us happy to know that they are focused on helping the local community through donations to local charities as well as KIVA, loaning money to individuals around the world.
Food Shop Till You Drop
Whenever we can, we try to visit local markets, especially open-air markets that feature local food and products. Boise's Capital City Public Market should definitely be on your list of things to do in Boise, Idaho. You'll find plenty of diverse offerings at this jam-packed intersection of prepared foods, crafty things, produce, handmade products and more.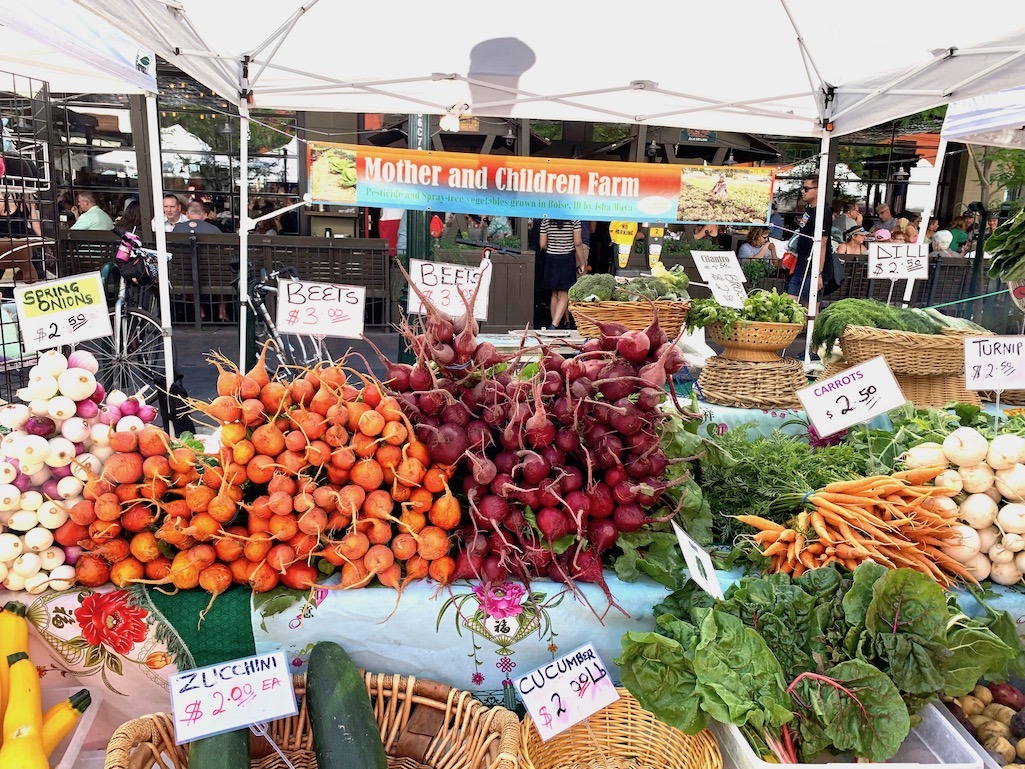 We immediately saw people walking around with crepes so decided to give one a try. Sweet or savory, these are a tasty snack and local fave from the Creperie Mobile. We also enjoyed seeing the honey, soaps, baked goods, and fresh produce filling the stalls. As I can smell Greek food a mile away, it's no surprise (or maybe it I!) I found a family that's been serving hand-stacked gyros and family recipe tzatziki sauce for generations. Meraki offers authentic Greek street food, and it was mighty good.
And, the market was a great place to see innovation at work. We were happy to meet with the dynamic duo behind Earth Beverage Co., formulating specialized functional beverages that are tasty as well as good for you. We even bought some to take home with us. You never know what you'll find at a market, so it's also on our list of fun things to do in Boise, Idaho.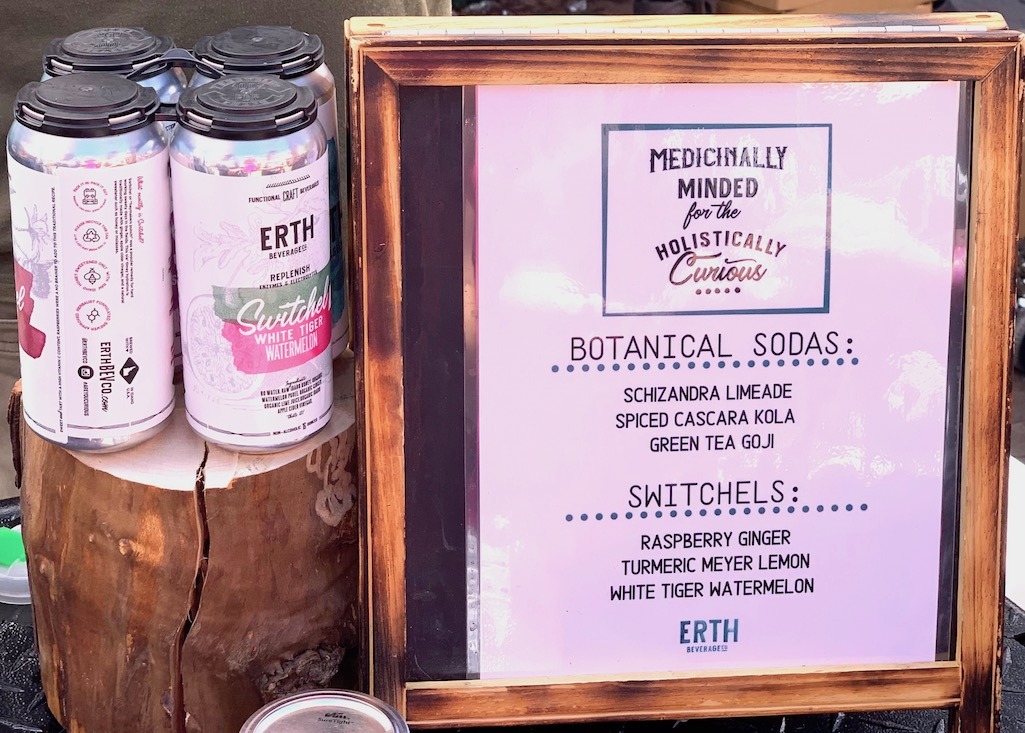 Mixing In Like Oil & Vinegar
Tasting fine olive oils and balsamic vinegars are like fine wines tasting wines. You may not know what you're looking for, but you know it when you taste it. When we visited Olivin, a wine, and vinegar taproom, we weren't sure we'd find anything new. But we sure did.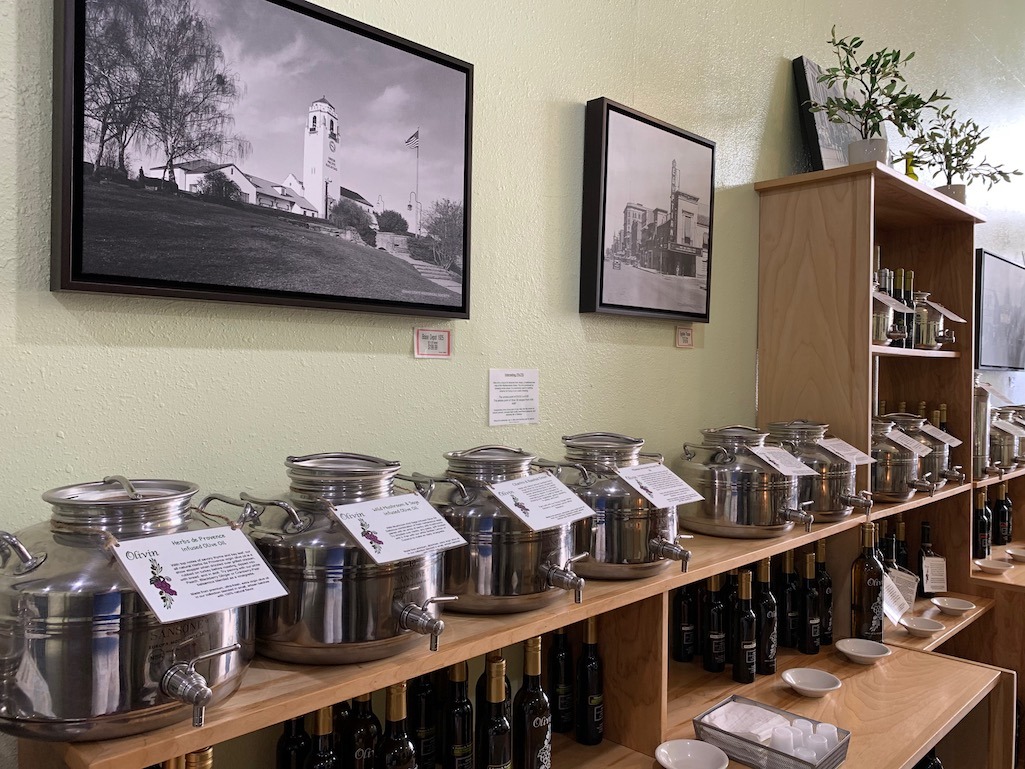 All the oils and balsamic vinegars are on tap for you to taste. We were treated to a curated tasting so got to try a few of the local favorites as well as wander around the room and try a few that piqued our interest. And in the process, we tasted something glorious, that we haven't tried before. Peach balsamic vinegar. Yes, we know it sounds strange, but trust us. It was absolutely delicious. Paired with an excellent Extra Virgin Olive Oil, this is a real winner.
Snack Attack
If you're jonesing for a little something-something to keep you going during the day, there are more than a few great places to grab a treat.
Baking Beauty
Zeppole Baking Co. is ground zero for artisan baked goods, yummy pastries and cookies. Many of the restaurants around town use their bread as well. We tried one of their homemade chocolate chip cookies and had to go back the next day for another. Their cafe has sandwiches, soups, and salads as well if you feel like you really want to stop and enjoy.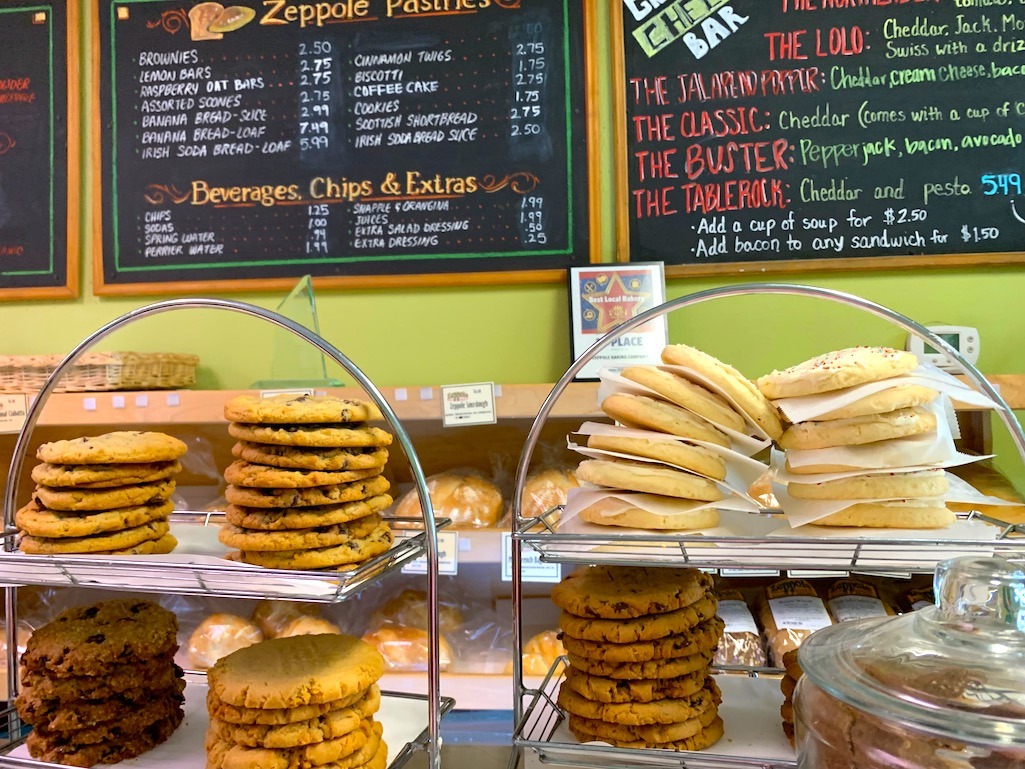 Choc This One Up
Chocoholics love The Chocolat Bar and their handcrafted gourmet chocolates. When you open the door, you'll get hit with the glorious scent of cocoa perfection. Peruse their display cases for irresistible treats like Fleur De Sel Sea Salt Caramels, Extra Dark Peanut Butter Patties, Chocolate Dipped Apricots and more.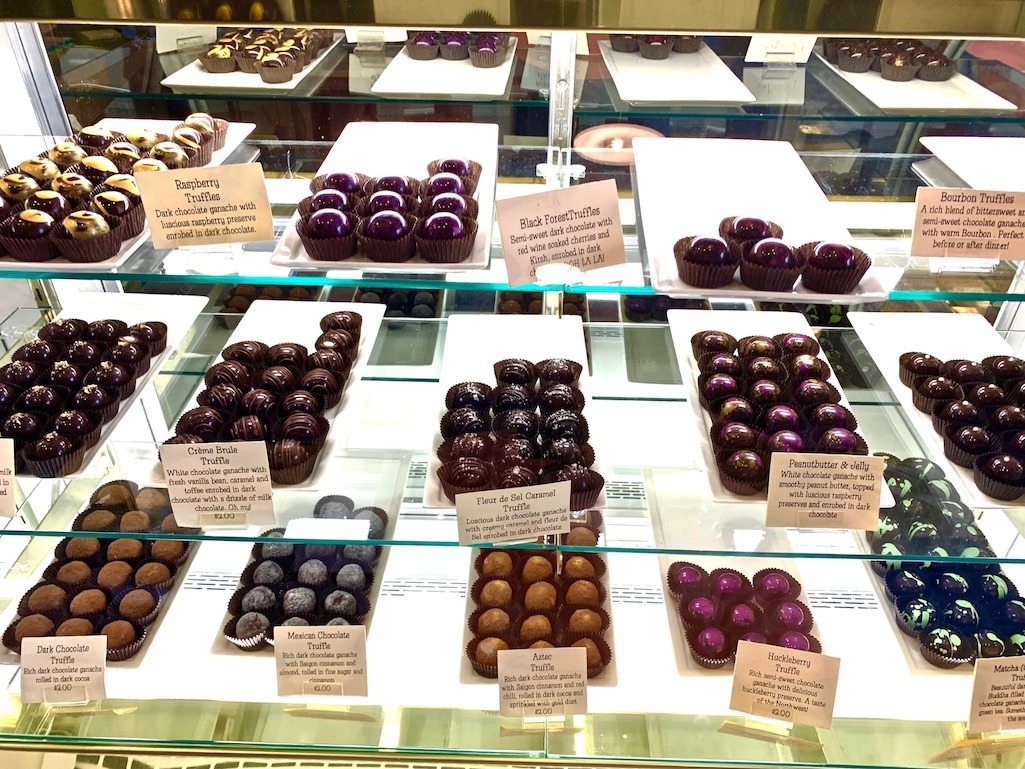 Cold, Sweet, Creamy…Yes!
And, if like us, you enjoy ice cream no matter the weather, you'll be happy to discover among things to do in Boise, Idaho that ice cream eating is a thing. The STIL (Sweetest Things In Life) is a local phenomenon. They make their ice cream in-house daily using Idaho dairy and offer adult indulgences like booze-infused flavors, beer & wine floats and flight trays that combine 4 beers or wines with 4 scoops of ice cream.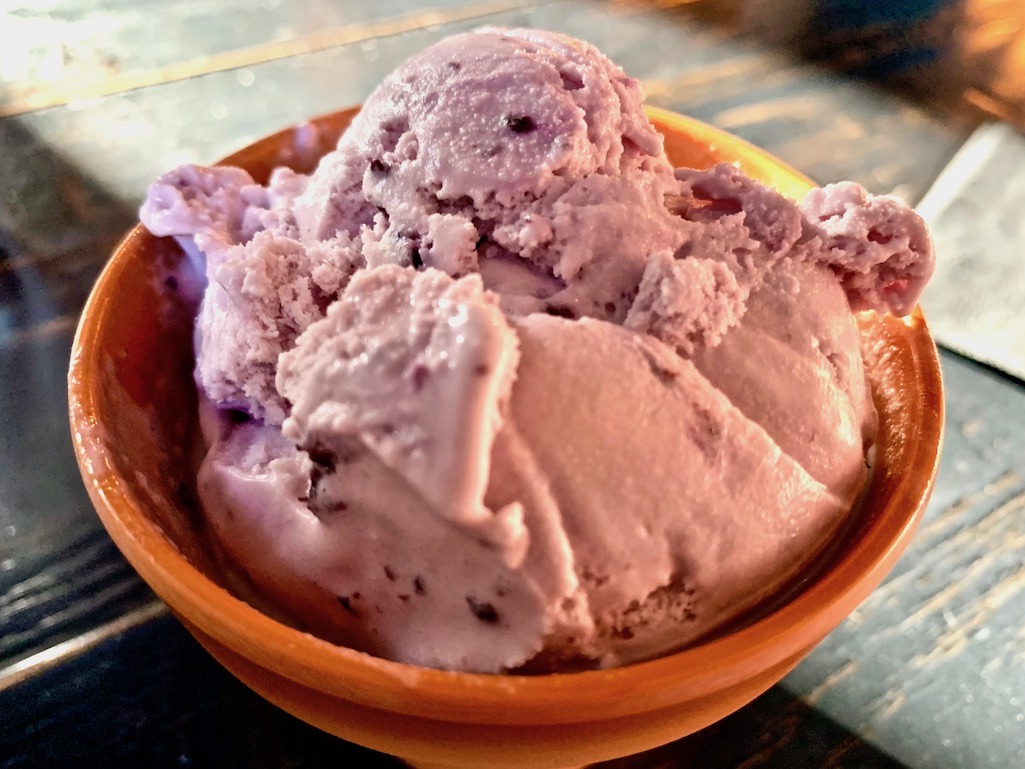 There's also a new kid in ice cream town and we had to give them a try. Kiwi Shake & Bake brings the flavors of New Zealand to Boise with authentic Kiwi cuisine using local Idaho ingredients. They offer tons of freshly baked meat pies, cakes, soups, and desserts. But we were drawn to the ice cream, which comes in an array of tasty options. While we enjoyed our cones, you can opt for any one of their monster shakes, escalating from thick shakes to deluxe shakes to KIWIFREAKSHAKES!!! They're so much fun, but unless you're going to eat it as a meal, bring someone with you to attack this massive delight.
Tea For Two Or Coffee For Me
Like most college towns, things to do in Boise, Idaho include plenty of places to get your caffeine fix.
Tea Time
If you're a tea lover, you'll want to visit Snake River Tea. This well-stocked store with a little relaxing seating area will have what you want or help you discover something new. We explored a variety of green teas, herbal infusions and ultimately got nitro matcha to enjoy along our sunny walk.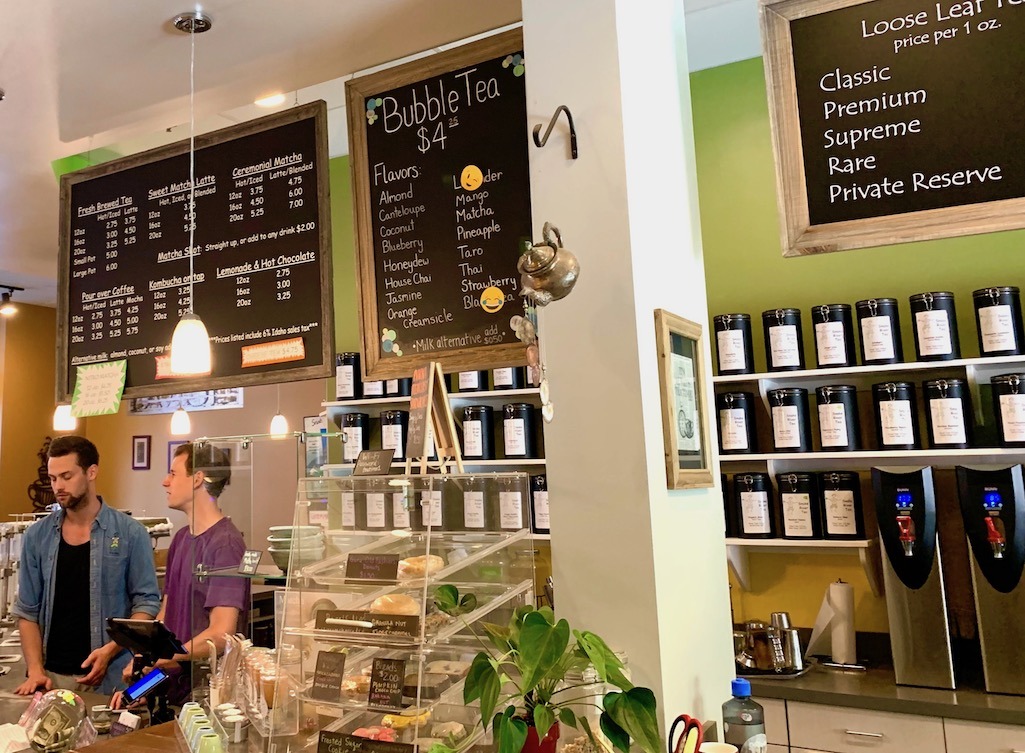 Cuppa Joe
If you're a coffee-lover, then you will want to check out Java Coffee and Cafe. Their unique coffee offerings invite guests to "wake up and live." Some options include their special mocha Bowl of Soul, Keith Richards Mexican coffee with 4 shots of espresso, Cup of Joe organic, and fair trade. It's all in good fun and if you want a bite you can continue the laughs with a Dirty Hippie Burrito, Todd's Competitive Edge granola or any number of delicious baked goods like the raspberry chocolate chip sour cream muffin we had. Great way to let the sunshine in!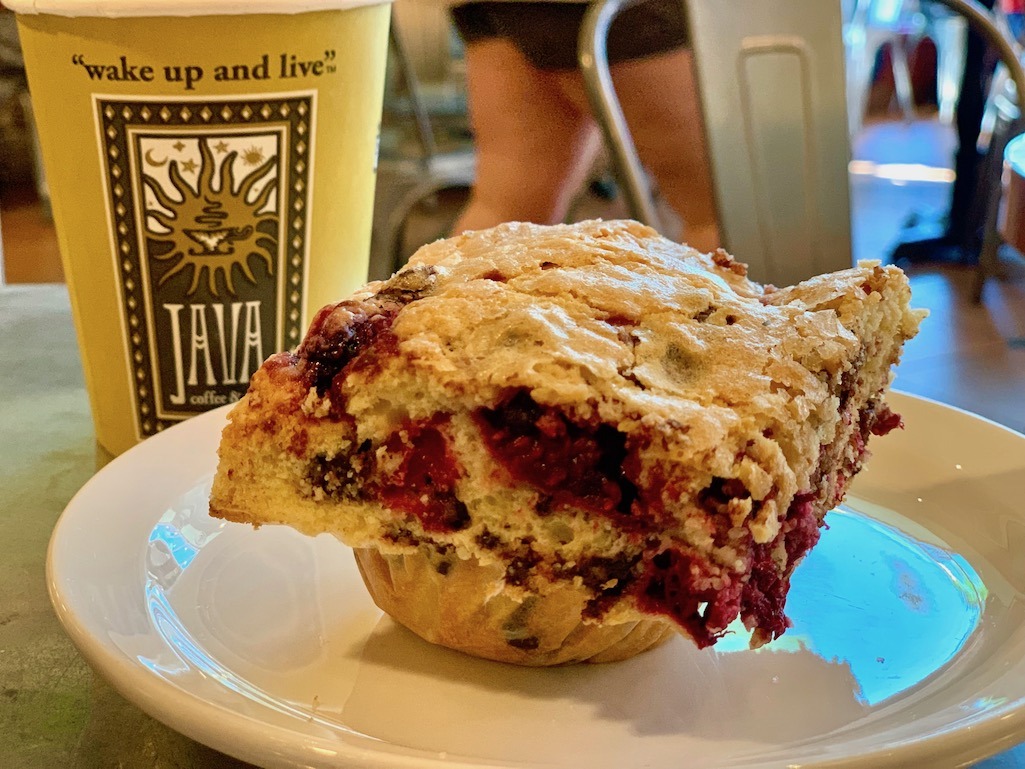 Stuff We Loved
Though we're often focused on filling our bellies when we travel, there are plenty of other things to do in Boise, Idaho and a laid back vibe that make it a fun city to visit. One thing you'll notice is that Boise works hard to be an eco-conscious city. You'll find paper or reusable straws at many establishments. There are rental bikes and scooters all over the place, many that come with a free trial hour. Boise has also enacted a "Green Building Code" as they work toward 100% clean energy to provide a roadmap for developers to use energy-efficient construction practices.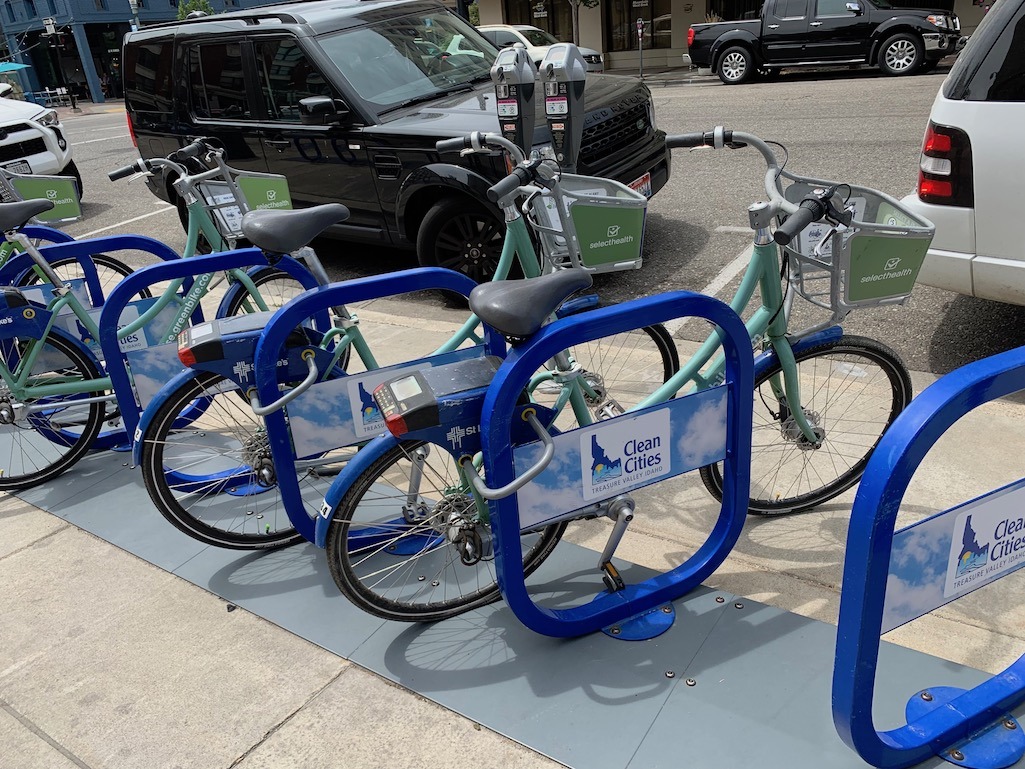 JUMP
They're also looking to create innovative community spaces JUMP (Jack's Urban Meeting Place). This $70 million project is a not-for-profit interactive creative center and gathering place that offers interactive learning studios, meeting and event spaces, an outdoor amphitheater and more. The idea is to encourage adults to play and get inspired and we love that idea.
Dog City
As with any place, the greatest impression it has on its visitor is the people in the destination. You'll find Boise full of laid back people who are just enjoying life. It's busy enough to have energy, but not too much so. It's laid back enough to kick up your heels and relax without being boring. And, one of the things we like best about Boise is its friendly nature, that includes a ton of dogs. Yes, we said it. Dogs. Everywhere we went, there were plenty of pooches.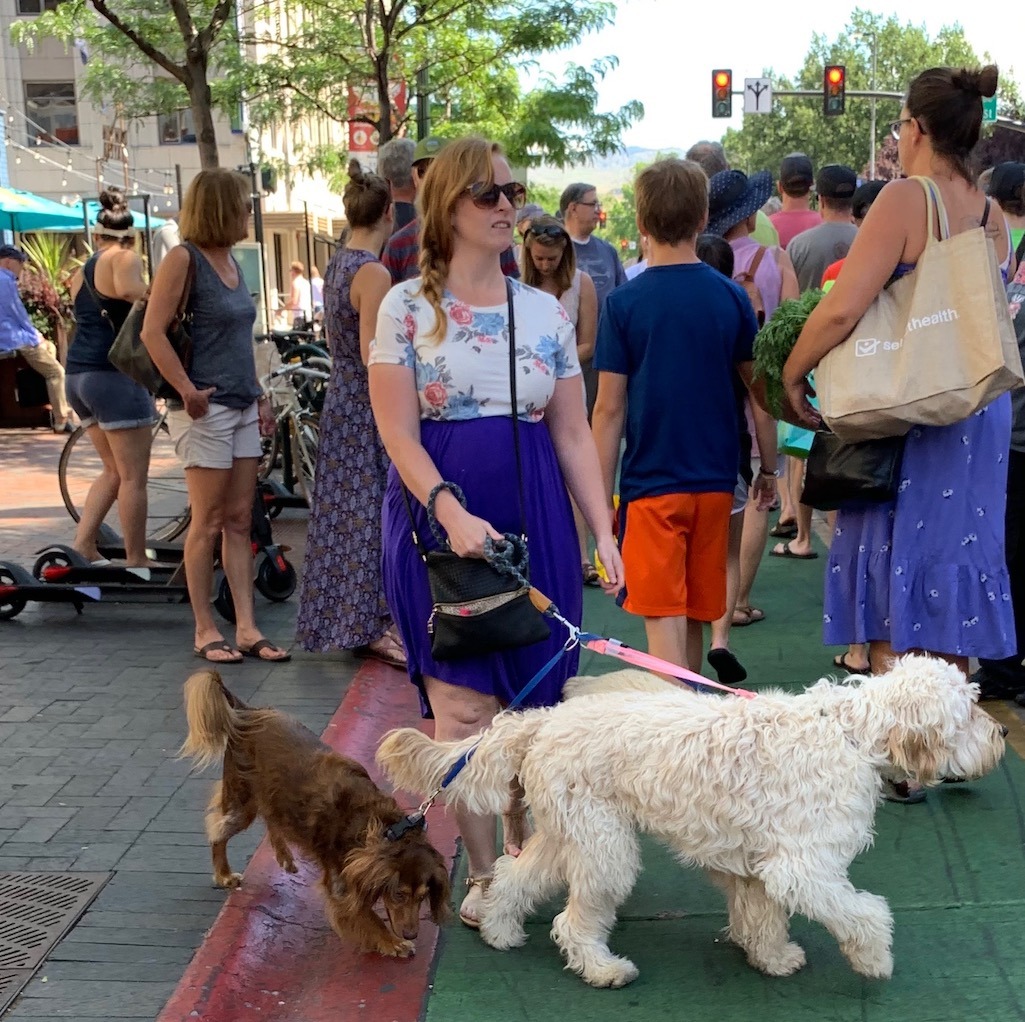 Now, this may not mean much to everyone, but to us, any town that is dog-friendly is also likely to be visitor friendly. Boise is definitely both. This is also good news if you're someone who wants to travel with Fido. Although we're not likely to bring our cats along on a trip, if we had dogs, we'd definitely think of Boise as a great destination to explore.
Dinner As You Like It
One of the fun things about dining in Boise is that there are options for just about everyone. From five-star to dive, you'll be able to satisfy your hunger anywhere in town.
Taco Town
We started out with some modern Mexican at a place with a fabulous name, The Funky Taco. If the name doesn't get you, the delicious tacos will. We tried the Piggy Stardust, Korean Pastor, and Macho brisket tacos. They were all delicious. They have some killer appetizers, larger plates and plenty of vegan options as well.
Mama Mia!
When you get the taste for Italian, as we do, always, you'll be in good hands at Alavita. This chic spot is focused on local ingredients and fresh pasta in an unfussy presentation that includes everything you want and nothing you don't. Burrata starts you off in the best possible way.
Grilled artichoke hearts with Parmesan will warm your heart. Take your pick of any of their handmade pasta and you will fall into a reverie and start singing Volare (quietly) with joy. Their cocktail program is inventive and fun as well.
So Many Choices
If you didn't get Pintxos and wine at the Basque Market, you might be able to squeeze in there for dinner as well. Other Boise favorites are Juniper On 8th, focused on locally sourced ingredients including lots of local wines and beers. If you've got a group that's up for it, they also offer a very reasonably priced chef's table that includes a 5-course meal with optional wine pairings. The Wylder is a pizza spot known for its handcrafted, slow batch "pizza with soul." And Smoke & Thyme is a mobile kitchen that offers up innovative local fare featuring barbecue that gets universal raves.
Brews and Wines Too
Not surprisingly among the best things to do in Boise, Idaho sampling the local libations is a frontrunner. Fortunately, there's something for everyone.
Be True To Your Brew
If you're a beer lover, you'll want to visit Payette Brewing Company where they treat beer like an adventure. We love their esprit de corps as well as their might tasty craft brew. And we were tickled to death when we got a chance to meet Nina Schools, Brewer extraordinaire. We learned a lot about the process and how much hard work goes into each and every product they make. Of course, we showed our appreciation by sampling a great number of them. Well, we didn't want to be rude, you know.
Wine Not?
If you're a wine lover, you might be surprised to know that there's a large winery region just outside of town. The Snake River Valley is Idaho's first grape-growing appellation, and Coiled wine slyly pays homage to it all along the way. Wines with names like Black Mamba and Sidewinder tell part of the story. But the other part of the story is that Coiled's founder and winemaker is Leslie Preston, a woman who's grown the brand from 380 cases to over 2,000 cases per year using Idaho grapes.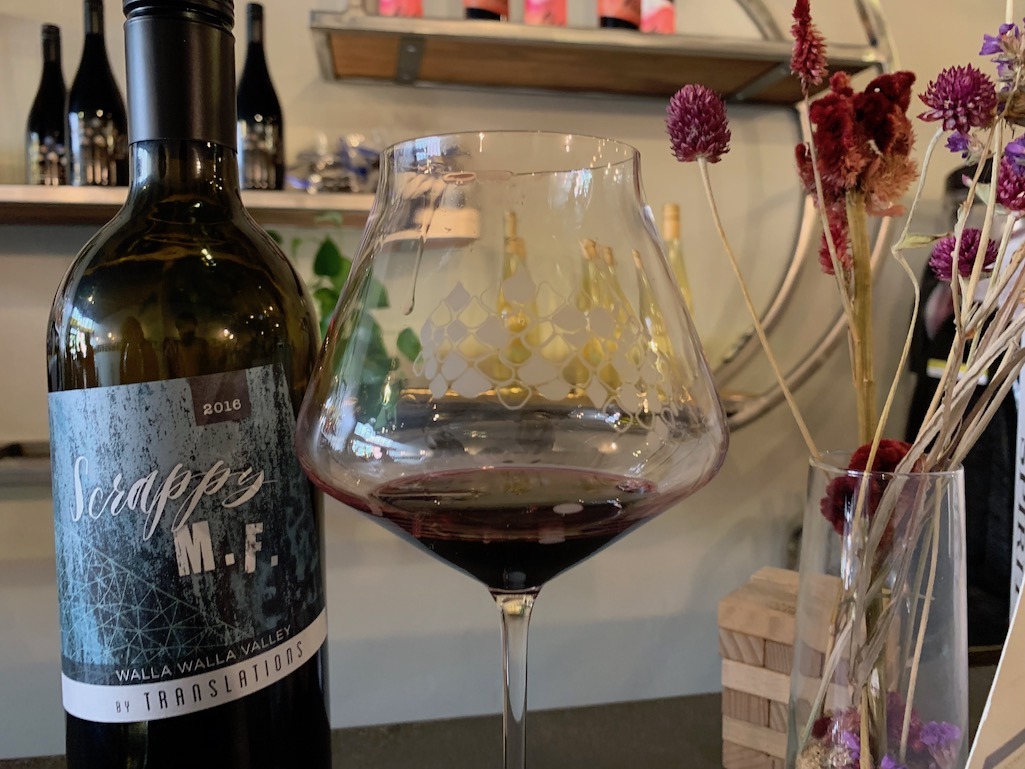 Coiled has a production and tasting room in nearby Garden City as well as the super chill wine bar we hung out at downtown. Many people just pop in for a glass or two and they have a healthy wine club offering as well. Oh, and you'll see what we mean about Boise's friendly folks when you check out their Dogs of Coiled page.
Tiki Forever
We can't finish up this exploration of things to do in Boise, Idaho without letting you know that yes, there is a Tiki Bar in Boise. There may be more than one, but for us, the kitch and cool of Reef Tiki Lounge was everything we wanted. With an outside patio as well as a fully-decked out inside, Reef offers dining and cocktails that make you feel as though the beach is steps away – quite an accomplishment when you think about it.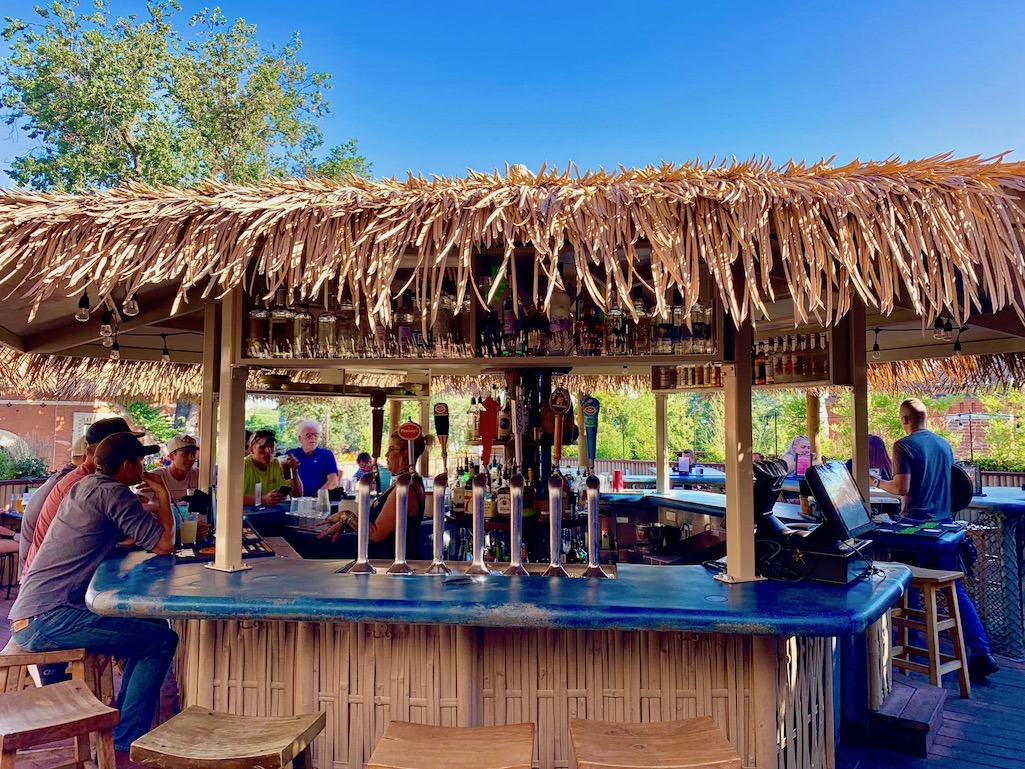 While you're sipping on your Mai Tai, you might want to nosh on some lobster tater tots, Kobe beef sliders or go all the way and try the firecracker salmon or ninja noodles. The eclectic menu matches the decor and you can enjoy your umbrella cocktail with pupus and live music if you time it just right. As the Reef says it best themselves, Long Live Tiki!
Boise Bound
We hope we've been able to give you insight into the wonderful things to do in Boise, Idaho. It's easy to see why people find this fun and city a place to spend their time. We enjoyed everything from food and drink, art and culture, to unwinding in nature. Next time you're looking for somewhere with a whole lot to offer, Boise will surely come to mind.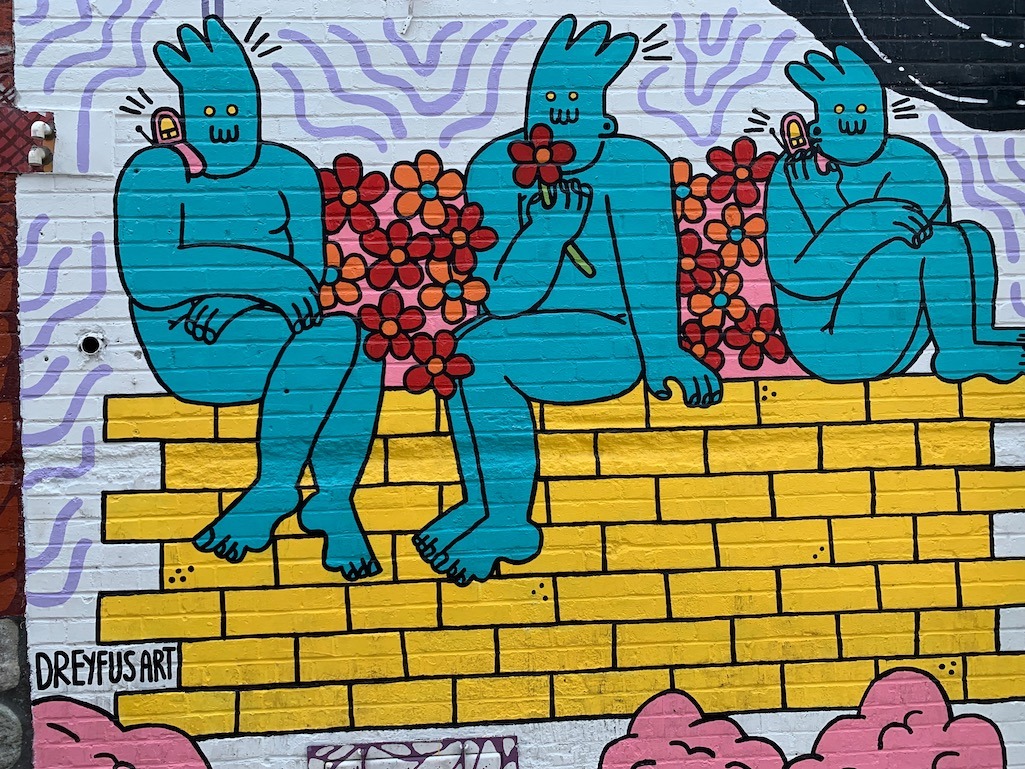 Pin for your Food Travel to Boise, Idaho
Our trip was hosted by the Boise Convention & Visitors Bureau, as always all opinions we share are our own and reflect our personal experience in the destination.