Baked Italian rice balls taste great and are easy to make. These days, we may be using rice more often. Which also means we probably are looking for leftover rice recipes. Based on the concept of traditional Italian arancini balls, which use risotto, our recipe can use whatever rice you have around. Also, rather than frying in oil, these are like baked arancini because we cook them in the oven.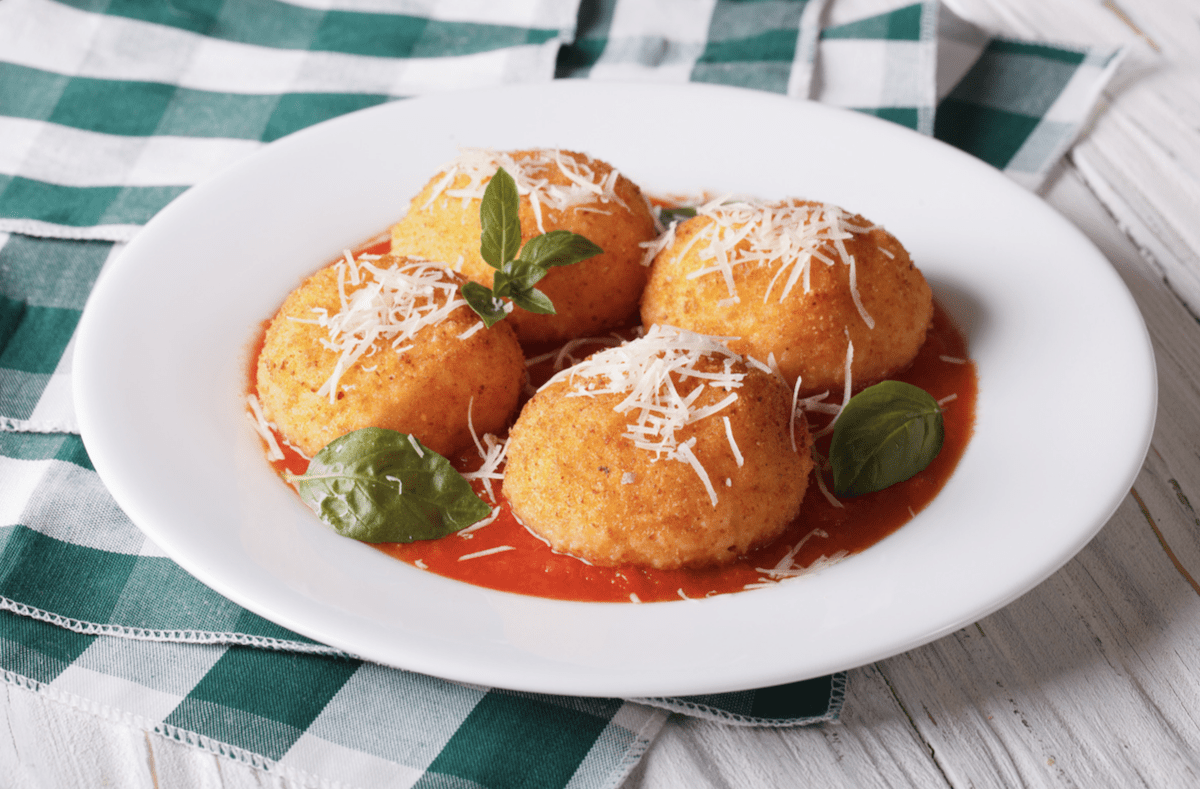 "Oven Fried"
Oven baking still gives a great crispy crust. We use similar techniques to make other "oven-fried" foods like chicken. There are a couple of tips we can provide to make sure your Italian rice balls come out crispy on the outside, chewy and gooey on the inside.
Many Baked Arancini Options
Also, typical arancini balls may contain cheese with meat or vegetables in the center. You can do that as well. For our recipe, we mix the cheese in with the rice so the whole inside is chewy and cheesy. We're creating a simple version here that uses cheese and herbs. But you could add spinach, cook chopped vegetables, ground meat, or sausage as well. The principle is the same. If you want to make them Greek style, add some chopped Kalamata olives and green onions. For French try a little watercress, lemon, and Herbs de Provence.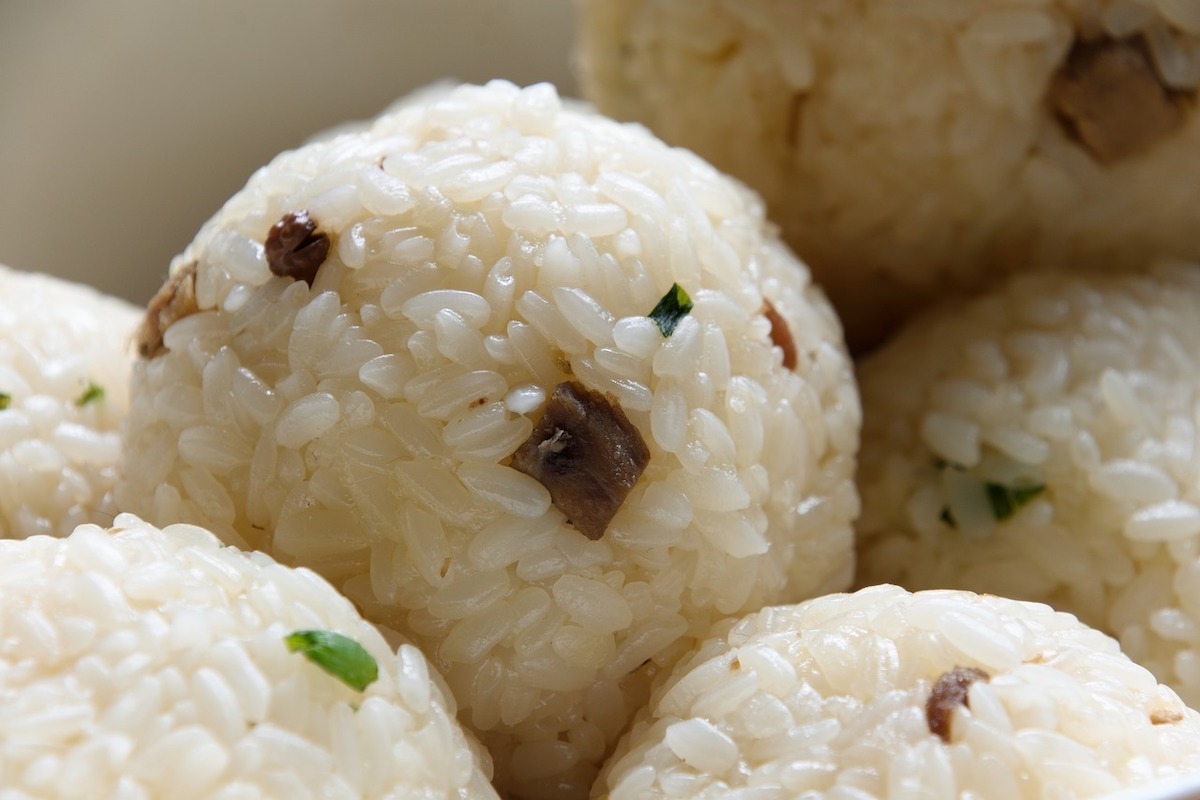 Italian Rice Balls Sauce Is Fun
We also use our favorite marinara sauce for dipping. You can use any sauce for dipping. Ranch dressing might be fun. You can also vary the herbs, so while we're making an Italian version you can use this as a jumping-off point to create your own leftover rice recipes by using different spice combinations and sauces. Thai, Indian, Greek, Spanish, and others would all work well.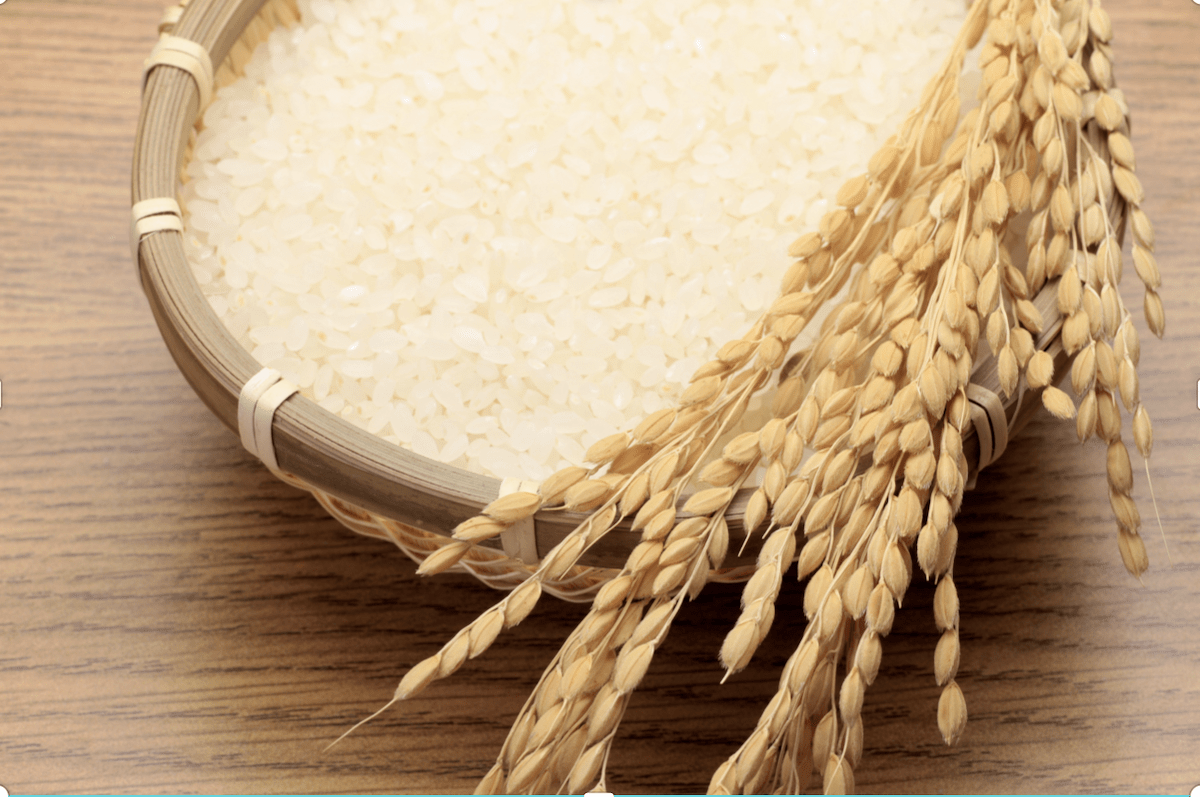 Baked Italian Rice Balls
You can use whatever rice you have for these and any tasty melty cheese.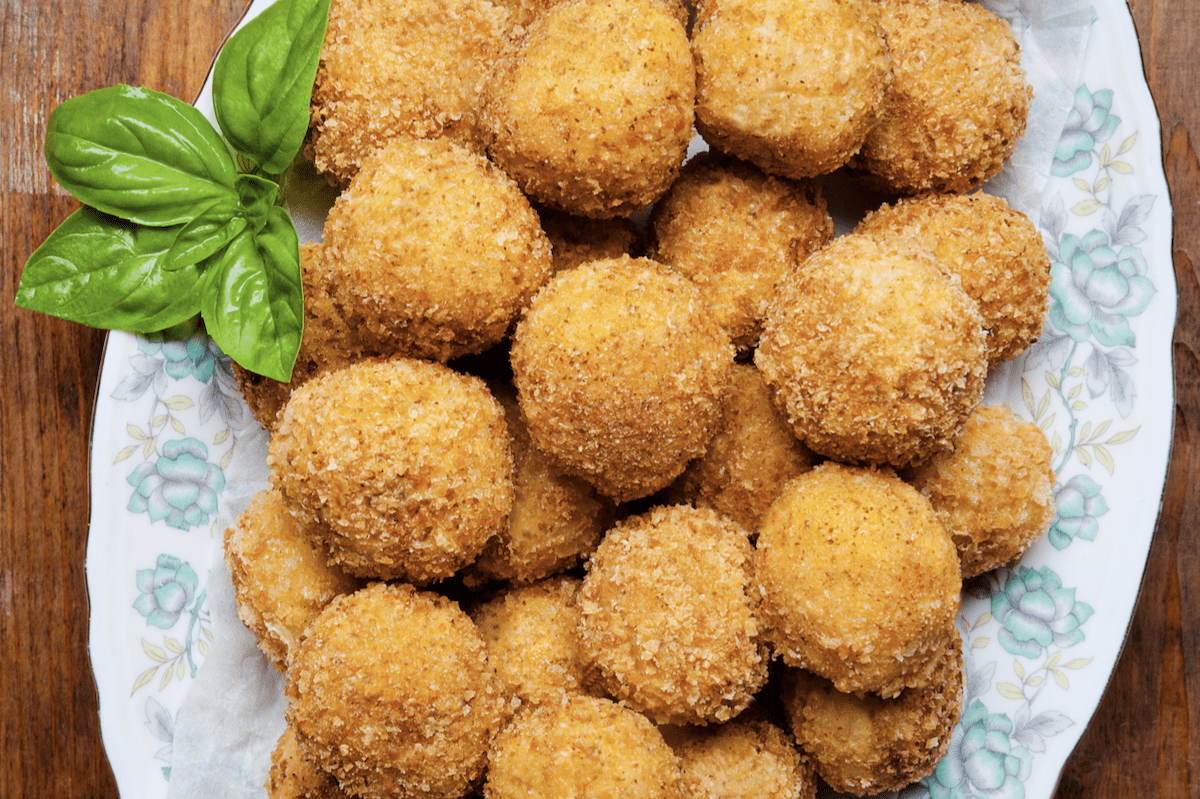 Ingredients
1 cup cooked rice, (keep the rice moist and warm to use)
1/2 cup shredded mozzarella
1/4 cup grated or shredded Parmesan cheese
1/2 cup flour
2/3  cup Panko breadcrumbs, regular breadcrumbs, mixed with cornflake crumbs or cracker crumbs – whatever small crumbs you have will work
2 tablespoons chopped parsley, fresh if you have. or 1 Tablespoon dried
1/2 teaspoon dried basil
1/2 teaspoon dried oregano
Optional: You can add other ingredients as you like such as caramelized onions, sun-dried tomatoes, pine nuts, etc.
1/4 teaspoon garlic powder
1 large egg, beaten, can add 1-2 Tablespoons water, cream, half and half or milk
salt and pepper to taste
Plus 1 egg to blend in rice.
Sauce for dipping or pouring over your Italian rice balls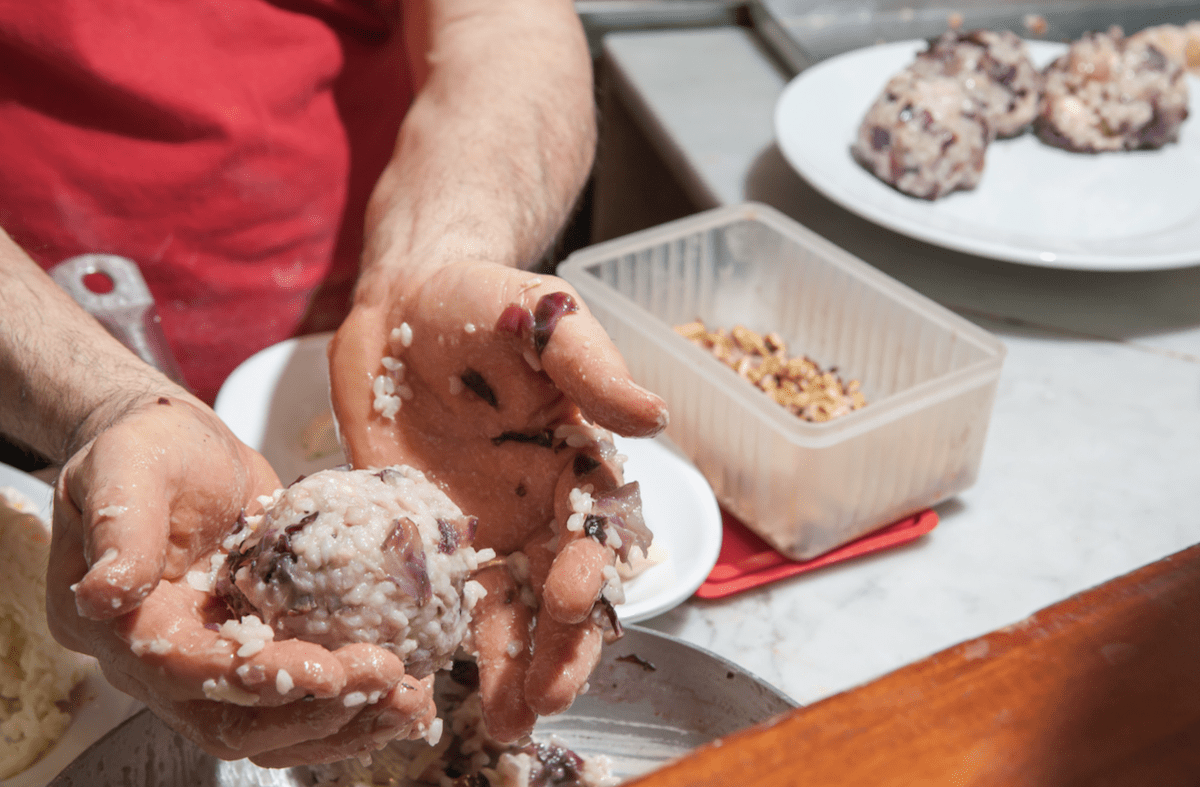 Directions
1. Preheat oven to 400 degrees. Spray a baking sheet with cooking spray and set aside.
2. Set out 3 individual plates or low, flat bowls. Place flour, beaten egg, and crumbs each with its own plate or bowl.
3. In a mixing bowl, combine rice, mozzarella, Parmesan, herbs, one egg and salt and pepper, mixing well. If you're adding meat, spinach, veggies, you can put them in the center and wrap around with rice mixture or blend all together as you prefer.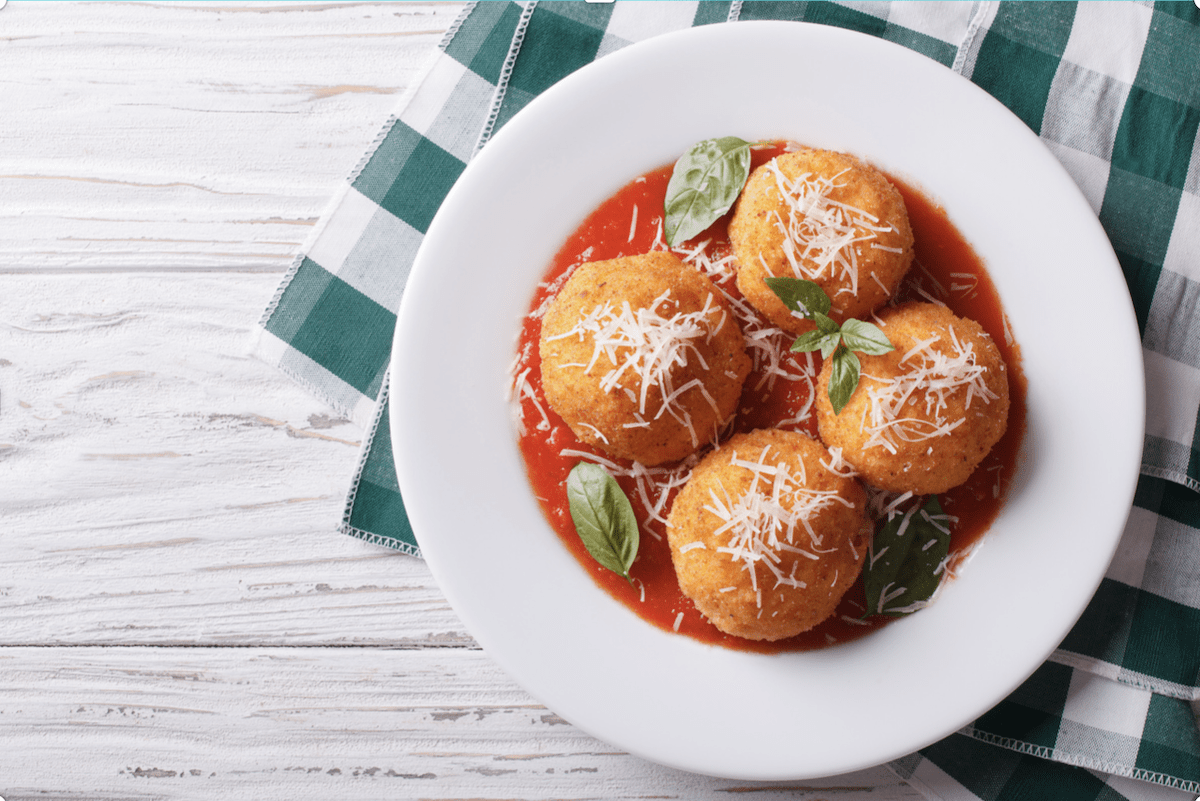 4. Take up a meatball size amount of mixture and roll in your hand to form Italian rice balls the size you like. We make them around  2 inches. You can make them smaller if they're going to be baked arancini appetizers or a snack.
5. Roll the balls in the flour, egg, then breadcrumbs, in that order. Make sure you cover them entirely with each ingredient.6. Place Italian rice balls on a greased or nonstick sprayed baking sheet and bake at 400 degrees F for about 8-10 minutes until you can see them browning. Timing depends on your oven and the size of your Italian rice balls.
7. Turn over and bake for another 7-8 minutes or until all golden brown.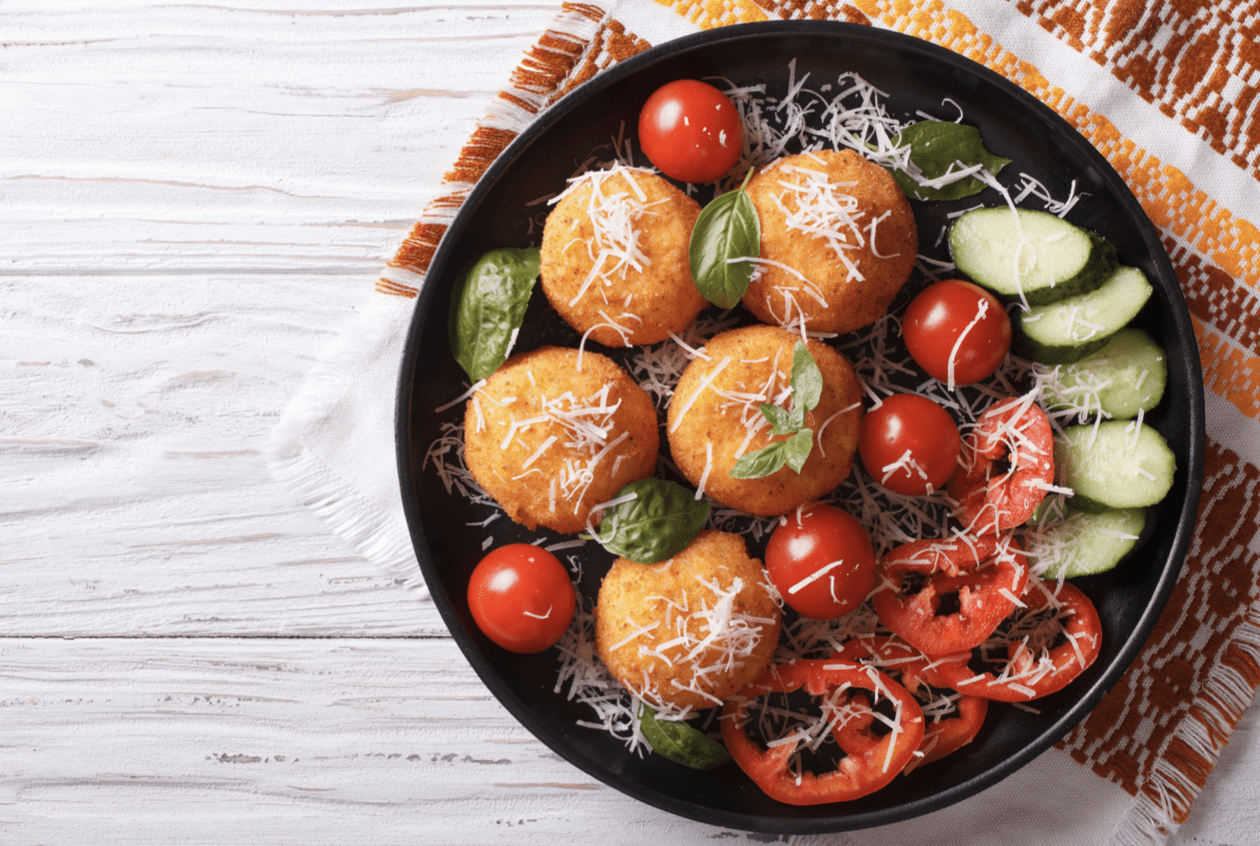 Italian Rice Balls Tips
Tip: If you like them to be quite golden, spray nonstick spray on the top side of the Italian rice balls as well as spraying the pan. That will start the process of browning on all sides.
If your rice balls are not holding together add some flour a little at a time to bind with the egg and make the rice stick.
If you like your arancini balls saucy, you can mix a little of your marinara sauce in the rice mixture. When you break it open, you will already have a bit of that tomato sauce goodness inside.
                          Pin to your Favorite Recipe board on Pinterest