Catching More Than Fish in Kenosha
We were fortunate to be the guests of the Kenosha Convention and Visitors Bureau and the Kenosha Charter Boat Association on a fishing charter adventure last month. I can't say that we are big fishing enthusiasts but we do like the outdoors and are always up for a new adventure.
We headed up to Kenosha the night before and stayed overnight at the  Wyndham Garden Kenosha Harborside Hotel, which is just a few minutes away from the harbor with our charter boats. One of the terrific things about Kenosha is that it's so close to Chicago. It's only about an hour drive so it's perfect for a quick getaway.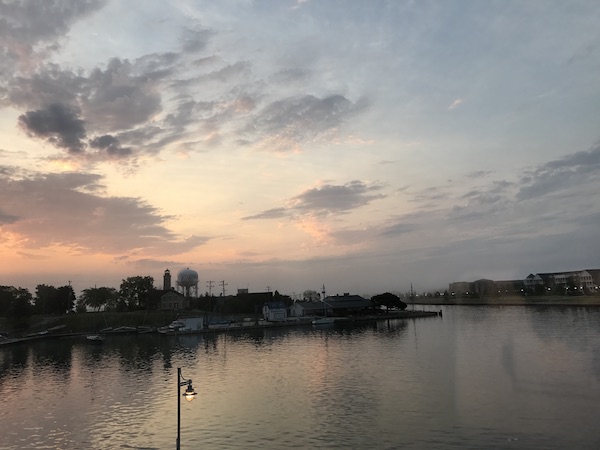 After a good night's sleep, we were up early enough to see the sunrise. It was cloudy and rain was expected but we donned our famous Food Travelist coats and made for the dock.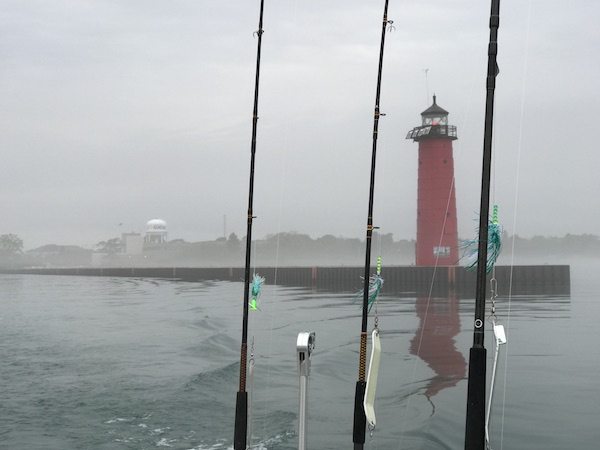 As we drifted past the Kenosha North Pier Lighthouse through the fog it sure seemed we were going to be in for a storm. As luck would have it the storm stayed to the west and soon the sun was breaking through the clouds. Lake Michigan looked like a sheet of shiny glass. The worst of the weather had passed and we were in for a great day on our Kenosha Fishing Charter.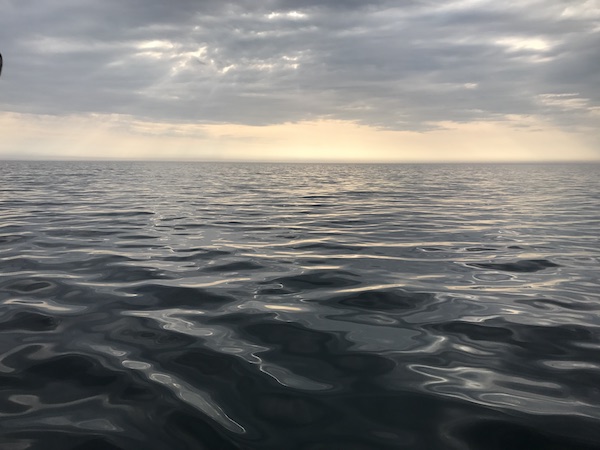 There Will Be Eating
Since the folks from Kenosha met us previously at the WITS17 conference and know us pretty well they made sure to bring plenty of snacks aboard our charter boat. We started with what seemed like the world's largest cinnamon rolls from Elsie Mae's Bakery and Cannery. Freshly baked and delicious, saying you can only eat one of these is a huge understatement. They also brought some delicious hand-made sandwiches, chips and of course French macarons from The Buzz Cafe for dessert. Because everyone we know has macarons while fishing, right?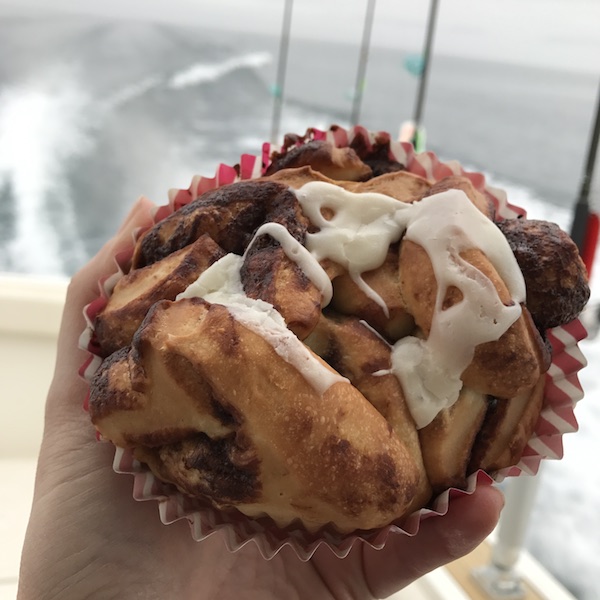 Sweet treats at sea.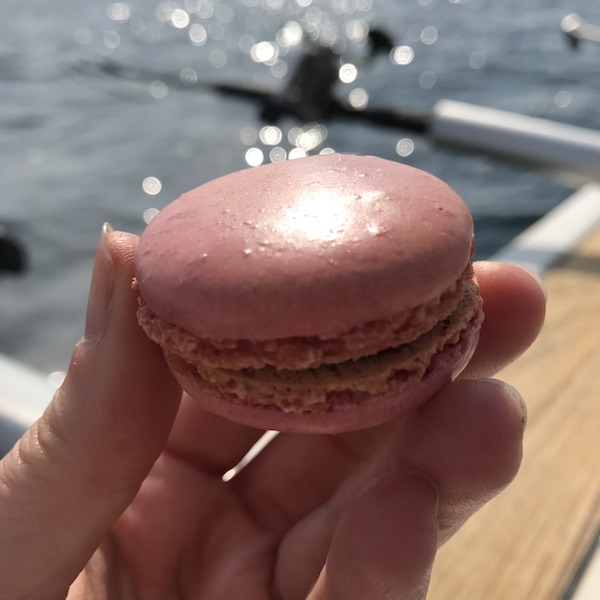 Now it was time to get serious. With the lines and the sun out, it was time to catch some fish.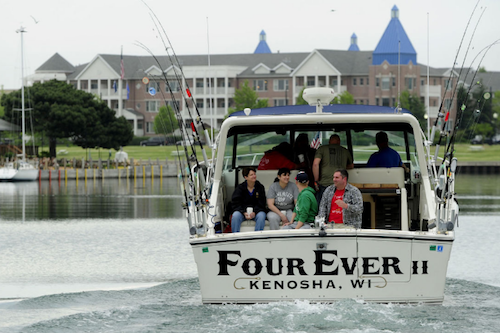 Fish On!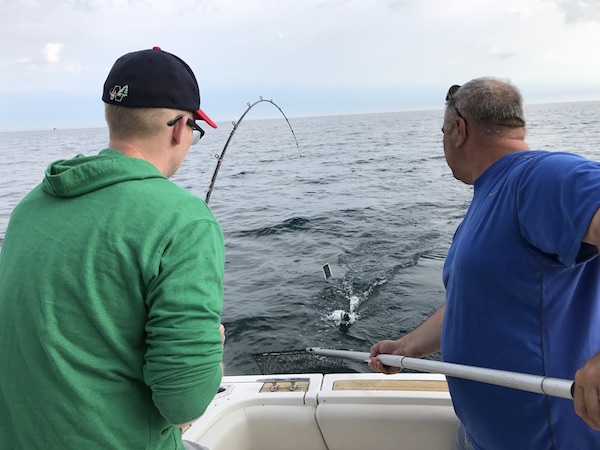 The fish started hitting right away and it seemed like we were catching one right after the other.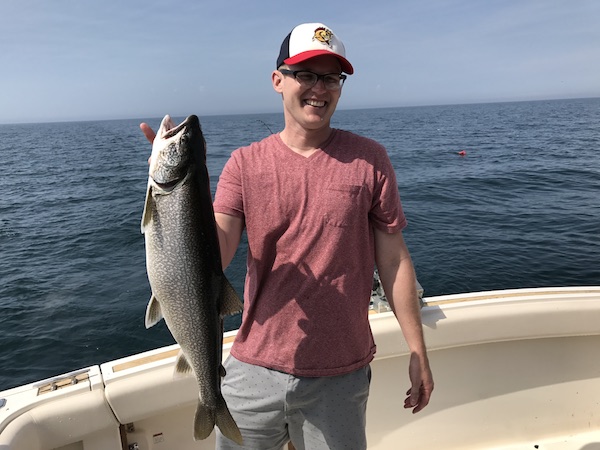 I have to admit that Captain Russ did most of the work on our trip. He set up all the fishing poles, and there were plenty, picked out the lures and watched the poles. He'd shout, "Fish on!" and someone would jump up and reel one in. Some were a bit more difficult to get in the boat and some got away (the big ones, of course).  But most of us managed to feel like sports fishermen by the end of the charter.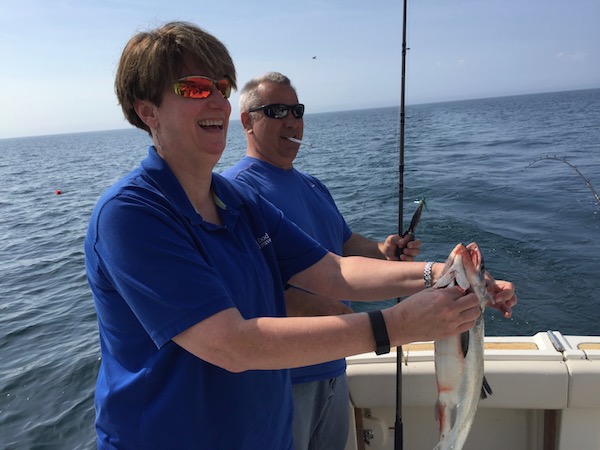 Once we were back on the dock the Captains took it from there.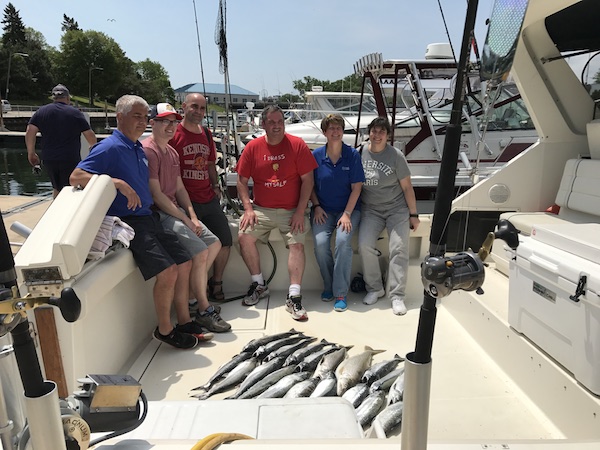 Kenosha Fishing Charter
As you can see above our crew did quite well in the time that we were out on Lake Michigan. We caught 19 Coho Salmon and a couple of Lake Trout. After we had a chance to revel in our accomplishments it was time for the crew to clean the fish.  Now for the best part. The Boathouse Pub and Eatery, which is just a couple minutes away from the dock, was going to create a wonderful lunch for us all with our fresh catch.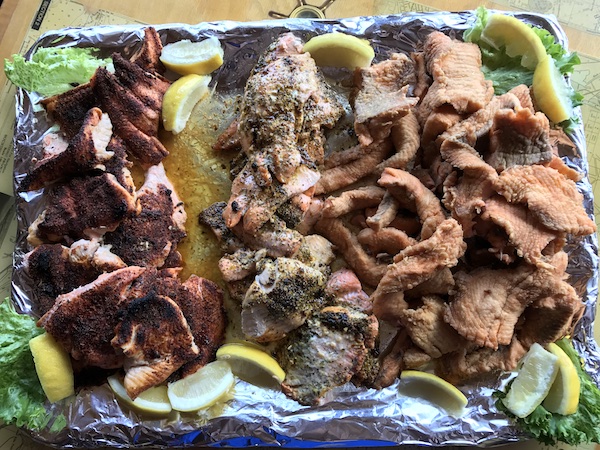 The Boathouse offers to create a "Shore Lunch" with any fresh catch that fishers bring to the restaurant. They will prepare up to one pound of fish per person. You can have your fish fried, blackened or lemon pepper broiled. Side dishes of fries and coleslaw come with lunch all for only $9.99 per person.
We had our fish prepared all three ways and each one tasted better than the next. All the preparations were delicious but I have to say that our favorite most surprisingly was the very lightly breaded fried salmon.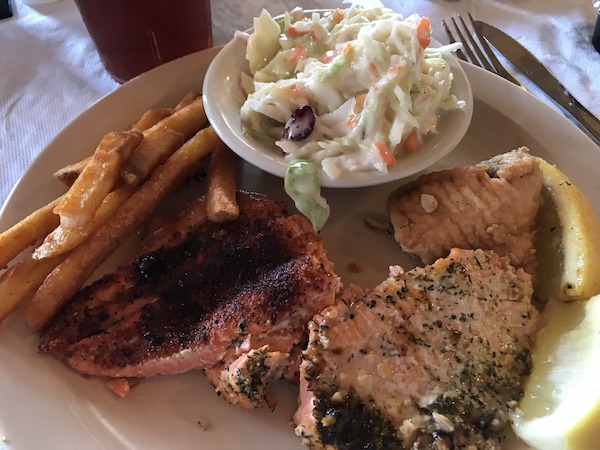 We all thoroughly enjoyed our lunch as we told our fish stories and vowed to return to get "the big one." As we often do, we checked out the menu at The Boathouse and noted many other specials that we can't wait to try. The all-you-can-eat Blue Gill Dinner on Fridays, burgers, full breakfast and 32 oz. Long Island Iced Teas will have us returning soon.
If you're looking for a fun fishing charter for you and your friends check out the website of Kenosha Charter Boat Association for details on organizing a fishing trip.
Pin It to Your Kenosha Vacation Planning Board on Pinterest