Portokalopita Greek Orange Cake
Easy Orange Cake Recipe From Greece
Portokalopita is a special treat in Greece. This delicious orange cake recipe can be complicated when YiaYia (Grandmother) makes it the traditional way. But we have adapted this great shortcut recipe from our friends at RealGreece.com.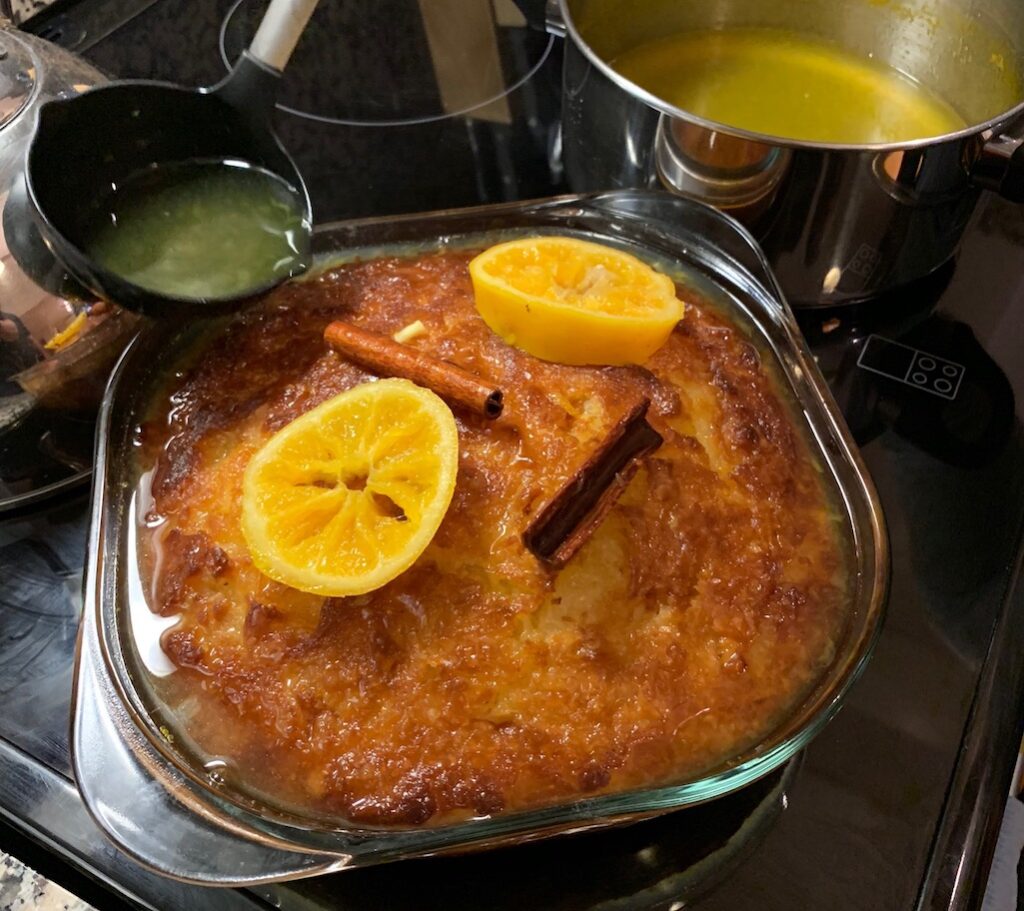 Now you can impress your guests with an authentic Portokalopita that won't take all day to make. The fresh flavors of this orange cake recipe come shining through even though it takes a lot less time to make.
The secret is in using prepared phyllo dough to speed things along. The fruit and syrup in this orange cake recipe make it an irresistible treat whether for breakfast, dessert or a sweet snack during the day.
Orange Cake Ingredients
1 package phyllo dough (12 sheets) slightly dry, crumbled into small irregular pieces
1 cup vegetable oil
4 large eggs
1 cup granulated sugar
1 cup Greek yogurt (full fat or 2%)
1.5 Tbsp (20g) baking powder
2 orange rinds, grated
.5 tsp (1.5g) pure vanilla
Portokalopita Syrup Ingredients
1 cup fresh squeezed orange juice
2 cups granulated sugar
3 cups water
2 Tbsp grated orange rind
2 cinnamon sticks

Syrup Preparation
Combine syrup ingredients and bring to a boil.
Lower heat and simmer for 15 minutes.
Let cool to room temperature. You must let the syrup cool to room temperature or your Portokalopita will turn to mush!

Orange Cake Preparation
Preheat oven to 350F degrees (325F if you use a convection oven)
Combine oil, sugar and eggs in a medium bowl. Beat with hand mixer at medium speed for 10 minutes.
Add baking powder, orange rind and vanilla.
Fold in (in circular, figure 8 motions) crumbled phyllo dough a few pieces at a time until you have used all of the phyllo dough and it is combined and fully incorporated.
Baking Instructions
Rub the bottoms and sides of a 4 qt (10 x 15 x 2 in.) rectangular glass baking dish.
Pour the mixture and spread evenly in the pan.
Place the pan in the preheated oven.
Bake for approx. 35 minutes, until golden brown on the tops and sides (as seen through the glass pan).
Turn pan halfway through the baking so that it heats evenly.
If the cake begins to brown too much on the top, move to a lower rack and cover loosely with aluminum foil for the rest of the baking time.
Remove the cake from the oven.
Soaking In Syrup
There are two options for allowing the syrup to soak into the orange cake and either option will work fine. Just note that both options require that the syrup is at room temperature.

Option 1
Pierce the entire surface of the hot cake with a fork, skewer or other star pointed object. Slowly pour the cooled syrup onto the orange cake and allow it to soak in some. Keep pouring into pan until all of the syrup is in the pan with the cake.
Option 2
Let the cake cool completely. Once cooled pierce the cake with a fork, skewer or other sharp pointed object. Slowly pour the cooled syrup onto the cake and allow it to soak inn some and then continue to pour until all of the syrup is in the pan with the cake.
Portokalopita Syrup Note
Please note that either way there will be a lot of syrup. You may think that the cake will not absorb all of the syrup. But it will! You will be surprised, but this orange cake recipe is tried and true. Allow the portokalopita to rest and absorb the syrup overnight.
You can choose to decorate with fresh or candied orange slices and cinnamon sticks. Cut into squares and enjoy!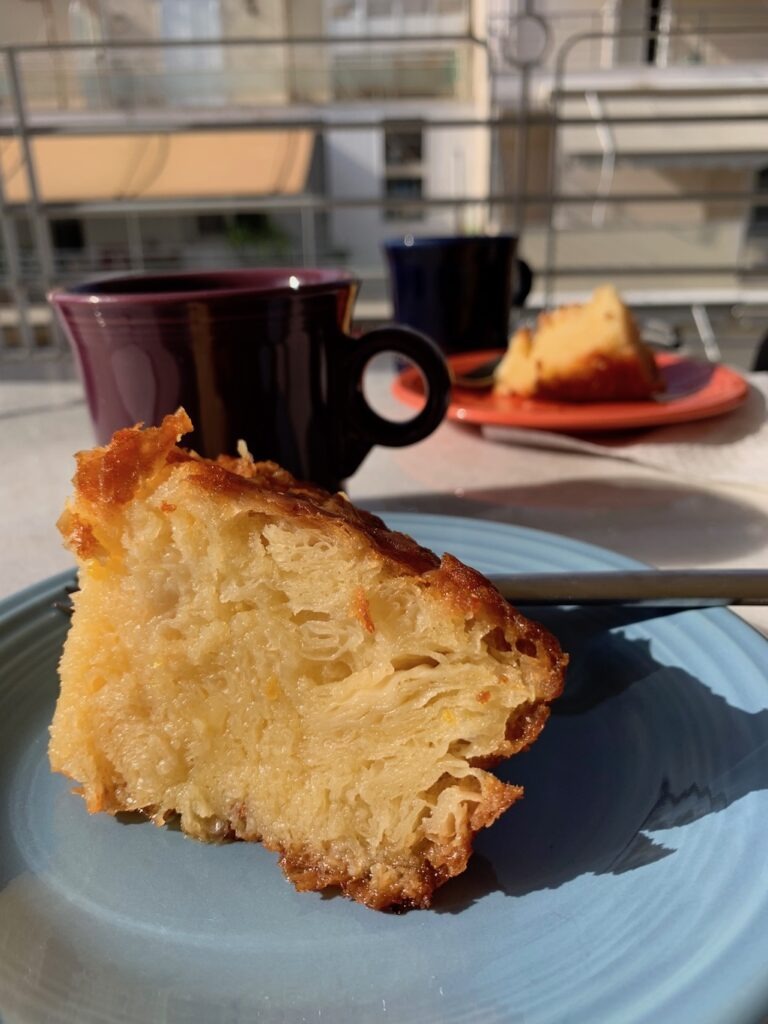 Pin to your Greek Recipe Board On Pinterest